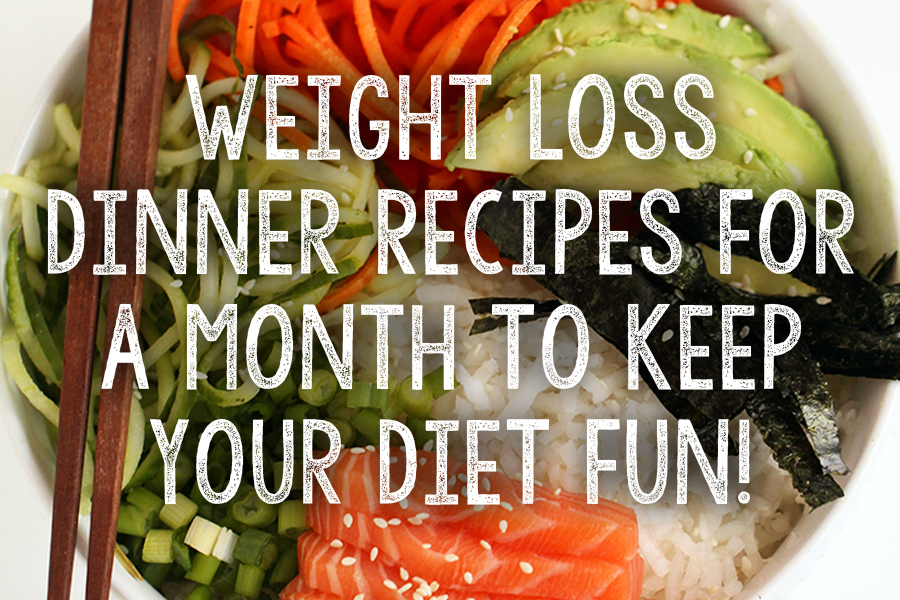 After a long day at work, it can be hard to come home and get excited to cook a healthy meal. It can be tempting to just grab the easiest option (maybe a takeaway), turn on Netflix and sink into the sofa. While this option can be easy, it mightn't always be the best choice for your health and body and if you do have any healthy pre-cooked meals, these can sometimes get a little bland and boring.
Another option is to look for meals you can prep earlier in the day, or the night before and cook when you get home or trying new and exciting recipes with different cooking techniques, different flavours and different ingredients.
We have collected 4 weeks (28) of different healthy and adventurous dinner recipes for you to try and love! Different, new and exciting flavours that will hopefully make you excited to come home and try out these new dishes. Recipes to put the fun back in your diet, while keeping things healthy, light and delicious!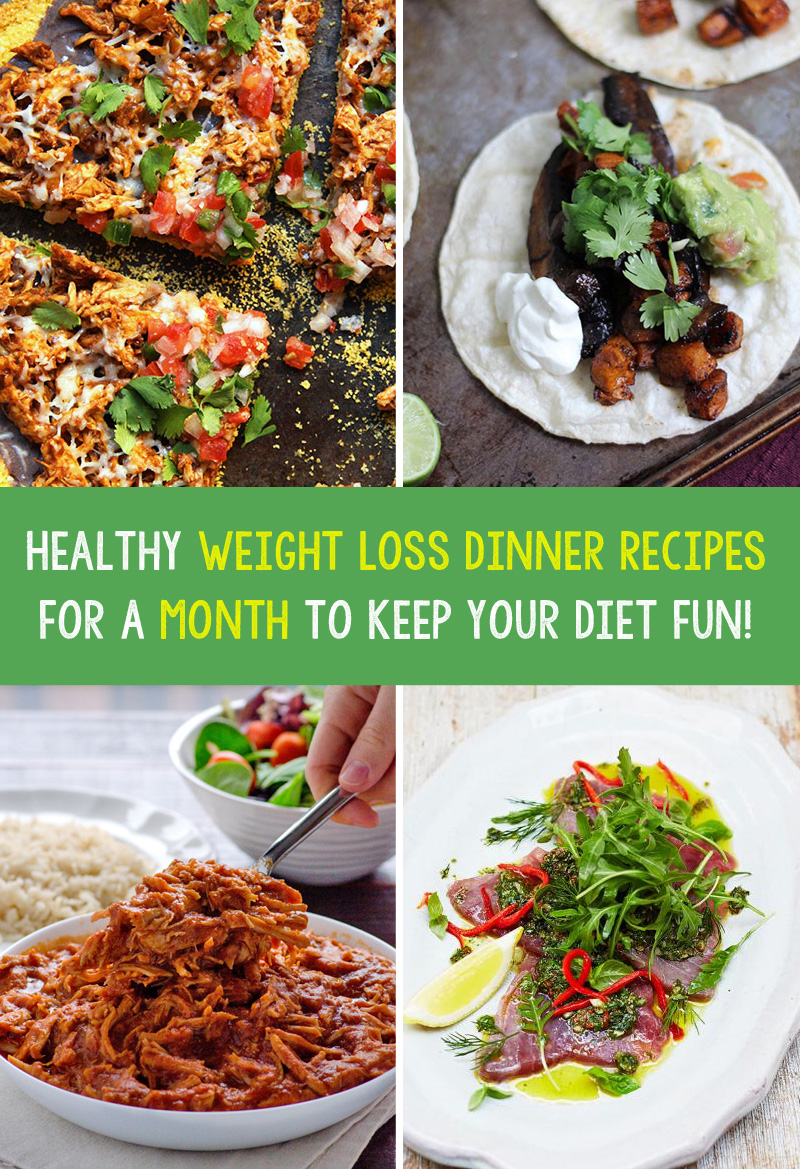 Healthy Weight Loss Dinner Recipes For A Month To Keep Your Diet Fun!
1. Monday – Mexican Chicken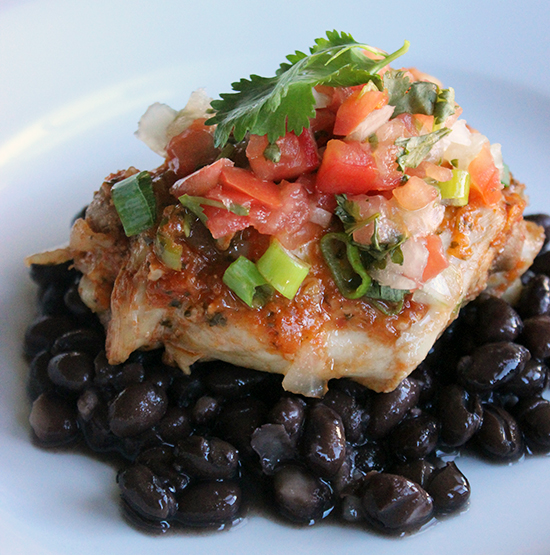 Mexican Chicken From PopSugar.
A healthy, protein-rich dinner full of Mexican spice and flavour!
Nutritional Information: Calories 381, Carbs 5.8g, Fat 16.3g, Saturates 4g, Sugar 2.4g, Protein 50.2g

2. Tuesday – Zucchini Lasagne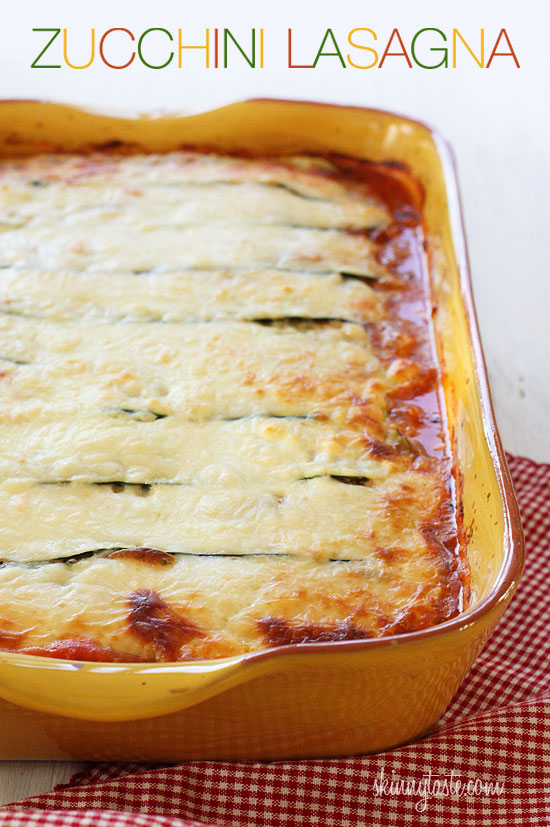 Zucchini Lasagne From SkinnyTaste.
This Zucchini (or courgette for Brits) lasagne is low-carb, gluten-free and still absolutely delicious.
Nutritional Information: Calories 345, Carbs 16g, Fat 17g, Sugar 8g, Protein 36g

3. Wednesday – Teriyaki Pork Chops with Pineapple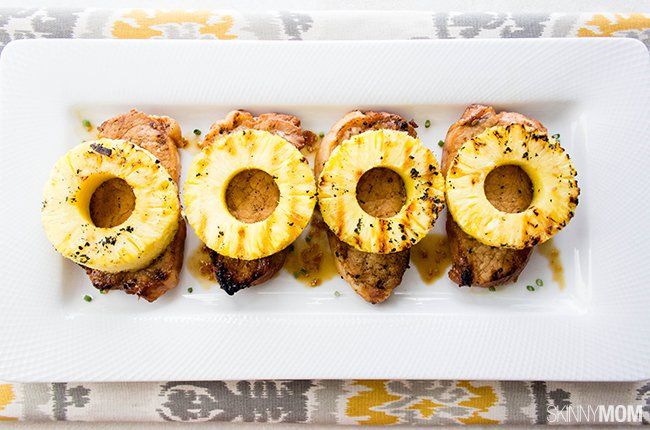 Teriyaki Pork Chops with Pineapple From SkinnyMom.
These spicy pork chops have a tropical twist; adding pineapple creates a delicious, but healthy, meal.
Nutritional Information: Calories 268, Carbs 26g, Fat 5g, Saturates 3g, Sugar 24g, Protein 25g

4. Thursday – Skinny Shrimp Alfredo Pasta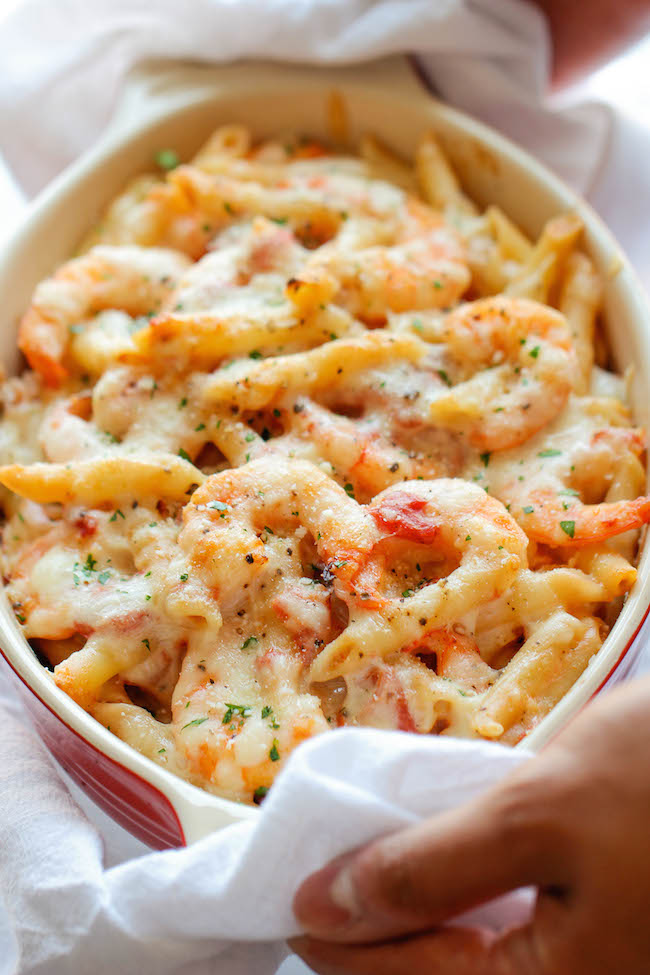 Skinny Shrimp Alfredo Pasta From DamnDelicious.
This pasta bake is unbelievably cheesy and creamy and contains lots of important Omega 3 fats.
Nutritional Information: Calories 579.3, Carbs 58.5g, Fat 21.5g, Saturates 9.1g, Sugar 4.9g, Protein 41.9g

5. Friday – Grilled Steak & Roasted Tomatillo Sauce
Grilled Steak & Roasted Tomatillo Sauce From MyRecipes.
A beautifully cooked steak dish with a fruity tomato sauce accompaniment – what more could you want?
Nutritional Information: Calories 227, Carbs 11g, Fat 11.4g, Saturates 3.3g, Protein 19.9g

6. Saturday Special – Rainbow Chicken Kebabs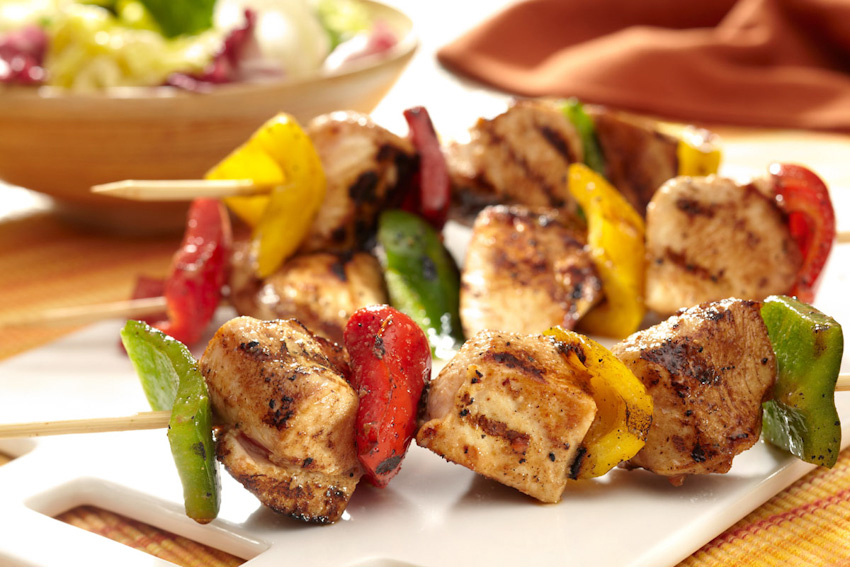 Rainbow Chicken Kebabs From KraftRecipes.
These chicken kebabs are perfect for a Saturday night with friends. Kebabs can be customised to suit each person and there are only 200 calories per serving!
Nutritional Information: Calories 200, Carbs 9g, Fat 3g, Saturates 1g, Sugar 3g, Protein 26g

7. Soup Sunday – Broccoli & Cheddar Soup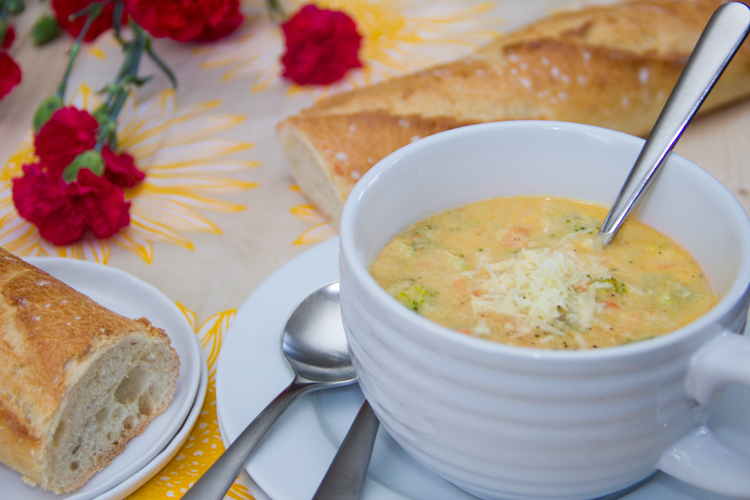 Broccoli & Cheddar Soup From TheScrumptiousPumpkin.
This recipe feeds 6 so if you don't finish it all you can save some for lunch.
Nutritional Information: Calories 269, Carbs 23.8g, Fat 10.5g, Saturates 3.8g, Sugar 12.5g, Protein 23.3g

8. Monday – Sicilian Tuna Carpaccio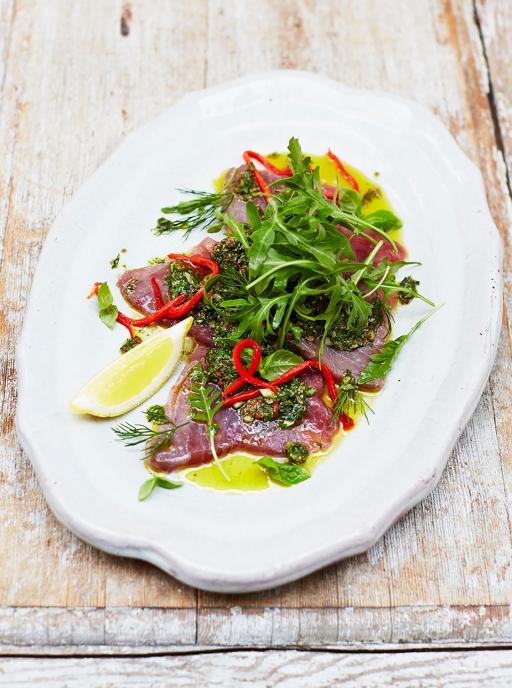 Sicilian Tuna Carpaccio From JamieOliver.
A really easy and light meal that is perfect for the beginning of the week.
Nutritional Information: Calories 303, Carbs 1.6g, Fat 19.9g, Saturates 3.4g, Sugar 0.8g, Protein 24.7g

9. Tuesday – Swedish Meatballs & Cream Sauce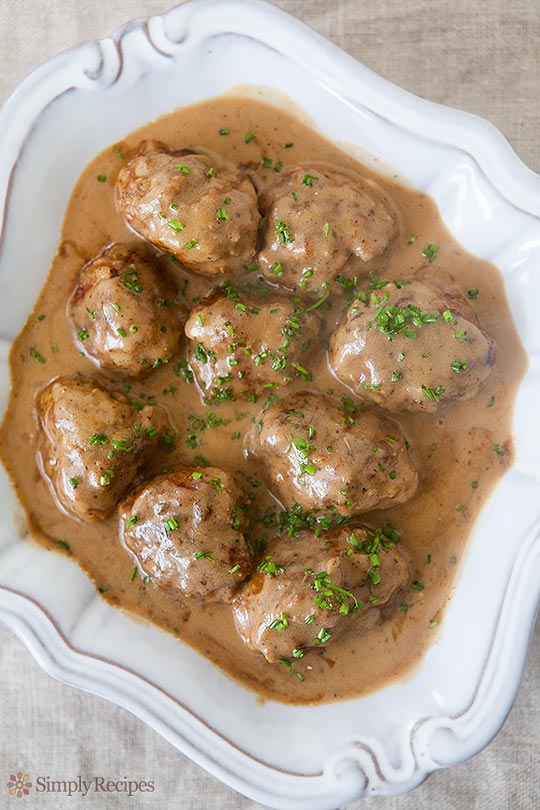 Swedish Meatballs & Cream Sauce From WomensHealthMag.
Using lean ground beef, these meatballs are healthy but so very tasty! Even the cream sauce is low-fat.
Nutritional Information: Calories 499, Carbs 60.8g, Fat 14.5g, Saturates 3.8g, Sugar 34.9g, Protein 31g

10. Wednesday – Frittata with Swiss Chard, Tomatoes & Parmesan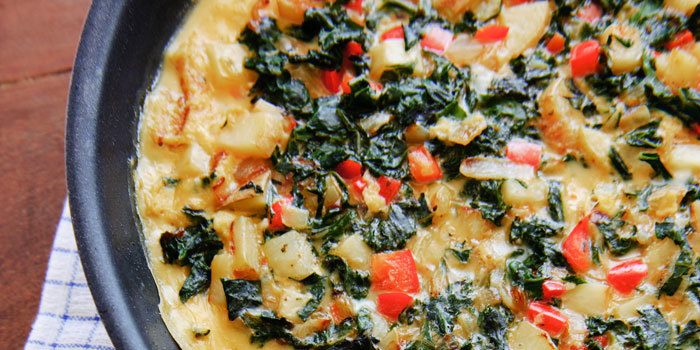 Frittata with Swiss Chard, Tomatoes & Parmesan From BeachBody.
This frittata is perfect for a healthy family dinner. Throw in more vegetables for an even tastier and more nutritious dish.
Nutritional Information: Calories 131, Carbs 4g, Fat 7g, Saturates 2g, Sugar 3g, Protein 12g

11. Thursday – Marinated Mushroom & Sweet Potato Tacos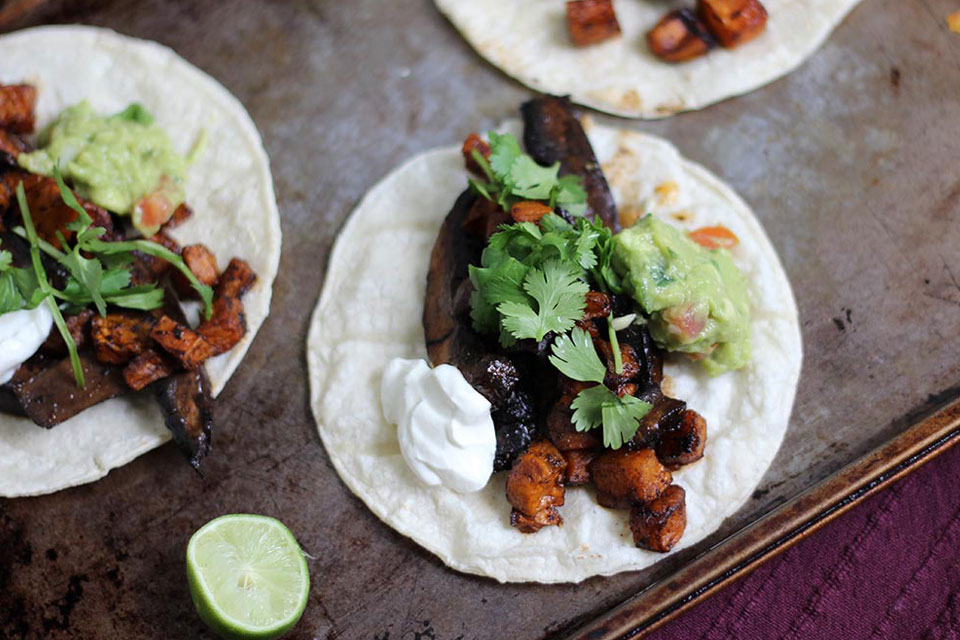 Marinated Mushroom & Sweet Potato Tacos From MyFitnessPal.
These veggie tacos are packed with fibre and flavour. They are also a good source of potassium, iron and Vitamin A.
Nutritional Information: Calories 271, Carbs 43g, Fat 9g, Saturates 1g, Sugar 11g, Protein 6g

12. Friday – Asian Style Beef & Broccoli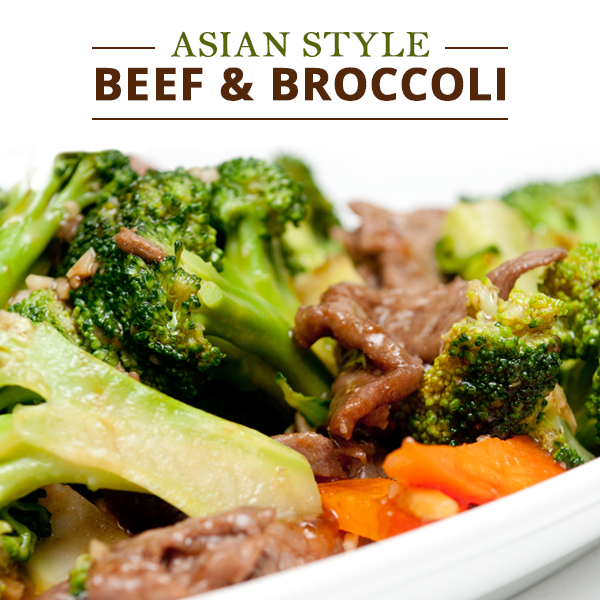 Asian Style Beef & Broccoli From SkinnyMs.
Great with rice or noodles, this Asian beef dish is easy to make and genuinely exciting.
Nutritional Information: Calories 218, Carbs 17g, Fat 8g, Saturates 2g, Sugar 5g, Protein 20g

13. Saturday Special – Chicken & Butternut Squash Curry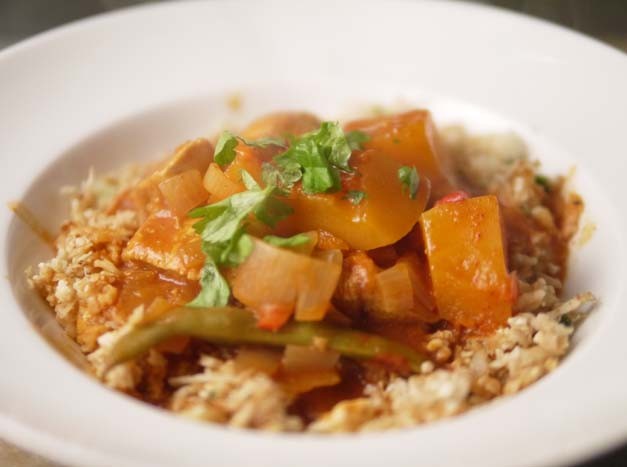 Chicken & Butternut Squash Curry From LondonUnattached.
Everyone loves a Saturday night curry – this recipe enables you to enjoy one of your favourites without the unnecessary calories.
Nutritional Information: Calories 296, Carbs 26.1g, Fat 9.9g, Saturates 4.4g, Sugar 4.9g, Protein 26.7g

14. Sunday Soup – Spinach Tortellini Soup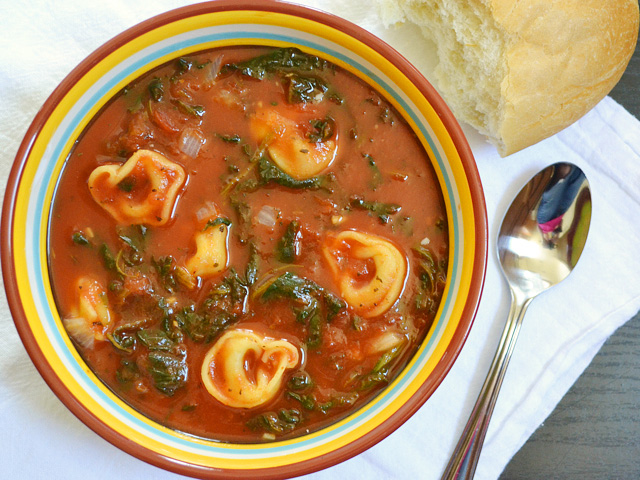 Spinach Tortellini Soup From TasteOfHome.
This soup contains lots of yummy herbs and spices and can easily be adapted for a vegetarian diet.
Nutritional Information: Calories 271, Carbs 29g, Fat 8g, Saturates 3g, Protein 20g

15. Monday – Crock Pot Pulled Pork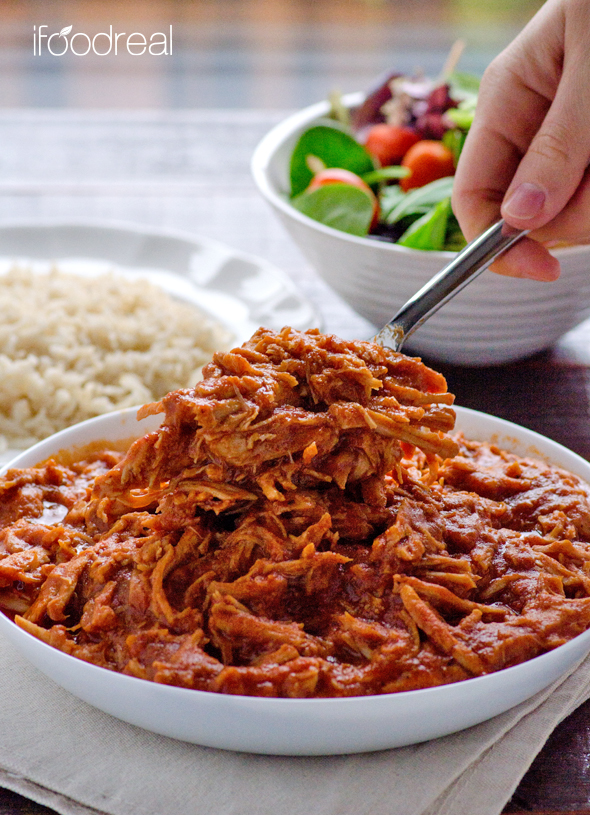 Crock Pot Pulled Pork From iFoodReal.
A hearty, but healthy meal; this protein-packed pulled pork is sure to satisfy your food cravings!
Nutritional Information: Calories 489.9, Carbs 22.4g, Fat 14.3g, Protein 63.3g

16. Tuesday – Grapefruit, Avocado & Seared Salmon Salad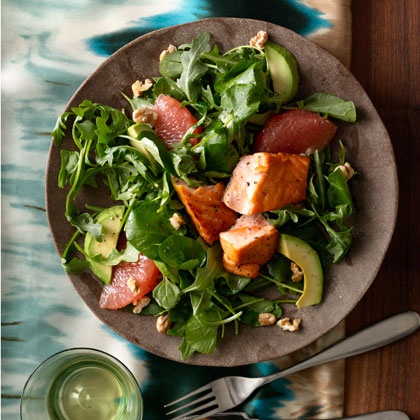 Grapefruit, Avocado & Seared Salmon Salad From Health.Com.
This recipe creates a fresh, tasty and unique salad filled with healthy avocado and arugula.
Nutritional Information: Calories 360, Carbs 14g, Fat 23.9g, Saturates 3.2g, Protein 25g

17. Wednesday – Pan-cooked Feta with Beetroot Salsa & Bean Mash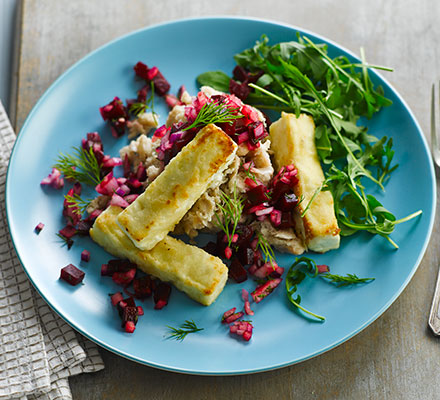 Pan-cooked Feta with Beetroot Salsa & Bean Mash From BBCGoodFood.
Not only is this veggie dinner cheap to make, it is also tasty and healthy at under 300 calories per serving!
Nutritional Information: Calories 296, Carbs 34g, Fat 8g, Saturates 6g, Sugar 14g, Protein 19g

18. Thursday – Italian-Style Stuffed Peppers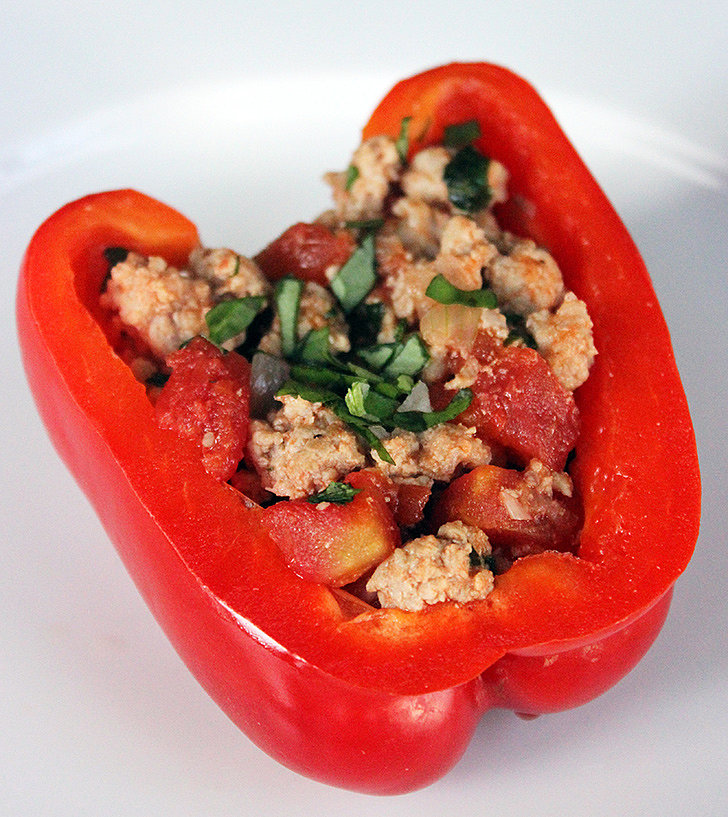 Italian-Style Stuffed Peppers From PopSugar.
With just a few ingredients and under 30 minutes, you can create a fresh, nutritional meal with over 30 grams of protein.
Nutritional Information: Calories 285, Carbs 7g, Fat 16.1g, Saturates 5g, Sugar 3.8g, Protein 32.2g

19. Friday – Turkey Chili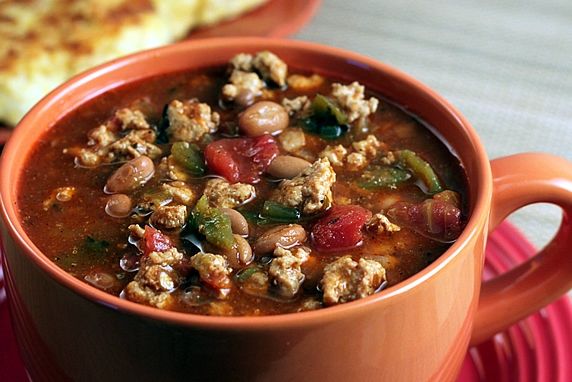 Turkey Chili From TheYummyLife.
A big bowl of turkey chili is great for a group meal – easy to make and delicious to eat!
Nutritional Information: Calories 256, Carbs 18.7g, Fat 8.5g, Sugar 3.4g, Protein 26.9g

20. Saturday Special – Chicken Tamale Pizza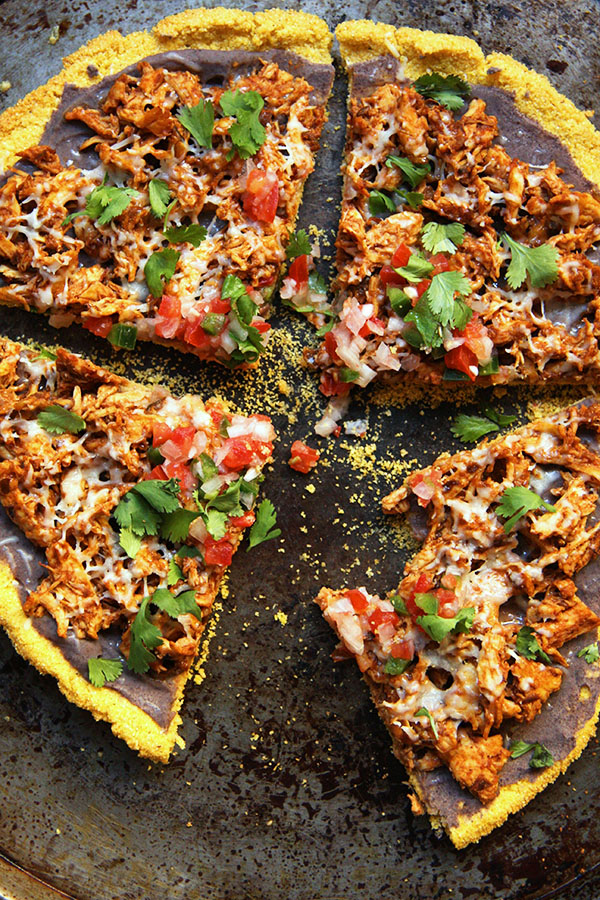 Chicken Tamale Pizza From 24CarrotLife.
Another Saturday night treat – a delicious, but light, chicken pizza with the option to customise toppings to suit your tastes.
Nutritional Information: Calories 196, Carbs 31.8g, Fat 4.7g, Sugar 5g, Protein 7.4g

21. Sunday Soup – Crab & Sweetcorn Chowder
Crab & Sweetcorn Chowder From BBCGoodFood.
This low-fat soup is simple to cook and packed with flavour. It is also surprisingly filling so you won't go reaching for any after-dinner snacks!
Nutritional Information: Calories 191, Carbs 25g, Fat 5g, Saturates 2g, Sugar 7g, Protein 13g

22. Monday – Spiral Sushi Bowl with Salmon Sashimi & Ginger Miso Dressing
Spiral Sushi Bowl with Salmon Sashimi & Ginger Miso Dressing From Yummly.
Eating sushi is a fantastic way of getting extra vitamins and, of course, tastes great.
Nutritional Information: Calories 190, Carbs 17g, Fat 13g, Saturates 2g, Sugar 6g, Protein 5g

23. Tuesday – Sweet Potato & Rice Casserole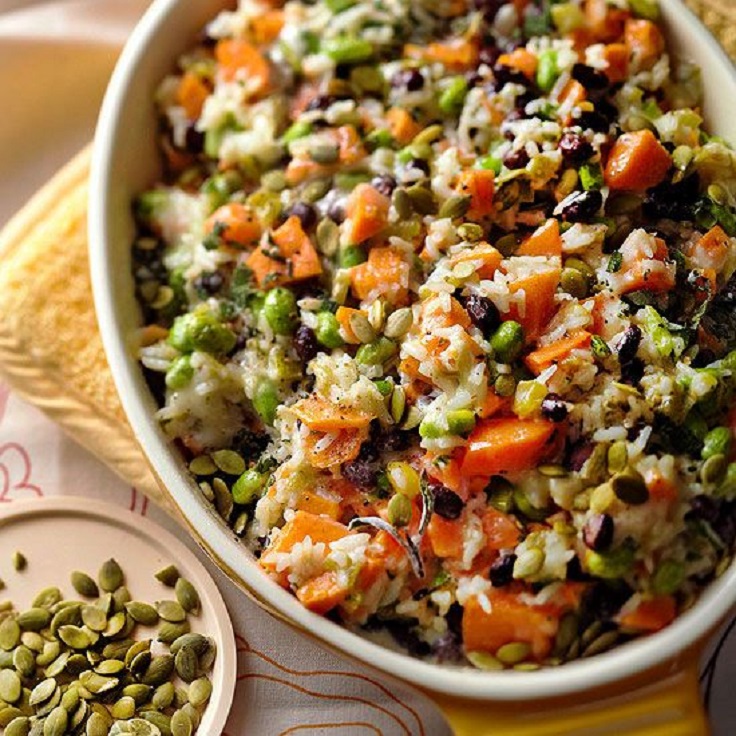 Sweet Potato & Rice Casserole From BetterHomesAndGardens.
A beautiful casserole dish with pumpkin seeds and black beans.
Nutritional Information: Calories 378, Carbs 48g, Fat 15g, Saturates 8g, Sugar 4g, Protein 16g

24. Wednesday – Garlic Lover's Roast Beef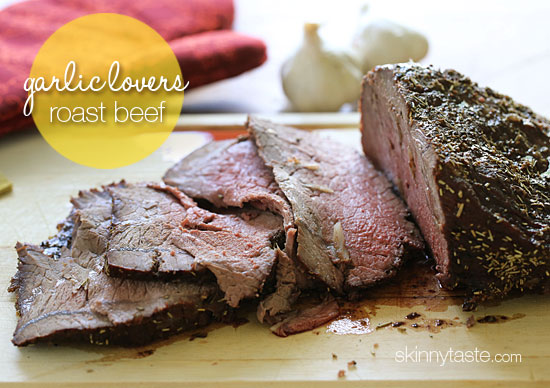 Garlic Lover's Roast Beef From SkinnyTaste.
A succulent roast beef recipe with fewer calories than you'd think – only 175 per serving!
Nutritional Information: Calories 175, Carbs 0g, Fat 8g, Sugar 0g, protein 24g

25. Thursday – Spicy Lamb & Lentils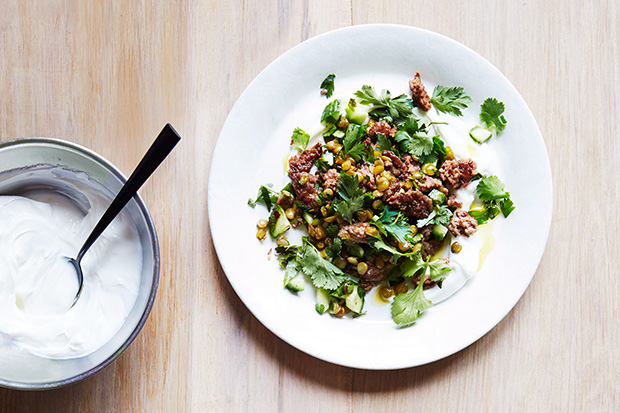 Spicy Lamb & Lentils From Epicurious.
Herbs and spices transform plain lentils into tasty treats in this lovely lamb recipe.
Nutritional Information: Calories 290, Fat 16g

26. Friday – Pan-Cooked Giant Prawns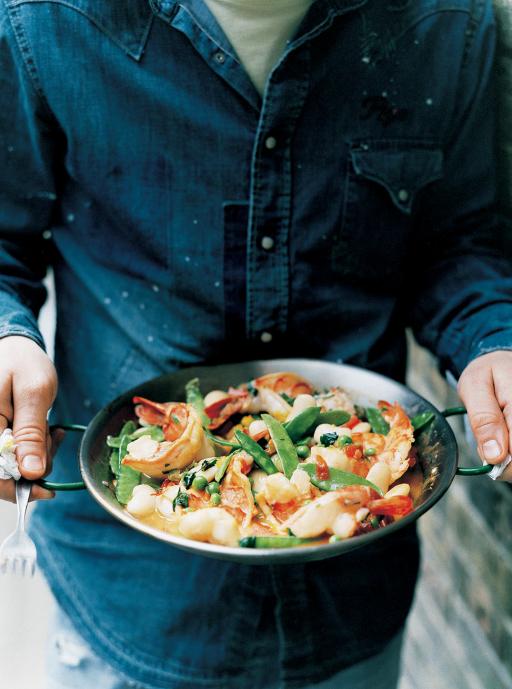 Pan-Cooked Giant Prawns From JamieOliver.
This is a super easy 15-minute recipe for a gorgeous prawn and pea dish.
Nutritional Information: Calories 142, Carbs 48.4g, Fat 10.4g, Saturates 1.9g, Sugar 6.8g, Protein 26.2g

27. Saturday Special – Oven Fried Chicken
Oven Fried Chicken From FinallyFitMatters.
If you are on a diet and have been missing KFC and other greasy goodies, this is the recipe for you.
Nutritional Information: Calories 342, Carbs 11g, Fat 10g, Saturates 3g, Protein 51g

28. Soup Sunday – Slow Cooker Sausage, Spinach & White Bean Soup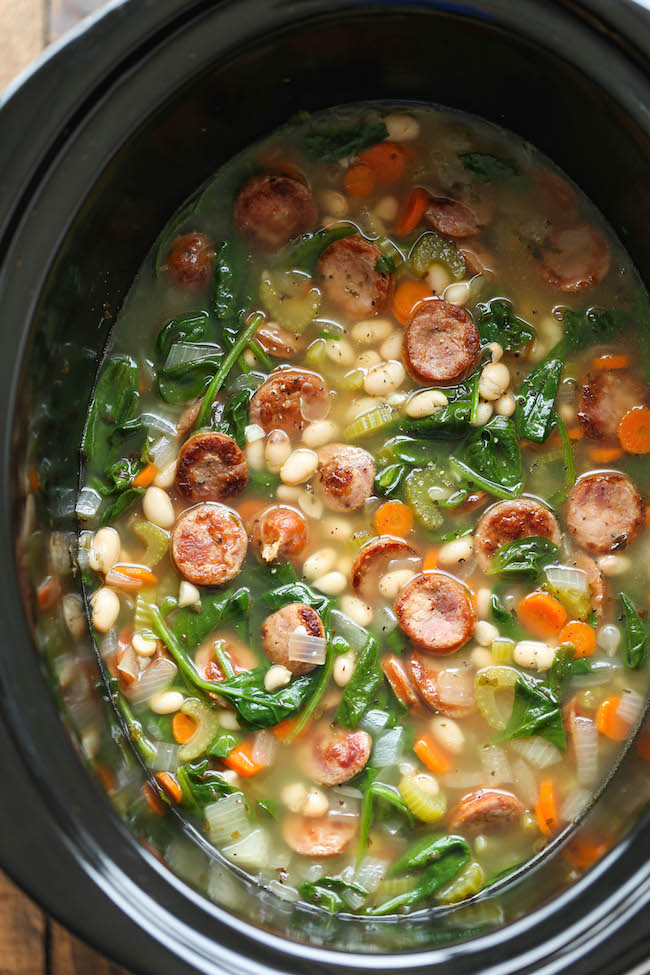 Slow Cooker Sausage, Spinach & White Bean Soup From DamnDelicious.
Hearty, comforting and easy to make with just 10 minutes preparation time!
Nutritional Information: Calories 319.3, Carbs 29g, Fat 15.8g, Saturates 4.8g, Sugar 2.8g, Protein 16.6g