14 Day Flat Belly Meal Plan Ingredient List + Breakdown Per Meal!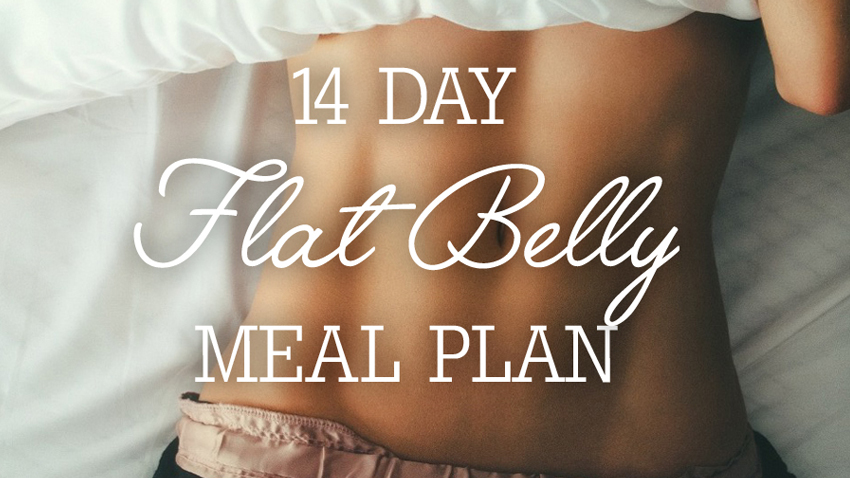 Due to the popularity of our 14 day flat belly meal plan and requests for the grocery list for this healthy eating plan, we have created this article which breaks down all the recipes for each meal and offers 2 A4 printable grocery lists for week 1 and week 2 (not the prettiest, but effective).
The lists are broken down into Pantry Staples (items which you hopefully have in your fridge and cupboards), Eggs & Dairy, Produce, Grains/Nuts/Legumes, Meat and Miscellaneous. We have tried to be as accurate as possible for all items, but it would be best if you went over the individual meals yourself and decided what ingredients you need and help you plan ahead effectively
Some of the recipes simply say a 'serving of fruit' or a 'serving of nuts' etc. where you would choose your favourite fruit or nuts, we have tried to account for this in the lists but some level of personalisation is required and will help cater the meal plan to your personal tastes.
The recipes are also quite varied, so there are quite a list of miscellaneous ingredients that add extra flavour, you could simply replace these with alternatives that you have at home or leave them out if it is appropriate to do so. You will probably need to purchase more than the plan requires, so where possible, try and buy as close to the required amount as you can, or you can adjust the plan to fit in some extras and/or freeze food when you can to use in the future.
You can click on the recipe lists below to bring them up in a new window, where you can save and print them. As always, you can follow the whole plan or simple look through and find a recipe that you enjoy and find the ingredients for that.

14 Day Shopping List Week 1 Printable Picture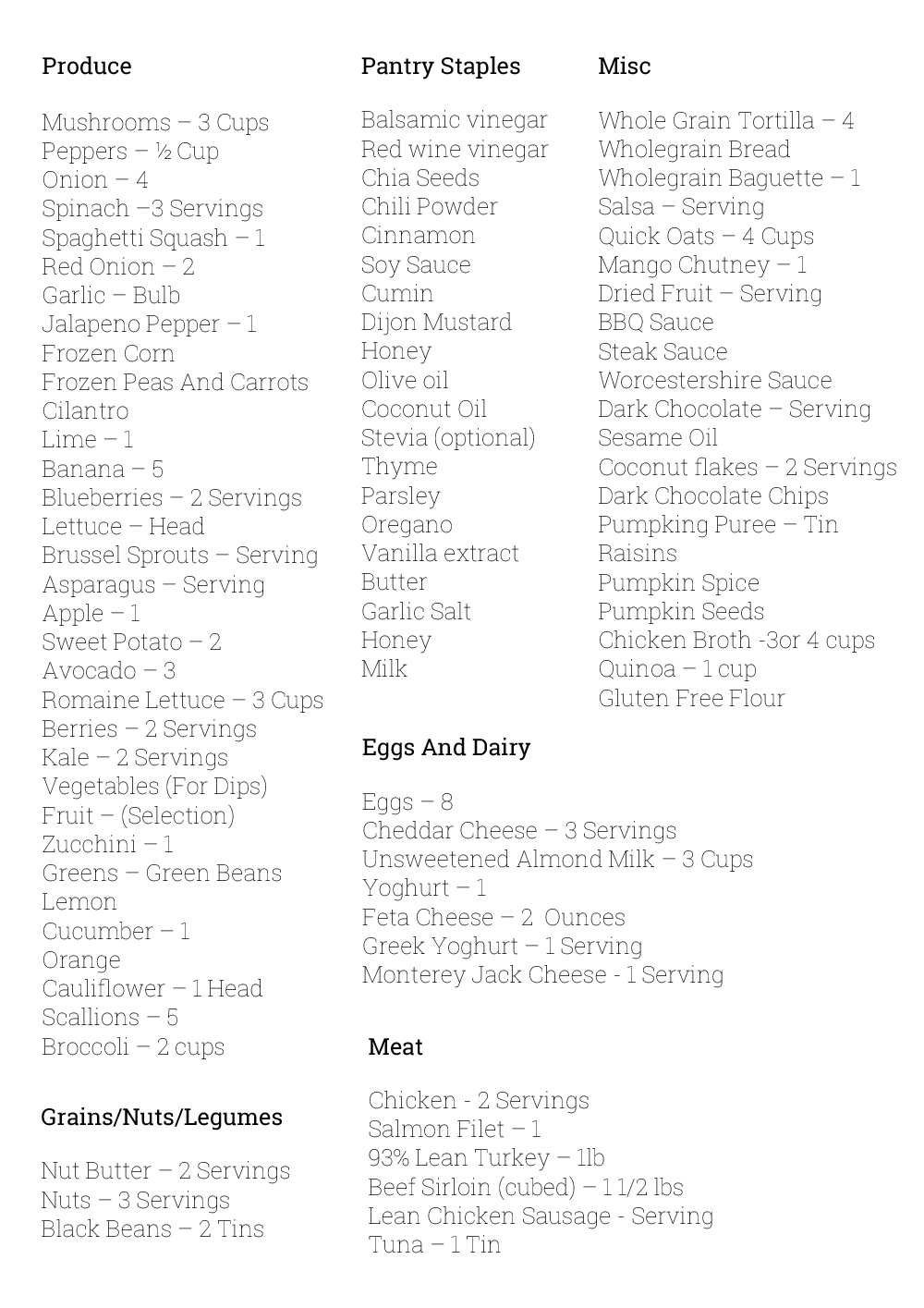 14 Day Shopping List Week 2 Printable Picture
Week 1 Meal Breakdowns
Day 1
Breakfast: Veggie Pack Frittata
Coconut Oil/Olive Oil/Butter – 1 TBSP
Mushrooms – 1 Cup
Peppers – 1/2 Cup
Onion – 1/3 Cup
Eggs
Lunch: Easy Burritos
Whole Grain Tortilla – 1
Black/Kidney Beans – Serving
Spinach
Cheddar Cheese
Salsa (No Added Sugar)
Dinner: Southwestern Stuffed Spaghetti Squash
Spaghetti Squash – 1
Olive Oil – 2TBSP
Red Onion – 1/2
Garlic Cloves – 3
Jalapeno Pepper – 1
Red Pepper – 1
Ground Cumin – 1 TBSP
Mexican Oregani – 1 TBSP
Chilli Powder – 1 TBSP
Black Beans – 1 Tin
Frozen Corn – 1 Cup
Salt & Pepper
Cilantro (Fresh) – 1/2 Cup
Lime – 1
Cheddar Cheese (Grated) – 1 Cup
Snack: Faux Cream
Banana – 1
Peanut/Almond Butter – 1 TBSP

Day 2
Breakfast: Overnight Oats
Quick Oats – 1/4 Cup
Unsweetened Almond Milk – 1/2 Cup
Banana – 1/4
Chia Seeds – 1/2 TBSP
Blueberries – 1/2 Cup
Liquid Vanilla Stevia – 4-5 Drops
Cinnamon – Pinch
Lunch: Lettuce Wraps
Lettuce
Sandwich Filling – Tuna/Chicken/Veg
Dinner: Salmon and Asparagus
Large Salmon Filet – 1
Brussel Sprouts – Serving
Asparagus – Serving
Olive Oil – 2 TBSP
Butter – 2 TBSP
Garlic Salt
Salt & Pepper.
Snack: Fruit and Veggie Chips
Apple – 1
Banana – 1
Sweet Potato – Serving

Day 3
Breakfast: Super Toast
Wholegrain Bread – 1 Slice
Avocado – 1
Egg – 1
Lunch: A Better PBJ
Peanut/Almond Butter – Serving
Wholewheat/Low Carb Tortilla
Berries – Serving
Kale – Serving
Dinner: Turkey Burgers
Baguette (preferably wholegrain – 1
Red Onion – 1
93% Lean Ground Turkey – 1LB
Mango Chutney – 4 TBSP
Romaine Lettuce – 2 Cups
Salt
Snack: Homemade Trail Mix
Nuts – Serving
Unsweetened Dried Fruit – Serving

Day 4
Breakfast: Green Smoothie
Spinach
Kale
Banana
Blueberries
Milk/Almond Milk
Lunch: Bento Box
Nuts
Vegetables
Eggs
Cheddar Cheese
Fruit
Dinner: Steak Kabobs
Beef Sirloin Steak (Cut 1 inch thick) – 1 1/2LBS
Barbecue Sauce – 1/2 Cup
Garlic – 2-4
Onion – 2 TBSP
Sugar – 2 TBSP
Steak Sauce – 2 TBSP
Vinegar – 2 TBSP
Worcestershire Sauce – 2 TBSP
Olive Oil – 2 TBSP
Medium Onions – 2
Button Mushrooms – 10-12
Zucchini – 1
Pepper – 1
Salt
Serves 5
Snack: Fruit Dippers
Fruit
Yoghurt
Honey
Cinnamon

Day 5
Breakfast: Savoury Breakfast Bowl
Sautéed Greens: Green Beans/Spinach/Kale – Serving
Lean Chicken Sausage – Serving
Sweet Potato – 1
Lunch: Tuna Stuffed Avocado
Avocado – 1
Tuna – 1 Tin
Apple – 1
Lemon Juice – Serving
Dinner: Loaded Greek Salad
Romaine Lettuce – 2 Cups
Red Onion – 1/4 Cup
Cucumber – 1/4 Cup
Feta Cheese – 2 Ounces
Olives – 8
Red Wine Vinegar – 2 TBSP
Oregano – 1 TS
Snack: Dark Chocolate Delight
Dark Chocolate – Serving
Orange (Slices) – 1

Day 6
Breakfast: Power Parfait
Greek Yoghurt – Serving
Berries (Your favourite) – Serving
Toasted Oats – Serving
Lunch: Greek Salad Pita
Whole Grain Tortilla – 1
Leftovers
Dinner: Cauliflower Stir Fry
Cauliflower – 1 Head
Sesame Oil – 1 TBSP
Egg (Whites) – 2
Egg (Whole) – 1
Onion – 1/2
Frozen Peas & Carrots – 1/2 Cup
Garlic – 2
Scallions – 5
Soy Sauce – 3 TBSP
Salt
Olive Oil
Snack: Better Banana Split
Banana – 1
Nuts – Serving
Coconut Flakes – Serving
Dark Chocolate Chips – Serving

Day 7
Breakfast: Pumpkin Oatmeal
Pumpkin Puree – 14 Ounces
Unsweetened Almond Milk – 2 Cups
Raisins – 2 TBSP
Kosher Salt – 1/3 TSP
Pumpkin Spice (can use cinnamon) – 3/4 TSP
Quick Cooking Oatmeal – 2 Cups
Pumpkin Seeds – 1/4 Cup
Honey/Maple Syrup – Serving
Lunch: Quick Quesadilla
Wholewheat tortilla – 1
Spinach – Serving
Avocado – 1/2
Cheese – Serving
Coconut Oil – Serving
Dinner: Quinoa Bake
Chicken Broth – 3-3/4 Cups
Dry Quinoa – 1-1/2 Cups
Broccoli Florets – 2 Cups
Butter – 4 TBSP
Mushrooms – 8 Oz
Shallot/Small Onion – 1
Garlic – 3
Gluten Free Flour – 2 TBSP
Milk – 1 Cup
Monterey Jack Cheese (Can use sharp) – 6 Oz
Salt & Pepper
Snack: Granola Protein Bites
Oats – 1 Cup
Toasted Shredded Coconut – 2/3 Cup
Peanut Butter – 1/2 Cup
Dark Chocolate Chips – 1/2 Cup
Honey – 1/3 Cup
Chia Seeds – 1 TBSP
Vanilla – 1 TSP
Week 2 Meal Breakdowns
Day 8
Breakfast: Banana "Pancake"
Banana (Ripe) – 1
Eggs – 2
Coconut Oil – Serving
Lunch: Salad In A Jar
Spinach – Serving
Egg (Boiled) – 1
Nuts – Serving
Tomato – 1
Chicken – 1 Breast
Olive Oil – Serving
Vinegar – Serving
Dinner: Taco Night
Mediterranean Spice – 2 TSP
Balsamic Vinaigrette – 1/4 Cup
Romaine Lettuce – 4 Servings
Red Onion – 1 TBSP
Red-Wine Vinaigrette – 1/4 Cup
Tzatziki – 1/4 Cup
Tomatoes – 4
Feta Cheese – 1 Ounce
Olives – 12
Parsley – 1 TSP
Basil – 1/2 TSP
Oregano – 1/2 TSP
Snacks: Fruit Pizza
Cream Cheese – Serving
Whole Wheat Bread – 1
Fresh Fruit – Serving
Cinnamon – Topping

Day 9
Breakfast: Egg Cups
Eggs – 2
Ham/Turkey (I used smoked turkey) – 2 Servings
Scallions – Serving
Lunch: Burrito Bowl
Black Beans – Serving
Lettuce – Serving
Tomatoes – Serving
Sliced chicken – 6 Oz
Salsa – Serving
Avocado – 1 to create a burrito bowl
Brown Rice/Cheese – Optional
Dinner: Stuffed Peppers
Green Peppers – 4
Canola Oil – 1 1/2 TSP
Onion – 1
Garlic – 1
Ground Turkey – 1LB
Rice (Cooked) – 1 1/2 Cups
Tomato Sauce – Can
Parsley – 1 TBSP
Salt & Pepper
Snacks: Hummus & Veggies
Hummus – Serving
Vegetables (raw) – Serving

Day 10
Breakfast: Better Than Cereal – Cereal
Milk/Almond Milk – Serving
Unsweetened Coconut Flakes – Serving
Fruit – Serving
Hemp Hearts – Serving
Nut Butter – Serving
Lunch: New & Improved Chicken Salad
Chicken Salad Ingredients
Avocado – 1
Celery Stalks – Serving
Grapes – Serving
Dinner: Sweet Potato Crusted Quiche
Potatoes (small) – 4
Olive Oil (spray) – Serving
Spinach – 1 Bunch
Onion – 1/2
Garlic – 1
Eggs – 4
Mozzarella – 1 Cup
Herbs (parsley/dill/chives) – Serving
White Miso – 1 TBSP (Optional)
Goat Cheese – 1/4 Cup
Asiago Cheese – (sprinkle)
Salt & Pepper
Snacks: Homemade Protein Bars
Walnuts – Serving
Unsweetened Dried Fruit – Serving

Day 11
Breakfast: Leftover Quiche
Leftover Quiche
Lunch: Cucumber Stackers
Cucumber – Serving
Lean Deli Meat – Serving
Chicken Salad – Serving
Hummus – Serving
Mustard – Serving
Almonds – Serving
Dinner: Superfood Soup
Black Beans – 15 Oz Can
Olive Oil – 1 TBSP
Onion – 1
Garlic – 2 TBSP
Oregano – 1/2 TSP
Paprika – 1/2 TSP
Cumin – 1/2 TSP
Vegetable Stock – 2 Cups
Poblano Pepper – 1/3 Cup
Tomato Paste – 2 TBSP
Snacks: Flourless Muffin
Unsweetened Apple Sauce – 1/2 Cup
Peanut Butter – 1/2 Cup
Egg – 1
Baking Soda – 1/4 TSP
Honey – 3 TBSP
Vanilla Extract – 1 TBSP
Salt
Cinnamon – 1 TSP
Ground Ginger – 1/2 TSP
Ground Cloves – 1/8 TSP
Apple – 3/4 – 1 Cup

Day 12
Breakfast: Almond Flour Muffin
Blanched Almond Flour – 1 Cup
Eggs – 2 (Around 4 Oz)
Honey – 4 Oz
Baking Soda – 1/4 TSP
Apple Cider Vinegar – 1/4 TSP
Lunch: Soup To Go
Leftover Soup – Serving
Dinner: Portabella Pizzas
Portabello Mushroom Caps – 6
Tomato Sauce – 1/2 Cup
Garlic – 1 TBSP
Black Olives – 1/4 Cup
Sweet Peppers – 1/4 Cup
Red Onion – 1/4 Cup
Cherry Tomatos – Serving
Mozzarella Cheese – Serving
Basil – Serving
Italian Seasoning – 1 TBSP
Snacks: Kale Chips & Salsa
Kale Chips – Serving
Salsa – Serving

Day 13
Breakfast: Very Berry Smoothie
Beet – 1
Frozen Mixed Berries – 1 Cup
Orange – 1/2 Cup
Almond Milk – 3/4 Cup
Hemp Seed – 1/2 TBSP
Lunch: Deli Meat Pizza
Deli Meat – Serving
Vegetables – Serving
Cheese – Serving
Dinner: Fish In Parchment
Firm Fleshed White Fish Fillet (Halibut/Cod Haddock) – 1
Olive Oil – 1 TBSP
Salt
Pepper
Bay Leaf – 1
Fresh Herbs (chives, parsley, tarragon) – Serving
Butter – 1 TBSP
Lemon – 3 Slices
Dry White Wine (Optional) – 1 TBSP
Snacks: Brown Rice Cake Pizza
Brown Rice Cake – Serving
Peanut Butter – Serving
Honey – Serving

Day 14
Breakfast: Super Breakfast Bowl
Smoothie Ingredients
Nuts – Serving
Fruit – Serving
Hemp Hearts (or Chia Seeds) – Serving
Lunch: Loaded Sweet Potato
Sweet Potato – 1
Black Beans – Serving
Broccoli – Serving
Sliced Chicken – 4 Oz
Olive Oil – 1 TBSP
Dinner: Shrimp and Zoodles
Olive Oil – 1 1/2 TSP
Red Pepper Flakes – Pinch
Shrimp (deveined) – 4 Oz
Garlic – 2
Zucchini – 1
Salt & Pepper
Lemon – 1/4
Grape Tomatoes – 1/4 Cup
Snacks: Black Bean Brownies
Black Beans – 1 1/2 Cups
Cocoa Powder – 2 TBSP
Quick Oats – 1/2 Cup
Salt – 1/4 TSP
Maple Syrup/Honey – 1/3 Cup
Stevia – Pinch or Sugar – 2 TBSP
Coconut Oil – 1/4 Cup
Vanilla Extract – 2 TSP
Baking Powder – 1/2 TSP
Dark Chocolate Chips – 1/2-2/3 Cup