Learn Exactly How Sophie Austin Lost 40 Pounds & Completely Transformed Her Body!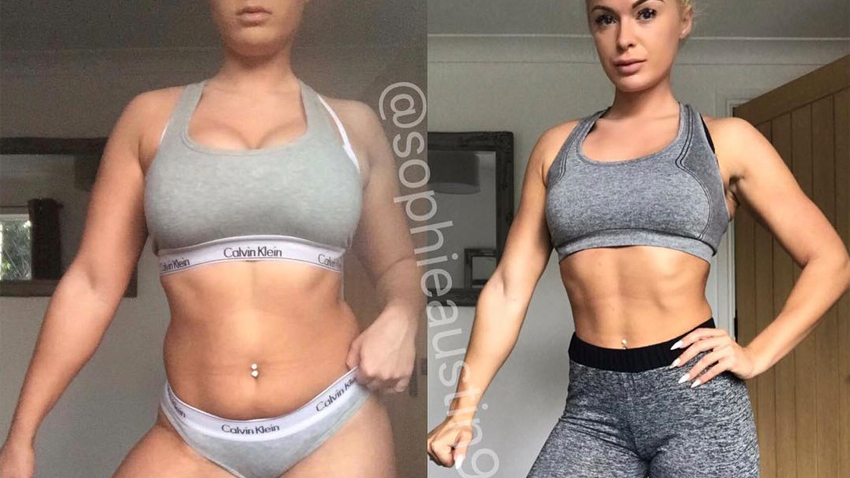 Sometimes putting on weight isn't all about being unhappy and trying to find some comfort in a depressing situation. For Sophie Austin, it was about getting comfortable in a new relationship, eating out and enjoying time with her new boyfriend.
In two years, she ended up getting out of shape and gaining over 40 pounds. During this time, she continued to go the gym, but obviously, something wasn't going to plan.
On her Instagram and with Popsugar, Sophie opened up about the various dieting and training periods throughout her time trying to get fit and were she went wrong.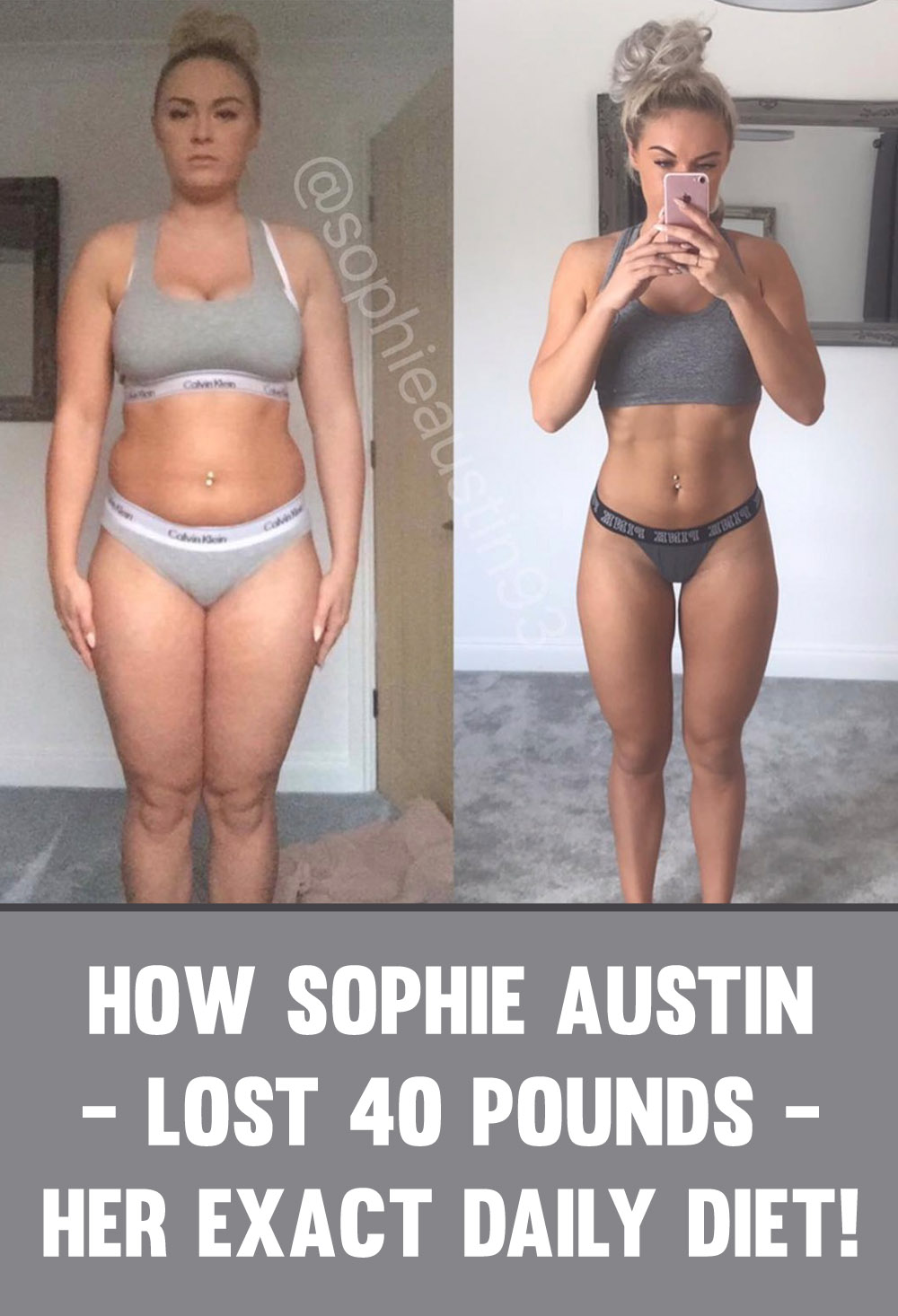 Be Sure To Follow Sophie On Her Instagram Here: @sophieaustin93
"Throwing it back to 2013, all I did was do the cabbage soup diet and run and ride a bike for 5km in the hopes to get skinny. I honestly had no idea did I? I would get skinny then go on holiday and eat everything in sight and put it all straight back on and more."
After years of yo-yo dieting and attempting to just "get skinny", she decided to stop dieting and the weight started to creep up.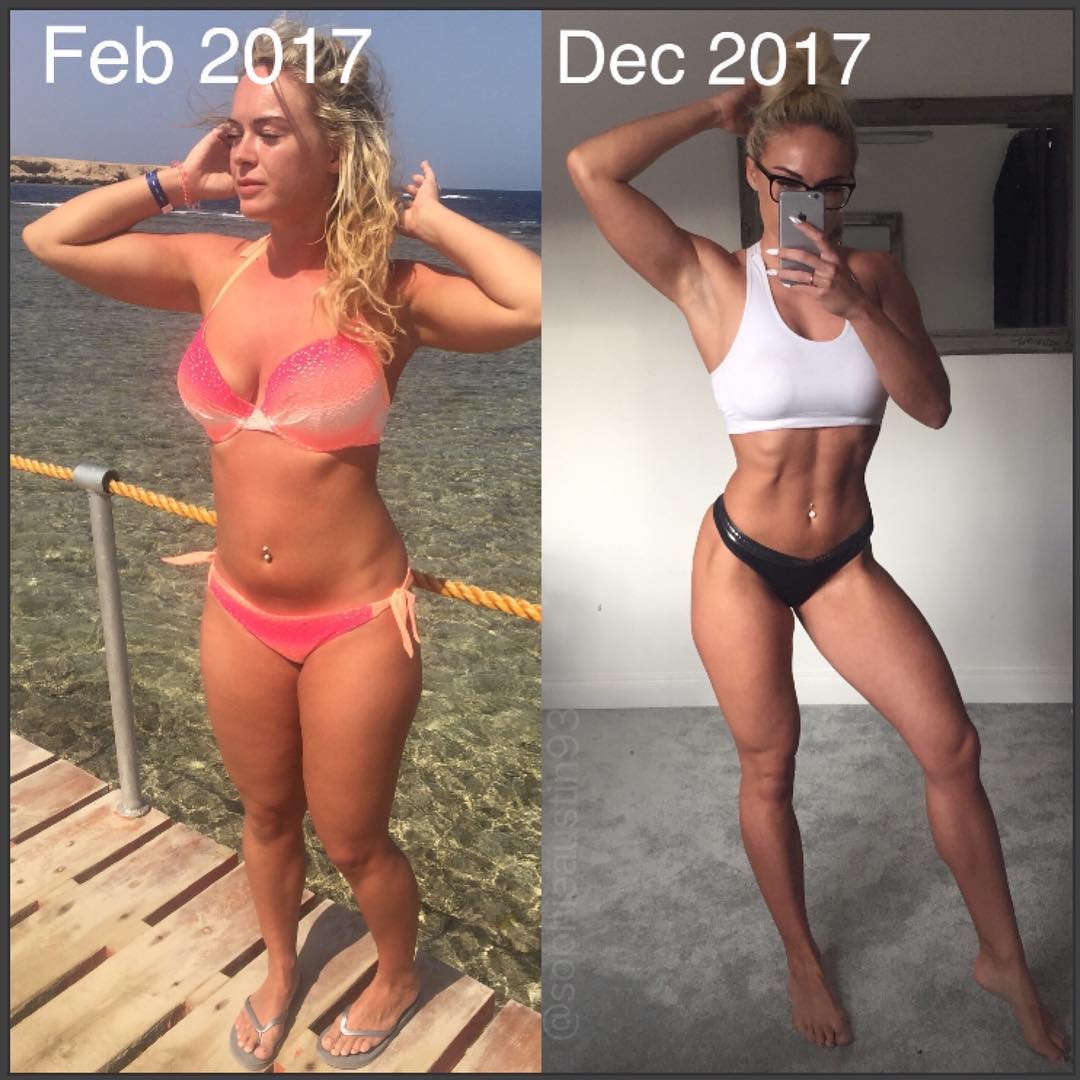 "I did little to no exercise, ate lots of cakes and takeaways and just ignored the meaning of health, I watched myself get bigger and bigger and felt more and more depressed yet I sat back and let that happen. WHY? Why do we do that? I started doing BBG and using shakes to start out, as I am and I hate to say it, an 'all or nothing kinda girl'. I HAVE to see results fast or I give up!"
It was this all or nothing attitude that helped her put everything into the challenge and really start seeing results for the first time in her life.
"So I gave it my all! I woke up every morning and ran 5km. I would then go to the gym and do 30mins more of cardio alongside circuit training for an hour, I ended up obsessed! I got to around 128 pounds, which for my height, 5'5ft is quite small and I looked teennniieeee tiny!"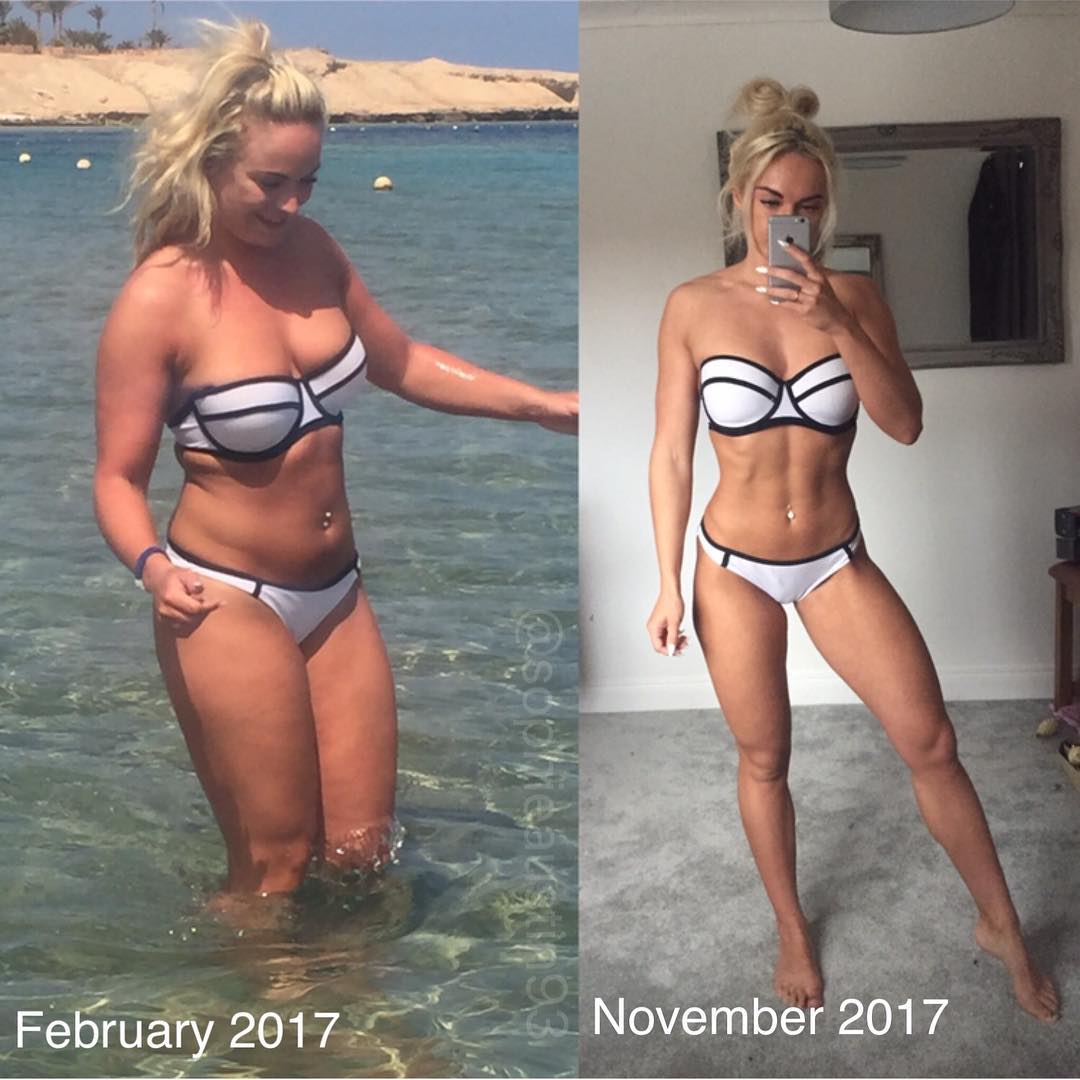 After getting down to a weight Sophie was happy with, she met her boyfriend and stopped obsessing with about her body and staying fit. She slipped into a more comfortable routine, eating what her boyfriend ate and the weight started to pile on again.
"In January 2017, I decided enough was enough and it was time to start training for me again, to stop just copying my boyfriend and to take control of my workouts and eating."
"I followed BBG strictly for 12 weeks and lost the majority of my weight. I was 169 pounds when I started my journey and I'm now sitting at around 135 pounds."
Sophie combined her BBG training plan with a high protein, low carb diet. She cut out all junk food and started drinking lots of water to keep her hydrated.
Sophie Austin's Typical Daily Diet:
Breakfast: Oatmeal with blueberries
11 a.m: Chicken, rice, and a vegetable
Noon: (before the gym) Protein shake with an apple and a tablespoon of peanut butter
3 p.m: (post-workout) Steak, sweet potato, and another vegetable
Dinner: Salmon with spinach and tomatoes, or a chicken salad; she tries to avoid carbs with dinner
Before Bed: Bowl of Coco Pops or Greek yoghurt with cinnamon and a 38-calorie Cadbury's Fudge Hot Chocolate
After dropping around 40 pounds, Sophie is know committed to building more muscle so she has altered her diet to include more calories.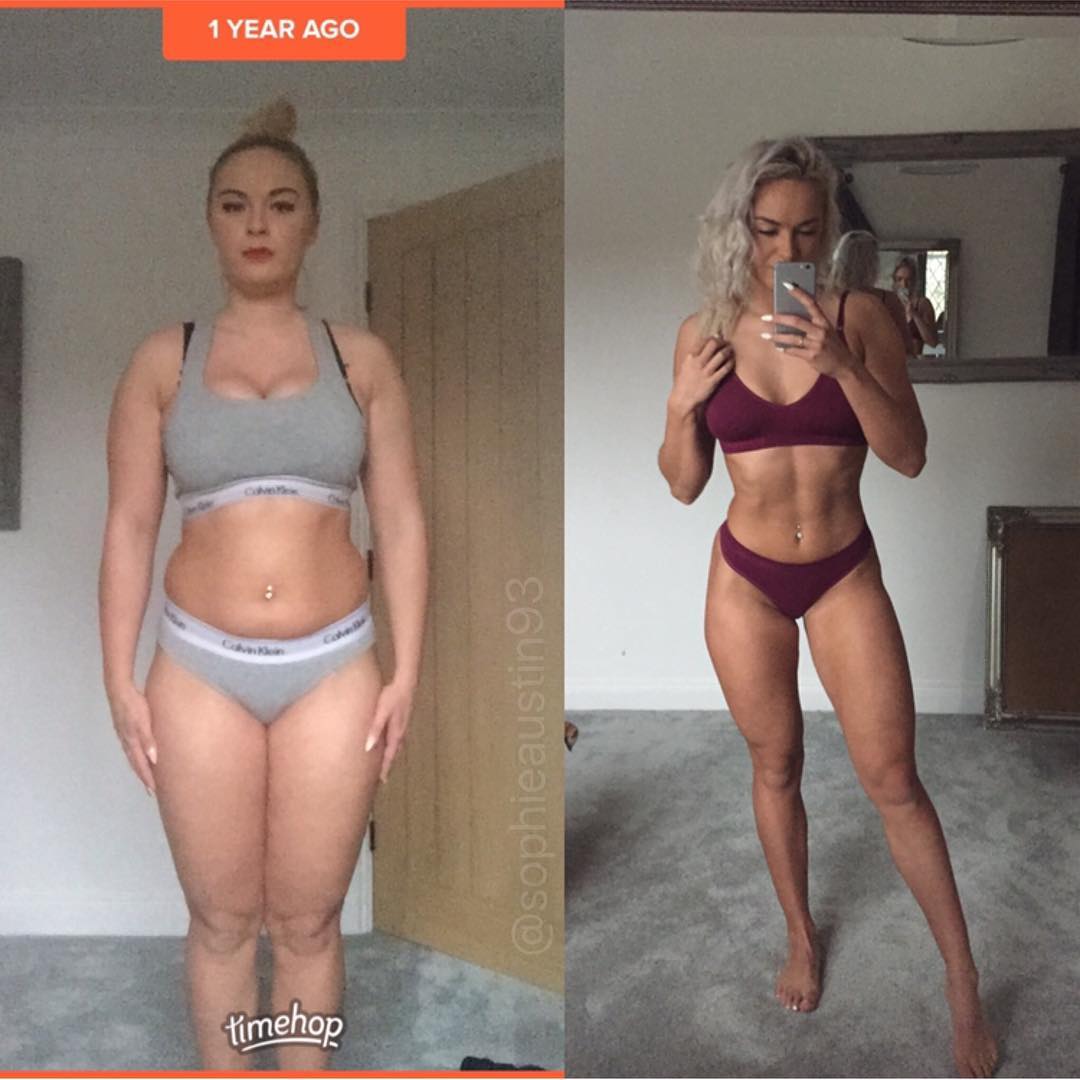 "I have increased carbs to every meal and enjoy a balanced lifestyle. I eat around six times a day, all balanced meals of carbs, proteins, and fat."
"I now train different body parts each day. Monday is leg day, Tuesday back, Wednesday legs again, Thursday arms and shoulders, and Friday chest and bum. I like to add a couple of booty exercises each day, though, as I really want to build this area!"
Sophie offers this advice to people who want to change their bodies and live a healthier lifestyle.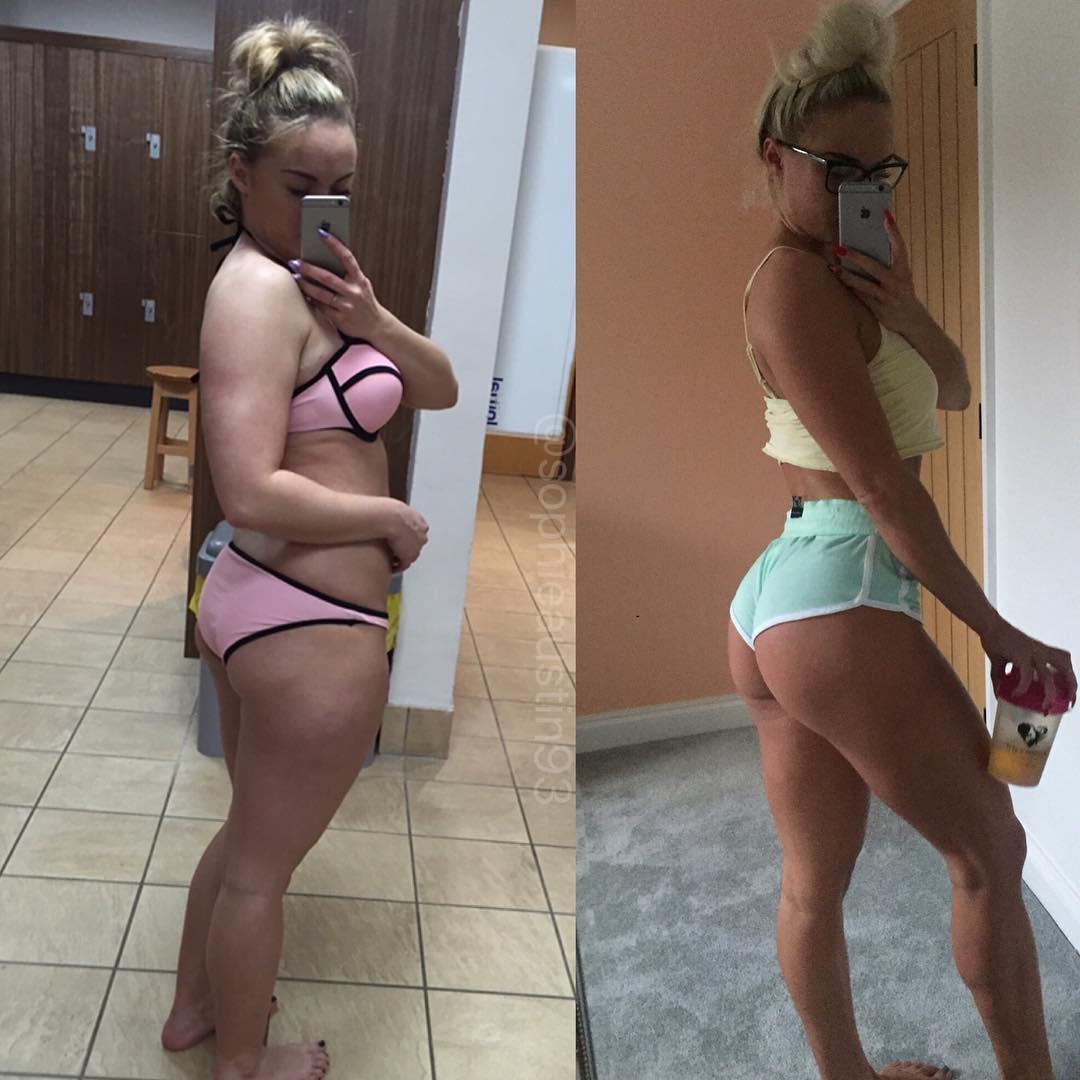 "Nothing comes easy. You have to be committed and dedicated. If you stick to it and believe in yourself, you will see the results you want."
"This healthy lifestyle lark is about consistency, I have learnt you can't keep yoyo dieting and expect results you just crash and burn! I urge you to take your health seriously, do everything in moderation enjoy a balanced healthy life, and most importantly enjoy being you!"
"For a long time I felt lost, lost in myself, lost in what I wanted to do with my life just everything, I felt I was going nowhere fast, but in all honesty I was eating awfully and not training properly and most important I wasn't do it for the right reasons"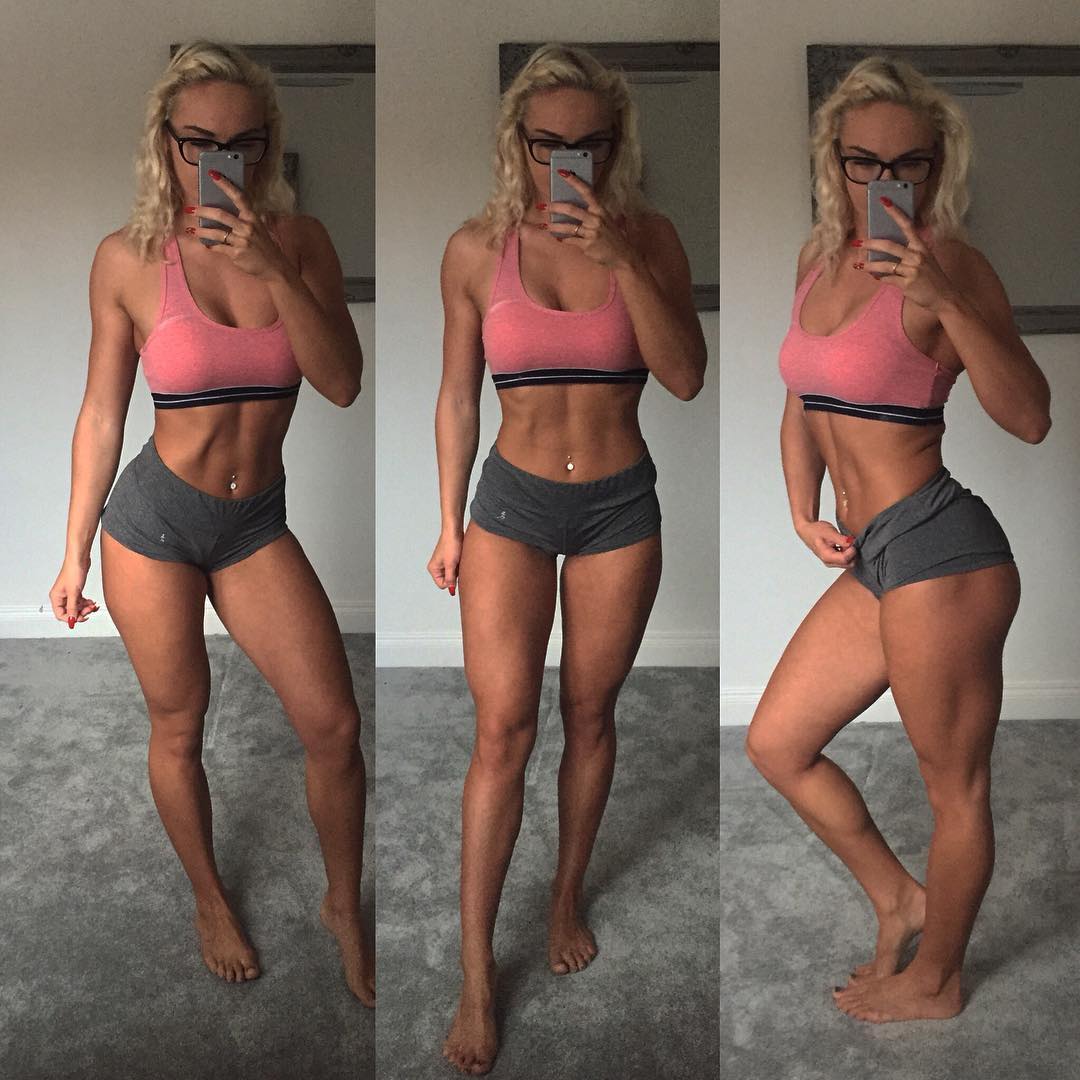 "When I found my "why" in January last year I realised no one and nothing was going to stop me achieving my goals, nothing was going to hold me back from being the very best version of myself!"
Sophie Austin's Ab Circuit
"So obviously this years body I have totally different goals to last year, this year my goal is to have a peachy booty and abs in my bikini, so I'm going to be completing this ab circuit at the end of EVERY workout until I go."
Here's the routine:
1️⃣ 20 weighted crunches
2️⃣ 20 ab bikes (slow and controlled as shown)
3️⃣ 15 per side Plank side steps (this should r ally be done with your feet raised but I didn't have a small enough step)
4️⃣ 20 Hanging leg raises
5️⃣ 20 Bent knee raises
6️⃣ 20 Hanging twists .
Complete this routine 4 times and get those toned tums!"
Sophie Austin's Daily Diet Examples From IG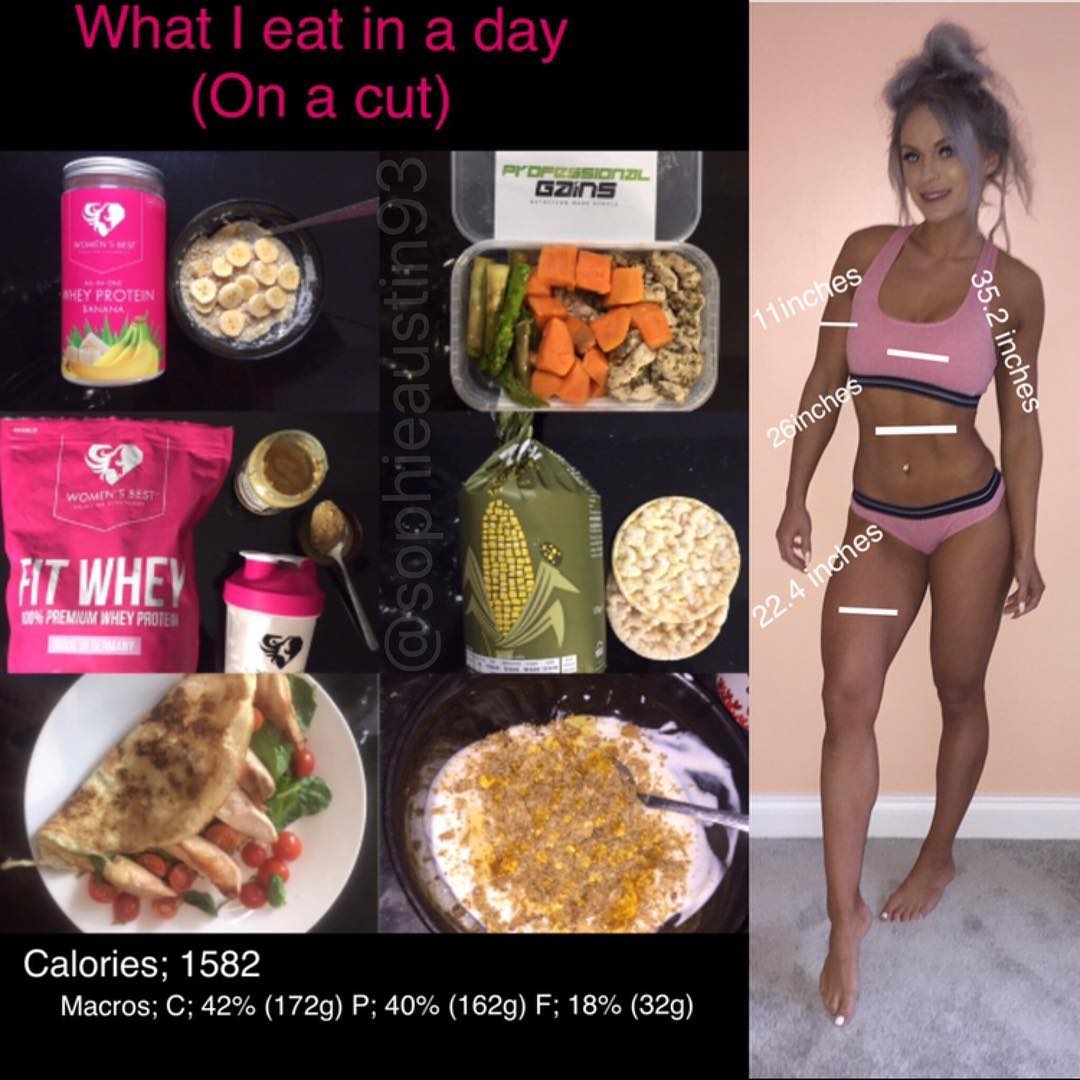 What Sophie Eats On A Cut:
"This is my current eating regime that I'm using for my cut. I will continue this for another 12.5 weeks until my holiday then… ALL INCLUSIVE BAYBEEEE."
Meal 1: Oats 40g 1/2 Banana 1 Scoop @womensbest Whey protein.
Meal 2: @pro_gains prepped meal 113g Sweet Potato 85g chicken breast 90g.
Snack 1: @womensbest FitWhey 2 scoops and 1 tablespoon peanut butter.
Snack 2: 2 Kallo rice cakes.
Meal 4: Omelette (5 egg whites 1 egg) 1 Chicken breast handful of spinach and 10 cherry tomatoes.
Meal 5: 0% Fat Greek yoghurt 5 drops @womensbest flavour drops in butter biscuit 1 broken weetabix 3 tablespoons of honey (I look forward to this all day – I have a super sweet tooth so I love this)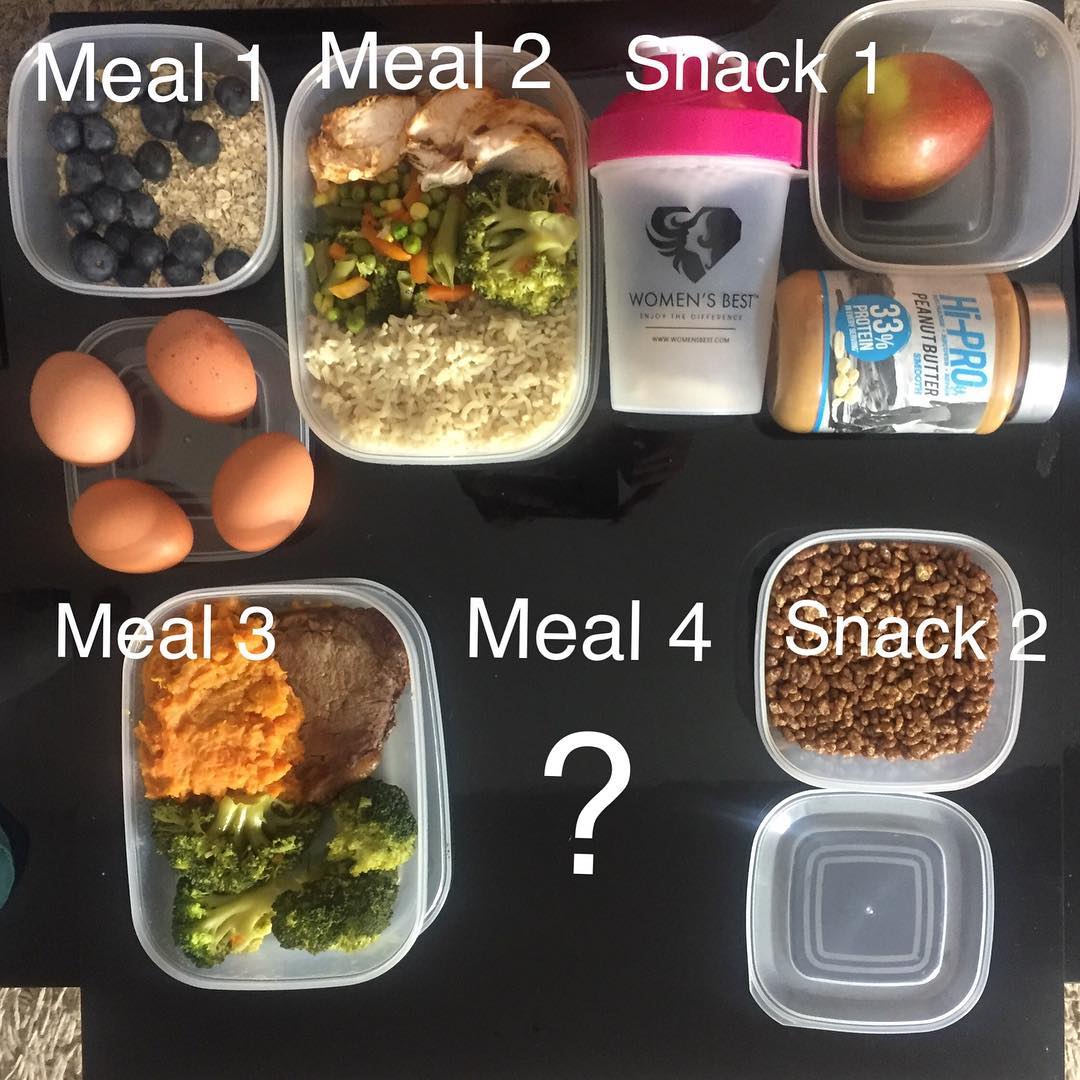 Meal 1 is breakfast I have 40g of oats a handful of blueberries 3 egg whites and 1 whole egg
Meal 2 is my mid morning snack which to some may seem hilarious as it's 85g of Chicken 60g brown rice and loads of mixed veg I don't weigh veg because I don't think there's such thing as too much)
Snack 1 (pre workout) is an apple 1tbsp peanut butter and 1 scoop of protein I use @womensbest slim body shake in vanilla raspberry
Meal 3 (post workout) 100g sirloin steak 150g of sweet potato and loads of broccoli
Meal 4 (dinner) I haven't added this because it can vary as usual dinner would be 150g of salmon with a mixed salad garnished with lemon and chilli (I chose not to eat carbs with my last meal)
Snack 2 40g coco pops… YAY this is my favourite, I have a super sweet tooth so I always have to have something that's going to keep that at bay I would either have coco pops OR a low fat Greek yoghurt with a tbsp of cashew butter
"So I hope this has helped a few of you get an understanding into my diet, I follow the same thing day in and day out so understand I don't swap things out usually"
"CHEATS. Here's another question I always get asked, if I am being strict I will have just 1 treat per week, whether that's pizza or my favourite sweets or a trip to Nandos. I try to keep it at bay because I find the less I eat it the less I crave it. I'm feeling naughty I will grab myself a protein bar or something that I know has some sort of nourishment because that is what it's all about, putting the correct nourishment into our bodies!"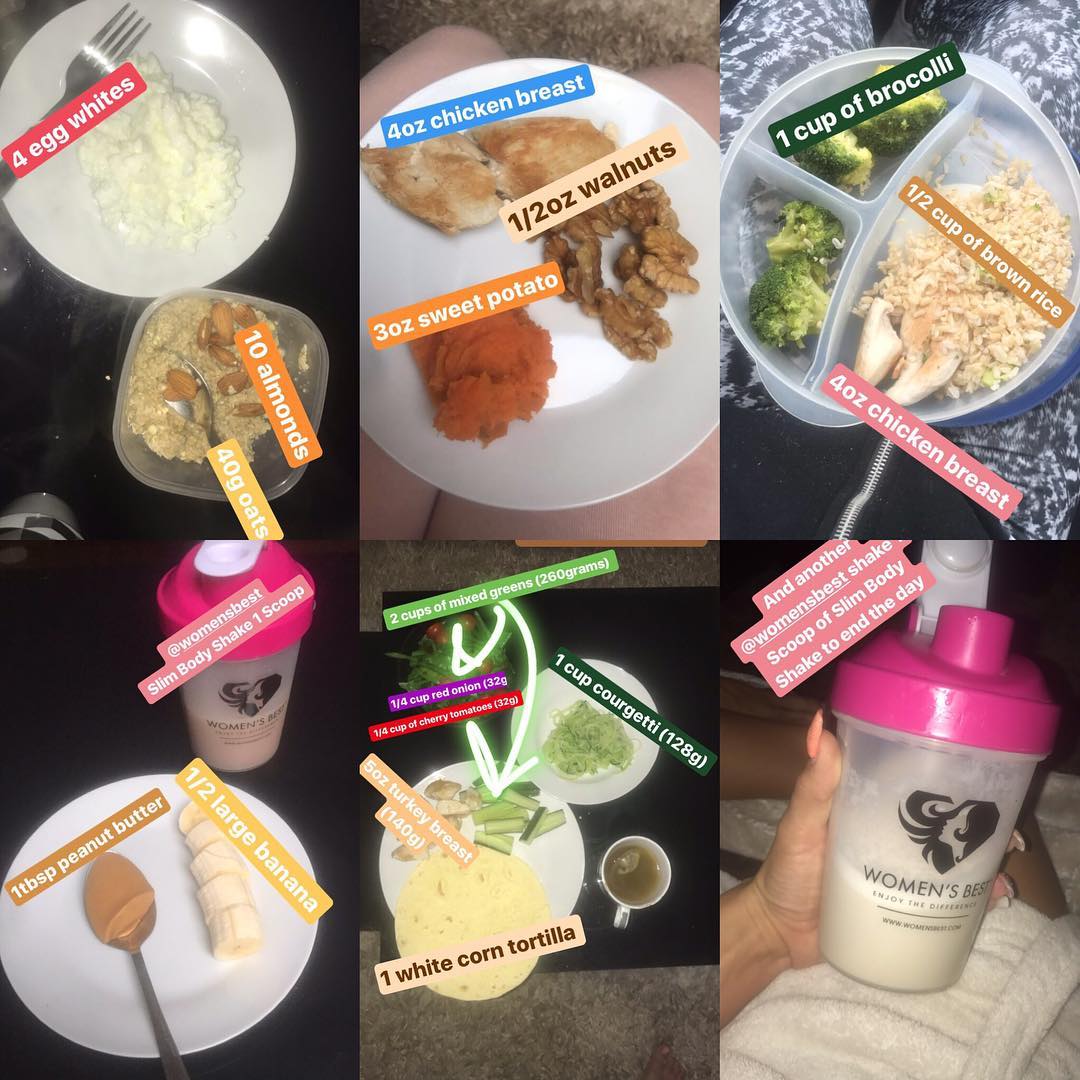 Breakfast: 1/3 cup Oats 10 Almonds and 4 Egg Whites.
Mid Morning Snack: 4oz Chicken Breast 3oz Sweet Potato and 1/2oz Walnuts.
Lunch: 4oz Chicken 1/2 cup Rice and 1 cup Broccoli.
Mid Day Snack: 1 Scoop of @womensbest Slim Body Shake 1/2 Banana and 1tbsp Peanut Butter.
Dinner: 5oz Turkey 1 White Corn Tortilla 1 cup of Courgetti 2 cups of Mixed Greens 1/4 cup Red Onion 1/4 cup Cherry Tomatoes & Balsamic Vinegar with 10 Almonds.
Late Snack: 1 Scoop @womensbest Slim Body Shake.
Totals: Calories – 1518 Protein; 181g Carbs; 124g Fat; 40g.