31 Keto Chicken Recipes That Are High Protein And Delicious!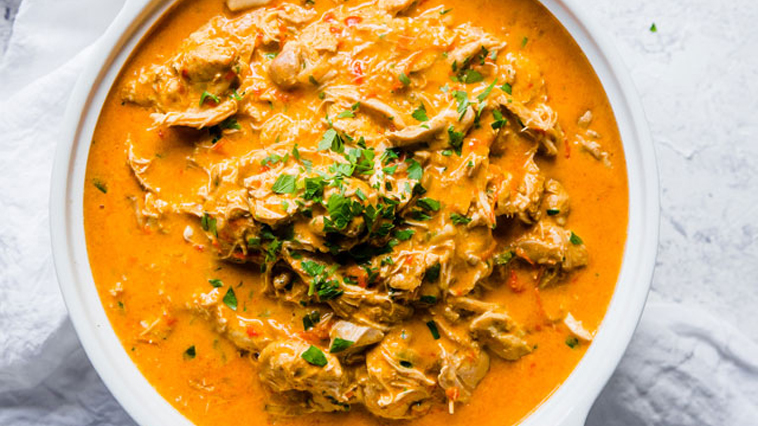 We won't bore you with another Keto Diet explanation. High protein, minimal carbs! It continues to be one of the more popular diet styles in the past few years, with people seeing incredible results.
As usual, you don't have to be fully immersed in the Keto lifestyle to enjoy some Keto recipes, though it can be a good starting point to see if it's something that you want to try and if it works for you!
So we have collected 31 incredible, new chicken Keto recipes that are packed full of protein and don't skimp on the flavour! What diet?! Be sure to share and save all your favourites on social media! Enjoy!
31 Keto Chicken Recipes That Are High Protein And Delicious!
Cheesy Buffalo Chicken Stuffed Avocados
"Can you even? Cheesy. Buffalo. Chicken. Stuffed. AVOCADOS FTW. Seriously, these stuffed avos are SO good. They remind me of buffalo chicken dip and wings, it's like those two dishes had a baby and threw some guacamole on top. I'm digging it.". Recipe: CastIronKeto.
CROCK-POT WHOLE CHICKEN RECIPE WITH GARLIC HERB BUTTER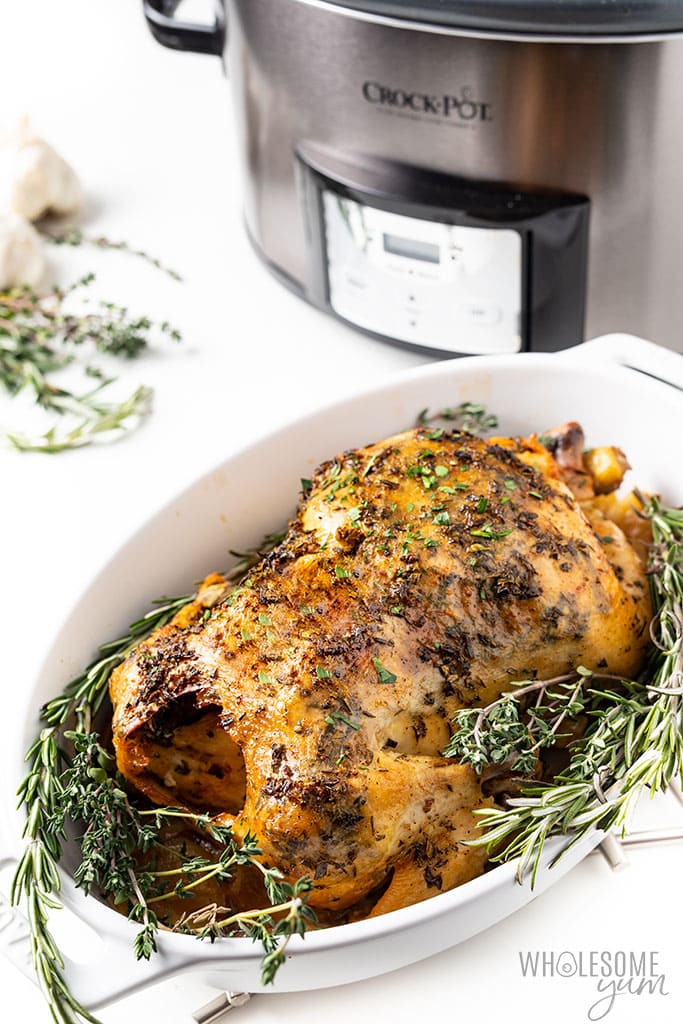 "This Crock-Pot whole chicken recipe is EASY and slow cooker whole chicken turns out JUICY every time! Just 15 minutes to prep.". Recipe: WholesomeYum.
LOW CARB KETO CAESAR SALAD RECIPE WITH CHICKEN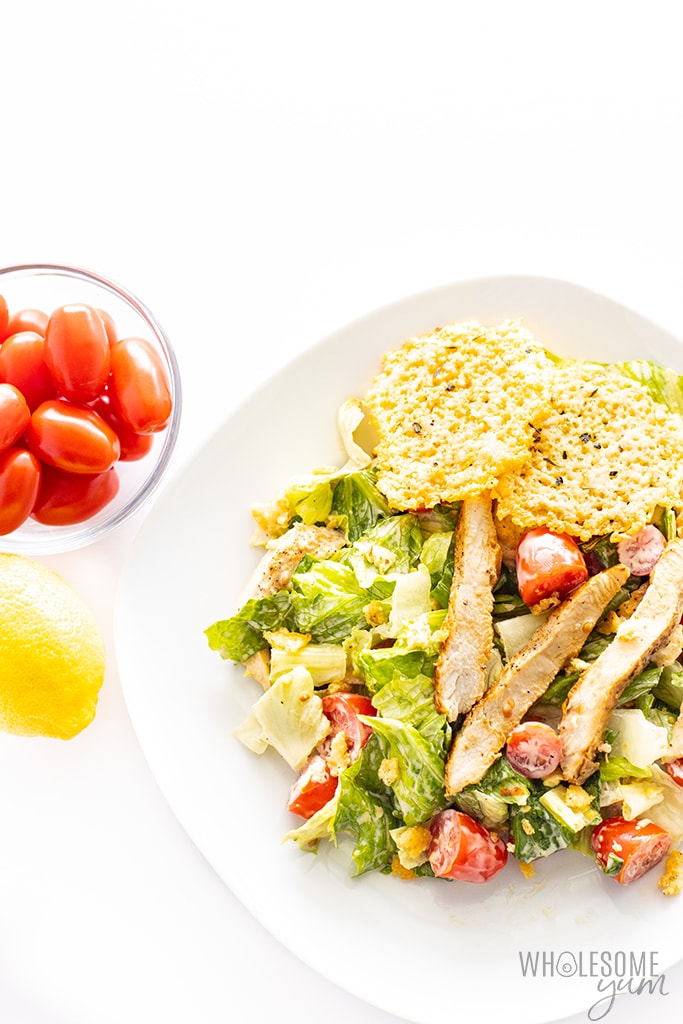 "Caesar salad on keto is simple to make, with common ingredients! This easy keto Caesar salad recipe with chicken features parm crisps and homemade keto Caesar dressing.". Recipe: WholesomeYum.
Keto Prosciutto Wrapped Italian Chicken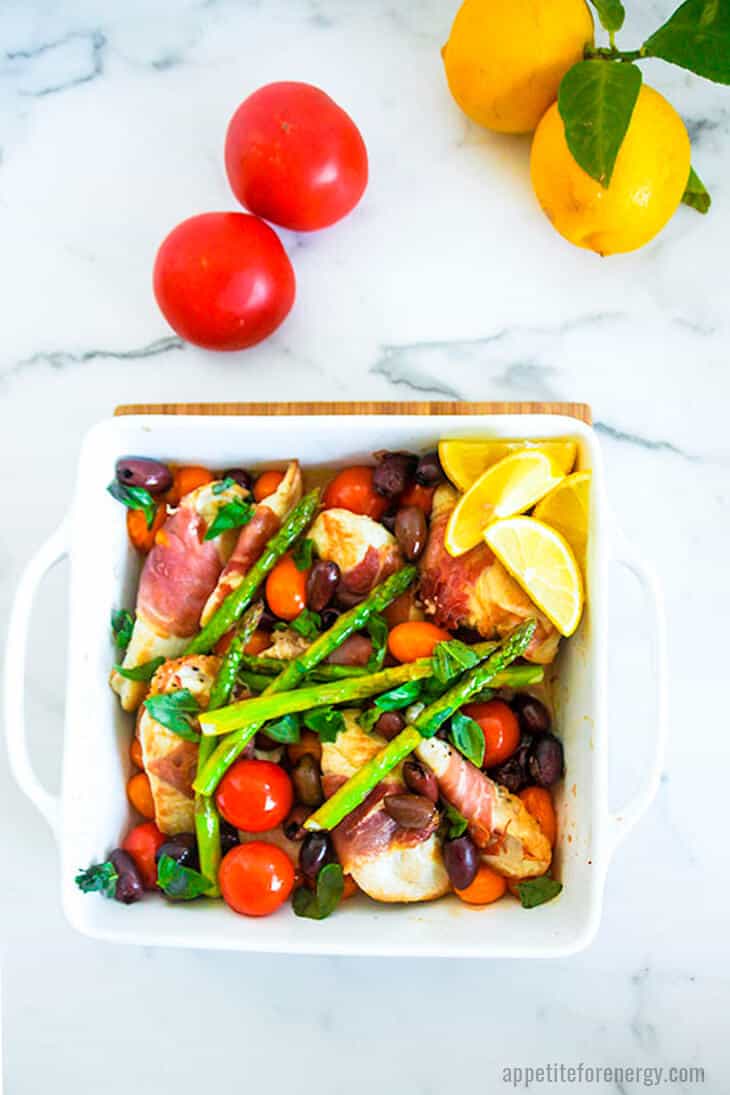 "Keto Prosciutto Wrapped Italian Chicken delivers maximum Mediterranean flavor in just ONE PAN. Nestle tomatoes, olives and asparagus around a centerpiece of prosciutto-wrapped chicken and take a trip to Italy tonight!". Recipe: AppetiteForEnergy.
Healthy Buffalo Chicken Skewers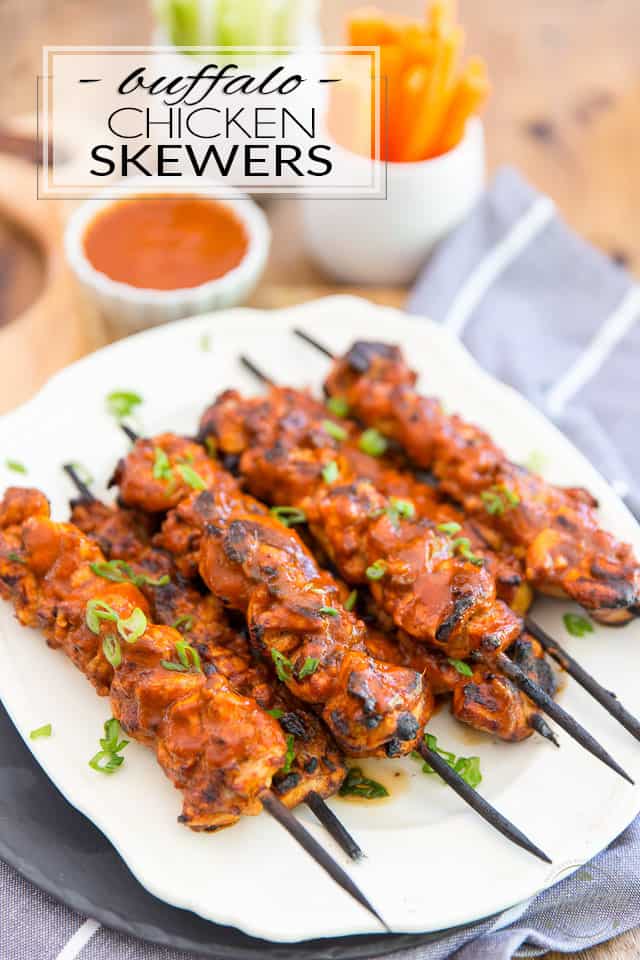 "If you are a fan of Fiery Buffalo Wings, then you will be all over these Buffalo Chicken Skewers. You get all the same amazing fiery flavor, but so much more juicy, tender chicken meat per bite!". Recipe: TheHealthyFoodie.
Keto Salsa Chicken Bake
"And yes, it's delicious. Just dump everything into your cast iron skillet or baking dish and pop it into the oven until the chicken is cooked through and the cheese is bubbly.". Recipe: CastIronKeto.
Chicken Meatballs Stuffed With Provolone Cheese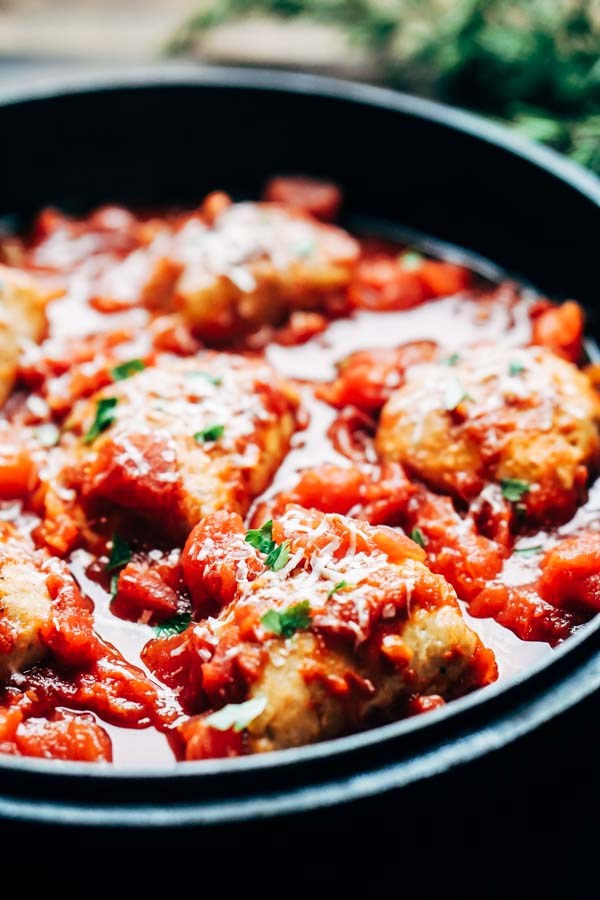 "Chicken meatballs are one of my favorite things to eat! Keto meatballs consistently pop up on my weekly menu plan. They're delicious and simple, but lend themselves to a variety of flavors. These chicken meatballs stuffed with provolone cheese are always a hit with the family." Recipe: Ketogasm.
Quick And Easy Broccoli Chicken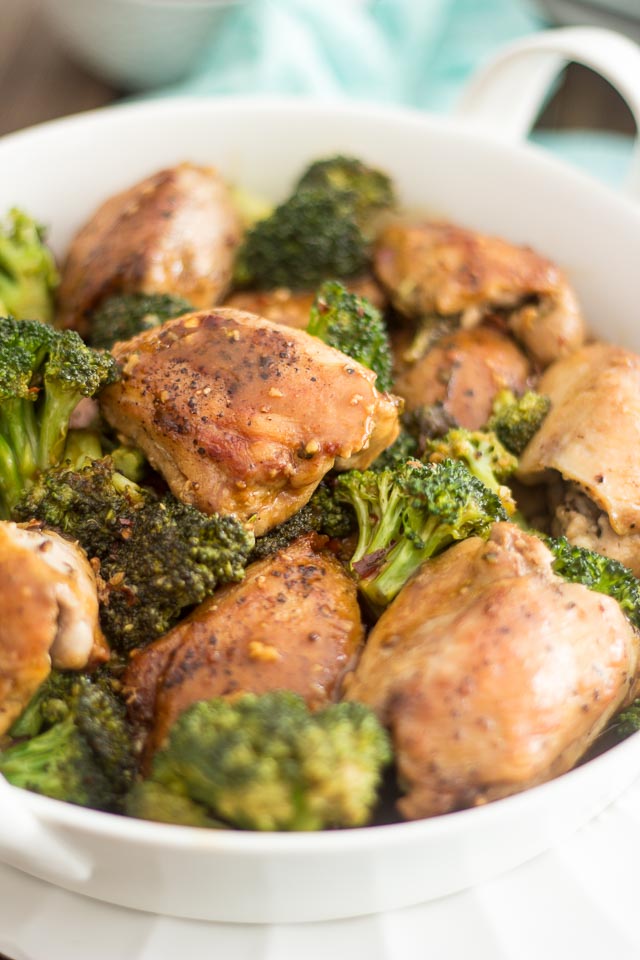 "This Quick and Easy Broccoli Chicken recipe, for instance, comes together in about 15 to 20 minutes. Trust me, though, the gustatory experience you'll get out of this dish is inversely proportional to the time you'll have spent working on it." Recipe: TheHealthyFoodie.
Keto Bacon 'Brown Sugar' Chicken Bites
"Sweet and savory with a dash of heat, is one way to describe these Keto Bacon Brown Sugar Chicken Bites, but the more likely way is to let out a hoop or holler (maybe even both) of jubilation and not describe them at all, but instead load more onto your plate. ". Recipe: CastIronKeto.
Keto Butter Chicken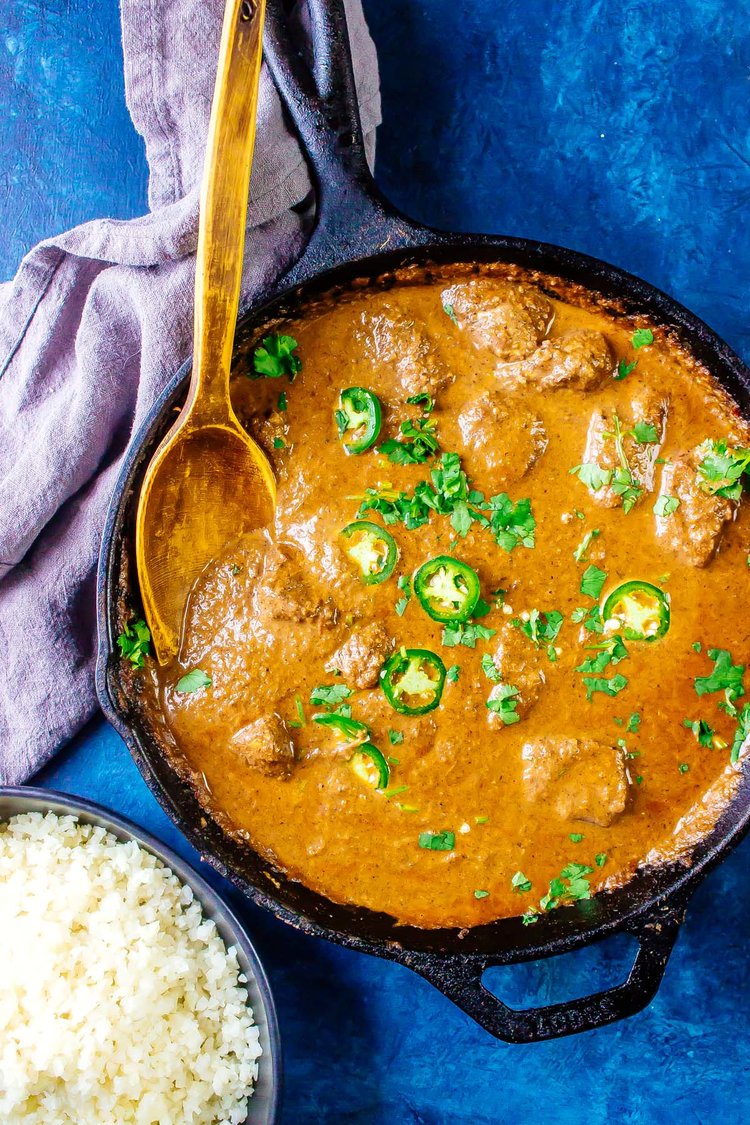 "This may be a little of a curve-ball, but if you want to make the most (nutritiously speaking) out of this butter chicken, forgo the butter. Wait, what? Yeah you heard me… substitute ghee in its place." Recipe: CastIronKeto.
Keto Enchiladas
"So you could say I was skeptical when I began prepping the ingredients for this recipe, all the way through shooting the pictures. However, when I sat down with a plate of two enchiladas, I made my way through the first one and was stuffed. I was pleasantly surprised with how filling each enchilada was, and I hope you with be too!" Recipe: CastIronKeto.
CREAMY GARLIC CHICKEN THIGHS RECIPE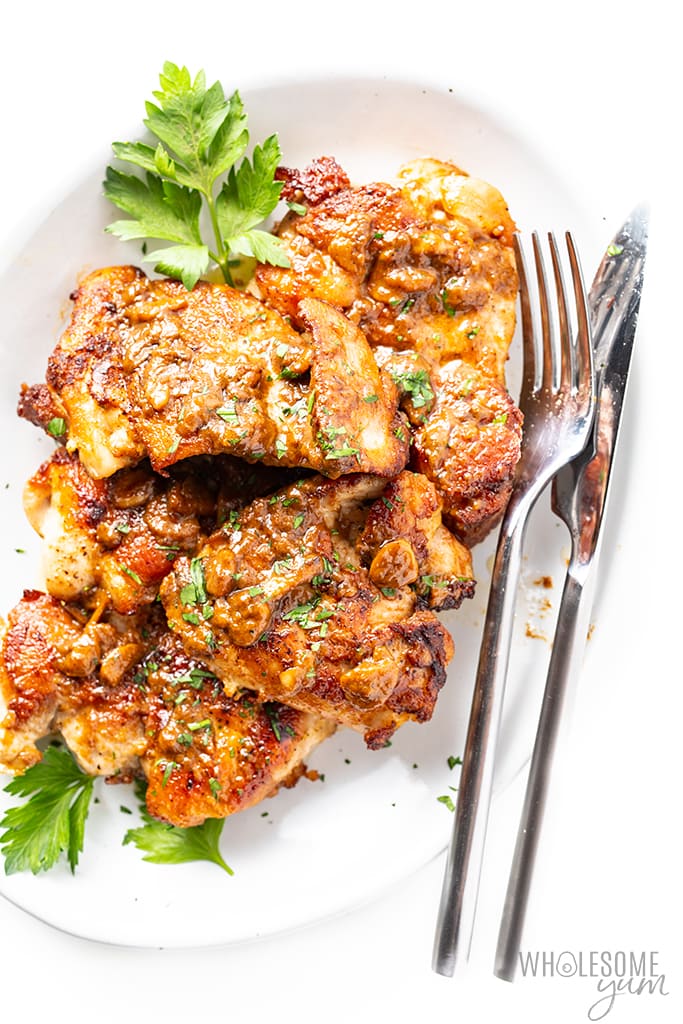 "Garlic butter chicken thighs make a perfect low carb chicken dinner! This creamy garlic chicken recipe is fancy enough for guests, but easy enough for weeknights.". Recipe: WholesomeYum.
Creamy Chicken Lazone Recipe With Zucchini Noodles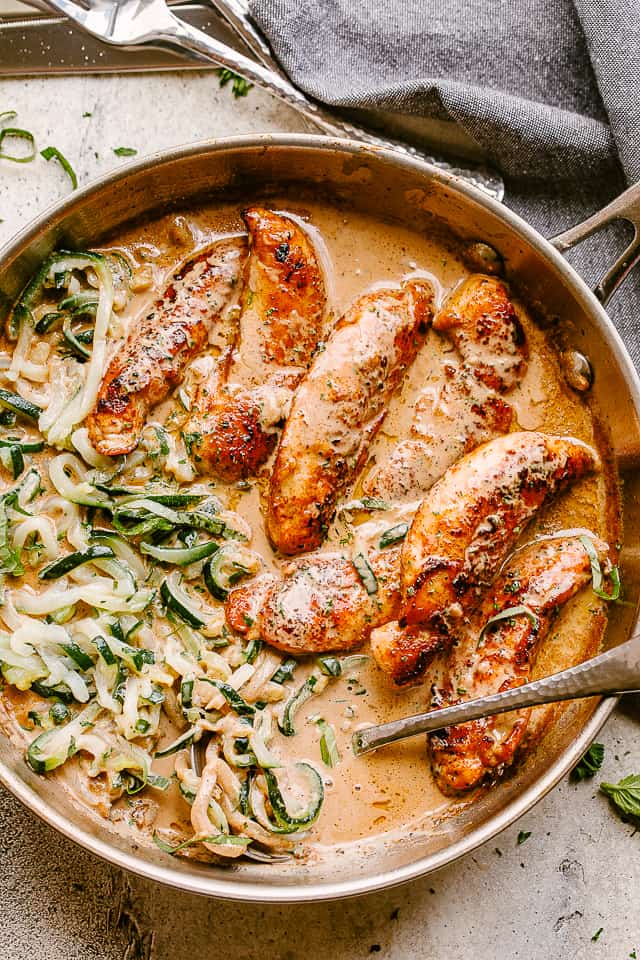 "This easy Chicken Lazone recipe is the low carb chicken dinner of your dreams! Pan-fried, juicy, and deliciously seasoned chicken tenders served with zucchini noodles tossed in the most amazing cream sauce. Ready in just 30 minutes, this restaurant worthy dinner is perfect for a quick weeknight meal!". Recipe: DietHood.
Baked Pesto Alfredo Chicken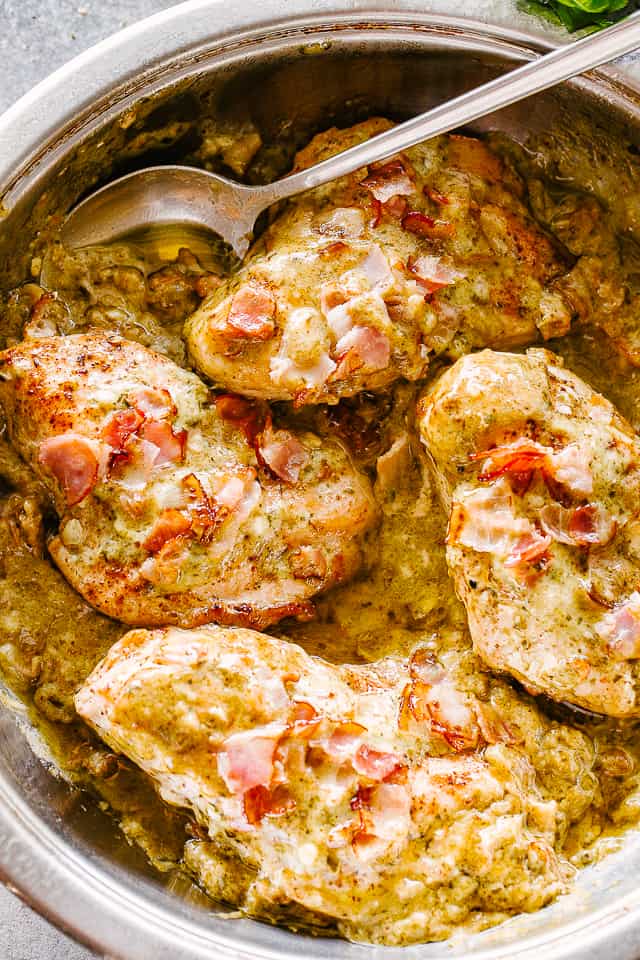 "Baked Pesto Alfredo Chicken – Alfredo style Pesto Chicken is a delicious recipe that is ready in 30 minutes, is also low carb, KETO, and gluten free! Serve over zoodles or cauliflower rice and you'll soon realize that this is the BEST Alfredo Chicken, even without the pasta!". Recipe: DietHood.
Maple-Glazed Bacon Wrapped Chicken Breasts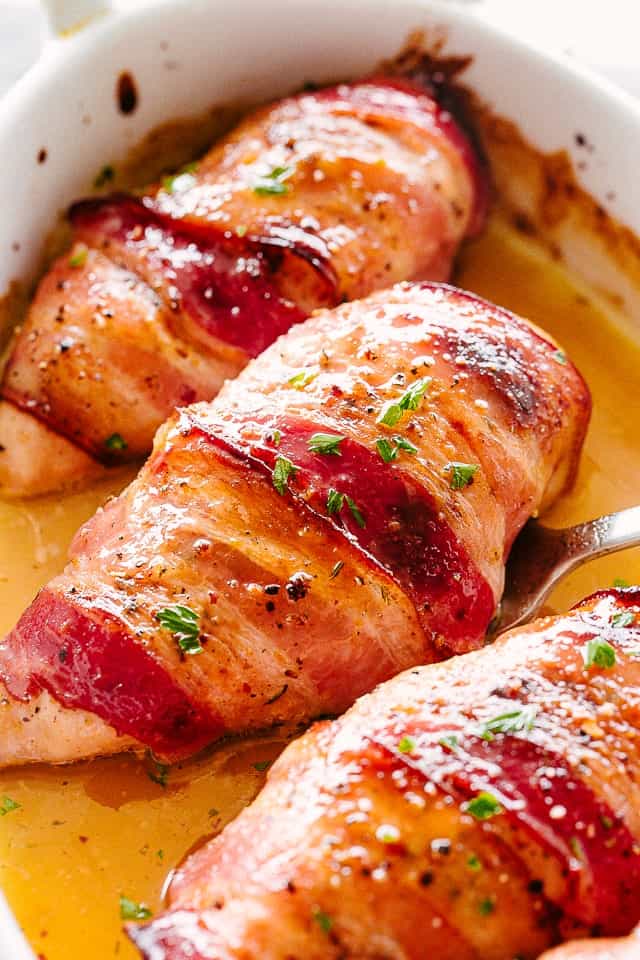 "Maple-Glazed Bacon Wrapped Chicken Breasts – Sweet, savory, juicy, and awesomely delicious bacon wrapped chicken dinner prepared with just 5 main ingredients! ". Recipe: DietHood.
Easy Keto Chicken & Mushroom Soup
"As Fall approaches, thoughts turn to warm and comforting food. This creamy low-carb chicken mushroom soup is a lovely bowl of deep flavours and lush textures. It's just what you need on a rainy day. It's like a hug from the inside.". Recipe: KetoDietApp.
30-Minute Herb Roasted Chicken Drumsticks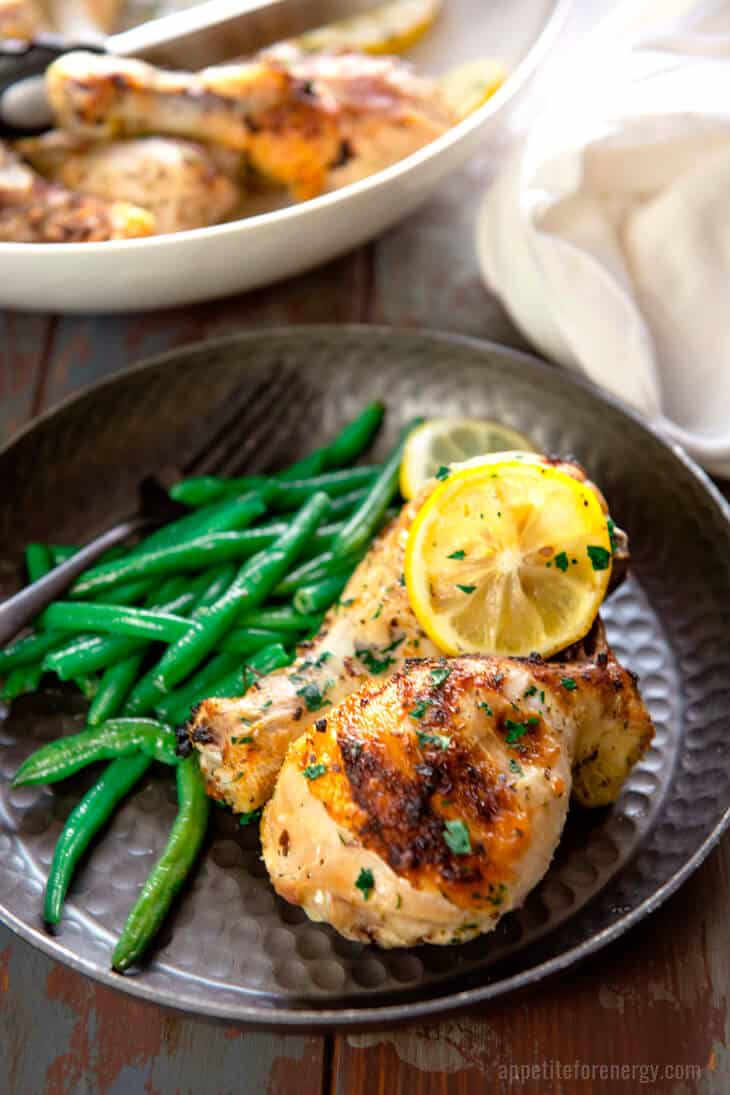 "This speedy herb roasted chicken drumsticks recipe is packed with lemon and herb flavor and is guaranteed to be gobbled up in no time! It's a sure crowd pleaser or the perfect quick and tasty family meal as well as being keto-friendly, gluten-free and dairy-free.". Recipe: AppetiteForEnergy.
Keto Teriyaki Chicken Bowl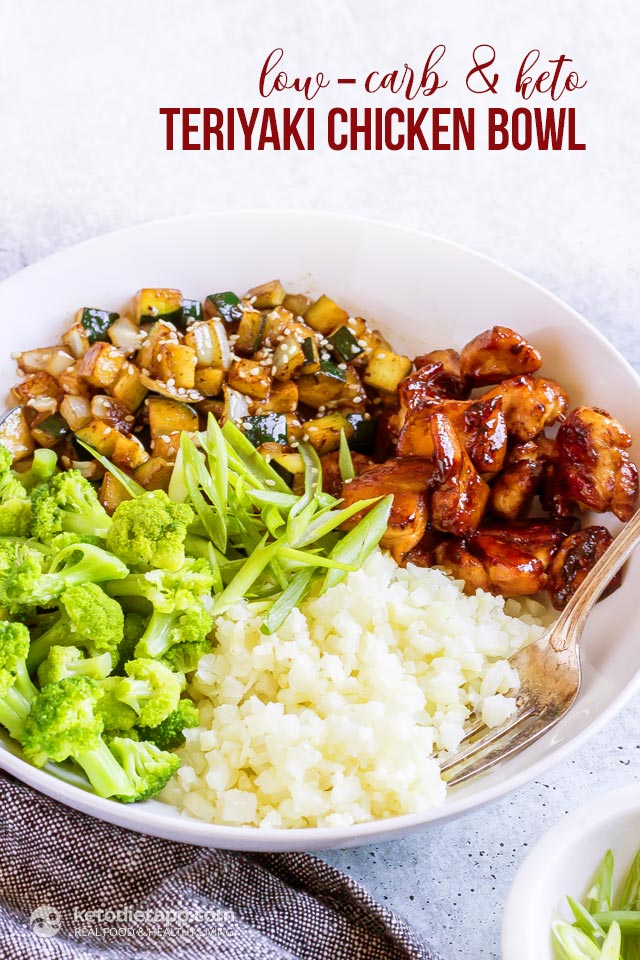 "This single serving keto teriyaki chicken bowl is a great lunch option. These bowls are loaded with sweet teriyaki chicken (no sugar!), hibachi style zucchini with sweet onions, broccoli and cauliflower rice. It's packed with protein and nutrients, covering half of your daily potassium needs!". Recipe: KetoDietApp.
Easy Low-Carb Chicken Paprikash Stew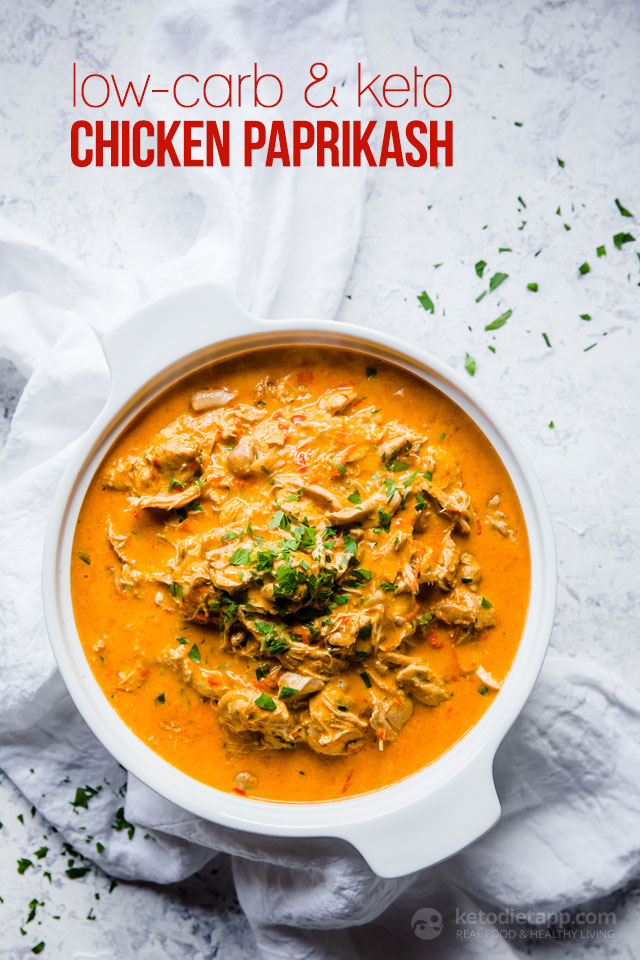 "I used skinless and boneless chicken thighs, for ease of cooking, but you can use whatever you prefer. Just remember that you need slightly longer cooking time for bone-in thighs. You can even use skin-on chicken drumsticks for an extra boost of flavour like we used in our Easy Paprika Chicken Recipe.". Recipe: KetoDietApp.
Healthy Low Carb Chicken Enchiladas
"". Recipe: FoodFaithFitness.
Keto Chicken Soup
"When the the weather turns cold, or you've got a cold there are few things more comforting than a big warm bowl of chicken soup. I mean you can't go to a book store and find a section full of Minestrone for Your Soul or Clam Chowder for Your Soul (well, maybe you could in you searched hard enough in New England). But for the most part chicken soup is synonymous with warmth…comfort…healing, and this low carb version doesn't disappoint your tastebuds or your soul. " Recipe: CastIronKeto.
Zucchini Pasta With Chicken & Pistachios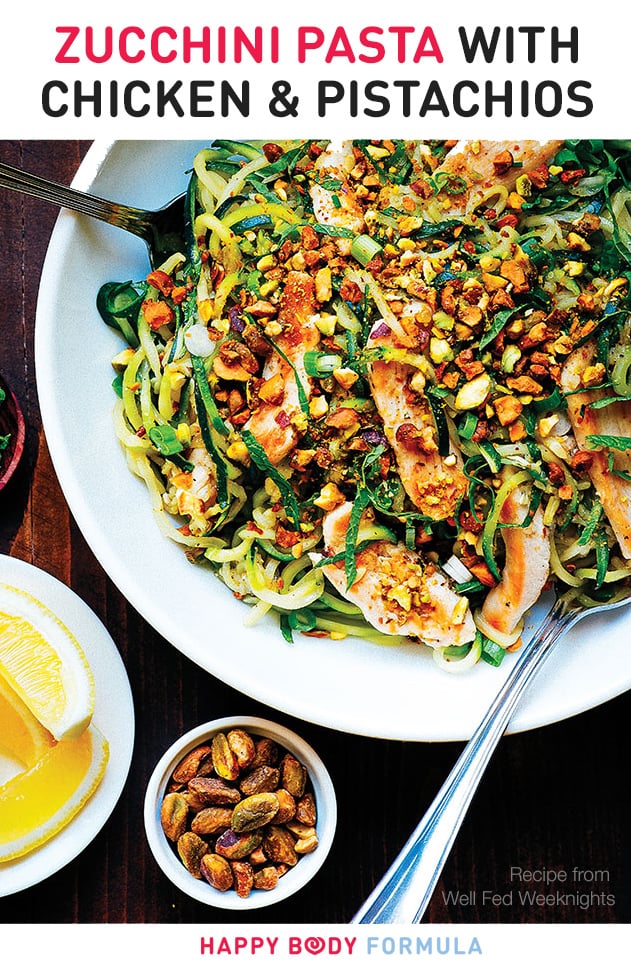 "This recipe is an homage to the pasta recipes that show up on food magazine covers every spring. You know the ones: they feature a bowl of pasta flecked with herbs and golden chicken—and smiling, painfully chic people gathered around a picnic table on a hillside, all bathed in dappled sunlight." Recipe: HappyBodyFormula.
5 Ingredient Keto Chicken Salad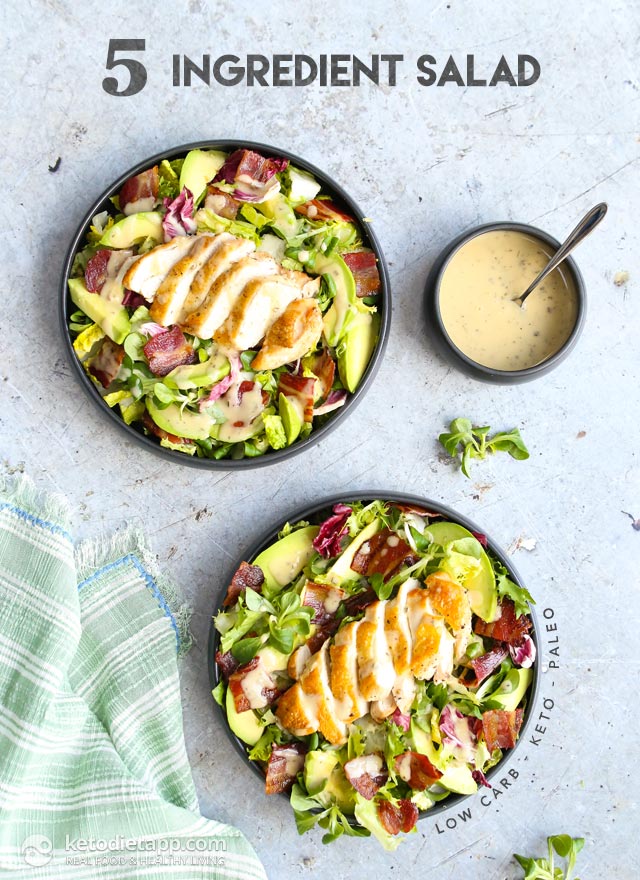 "I made my keto & paleo salad with crispy bacon and chicken breast cooked in a skillet and then finished off in the oven. If you're short on time, simply use leftover rotisserie chicken. I also used avocado which is the key ingredient that will provide heart-healthy monounsaturated fats and electrolytes to keep keto-flu at bay.". Recipe: KetoDietApp.
Keto Sweet And Sour Chicken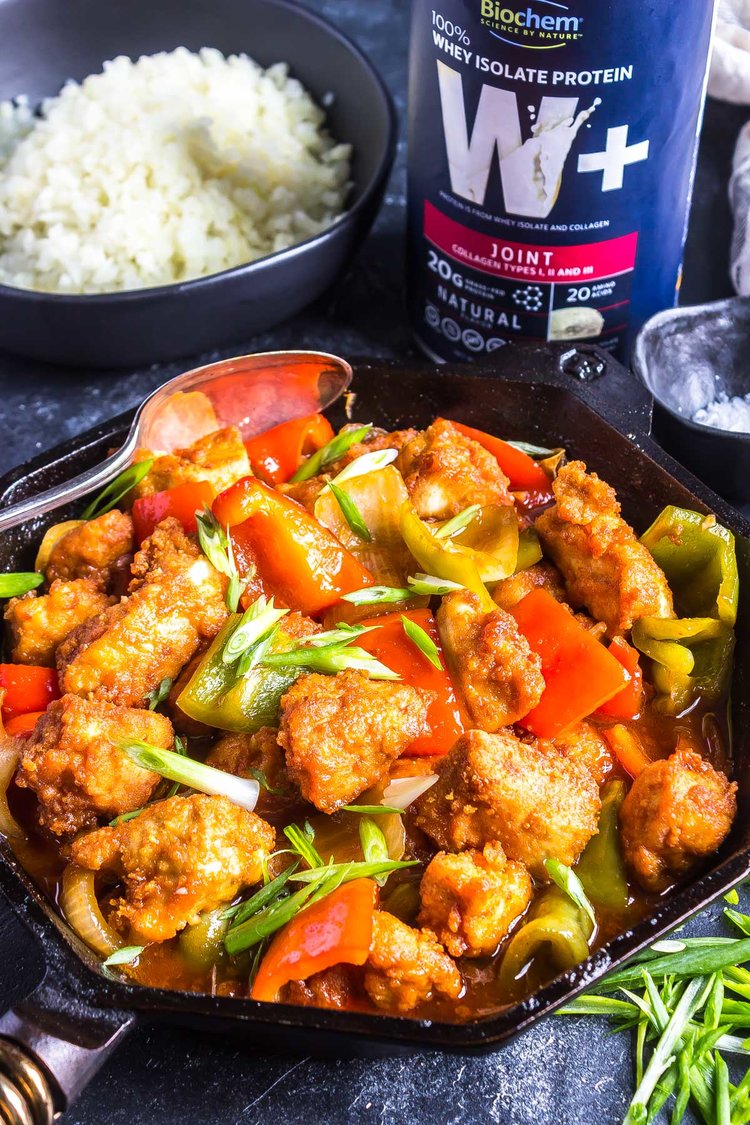 "This Easy Keto Sweet and Sour Chicken is totally better than takeout with no refined sugar, junky oils, or gross additives. Just clean ingredients and 50 minutes is all you need!". Recipe: CastIronKeto.
Grilled Chili Lime Chicken Tacos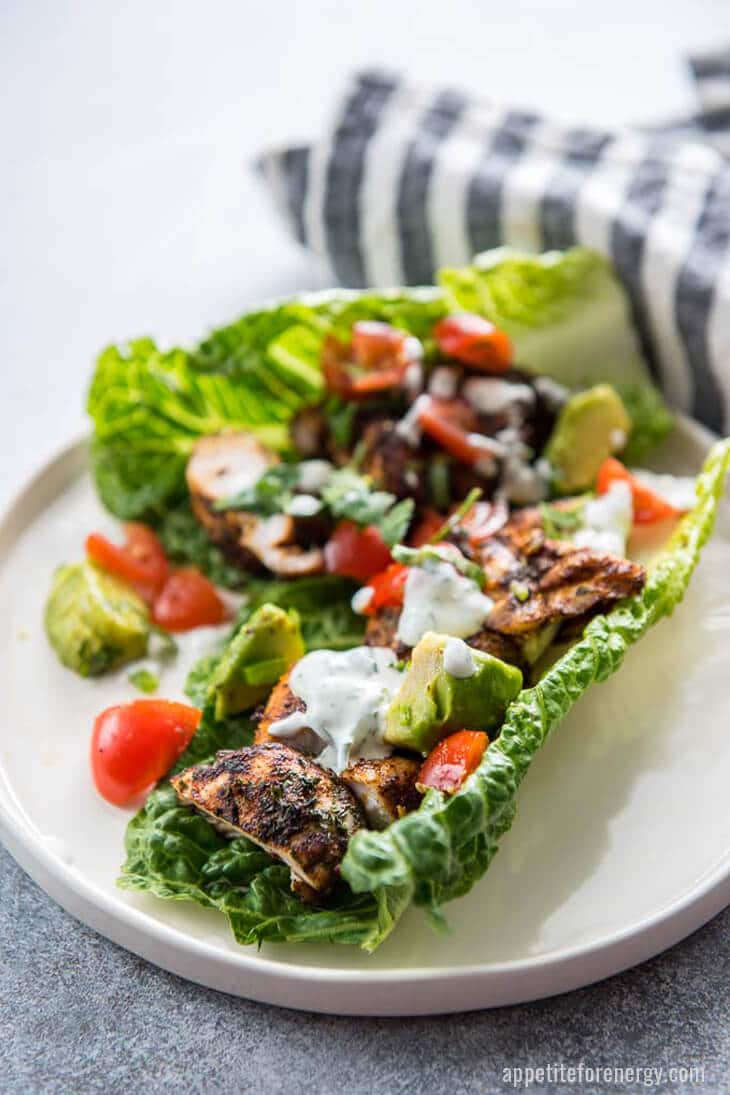 "Probably the best recipe for Grilled Chicken Tacos you will ever try! Spicy chicken with a zesty avocado salsa and drizzled with sour cream dressing is your ultimate keto-friendly summer grill recipe. Ready in 30 minutes…" Recipe: AppetiteForEnergy.
Shredded Chicken Chili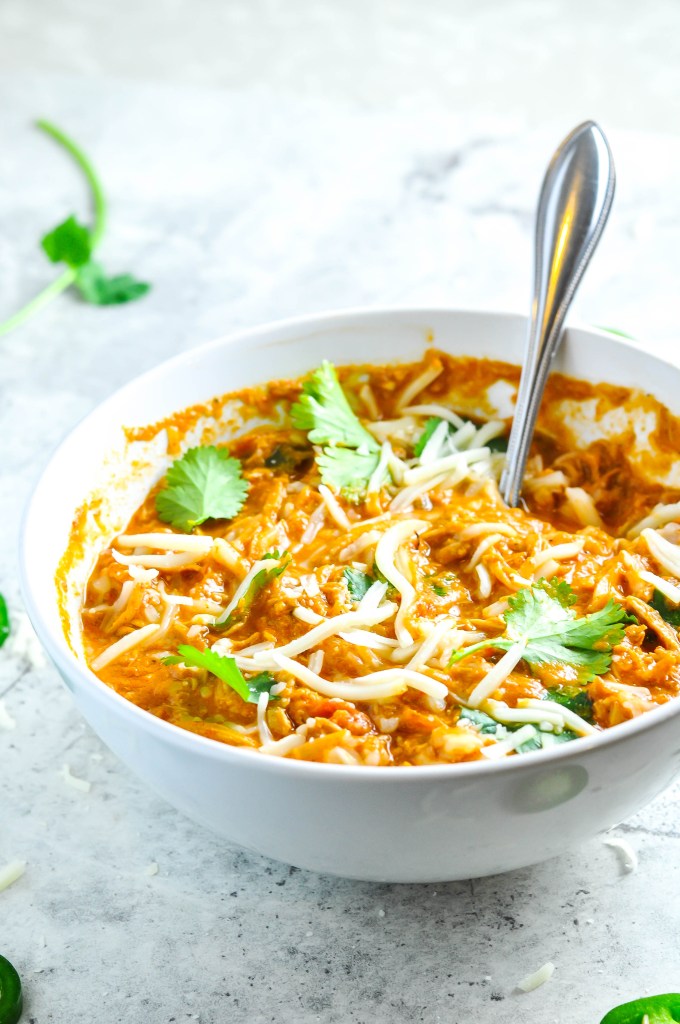 "I'm all about that meal prep and shredded chicken has become part of my regular routine… it's always in the fridge ready to go! With a stock of shredded chicken on hand, this dinner comes together for me in a matter of minutes. If you aren't much of a meal planner or prepper, you can quickly boil and shred the chicken before combining all of your chili ingredients or you can go the rotisserie chicken route and shred that up instead. See! Nutritious cooking doesn't have to be that complicated!" Recipe: Ketogasm.
One Pan Creamy Chicken And Spinach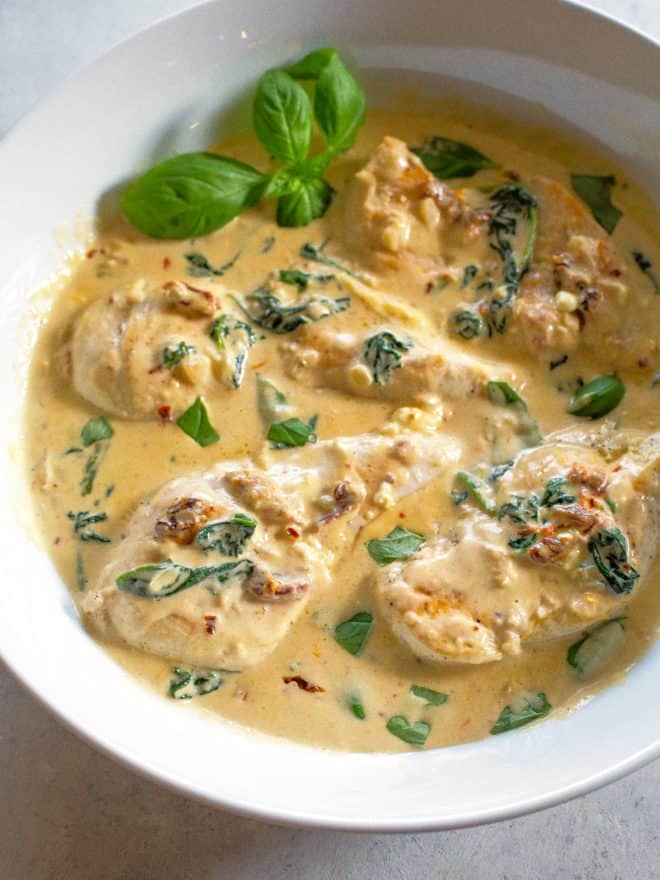 "One-Pan Cream Chicken and Spinach is a comforting creamy chicken dinner with sun-dried tomatoes and spinach. This easy Italian dinner is done in 20 minutes and all in one-pan so you don't have to do dishes! Not to mention it is Keto-friendly.". Recipe: The-Girl-Who-Ate-Everything.
Buffalo Chicken Jalapeno Poppers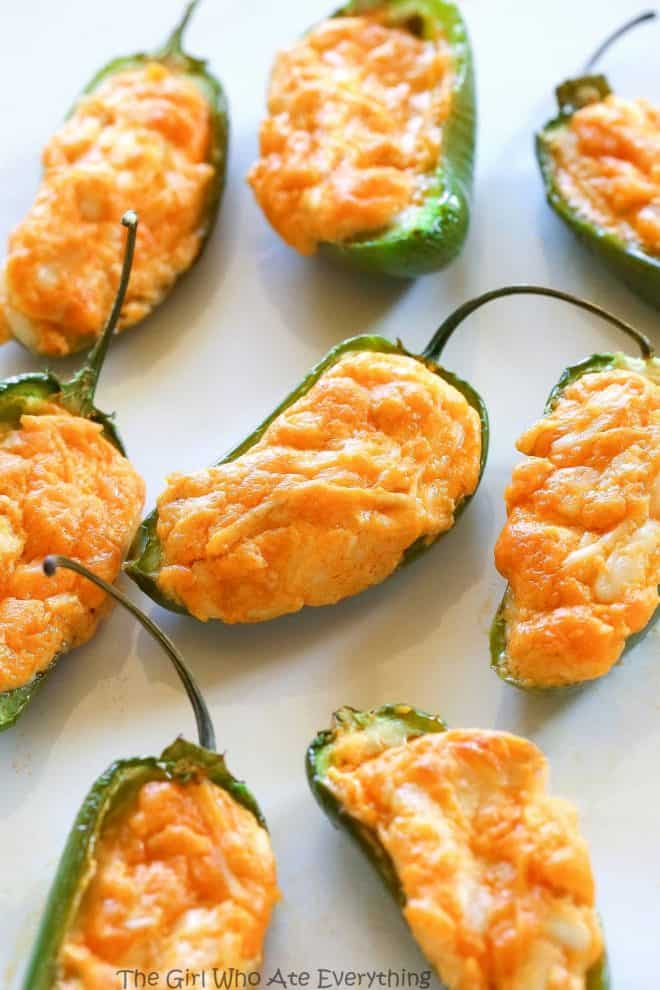 "Think buffalo chicken dip meets jalapeno poppers. These Buffalo Chicken Jalapeno Poppers are the perfect game food!". Recipe: The-Girl-Who-Ate-Everything.
Paleo Bang Bang Chicken (With Mango Cucumber Salad)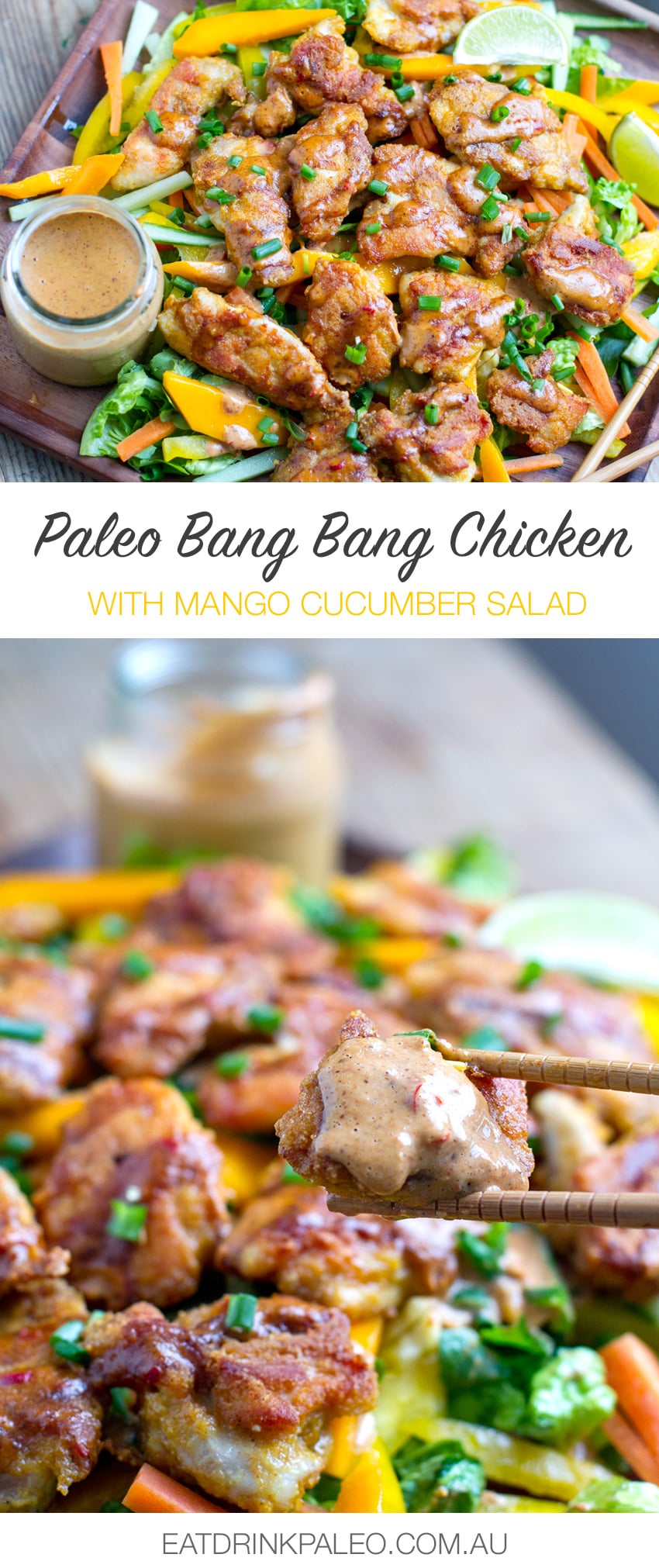 "I have wanted to make a paleo bang bang chicken for a long time. You might have come across the name bang bang chicken or bang bang shrimp in a hipster fusion restaurant but the name is actually Chinese (Szechuan) in origin. Also known as bon bon chicken, the traditional dish consists of cold, shredded chicken drenched in spicy sesame sauce. The chicken is tenderised by pounding with a heavy wooden stick, and as such, it is claimed that the name refers to the sound of the chicken being pounded." Recipe: EatDrinkPaleo.
Chicken Salad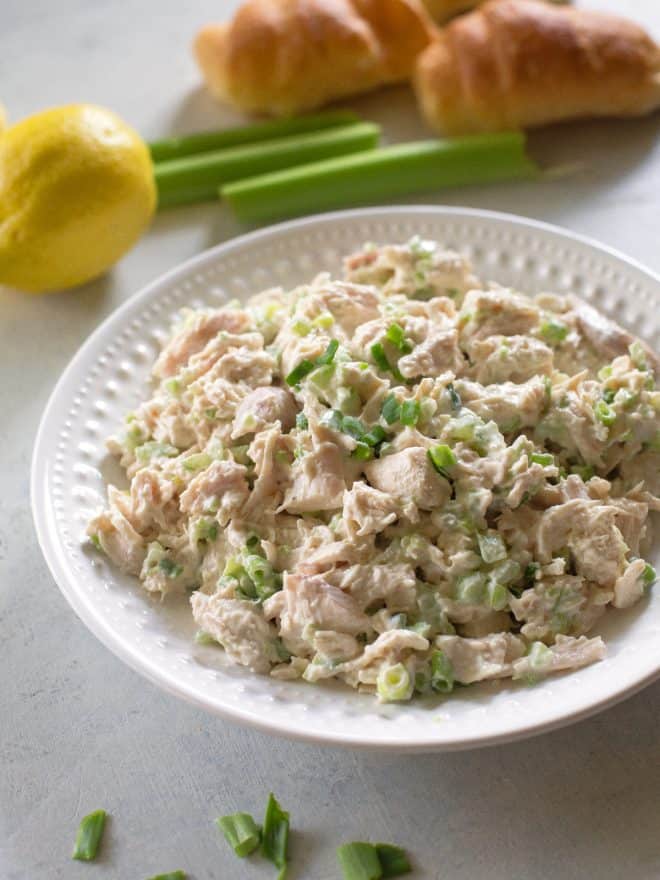 "The best classic Chicken Salad recipe is flavorful with simple ingredients. Chicken, celery, mayonnaise, green onions, and a little lemon juice make this salad taste like heaven. Feel free to add in whatever you want but this is great just as it is! You can eat this as a sandwich or for a low-carb and Keto friendly version eat it in lettuce wraps or by itself.". Recipe: The-Girl-Who-Ate-Everything.
Keto Peruvian Chicken Soup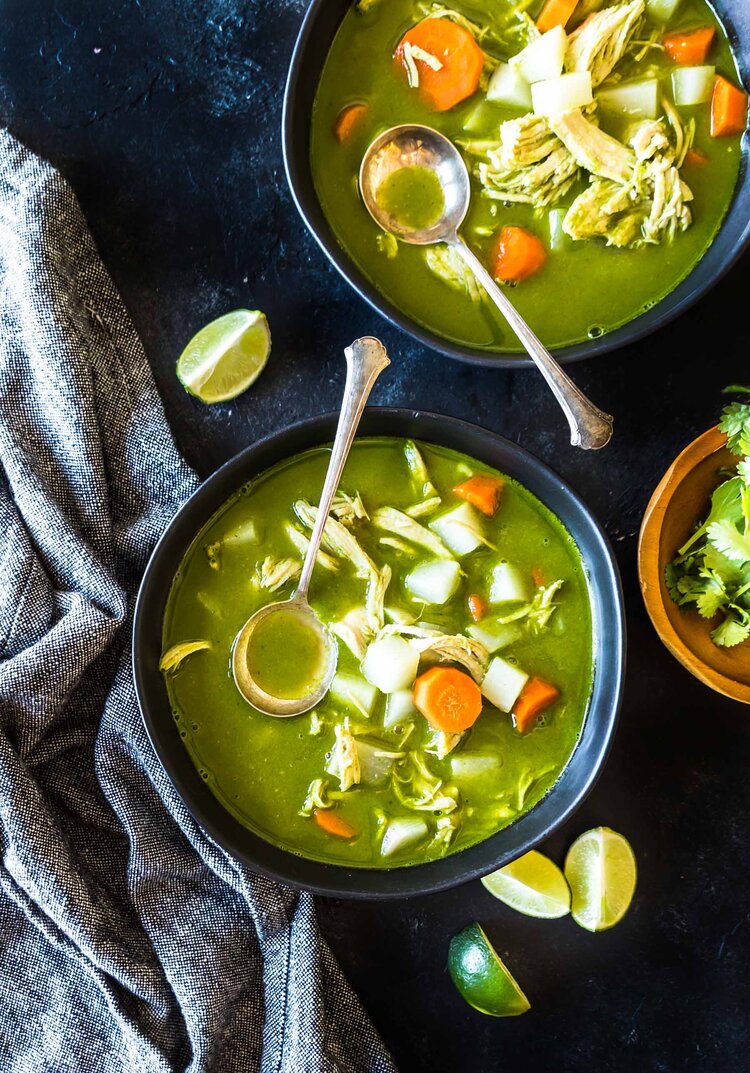 "Peruvian Chicken is one of our favorite meals so we thought it was about time for some Peruvian Chicken Soup! This soup is loaded with chicken, turnips, carrots, peppers, onions, garlic, cilantro, and lime juice. ". Recipe: CastIronKeto.