Lunch is one of your most important meals of the day. Skipping a healthy, well balanced lunch can have you over indulging later on in the day, or grabbing a fast, processed and unhealthy snack. By sticking to a plan and eating a nutritious lunch, you will set yourself up for the rest of the day and keep any hunger at bay.
We have collected 30 of the best, healthiest and most delicious lunches for a full months worth of recipes, that you can use to plan the rest of your meals around. You can check out the nutritional information of each one below the recipe's photo. We have also included a 'Saturday special' for the end of each week, which is a healthy spin on some your favourite, 'forbidden' meals. So you can enjoy all the same great tastes, but with much fewer calories.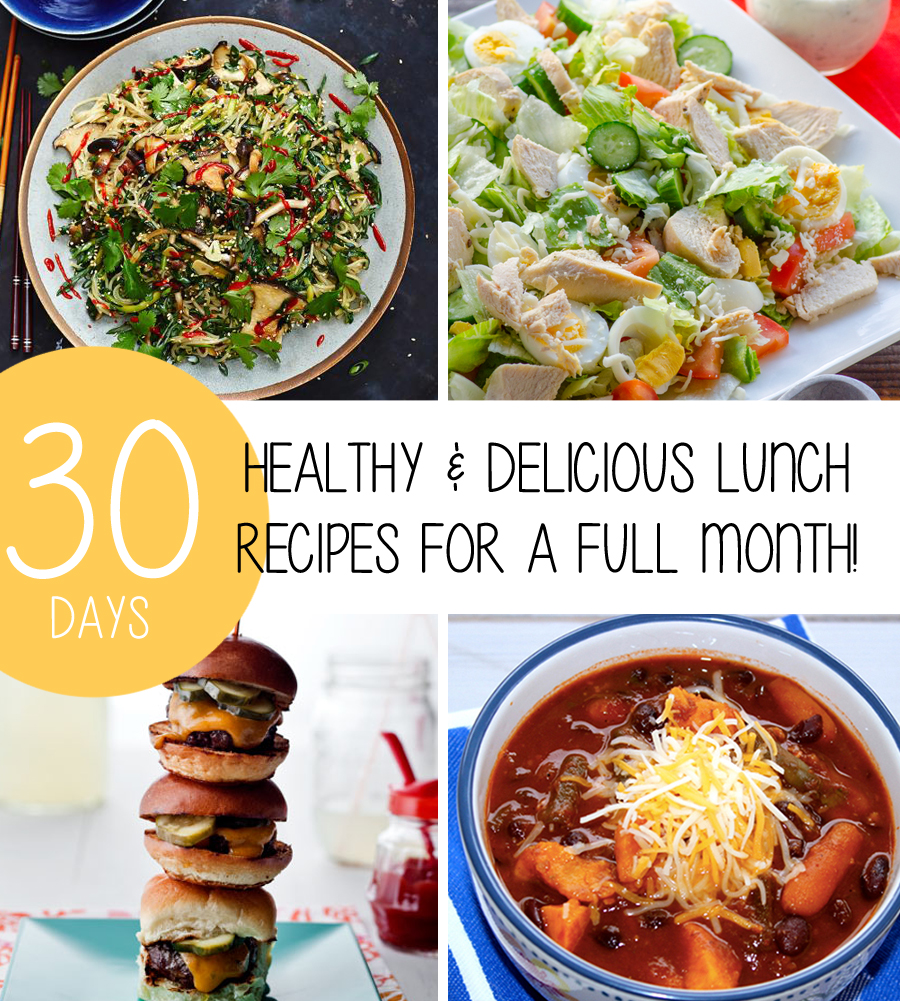 Healthy & Delicious Lunch Recipes For A Full Month!
1. Monday – Vegan Chinese Noodles
Vegan Chinese Noodles From JamieOliver. This recipe is super easy and you don't have to be vegan to enjoy them!
Nutritional Information: Calories 268, Carbs 49.2g, Sugar 7g, Fat 4.5g, Saturates 0.8g, Protein 6.4g

2. Tuesday – Easy As Tortilla Pie
Easy As Tortilla Pie From GoodHousekeeping. This Tortilla Pie is low-fat and low-carb with plenty of spices and flavour.
Nutritional Information: Calories 440, Sugar 0g, Fat 13g, Saturates 6g, Protein 26g

3. Wednesday – Grilled Salmon & Brown Butter Couscous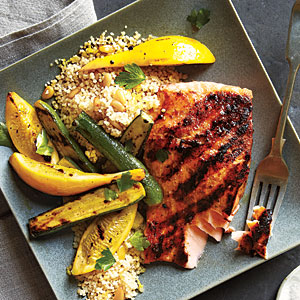 Grilled Salmon & Brown Butter Couscous From MyRecipes. This recipe includes lots of tasty extras, such as pine nuts, lemon and fennel.
Nutritional Information: Calories 457, Fat 15g, Saturates 4.9g, Protein 26g

4. Thursday – Cheesy Aubergine Parmesan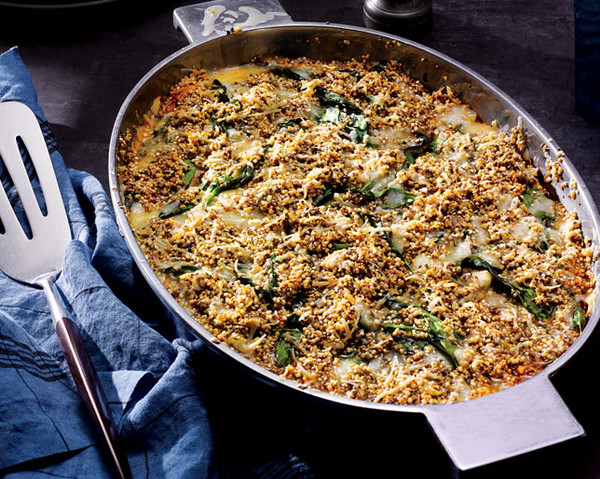 Cheesy Aubergine Parmesan From WomensHealthMag. Surprisingly low in calories, this scrumptious dish is perfect for a cold afternoon.
Nutritional Information (per serving): Calories 350, Carbs 33g, Sugar 11g, Fat 18g, Saturates 5g, Protein 18g

5. Friday – White Bean & Pesto Soup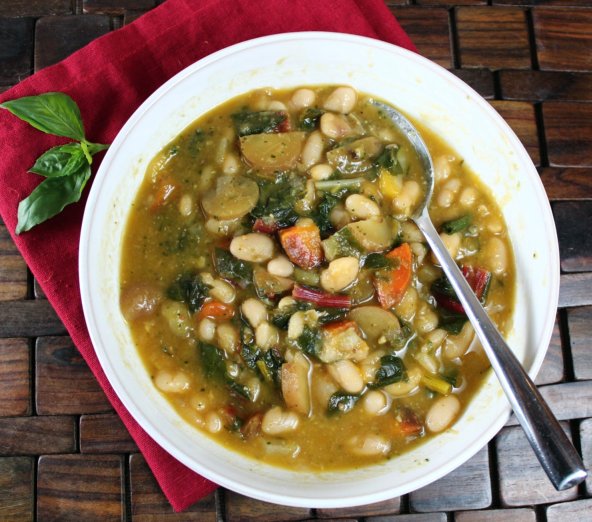 White Bean & Pesto Soup From GenerationYFoodie. Simple, healthy and filling, you can cook a big batch of soup up and freeze the leftovers for a lazy day.
Nutritional Information: Calories 229, Carbs 42g, Fat 4g, Protein 10g

6. Saturday Special – Ground Sirloin Sliders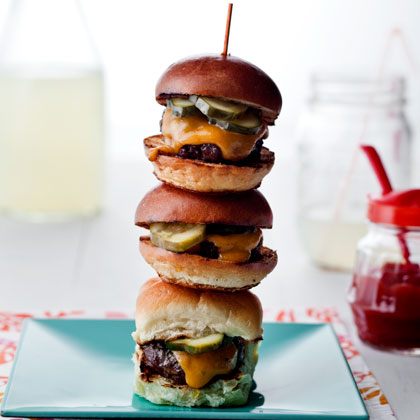 Ground Sirloin Sliders From Health.Com. A special treat for Saturday afternoon, these sliders are really easy to make and you can eat TWO for fewer than 300 calories!
Nutritional Information: Calories 283, Carbs 38g, Fat 7g, Saturates 2g, Protein 18g

7. Sunday – Vegan Mac 'n' Cheese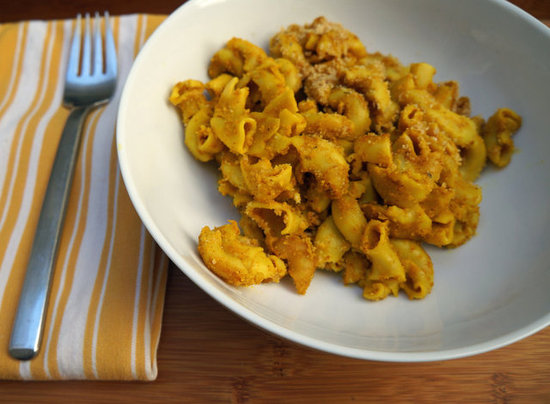 Vegan Mac 'n' Cheese From PopSugar. Although there is no cheese in this recipe, it still tastes absolutely delicious and is much better for you.
Nutritional Information: Calories 410, Carbs 67g, Fat 7.2g, Saturates 1.8g, Protein 21.3g

8. Monday – Orange Broccoli Tempeh Stir Fry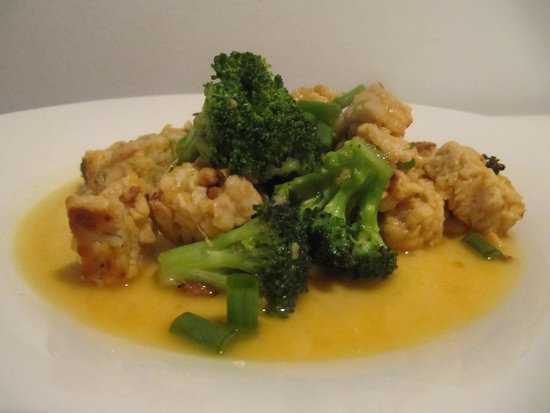 Orange Broccoli Tempeh Stir Fry From PopSugar. Tempeh is a fantastic meat substitute and the orange glaze on this fish makes it succulent and delicious.
Nutritional Information: Calories 474, Carbs 42g, Sugar 15g, Fat 25g, Saturates 14g, Protein 25g

9. Tuesday – Healthy Chef Salad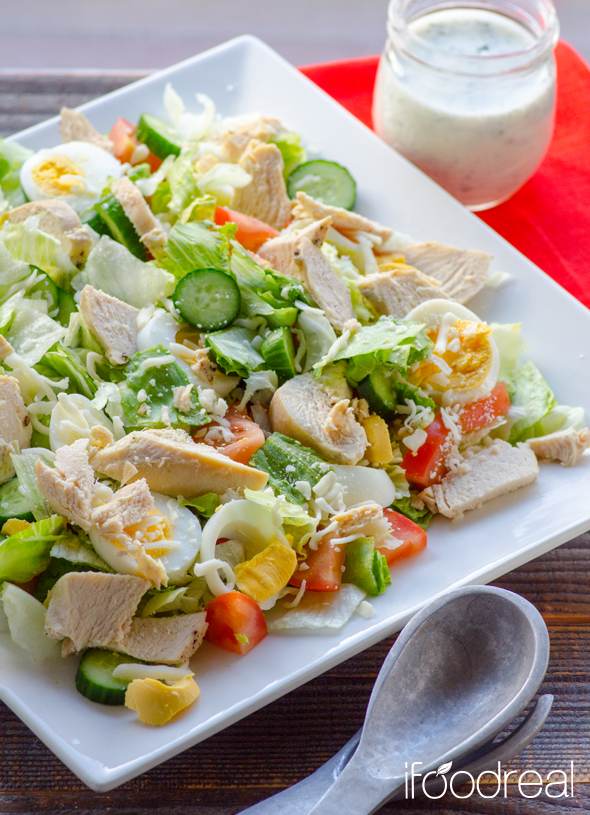 Healthy Chef Salad From iFoodReal. A classic salad with skinny dressing; it is simple but very filling.
Nutritional Information: Calories 92.4, Carbs 4.4g, Fat 2.8g, Protein 11.8g

10. Wednesday – Whole Wheat Pasta with Feta, Mushrooms, Spinach & Tomato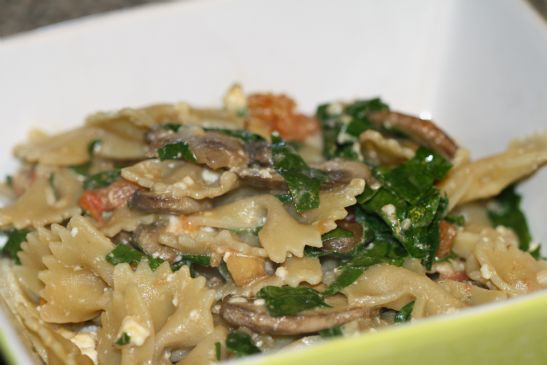 Whole Wheat Pasta with Feta, Mushrooms, Spinach & Tomato. This is a delicious pasta dish with lots of tasty extras.
Nutritional Information: Calories 290, Carbs 35g, Sugar 1.1g, Fat 12.5g, Saturates 6.3g, Protein 13.8g

11. Thursday – Crustless Veggie Quiche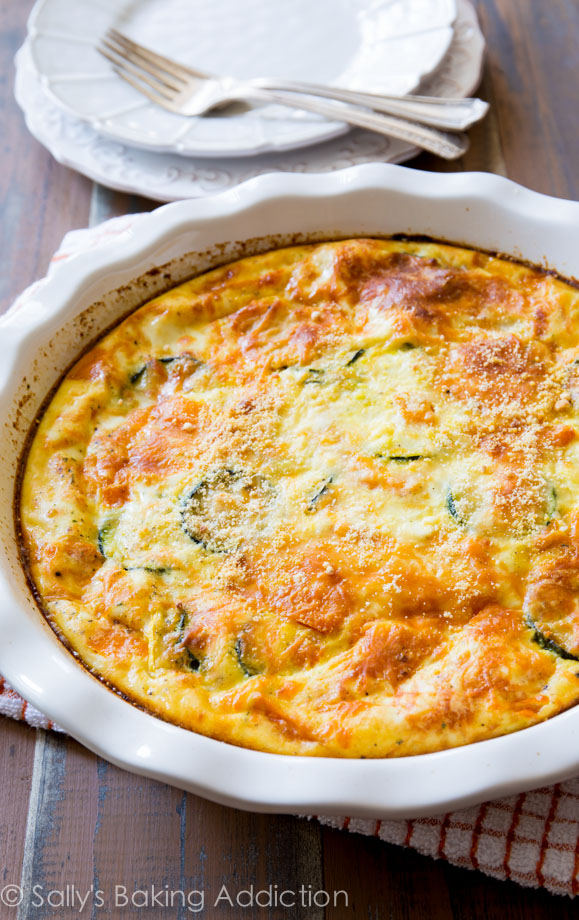 Crustless Veggie Quiche From SallysBakingAddiction. This is a light and healthy quiche. No crust means more filling!
Nutritional Information: Calories 110

12. Friday – Prawn, Fennel & Rocket Risotto
Prawn, Fennel & Rocket Risotto From BBCGoodFood. Perfect for a long lunch, this risotto gets an extra kick from lemon zest & rocket.
Nutritional Information: Calories 391, Carbs 64g, Sugar, 5g, Fat 5g, Saturates 1g, Protein 21g

13. Saturday Special – General Tso's Chicken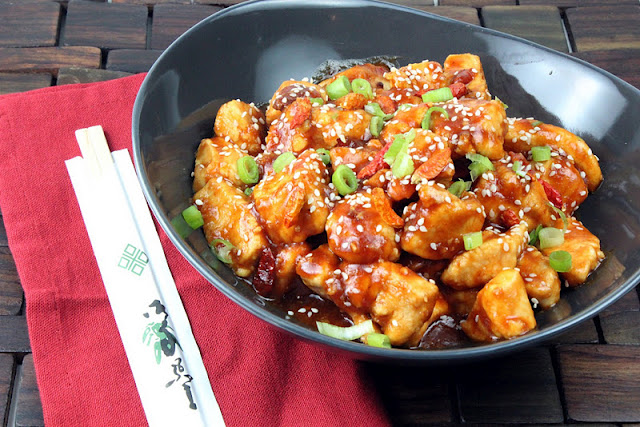 General Tso's Chicken From GenerationYFoodie. A healthy variation of a Chinese takeaway, perfect for a Saturday lunchtime get together.
Nutritional Information: Calories 236, Fat 7g, Protein 28g

14. Sunday – Slow Cooker Balsamic Chicken
Slow Cooker Balsamic Chicken From SkinnyMs. Another long lunch recipe, this chicken can be put into a wrap or eaten on its own.
Nutritional Information: Calories 190, Carbs 5g, Sugar 3g, Fat 6g, Saturates 1g, Protein 26g

15. Monday – Avocado Bacon Omelettes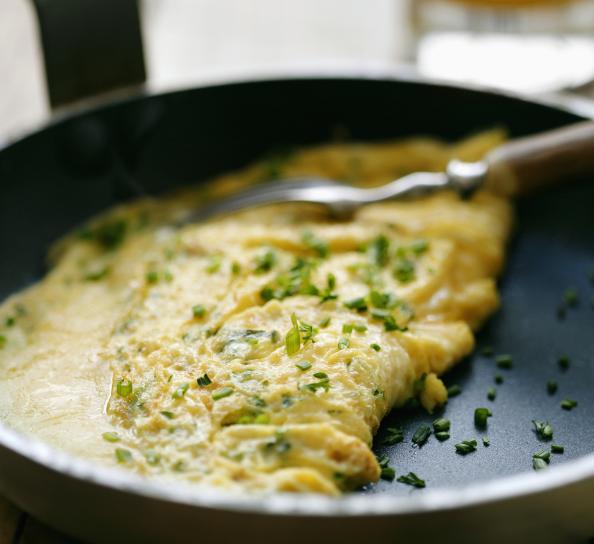 Avocado Bacon Omelettes From MensFitness. This omelette recipe is packed with bacon, avocado and lots of protein!
Nutritional Information: Calories 370, Carbs 9g, Fat 30g, Protein 17g

16. Tuesday – Scrambled Egg Whites with Steamed Sweet Potato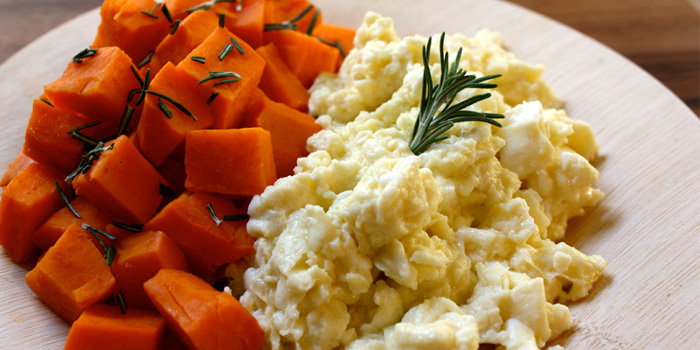 Scrambled Egg Whites with Steamed Sweet Potato From BeachBodyBlog. Although more of a breakfast recipe, this nutrient filled meal is perfect for a light, tasty lunch.
Nutritional Information: Calories 238, Carbs 15g, Sugar 4g, Fat 10g, Saturates 2g, Protein 22g

17. Wednesday – Tofu Veggie Scramble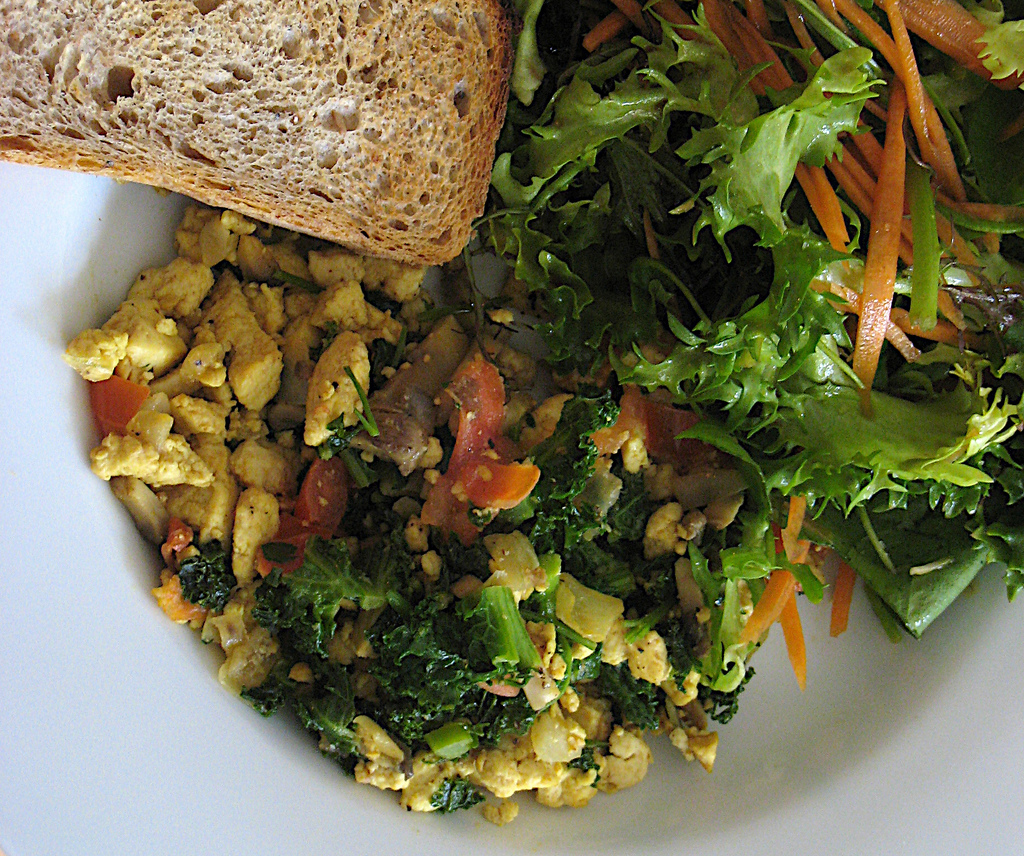 Tofu Veggie Scramble From DietsInReview. A high-protein lunch which can be used in wraps, tacos or simply with hot toasted bread.
Nutritional Information: Calories 103, Carbs 15g, Fat 14g, Protein 22g

18. Thursday – Italian Chicken Meatballs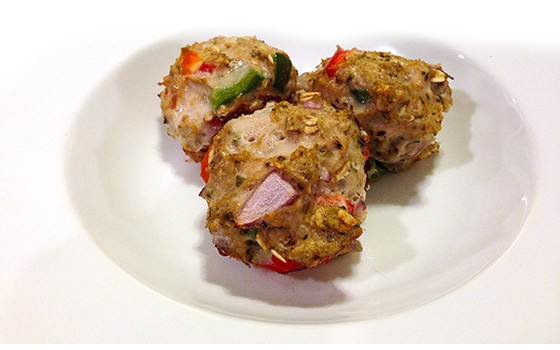 Italian Chicken Meatballs From Bodybuilding.Com. This recipe offers a healthy twist on an Italian classic but still has plenty of flavour.
Nutritional Information (per meatball): Calories 106, Carbs 7g, Fat 2g, Protein 15g

19. Friday – Spaghetti with Greek Yoghurt Tomato Sauce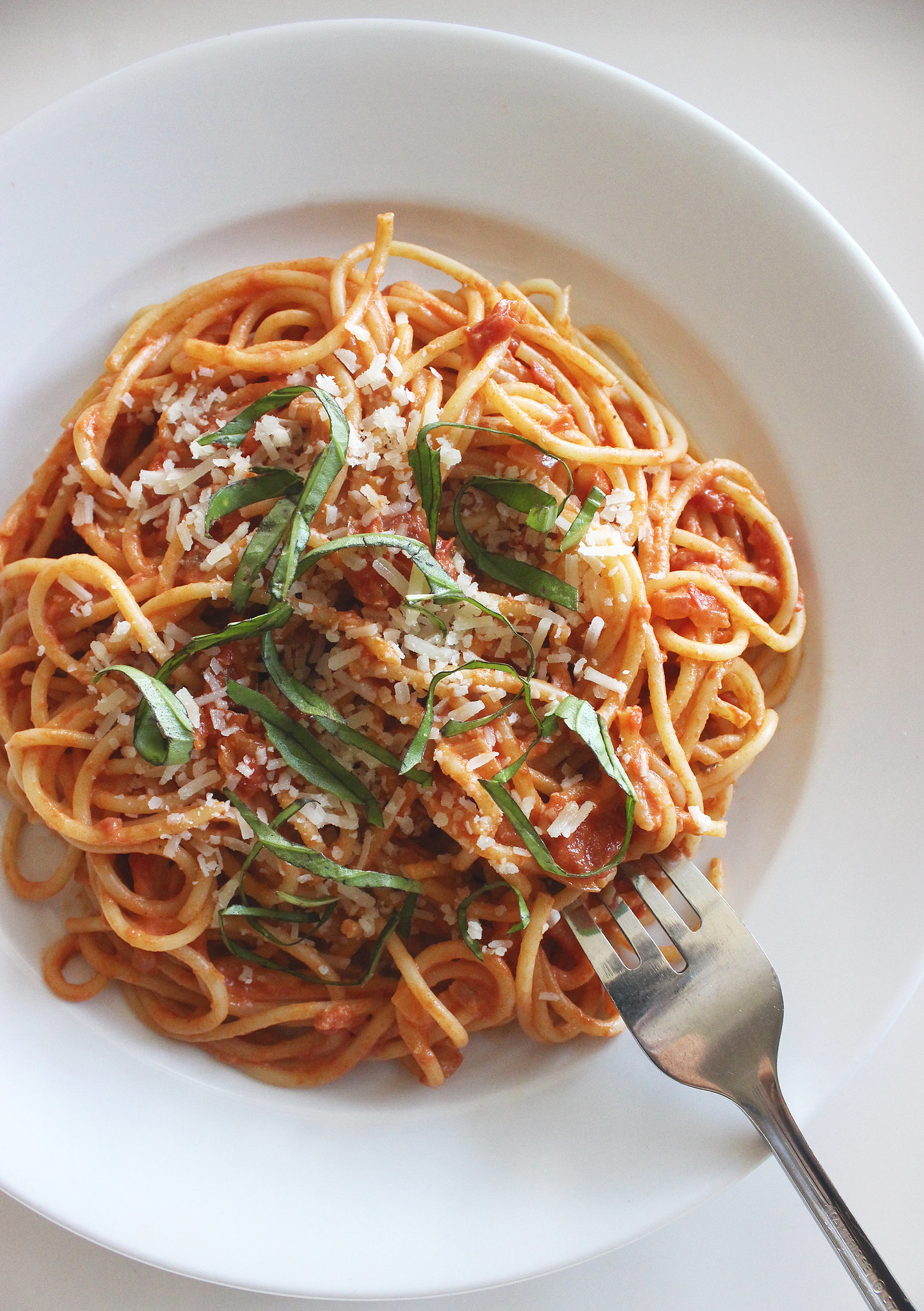 Spaghetti with Greek Yoghurt Tomato Sauce From PopSugar. Continuing the Italian theme, this fibre-filled dish allows you to eat pasta without feeling guilty!
Nutritional Information: Calories 321, Carbs 51.3g, Sugar 14.8g, Fat 6.5g, Saturates 2.1g, Protein 18g

20. Saturday Special – Pizza with Wilted Greens, Ricotta & Almonds
Pizza with Wilted Greens, Ricotta & Almonds From Shape. Who said pizzas needed mozzarella? This recipe proves that pizza can be tasty and healthy – a great meal to share with friends on a Saturday afternoon! Nutritional Information: Calories 341, Carbs 44g, Sugar 3g, Fat 13g, Saturates 5g, Protein 17g

21. Sunday – Spinach Artichoke Grilled Cheese Sandwich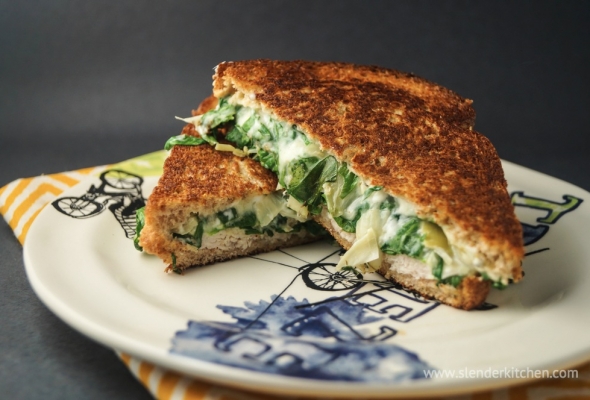 Spinach Artichoke Grilled Cheese From SlenderKitchen. This makes a perfect lunch and is full of tasty veggies.
Nutritional Information: Calories 288, Carbs 22.4g, Fat 10.2g, Protein 37.8g

22. Monday – Gazpacho with Avocado
Gazpacho with Avocado From SheKnows. This tasty tomato-based soup is especially satisfying on a hot summer day.
Nutritional Information: Calories 200

23. Tuesday – Pan Seared Chicken & Broccolini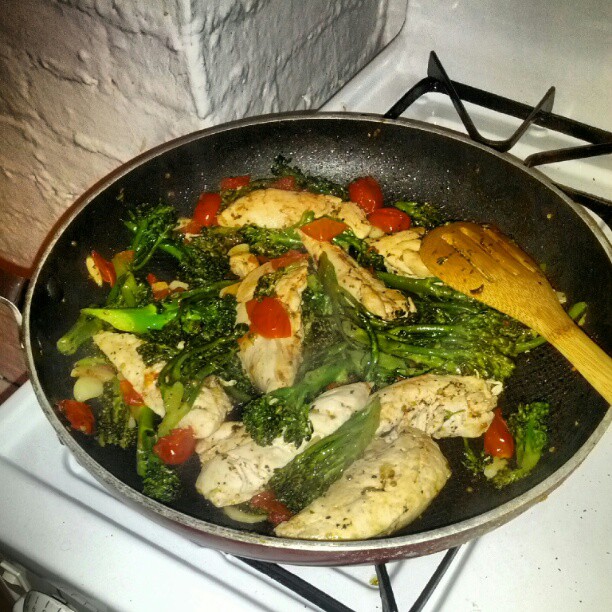 Pan Seared Chicken & Broccolini From LeanItUp. This dish oozes flavour thanks to the rich Italian herbs and seasonings.
Nutritional Information: Calories 220, Carbs 5.5g, Fat 4.9g, Saturates 1g, Protein 28.25g

24. Wednesday – Gluten-Free Roasted Garlic & Chevre Lasagne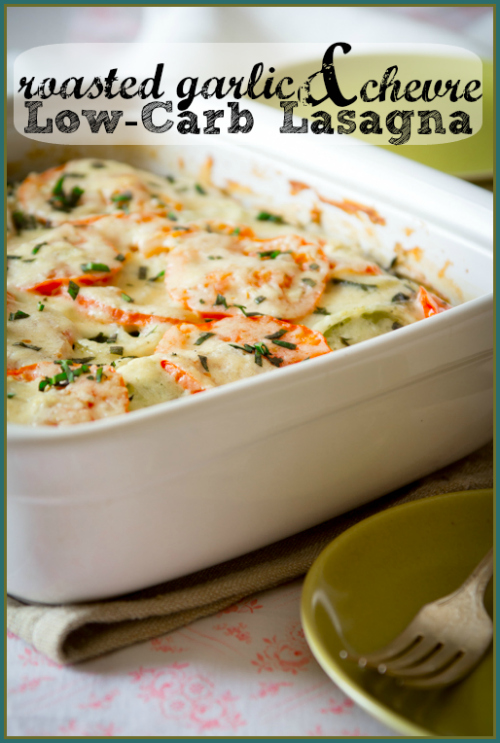 Gluten-Free Roasted Garlic & Chevre Lasagne From AllDayIDreamAboutFood. This gorgeous lasagne is made with eggplant so it is naturally lower in carbs.
Nutritional Information (per serving): Calories 200, Carbs 8g, Fat 13g, Protein 12g

25. Thursday – Blackened Courgette Wrapped Fish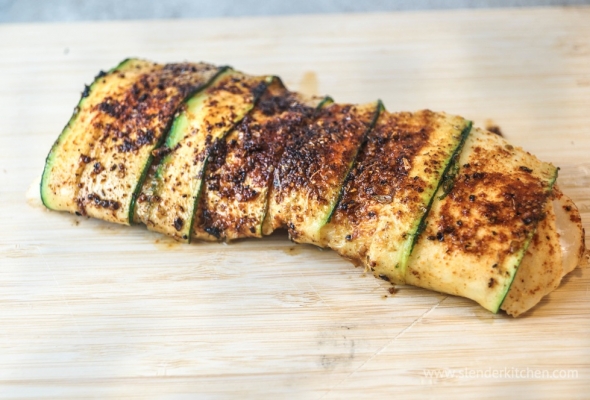 Blackened Courgette Wrapped Fish From SlenderKitchen. A tasty fish recipe that looks fancy but is actually very simple.
Nutritional Information: Calories 198, Carbs 1.9g, Fat 3.4g, Protein 39.5g

26. Friday – Toasted Quinoa Salad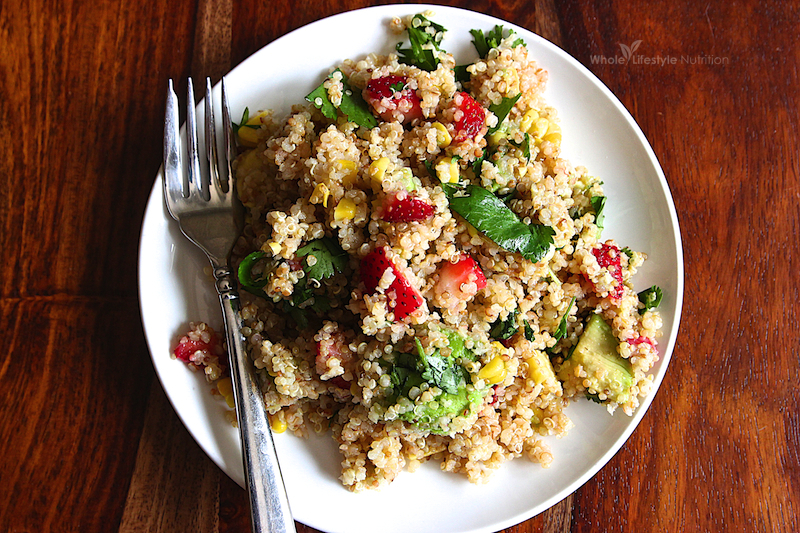 Toasted Quinoa Salad From WholeLifestyleNutrition. This salad is full of fresh flavours including lime, corn, avocado and even strawberries!
Nutritional Information: Calories 380, Carbs 39.4g, Fat 23.3g, Protein 8g

27. Saturday Special – King Prawn Curry
King Prawn Curry From NeilsHealthyMeals. Who doesn't love a curry? This healthy recipe allows you to enjoy one of your favourite takeaway treats without the added calories.
Nutritional Information: Calories 231, Carbs 20.7g, Sugar 8.1g, Fat 9.6g, Saturates 1g, Protein 16.9g

28. Sunday – Herb-Crusted Pork Tenderloin with Red Onion Jam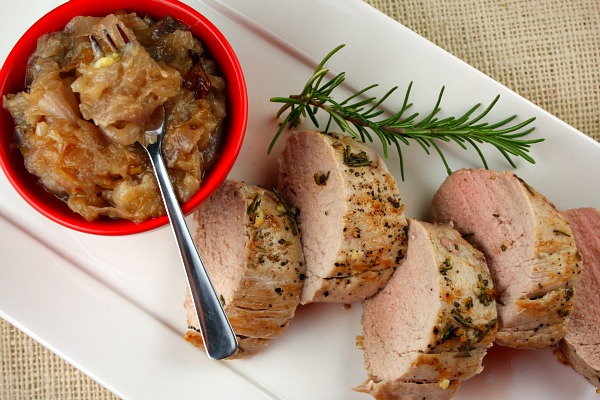 Herb-Crusted Pork Tenderloin with Red Onion Jam From RecipeGirl. Although this dish takes a little while to cook, the end result is well worth it.
Nutritional Information: Calories 315, Carbs 9.75g, Sugar 2g, Fat 14.5g, Saturates 5.5g, Protein 35g

29. Monday – Tabouleh Salad with Barley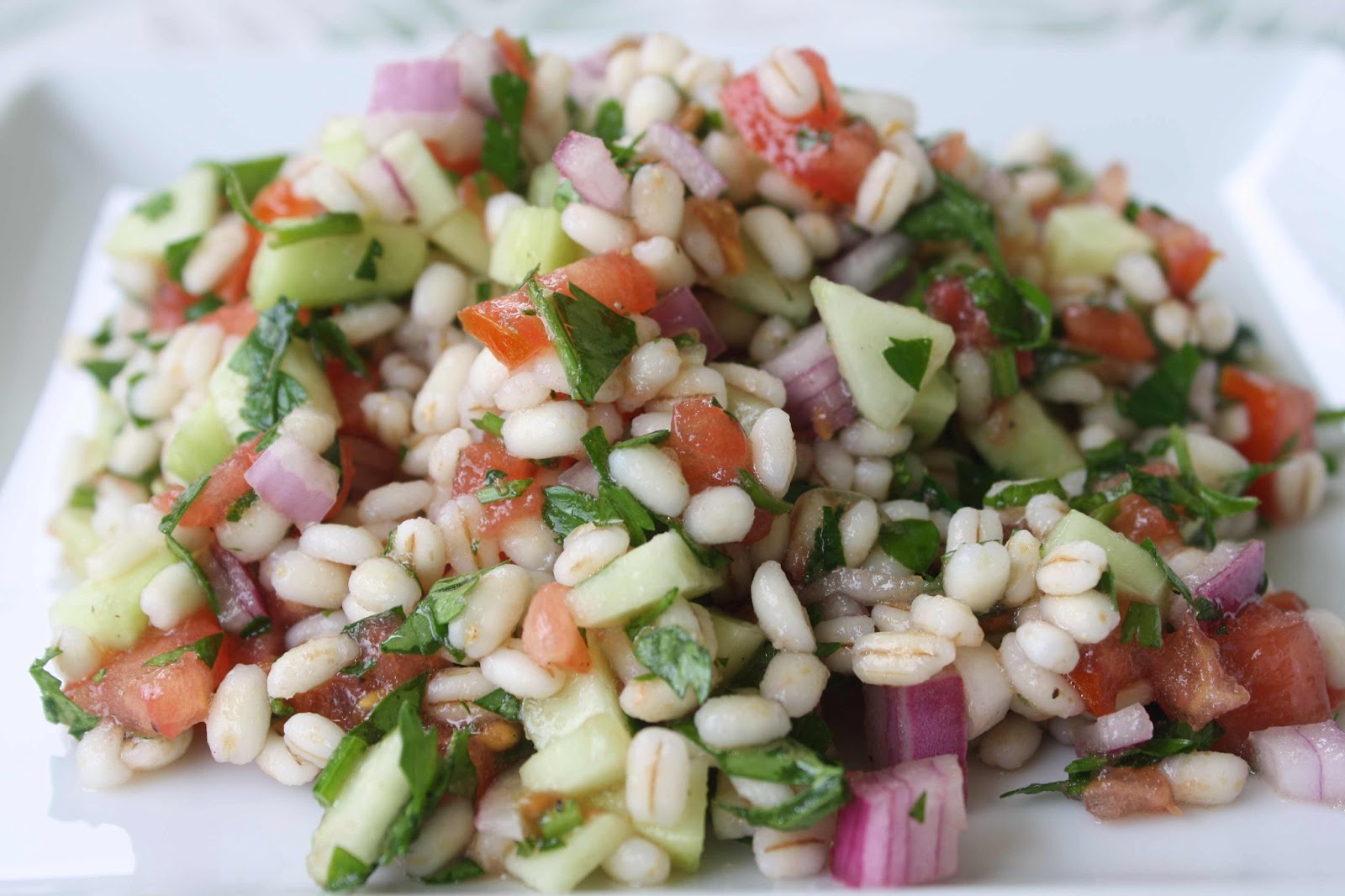 Tabouleh Salad with Barley From Reddit. This super cheap and healthy salad is low in sodium & cholesterol but high in vitamins and dietary fibre.
Nutritional Information: Calories 683, Carbs 92.2g, Sugar 12.7g, Fat 31.3g, Saturates 4.9g, Protein 16.7g

30. Tuesday – Slow-Cooked Savoury Superfood Soup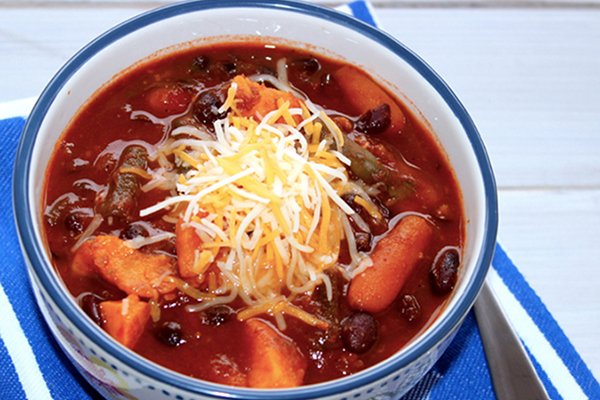 Slow-Cooked Savoury Superfood Soup From SkinnyMs. This soup is loaded with superfoods and tasty spices and is incredibly good for you.
Nutritional Information: Calories 157, Carbs 32g, Sugar 6g, Fat 1g, Saturates 0g, Protein 7g