Fitness Model And Yoga Instructor Christine Bullock Talks With TrimmedAndToned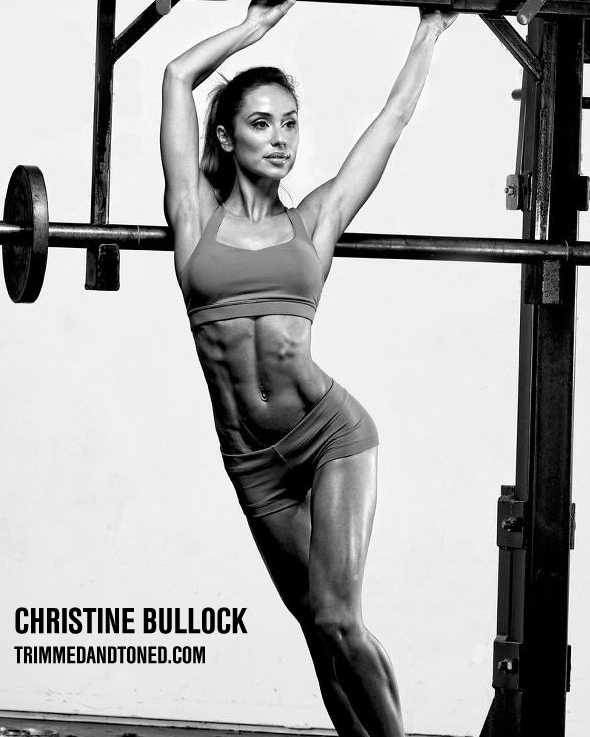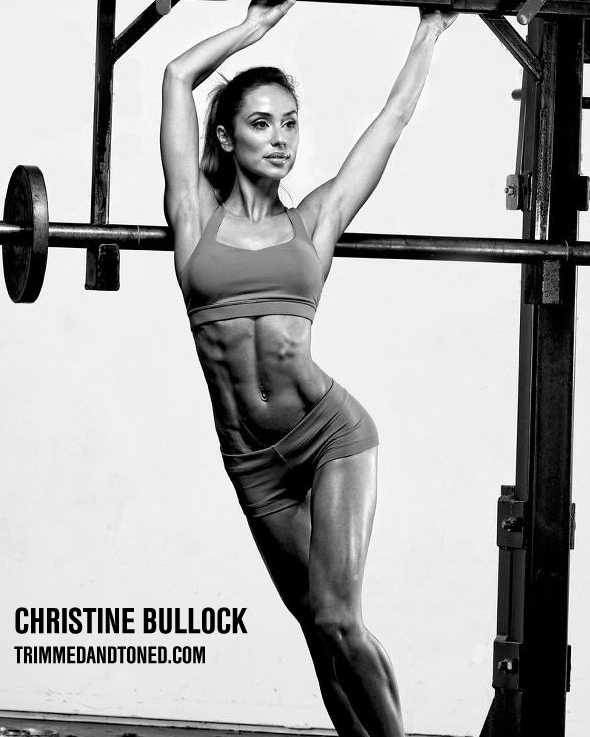 Christine's Stats:
5'6"
108 lb.
30 years old
Mix of everything: German, Irish, English, Scottish, Native American, Yugoslavian
How Did You Get Started In Health And Fitness?
I started taking ballet 5 days a week when I was 3 and I continued dancing 5-7 days aweek until high school. I also dabbled in sports like soccer, track, swimming, and cheerleading. My mother was an avid weightlifter, because of a car accident in her 20s she had to go to the gym to keep herself strong and aligned. From her inspiration I began strength training with weights when I was 15. The private gym was full of professional competitors, and when I came in as a 100 pound, haif the guys loved to teach me how to train effectively. I learned how to find my competitive dance and athletic edge using weight training. Through college I continued to pursue my knowledge of the physical arts earning a certification as a massage therapist and yoga instructor.
What Is Your Best Accomplishment So Far?
I don't have one single moment. I am happy and proud of where I am every day. I've been adventurous with my life and lived without fear. This has taken me to a place where every day as I turn down my road toward home, look at the Pacific Ocean, and then come home to my wonderful family- I feel so blessed.
What Workout Routine Has Worked Best For You?
DAY 1: Private 60 minute Pilates session or Chest, Bicep and Triceps with weights
DAY 2: Ballet class
DAY 3: Mat Ballet and High Intensity Interval Training
DAY 4: Glutes and Private 60 minute Pilates session
DAY 5: Upper and Lower Back with weights
DAY 6: Off (hiking/paddleboarding/running/biking)
DAY 7: Hot Yoga or outside activity (hiking/paddleboarding/running/biking)
I enjoy doing something different every day and staying out of the gym. Sorry all my die-hard weight trainers! I prefer to challenge the limits of my athletic performance with different sports. This naturally sculpts and strengthens my musculature.
I enjoy one or two private Pilates sessions per week. This works every muscle of your body at once. I also feel refreshed, open, and energized after this type of workout. I feel even more mentally fantastic after my ballet lesson or interval training, but my muscles feel deliciously fatigued. My weight training days are actually what I do when I'm tired and I only train to build certain muscle groups where I want more volume…like my glutes. Hot yoga loosens me up after a long week of muscular work. I take a walk and bike ride after work a few times a week too; it's just how you get around in SoCal.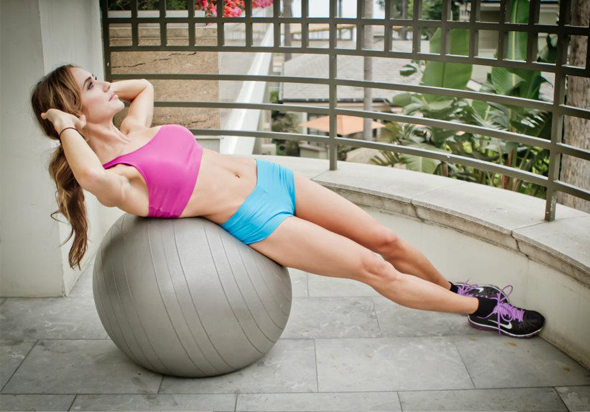 Top 3 Favourite Exercises And Why?
I enjoy creative functional exercises that work from the core out and add instability to a common exercise. My goal is to work stability muscles as I work my mobility muscles. For instance I will stabilize myself with a single arm/single leg Plank, while performing alternating overhead press with machine weight and leg lifts. I also love push ups and pike variations while balancing on 3 medicine balls. My group fitness students will tell you I refrain from the Saggital plane movements during my classes.
I believe our daily lives are already packed with plenty of squats, stairs, and lunges. Instead I challenge the weaker areas of our bodies with exercises like skaters or side plank variations in the coronal plane, as well as an oblique peak (rotational mountain climber on stability ball) or a curtsy lunge with side chop in the transverse plane. A lot of my fav exercises are found on the videos on my youtube channel and website. Check them out below.
Favourite Form Of Cardio?
I love dance or paddle boarding, but when I can't make it out to sea I prefer to perform short and effective workouts with high intensity interval training. I increase the tempo of my run or plyometric movements until I'm breathless, then I slow it down for a short period of time to a slower run or weight sculpting exercises. In 30 minutes or less your muscles and cardiovascular system have been pushed passed their former limits and you never get bored. I teach a high cardio "Jump" class that is great for burning calories, low impact, and lots of fun. Here is an example of the interval training I teach for Equinox called "Sports Core":
http://www.christinebullock.com/blog/2012/07/30/sports-core-boost-energy-and-blast-fat/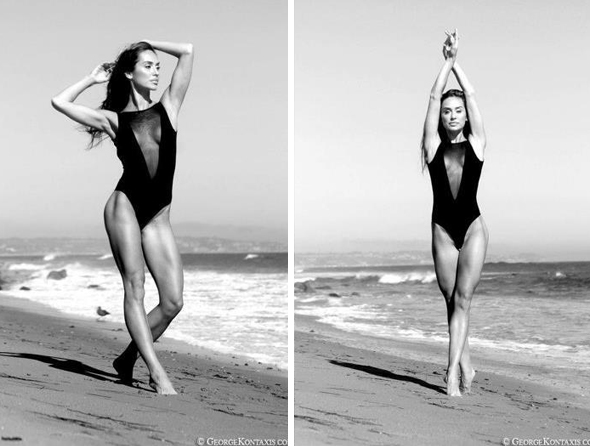 What Is Your Diet Like?
I love to cook. It's creative to blend ingredients, work with your hands, and design the physical appeal of the plate. I eat a variety of foods each week to fulfill the body's need for nutrients and taste. I have plenty of healthy fats from avocado, coconut oil, or nuts; high protein; and vegetables. I plan two large meals that will last the week and then smaller meals and snacks, like salads and veggies with hummus. I even plan my dessert. You can find plenty of my weekly meals on my website www.ChristineBullock.com/blog
Sample Diet:
Breakfast: Protein shake, with 3 cups of spinach, berries and supplements
Lunch: Arugula and beet salad with burrata and toasted walnuts
Dinner: Mahi Mahi with a mango and papaya salsa, edamame and green beans
Breakfast: Egg whites with spinach and toast with almond butter and homemade jam
Lunch: Tuna Sandwich with lots of veggies
Dinner: Salmon Salad with strawberries, candied walnuts, and roasted red peppers
Dessert: A piece of dark chocolate, my fat free key lime pie, or a popsicle
Any Staple Healthy Meals That You Always Eat?
I have raw vegetables and hummus practically every day. Fish is a staple protein in my diet and eat Salmon once a week. I also have half an avocado every day, whether with egg white, in a sandwich or with honey as a sweet treat.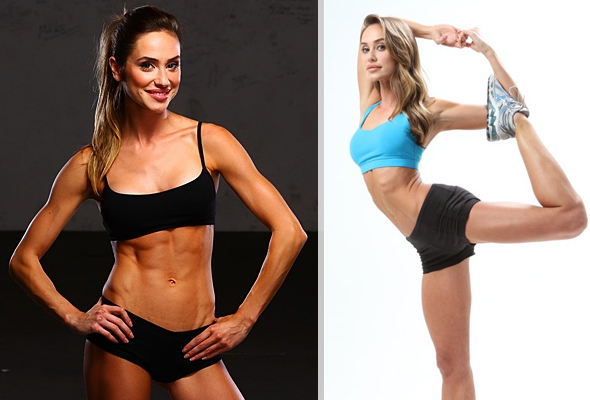 What Is Your Favourite Cheat Meal?
Pizza and gelato! I have a favorite spot in Hermosa beach where the shops are right next to each other.
What Supplements Do You Use And Why? Recommendations?
I love Alpha-Pro Nutrition's, Alpha-Cuts Femme. It provides me all day energy, without draining energy spikes. I also add liquid supplements to my morning shake including: omega 369 and b-complex for hair skin and nails, aloe and acidophilus for my stomach, spirulina and fiber for lasting energy.
What Are Your Tips For Success For Beginners?
You have to plan ahead. First, plan your goals. Make short term goals for the month and long term goals for the next 6 months. Keep visualising where you will be in one month.
Second, plan your weekly workout times, workouts and meals. On Sunday, look at your schedule and place your workout times in your calendar. Find routines that will work for you and stick with them for the month. Shop and prep a weeks worth of meals on Sunday as well.
Third, I recommend starting with an educated trainer or Pilates instructor. They are educated in the physical arts and they can teach you how to attain your ideal figure more efficiently.
Lastly, plan on indulging here and there, and then plan on starting up where you left off. You're only human after all!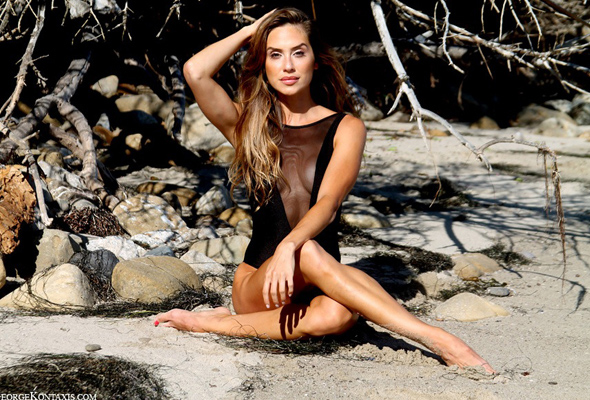 What Is The Best Advice You Have Ever Been Given?
Live without fear or regrets. I have fears but I chose to look them straight on. For instance, I am pretty shy but you wouldn't know that when I'm instructing a classroom, lecturing an audience, or filming a TV segment. It is my biggest fear to stand in front of people, and this is probably why I do it for a living.
Did You Make Any Mistakes When You First Started Out?
Of course. My certification and continuing education in Pilates has taught me the most about the physical arts. Now I am completing my nutritional certification. It's a constant process of learning and progress. One of the biggest changes in my workouts has been to engage many more stability muscles through exercises that challenge my balance.
I also work to balance my body and those of my clients. We repeatedly overuse and underuse certain muscles, which cause pains and aches. Pilates has opened my eyes to a world of pain free movement and building my a strong sexy structure that will last into my great grandma days.
What's Your Favourite Body Part?
I guess I love my legs the best, but this is just because these legs love to dance!
Your Best Tips To Lose Those Last Few Pounds?
Switch up your workout and add additional high intensity cardio training. I also go to hot yoga to sweat out water weight before a photo shoot. Skip carbs, salts, and sweets.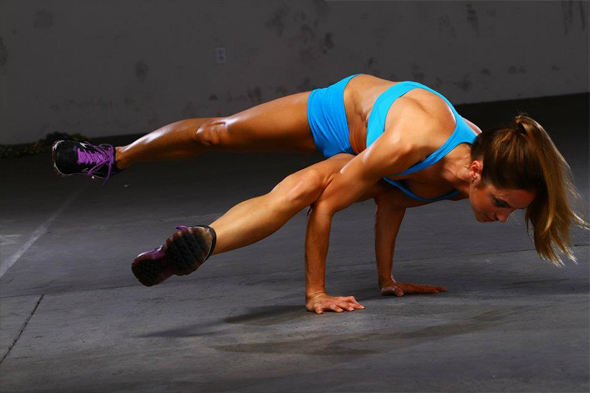 What's Your Gym Playlist Like?
I like to keep my playlists for my group classes new each week, so I usually have top 40 sprinkled with some classic rock n' roll. My top three artists tight now are Rihanna, Maroon 5, and Mika.
Where Does Your Motivation Come From?
I just love the forms of fitness I chose to be active in daily. I can't wait to get out of bed and get to ballet class or my private Pilates session. If your unmotivated by the form of fitness you do every week, you're doing the wrong thing! You should be enjoying life, this includes physical activity. There are so many options from football to acrobatics to surfing. Just move and enjoy your body. If you love baseball, join a Saturday league; If you've never danced but love Dancing with the Stars, then find a local studio.
Favourite Fitness Models? Inspirations?
Misty Copeland of the American Ballet Theatre is no waif ballerina. Check out the legs on that girl!
Lolo Jones, Olympic Hurdler (She was just quoted as using Pilates as part of her training preparation. She said it was "her fave!")
Christine Bullock Features Video
Favourite Quotes?
Success is not a result of spontaneous combustion. You must set yourself on fire.
Life is either a daring adventure or nothing!
Quotes From Yourself?
Go Lightly!
Fitness and health takes discipline. There is no easy button. However, it can be fun, tasty, delicious, rewarding, creative, and a huge blessing to other parts of your life. When you begin to see the results of your hard work, this success translates into other areas of your life.
For More Please Check Out:
Website: ChristineBullock.com GoLightlyFitness.com
Youtube: ChristineBullock
Facebook Fan Page: GoLightlyFitness
Twitter: chrissy_bullock