Katie Dunlop aka LoveSweatFitness' Shows How She Lost 40lbs & Inspired Millions!
"Good things come to those who sweat". The simple philosophy that helped Katie Dunlop create a fitness empire that has helped changed the lives of countless people around the world!
Katie created LoveSweatFitness, her fitness brand, with a youtube channel with hundreds of workout videos and fitness tips, a website full of inspirational blog posts, fitness challenges and delicious, healthy recipes and an Instagram, Twitter & Facebook that keeps you up to date with all this content, her lifestyle and motivational pictures.
Katie made a pact with her husband, that they would both encourage the other to keep fit, stay healthy and accountable for how they looked. Being tired of feeling bad about her body, Katie put in the work and after dropping 40lbs and changing her lifestyle, wanted to share this feeling with everybody else. Below, Katie was kind enough to reveal her full diet and training plan, as well as answering questions on revealing your abs, staying fit while travelling and staying motivated on bad days! Enjoy!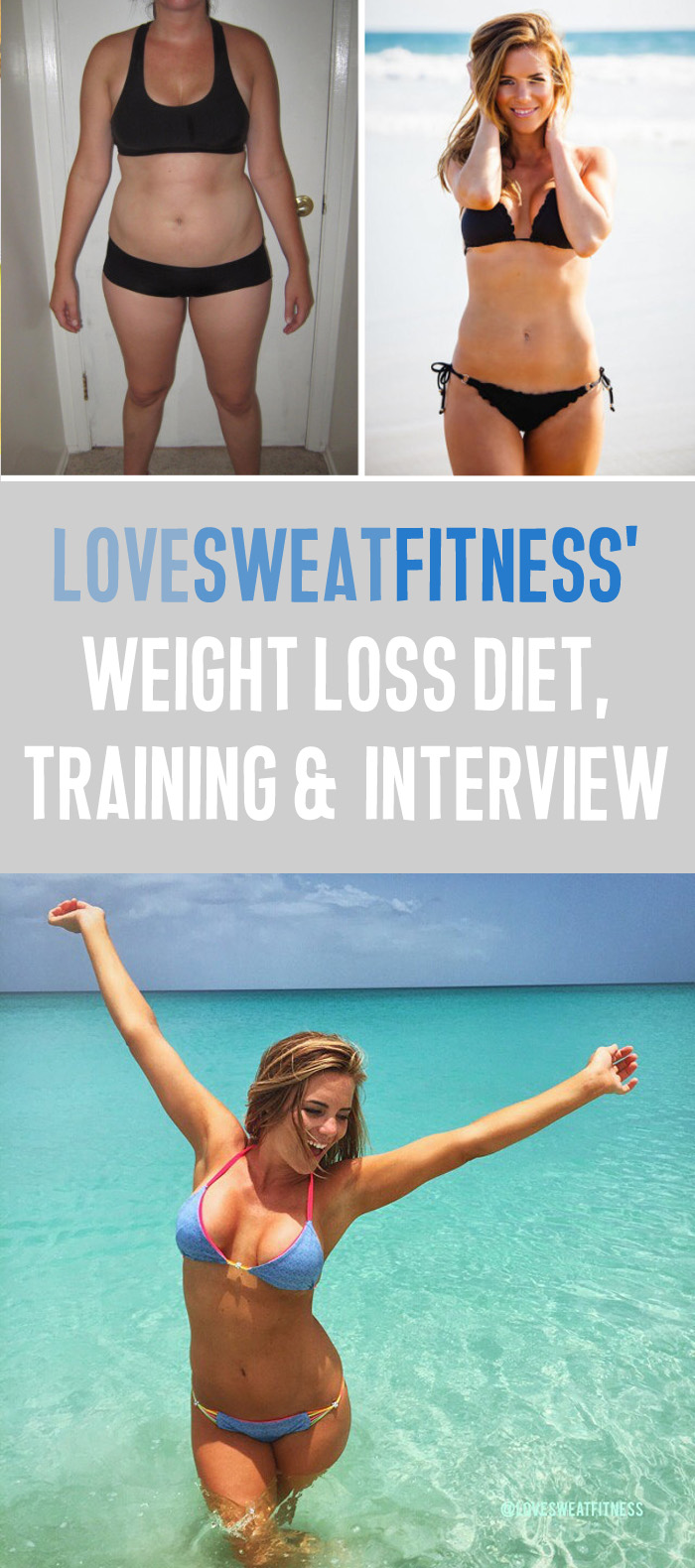 Check Out & Follow Katie On Social Media:
Lovesweatfitness.com
Instagram.com/lovesweatfitness
YouTube.com/lovesweatfitness
Twitter.com/lovesweatandfit
Facebook.com/lovesweatandfitness
Snapchat: @lovesweatandfit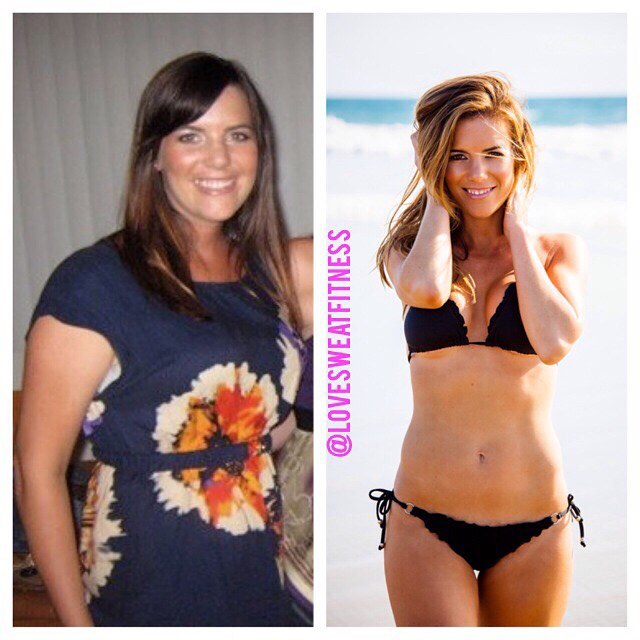 LoveSweatFitness Weight Loss Diet:
Check out the recipes section of lovesweatfitness.com for tons of my favorite healthy recipes I ate during my weight loss.
Sample Meals:
Breakfasts: Coconut Blueberry Protein Pancakes or Nut Butter Banana Toast.
Lunches: Black Bean Sweet Potato Burgers or Mexican Quinoa Bowl.
Dinners: Oven Baked Salmon & Salad or Low Carb Chicken Pad Thai.
Snacks & Treats.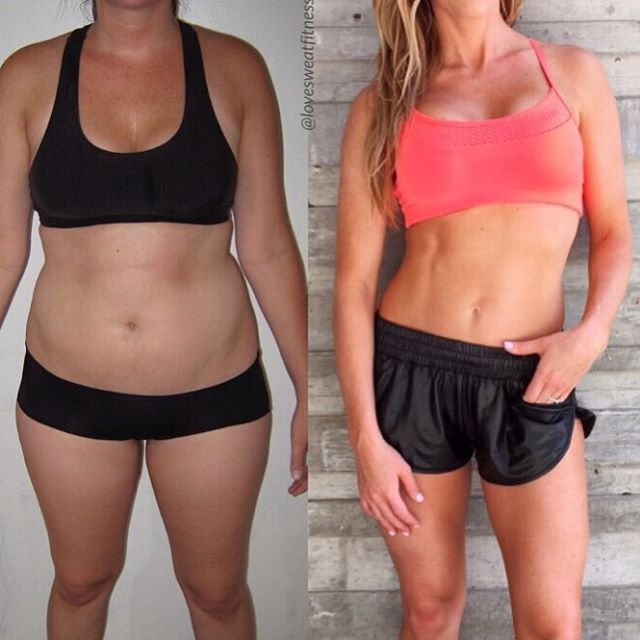 LoveSweatFitness Weight Loss Workout:
All of the pink workouts below come from my youtube channel Youtube.com/lovesweatfitness
Day 1: 45-60min Low intensity workout (Walking, Hiking, Yoga)
Day 2: 30min Strength train with weights + 30min Core work/Abs
Day 3: 45-60min High Energy Class or Cardio (Jogging, Running, Zumba, Yoga Sculpt or other cardio intense classes)
Day 4: 30min Strength train with weights + 30min Intervals (40sec on 20sec off OR 30sec on 30sec off) (Tabata, Sprints on tredmill)
Day 5: 30min Full Body HIIT workout + 30min Weights and abs
Day 6: 40min Lower intensity cardio + 20min Full Body HIIT
Day 7: 30min Strength train with weights + 30min Cardio
Katie Dunlop Interview: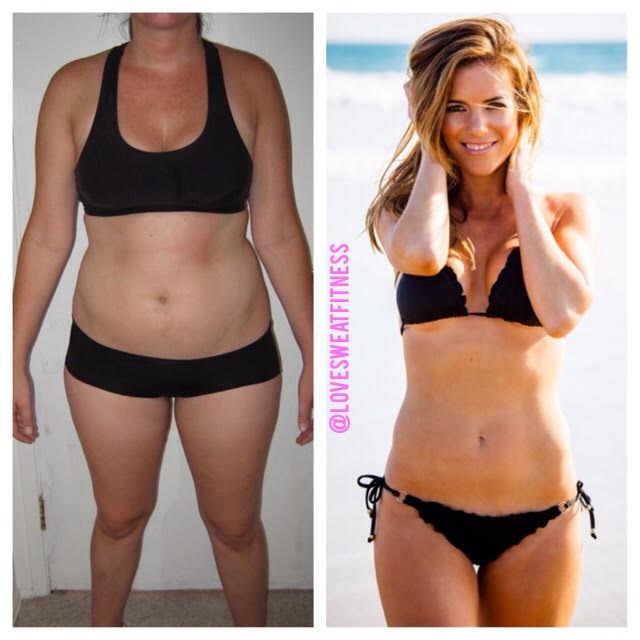 Before Stats: 24. 5'5″. 165lbs | After Stats: 27. 5'5″. 120lbs
What Was Your Diet Like Originally?
My diet was very unhealthy! Lots of processed foods, fast food, late night burritos in college and sugary treats.
What Made You Start Getting Healthy?
I was tired of feeling bad about my body. Being unhealthy makes you feel "off" constantly and I had enough. When I met my husband we both decided to hold each other accountable to get in better shape and that was all I needed to kick start my weight loss.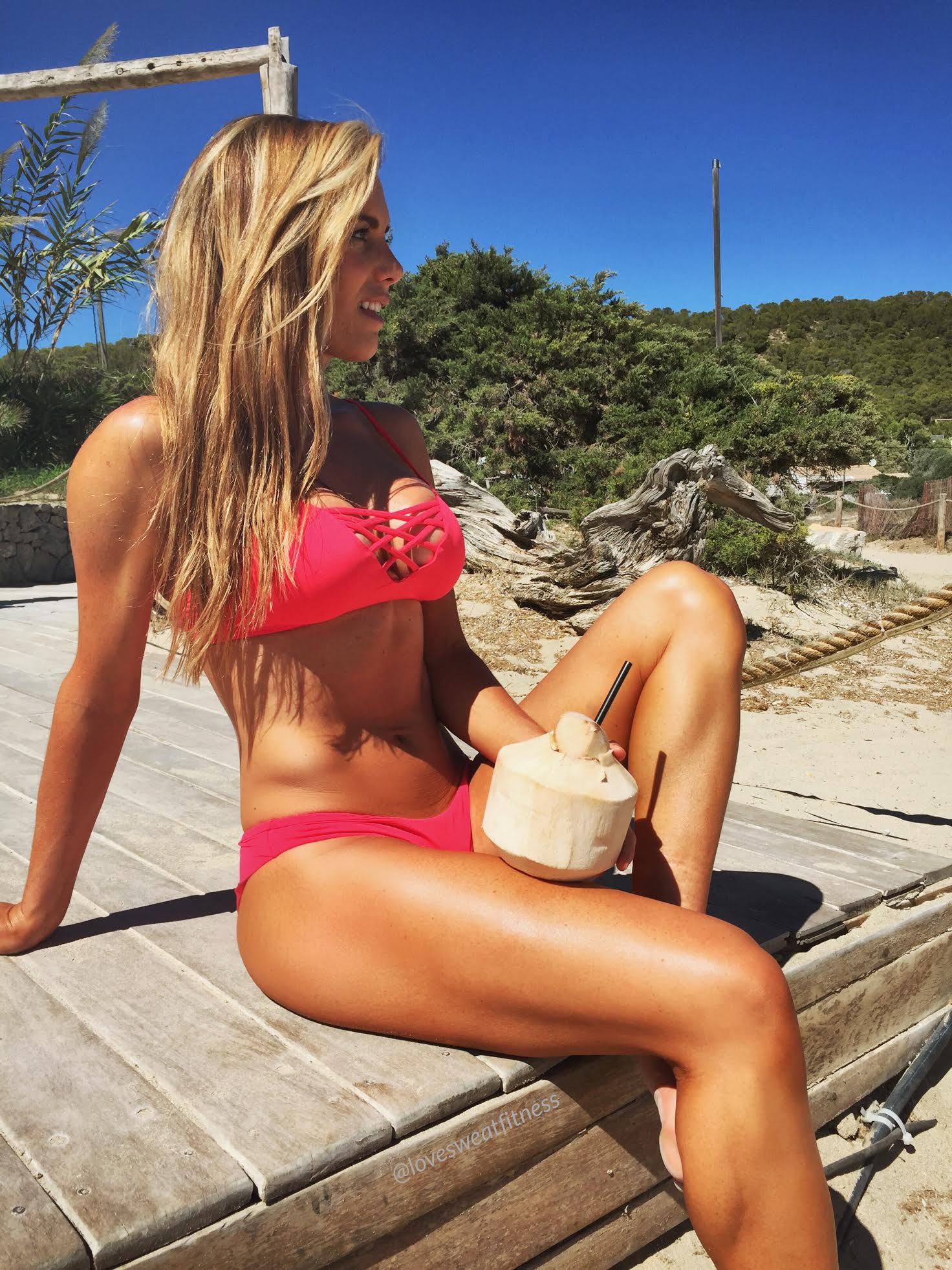 What Small Changes Do You Think Had The Biggest Impact?
DIET! But not an actual diet or any of those "fads". I have tried them all and nothing works long term. When I finally decided to improve my overall lifestyle, begun to understand that healthy foods can be delicious too, this was a big moment. Also, I begun to add in short workouts to my daily routine, at first just 20-30 minutes, gradually adding more time and days.
What Advice Would You Give Someone Looking To Lose Weight?
Start small, give yourself time to work out of the bad habits and into new healthy ones. Most importantly, be patient! No one is perfect and losing weight can take time. Don't get down on yourself if the results don't come right away. Love yourself and stay focused.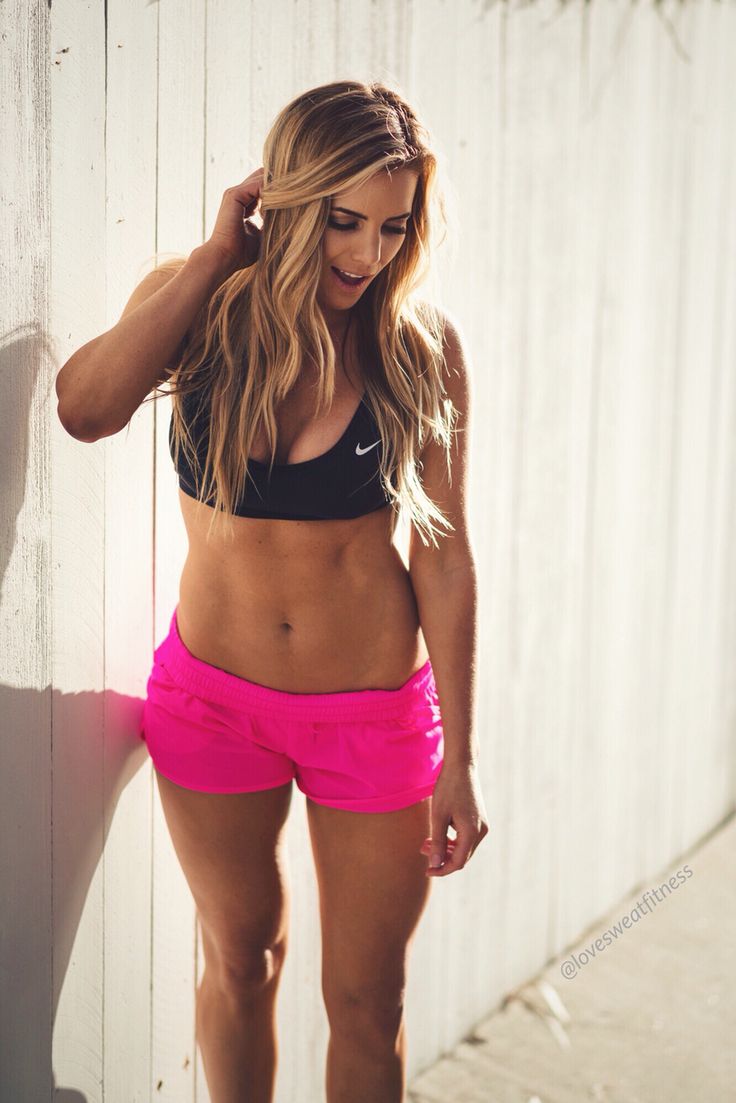 Your Abs Are Amazing! What Advice/Exercises/Tips Would You Give Someone Looking A Flat Stomach Like Yours?
The saying "Abs are made in the kitchen" is 100% true! You simply cannot have a great tummy w/ a bad nutrition plan. Also, crunches aren't they way to great abs. Make sure to try more dynamic core exercises to really see results. I show many of my favorites in the "Ab Workouts" section of my YouTube Channel (youtube.com/lovesweatfitness)
What Are Your Favourite Exercises/Tips For Developing That 'Booty'?
Try the LSF 14 Day Booty Challenge! It's free to sign up on my blog lovesweatfitness.com and gives you two weeks of killer booty building exercises.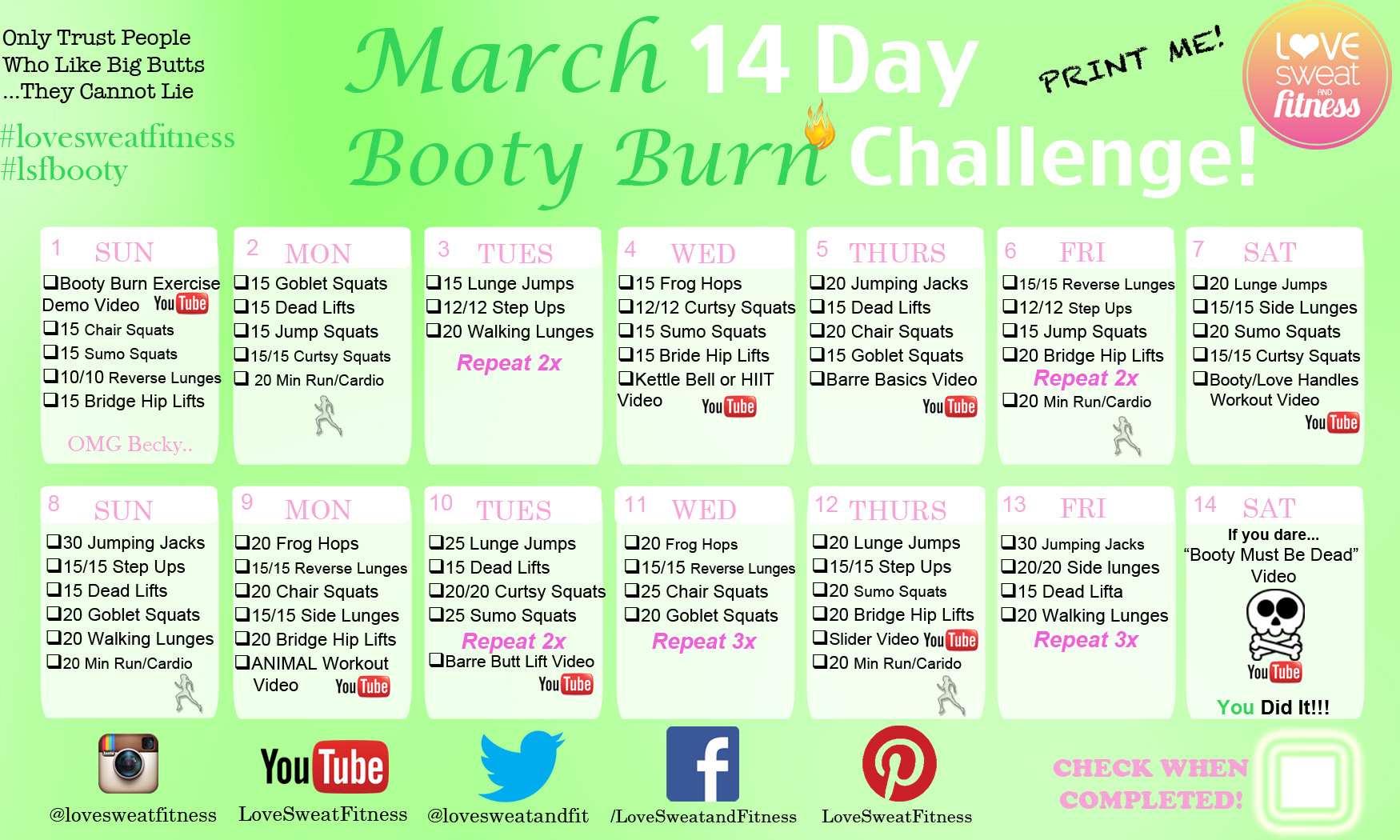 Katie Dunlop's 5 Minute Booty Workout
Did You Make Any Mistakes When You First Started?
Tons! There is unfortunately lots of bad information out there in the health/fitness space. It's hard to know what will give you long lasting results. My biggest mistake I made early on was trying the "quick fixes" that promised instant results….spoiler alert, they don't work ☺
What Are Your Favourite Healthy Recipes?
Got them all on the blog! You can see them all here: https://lovesweatfitness.com/nutrition/healthy-recipes/
What Made You Start Your Brilliant Site LoveSweatFitness?
LSF started on Instagram (@lovesweatfitness) after I began teaching Barre classes. I wanted to share workouts w/ my class when they weren't with me. I kept getting asked to post more often and eventually decided I could help way more people than just my small class.
You're always Travelling! How Do You Manage Keeping Fit & On Your Diet While Travelling?
So funny you ask! I just wrote a blog about my fitness/nutrition routine while traveling Europe for 2 weeks! I set a goal to not gain a single pound during the trip, check it out to see my results and full plan. https://lovesweatfitness.com/how-to-lose-weight-on-vacation/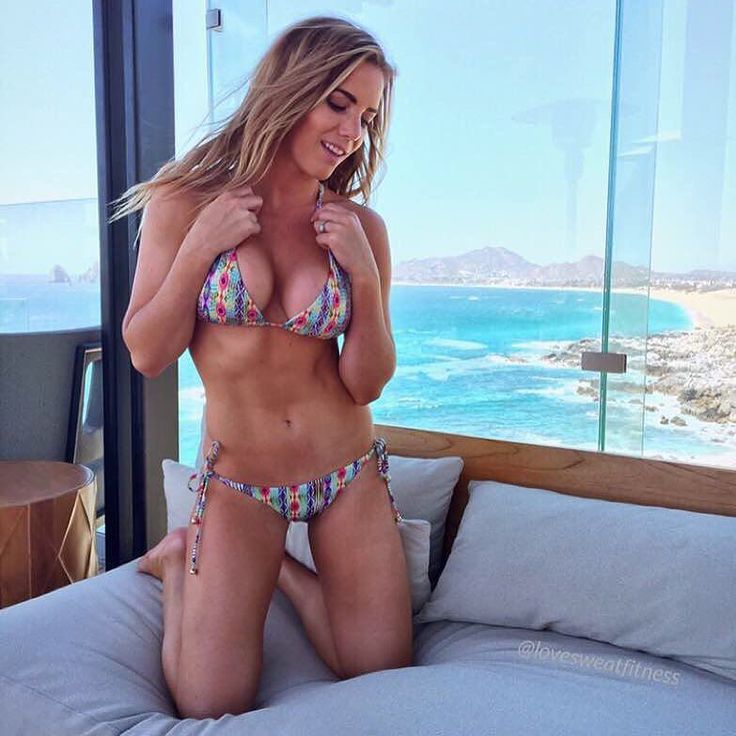 How Does It Feel To Know You Help & Inspire So Many People?
There is seriously no better feeling than when I get an email or message from someone LSF has helped inspire or change their life. The amazing community of women who make Love Sweat Fitness the special place it has become constantly inspires me. It really goes both ways!