Fitness Model & Personal Trainer Whitney Carlson Talks To T&T!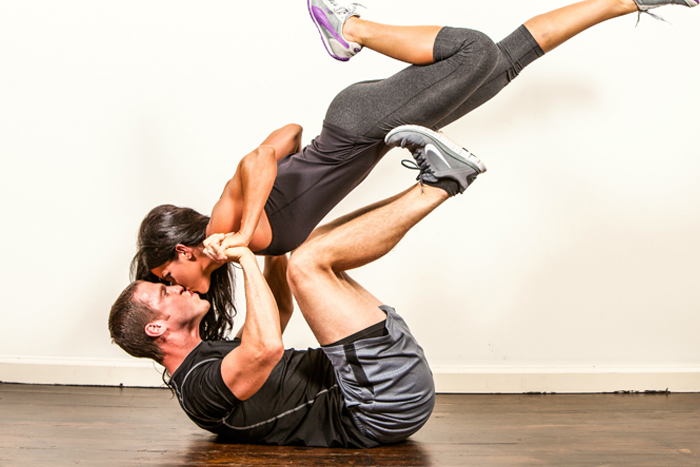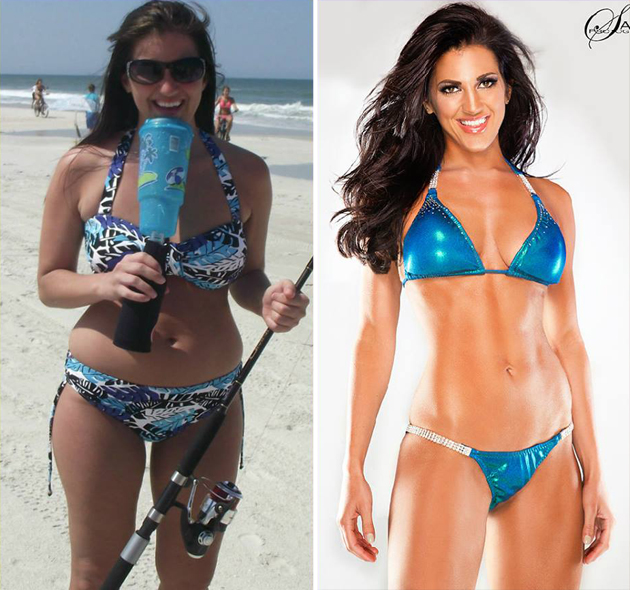 How Did You Get Started In Health and Fitness?
My husband's clean eating and weight training transformation inspired me to change my life. I watched him transform but it wasn't until I was ready that I actually changed my life as well. I finally got "sick & tired" of being "sick & tired".
I changed my life overnight & I haven't looked back since. We are now co-owners of a clean eating blog, HeandSheEatClean.com, which helps and inspires thousands of other couples and individuals achieve this lifestyle. So, not only has my transformation changed my life but it has also changed the lives of countless others! I also have a personal fitness blog, WhitneyCarlson.com where I talk about more personal fitness and health related items.
I am now an online health/wellness coach and ISSA-certified personal trainer at a local private fitness studio.

What Is Your Best Accomplishment So Far?
While working a high-stress full time job I was able to obtain my personal training certification and also become a lifestyle coach. I am very proud of the fact that I was able to accomplish all of this while working (and commuting two hours each day), still training myself, and preparing our meals!
Another huge accomplish for me has been being able to go on some very intense hiking trips! In September we hiked over 140 miles in Glacier National Park, Yellowstone National Park, and Grand Teton National Park in just 11 short days. Last year we did a lot of hiking in Rocky Mountain National Park, Bryce Canyon National Park, and Zion National Park. I know that being strong and in top shape has allowed me the opportunity to see some very beautiful places! I can't wait to see where our next adventure will be!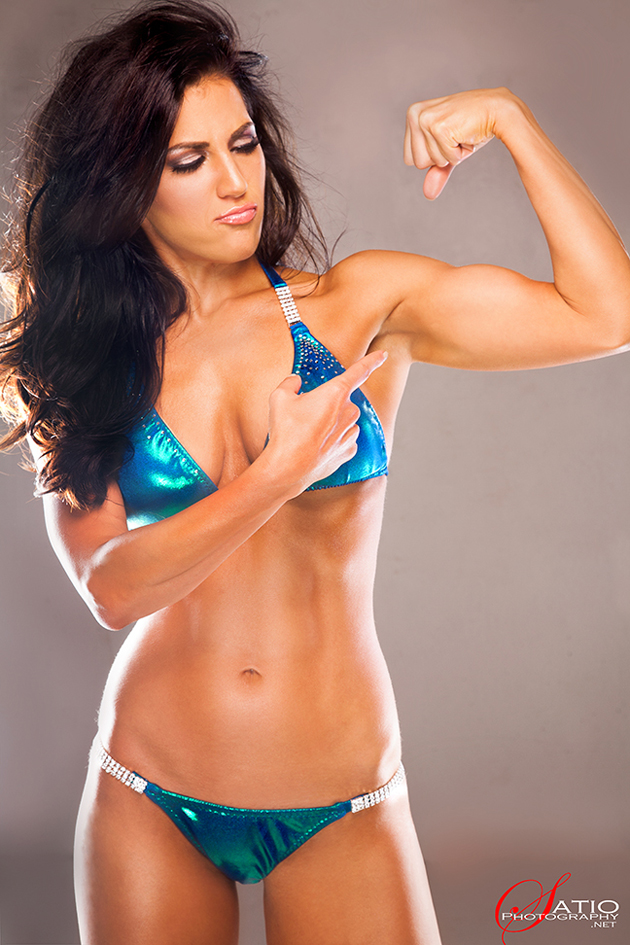 Age: 28
Height: 5'6"
Weight: 130-135 lbs
Location: Hoschton, GA
Can You Tell Us A Little About Your Transformation?
I was never an overweight child or teenager; however, I never stepped foot into a gym until I was in my mid 20s. I married my high school sweetheart and both of us gained 20 lbs during our first year of marriage. We DID belong to a gym during this time we just never used the membership.
I remember when I first started taking advantage of my membership I could only do about 10 minutes on the elliptical until I was completely exhausted and boredom set in and I lost my motivation to stick to a routine. Even though I lost my motivation, my husband continued to follow a strict routine and absorb as much fitness and nutrition information as he could. I was too shy to go to the gym so instead of going with him, I did Jillian Michaels workout videos at home.
It was around this time that I finally realized that counting points or counting calories may help you lose weight but it doesn't help you actually become HEALTHY. I just "flipped" the switch one day and I have never looked back!

How Has It Been Getting Fit With Your Husband, Scott?
It has been very motivating to have a partner who also cares about health and fitness. It is much easier to only have to cook one thing instead of having to make two different meals! We also motivate each other to go to the gym even when we don't want to!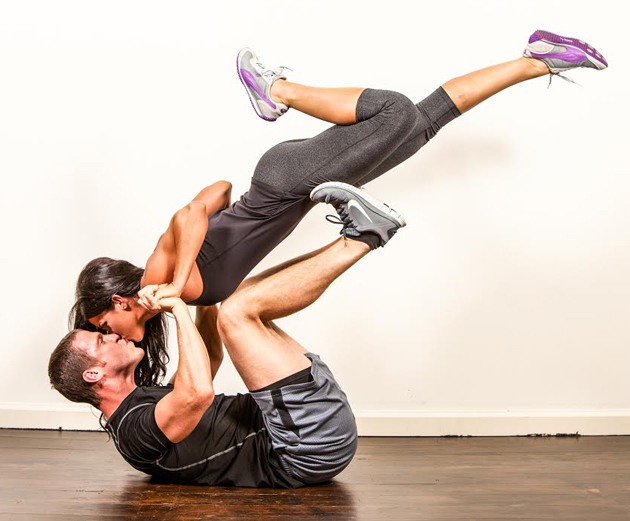 Is It Easier To Get Fit Together? How Did You Support Each other?
I think it is easier to get fit together! My husband's clean eating and weight training transformation inspired me to change my life. He has pushed me through the days that I didn't think that I was going to make it and stood by my side and supported me during the times I wanted to give up. He's helped me reach my goals and continues to push me to "set the bar higher" and attain even more goals.

What Is Your Workout Routine?
My workout routine changes based on my goals but usually looks something like this:

Monday: Legs
Barbell Squat: 3 sets of 12-15 reps
Superset with Bodyweight Lunges: 3 sets of 12-15 reps

Leg Extension: 3 sets of 12-15 reps
Superset with Machine Seated Calf Raise: 3 sets of 12-15 reps

Leg Curls: 3 sets of 12-15 reps
Barbell Step-Ups: 3 sets of 12-15 reps
Glute Bridges: 3 sets of 12-15 reps
Tuesday: Shoulders/Abs/Cardio
Arnold Press: 3 sets of 12-15 reps
Superset with Reverse Crunches: 3 sets of 20 reps

Side Lateral Raises: 3 sets of 12-15 reps
Superset with Crunches: 3 sets of 20 reps

Front Raises: 3 sets of 12-15 reps
Superset with Decline Bench Crunches: 3 sets of 20 reps-

Cardio: Incline Walking or the Stairclimber (20-30 min, Medium Intensity)
Wednesday: Back/Bis/Cardio
One Arm Dumbbell Row: 3 sets of 12-15 reps
Dumbbell Bicep Curls: 3 sets of 12-15 reps
Dumbbell Hammer Curls: 3 sets of 12-15 reps

Cable Pull-Downs: 3 sets of 12-15 reps
Superset with Cable Reverse Pull-Downs: 3 sets of 12-15 reps

Hyperextensions: 3 sets of 12-15 reps

Cardio: Incline Walking or the Stairclimber (20-30 min, Medium Intensity)
Thursday: Cardio
Workout Video at home or Incline Walking or the Stairclimber at the gym (45 min, Medium Intensity)
Friday: Chest/Tris/Cardio
Incline Dumbbell Bench Press: 3 sets of 12-15 reps
Superset with Dumbbell Flyes: 3 sets of 12-15 reps

Skullcrushers: 3 sets of 12-15 reps
Cable Overhead Tricep Extension: 3 sets of 12-15 reps

Cardio: Incline Walking or the Stairclimber (20-30 min, Medium Intensity)
Saturday:
Hiking/Cardio
Sunday:
REST DAY
Top 3 Favourite Exercises and Why?
1. Weighted Step-Ups because it works quads and glutes which are my favorite body parts to train. I also love them because all you need are dumbbells or a weighted bar and an elevated platform – you can do them anywhere!
2. Straight-Leg Deadlifts because it works hamstrings and glutes and I love the way I can feel them immediately! I love leg day.
3. Bicep curls because I love sculpted arms! Plus, you can perform them with dumbbells, a barbell, milk jugs, your animals, etc. No excuses for this arm exercise!

What Is Your Diet Like?
I eat six clean meals per day with a balance of protein, complex carbohydrates, fats and a lot of vegetables! I also try to drink a gallon of water per day. I try to eat as healthy as possible but also allow myself to enjoy life by going out to eat without worrying too much about it. I prepare all of our food in advance so that we don't have any reason to make unhealthy choices during the week. Below is a sample meal plan for me. (Recipes can be found on HeandSheEatClean.com)
This is what a typical day looks like for me recently:

Whitney Carlson's Diet Meal Plan
Meal 1: Egg Whites and Steel Cut Oats
Meal 2: Homemade Protein Bars
Meal 3: Chicken Chili
Meal 4: Italian Turkey Burgers with Sweet-Sweet Potato Cubes
Meal 5: Salsa Chicken or Protein Shake (this is my post workout meal)
Meal 6: Salsa Chicken or Protein Shake
What Food Would We Find In Your Fridge?
Lots of eggs, organic spinach, organic cucumbers, natural peanut butter, mustard, cartons of egg whites, and prepared food!

What Supplements Do You Use?
Before Breakfast:
Isotonix Multivitamin
Isotonix Calcium Plus
Isotonix OPC-3 (antioxidant)
Isotonix Activated B-Complex
Heart Health Fish Oil
TLS Tonalin CLA
BCAAs

Lunch:
TLS Tonalin CLA

Pre-Workout:
Isotonix Acai Advanced Energy

Post-Workout:
TLS Whey Protein Shakes
BCAAs
What Are Your Tips For Beginners?
Write down all of the positive things about yourself. You must change the way you think about yourself starting today. This journey is VERY mental. You must believe in yourself and know that you can do it.
Also, talk to yourself – yes, LITERALLY talk to yourself! I talk to myself ALL time time. Pizza, cupcakes, brownies, donuts in the breakroom means that I have to tell myself that they aren't worth it. All that hard work I put in at the gym? All the meals I prepared? I wasn't going to let that little treat (that meant nothing to me) control me. It works everytime! Save your "treats" for when they mean something (a special occasion, etc) instead of just an everyday office occurrence.

How Do You Handle Set Backs & Bad Days?
I just start new at the next meal or training session. Even with the best intensions, not all meals are going to be clean and not all workout sessions going to be at the highest level of intensity. The worst thing to do is binge eat or skip an entire week at the gym because you have already missed a few days. You must pull yourself back up immediately and get it together the next chance you have (next meal, next workout, etc).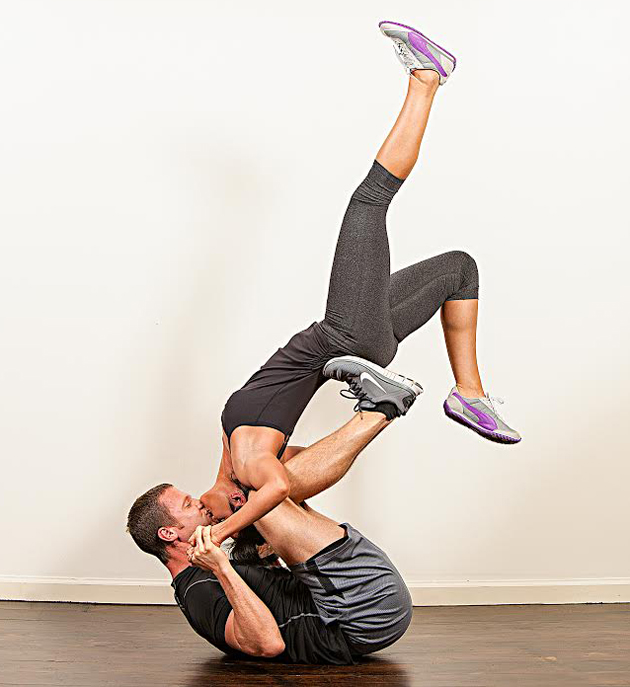 Did You Make Any Mistakes When You First Started Out?
I can't think of any "big" mistakes I made when I first started out. I'm sure that I did not have correct form on some exercises (it took me FOREVER to learn the correct form of a deadlift) and I know that I didn't train at the intensity that I could have. Through my own experiences and training others, I have learned that people are much stronger than they think!

Give Your Best 3 Health Tips That People Can Implement Right Now:
1. Surround yourself with positive people with similar goals
2. Change your routine/workouts periodically (try a new type of training, try a workout from your favorite magazine, or do a workout DVD)
3. Ignore the naysayers

Your Best Tips To Getting Into Contest Shape?
I've never done a competition only a few photo shoots. I didn't really diet down for those but instead I chose to consistently eat clean and workout. This way I stay in shape year round but also know what I need to eliminate a few weeks before an event. Things like gum, dairy, and gluten bloat me so before an event I will try to avoid these things and also try to focus on eating more whole foods instead of relying on shakes and bars so much. If someone is just trying to lose those last few pounds I would suggest mixing up their workouts or trying different food combinations to see if the change in routine will spark any additional weight loss.


What's Your Funniest Moment at the Gym?
When I was pretty new to weight lifting I was changing the weight on the cables and one of the straight bars came down and hit me in the head! I've seen it happen a few times since then but no one has gotten hurt that I know of!

Where Does Your Motivation Come From?
Part of my motivation comes from not wanting to be "normal". I've never wanted to be "like everyone else" so if "everyone else" is going to sit on the couch and watch TV, I'm not going to do it! I'm also the kind of person where I just decide I am going to do something and I do it. I was sick and tired of being sick and tired. I never had a number (weight) or clothing size in mind. I told my husband that I didn't want to be "skinny"…I wanted to be "fit". I wanted people to look at me and be able to tell that I worked for my body. By telling him that I knew that I would hold myself accountable! Tell someone your goals and dreams! I stay motivated now by helping others via our Clean Eating blog (www.HeandSheEatClean.com) and my personal fitness blog (www.WhitneyCarlson.com) – they motivate and inspire me in return! I can't let them down!

For More Of Whitney Please Check Out:
Blog: http://whitneycarlson.com/
Website: http://www.heandsheeatclean.com/
Facebook: https://www.facebook.com/carlsonwhitney
Facebook: https://www.facebook.com/HeandSheEatClean
Instagram: @carlsonwhitney
Instagram: @heandsheeatclean