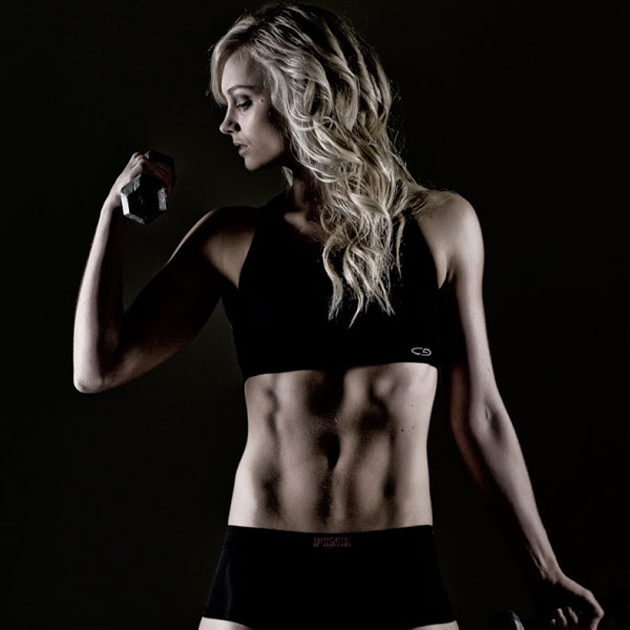 You Can Check Out Madelyn Moon's Full Interview With Us Here:
Madelyn Moon – Health Coach, Nutritionist & NPC Bikini Competitor Talks With T&T!
Bikini Competitor Madelyn Moon's Workout Routine
My routine changes based on whether I'm in on or off season. When I'm in off-season, my focus is building lean muscle mass and I'll hit every body part once a week, legs twice, and HIIT 2-3 to stay lean. Right now I'm just maintaining, so my workouts look like this:

Monday: 20-40 minutes AM cardio on stepmill: Glutes/Hamstrings
Tuesday: 20-40 minutes AM cardio on stepmill: Shoulders/Arms
Wednesday: 20-40 minutes AM cardio: Back
Thursday: 20-40 minutes AM cardio: Glutes/Quads
Friday: 20-40 minutes AM cardio: Shoulders/Chest
Saturday: 20-40 minutes AM cardio: Plyos/Legs
Sunday: Rest

I usually stay within the 15-20 rep range and perform every exercise for 4 sets. For legs, I stick with lunges, squats (all kinds), lying leg curls, leg extensions, leg presses, and smith machine single leg lunges. For shoulders, I prefer lateral raises, dumbbell presses and rear delt flies or the reverse pec dec. Arms are very basic for me, just a few dumbbell or cable curls for biceps and overhead extensions for triceps; back day involves pull ups, deadlifts, cable rows, lat pull downs and barbells rows. When I do chest, I do bench presses with dumbbells or barbells.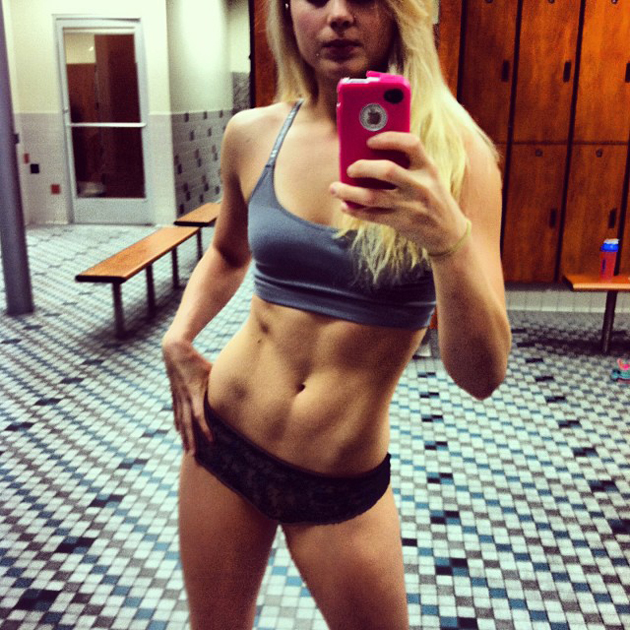 Bikini Competitor Madelyn Moon's Diet Plan
Meal 1: ½ cup oats, 6 egg whites, 1 T almond butter
Meal 2: 4 oz chicken, 1 cup green veggies
Post Workout: 1 scoop protein powder, ½ cup oats
Meal 4: 4 oz turkey, 1 cup veggies, ½ cup rice
Meal 5: 4 oz chicken, 1.5 cup veggies
Meal 6: Egg whites

My diet changes a lot. Sometimes I will get really creative and invent lots of new protein recipes like bars, shakes, pancakes, etc but other times I keep it pretty simple. Either way, my philosophy is that food is more than just fuel; food is a pleasure and we should eat clean but still have fun with it. My carb intake changes the most depending on whether it's on/off season. Right now, my carbohydrates are lower but as I ease back into off-season post show, the macros will increase so I can build more muscle.

Madelyn Moon's Supplementation
BCAAs, l-carnitine, protein powder, vitamin-c, multivitamins

For More Of Madelyn Moon Please Visit:
www.moonfitness.net
www.facebook.com/moonfitness
www.youtube.com/mvmoon100
www.twitter.com/moonfitness
www.instagram.com/moonfitness
www.pinterest.com/madelyn_moon