Kate Writer's Full Training & Diet Plan For How She Lost Over 50KGs In 1 Year!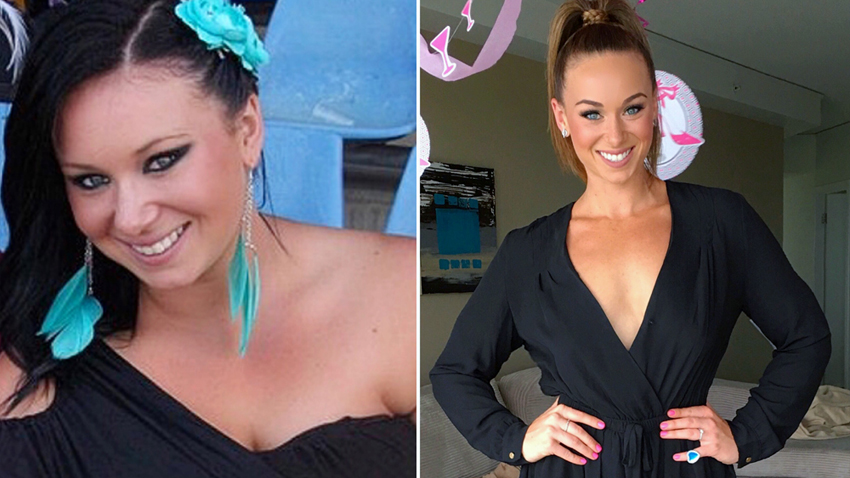 Kate Writer aka Dedikated_Lifestyle (Be sure to follow Kate!) has completely transformed her body and her life after losing over 50KGS in a year and achieving things she thought she never would be able to do.
After overhauling her diet and ditching fast and processed foods for healthy, fresh produce, Kate began seeing results immediately and used the feeling of working out, feeling healthier and losing weight as motivation to continue going and lose 40KGS in 7 months!
Kate now focuses on getting stronger and building muscle while remaining trim and has motivated thousands of people who have read her story and seen her transformation!
Check out her full interview with us here: https://www.trimmedandtoned.com/kate-writer-lost-over-50kgs-in-a-year-to-completely-transform-her-body/
Below is Kate's full diet and training routine when she transformed her body and lost over 50KGS in one year. You can see exactly what she ate and how she trained and can incorporate some of these meals into your own diet plan if you think they will work for you to!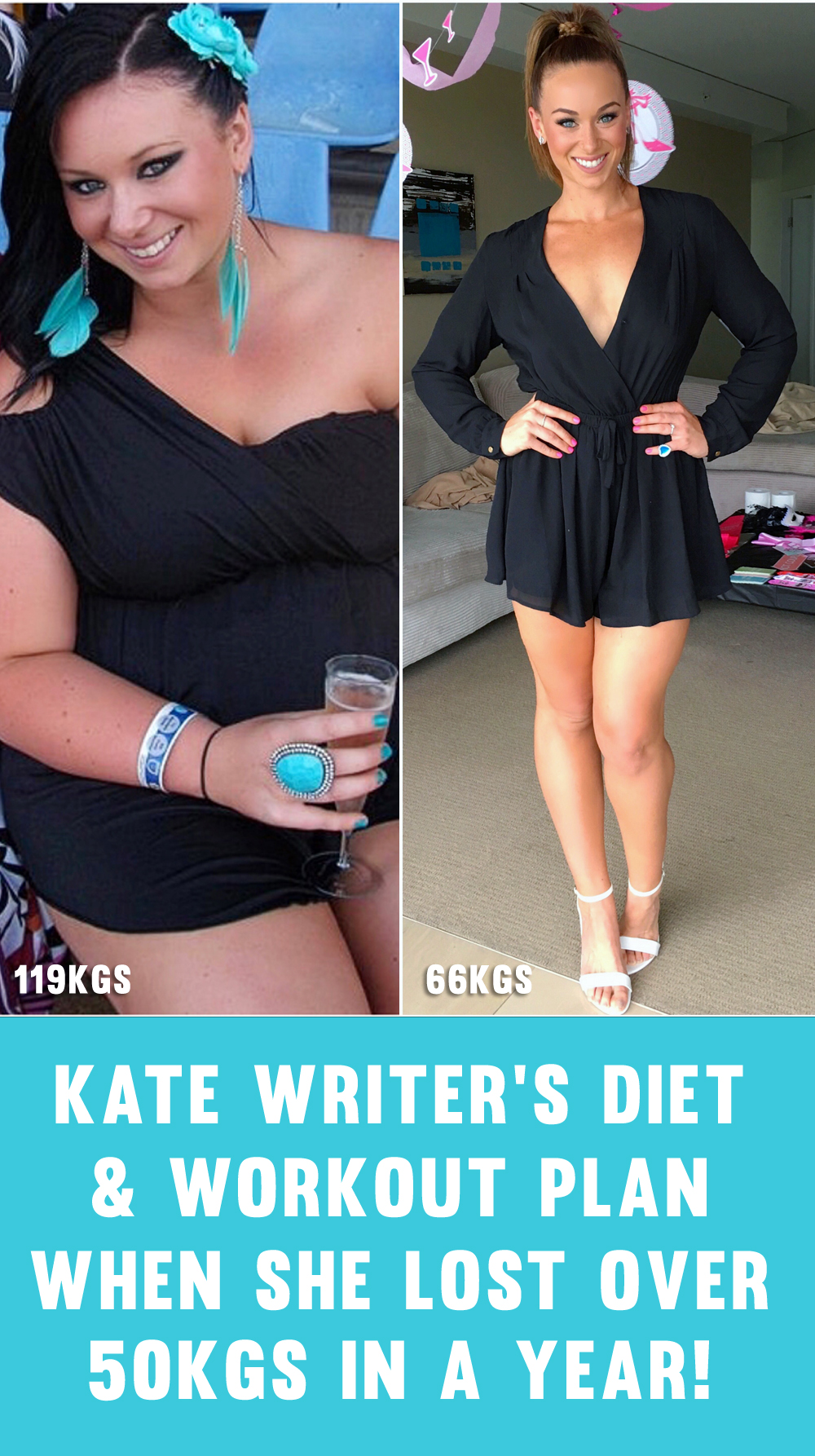 Kate's Weight Loss Diet:
When I was losing weight, my calorie intake was really limited and I was only eating around 1200 calories a day. Once I began training, this needed to increase in order for me to have sufficient energy and to function all day! So here is a typical day for me:

Kate Writer's Example Daily Diet
Breakfast: 2x boiled eggs, 1 small banana (or other piece of fruit), 15g raw almonds.
Morning Snack: 170g tub of plain chobani yoghurt with 25g of raw muesli or a small serve of my home made granola.
Lunch: I normally have a salad (lettuce, tomato, capsicum, red onion, carrot, corn) and a protein like chicken or tuna. Another favorite is roast veggies (pumpkin, sweet potato, broccoli, cauliflower, carrot and beetroot) and a protein like chicken or steak-I sometimes mix this with rocket and baby spinach to turn it into a salad. Each meal will always have fresh, whole foods (like veggies or salad) and a protein source. I sometimes throw some brown rice in there as well if I am feeling as though I need extra carbs.
Dinner: Dinner is varied, but again it always contains veggies and protein. So think stir-fry's, stuffed mushrooms, zucchini pasta, frittata's or sometimes just plain old chicken and veg.
Dessert: If I am really feeling as though I need something sweet, I try to have it in small amounts, like 1 piece of chocolate or one spoonful of ice cream. My self-control is good enough now for me to be able to stop after one bite. If you aren't able to do that, then yoghurt is a great substitute for ice cream or you can get your hands on some raw treats and slices that allow you to feel naughty but still provide you with nutrients.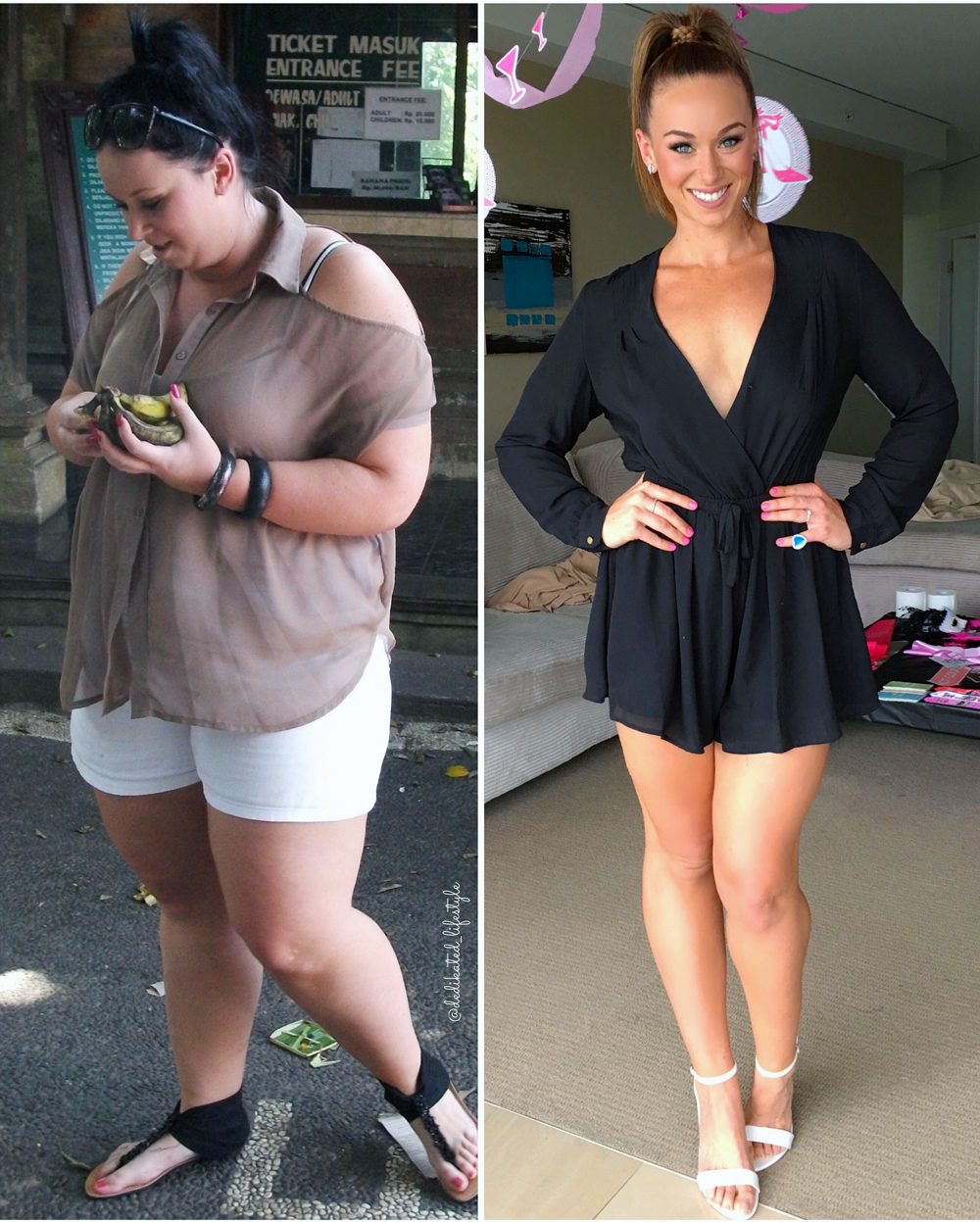 Example Of Typical Shopping Trip
Below is a typical shopping trip for Kate. You can see lots of vegetables, lots of fruit, steak, chobani plain yoghurt, salad, almond milk and tuna. You can see how Kate uses these food and ingredients above in her daily diet.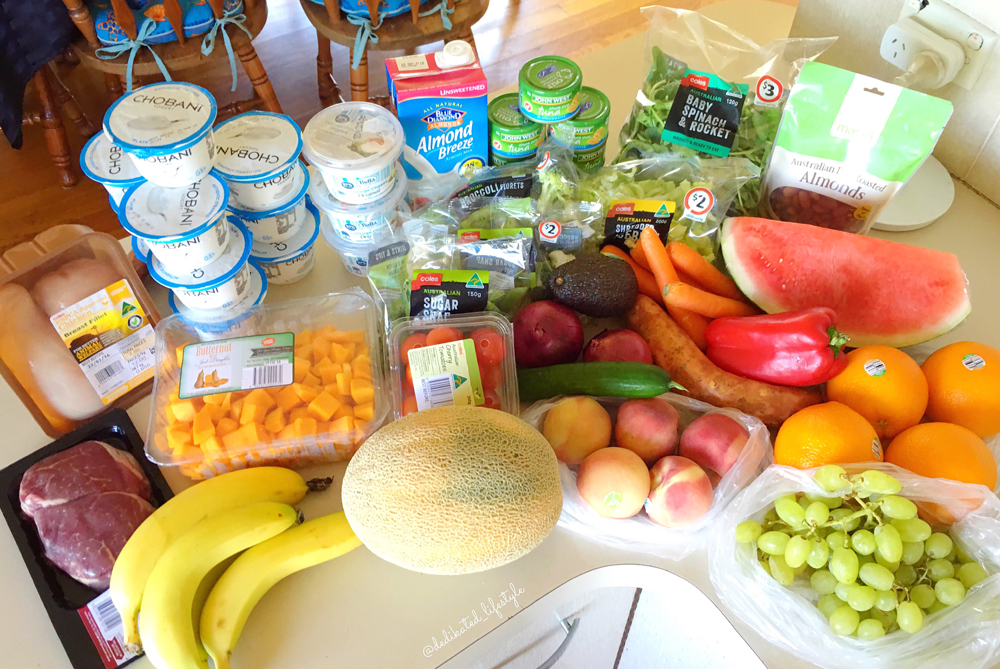 Kate Writer's Weight Loss Workout:
Again, my training now is really different to when I was losing weight. In the beginning, I focused a lot on cardio machines like treadmills, cross trainers, stationary bikes and rowers. This enabled me to lose weight quickly, but after a few months I started weight based training in order to build muscle and tone up. One thing that has stayed the same is my commitment to my training. I have trained at least 6 days a week since the beginning of my journey and have not allowed myself to slack off.
My favourite type of training now is definitely functional training and CrossFit style workouts. I need to feel breathless and my heart needs to be pumping for me to feel as though my workout has been worth it. I love using heavy kettlebells, barbells, battle ropes, weighted balls, abmats-anything I can get my hands on that is going to raise the intensity of a workout, so classes like "Wildcard", "FIT", "Strong" and "Body Blast" are a few of my favourites. I also still love cardio-based classes Body Attack and RPM, but my love is for CrossFit and functional movements.