Iconic Fitness Model Ingrid Romero's Workout Routine & Diet Plan Revealed!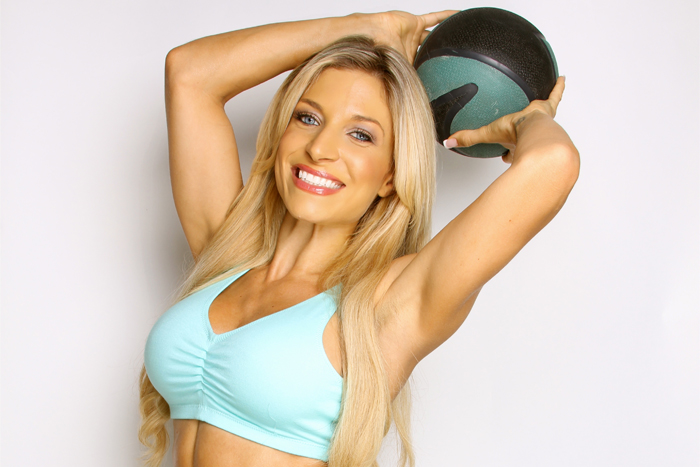 You Can Check Out Ingrid Romero's Full Interview With Us Here:
Ingrid Romero – Top Fitness Model, Bikini Pro Champion & Team Edge Founder Talks With T&T
Ingrid Romero's Workout Routine:
Monday: Legs (Heavy)

Squats 4×10
Step Ups with Dumbbells 4×15 each leg
Leg Curls 4×12
Stationary Lunges with Dumbbells 4×15
Leg Press 4×10
Dead lifts 4×10
30 min on Stairmill with Sprinting Intervals
Tuesday: Upper Body/Abs

Pushups with rotation at the top 4×20
Dips 4×20
Pull Ups (as many as I can get)
Leg Lifts with rotation 4×40
Crunches on stability ball with resistance 4×50
Wood Chops 3×20
30 minutes of running
Wednesday: Plyometrics/Core Training

Jump Lunges 3×25
Speed Skaters 3×30
Box Jumps 3×15
Line Hops 3×45 sec
High Knees and Leap Frogs in sand 5x 1 minute
Over Head throws with the Medicine Ball 3×15
Jump Rope 5x 3min
Plank (feet on bench and arms on stability ball) 3x 1min
Side Plank 3x 1min each side

Thursday: Upper Body (Light)

Dumbbell Chest Press 3×20
Seated Row 3×20
Shoulder Press 3×20
Dumbbell Curls 3×20
Tricep Pull Downs 3×20
Lat Pull Downs 3×20
Front and Lateral Raises 2×20
Incline Ab Bench 4×50
Roman Chair 4×25
30min Elliptical Ramp (High intensity)
Friday: Legs (Light)

Leg Extensions 4×25
One leg Squats 4×20 each leg
Weighted Donkey Kicks 4×25
Hack Squat 4×25
30min Stairmill Intervals
Saturday: Off

Rest
Sunday: Track Workout

Sprints: 2×60 yards
Sprints with Chute 3×40 yards
Stairs: 6x
High Knees 4x 30 yards
Tuck Jumps 3×15
Skips for height 3×15
Ingrid Romero Diet Plan
I eat about 2000 calories five to six meals a day (about two and a half to three hours apart) consisting of lean protein such as chicken, fish, turkey, or egg whites and slow digesting carbs, such as oatmeal and sweet potatoes. I also eat lots of fresh veggies to help fill me up and add fiber so everything very clean no sugar, limited salt, limited dairy and nothing too high in sodium.

Breakfast: ½ oatmeal and 4 egg whites, 1 whole egg
Snack: protein shake, fruit and almonds
Lunch: 6 oz of chicken breast and sweet potato
Snack: 4oz lean protein, ½ cup brwn rice
Snack: 2 salt free rice cakes with natural peanut butter or almond butter
Dinner: 6oz fish, asparagus, sweet potato
Ingrid Romero Supplementation
I am big fan of Isagenix supplements because there all 100% natural, organic supplements, chemical free and is the wiser choice to ensure proper nutrition and no toxic ingredients
Protein powder ISAPRO: use a protein powder that is high in fiber, protein and essential fats
Essentials Multi-Vitamin: to promote over-all good health and nutrition. To give your body the added nutrients that you may not be getting enough of through food.
Energy supplements, e+ shot!: not everyone needs this, but if I need a bit of help before working out after a long day of work I use it
Natural Accelerator -Carefully selected thermogenic ingredients naturally enhance the body's fat-burning ability without the shaky feeling you get from stimulants.
IsaFlush!- sometimes if I get a cheat meal or Im retaining water due to hormonal changes, I take IsaFlush! effectively and safely improves digestion, encourages regularity and helps soothe intestinal discomfort
ISAGENIX GREENS!—A superior blend of the highest-quality nutrient-rich plants.
CLEANSE FOR LIFE—A complete, nutritional whole-body cleanse that aids the body's natural ability to remove impurities.
Ingrid's Social Media:
Facebook Fanpage: IngridRomero1985
Facebook Profile: IngridRomero23
Youtube: IngridRomero1985
Twitter: IngridRromero1
Instagram: IngridRomero1