Gessica Rodriguez Talks About Her 100lb Weight Loss After An Overweight Childhood!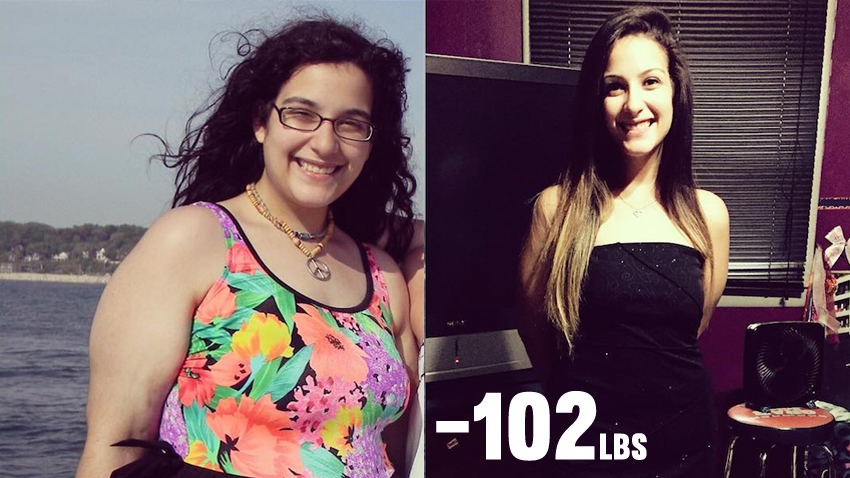 "I've always been overweight. Something that alarmed me when I was 8 years old was having the doctor tell me I weighed 100 pounds. That scared me, but I wasn't wise enough to figure out what I needed to do to change. As the years passed, I kept growing. At 16 years old, I reached a high of 252 pounds (size 18/20 pants, XL/1X shirt) and with that, I was depressed, anxious, sick, and discouraged. By age 17, I started a new relationship with Jesus Christ, and that new blast of positivity and inner strength helped kick-start my weight loss! I was so motivated to keep going once I saw the number on the scale drop and my figure start to shape out.
To this day, my motivation is to glorify God in my body by taking great care of it! Another person that motivates me is my wonderful husband! I haven't reached my "goal weight" yet, but I have every intention to! At this point, I'm just so happy to be healthy again! Life is such a gift, and I'm so grateful for losing weight because it has given me a part of my life back!"
Check Out Gessica Social Media Here:
Instagram: https://www.instagram.com/gessiparisi/
Twitter: https://twitter.com/GessicaParisi
Pinterest: https://www.pinterest.com/GessicaParisi/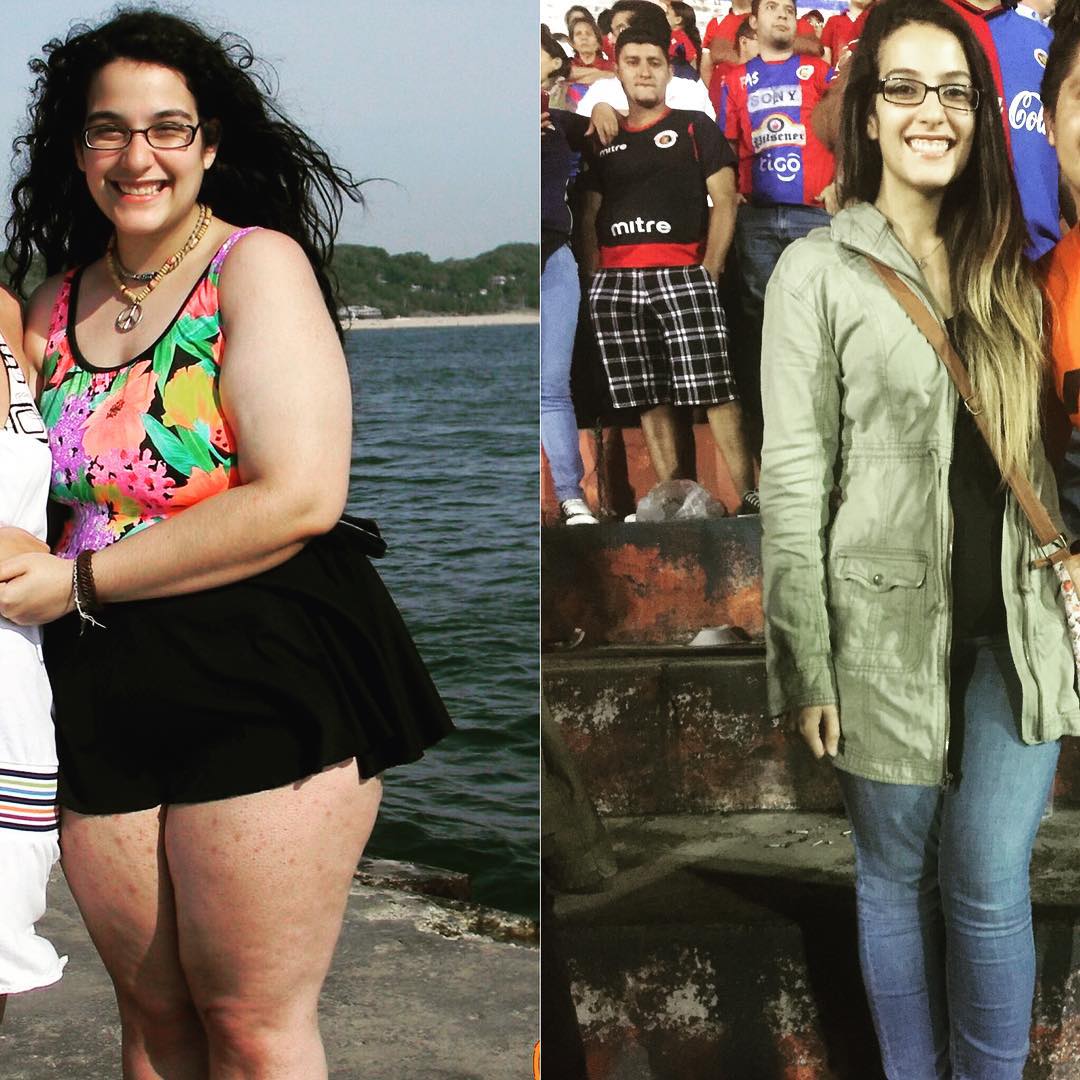 Weight Loss Diet:
Breakfast: 1 bowl of oatmeal with honey or agave nectar; piece of fruit such as an apple or banana; water; occasionally 1 cup of coffee
Lunch: Broiled/baked lemon garlic tilapia or salmon; small portion of white rice; broccoli
Dinner: Grilled chicken; broccoli or other side of vegetables; occasionally a small portion of mashed potatoes
Weight Loss Workout:
I went for a walk every single day, rain or shine, for at least 1 hour (equivalent to 4 miles based on my route). I would always push for 2 hours (or 8 miles). Once I gained a little more fitness, I started jogging those distances. I was gifted with a set of Zumba CDs for Christmas, and incorporated that into my routine 2-3 times a week. I remained as consistent as possible with the P90X training videos. I also lifted weights at my in-home gym 3-4 times a week.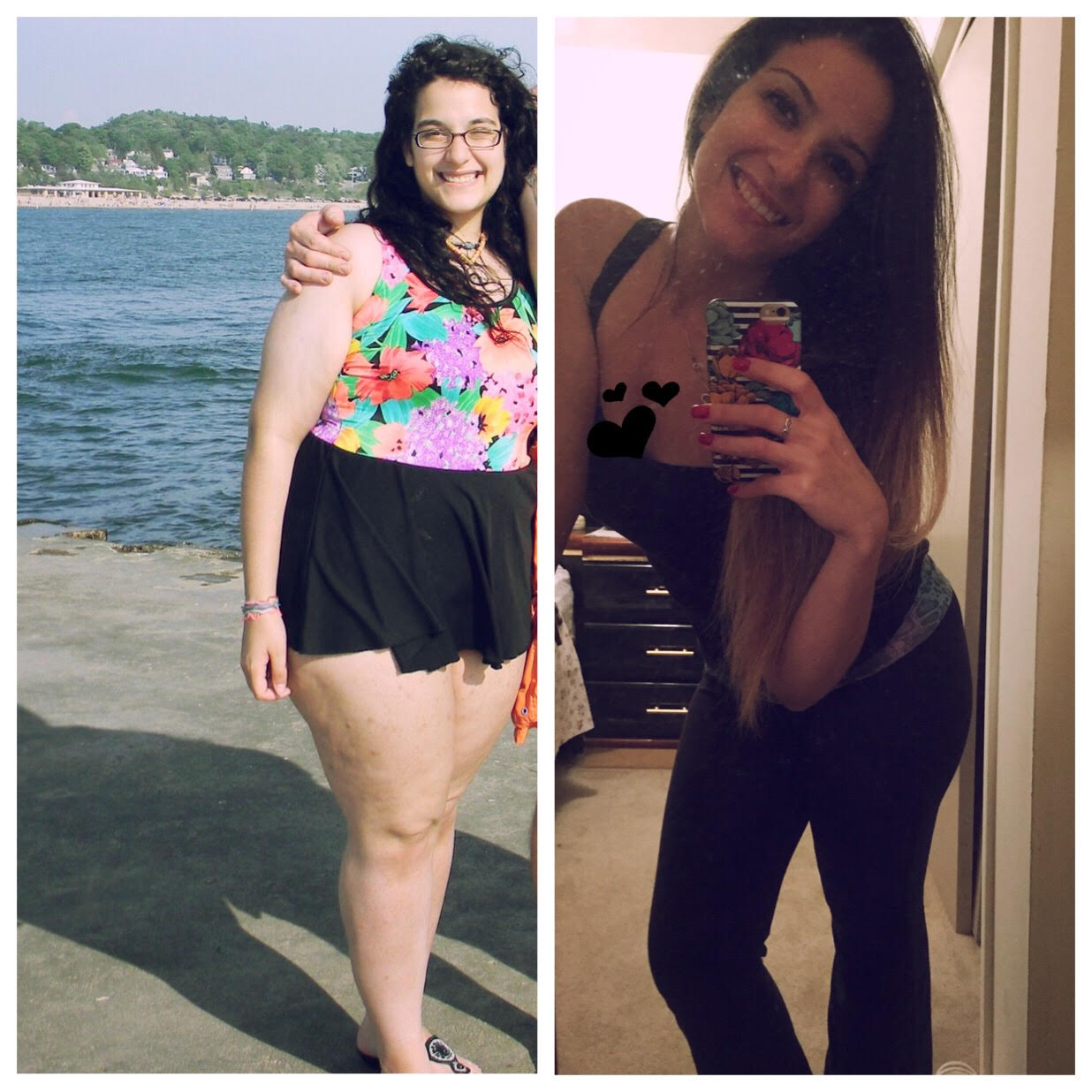 Gessica Interview:
Before Stats: 17 – 5'5" – 252 lbs – I'm guessing 30-31% body fat.
After Stats: 22 – 5'5" – 150 lbs – 25% body fat.
What Was Your Diet Like Originally?
Alright, so I'm Sicilian and most of my family members own at least one Italian restaurant or pizza place, so my diet consisted entirely of bread, pasta, meat, soup, pizza, subs, and the list could go on! I ate whatever I wanted, whenever I wanted. Hey, the food was free!
What Made You Start Getting Healthy?
Throughout my life, I had been verbally abused by a particular family member about my weight. Comments like, "You're going to explode one day if you keep eating like that," or more blatantly, "You're getting too fat," crushed my self-esteem. I always wanted to lose weight because of the rejection I felt due to being fat, but I didn't know how. When I turned 17, I decided to give my life to Jesus Christ, and THAT is what compelled me and strengthened me to start a healthy lifestyle. The strength, motivation, and positivity that I found through that relationship is what kept me going through rain or shine, and it is what sustains me to this day.
What Small Changes Do You Think Had The Biggest Impact?
For me, it was resisting that last cookie or donut sitting up on the countertop. It was rewiring my brain to think about other positive things instead of food or being hungry. It was loving myself throughout every stage I was in at the time.
How Did You Stay Motivated?
What truly motivated me was looking in the mirror one day and seeing a different person. Though I wasn't "skinny" yet, I was able to look at myself with a new pair of eyes; and I started to love who I was becoming both inside and out. The feelings of self-acceptance and self-worth were something I longed for and chased after (though now I know those things aren't based on physical appearance!).
Were There Any Particular Tough Points On Your Journey?
Yes, there were a few times I wouldn't work out for 2-3 months and I wouldn't watch what I ate because life got busy! And I would gain somewhere between 10 and 20 lbs back each time. It was always very discouraging because it took a lot of hard work to lose that weight, and to know I had to work that off plus more just kept me stuck in a mental rut. Eventually I came out of those ruts and overcame what I had to overcome, but it was NOT easy! It took a lot of mental battle just to step out on the sidewalk again.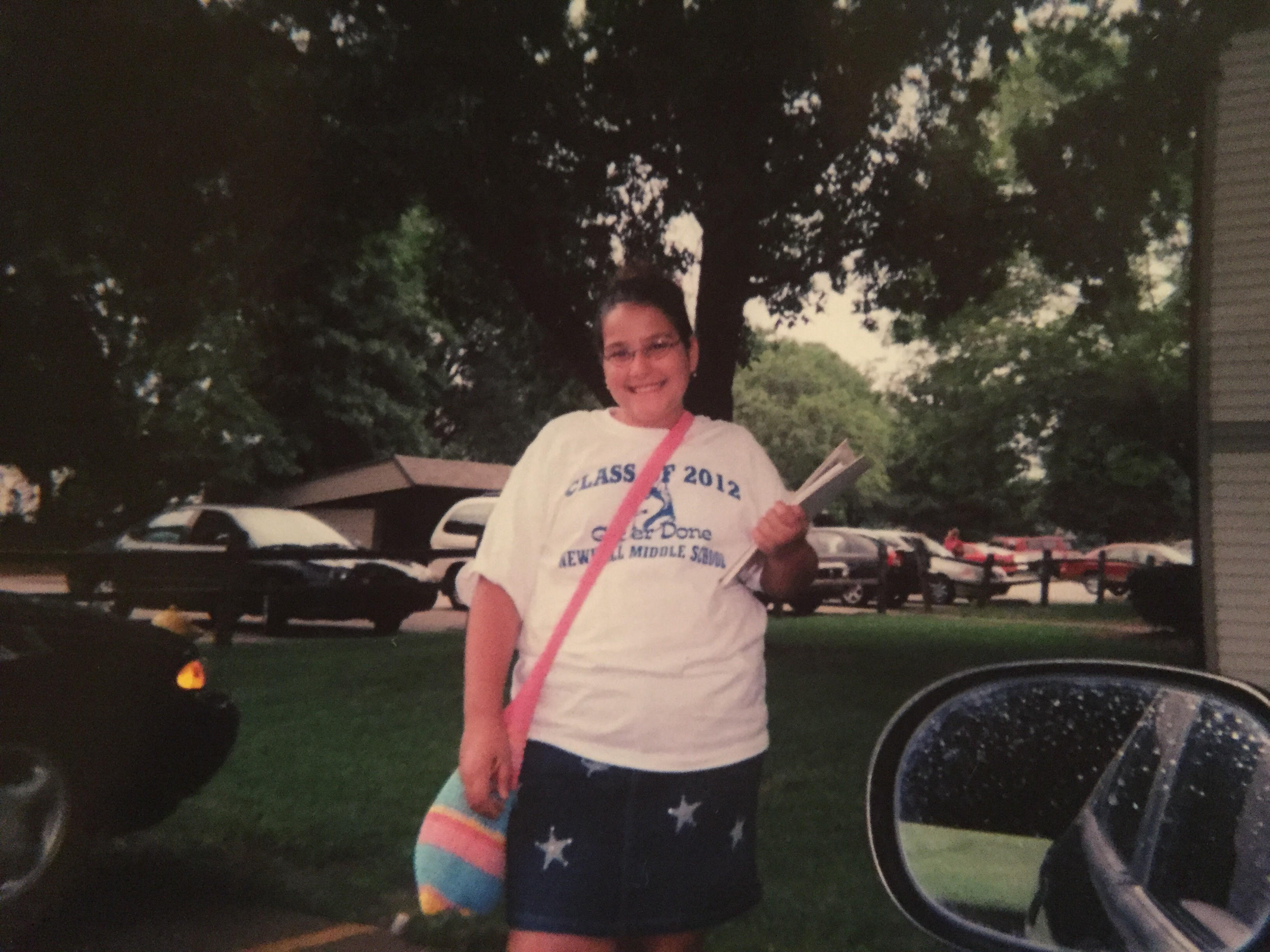 What Advice Would You Give Someone Looking To Lose Weight?
I would start by saying that you are so much more than your appearance. I know that's cliché, but it is SO true. I've found that even with reaching your goal weight, even with having a pretty face and a pretty figure, it still doesn't fill that void that you're trying to fill, so always keep in mind that you are so much more than what you look like! And BELIEVE it! Remind yourself of the amazing person you are; a person who bears the image of God! Give yourself grace when you miss a workout or eat too much food on the weekend. Love yourself fiercely when you see some extra weight around your stomach or thighs. There is always tomorrow! NEVER grow weary in your efforts, because in due time you will reap the harvest that you are sowing into!
What Are The Most Common Questions People Ask When They See Your Incredible Change?
Either, "How did you lose weight?" or "What food would you recommend to someone who is trying to lose weight?"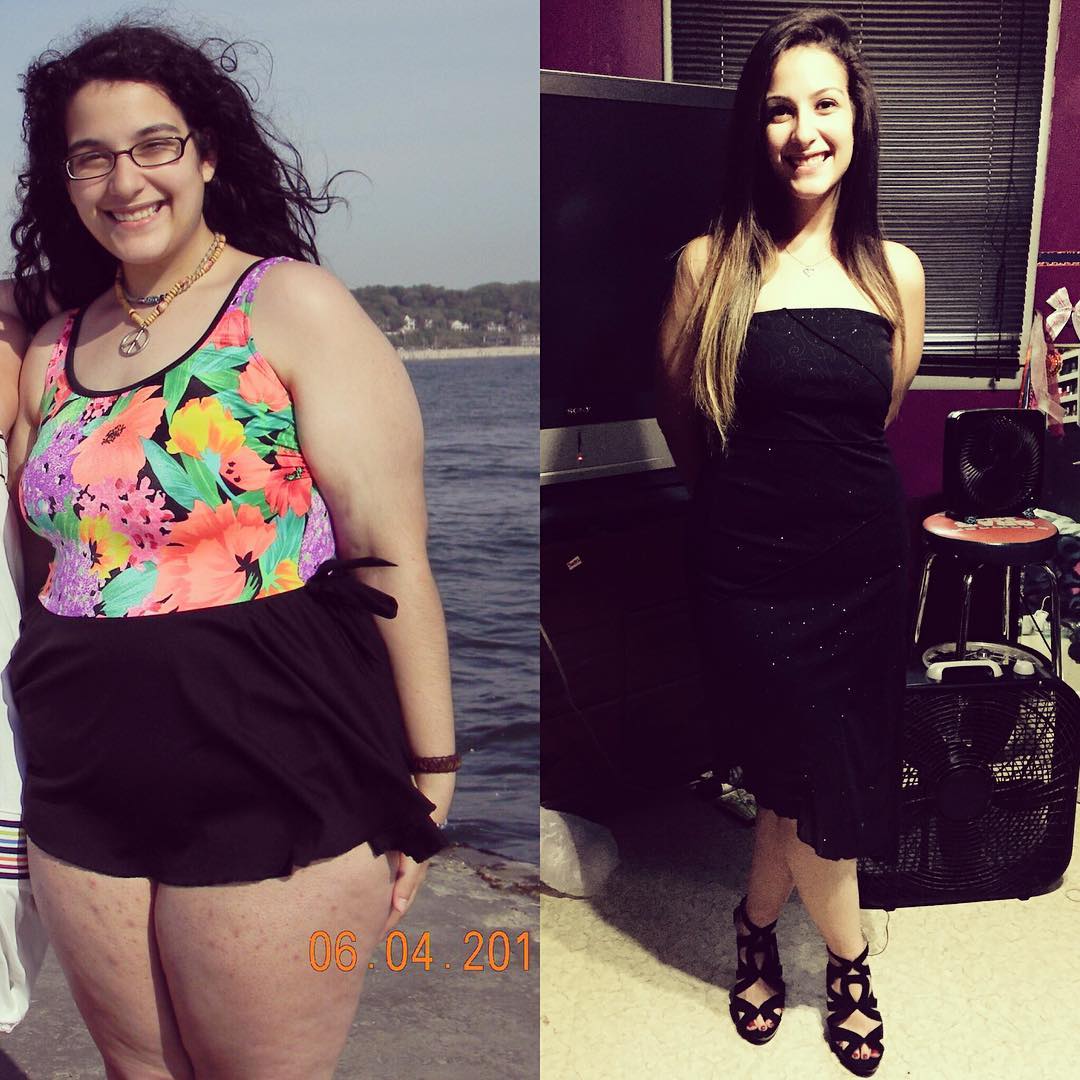 What Are Your Favourite Healthy/Weight Loss Recipes?
I love this question! Because it is so important that we develop a healthy love for food – GOOD food! I will list some yummy recipes down below. I hope you enjoy them!
Turkey Avocado Wrap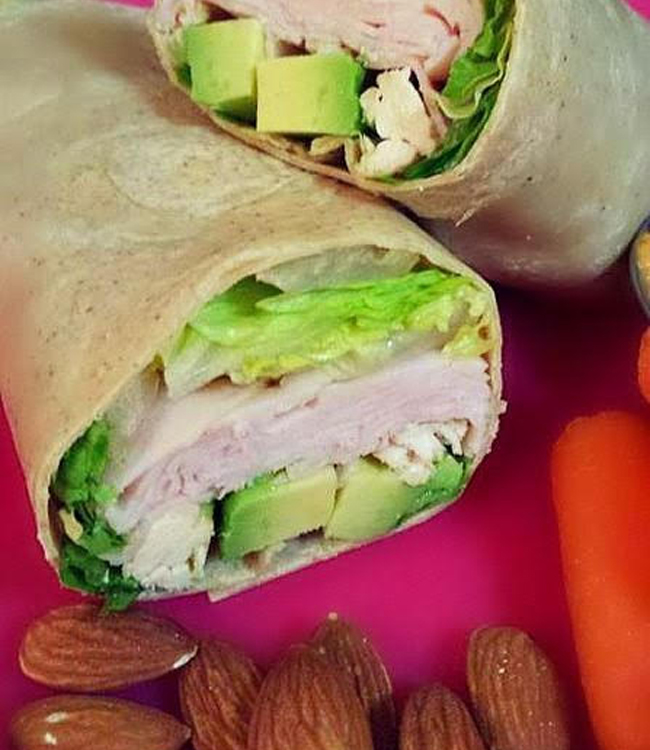 5 minutes to make, serves 1. 1 Low-In-Carb Tumaro tortilla – 2 to 3 slices of avocado – Iceburg lettuce – Spinach – Turkey – Slice of mozzarella cheese.
Sweet Potato Black Bean Burger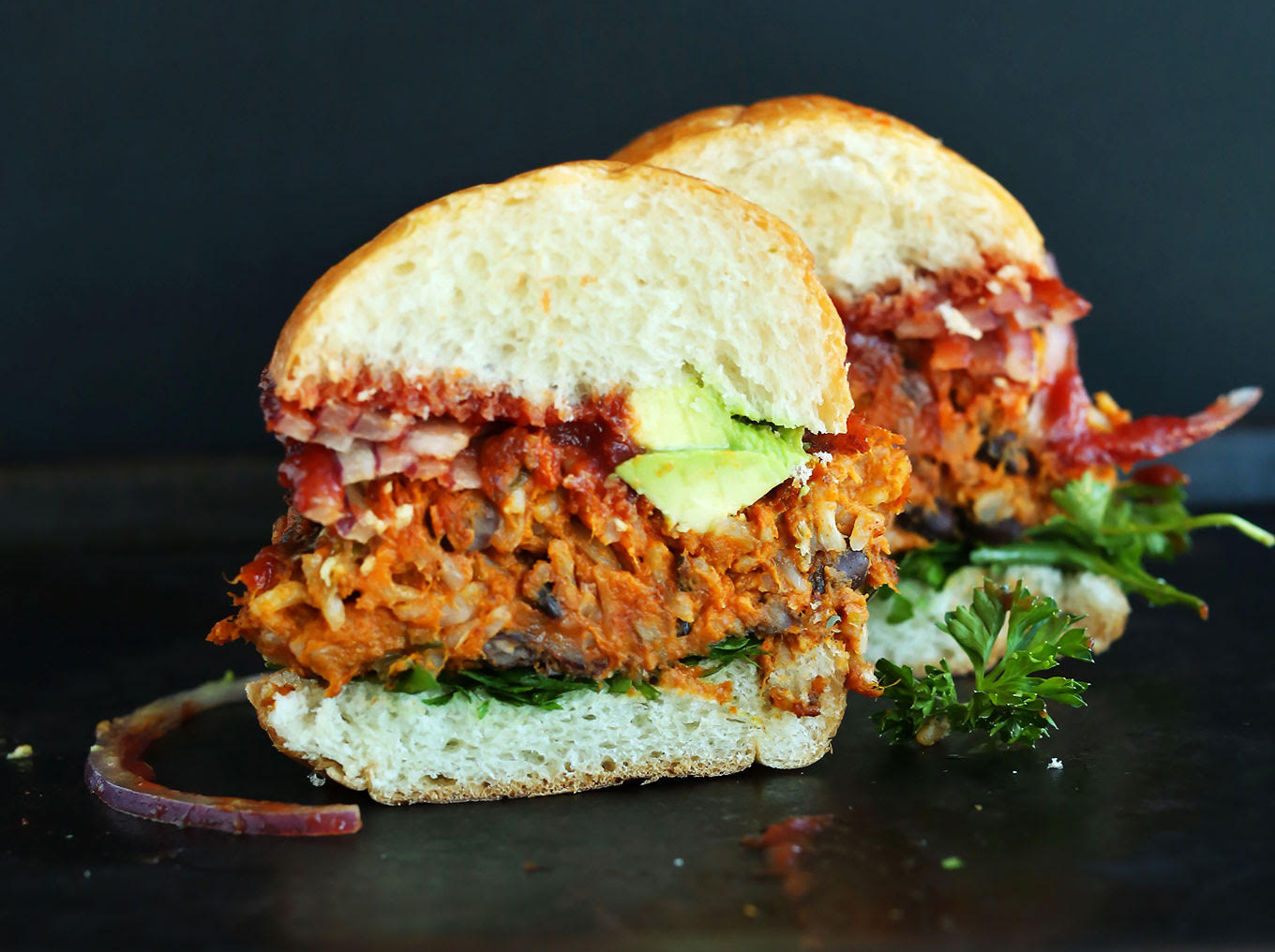 1.5 hrs to make, serves 12 (from Minimalist Baker) Ingredients
* 2 cups mashed sweet potato (~2 large sweet potatoes – organic when possible)
* 1 cup cooked salted black beans, rinsed and well drained (if unsalted, add more salt to the burgers)
* 1 – 1 1/2 cups cooked brown rice* (or sub cooked quinoa with varied results)
* 1/2 cup walnut or pecan meal (or very finely chopped)
* 1/2 cup finely diced green onion
* 2 1/2 tsp ground cumin
* 1 tsp smoked paprika
* 1/4 tsp each salt and pepper (to taste)
* 1/4 tsp chipotle powder (optional)
* 1 Tbsp brown sugar (optional | for added sweetness)
For Serving
* Sliced avocado
* Sprouts, lettuce or parsley
* Sliced onion * Whiskey BBQ Ketchup
Instructions
1. Preheat oven to 400 degrees and cut sweet potatoes in half. Rub with olive oil and place face down on a foil-lined baking sheet. Bake sweet potatoes until soft and tender to the touch – about 30 minutes – set aside. Reduce oven heat to 375 degrees F.
2. While potatoes are baking, cook rice or quinoa (see notes for instructions).
3. Add black beans to a mixing bowl and mash half of them for texture. Then add sweet potato and lightly mash, then 1 cup rice, green onion, nut meal and spices. Mix to combine. Taste and adjust seasonings as needed. Add more rice or nut meal if the mixture feels too wet. It should be very moist but moldable.
4. Lightly grease a baking sheet and line a 1/4 cup measuring cup with plastic wrap.
5. Fill the lined measuring cup with sweet potato mixture. Scrape down to pack, then lift out and transfer to the baking sheet and gently press down to mash. The thinner you press them, the faster they'll cook, but no need to go too far. Just a gentle press will do.
6. Bake burgers for a total 30-45 minutes, carefully flipping 20 minutes in to ensure even cooking. The longer you bake them the firmer and drier they will get – up to preference. I went for around the 35 minute mark.
7. Serve on slider buns (double stack for more bulk) or atop a salad with sliced avocado, red onion, greens, and ketchup or salsa.
8. Store leftovers covered in the fridge for up to a few days. Freeze for longer term storage.
Garlic Butter Baked Salmon in Foil ~ 30 mins to make, serves 3-4
Ingredients
* 1¼ pound sockeye or coho salmon (preferably wild caught)*
* 2 tablespoons lemon juice
* 2 cloves garlic, minced
* 2 tablespoons cold butter, cubed
* ½ teaspoon salt
* ¼ teaspoon black pepper
* ¼ teaspoon Italian seasoning
* ¼ red pepper flakes
* 1 tablespoon chopped parsley, for garnishing (optional)
Instructions
1. Position a rack in the center of the oven and preheat the oven to 375ºF. (see notes)
2. In a saucepan over medium heat, combine the lemon juice and minced garlic, allow the lemon juice to reduce to 1 tablespoon. Add in 1 tablespoon of butter, remove pan from heat and swirl so the butter starts to melt. Place back on the heat for a few seconds, removed and continue to swirl until butter completely melts. Repeat with second tablespoon of butter. When butter is completely melted, remove sauce from stove.
3. Place the salmon filet in a piece of foil large enough to fold over and seal. Using a brush or spoon, brush the salmon with the garlic butter sauce. Season with salt, pepper, Italian seasoning, and red pepper flakes. Cover with foil so that all sides are properly closed so the sauce does not leak.
4. Bake the salmon for 12-14 minutes or until firm. Open the foil and allow the fish to broil under the broiler for 2-3 minutes, keeping an eye on it so the fish does not burn. Remove from oven, top with parsley. Serve immediately.
I suggest using a good quality salmon for this recipe. Try to avoid using 'pink salmon' as this type of salmon is quite watery and will release lots of water in the baking process causing the fish to be wet and not flakey. Please note: baking time may vary slightly due to thickness of fish. Feel for firmness on the thickest part of the filet to make sure your fish is cooked through. The salmon can also be wrapped in foil and barbecued at 375ªF for about the same amount of time give or take a minute or two. Allow the salmon to 'broil' the same way you would in the oven, by opening the foil and allow the fish to dry out for just 1-2 minutes.
How Do You Feel After Completing Such An Amazing Transformation?
I feel blessed! I'm so happy that I took a leap of faith in starting my weight loss journey. Sometimes the fear of striking out keeps us from playing the game, you know? I never thought losing 100 lbs would be my reality, but it is, and I give every ounce of gratitude and thankfulness to God!