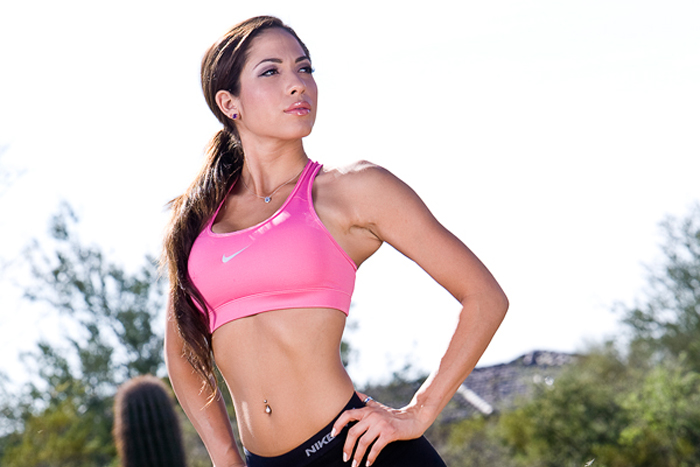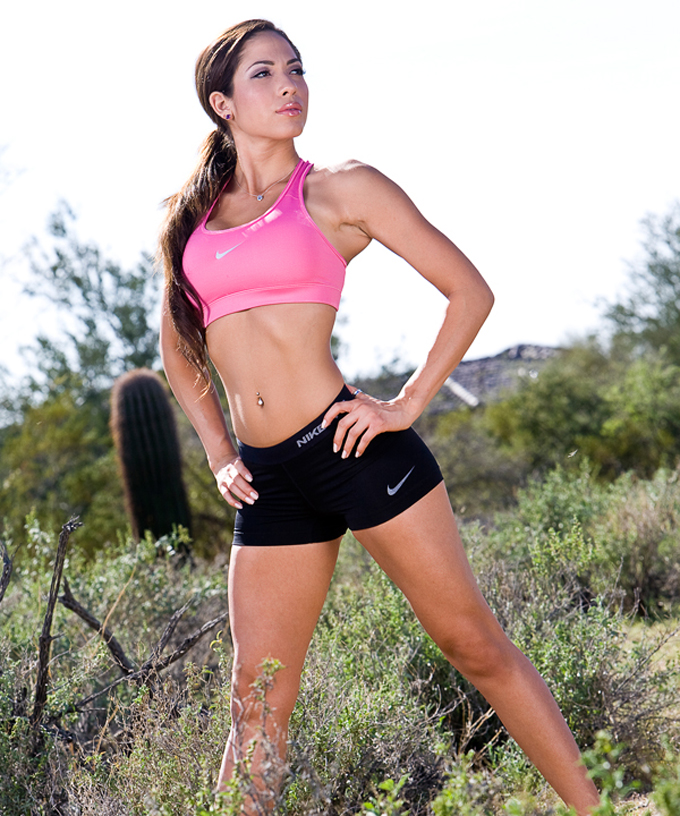 You Can Check Out Laura Renee Calderon's Full Interview With Us Here:
IFBB Pro & Top Fitness Model Laura Renee Calderon Talks With TrimmedAndToned
What Workout Routine Has Worked Best For You?
I prefer heavy lifting over supersetting any day. I am a naturally long and lean girl and muscle takes forever to build but can go away quick! So this is what I like to do:

Monday: Legs/Glutes

Morning: Cardio 45 min Run
Leg Extension: 6×12
Squats: 5×6
Leg press: 4x 30 sec til failure
Calves 4×20 calf raises on leg press
25 min Cardio after, I like Cybrec Arc
Tuesday: Shoulders/Chest/Triceps

Cardio -45 min
DB press 5×12
Side Lateral Raises: 4×20
DB Pullover: 4×12
Skull Crushers: 4×10
25 min Stairs
Wednesday: Hamstrings/Glutes

Cardio 45 min
5×15 leg curls
BB Dead lifts 5×6
4×10 Goodmorningsv
DB single leg dead lifts 4×10 (each leg 10x)
15 min cardio Row machine. My legs are usually too tired to do any other type of cardio, plus the row machine kinda stretches you and shakes your legs out while rowing.
Thursday: Back/Biceps

45 min Cardio Run
Pull Downs 5×10
DB Curl 5×12
Cable Rows on machine 6×8
Pull uUs 4×8
25 min Cardio – Stairs
Friday: Butt/Shoulders

45 min Cardio
One Leg Butt press 4×15 (on each leg)
Cable butt kick backs 4×15 (on each leg)
Outer Thigh Machine 5×15
DB Shoulder Press 5×12
25 min Cardio
Saturday

Cardio of my choice, hiking, running, riding my bike…anything I want, usually outside
Sunday

Rest day!

CARDIO – I like to do 45 min of cardio in the morning on an empty stomach, I drink coffee then go and do some cardio. It doesn't matter when or what you do, as long as you get that heart rate up and sweating then you are good!!
I split my lifting days in to two-three different body parts to focus on so I can really target that area and create a nice all around balance.

What Is Your Diet Like?
I eat pretty simply when in contest preparation. Egg whites, spinach, asparagus, fish, chicken, almonds, Oats, sweet potato and rice cakes. My philosophy on diet is that if you are consistent with your diet, You will see the results. Make healthy food choices, and you will be set. There is no one diet that is the winning diet. It comes down to eating right, use common sense and stick to it. If you eat fast food 1x a day you will see results, BIG results. If you eat chicken, brown rice and spinach everyday you will see lean results. I keep it simple, I don't have all day to spend in the kitchen, I stick to those foods listed above and it has served me well.

For More Of Laura Renee Calderon Please Check Out:
Laura's Facebook: LauritaReneeCalderon