69 Delicious Vegan Recipes That Will Help You Lose Weight Right Now!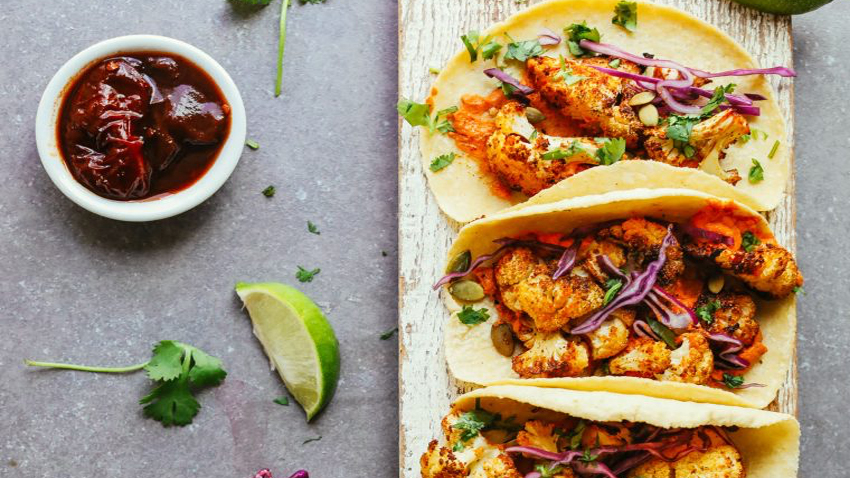 Think you need meat, dairy, for a delicious meal? Think again. These recipes aren't just for vegans, but for everybody who's looking for a delicious healthy meal that will help them with their weight loss goals.
The vegan lifestyle is becoming more and more popular, with people looking for alternatives to a traditional diet and a vegan twist on some amazing, everyday favourites is the perfect combination.
Enjoy pastas, pizzas, salads, "meatball" subs, and a whole range of other meals! Here are 69 vegan weight loss recipes that will help you lose fat and feel amazing! Enjoy!
69 Delicious Vegan Recipes That Will Help You Lose Weight Right Now!
30-Minute Cauliflower Rice Stir Fry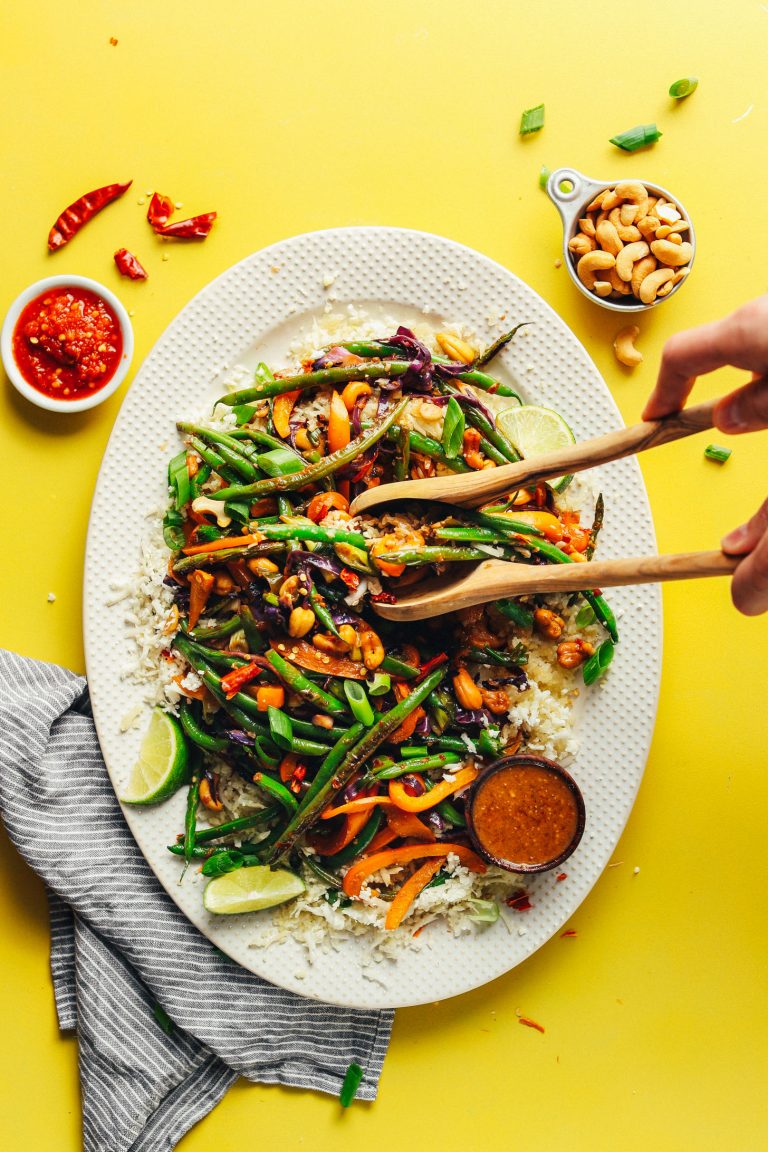 "This easy, versatile, 30-minute recipe starts with my favorite rice substitute: cauliflower! It's neutral in flavor, marries well with so many dishes, is full of fiber, and adds even more plant-based goodness to this dish.". Recipe: MinimalistBaker
The Best Vegan Meatball Sub Ever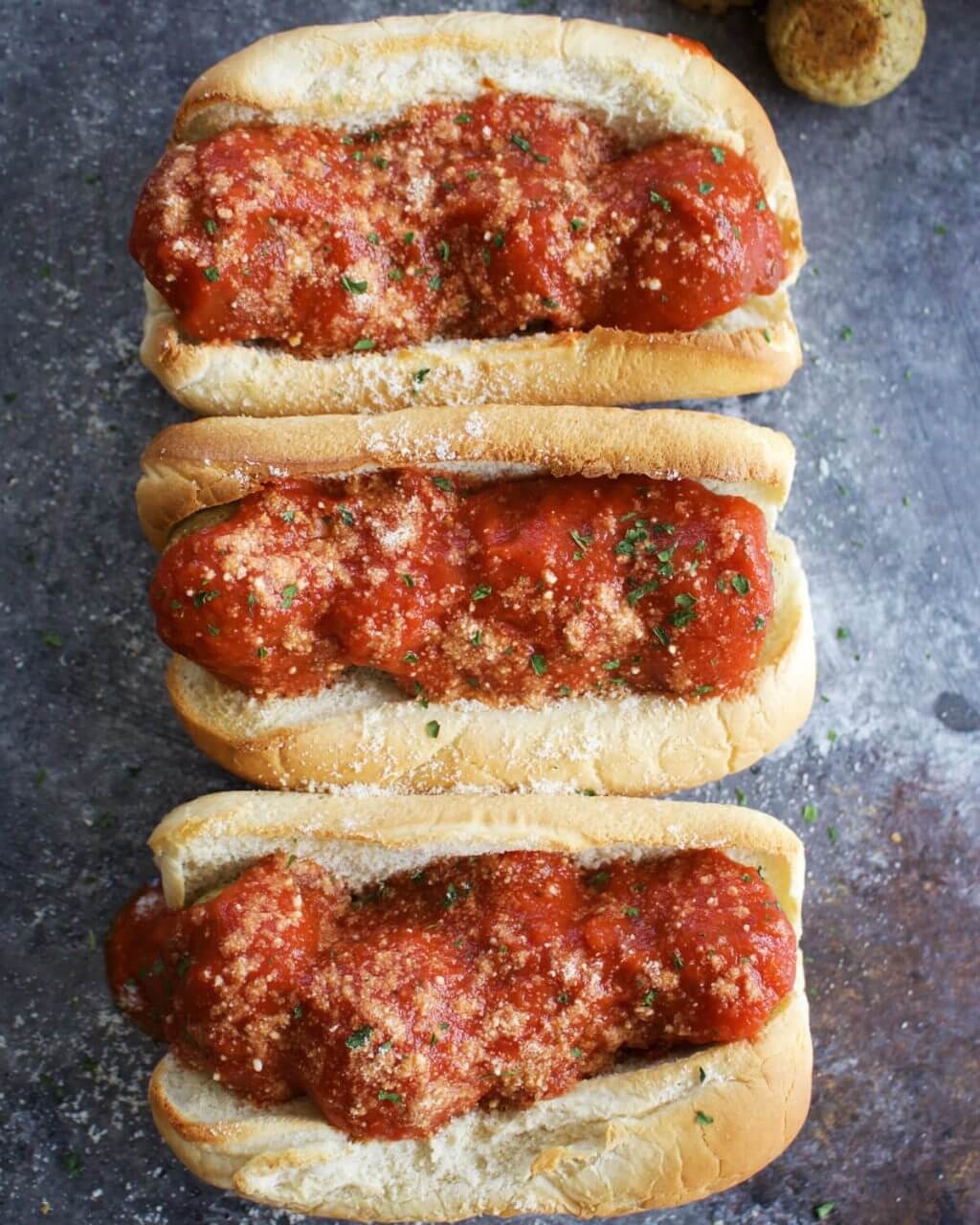 "I decided to call these the best vegan meatball subs ever because, well, they are – thanks to the super delicious chickpea meatballs! Top with your fav marinara sauce, some vegan parm, and you have an amazing dinner or lunch that will please the whole family.". Recipe: KarissasVeganKitchen
Roasted Buddha Bowl With Creamy Lemon Hippie Sauce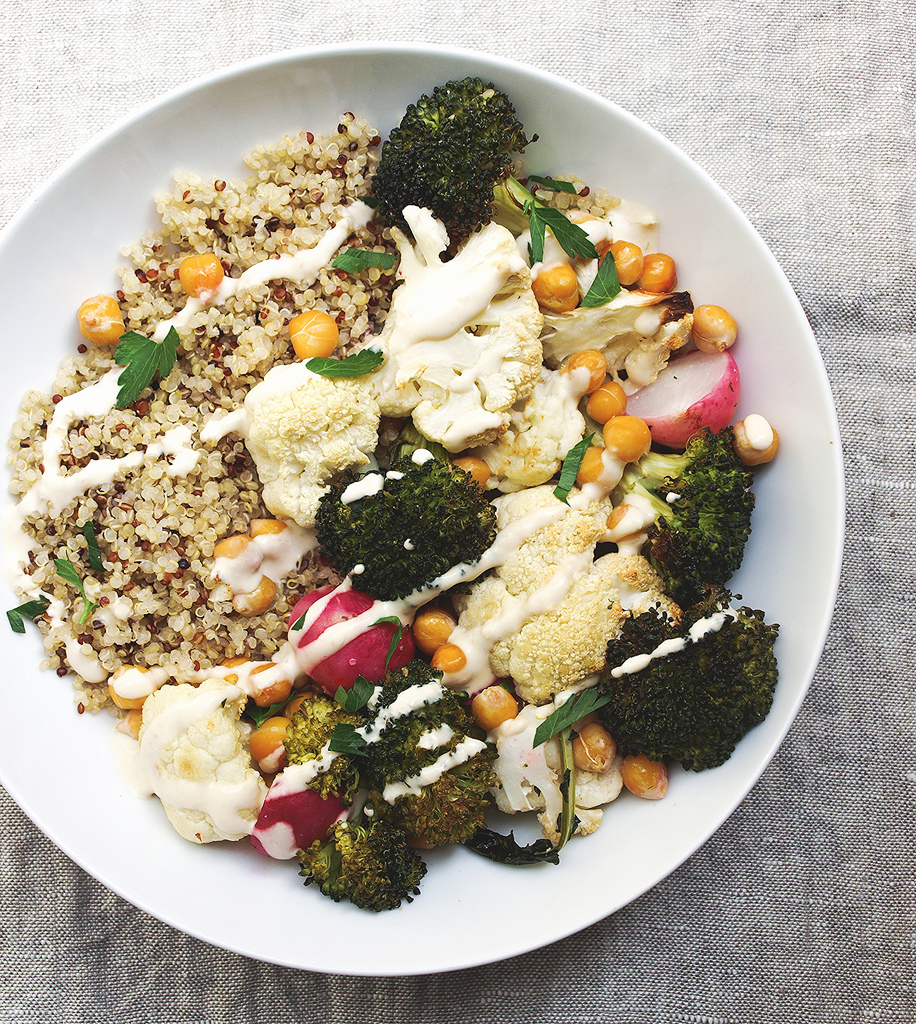 "What I have to share with you today is my take on the Roasted Buddha Bowl from Oh She Glow's. It is my kind of meal…simple, flavorful and easy! I added some radishes to my mix. Once roasted, they become sweet and tender.". Recipe: Simple-Veganista.
Spicy Black Bean And Quinoa Burritos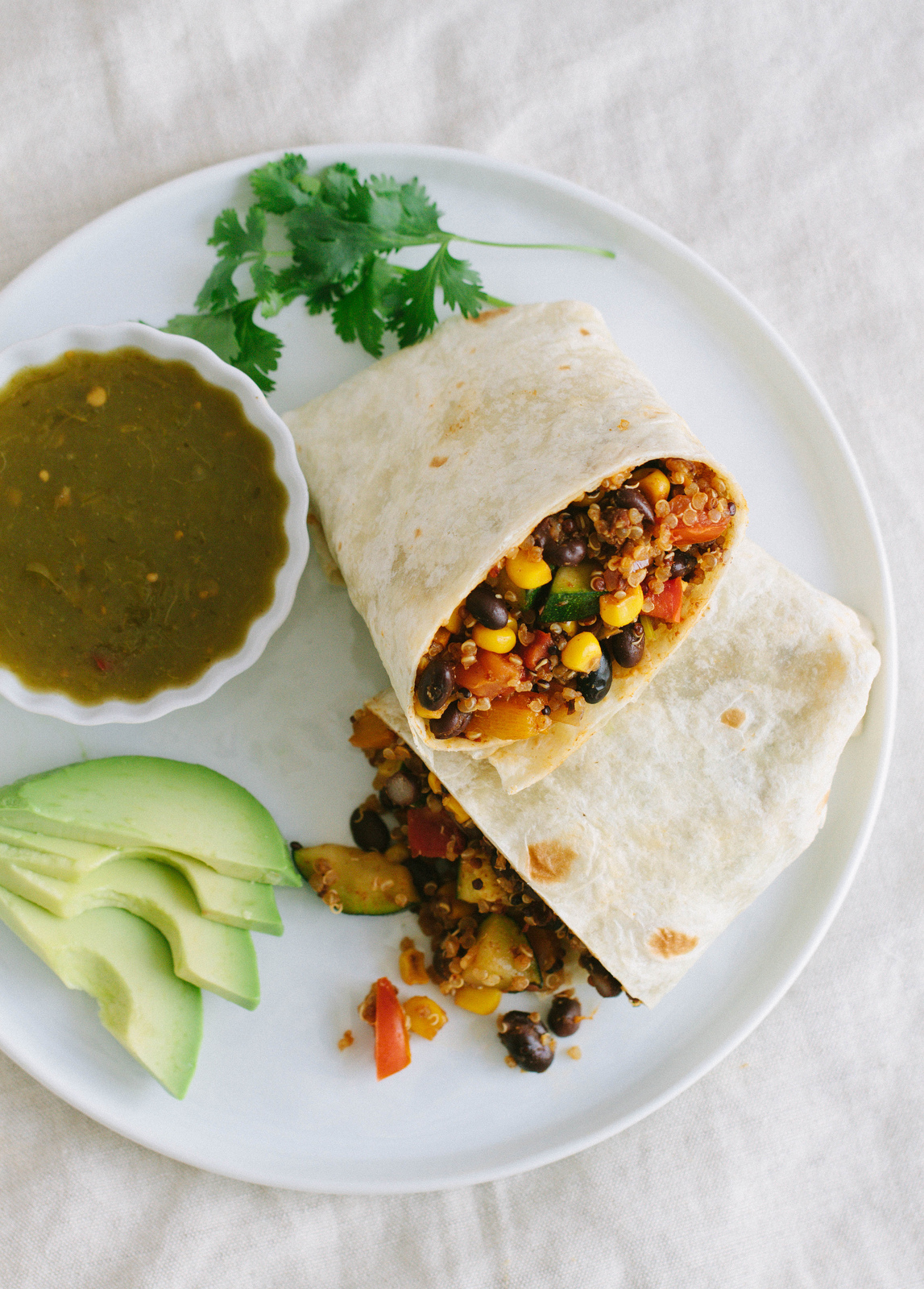 "When I ran across this idea for freezer-friendly burritos it was a must to add to the recipe collection. Filled with black beans, quinoa, veggies and flavorful spices, these burritos are a cinch to make and you'll be glad you have plenty to store away for later.". Recipe: Simple-Veganista.
Sweet Potato Cauliflower Curry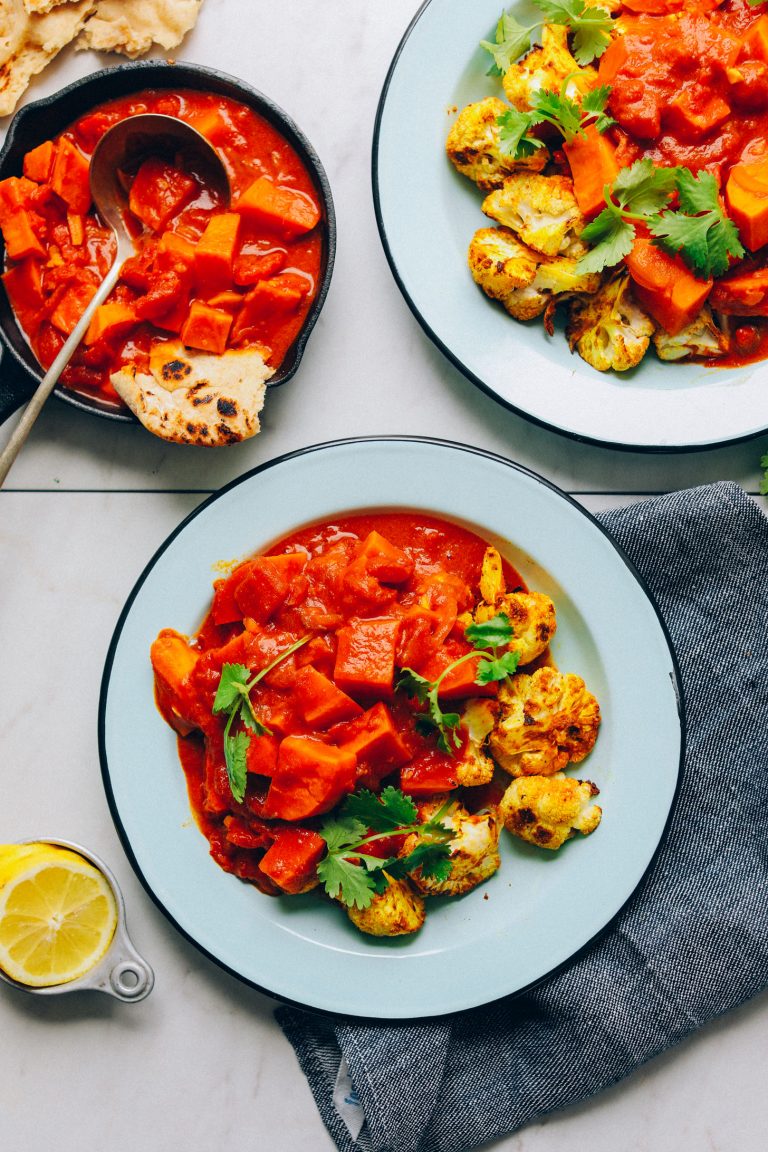 "A cauliflower sweet potato curry inspired by aloo gobi with sweet potatoes and roasted cauliflower! Simple ingredients and 30 minutes required for this delicious, hearty plant-based meal!". Recipe: MinimalistBaker
Garlicky Sweet Potato Noodle Pasta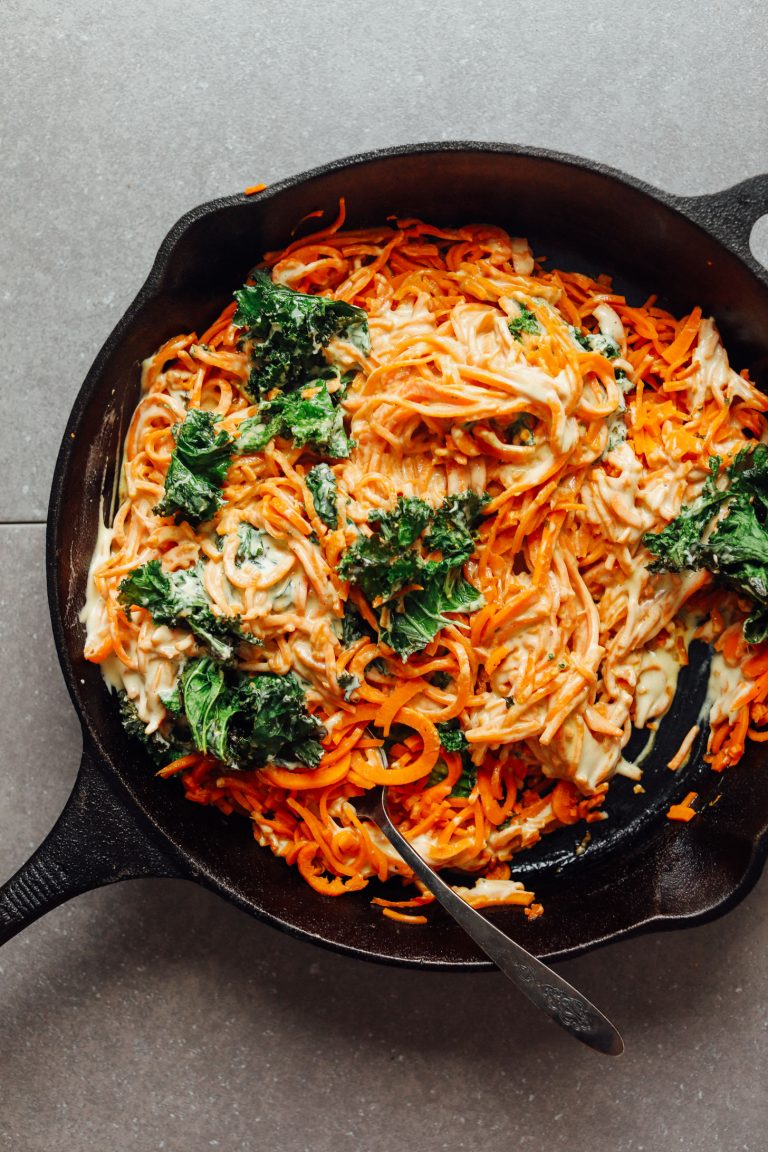 "This recipe is easy to make, requiring just 8 ingredients and simple methods to prepare. The base is spiralized sweet potato noodles, which cook up quickly until tender and provide the perfect amount of sweetness to offset the garlicky, cheesy cashew alfredo sauce.". Recipe: MinimalistBaker
Creamy Zanzibar Carrot & Tomato Soup
"This creamy Zanzibar carrot-tomato soup is an African Inspired type of dairy free bisque. Made with simple wholesome ingredients such as peeled tomatoes, yellow carrots, spices, herbs, coconut milk, and a curry or chili paste. It's quick to make and naturally paleo and vegan. A soup for any season!" Recipe: CotterCrunch.
Roasted Cauliflower Tacos With Chipotle Romesco
"This is an easy, 30-minute recipe with smoky, roasted cauliflower and a spicy romesco-inspired sauce. It's also plant-based, gluten-free, and oil-free optional and grain-free optional. I do a lot for you people! ". Recipe: MinimalistBaker
Ultimate Grillable Vegan Burger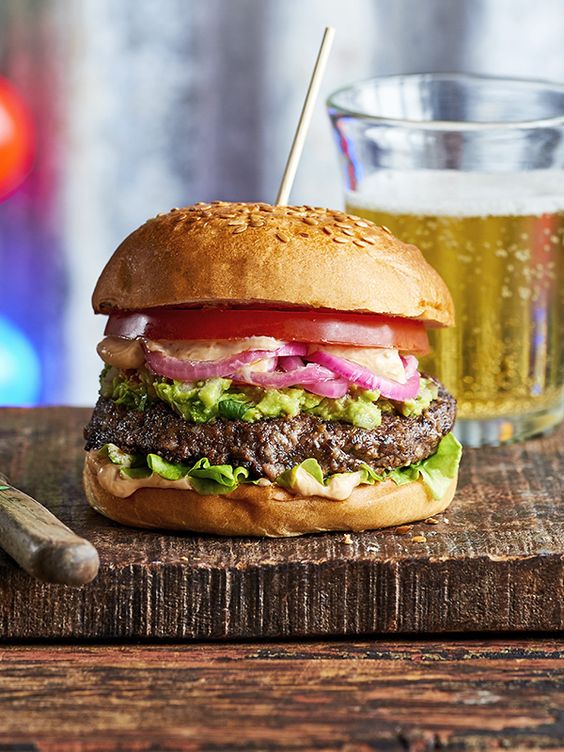 "With their full-on flavour and meaty texture, suitable for the grill, these completely vegan loaded burgers are an absolute must at any barbecue." Recipe: OliveMagazine.
Black Rice Sushi Bowl + Dynamite Sauce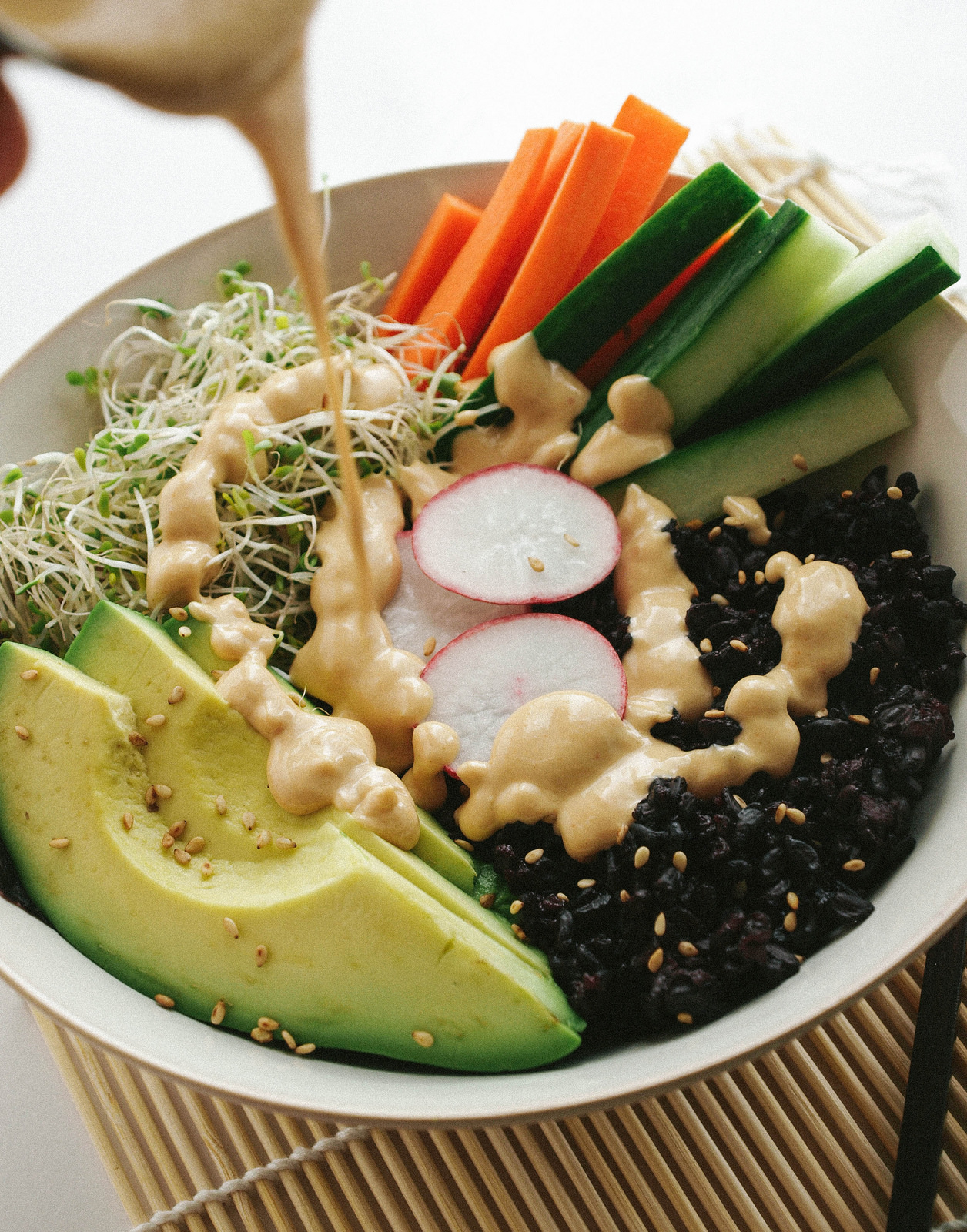 "Use julienned bell peppers, enoki mushrooms or pan seared sliced shitake mushrooms, shredded purple or green cabbage, pea shoots, etc. Add in some cubed tofu or edamame for added protein. Whatever vegetables you use, the creamy spicy sauce will finish it off and make it all come together beautifully!". Recipe: Simple-Veganista.
Golden Tofu Curry + Black Rice
"I'm always looking for ways to add in this unexpected ancient grain. It adds a nice contrast aside the yellow curry and brightly colored vegetables. I knew I wanted to add sweet potato to my tofu curry and am so glad I did. It adds the perfect sweetness to this otherwise savory dish.". Recipe: Simple-Veganista.
Thai Sweet Potato Veggie Burgers With Spicy Peanut Sauce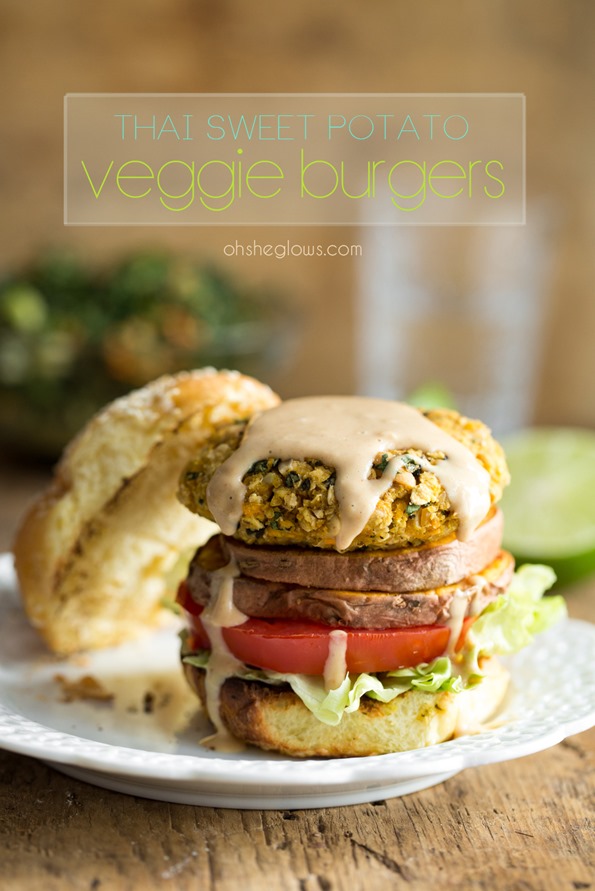 "These Thai-inspired veggie burgers are made with a base of shredded sweet potato and chickpeas and are flavoured with fresh ginger, garlic, cilantro, basil, and a sprinkle of lime juice and toasted sesame oil. Oh my lanta! If that weren't enough, salted, roasted chopped peanuts are stirred into the mix to give these burgers a wicked nutty crunch that's just downright hard to resist." Recipe: OhSheGlows.
Easy Vegan Poutine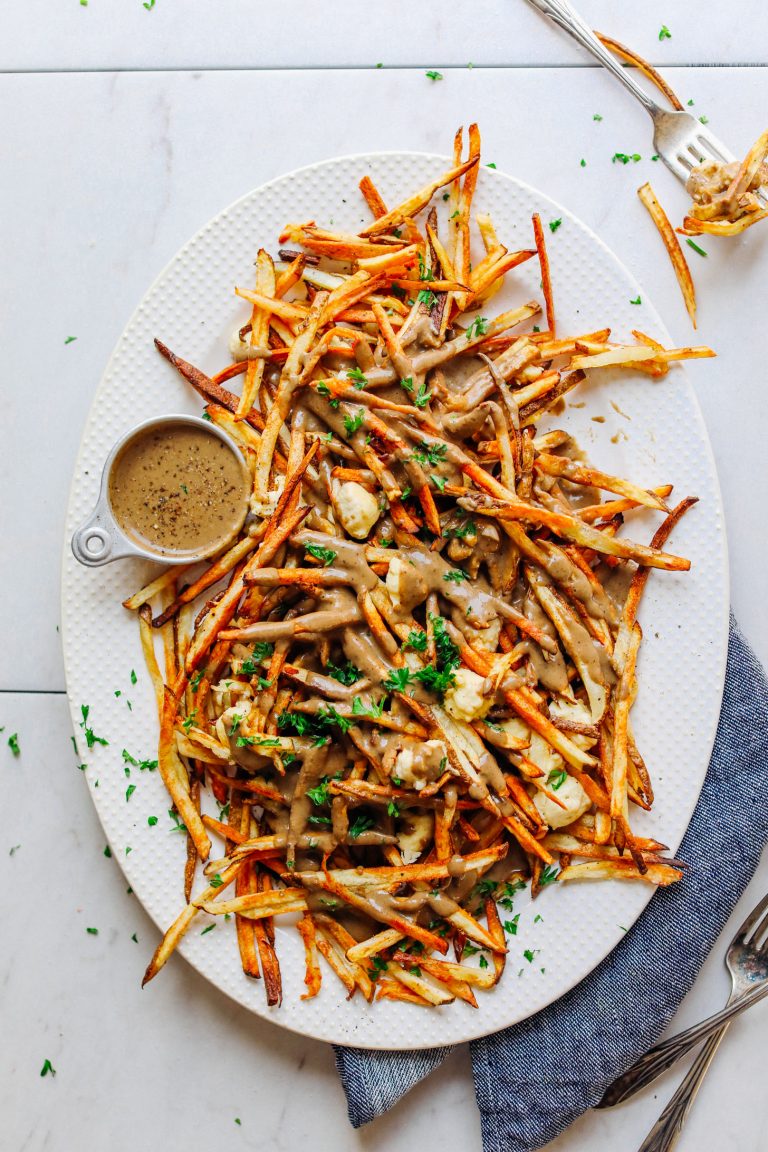 "Vegan poutine with crispy potatoes, savory mushroom gravy, and melty vegan cheese curds! The perfect plant-based alternative to this Canadian classic.". Recipe: MinimalistBaker
Vegan Mushroom Philly Cheese Sandwich/Burger
"These Philly Cheese sandwiches are meat and dairy free, but still super cheesy and satisfying! And packed with flavor!" Recipe: LunchBoxBrunch.
Chipotle Black Bean Chili
"The base of this chili is fairly straightforward. The toppings really make the chili, but that's most chili recipes. The best part? Once you put all the ingredients in the Crock-Pot® slow cooker, you can turn the slow cooker on in the morning and come back home to a delicious vegan dinner!". Recipe: NaturallyElla.
Vegan Lentil Curry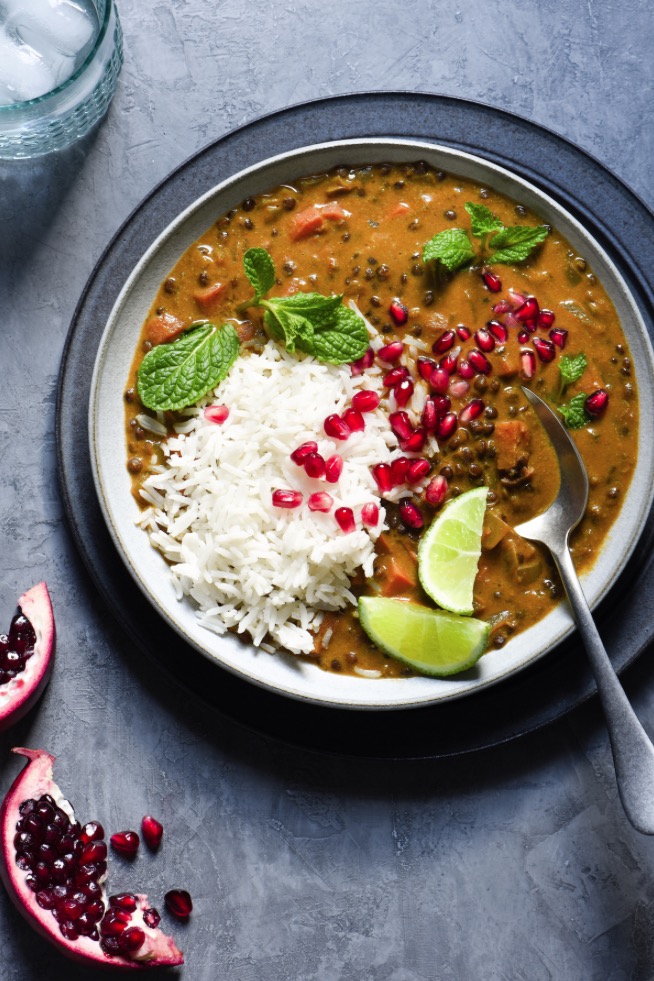 "This Vegan Lentil Curry is a healthful one-pot meal packed with layers of flavor, using ingredients easy to find at your grocery store. Perfect for a meatless Monday dinner, or any time your meal planning could use a reset button." Recipe: FoxesLoveLemons.
Peppery Broccoli Arugula Pesto Pasta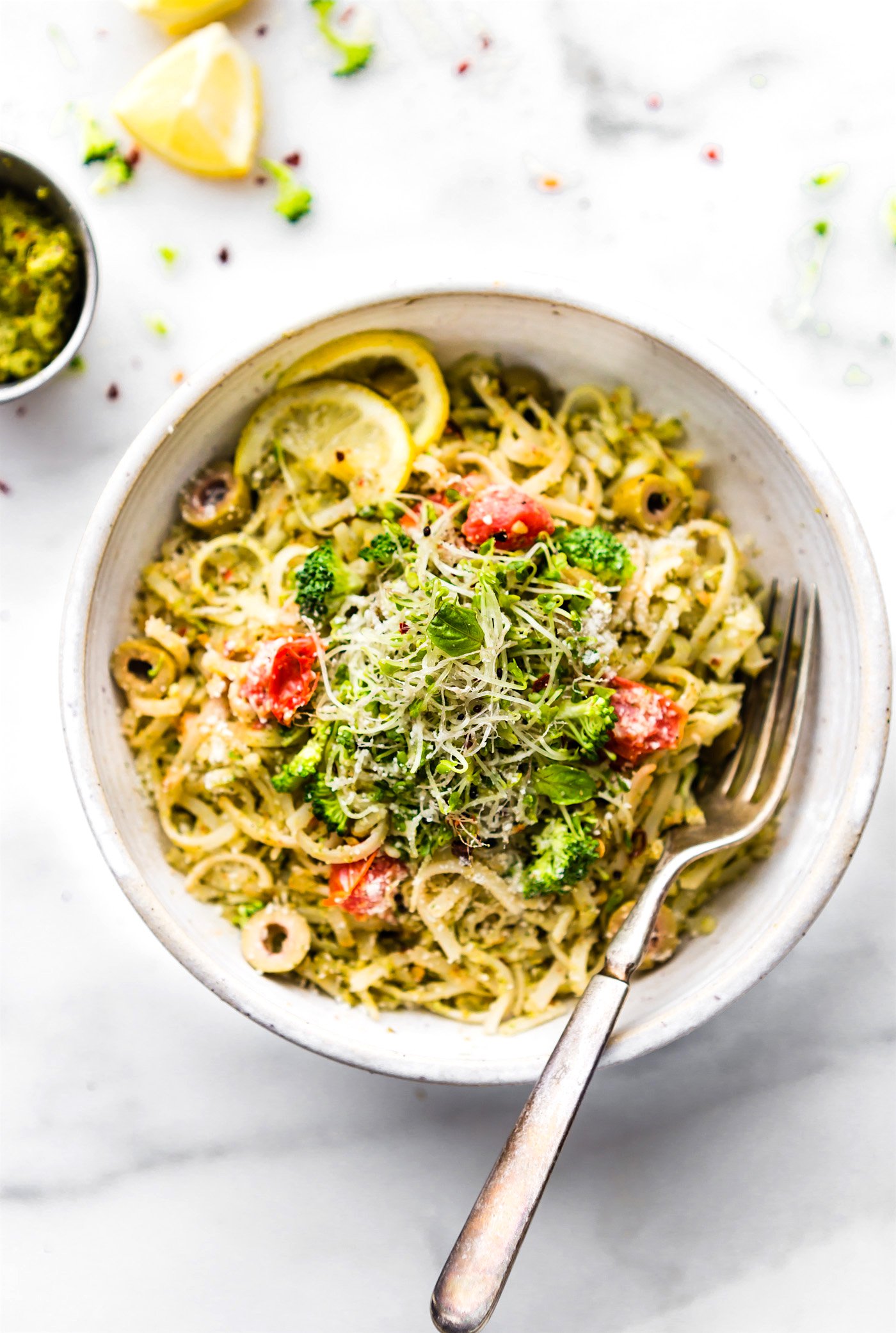 "This gluten free Peppery Broccoli Arugula Pesto Pasta is gonna rock your world! A pesto pasta with broccoli and arugula and packed with nutrition and flavor! An easy pasta dinner for a quick weeknight dinner or healthy lunch! Ready in under 30 minutes and vegan friendly. Can't beat that now, can you?" Recipe: CotterCrunch.
Spicy Butternut Squash Soup (Vegan + GF)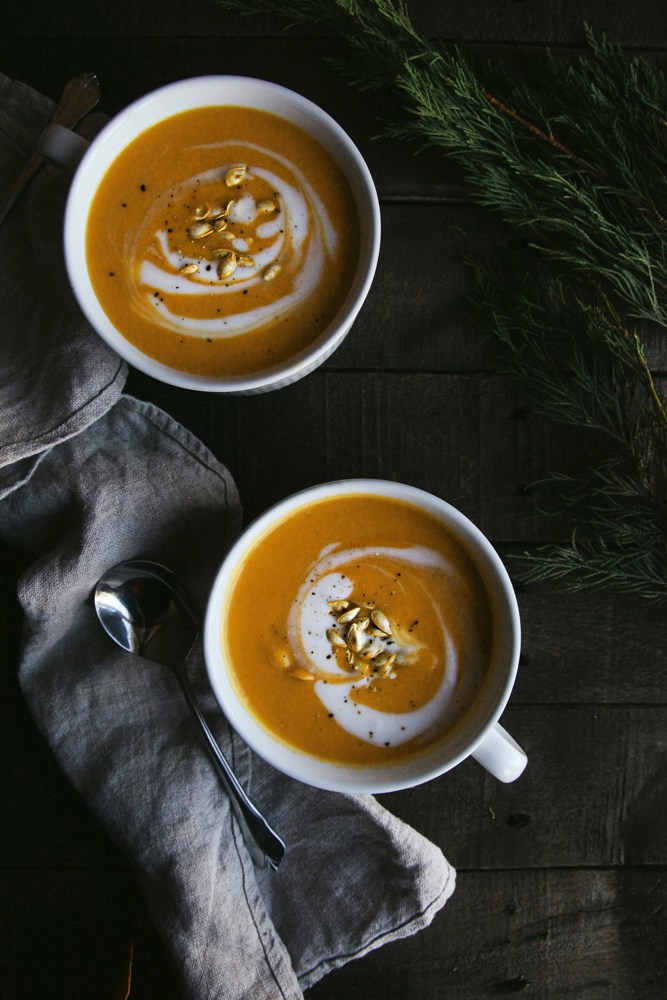 "Butternut squash is one of my favourite ingredients in a soup because it gives such a creamy, smooth and silky texture. Plus that delicious sweet flavour. Mmm!" Recipe from WallFlowerKitchen.
A Very Good Split Pea Soup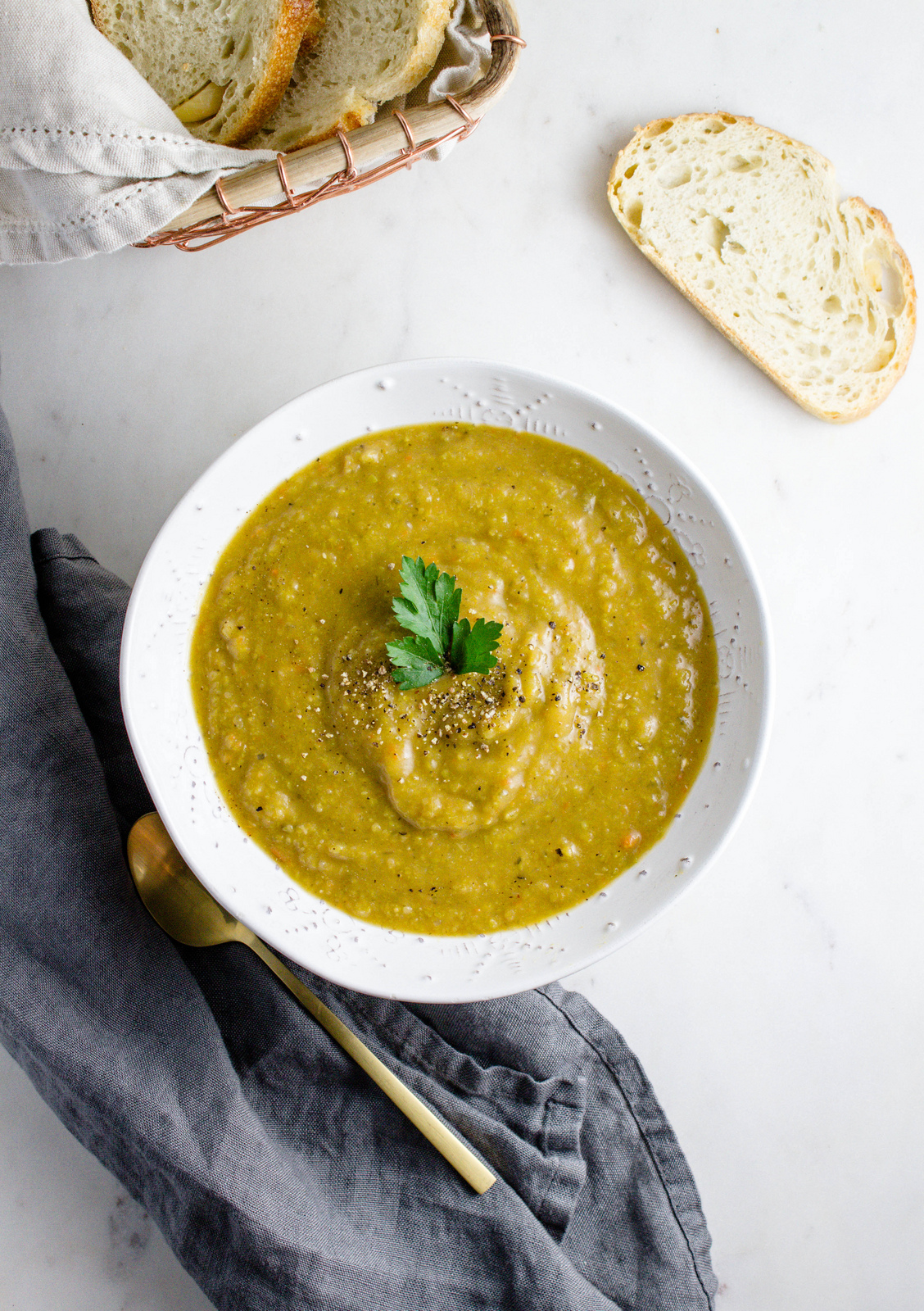 "Thick and hearty, this split pea soup is filled with the usual mirepoix and medley of spices, plus added cabbage for extra heftiness and flavor. Whether you choose to cook it in your slow cooker or on the stove top, it's extremely healthy and so easy to make." Recipe from Simple-Veganista.
Spicy Thai Peanut Sauce Over Roasted Sweet Potatoes And Rice
"Bold and spicy Thai peanut sauce drizzled over roasted sweet potatoes and bell peppers on a bed of rice. The sauce would also be great on stir-fries and salads, or as a dip for raw vegetables. This is a healthy vegetarian, vegan and gluten-free recipe." Recipe: CookieAndKate.
Mediterranean Vegan Pizza
"I happen to love pizza but only eat it on occasion. It's one of those versatile meals that can range from complex to simple depending on your ingredients. I chose to make this a Mediterranean style pizza loaded with artichokes, olives, chickpeas, tomatoes, red onion and some fresh basil I had on hand.". Recipe: Simple-Veganista.
BBQ Crock Pot Lentil Chili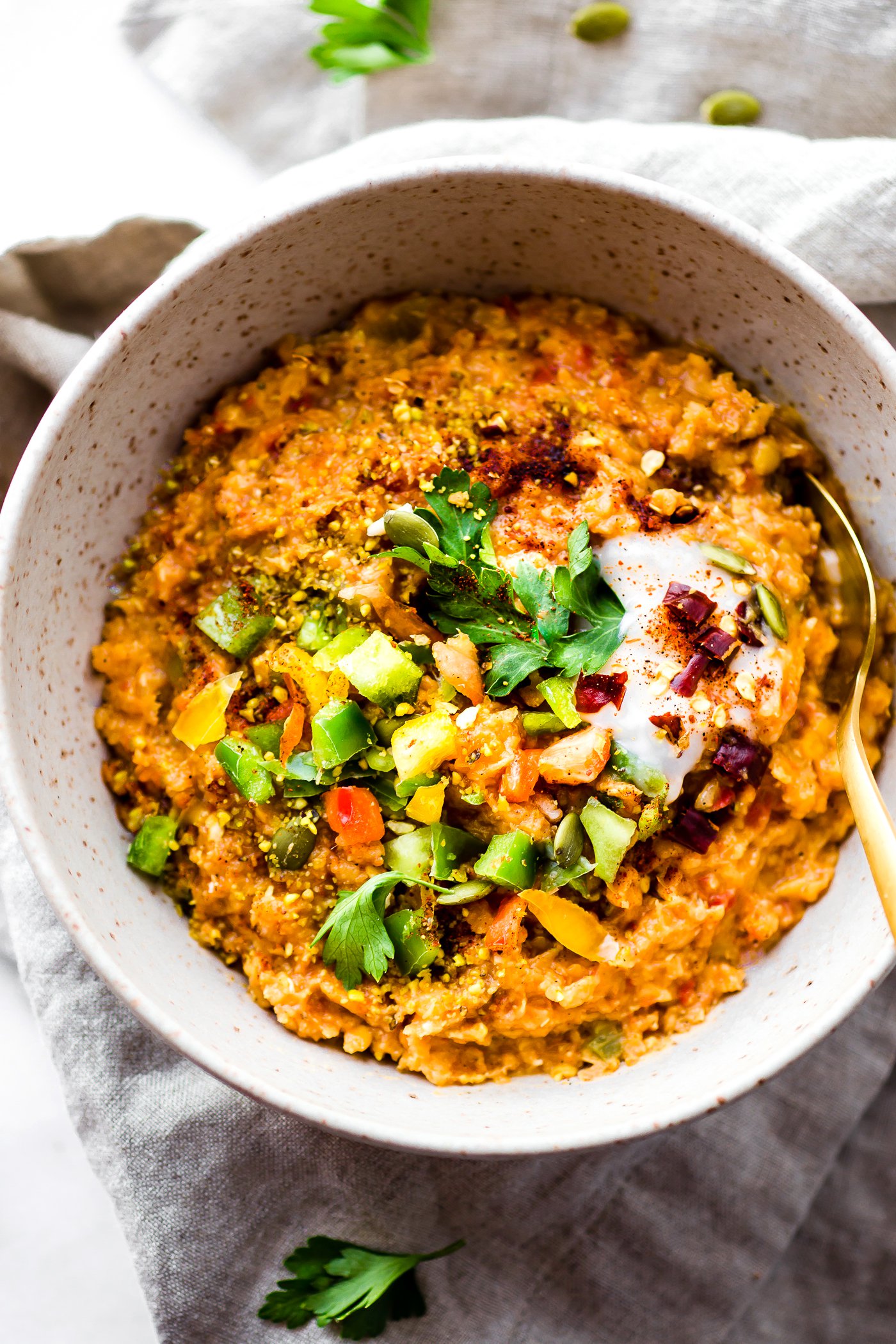 "Crockpot lentil chili is packed with flavor and easy to make. A hearty yet healthy vegan chili made with a few simple ingredients. BBQ spices, sauce, onions, vegetables, and lentils. A quick slow cooker recipe, just dump and go. A fiber and protein rich meal that will feed plenty. Gluten-free and grain free." Recipe: CotterCrunch.
Grilled Tofu Skewers And Pineapple Teriyaki Sauce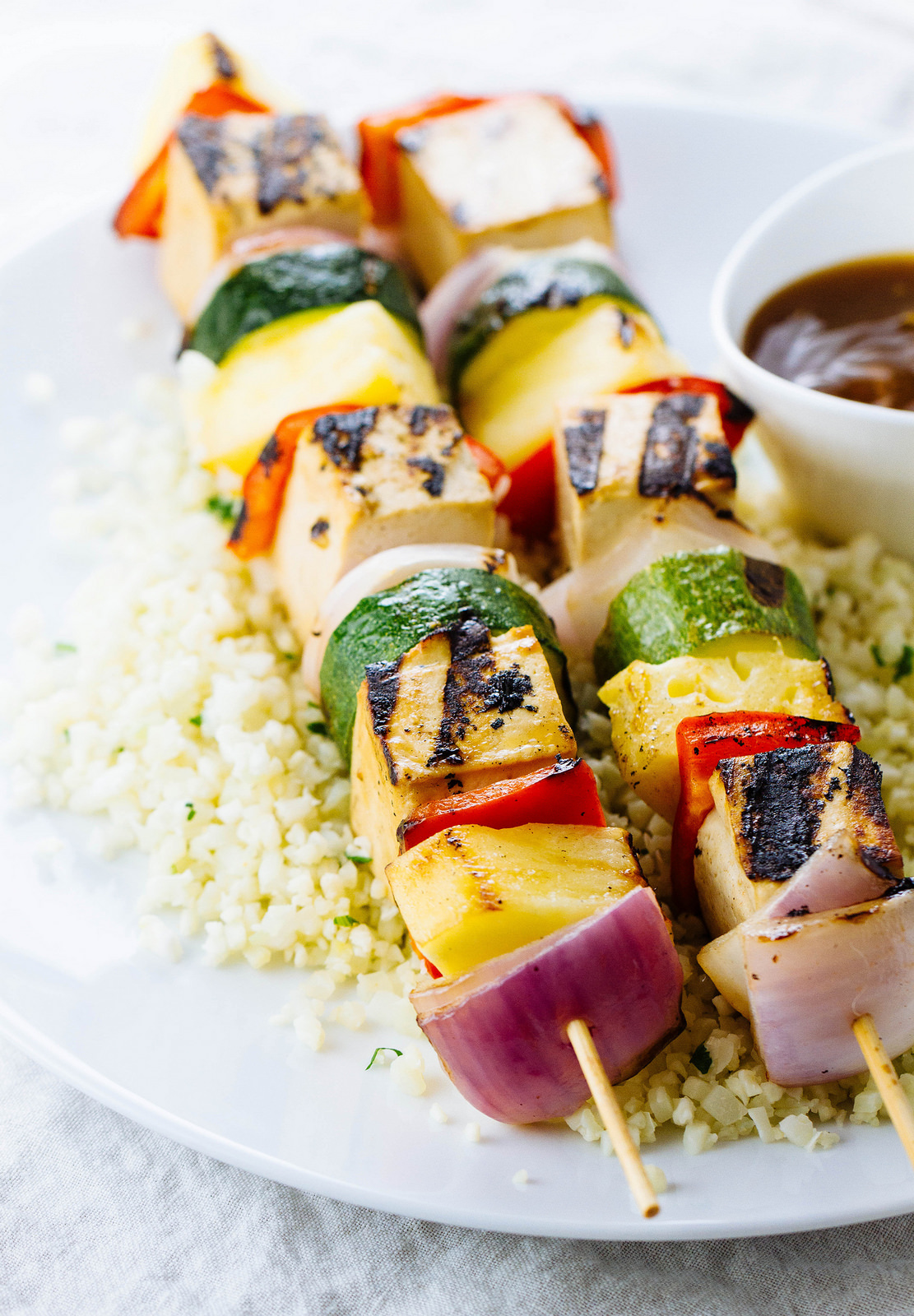 "As for the recipe, there isn't too much to change up and it's about as healthy as it's going to get. The vegetables can be changed up. Use any color bell peppers you like. Also, you may like to use yellow squash or mushrooms. Most of the veggies I used were left over from previous recipes.". Recipe: Simple-Veganista.
Thai Cauliflower Rice Salad With Creamy Avocado Dressing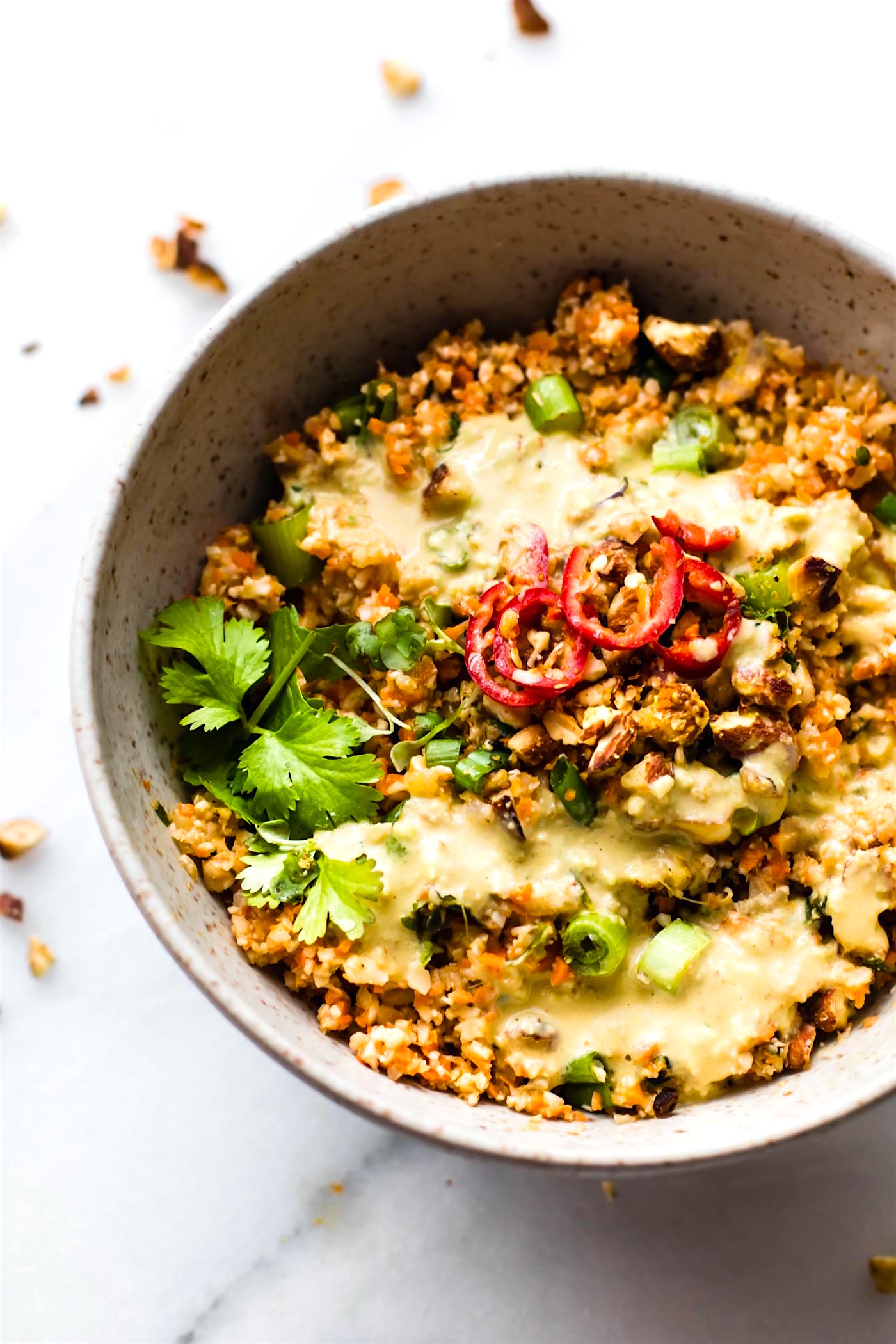 "Thai Cauliflower Rice Salad is packed full of flavor, spice, and made easy! Thai spices mixed into a carrot cauliflower rice salad with avocado cream dressing! Paleo, Vegan, and made in under 30 minutes. Perfect as is or with a protein of choice. Simple, wholesome, healthy! Whole 30 friendly. " Recipe: CotterCrunch.
Teriyaki Tofu-Tempeh Casserole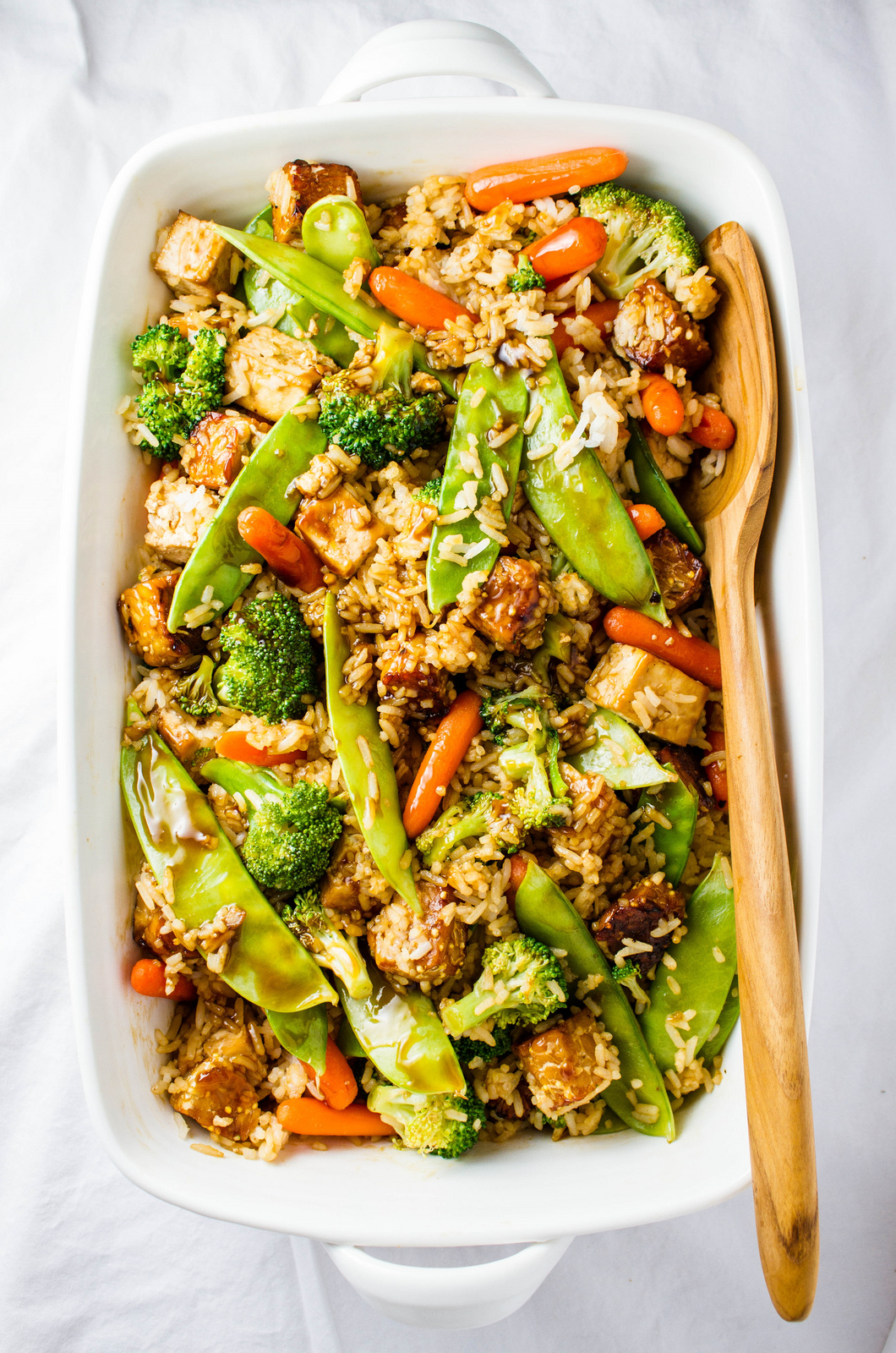 "I know you're going to love this meal. It's a wonderful combination of fluffy rice, steamed veggies, baked tofu-tempeh all mixed together in a flavorful homemade teriyaki sauce. It's another great addition to the recipe collection!". Recipe: Simple-Veganista.
One-Pot Vegan Chickpea And Potato Curry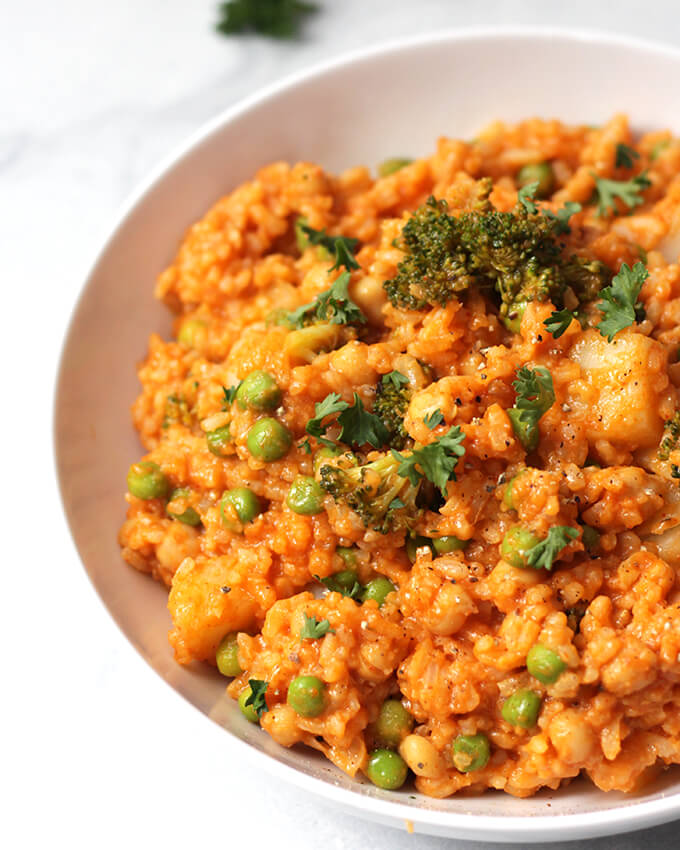 "Life just got easier for us! This SUPER EASY One-Pot Vegan Chickpea and Potato Curry is about to blow your mind. Containing lots of vegetables and a little bit of coconut milk, it's super healthy with tons of nutrition, too.". Recipe: KarissasVeganKitchen
Tex Mex Quinoa Stuffed Bell Peppers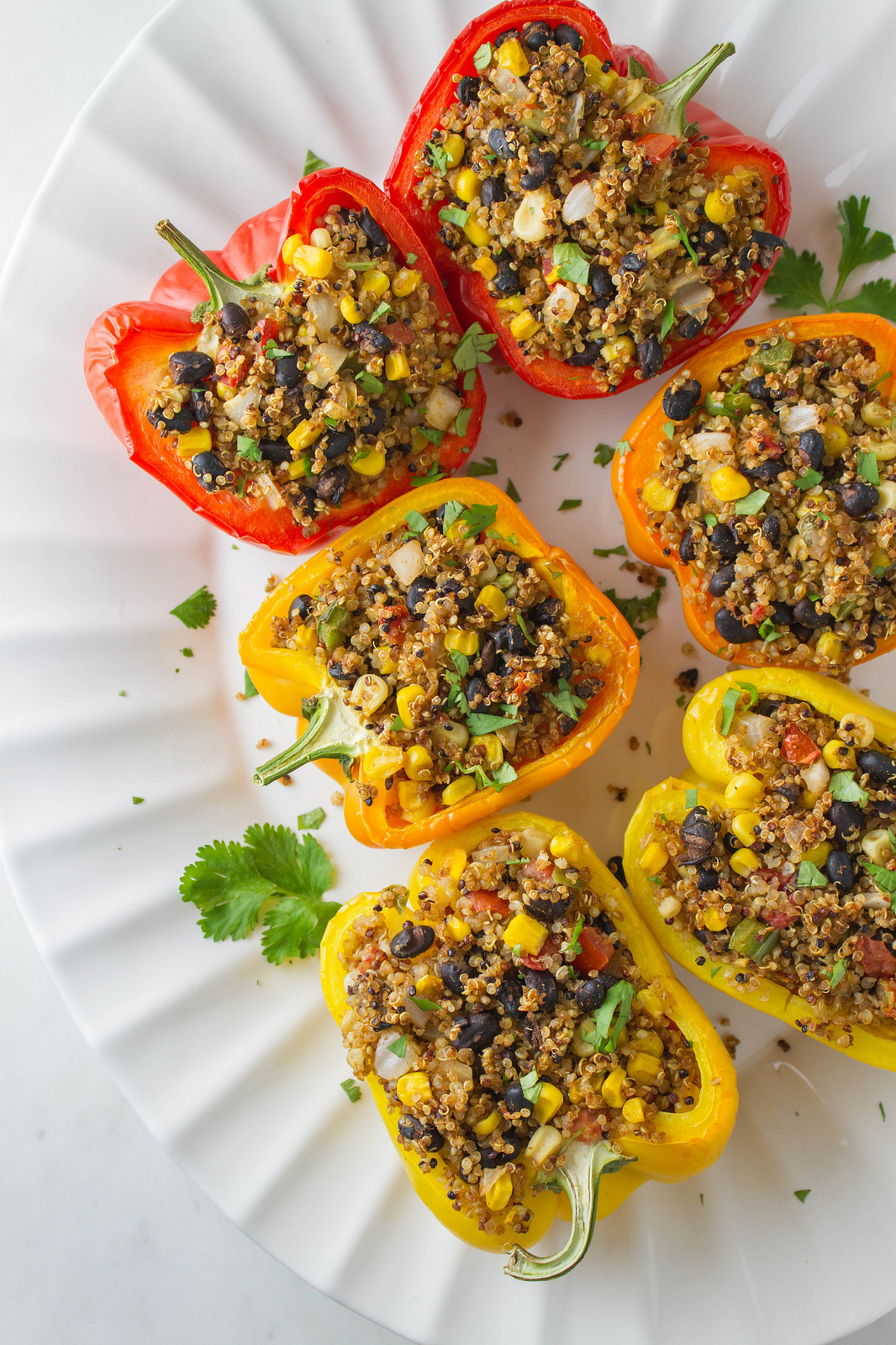 "I love bell peppers for their versatility. The tri-colored ones are my favorite for their sweetness. Now to take a bell pepper and stuff it with a mixture of quinoa, black beans, corn, pico de gallo and spices, then you really have a beautiful thing!". Recipe: Simple-Veganista.
The Ultimate Vegetable Lasagna
"I've had the pleasure of eating this lasagna bit by bit over the last two days. Even the leftovers have been great! I've been craving comfort foods now and this was an excellent meal to satisfy that craving! I think my internal clock knows that the fall is coming and it's time for warm and cozy meals.". Recipe: Simple-Veganista.
Verde Taco Sliders
"All the goodness of green in a taco! Roasted poblanos, avocados, scallions, fresh squeezed limes and cilantro all make for great taco slider toppings. I love tacos and make them often as a snack or meal. They're quick, easy and perfectly satisfying.". Recipe: Simple-Veganista.
Vegan Vegetable Paella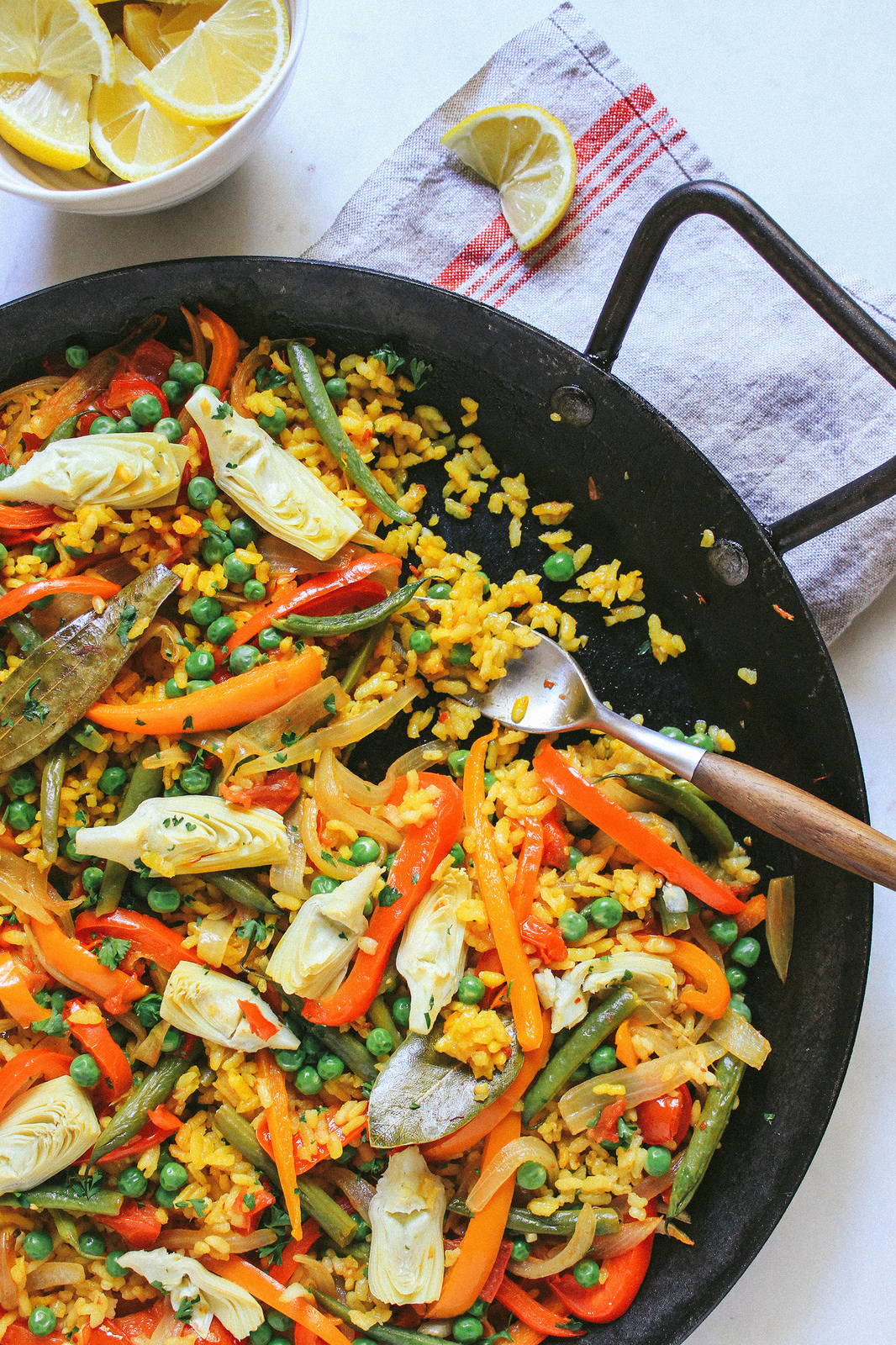 "After cooking paella a few different ways at home, I've come to prefer my veggies on the firmer side. I don't mind them cooked thoroughly but keeping them al dente makes for added texture and color. If you prefer your veggies on the softer side, you can cook them a little longer before adding the rice. ". Recipe: Simple-Veganista.
Taiwanese Tomato Noodle Soup With Yuba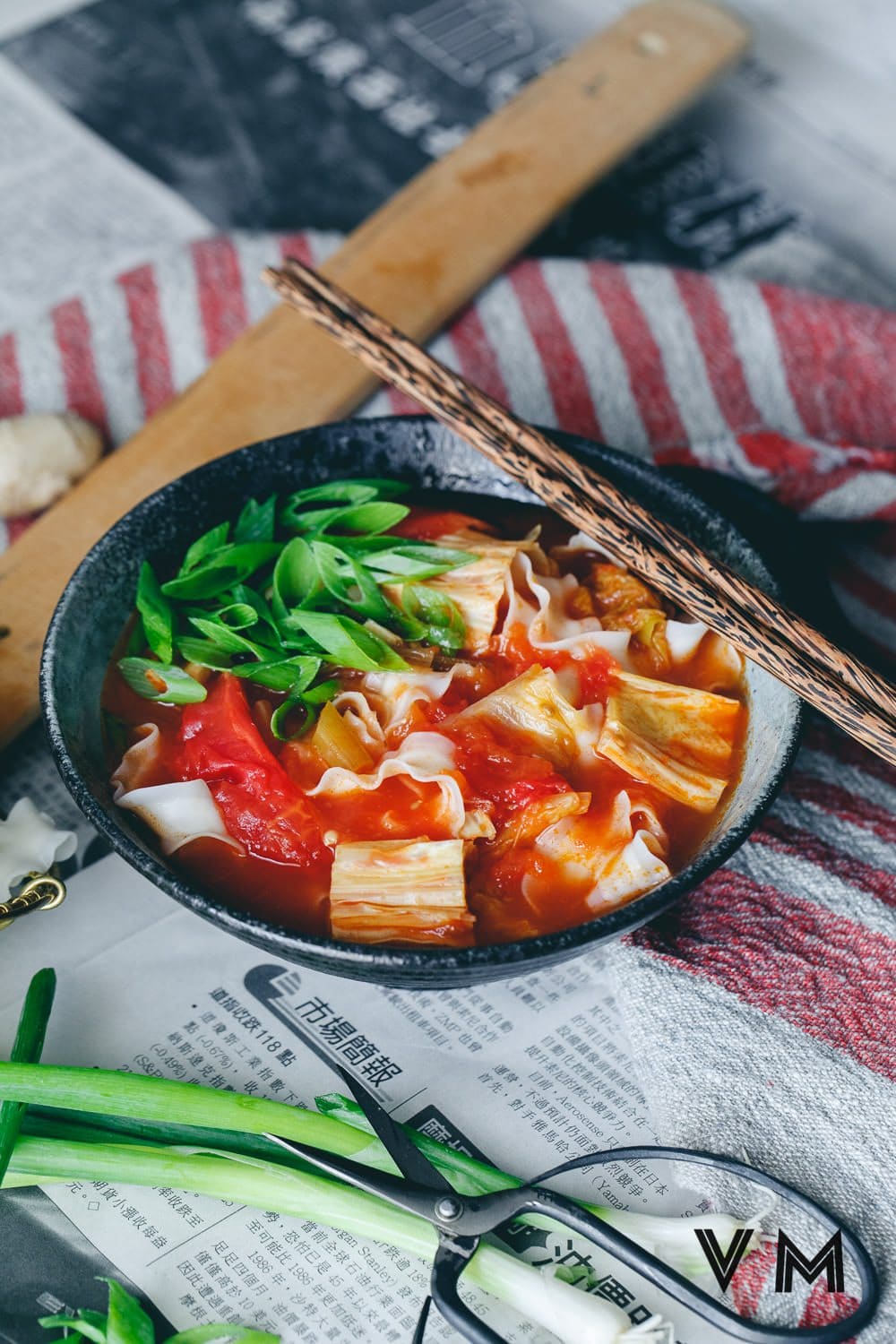 "This brothy noodle soup is inspired by my childhood and recent visits to vegetarian restaurants in Taichung, Taiwan. It's a dish that I struggle to find outside of Taiwan, but whenever I return home to Taichung I enjoy the straightforward – slightly sweet, acidic and savory – flavors of the tomato broth served over fresh noodles.". Recipe: VeganMiam
Pad Thai Jay With Yellow Tofu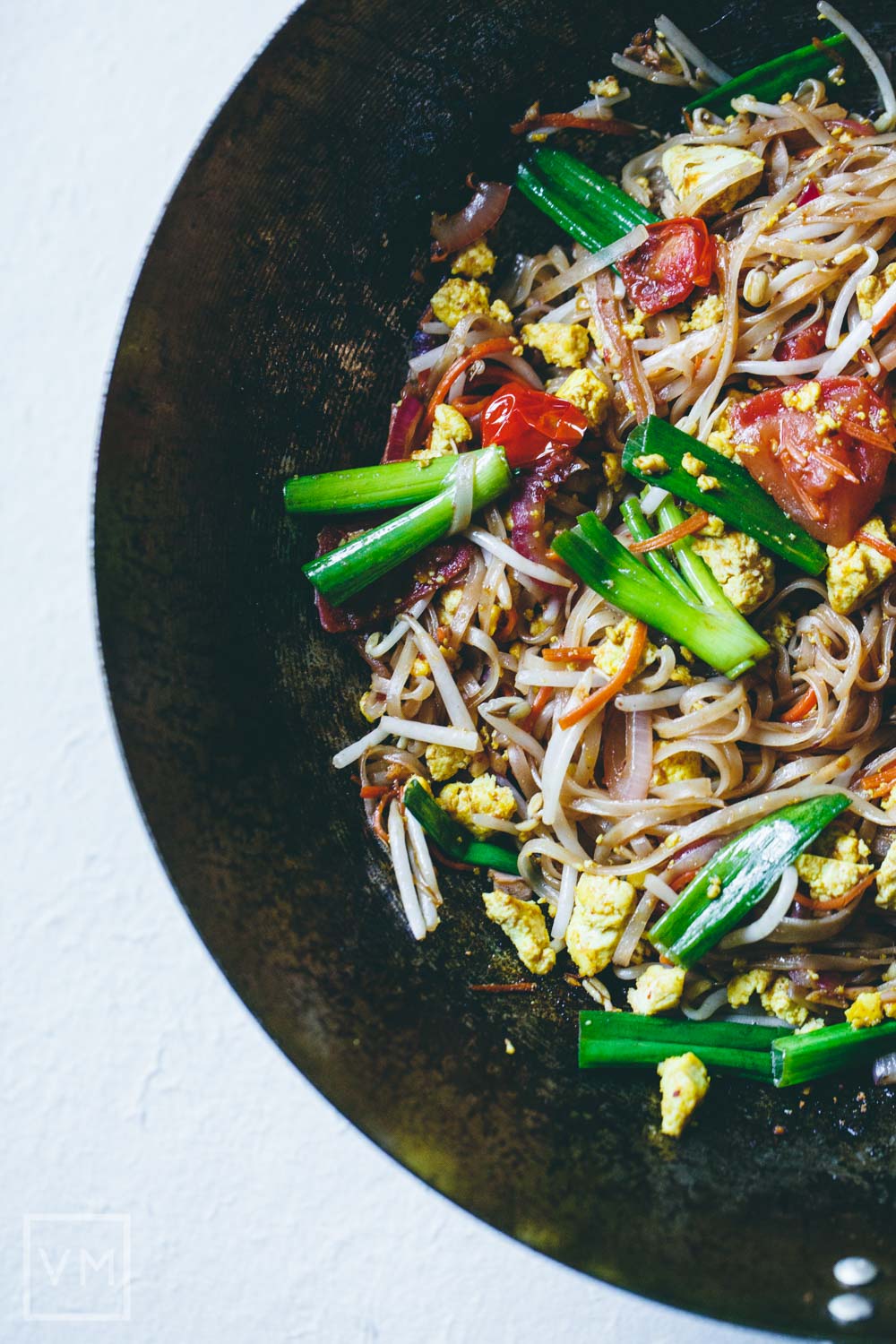 "Pad Thai is an iconic Thai stir fried noodle dish in a tamarind based sauce. Along with being one of the national dishes of Thailand, it is also one of the most ubiquitous dishes both domestically and abroad.". Recipe: VeganMiam
Grilled Tofu & Asparagus And Ginger Cauliflower Rice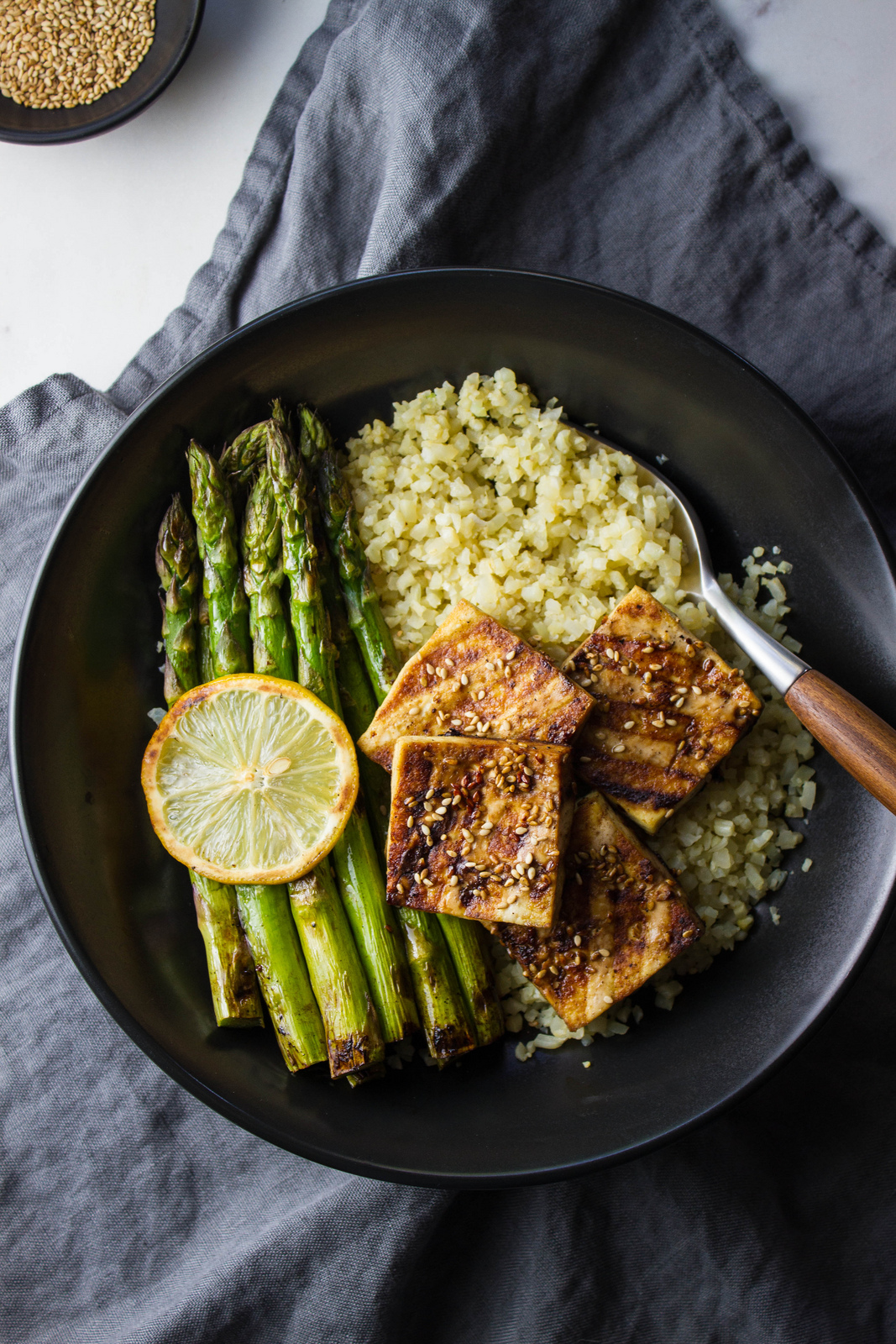 "What I especially love about this recipe it that it uses minimal ingredients, 10 to be exact, and will be ready in about 30 minutes. Plus, it won't break the bank! I estimate this meal to cost around $8 and serves 2 generously or 3 – 4 smaller meals. ". Recipe: Simple-Veganista.
Kimchi Tofu Tacos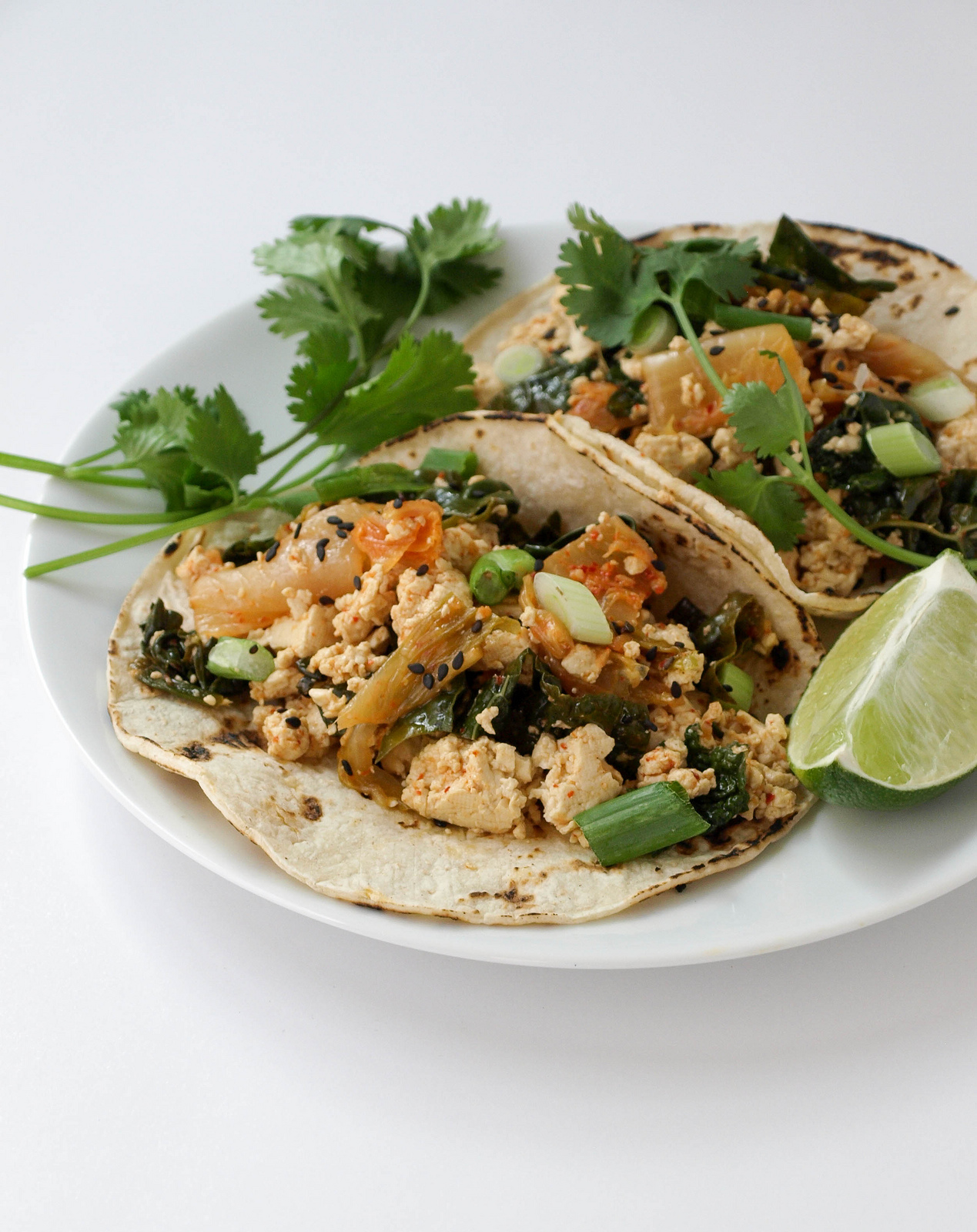 "Now that kimchi has been added to the recipe collection, it's time to experiment with this spicy, tangy mixture. What better way than to add this spiciness to a tofu scramble. Tofu at times can use a little help, kimchi is a perfect addition and will whip that tofu into shape. ". Recipe: Simple-Veganista.
Fire Roasted Tomato & Mung Bean Soup
"This 10-ingredient, oil-free, grain-free soup starts by soaking and cooking your mung beans. You can soak them overnight, or if you're in a hurry, you can do it in 1 hour! Once soaked, they cook up in 15-20 minutes. Then your soup is already nearly halfway done.". Recipe: MinimalistBaker
Creamy Mustard Brussels Sprouts Superfood Salad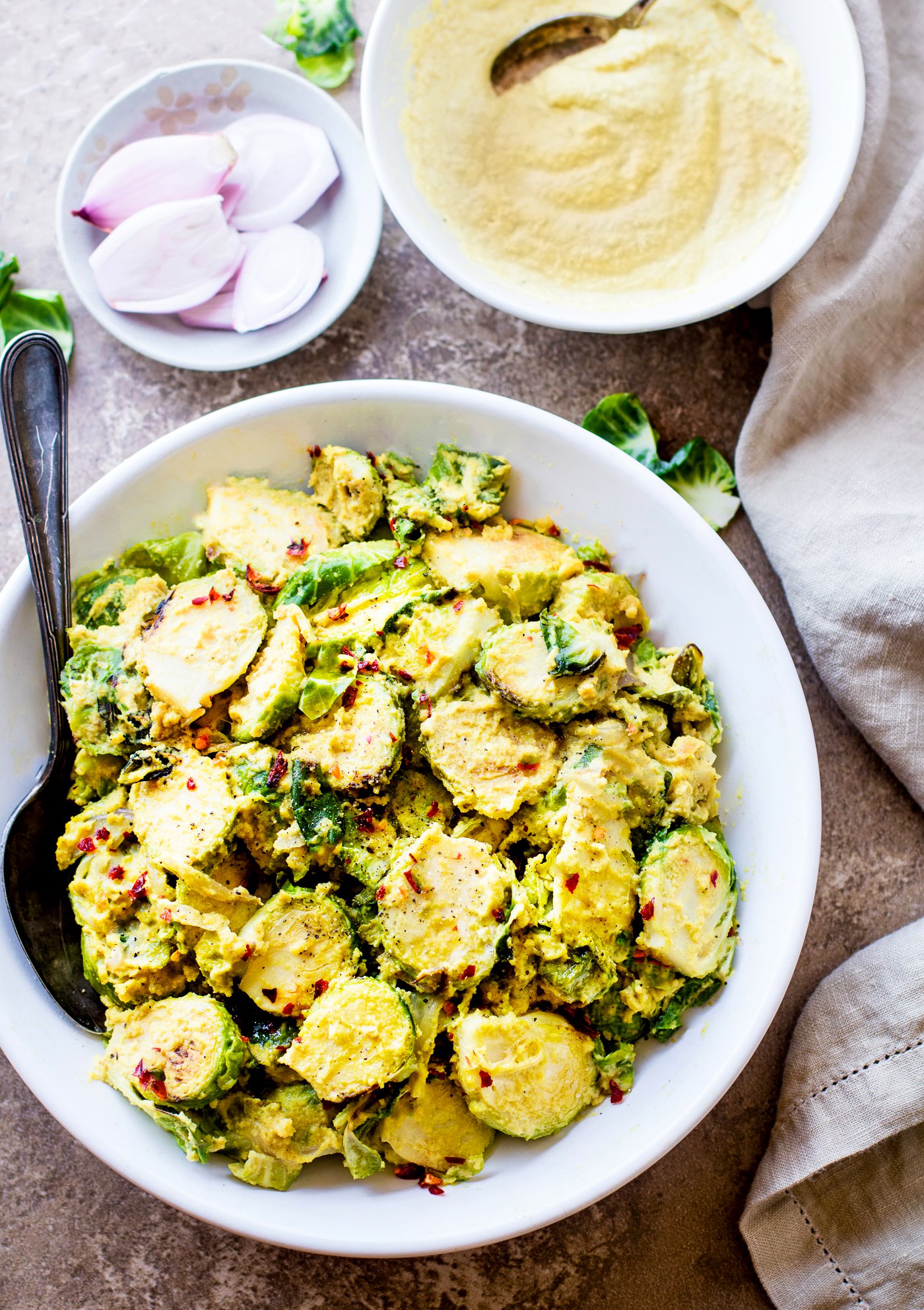 "Creamy Mustard Brussels Sprouts Salad! A pan fried Brussel Sprouts superfood dish tossed in a vegan creamy mustard sauce. Quick to make, packed with fiber, healthy fats, and nourishment! A healthy paleo side dish to add to your table. " Recipe: CotterCrunch.
Dill Pesto Potato Wedge Salad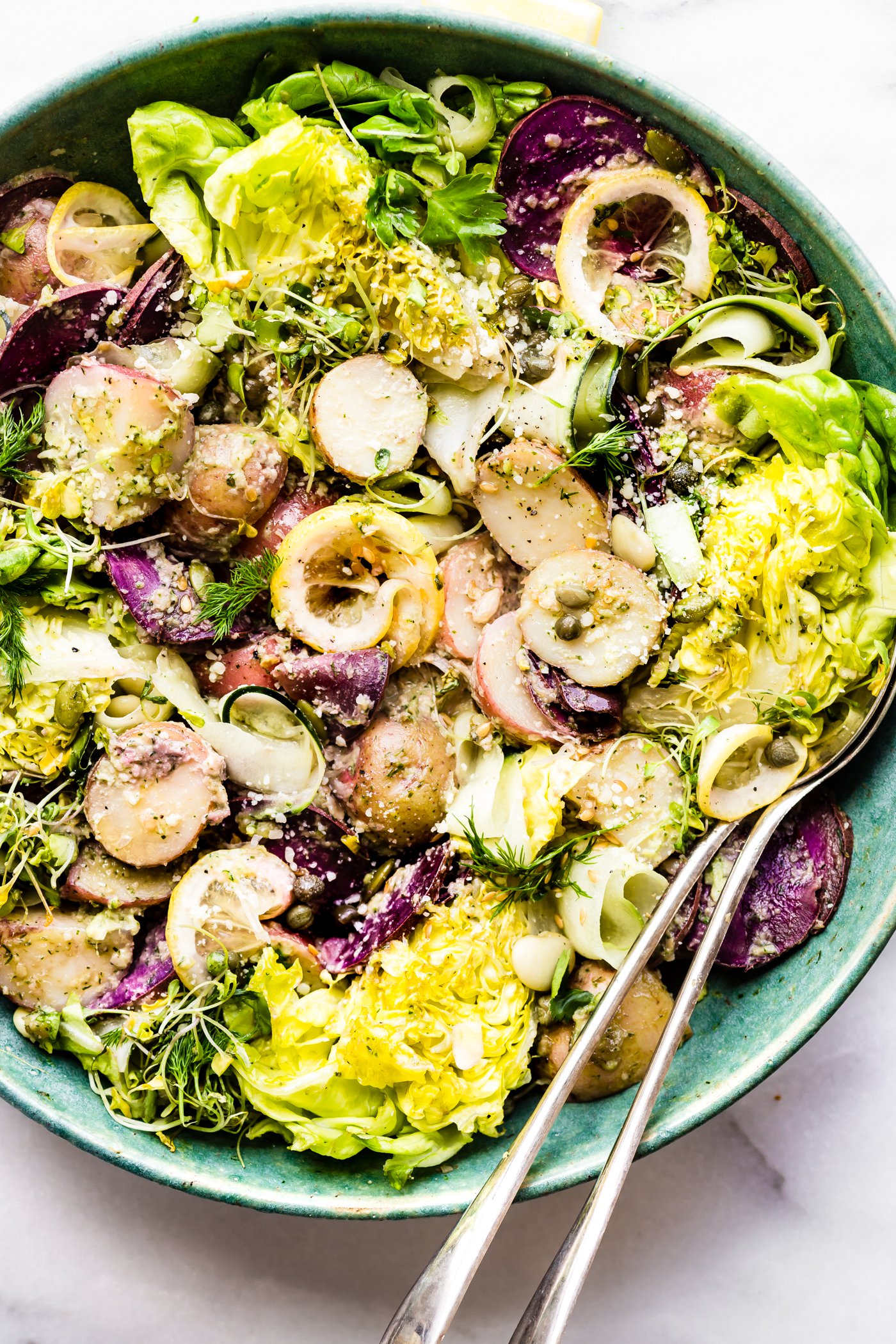 "This Dill Pesto Potato Wedge Salad makes a great healthy side dish for your next barbecue or gathering! A crunchy wedge salad and creamy potato salad all packed into one then tossed a zippy dill pesto sauce. It's gluten free, paleo/vegan friendly, and super easy to make." Recipe: CotterCrunch.
Roasted Vegetable Tacos With Chimichurri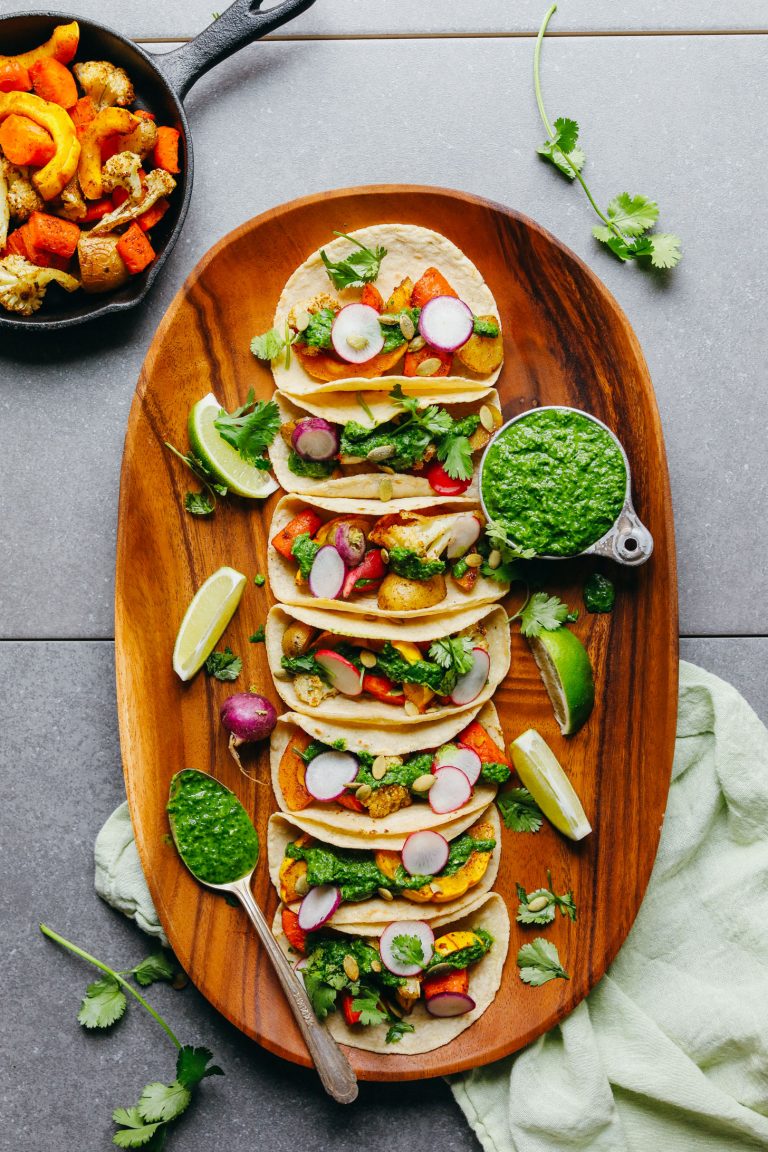 "Consider this a taco remix: colorful, seasonal roasted vegetables wrapped inside warm corn tortillas and topped with vibrant green chimichurri sauce.". Recipe: MinimalistBaker
Rich Red Curry With Roasted Vegetables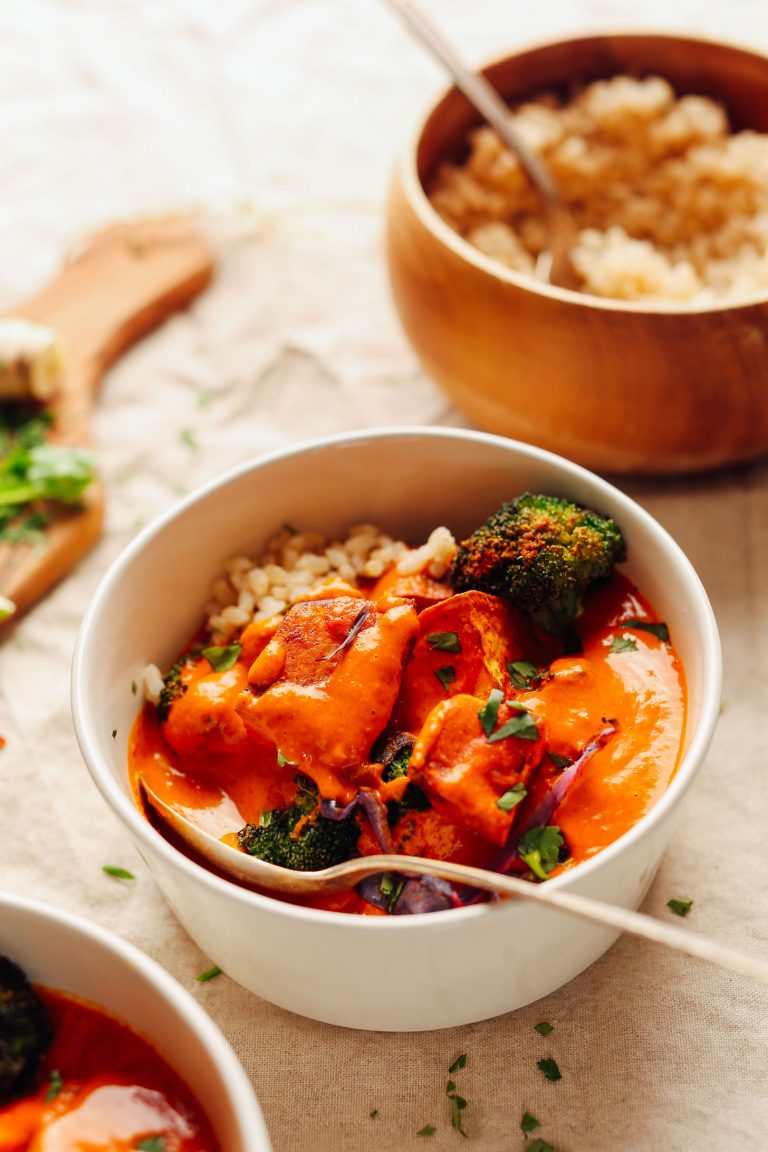 "Rich coconut milk and red pepper-based curry with roasted vegetables and cauliflower or brown rice! A hearty, flavorful, 30-minute plant-based meal.". Recipe: MinimalistBaker
Moroccan Lentil Stuffed Eggplants
"Stuffed baked eggplant with Moroccan-spiced lentils! Just 9 ingredients, big flavor, plenty of protein and fiber, and the perfect side dish or entrée.". Recipe: MinimalistBaker
Taco Beer Flatbread Pizza With Roasted Corn And Poblano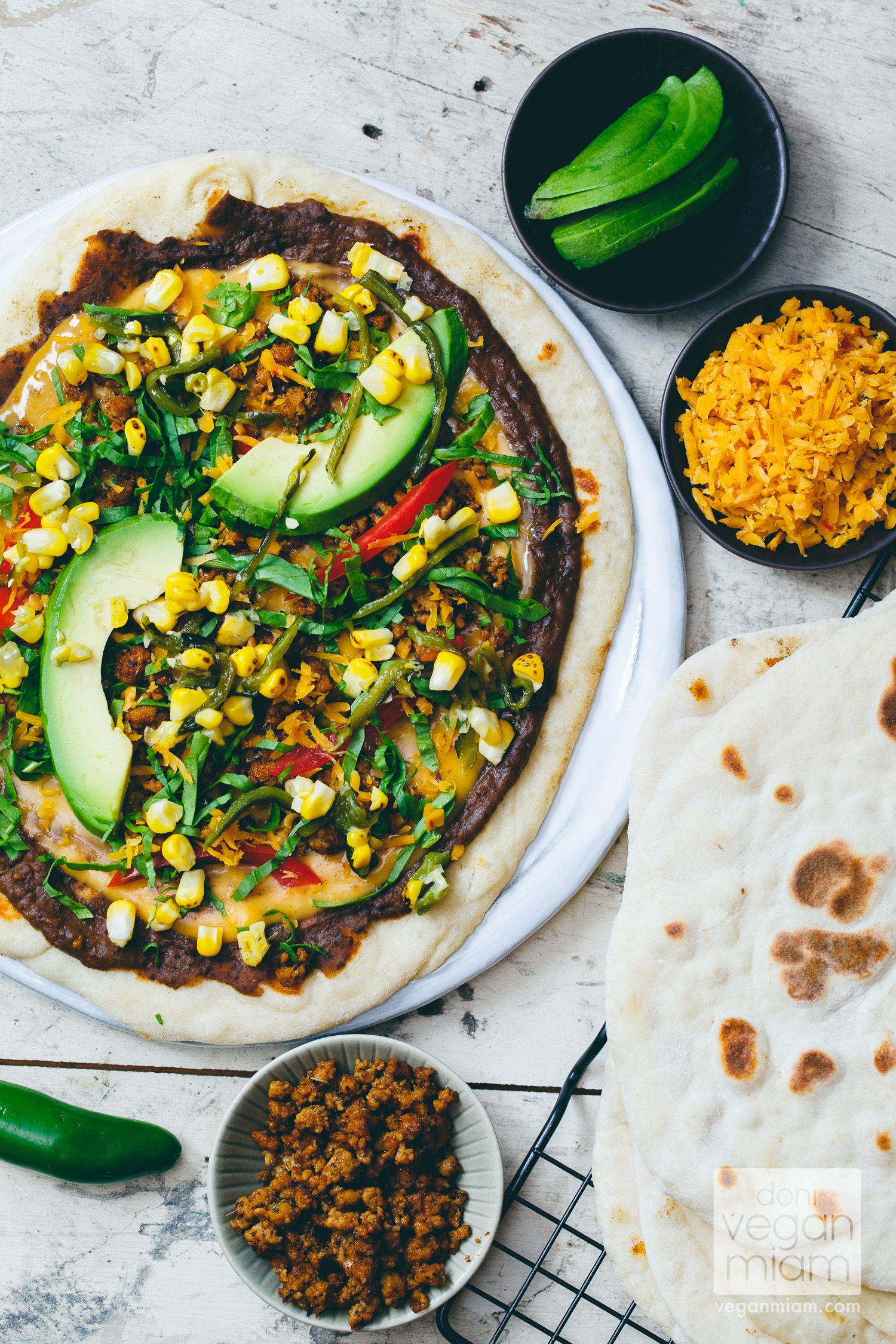 "In the spirit of the Americanized Mexican holiday, I've made a pizza with delicious Mexican flavors. There's always Mexican cuisine around our kitchen – everything from red or green rice, pico de gallo, beans, fresh made tortillas and occasionally even some refreshing cucumber or tamarind margaritas.". Recipe: VeganMiam
20 Minute Vegan Alfredo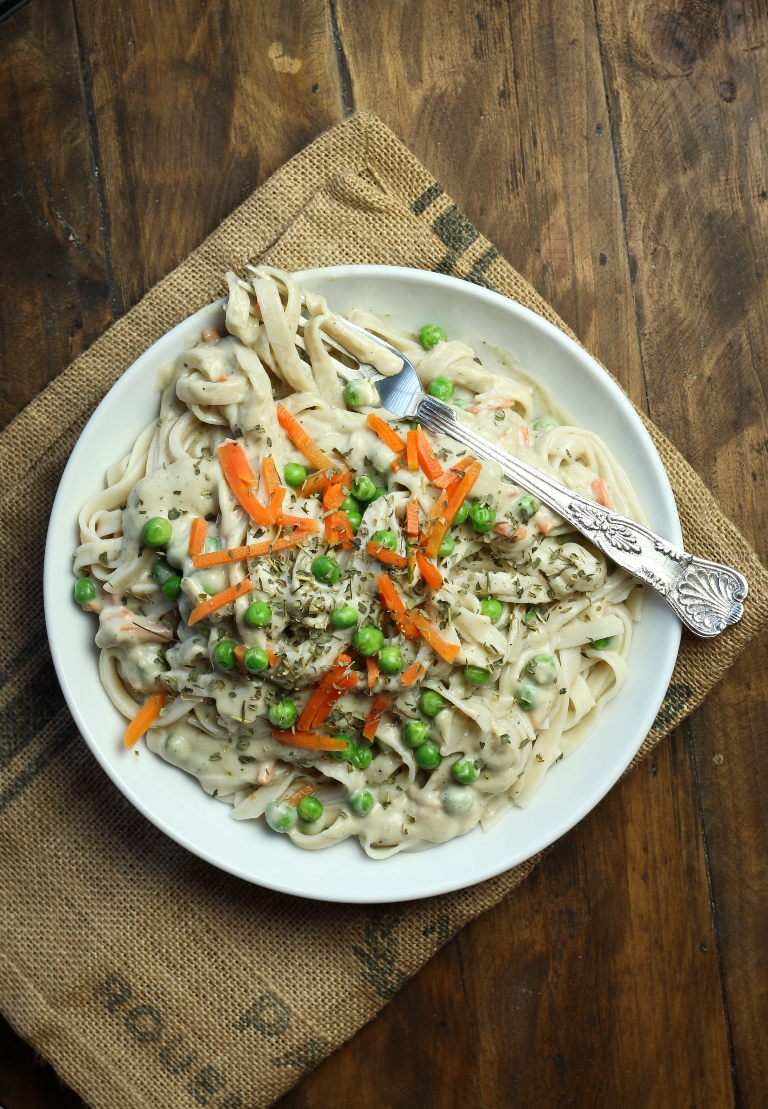 "The ultimate Vegan Alfredo that will blow away all your guests, shock them that it is dairy-free and takes just 20 minutes to make. Rich, creamy, decadent and just 7 ingredients and without any butter or oil!". Recipe: TheVegan8
Crispy Gluten Free Eggplant Parmesan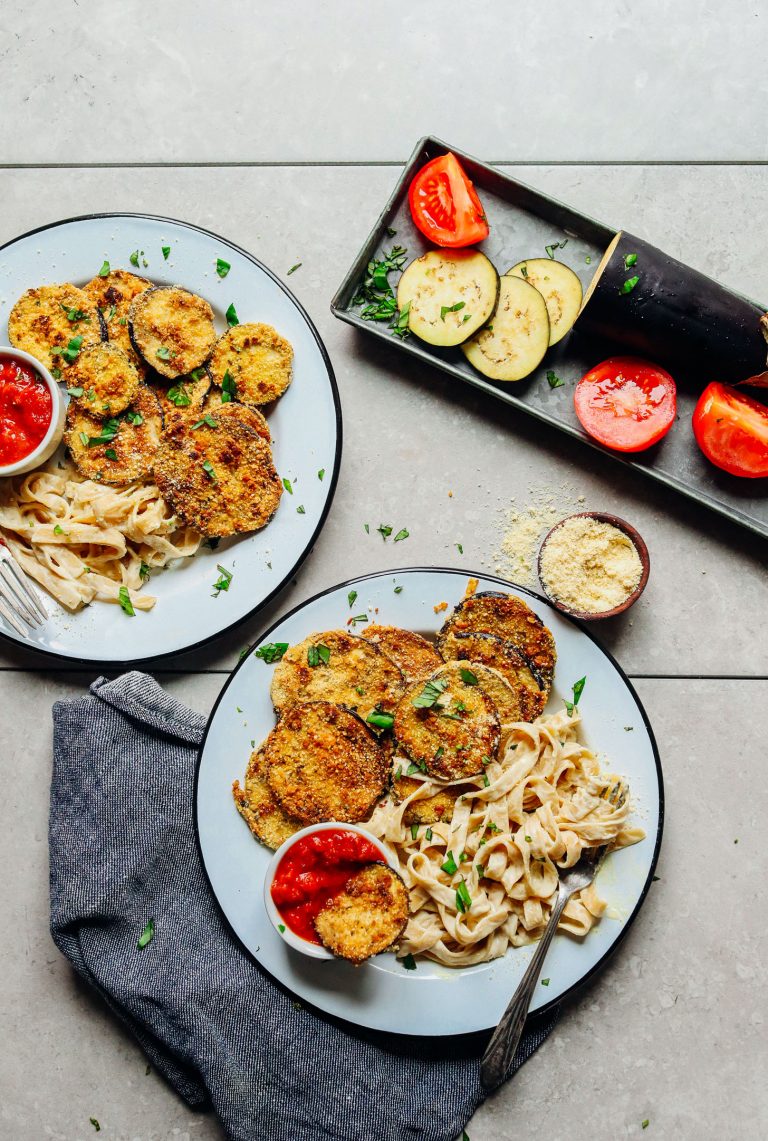 "This is new my go-to crispy, gluten-free version that's so easy to make, customizable, and insanely delicious. Let me show you how!". Recipe: MinimalistBaker
Low-Fat Smoky Broccoli Potato Soup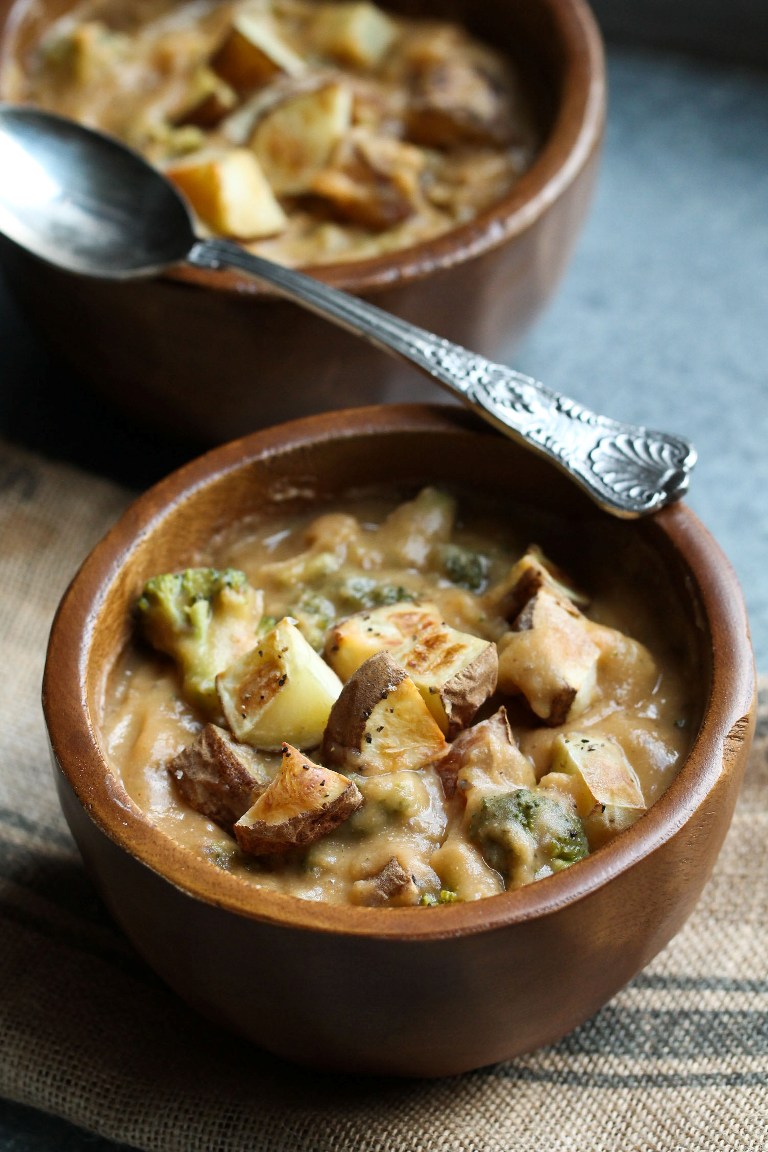 "This soup is super creamy and full of flavor and yet, only has about 2 g fat per cup! Potatoes are my favorite food in the entire world….as if you hadn't already figured that out by my recipe index. This is because they are basically fat-free, full of vitamins, so incredibly healthy, filling, give us fuel and energy, healthy carbs and fiber-rich, so they are slower to digest, keeping us full longer.". Recipe: TheVegan8
Vegan Pumpkin Mac 'N' Cheese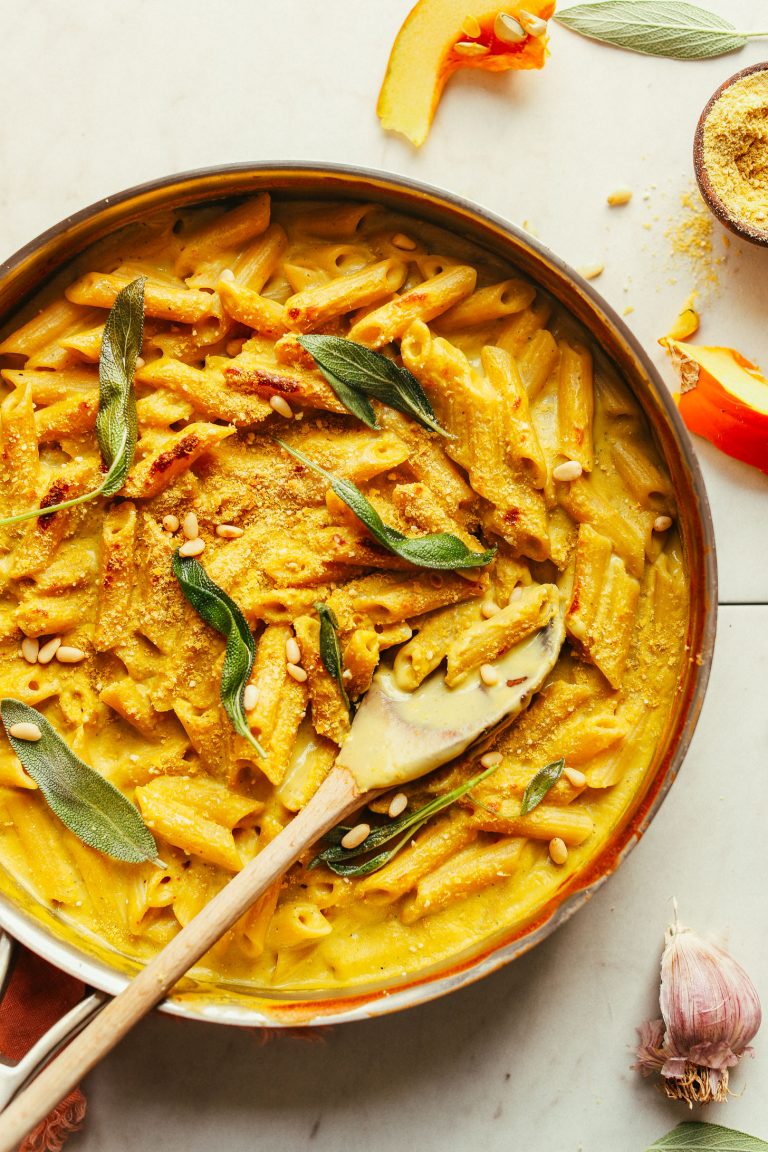 "Amazing, creamy, flavorful pumpkin mac 'n' cheese made with 10 simple ingredients! The perfect dairy- and gluten-free entrée for fall and the holiday season!". Recipe: MinimalistBaker
Pizza Pie + Balsamic Tomato Sauce And Roasted Vegetables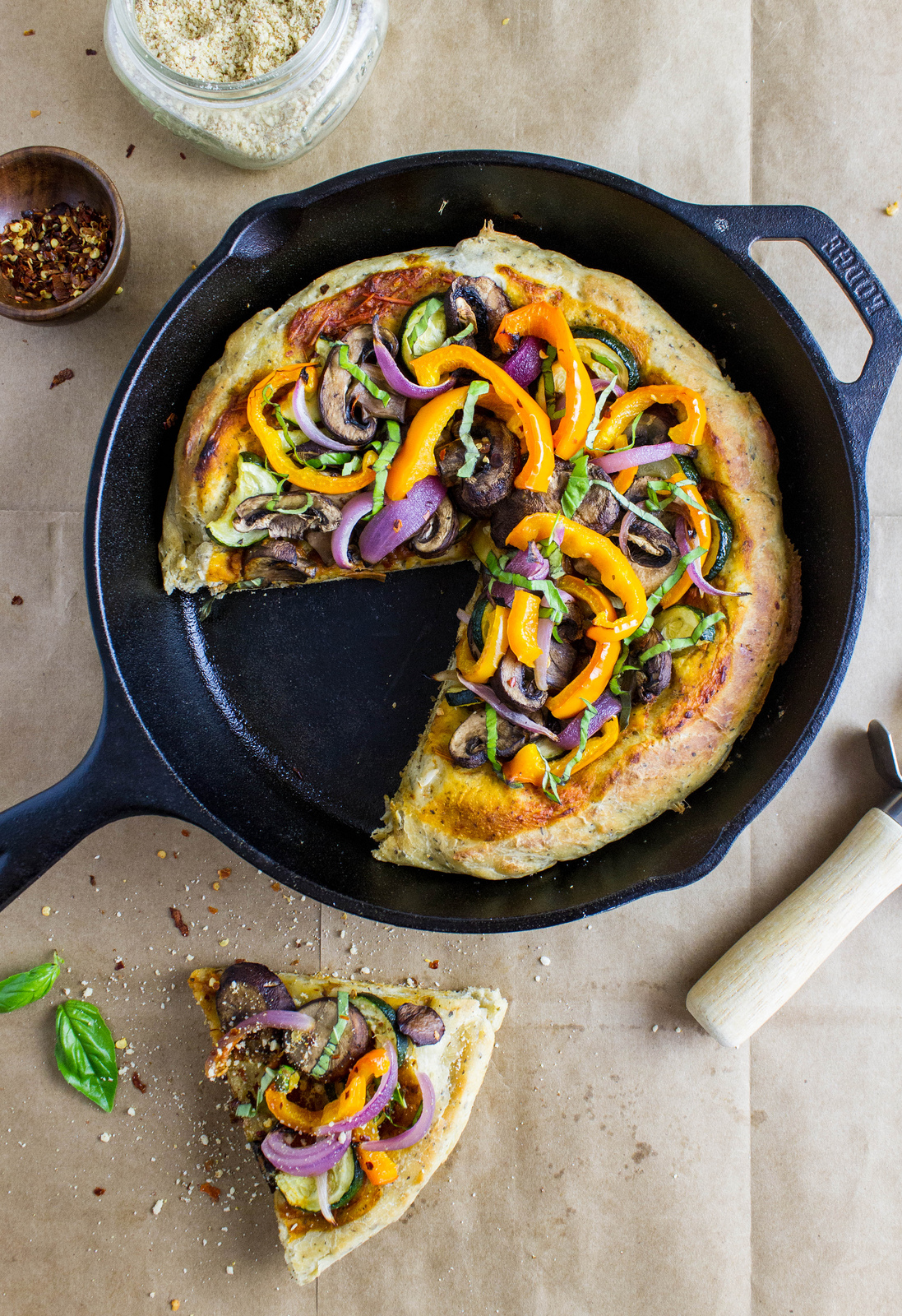 "Of course for this recipe we aren't using cheese, only almond parmesan which is fantastic served on top of your slice of pizza pie. We are dousing this pizza with a nice balsamic tomato sauce and lots of beautiful veggies making this a colorful pizza with lot's of wonderful flavor. ". Recipe: Simple-Veganista.
Black Bean Fajitas + Guacamole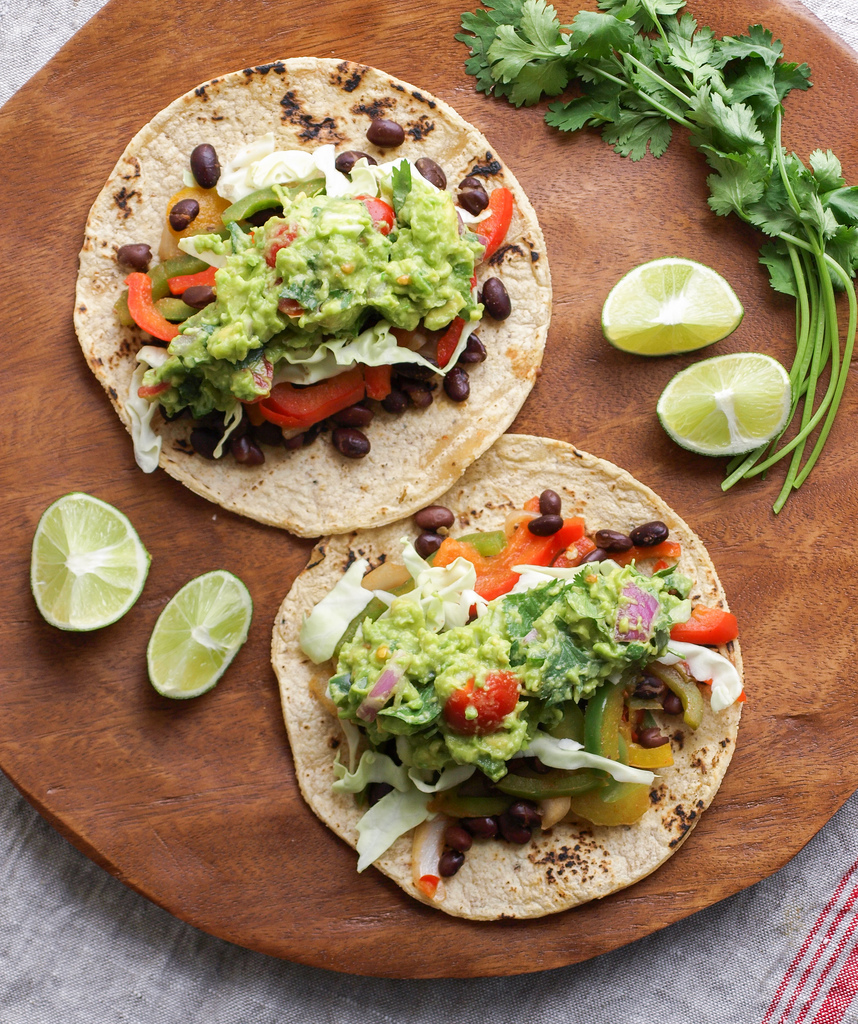 "They are everything I wanted them to be and more! These are 'Eat like you mean it' tacos! I loaded mine and ate them just as you see here with no problem at all, hardly any mess either.". Recipe: Simple-Veganista.
Noodle Free Pad Thai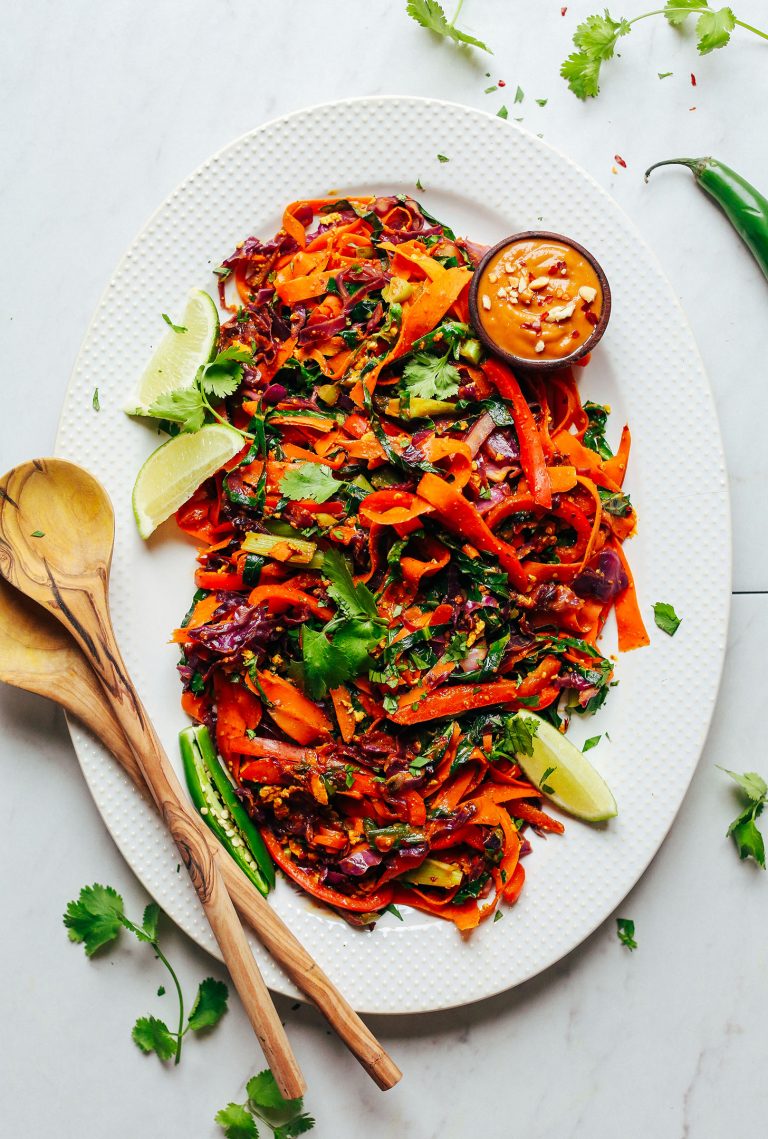 "Amazing noodle-free Pad Thai with rainbow vegetables and a spicy-sweet almond butter sauce. Just 30 minutes required and SO versatile!". Recipe: MinimalistBaker
Cheerful Vegan Nachos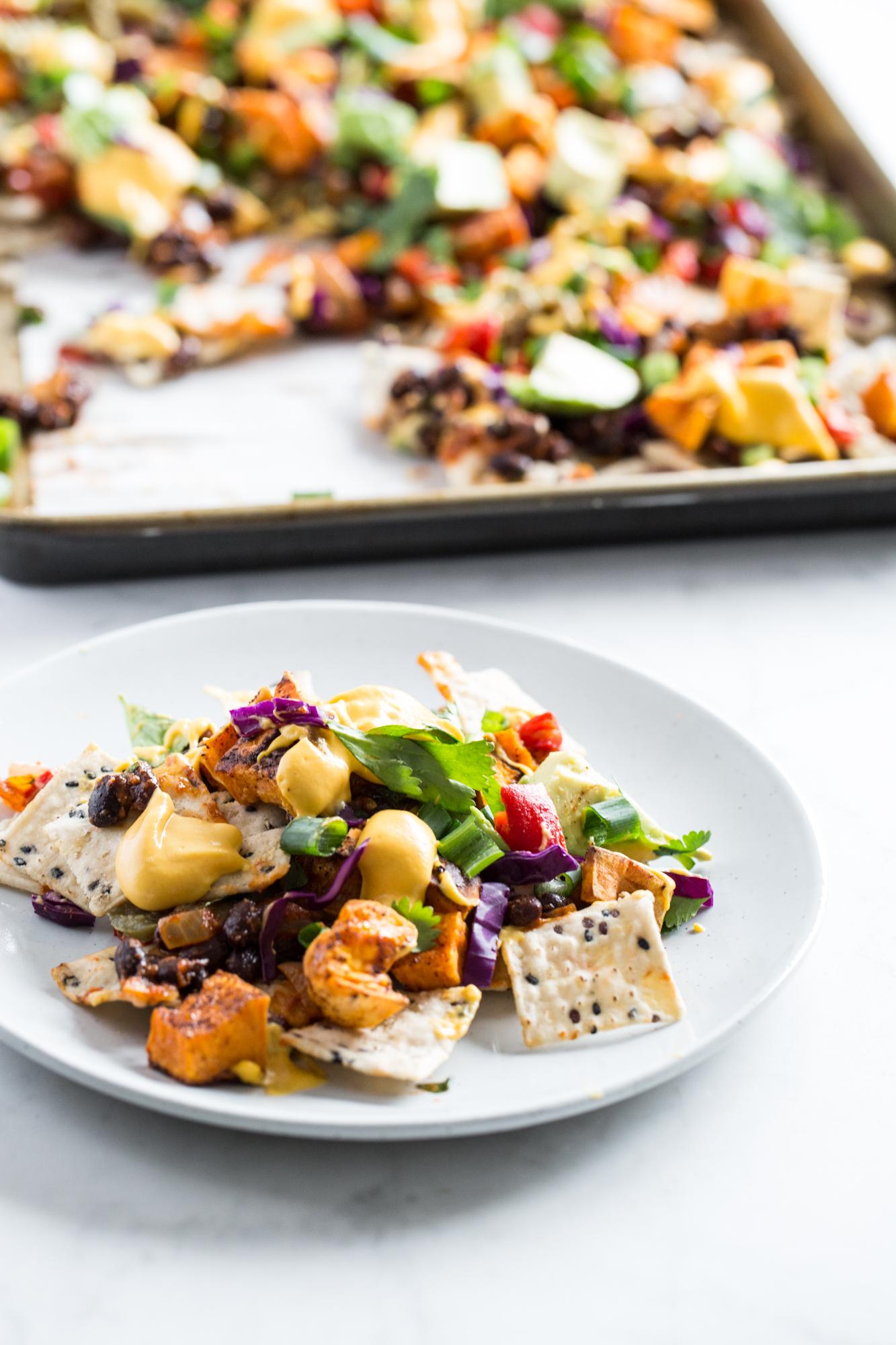 "I encourage you to customize this nacho plate to your heart's content! If you're looking to cut down on prep work, you can make the All-Purpose Vegan Cheese Sauce and Spicy Black Beans in advance (they'll keep in the fridge for a few days) so there's less you'll need to do the day of.". Recipe: OhSheGlows.
Cheesy Lentil Bolognese Casserole
"Our family is in love with this cheesy, creamy, and hearty casserole! Traditional bolognese is made with a meat-based sauce, but my version uses lentils and mushrooms for a high fibre, immune-boosting twist. It's great served with a simple salad of marinated greens". Recipe: OhSheGlows
Vegan Green Grits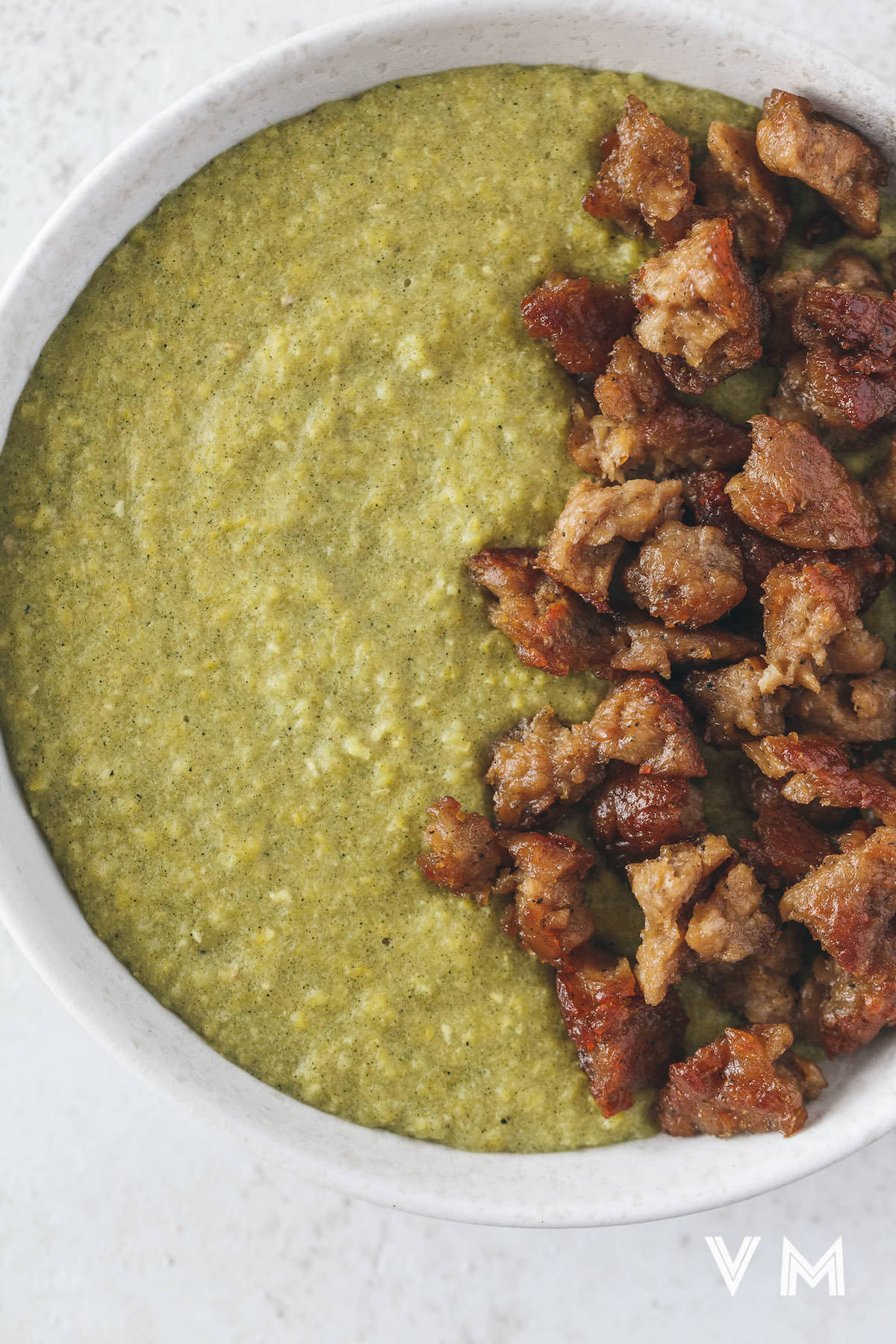 "Our Vegan Green Grits recipe is incredibly simple and satisfying. The resulting grits are thick and creamy; with a distinctly rich, savory and earthy flavor. For the best results, grits should be cooked on low and stirred regularly to avoid sticking or clumping.". Recipe: VeganMiam
Mustard Green Cherry Salad With Nut Cheese & Tahini Dressing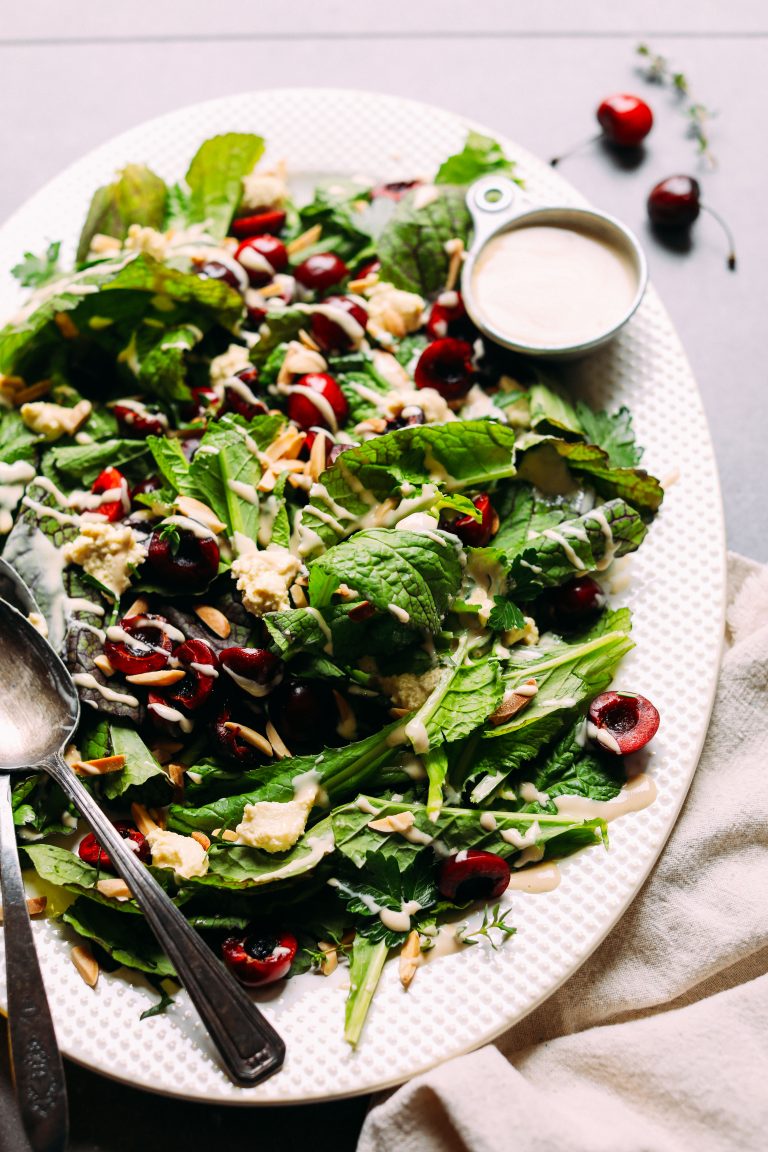 "Easy, 30-minute, 10-ingredient plant-based salad of mustard greens, cherries, toasted almonds, macadamia nut cheese, and creamy tahini dressing!". Recipe: MinimalistBaker
Glowing Green "Pasta" Primavera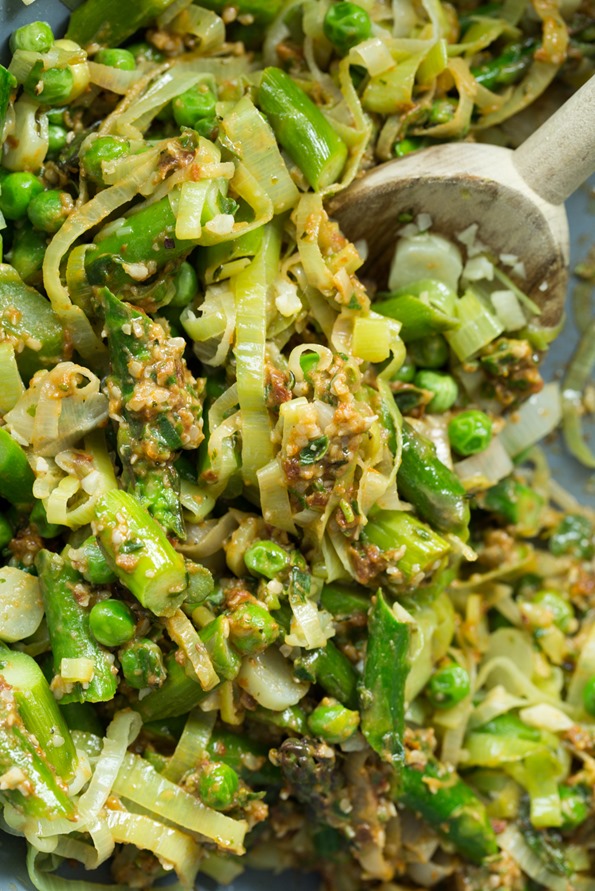 "This recipe is an ultra-fresh take on pasta primavera – a spring vegetable pasta dish. Rather than relying on heavy pasta for a spring recipe, I decided to lighten things up with a fresh carrot "pasta", which is simply julienned carrots. Obviously, the carrot pasta tastes nothing like actual pasta, but I promise you won't miss it one bit!". Recipe: OhSheGlows
Italian Bean Balls & Spaghetti Squash Noodles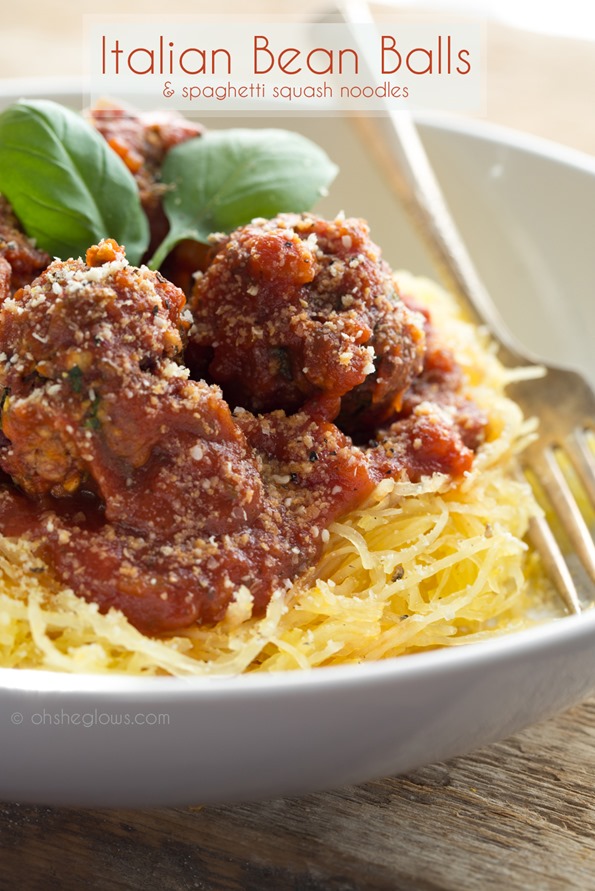 "Delightful Italian bean balls filled with basil, oregano, garlic, and sun-dried tomatoes round out this fresh & light meal of spaghetti squash "pasta" and tomato sauce. I bake the bean balls for a good amount of time until golden and quite firm, so they stand up better to the tomato sauce.". Recipe: OhSheGlows
Gochujang Glazed Tempeh
"This vegan Gochujang Glazed Tempeh is a robust and assertive dish that can be served over rice or noodles as easily as it can be slathered on a bun or a tortilla.". Recipe: VeganMiam
Vegan Japanese Curry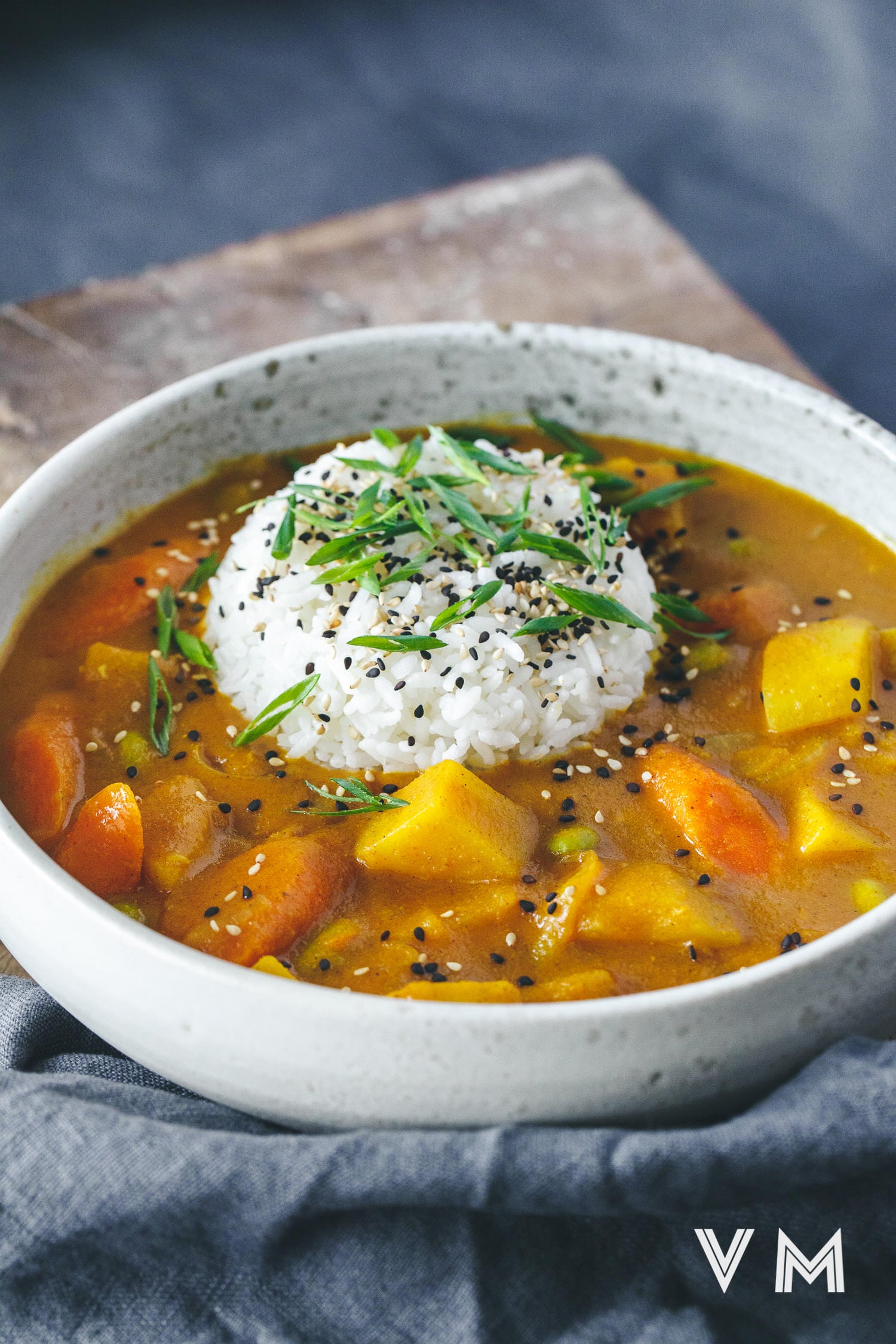 "Making your own homemade vegan Japanese curry is surprisingly simple and immensely satisfying. With its rich, hearty flavors and chunky vegetables; this is humble and delicious comfort food.". Recipe: VeganMiam
Raw Pizza With Butternut, Flax And Sunflower Crust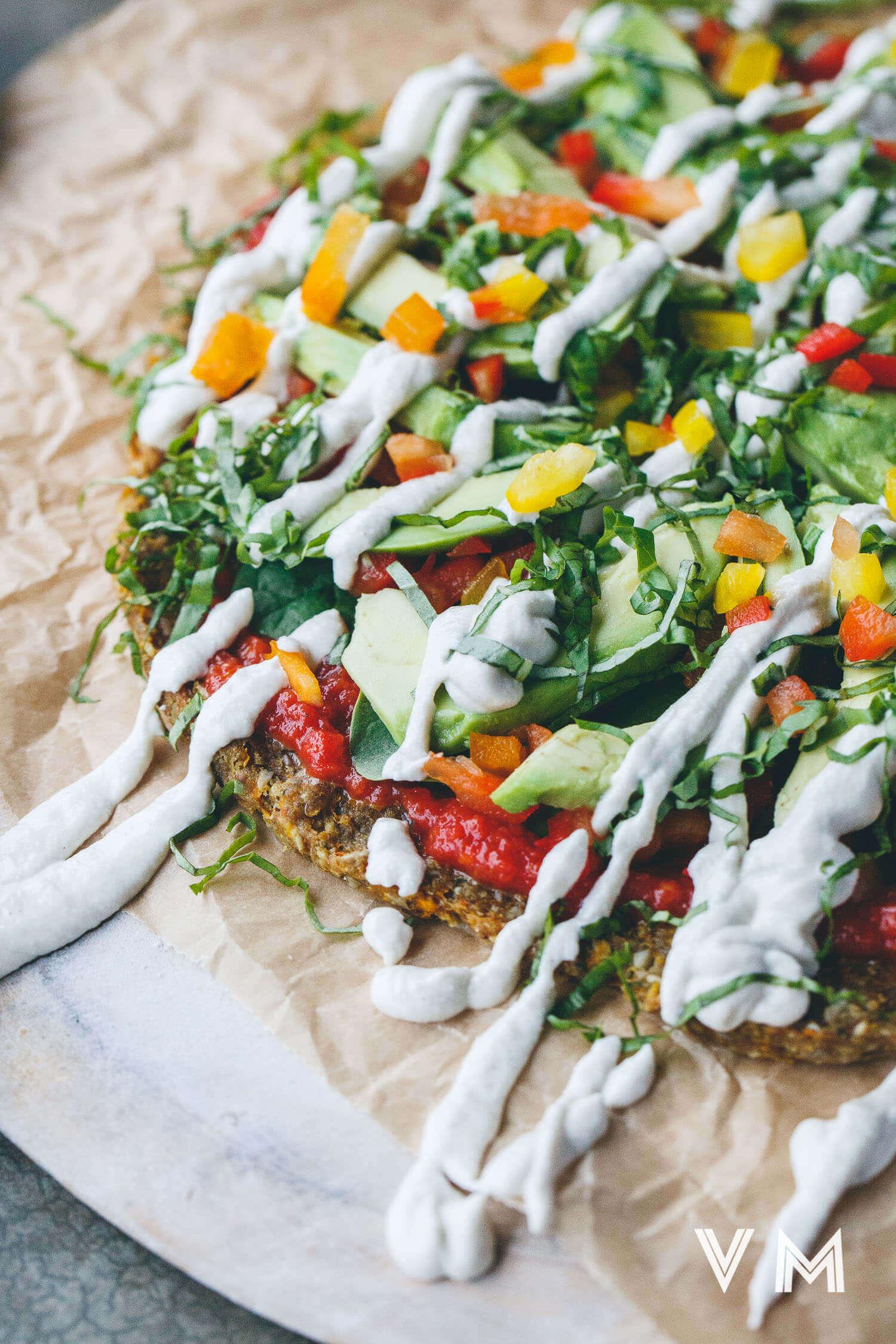 "We've paired the crust with raw tomato sauce, raw cashew cheese drizzle and fresh avocado, capsicum, spinach and basil. These ingredients combined to make a deliciously wholesome raw meal full of clean, fresh flavors reminding us of Cape Town.". Recipe: VeganMiam
Smoky Butternut Squash Sauce With Pasta and Greens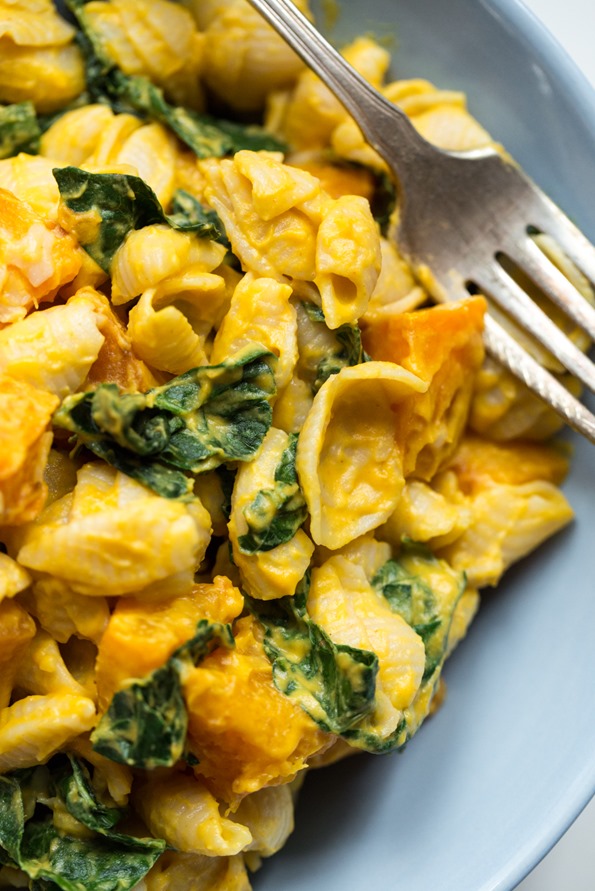 " I've been playing around with this recipe every time I make it. This version I'm sharing today is still quite sweet thanks to the butternut squash and cashews, but I've tried to balance it out better with some smoky seasonings like liquid smoke, chili powder, smoked paprika, and some hot sauce for a kick and more depth of flavour.". Recipe: OhSheGlows
Vegan & Gluten Free Kare-Kare (Filipino Peanut Stew)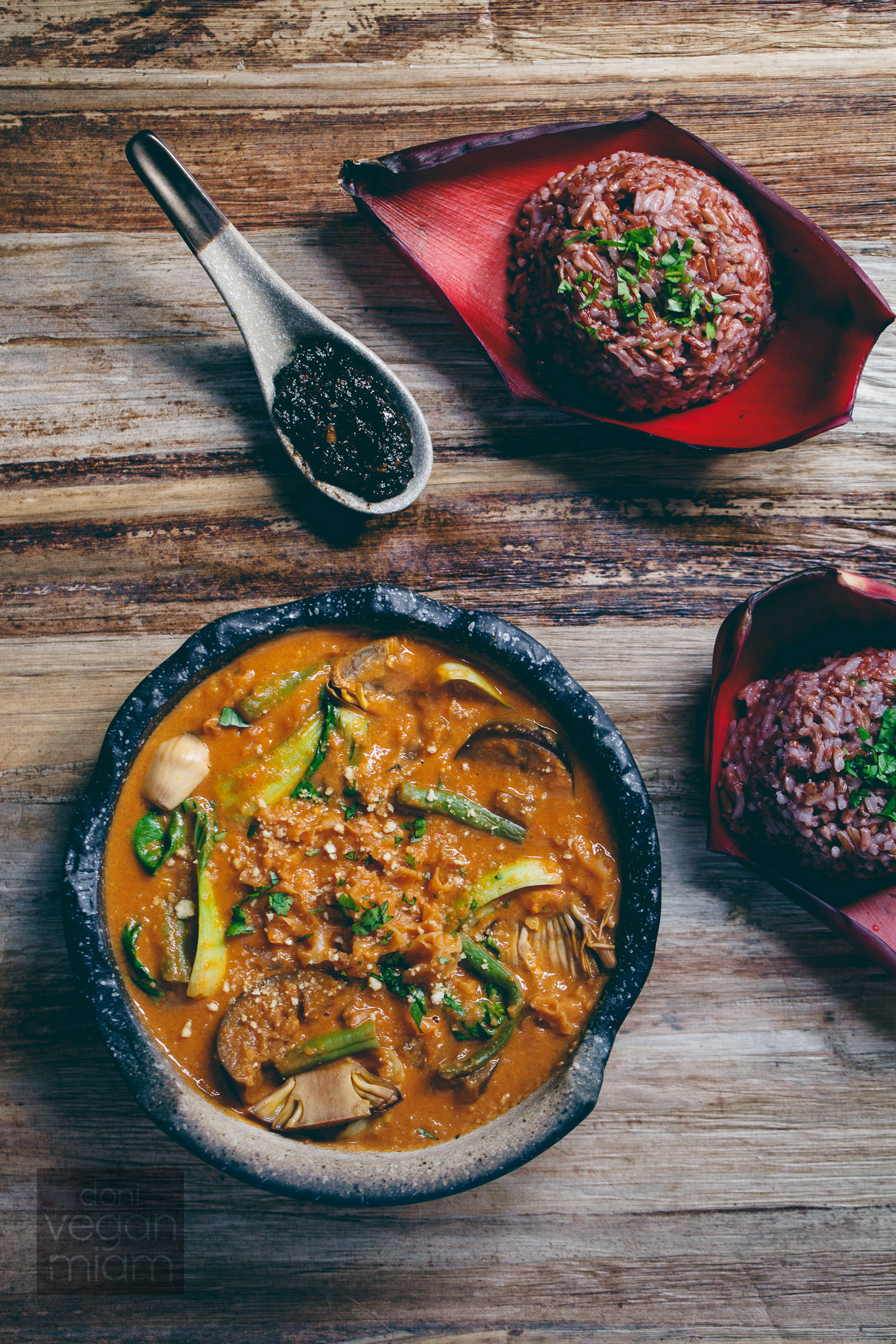 "After several days in the kitchen testing and altering recipes, I finally perfected my Vegan & Gluten-Free Kare-Kare (Filipino Peanut Stew) with banana blossom, adapted from the recipe of the fabulous Astig Vegan and served with her tasty vegan bagoong". Recipe: VeganMiam
Easy Homemade Ramen Noodle Soup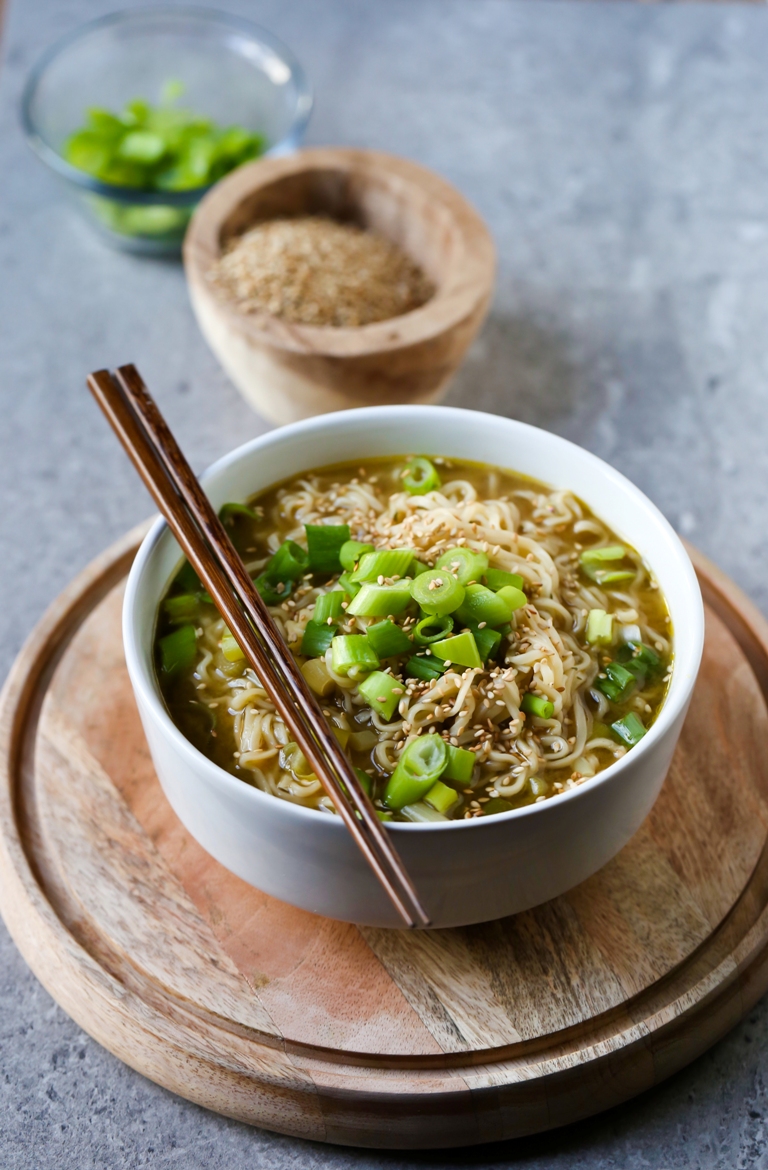 "A delicious Easy Homemade Ramen Noodle Soup that is actually healthy, vegan, oil-free and full of fresh ingredients like ginger, garlic and green onions! Only 8 ingredients! You'll never need packet ramen noodles again!". Recipe: TheVegan8
Easy Vegan Mexican Burritos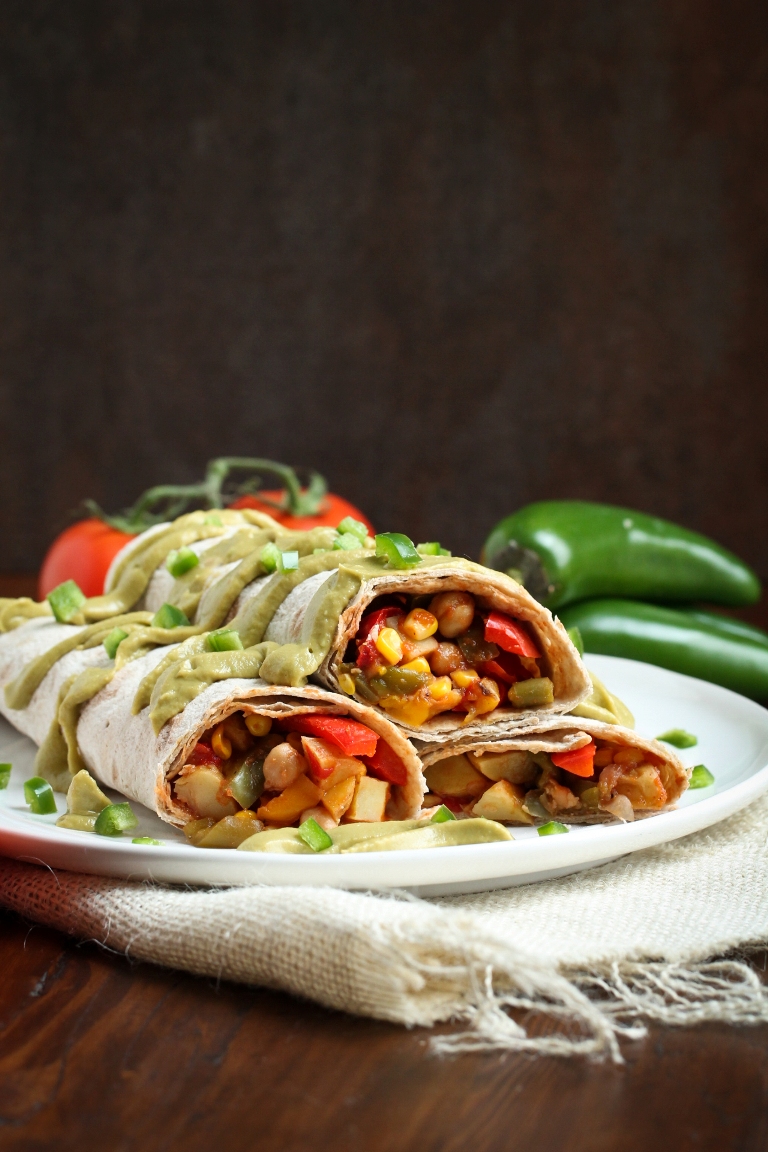 "I'm the most hungry at breakfast time more than any other time of the day, so I don't see how people can skip breakfast. I'm like the incredible hulk wanting to fill up, haha! But, I'm also all about easy. The recipe is super simple, easy and full of amazing flavor and ingredients. Once you top them with a to-die-for Avocado Cumin Cream, you are in business!". Recipe: TheVegan8
Garlic Kale Pesto Pasta
"Garlic, balsamic vinegar and kale come together to create a boldly flavored pesto. Only a few ingredients are needed for a big impact. Rich acidic flavor comes from the balsamic vinegar, while the sweet peas help to balance it. The kale keeps it fresh tasting. Tossed with fresh pasta, this makes a very filling, healthy and delicious meal that comes together really quickly.". Recipe: TheVegan8
Homemade Italian Vegan "MeatBalls"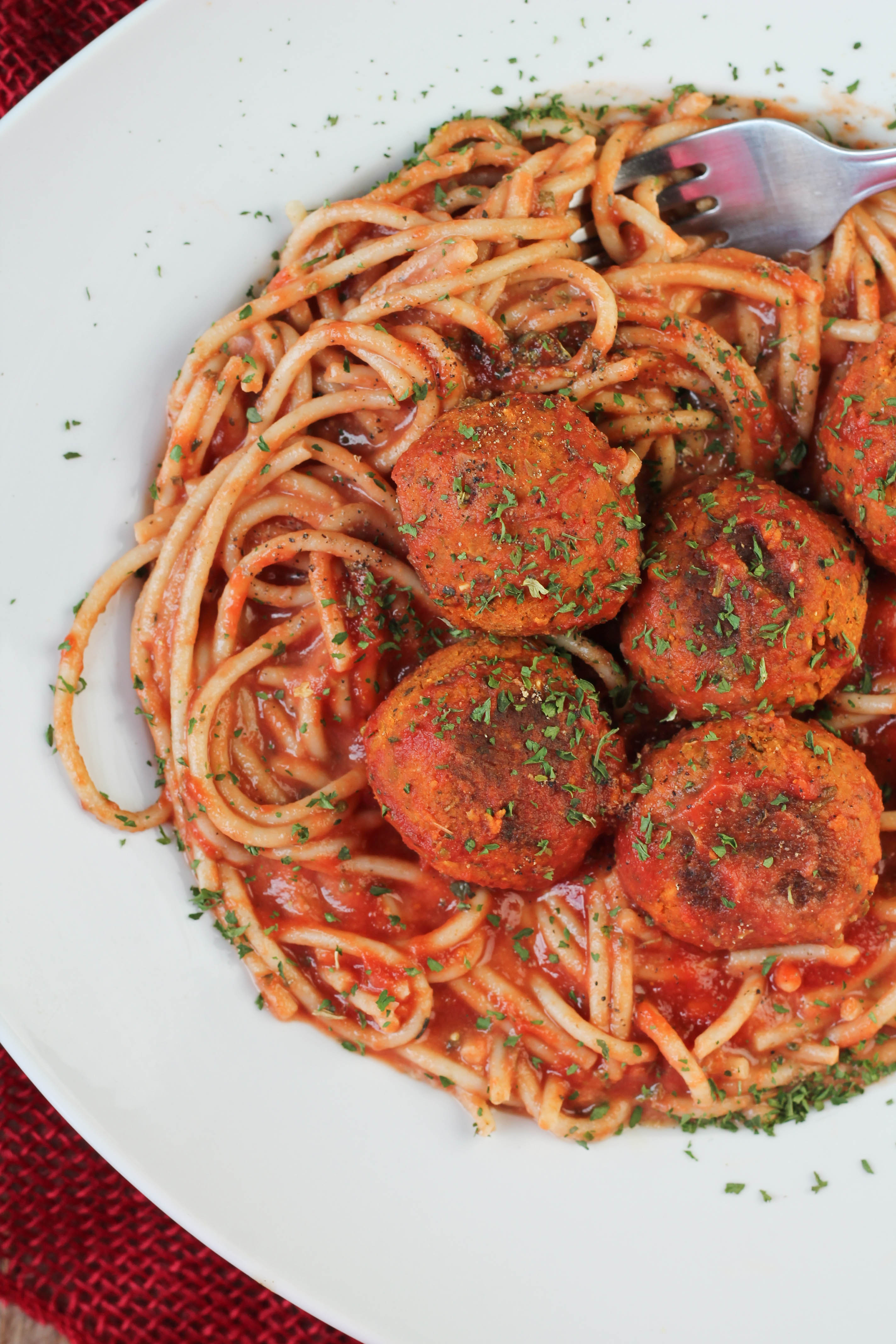 "Classic Spaghetti and Meatballs gets a vegan makeover with these amazing Italian dried herb infused veggie balls. Made with chickpeas and couscous for amazing texture. These are loaded with flavor and spice and will leave you feeling wonderfully satisfied.". Recipe: TheVegan8
Creamy Chili Sauce With Zucchini, Spinach And Pasta (Vegan)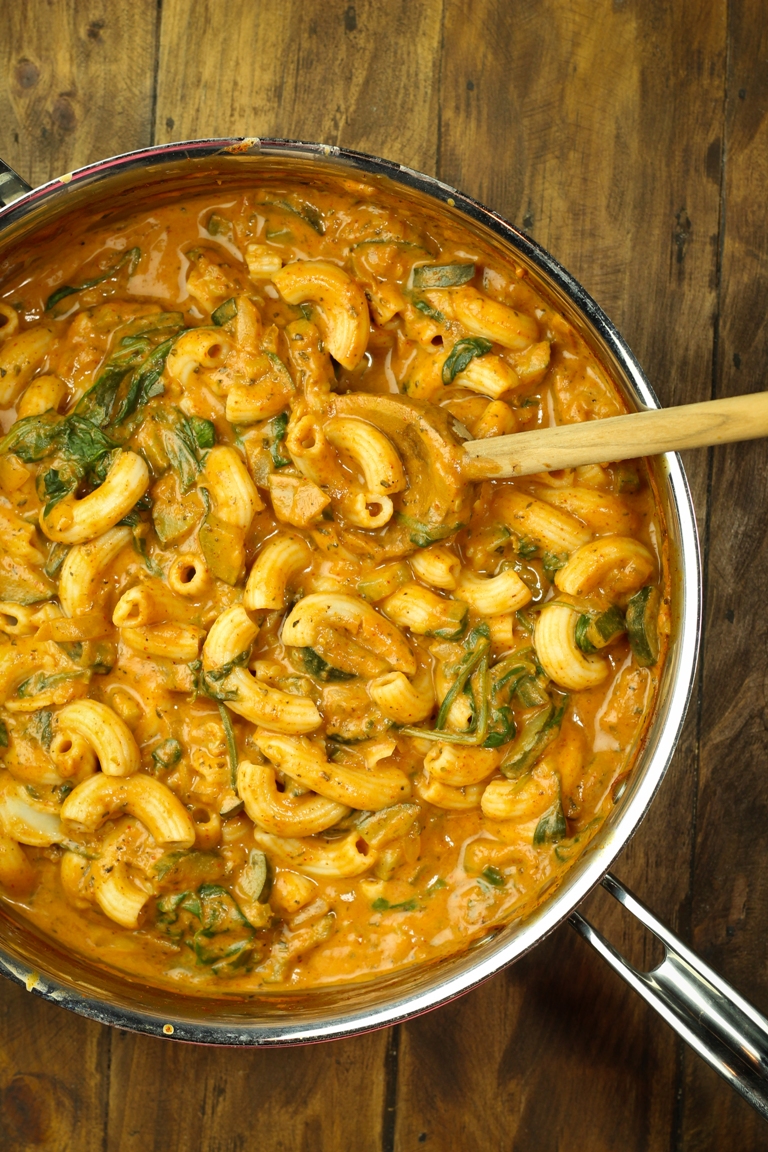 "Vegan and gluten-free Creamy Chili Sauce with Zucchini, Spinach and Pasta. An incredibly creamy, rich and yet light with no oil or butter. Just whole food ingredients. So much flavor from Italian dried herbs and chili powder and tomato sauce.". Recipe: TheVegan8
Sweet Potato, Chickpea And Spinach Coconut Curry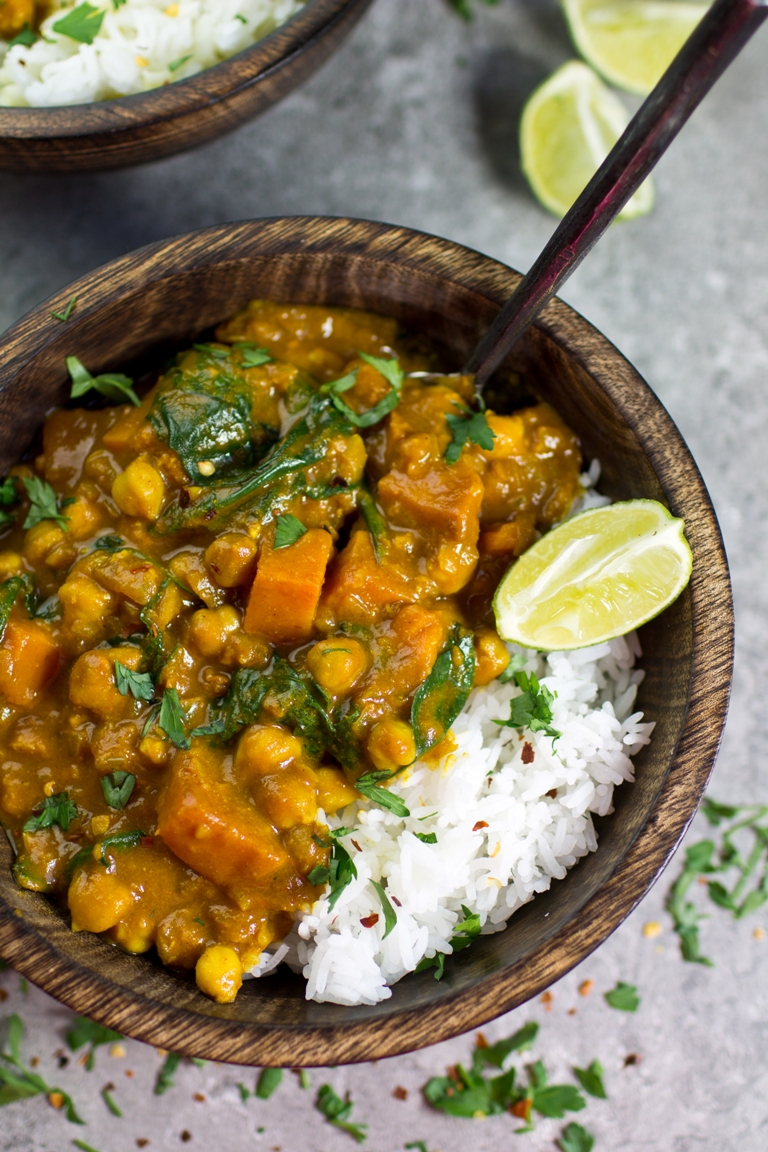 "This Sweet Potato, Chickpea and Spinach Coconut Curry was so delicious and comforting, just as a curry should be. I loved the addition of the spinach. I did add a little bit of coconut sugar towards the end to really hit those spicy notes.". Recipe: TheVegan8
Vegan Mexican Tortilla Soup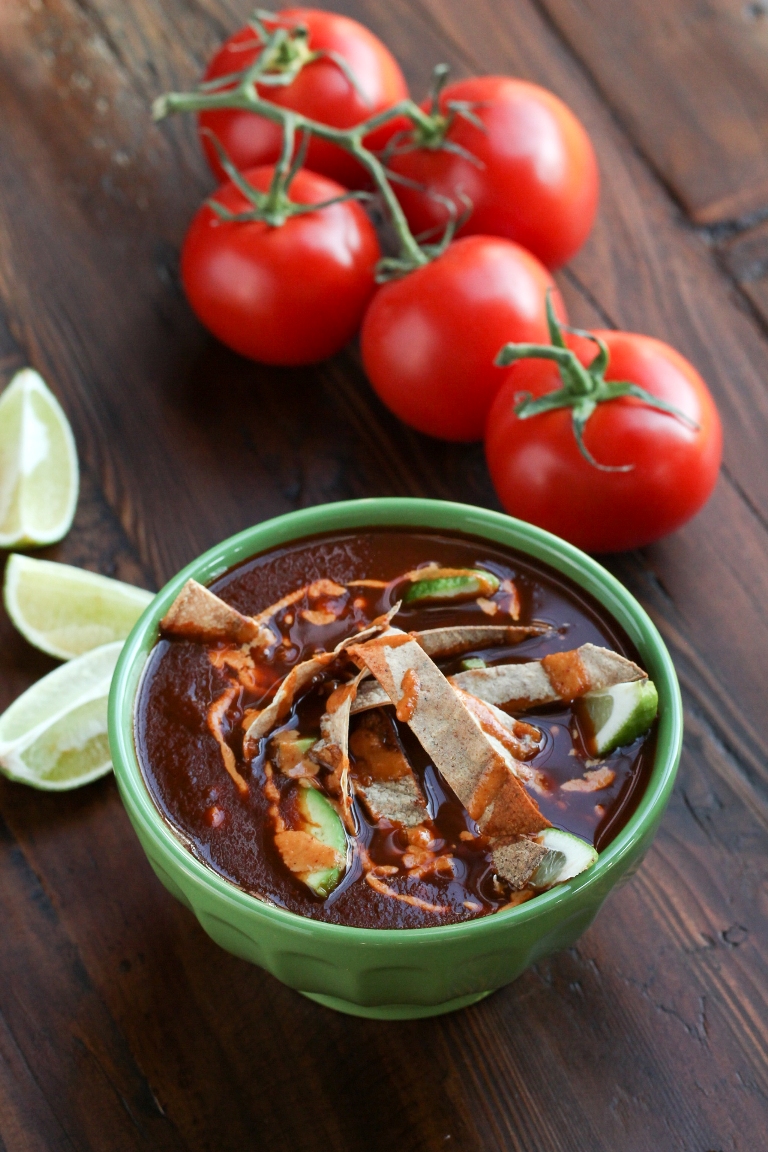 "There is nothing quite like a spoon and a bowl of comforting soup in my hands. So, when my reader Estee requested I come up with an amazing tortilla soup, I was excited to create one. It had been a long time since I had one at a Mexican restaurant.". Recipe: TheVegan8
Abundance Kale Salad With Savory Tahini Dressing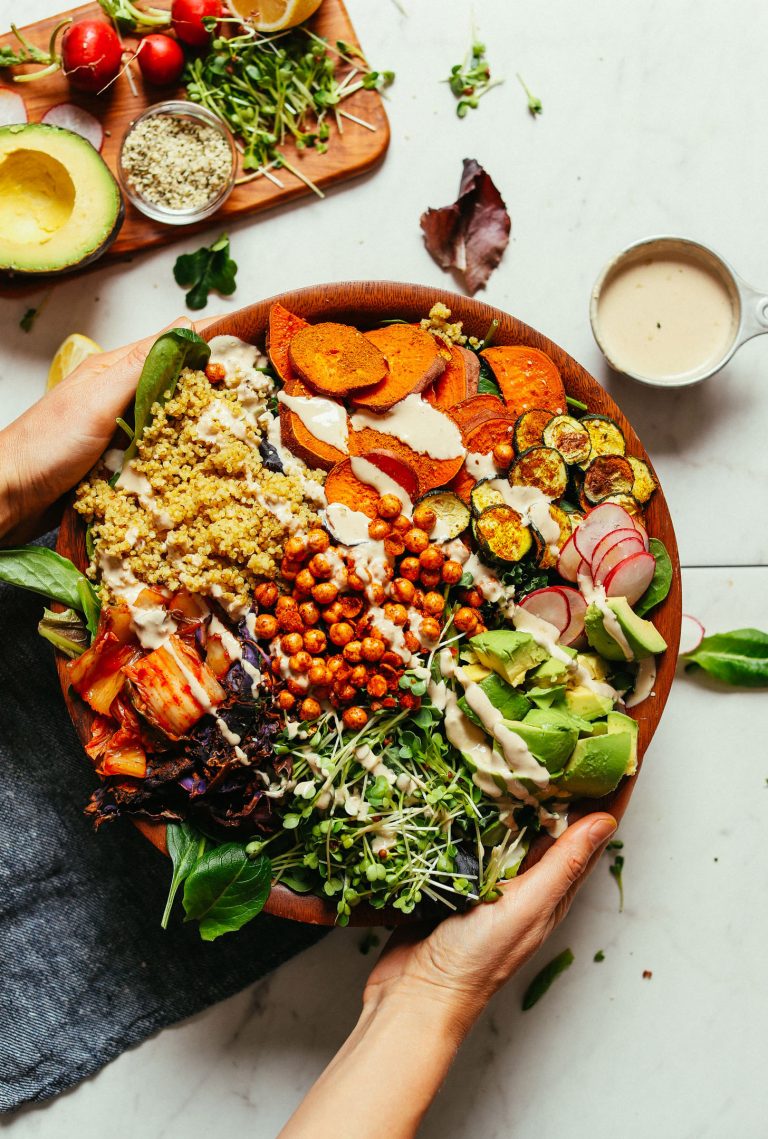 "Lately when flying, we've been craving big, hearty salads. Bonus: They're easy to pack to go for travel! This 30-minute salad is customizable and insanely satisfying, and it features my NEW favorite savory tahini dressing! Let's do this!". Recipe: MinimalistBaker
Vegan Cauliflower Pizza Crust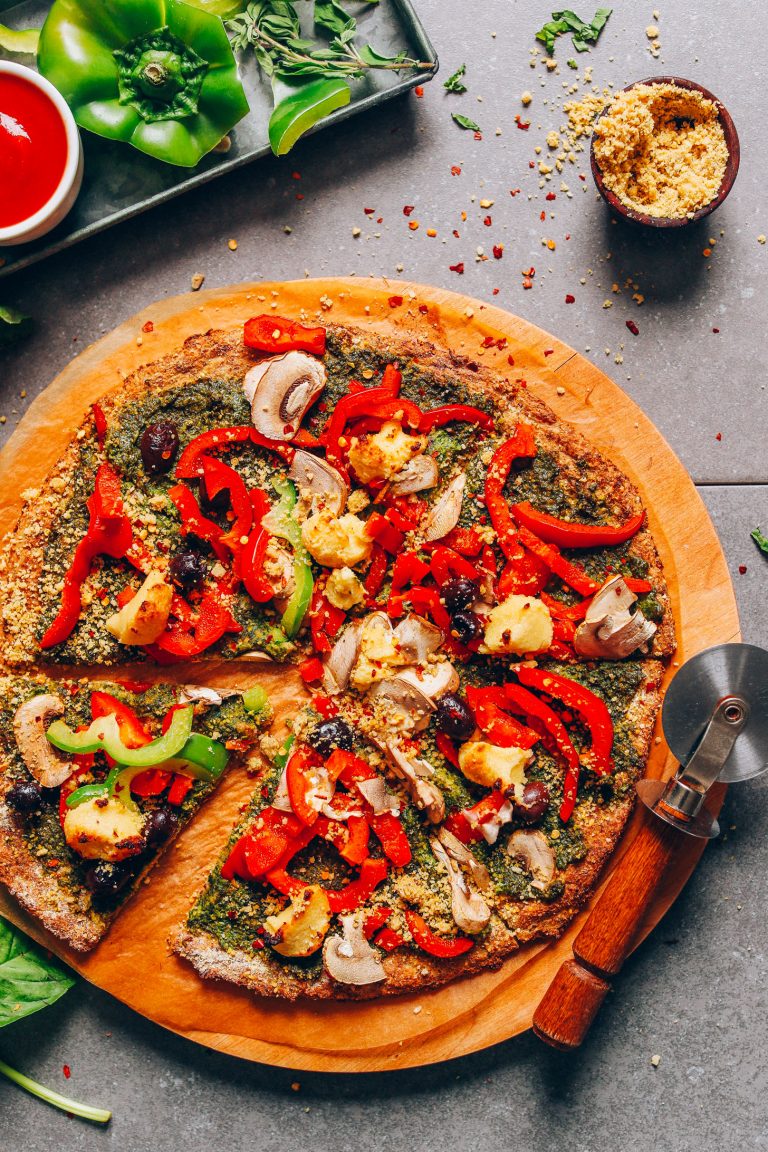 "This recipe requires 9 basic ingredients to make. It's also entirely gluten-, grain-, and oil-free, and it's vegan!". Recipe: MinimalistBaker