59 Super Easy Dinner Recipes That Will Help You Shrink Belly Fat!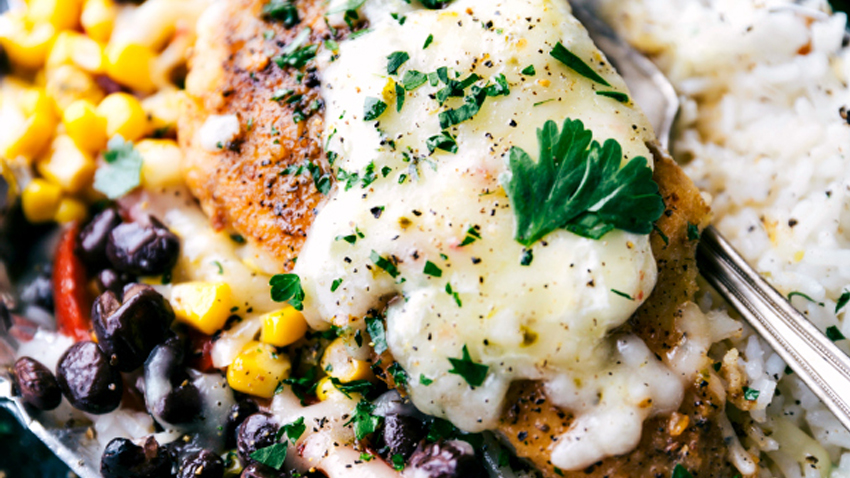 We have collected 59 recipes that will help you lose fat and as well as being healthy and delicious, are stupidly easy to make! (We're talking, one pan, one pot, one sheet, throw it all in the slow cooker type of easy)
Now, to lose belly fat, you have to lose fat from all over your body. To lose fat from all over your body, you need to eat a healthy, calorie controlled diet.
These healthy, calorie sensible recipes, will help you limit bloating and combined with a workout routine, will help you burn fat and feel healthier than ever before. As always, try out your favourites and save and share all the ones you want to try in the future to your social media, enjoy!

59 Super Easy Dinner Recipes That Will Help You Shrink Belly Fat!
One Sheet Teriyaki Salmon

"A one pan dinner! Quick. Fast. And so flavorful. With your veggies right alongside your main for the speediest clean up EVER!!!" 240 Calories. Recipe: DamnDelicious.
Easy Beef & Broccoli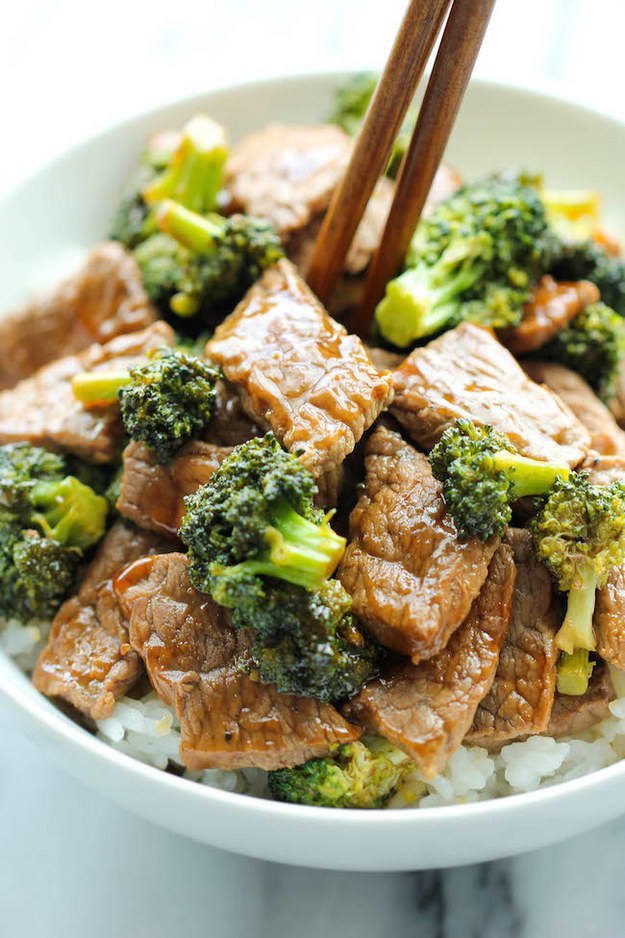 "The BEST and EASIEST beef and broccoli made in 15 min from start to finish. And yes, it's quicker, cheaper and healthier than take-out!" Recipe: DamnDelicious.
Slow Cooker Honey Garlic Chicken Dinner
"This Slow Cooker Honey Garlic Chicken is the easiest, most unbelievably delicious slow cooker chicken recipe. Tender and juicy chicken thighs are cooked in the crock pot with potatoes and vegetables in a mouthwatering sweet and savory sauce. It takes less than 15 minutes to prepare and is a perfect weeknight meal for the whole family." Recipe: TipBuzz
Healthy Thai Salmon In Foil
"The flavors are sealed right into a foil packet with no clean up! The salmon comes out so tender/juicy. Sure to be a family favorite!" Recipe: DamnDelicious.
One Pan Cod With Chorizo & Chickpeas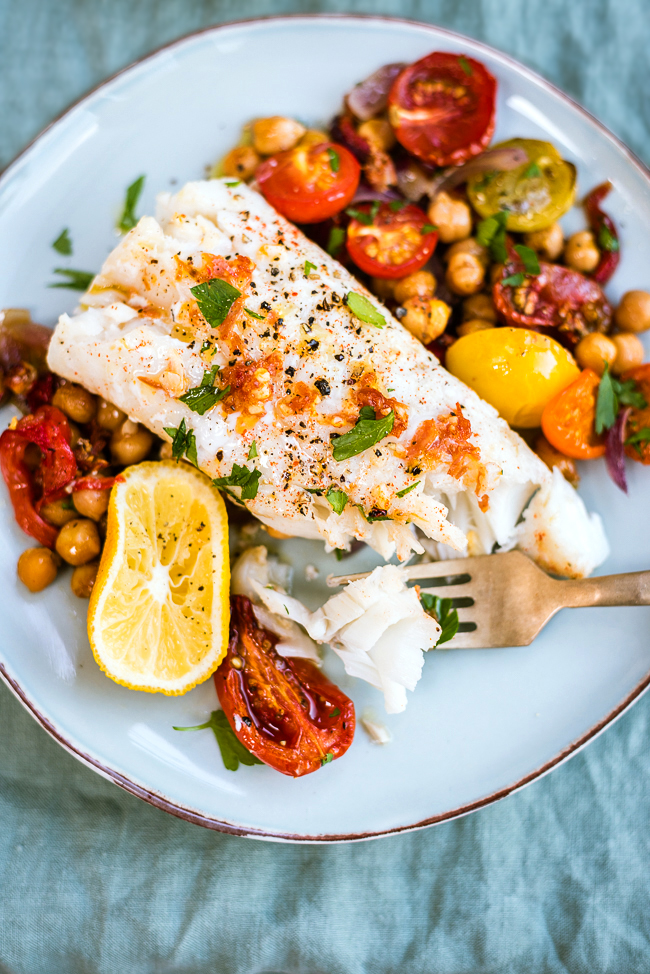 "It is one of the tastiest, healthiest and easiest meals on this blog and ready in about 30 minutes. Tomatoes, onions, peppers, chickpeas and cod spiced up with a little chorizo – basically summer on a plate." Recipe: supergoldenbakes.com
Slow Cooker Chicken Low Carb Nachos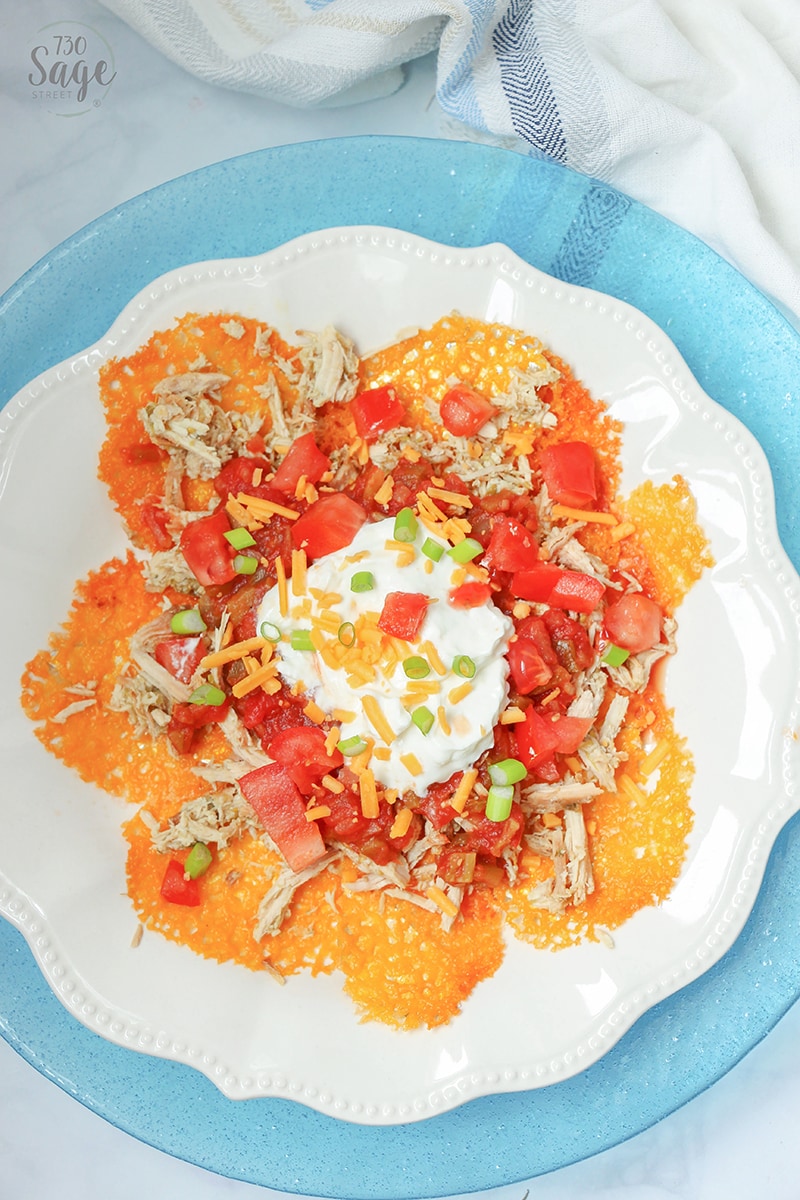 "Make delicious keto nachos with chicken in the slow cooker. These low carb nachos are delicious and use cheddar cheese crisps instead of traditional tortilla chips. Add your favorite toppings like sour cream, tomatoes and onions and you won't even miss the corn chips." Recipe: 730SageStreet.
Sheet Pan Steak And Veggies
"Perfectly seasoned, melt-in-your-mouth tender steak with potatoes and broccoli. All made on 1 single sheet pan! EASY CLEAN UP!" Recipe: DamnDelicious.
Keto Indian Chicken Curry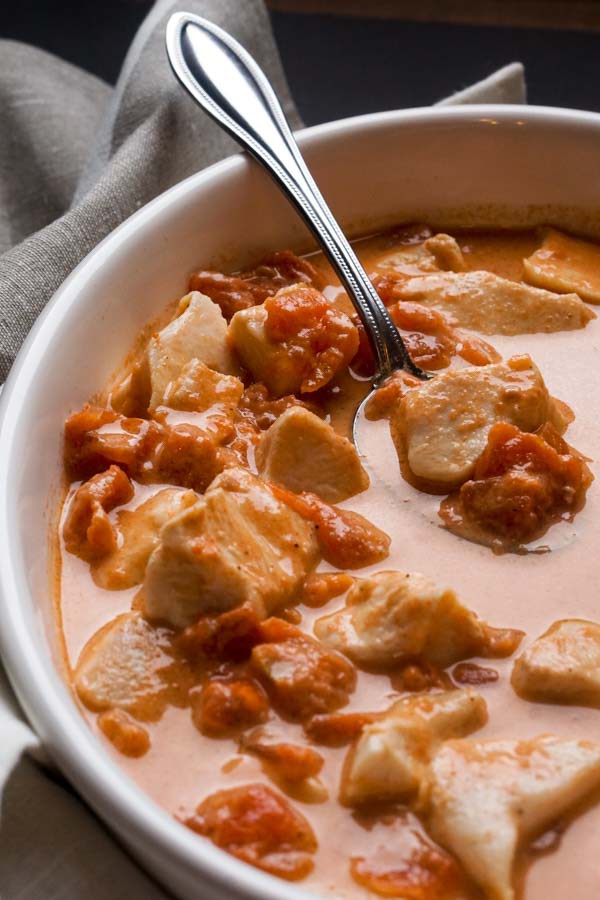 "In a crockpot, combine chicken, tomatoes, coconut milk, ghee, garam masala, ground ginger, and garlic powder. Mix well to ensure chicken breast is evenly seasoned. Cover the slow cooker and set the temperature to low for 6 hours." Recipe: Ketogasm.
Turkey & Tomato Panini
"This panini is packed with flavor. It's zesty and fresh thanks to perfect roma tomatoes, lemon juice, and fresh basil. It's creamy and rich from a combination of mayo, Greek yogurt, and just a bit of parmigiano reggiano. And guess what? It's only 250 calories. Crazy, right?" Recipe: spachethespatula.com
Slow Cooker Keto Chicken Tikka Masala
"Chicken Tikka Masala is a super delicious and flavorful curry that you can now make keto! You can serve this on its own and it's an amazing dish, though you can pair it with some sides to "bulk" it up in a sense. I decided to serve this with cauliflower rice, with a 1/6 serving per person." Recipe: Ruled.
One Pan Lemon Roast Chicken and Asparagus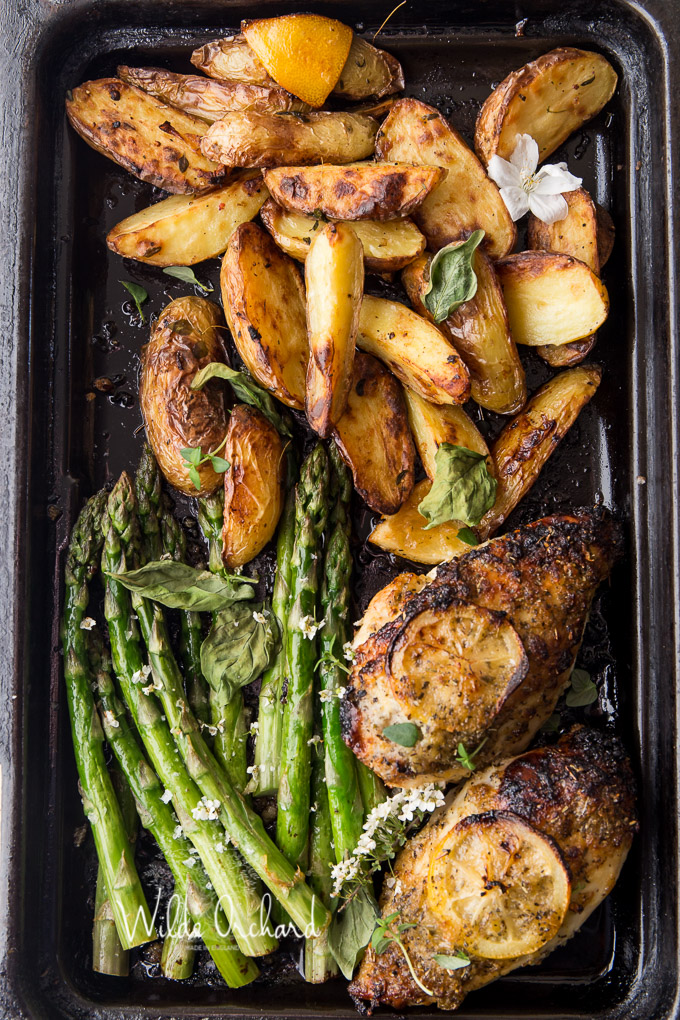 "One Pan Lemon Roast Chicken and Asparagus with roasted lemon pepper potatoes. This is the one pan wonder dinner, of your busy Friday night dreams. Dinner goals, guys!" Recipe: wildeorchard.co.uk
Healthy Lemon Dill Salmon In Foil
"Seriously dead-simple salmon cooked right in foil! 10 minutes prep. No clean-up! And you know lemon-dill flavors are THE BEST!" Recipe: DamnDelicious.
The Best Baked Chicken Fajitas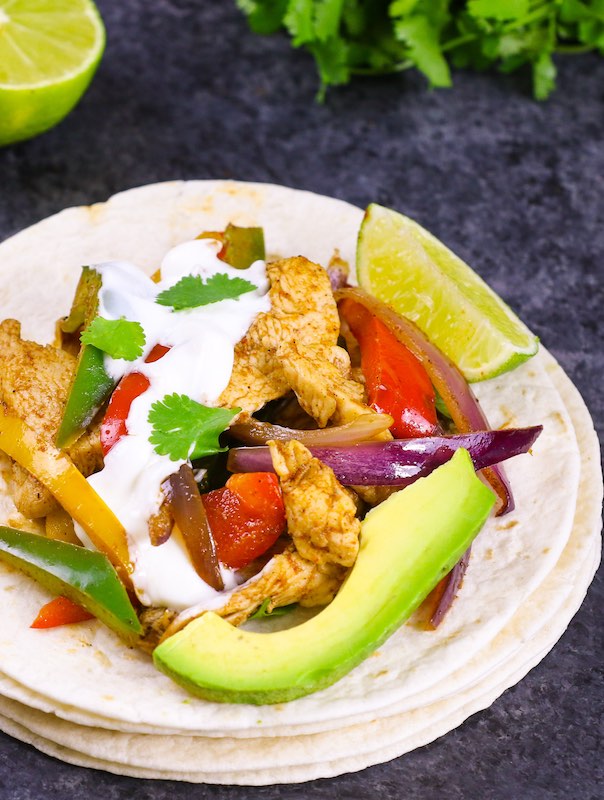 "These Chicken Fajitas are a quick and easy one pan meal with tender chicken and colorful vegetables packed with smoky sweet flavor of traditional fajitas. It takes just 5 minutes to prepare and 20 minutes in the oven, and you will have the most delicious and healthy dinner on the table." Recipe: TipBuzz.
One Pan Healthy Sausage And Veggies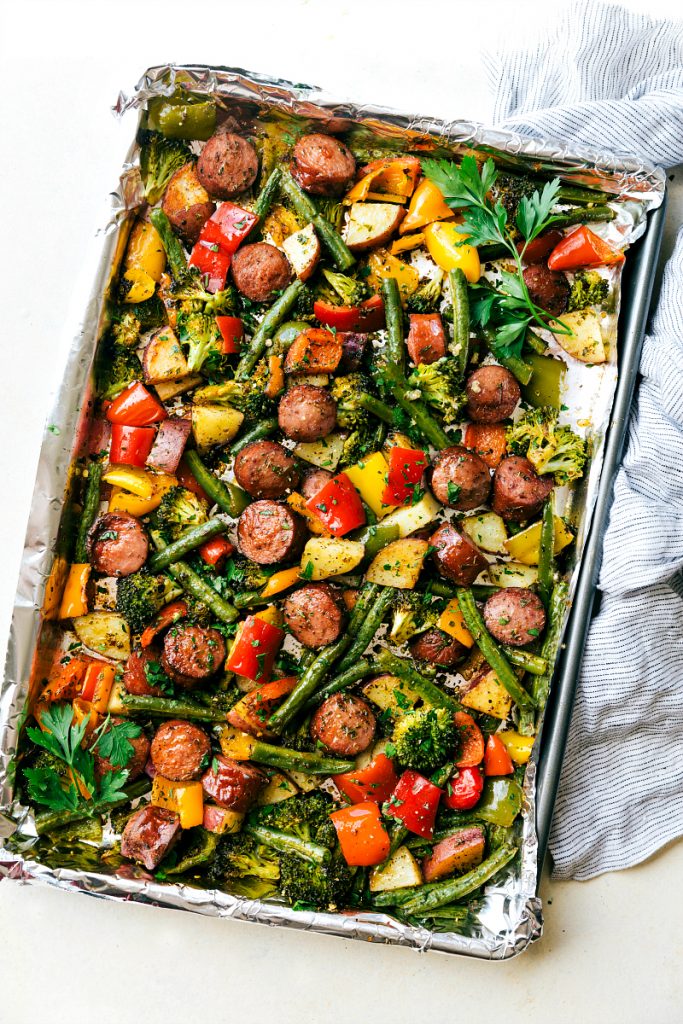 "Roasted garlic-parmesan veggies with sausage and herbs all made and cooked on one pan. 10 minutes prep, easy clean-up!" Recipe: chelseasmessyapron.com
BBQ Chicken Breasts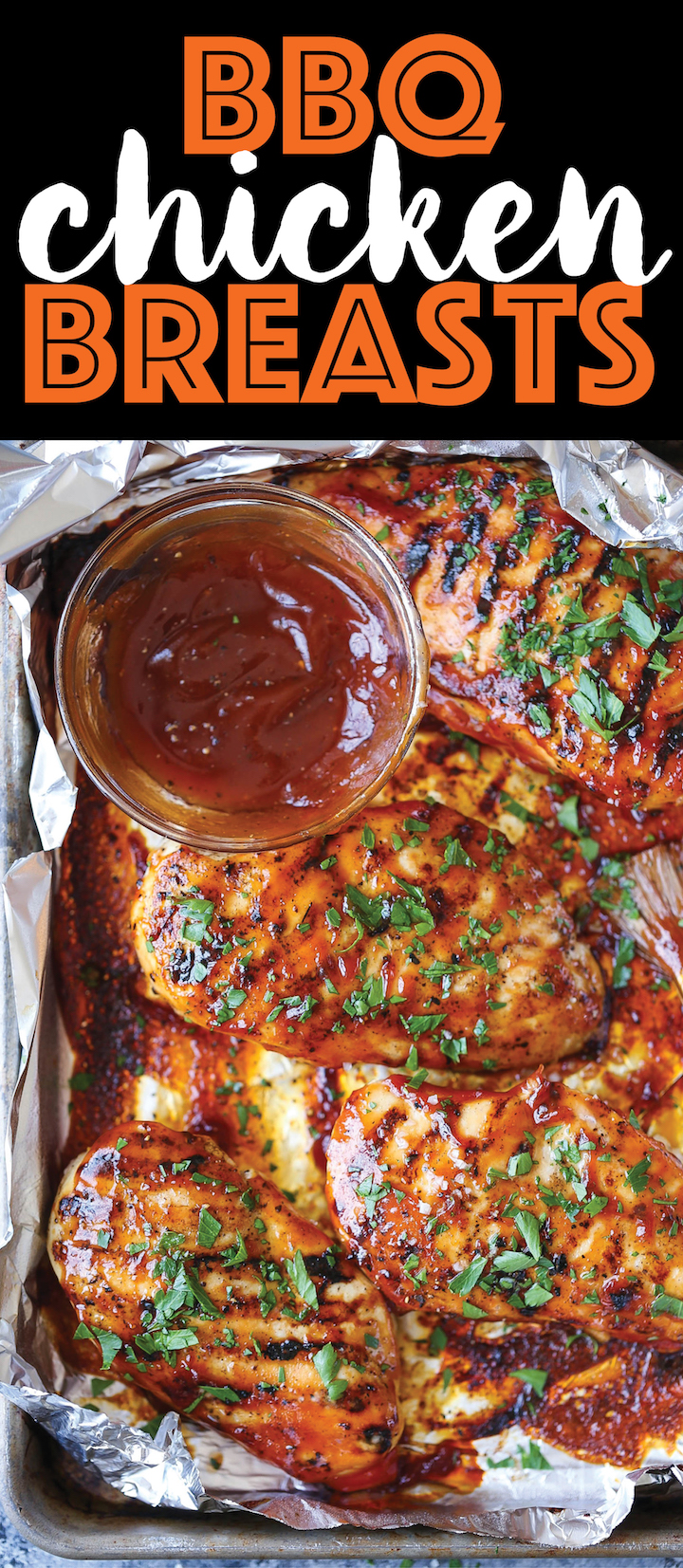 "The most tender, juicy chicken grilled to PERFECTION, smothered in a thick, homemade BBQ sauce. You can also make this ahead of time!" Recipe: DamnDelicious.
Honey Garlic Dijon Pork Tenderloin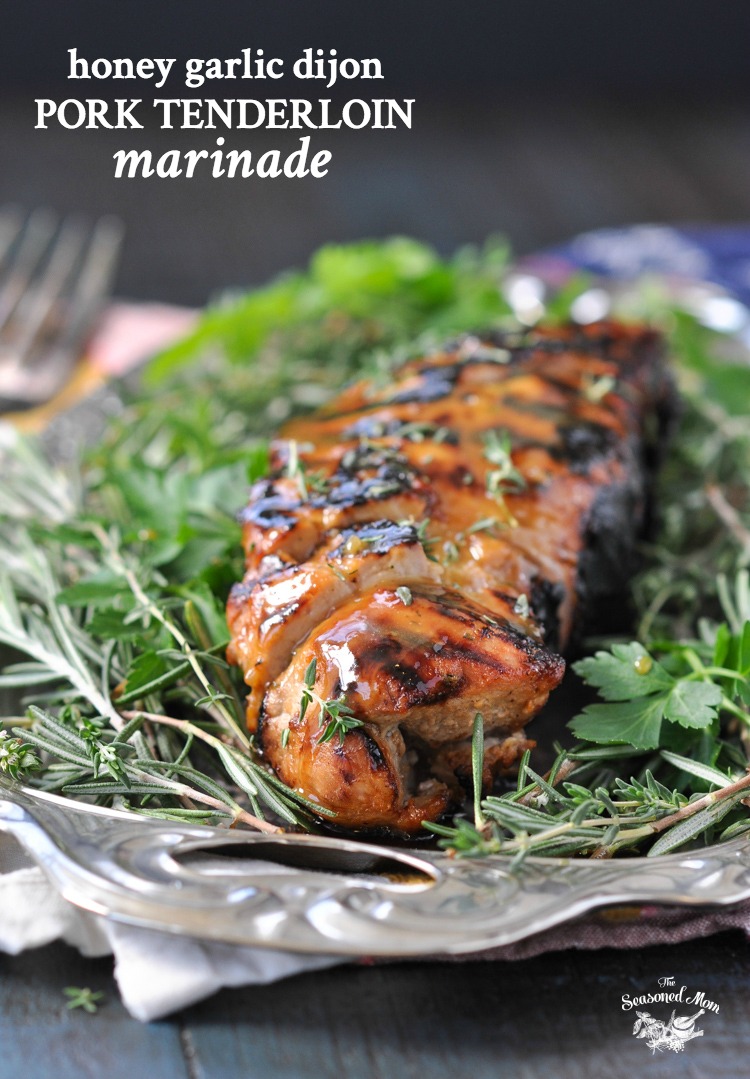 "Pork tenderloin can get a bad rap as the dry, lean, tough alternative to chicken breasts. But that's so not fair! With a simple Honey Garlic Dijon Pork Tenderloin Marinade, this humble cut of meat is elevated to Super Star status! Best of all, the easy dinner only requires 10 minutes of prep before leaving it to marinate in the refrigerator. It's a healthy, make-ahead meal for any busy weeknight!" Recipe from TheSeasonedMom. 301 Calories.
Roasted Shrimp & Brussel Sprouts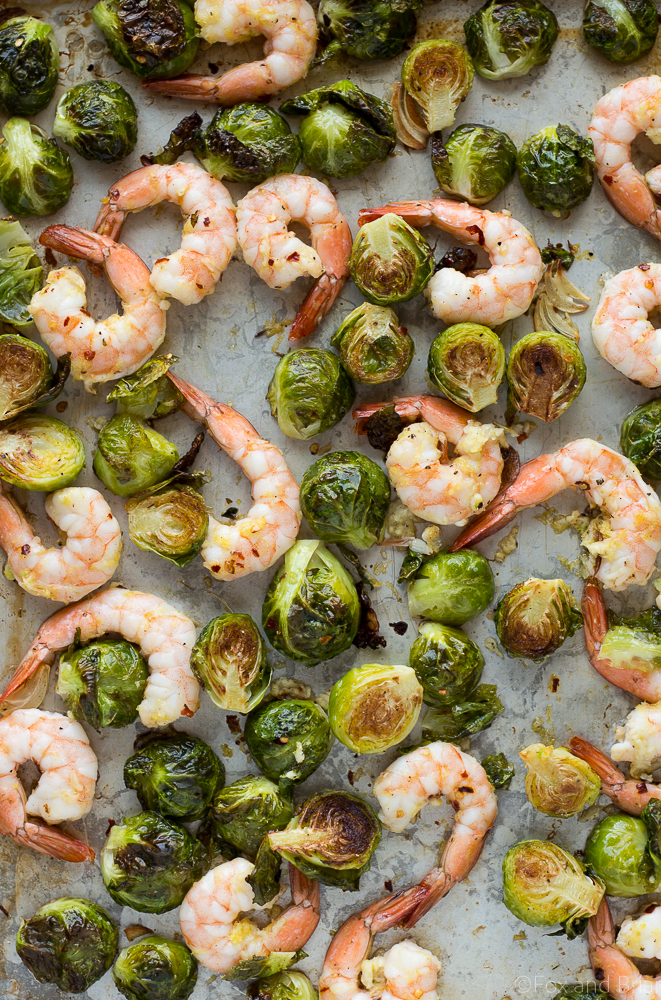 "These Roasted Shrimp and Brussels Sprouts are a quick and easy dinner. Lemon and garlic make this a flavorful sheet pan dinner you can make in about 20 minutes!" Recipe: foxandbriar.com
Maple Pecan Crusted Salmon

"This Maple Pecan Crusted Salmon is a fresh, easy, and healthy clean eating seafood dinner recipe to change up your boring old fish routine — and it's ready in 20 minutes!" Recipe from TheSeasonedMom. 205 Calories.
10 Minute Portabello Mushroom Pizzas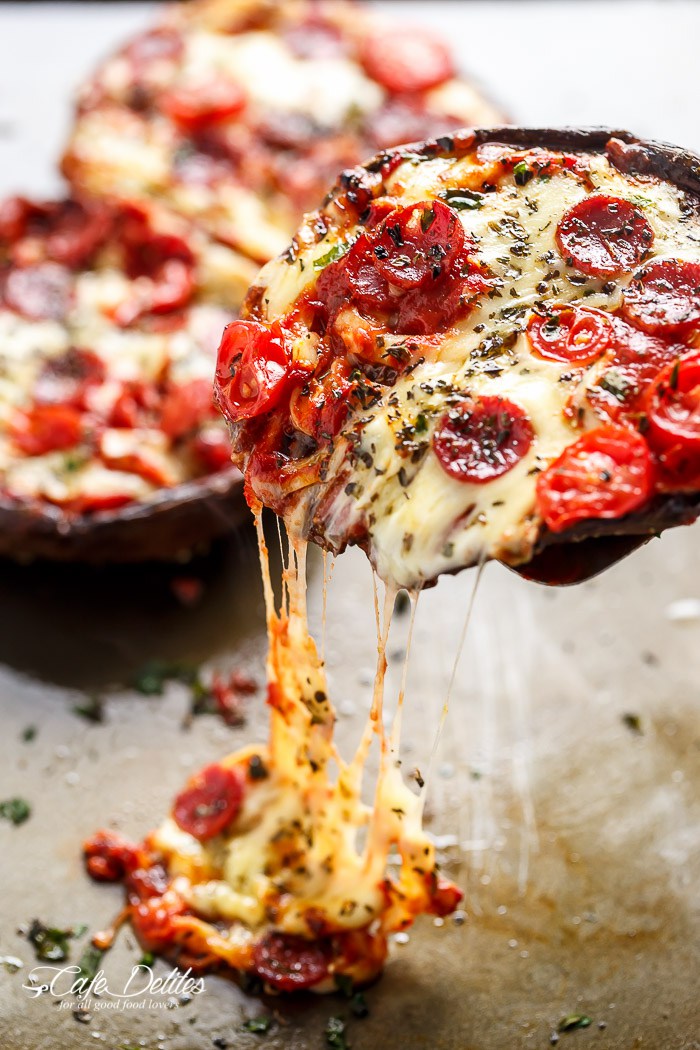 "Portobello Pizzas have ALL the flavours of a GOOD pizza…without the guilt! Using portobello mushroom caps for a pizza crust, these pizzas are quick and easy to make, low carb and ready in less than 10 minutes!" Recipe: cafedelites.com
Sesame Salmon and Cucumber Salad
"Eating a low carbe dinner is one trick she's learned to avoid going to sleep uncertain about her blood sugar. Plus, with a simple salad and quick-cooking fish, it doesn't take long to prepare." Recipe from TheGantzery.
Chicken & Asparagus Lemon Stir Fry
"Asparagus is one of my favorite Spring vegetables, and this quick stir-fry made with chicken, lemon, garlic and ginger is a great way to make it a weeknight meal." Recipe: skinnytaste.com
Low Fat Pesto Vegan Pasta Salad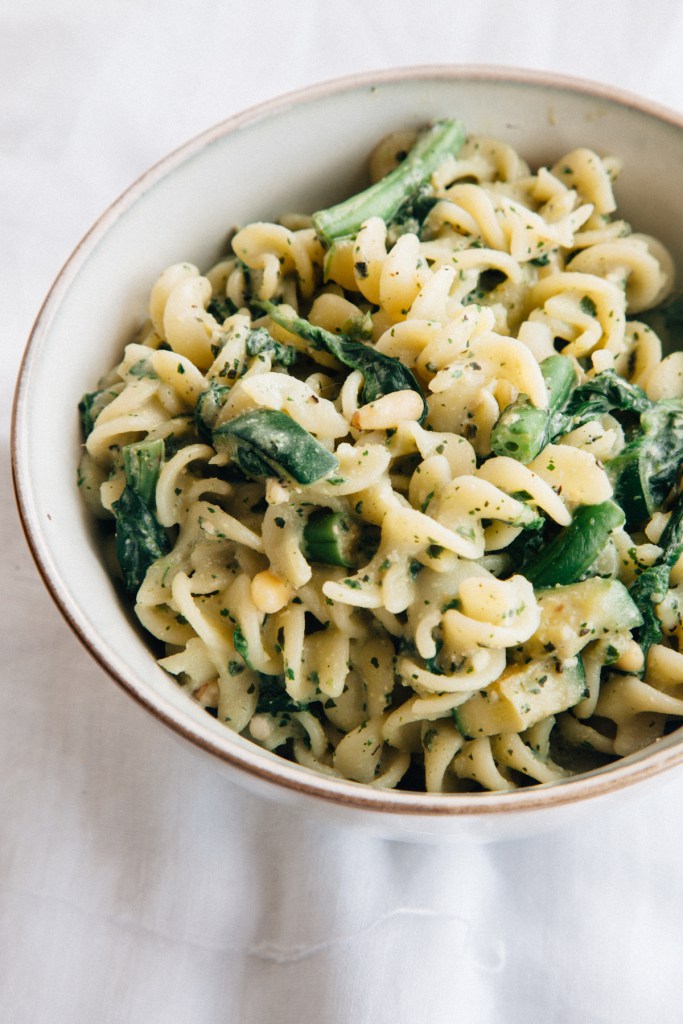 "One of my favourite ever lunch choices used to be a pesto pasta salad from Marks & Spencers. Made with pesto, pine nuts, parmesan, spinach and a TON of olive oil – it wasn't very healthy but it was damn delicious. So I've decided to recreate that deliciousness in vegan, gluten-free and low-fat form!" Recipe: wallflowerkitchen.com
Smashed Mexican Bean Avocado Toast (Vegan Friendly)
"Smashed Mexican Beans Avocado Toast! Avocado Toast Recipes need a little upgrade. This Fully Loaded MEXICAN style avocado toast recipe is Gluten Free, Vegan Friendly loaded with Flavor!! A simple, yet spicy, meatless meal, breakfast, or even a healthy appetizer." Recipe from CotterCrunch.
Steak Fajita Roll Up

"Steak Fajita Roll-Ups – Ditch the flour tortillas and make this amazing low-carb version of your favorite steak fajitas!" Recipe: diethood.com
Slow Cooker Detox Moroccan Sweet Potato Lentil Soup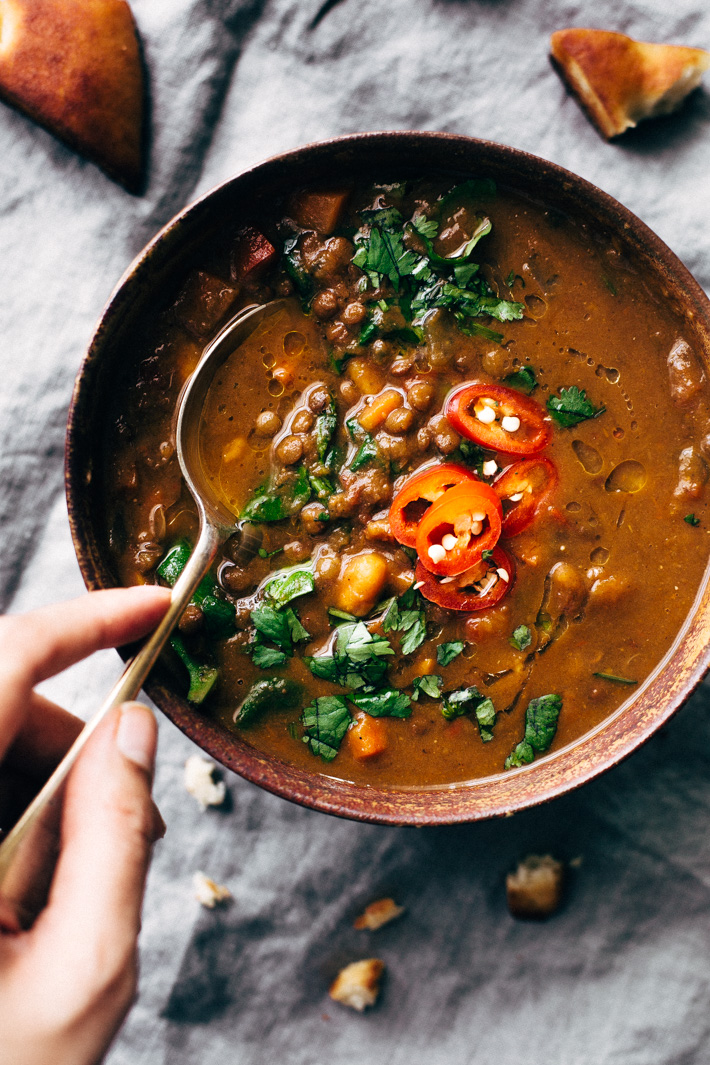 "A soul-warming Moroccan sweet potato lentil soup recipe. This soup is made in the slow cooker and requires hardly any work at all. Plus, it makes the whole house smell warm and cozy!" Recipe: littlespicejar.com
Healthy Turkey Lettuce Wraps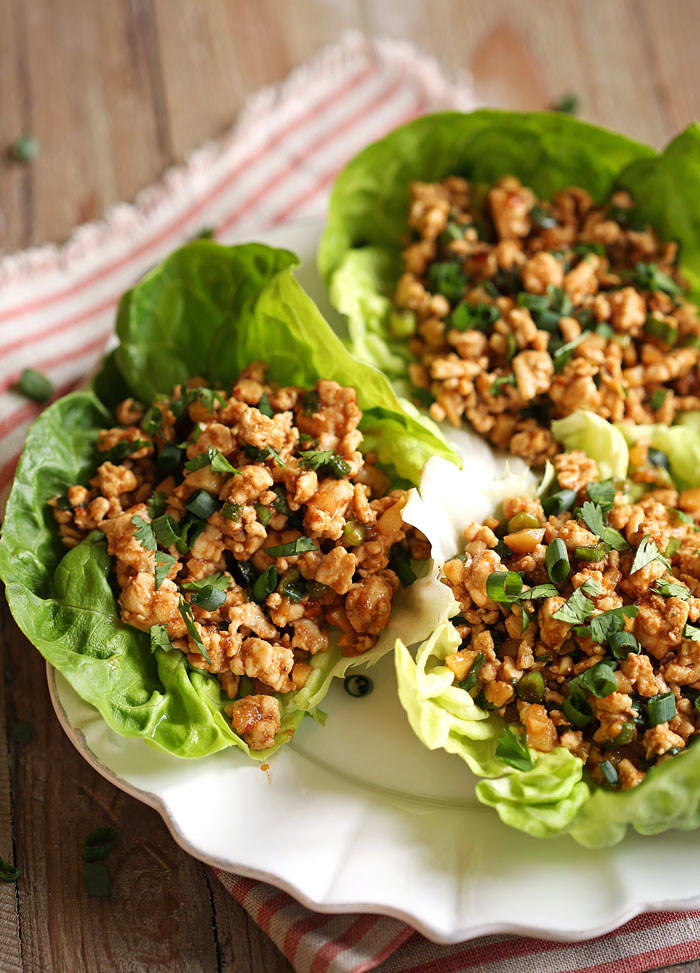 "If you are a fan of P.F. Changs' lettuce wraps like we are then you will seriously LOVE these. Not only are the flavors in this dish insane, but the entire recipe literally only takes about 15 minutes from start to finish! I used ground turkey in place of beef which I actually prefer better, but you could also use ground chicken." Calories – 162. Recipe: EatYourselfSkinny.
Apple, White Cheddar & Grilled Chicken Salad
"There's nothing like grilled chicken to add flavor to a salad. If you don't have an outdoor grill you can use a grill pan. The marinade for the chicken and the vinaigrette for the salad are one in the same. I love time savers like this." Recipe: averiecooks.com
Lemon Roasted Salmon With Sweet Potatoes & Broccolini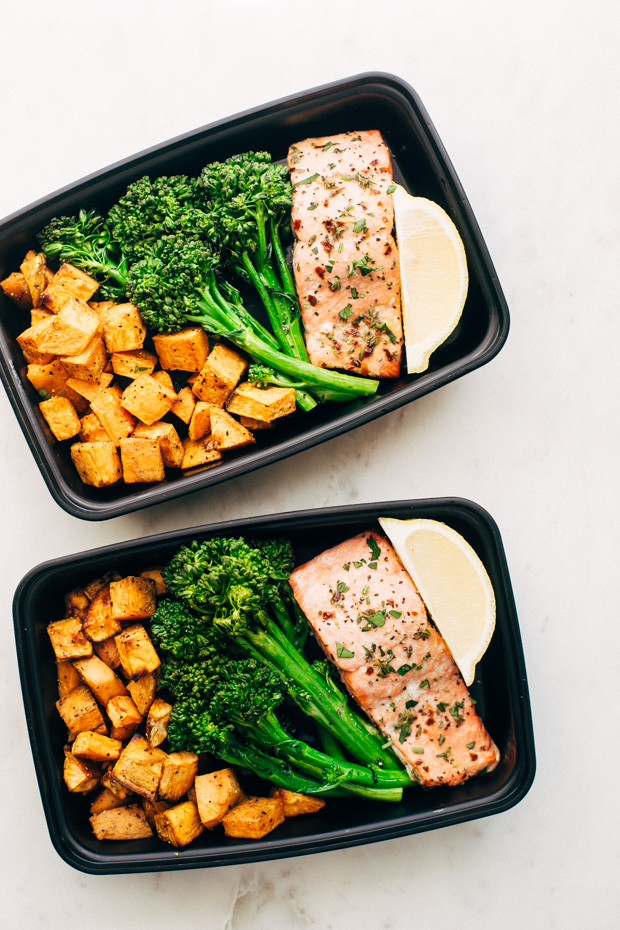 "Learn how to meal prep this easy lemon roasted salmon with sweet potatoes and broccolini. It's simple to do and works great for easy lunches and dinners! Just heat and EAT." Recipe: http://littlespicejar.com/lemon-roasted-salmon/
Basil & Feta Sauce Chicken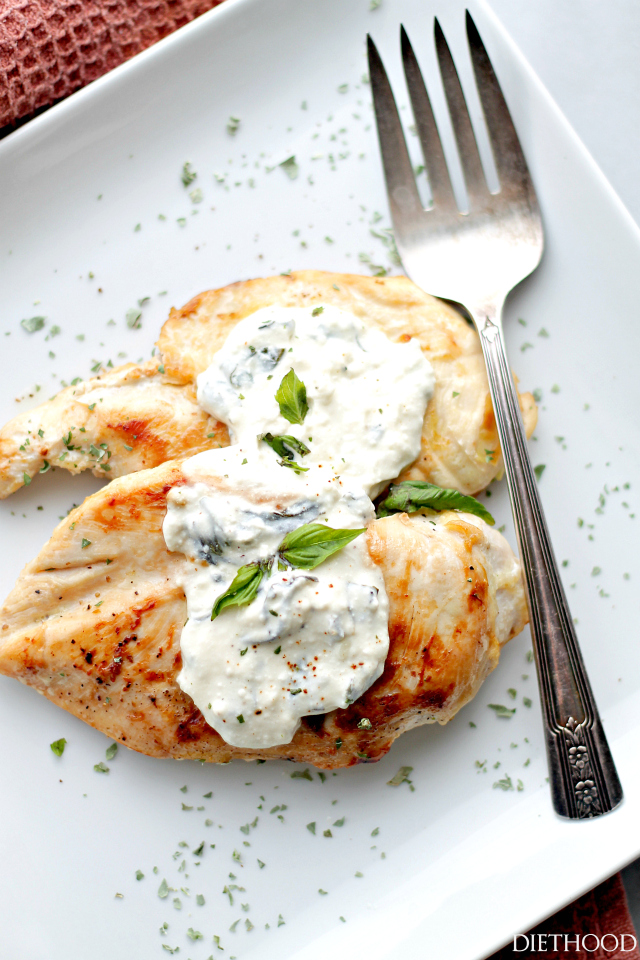 "Basil-Feta Sauce Chicken – Flavorful and tangy sauce made with basil, garlic and feta cheese served over deliciously juicy chicken." Recipe from DietHood.
Tinfoil Cheesy BBQ Pulled Pork And Veggies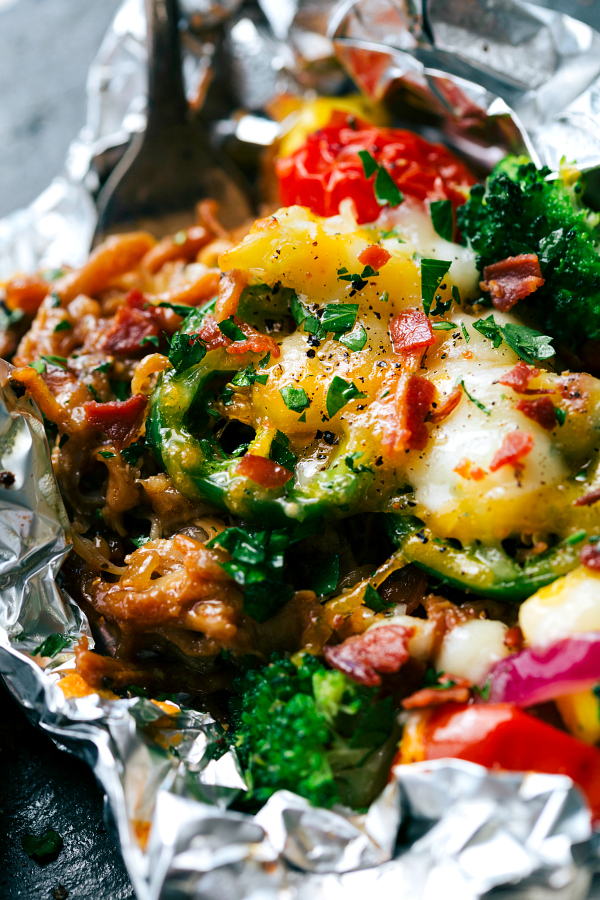 "Foil pack "crustless" sweet BBQ pulled pork pizza with your favorite pizza toppings all cooked together with a side of veggies: broccoli and cherry tomatoes!" Recipe: ChelseasMessyApron.
Lemon Garlic Butter Fish in Parchment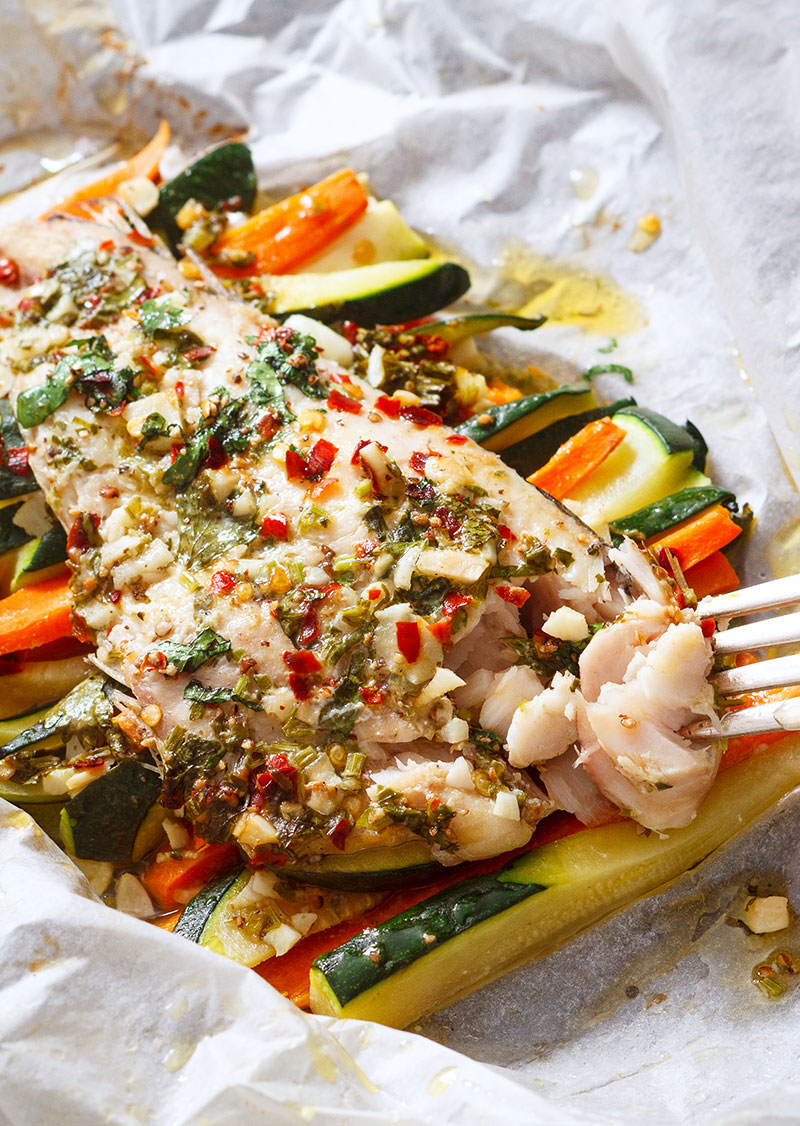 "For a healthy all-in-one dinner you can make any time in the week, this garlic butter fish in parchment takes a few minutes to prepare and requires minimal clean-up. Cooking in parchment paper pouches enhances the flavors of spices, crisp vegetables and the garlicky butter sauce." Recipe: EatWell101.
Easy Tin Foil Sausage & Vegetables Dinner
"These delicious and easy tin foil packets are so quick to assemble! They are packed with sausage, tons of veggies, and the best seasoning mix. This easy tin foil sausage and veggies dinner is sure to be a family favorite this summer!" Recipe: ChelseasMessyApron. 333 Calories.
Foil Pack Creamy Salsa Verde Chicken, Rice And Veggies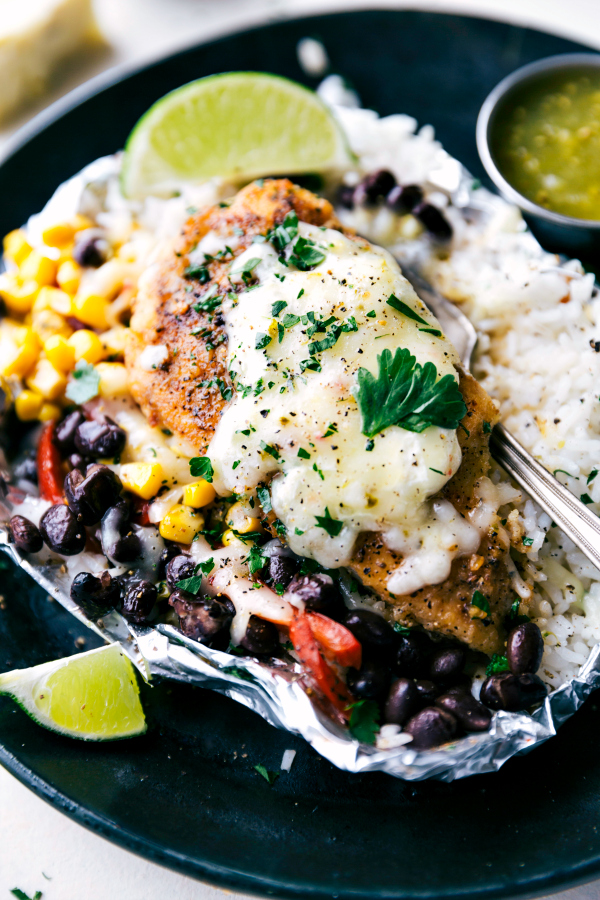 "Creamy salsa verde chicken with rice and veggies all cooked at once in a foil packet! No need to pre-cook the rice or chicken. This dish takes no more than 10 minutes to assemble and is bursting with delicious Mexican flavor." Recipe: ChelseasMessyApron.
Garlic Butter Baked Salmon In Foil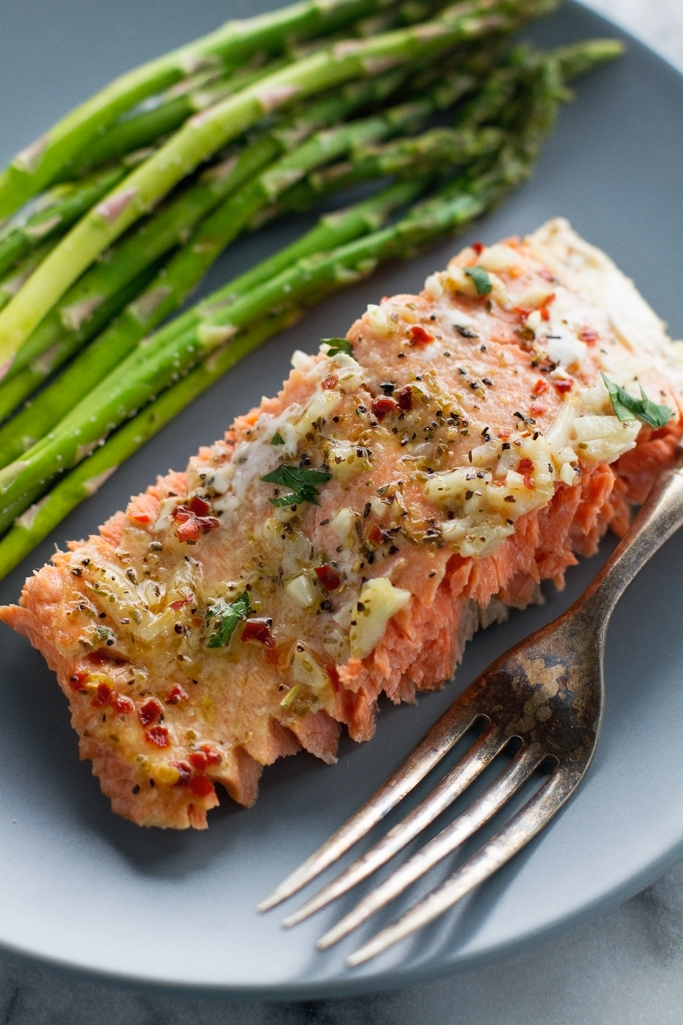 "Baked salmon in foil that's been brushed with my lemon garlic butter sauce. This recipe is so easy to make and pulls together in less than 30 minutes! The salmon is so flakey and tender when baked inside foil. You're going to love this recipe!" Recipe: littlespicejar.com
Indian Spiced Paleo Baked Salmon Fillet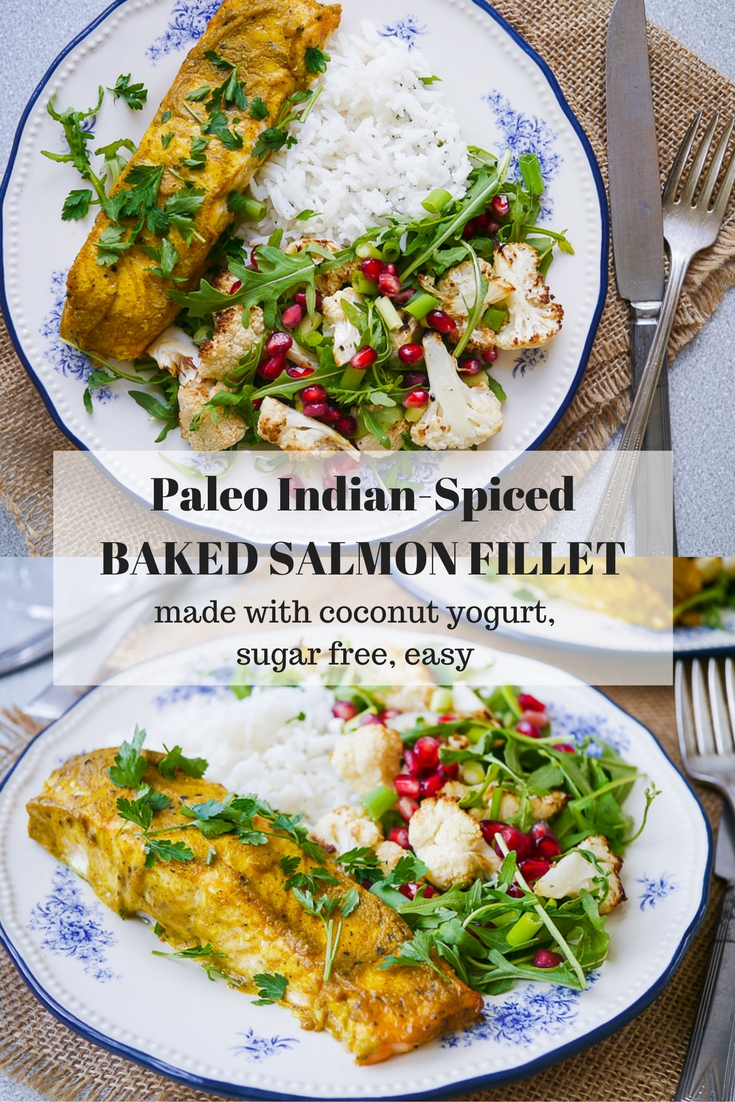 "Popping a salmon fillet in the oven for dinner is one of my favourite easy meals to prep. It cooks so quickly and is no mess, no fuss, and while it's baking away you can throw together a quick salad, make some rice or steam some vegetables for the sides." Recipe: nourisheveryday.com
Tilapia In Parchment With Tomatoes & Olives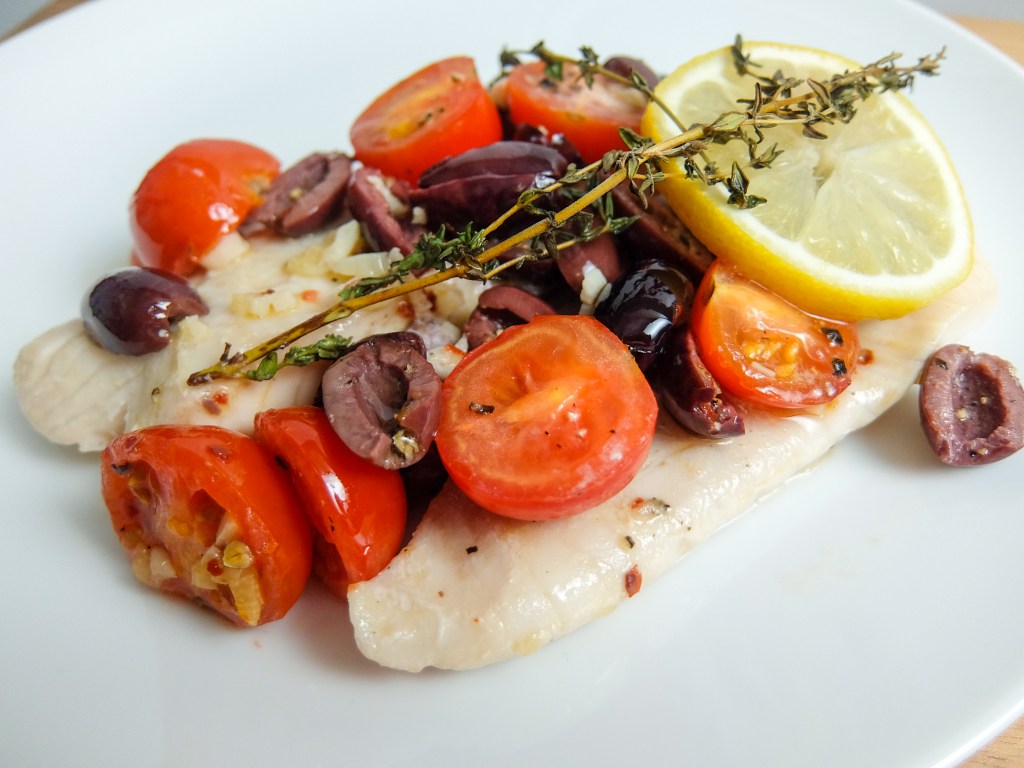 "This is a beautiful, fresh, and healthy dish that looks like you put more effort into it than you actually did. You can even call it tilapia "en papillote" if you want to sound all French and fancy." Recipe: Trialanderrorbklyn.
Easy Shrimp & Broccoli Stir Fry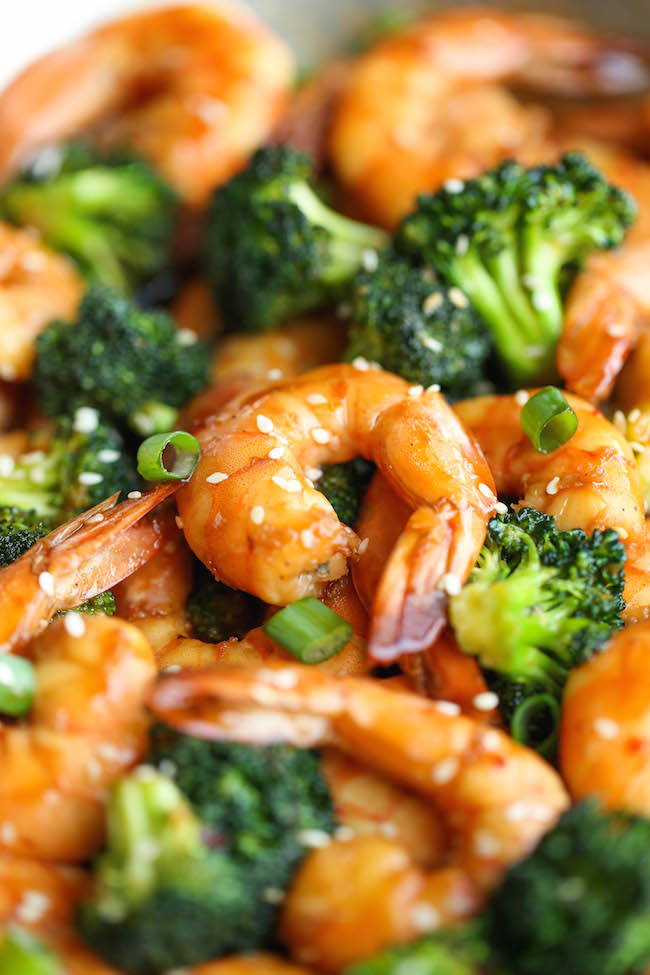 "The easiest stir fry you will ever make in just 20 min – it doesn't get easier (or quicker) than that!" 287.3 calories. Recipe: DamnDelicious.
Roasted Salmon With Kale & Cabbage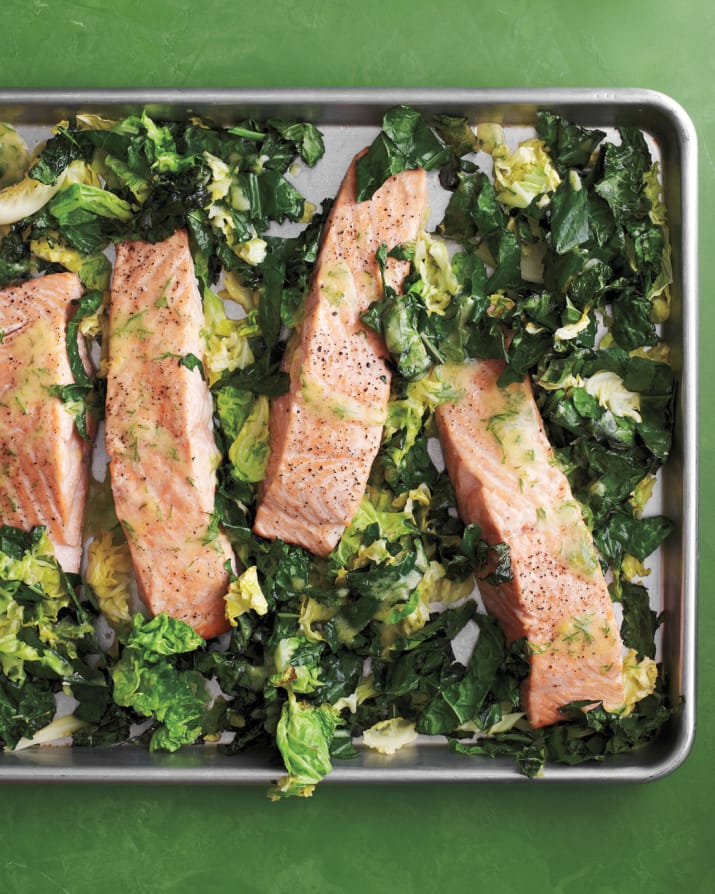 "A one-pan dish that really brings the flavor, this simple meal will easily feed your whole family." Recipe: MarthaStewart.
One Pan Salmon, Sweet Potatoes & Asparagus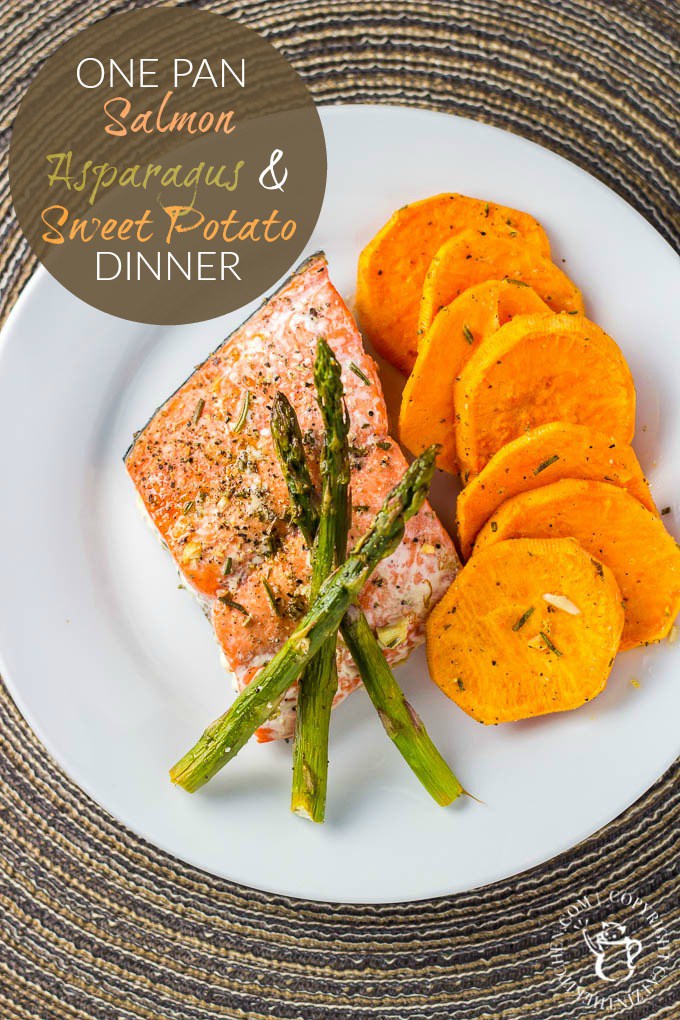 "Sometimes you need a superfood fix, and this one pan salmon dinner with asparagus and sweet potatoes provides a full meal that is easy, healthy, and quick!" Recipe: CatzInTheKitchen.
5 Ingredient Easy White Chicken Chili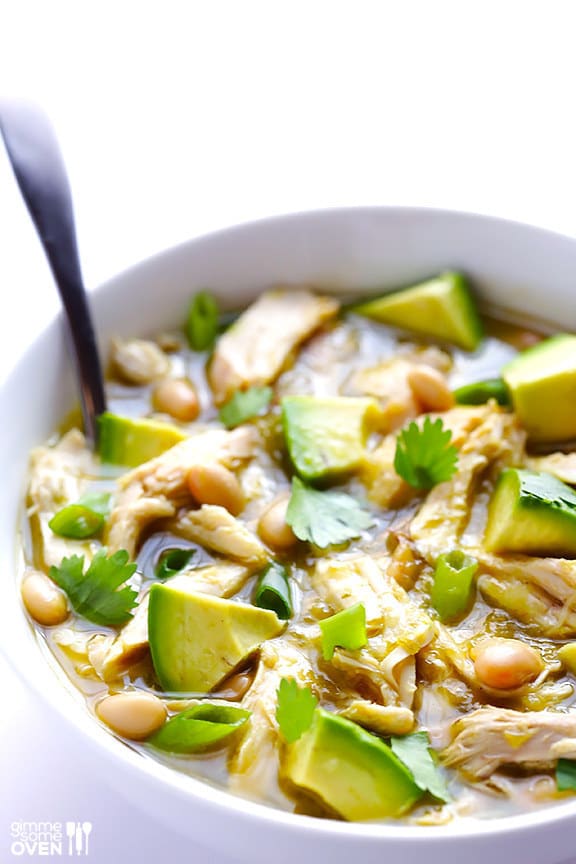 "In addition to only calling for a handful (get it, a handful) of ingredients, this easy white chicken chili recipe also can be made and on the table in just 15 minutes. Definitely a perfect busy weeknight meal, and it also makes great leftovers and can be frozen for later." Recipe: GimmeSomeOven.
Tinfoil Garlic Parmesan Salmon And Veggies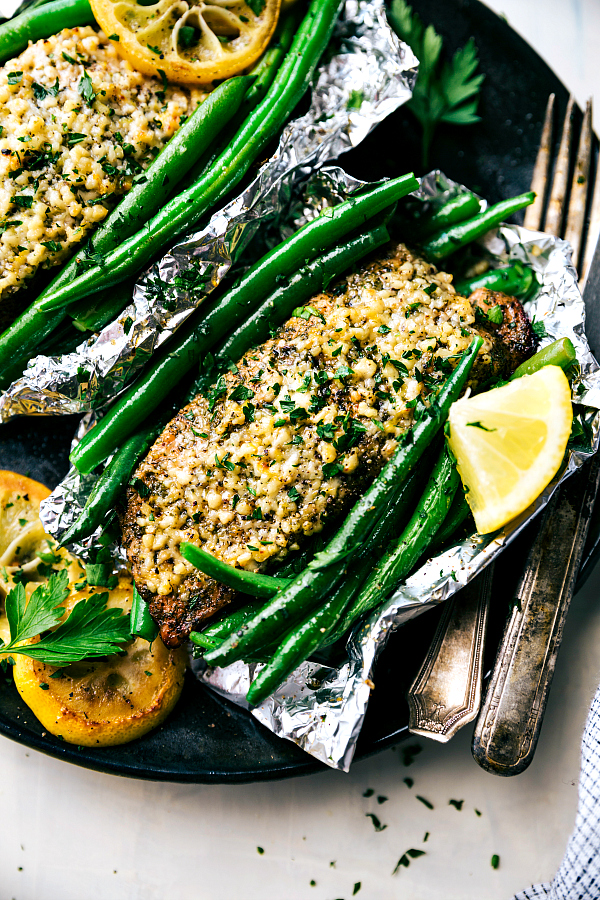 "So fast and easy to make! Lemon garlic parmesan salmon and green beans in foil packets cooked over the grill or in the oven." Recipe: ChelseasMessyApron.
Asian Salmon In Foil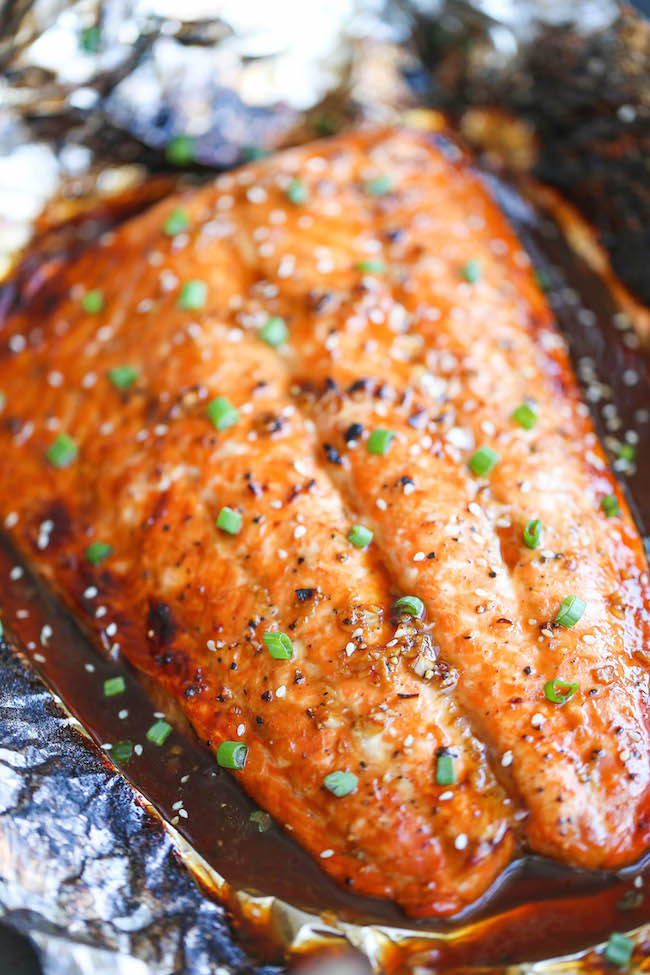 "The best and easiest way to make salmon in foil – and you won't believe how much flavor is packed right in!" Recipe: DamnDelicious. 434 Calories.
Lemon Chicken & Potatoes In Foil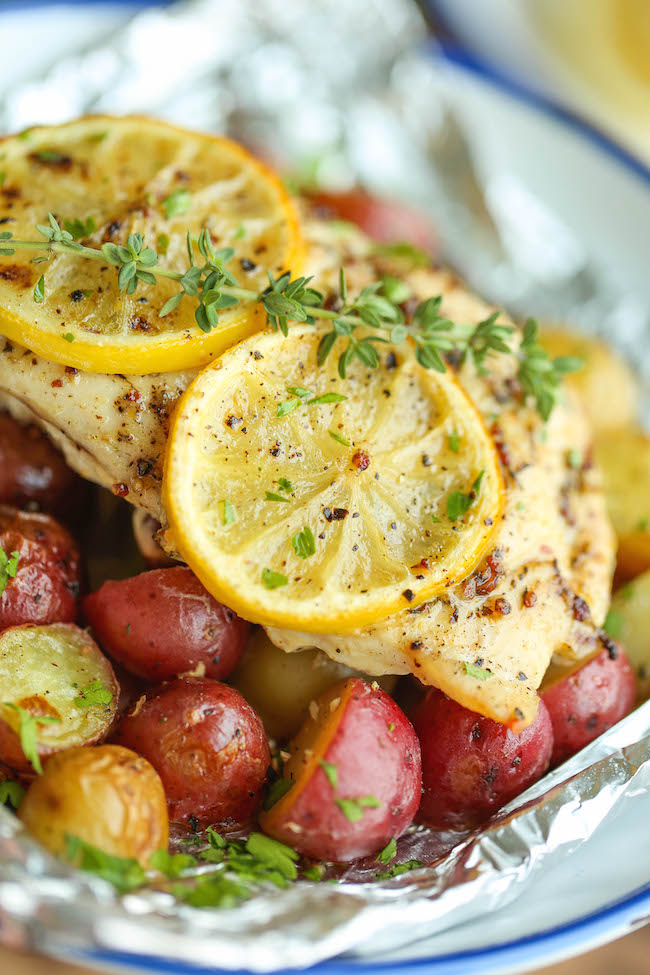 "The most amazingly moist and tender chicken breasts cooked in foil packets – so easy and packed with tons of flavor!" Recipe: DamnDelicious. 396 Calories.
Baked Pork Loin And Veggies In Parchment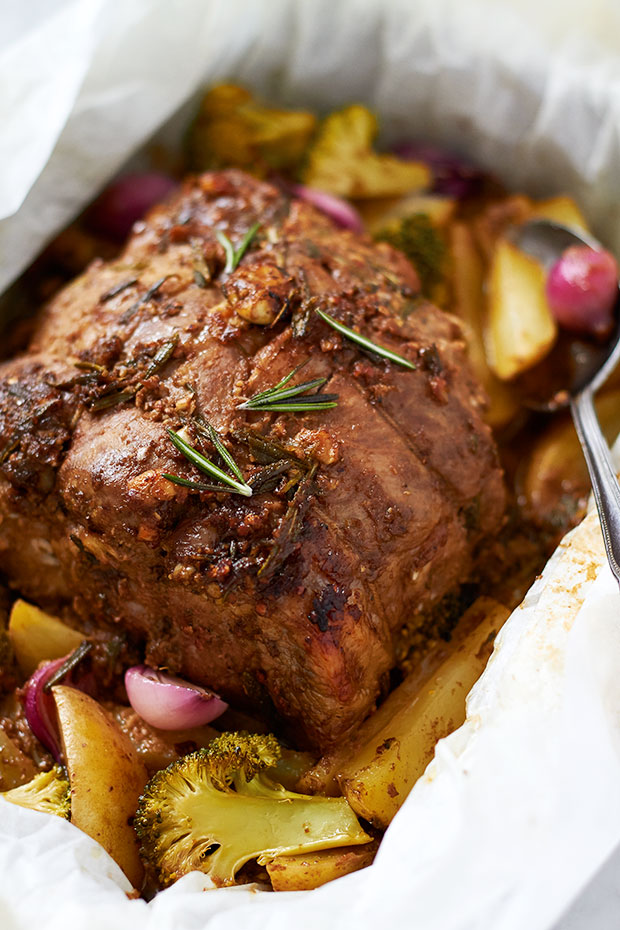 "With this tender and sweet baked pork loin and Vegetables, you are sure to make a huge hit with your family. Cooked with balsamic, garlic and herbs marinade in a parchment paper packet, the meat comes out incredibly moist and juicy." Recipe: EatWell101.
Cod en Papillote with Potatoes, Asparagus and Scallion Pistou
"This method cooks the fish and vegetables perfectly, leaving the asparagus with a little bit of crunch to balance out the flaky cod. It's perfect if you're avoiding grains and want something bright tasting, but filling that's not incredibly time consuming." Recipe: ABetterHappierStSebastian.
Sausage, Potato & Green Bean Foil Packets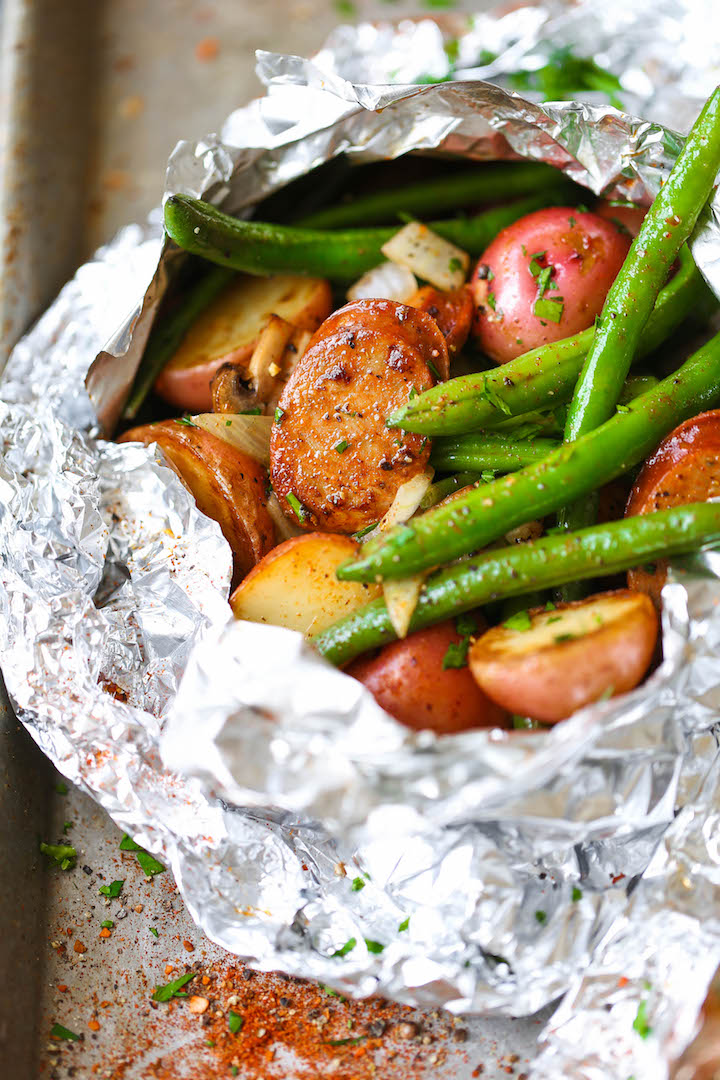 "Sausage and veggies packed in easy foil packets. Perfect for camping or a quick dinner! Can be baked/grilled." Recipe: DamnDelicious.
Grilled Herbed Chicken & Potato Foil Packs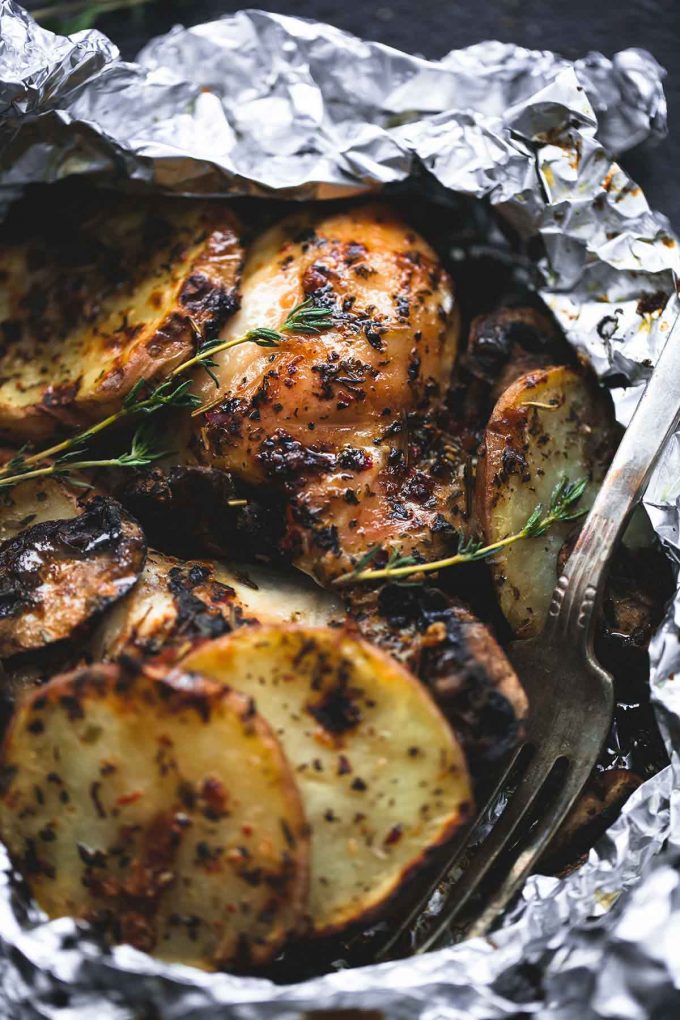 "Grilled herbed chicken & potato foil packs are a fun and simple summer dinner that the whole family will love. They can even be cooked on a camping stove or over a fire!" Recipe: LaCremeDeLaCrumb.
Tinfoil Sausage And Vegetables Jambalaya
"Andouille sausage, veggies, uncooked rice, and a delicious spice mixture — throw it all together in some tin foil and forget about it!" Recipe: ChelseasMessyApron. 429 Calories.
Mediterranean Cod En Papillote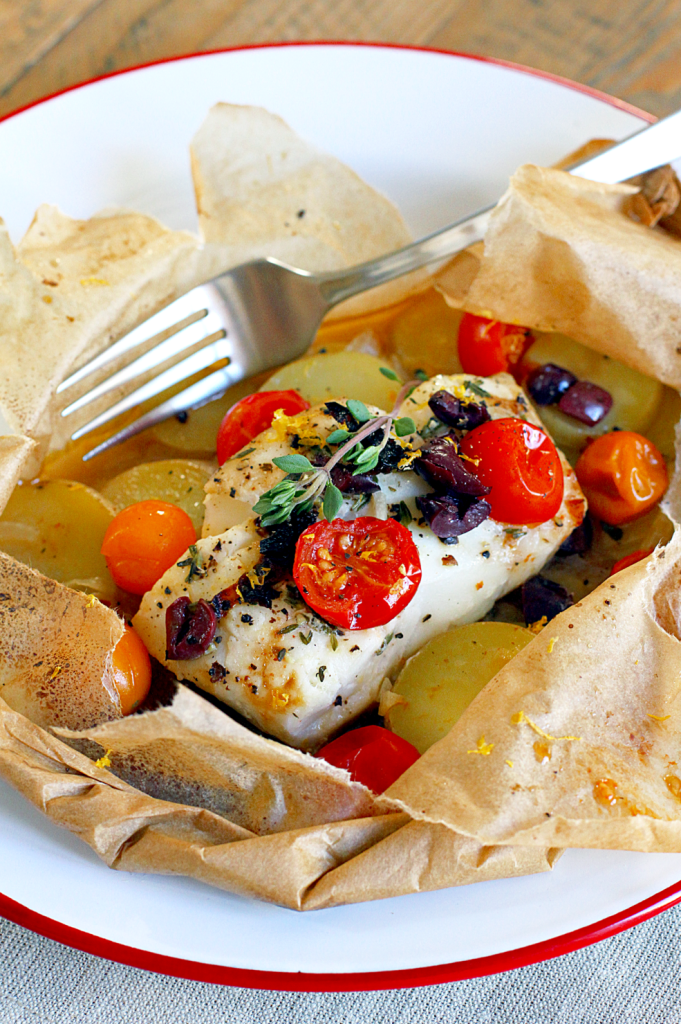 "Cod en papillote is at once rustic and elegant, making it an ideal entrée for casual or formal dining. Serve it with a green salad and your favorite white wine, and I guarantee you and your guests will be delighted." Recipe: TwoOfAKindCooks.
Lemon Chicken & Asparagus Foil Packs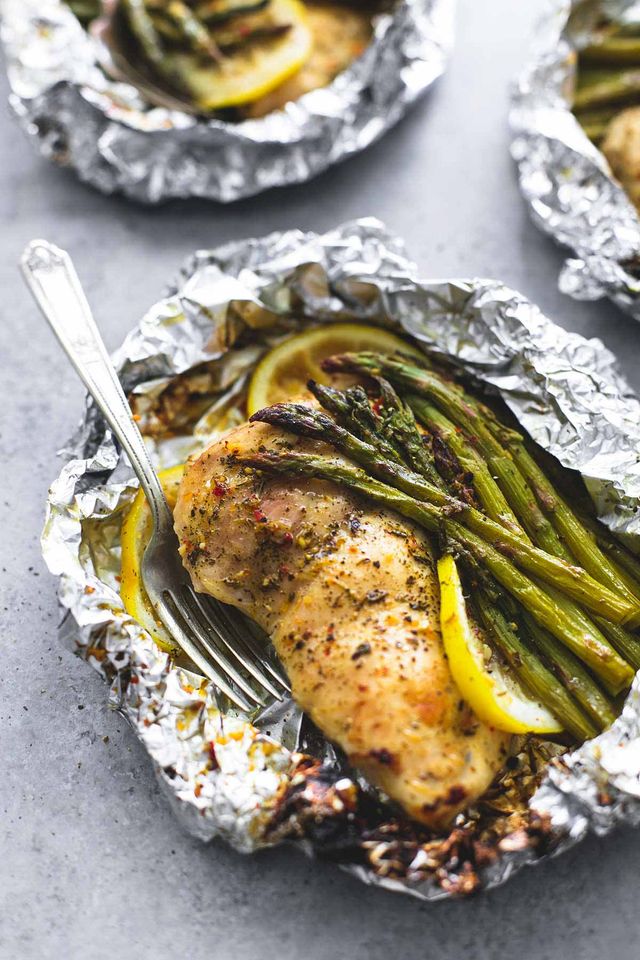 "Simple lemon chicken & asparagus foil packs are an easy and incredibly delicious 30-minute meal you can either grill, or bake any time of the year." Recipe: bloglovin.com
Salmon En Papillote With Vegetables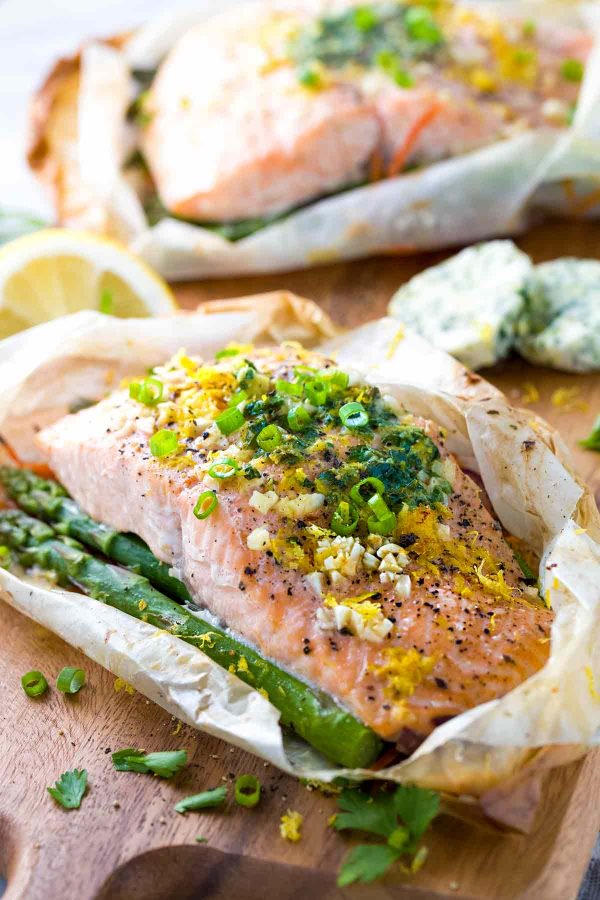 "Salmon fillets placed on a bed of vegetables, wrapped in a parchment paper pouch (en papillote) and baked in the oven. The fish is also topped with basil compound butter for extra flavor!" Recipe: JessicaGavin. 363 Calories.
Foil Pack Italian Chicken + Veggies
"I changed up the veggies a bit, but you've still got all the amazing Italian seasonings. Plus, this dish is just about as inexpensive to make and just as healthy. Good-for-you ingredients, very little prep, and virtually no clean-up! This dinner is a mega win!" Recipe: ChelseasMessyApron.
Shrimp, Bok Choy & Noodles En Papillote
"Delicious, Asian-inspired Shrimp en Papillote, with shrimp, bok choy and noodles, cooked in parchment paper packets." Recipe: SeasonsAndSuppers.
Sausage And Peppers Foil Packets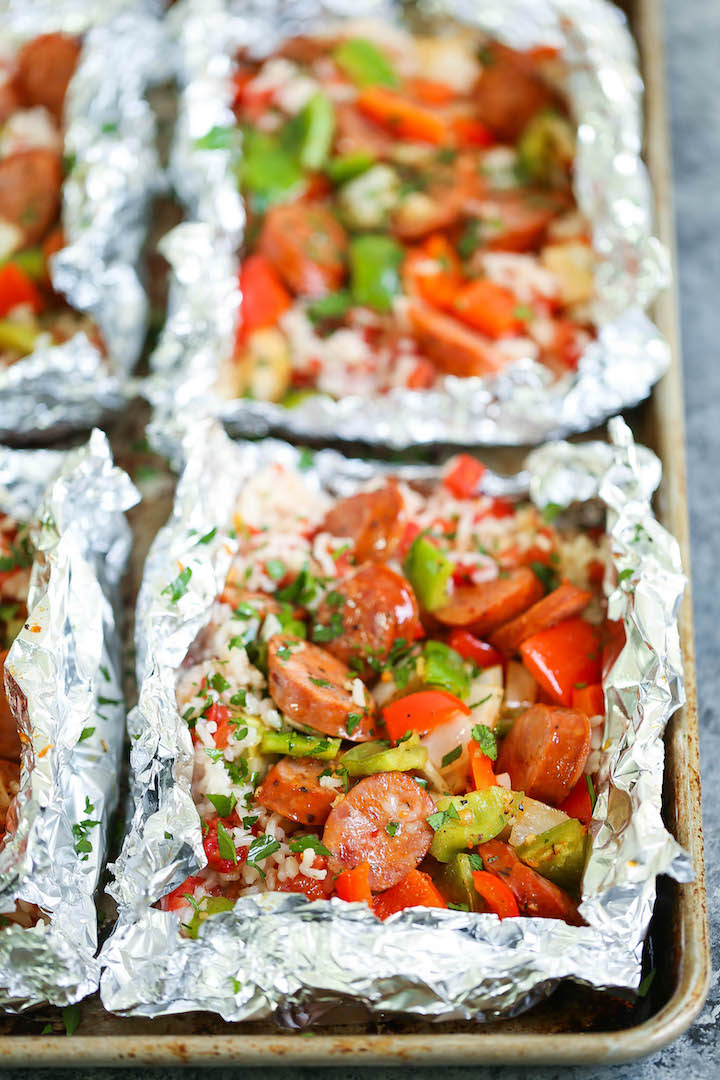 "Prep ahead of time and portion these into individual servings! Loaded with sausage, peppers, rice and cajun seasoning!!!" Recipe: DamnDelicious. 463 Calories.
Pesto Caprese Chicken In Foil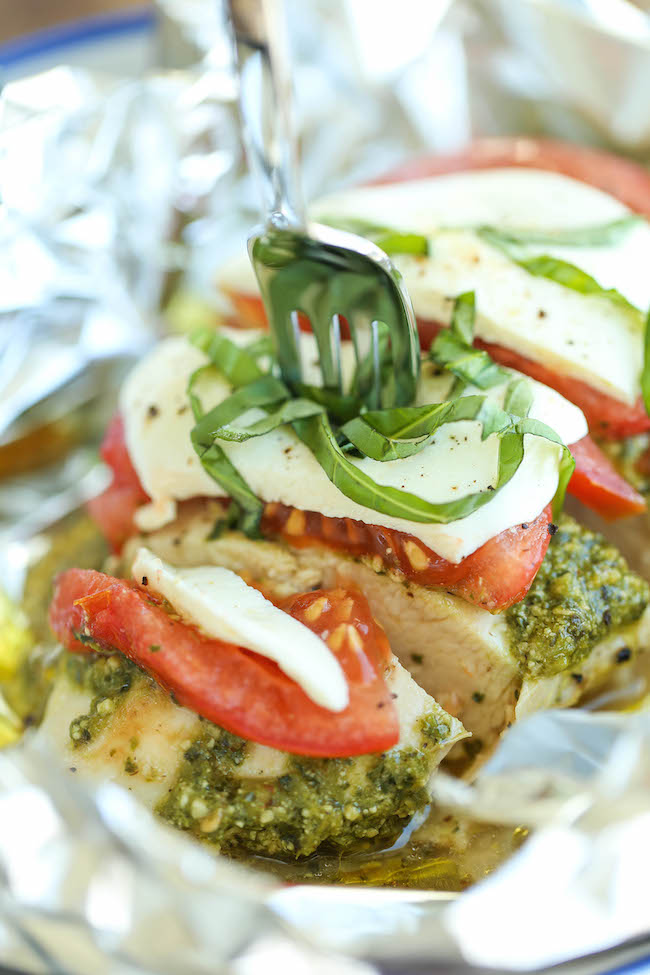 "Dinner has never been easier with these foil packets – simple wrap and bake. SO EASY! And the leftovers taste even better!" Recipe: DamnDelicious. 605 Calories.
Shrimp Fajitas In Foil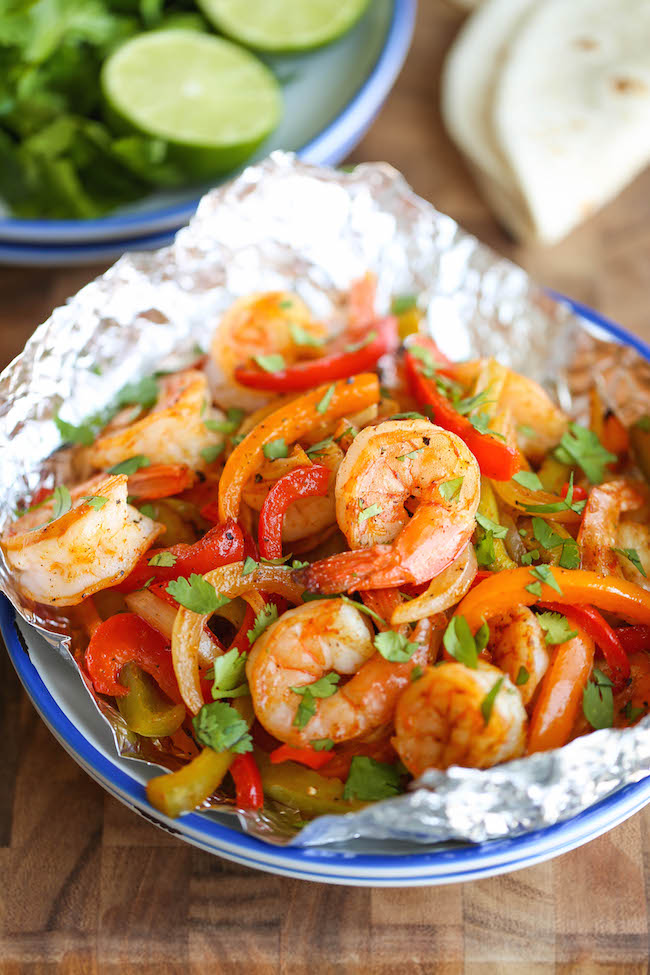 "Making fajitas has never been easier than this – simply wrap and bake. That's it! And clean-up is an absolute breeze!" Recipe: DamnDelicious. 273 Calories.