39 Vegetarian Weight Loss Recipes That Are Healthy And Delicious!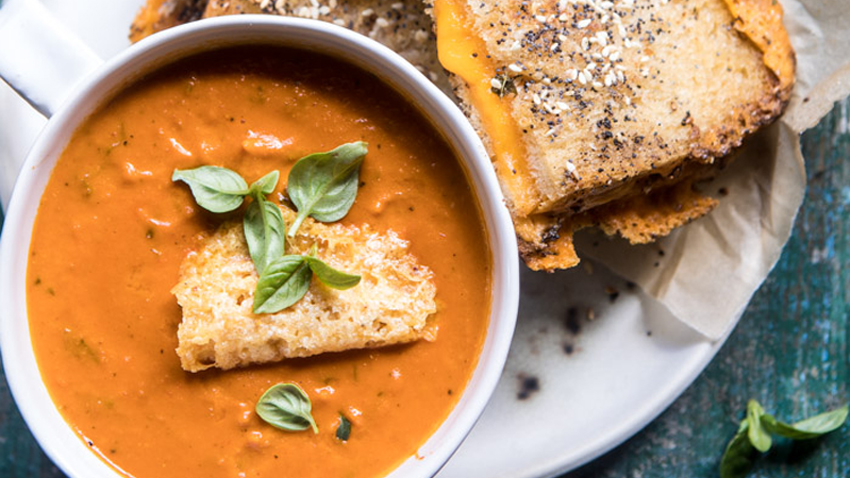 You don't need to be a vegetarian, to enjoy some amazing, delicious vegetarian recipes.
From pizza to pasta, juicy burgers and soups, we have collected 39 vegetarian recipes of all kinds, that can fit into any diet plan!
Be sure to save and share all your favourite weight loss recipes and try them out this week. Enjoy!

39 Vegetarian Weight Loss Recipes That Are Healthy And Delicious!
Epic Crispy Quinoa Burgers Topped with Sweet Potato Fries, Beer Caramelized Onions + Gruyere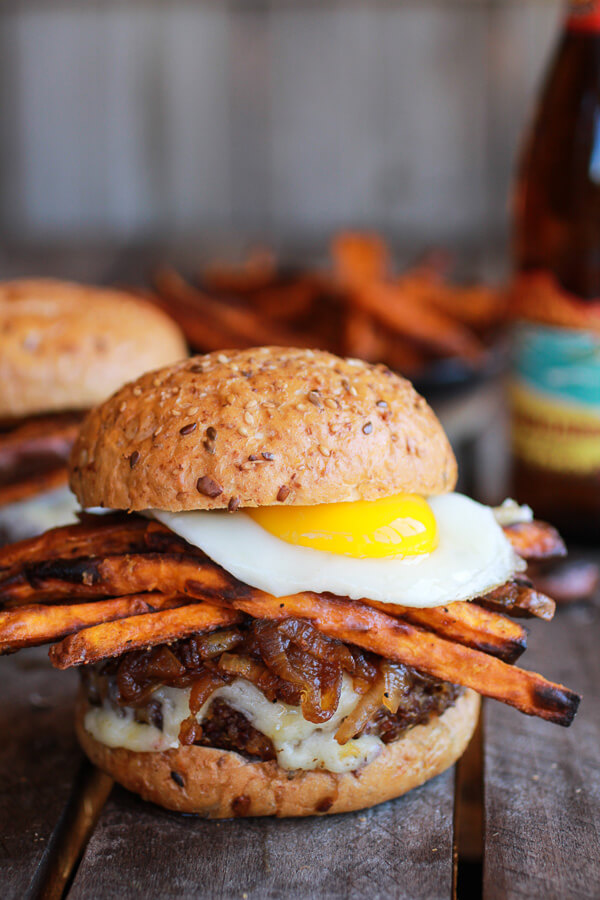 "Anyway, once I knew what patty I wanted to make my idea just grew and grew. I kind of wanted to go with the french onion burger, complete with caramelized onions and Gruyere cheese, but I wanted to tie fall and football into the burger so I went with beer caramelized onions." Recipe: HalfBakedHarvest.
6 Ingredient Creamy Roasted Tomato Soup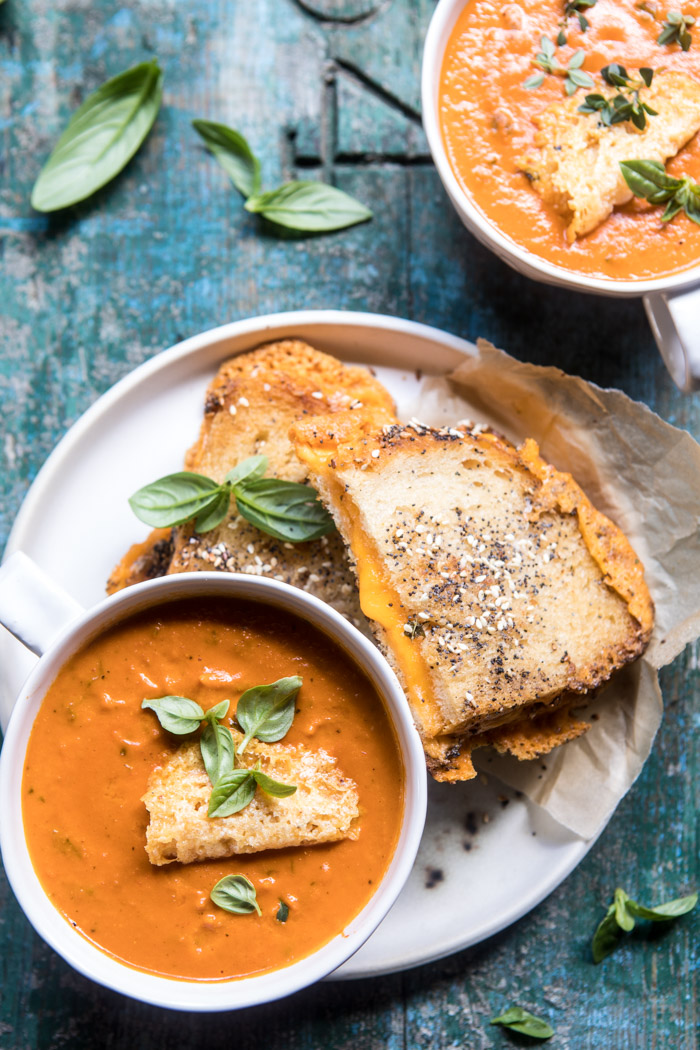 "I wanted this soup to turn out amazing, but also be simple. So I relied on my fall-back skill of throwing everything into a pot and hoping for the best. I roasted the ingredients together, simmered and prayed. Thankfully it worked!" Recipe: HalfBakedHarvest.
Quick And Easy Vegetable Lo Mein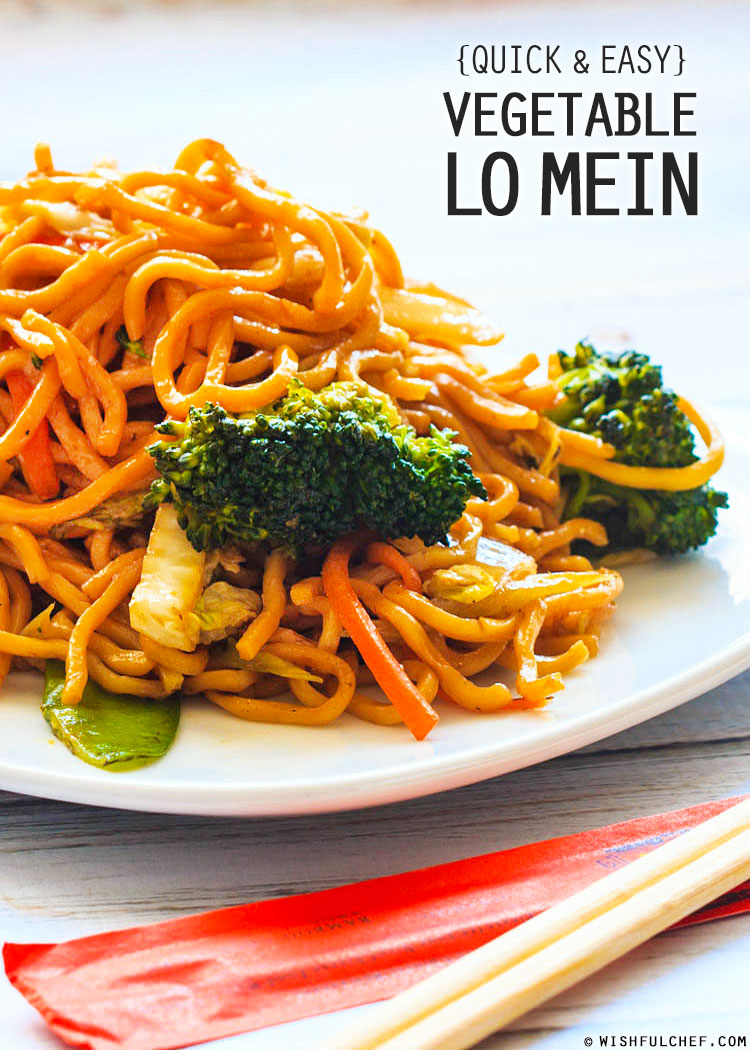 "This recipe is adapted from my friend Diana's shrimp lo mein with some tweaks. I've tried a few different lo mein versions but this was, by far, the closest flavor to my favorite Chinese lo mein take-out. The clam juice and oyster sauce gives it that extra kick. Also, if you can't find the lo mein noodles, simply substitute with spaghetti noodles." Recipe: WishfulChef.
Pepper And Cherry Tomato White Pizza
"I know it's Monday, and Monday is supposed to be about healthy eating and all, but let's be real. This pizza has bell peppers, tomatoes, and plenty of green herbs (I mean, do you see all that basil –> totally counts as "greens"). Meaning this is a veggies galore pizza, meaning it's practically a salad with bread and cheese." Recipe: HalfBakedHarvest.
Herby Buttered Wild Mushroom Tagliatelle Pasta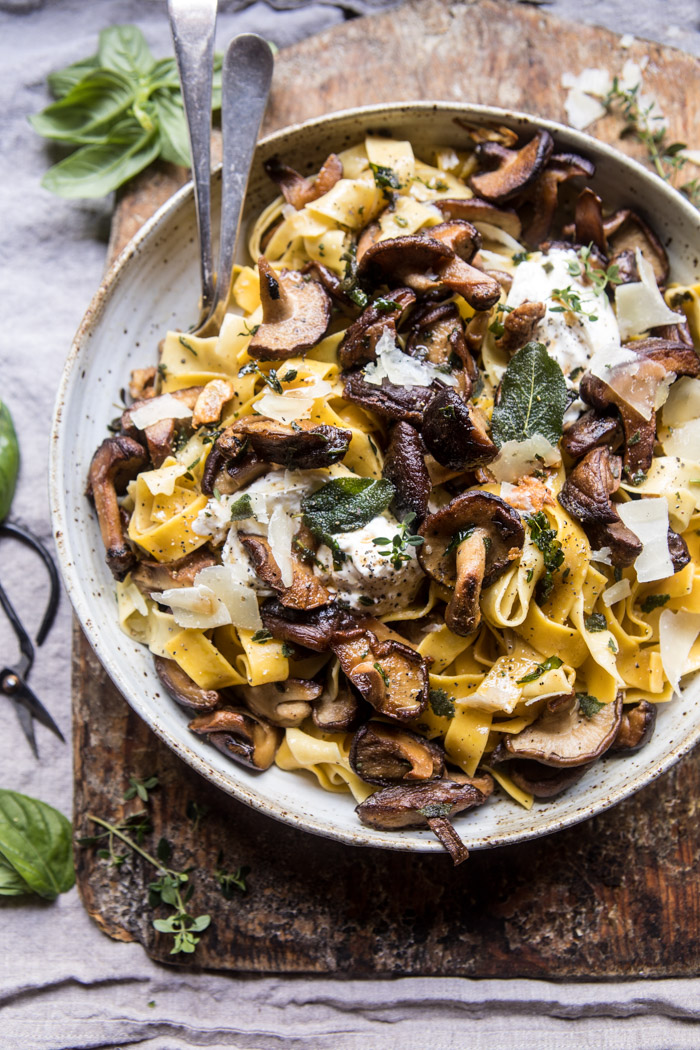 "As mentioned, the mushrooms are slowly cooked until they are caramelized and deep golden. Cooking the mushrooms slowly and allowing them to caramelize, literally turns them into something resembling candy, and makes every bite of this pasta so good." Recipe: HalfBakedHarvest.
Best Easy Broccoli Cheese Tortellini with Fried Lemon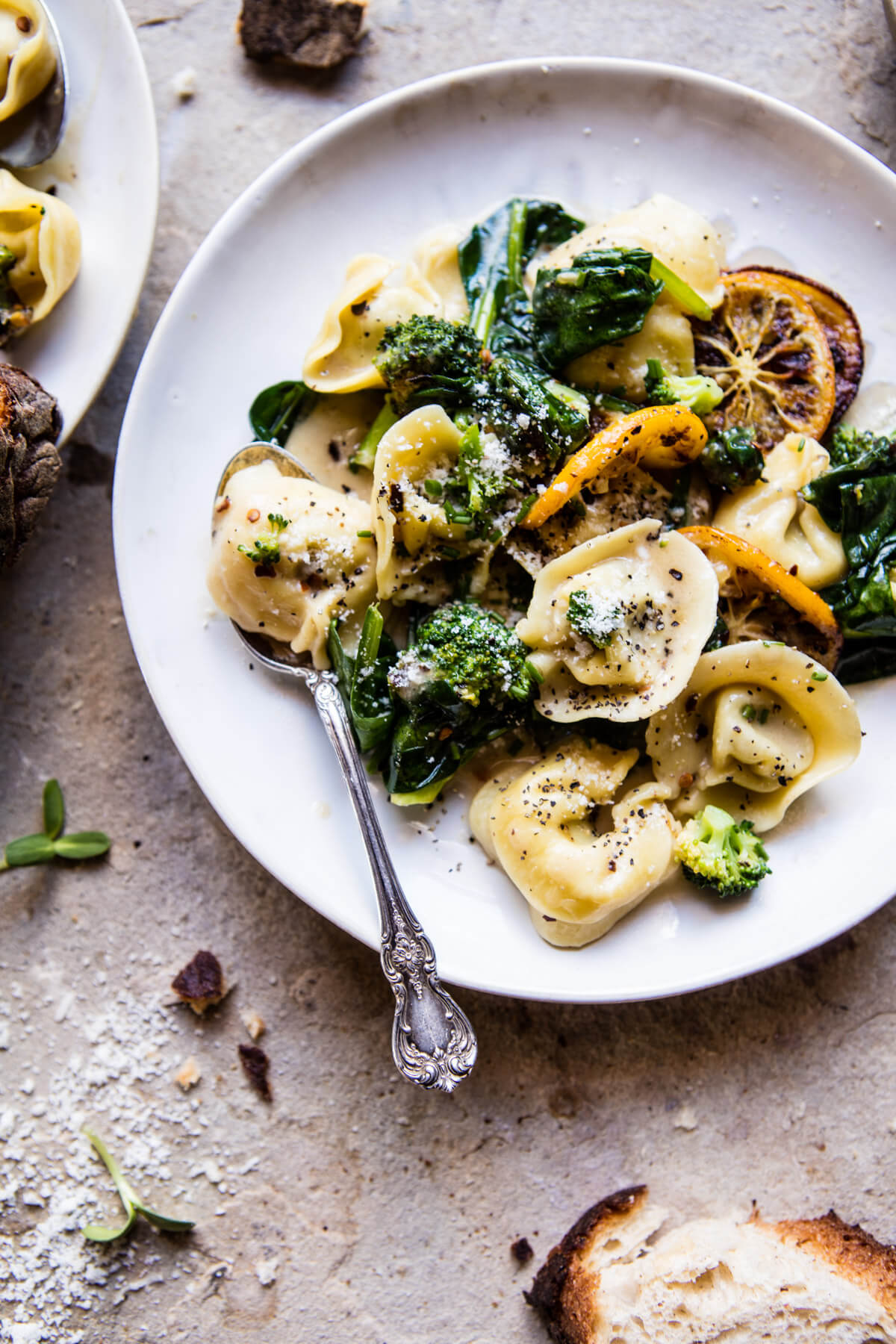 "This recipe is one of the simplest yet. Cheese tortellini + broccoli + spinach + fried lemon slices + manchego cheese + parmesan cheese. Perfection." Recipe: HalfBakedHarvest.
Poblano Mushroom Tacos with Cilantro Yogurt Sauce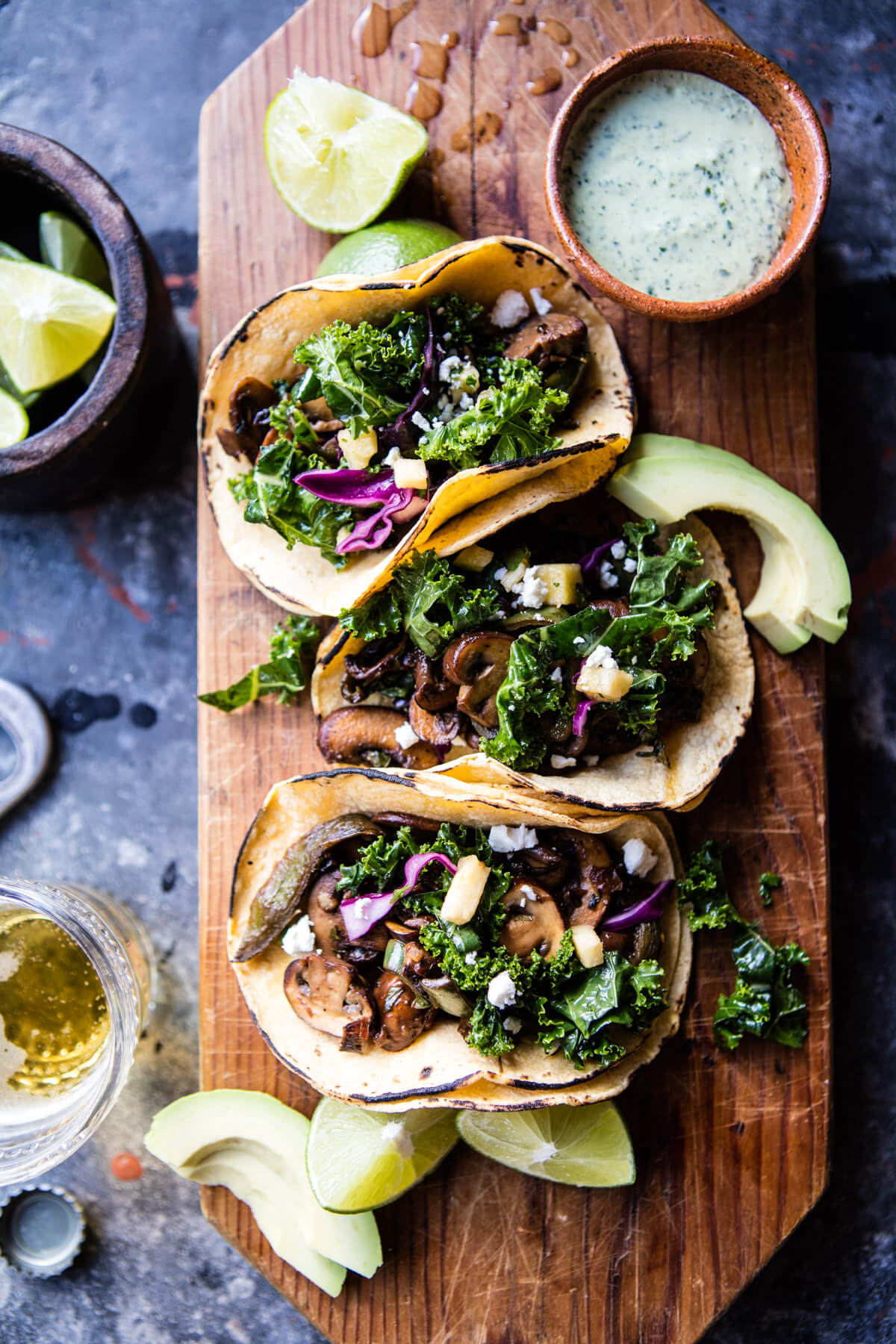 "These Poblano Mushroom Tacos with cilantro yogurt sauce are possibly the best tacos I've ever made." Recipe: HalfBakedHarvest.
Huevos Rancheros Scrambled Eggs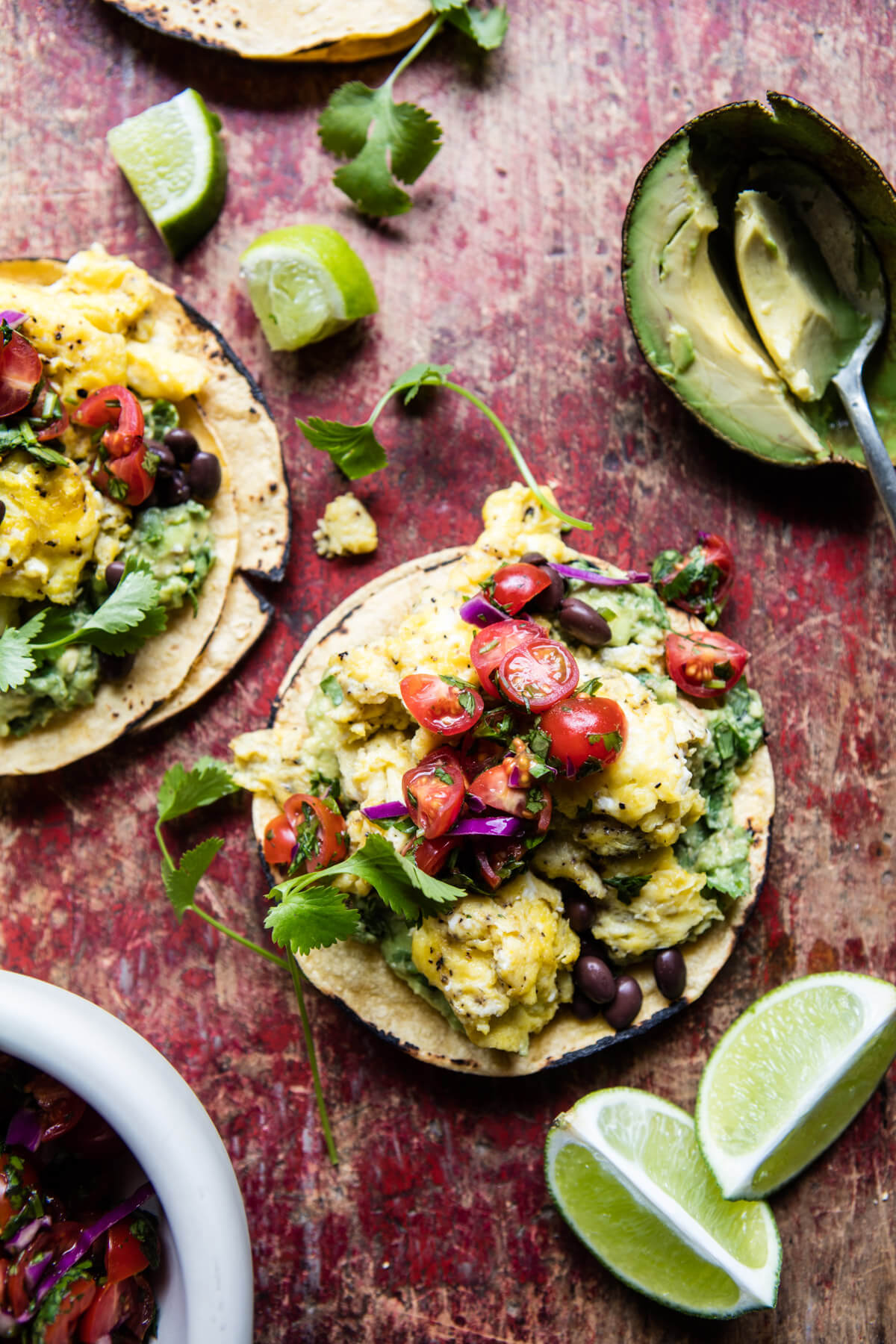 "The eggs are simply scrambled with a little salt and fresh pepper and served over a batch of homemade guacamole, corn tortillas and topped with a simple cherry tomato salsa." Recipe: HalfBakedHarvest.
Bean And Zucchini Patties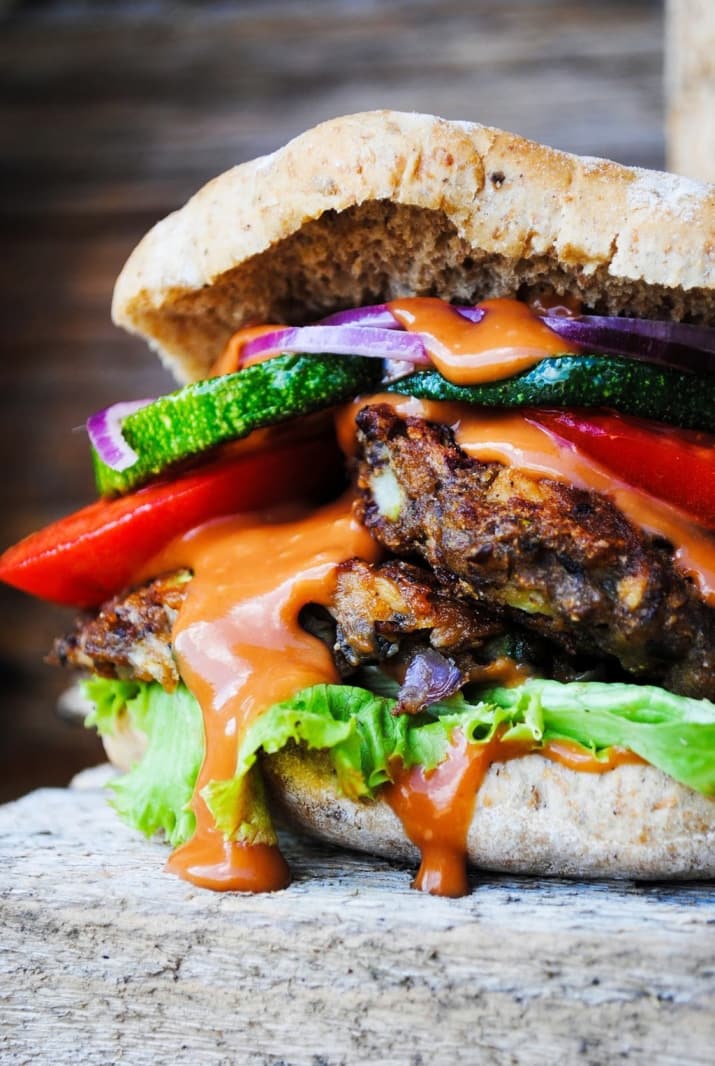 "I must say these are the best vegan cutlets I have eaten so far. They are chunky, crispy and juicy and they kinda remind me the classic cutlets my grandma used to make." Recipe: VeganSandra.
Smoky Amaranth Black Bean Burgers With Roasted Red Pepper Sauce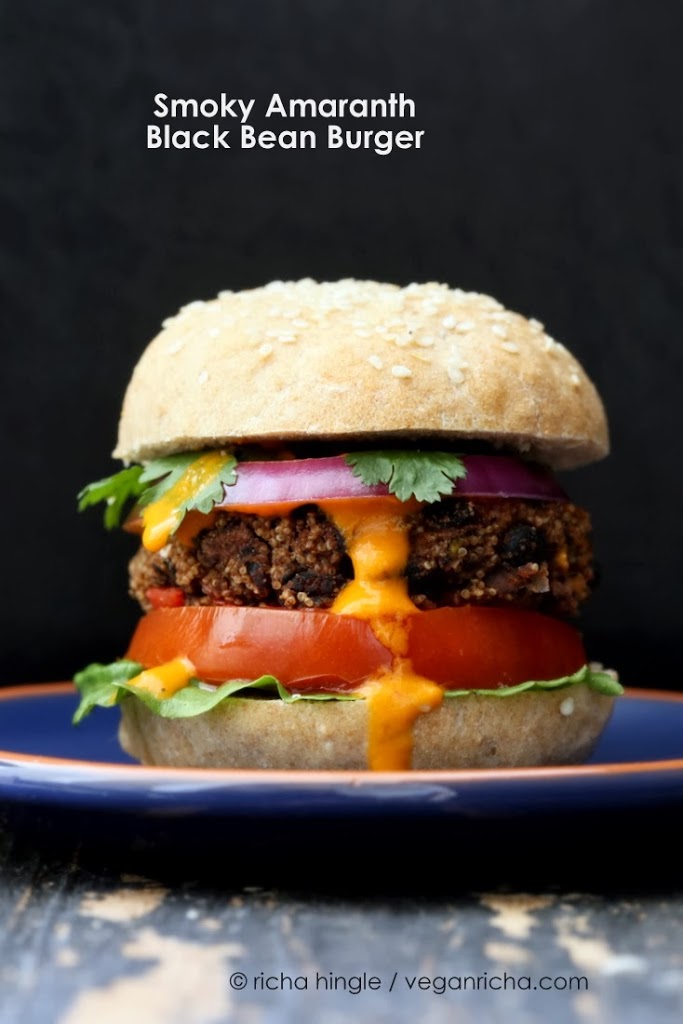 "May I suggest these burgers for the big day. Black beans and amaranth with smoky spices and red bell pepper. Patted up into fat patties and baked. Served on home made multigrain burger buns, with slices of juicy tomato and red onions and topped with Roasted red bell pepper sauce." Recipe: VeganRicha.
Spicy Chipotle Neat Burger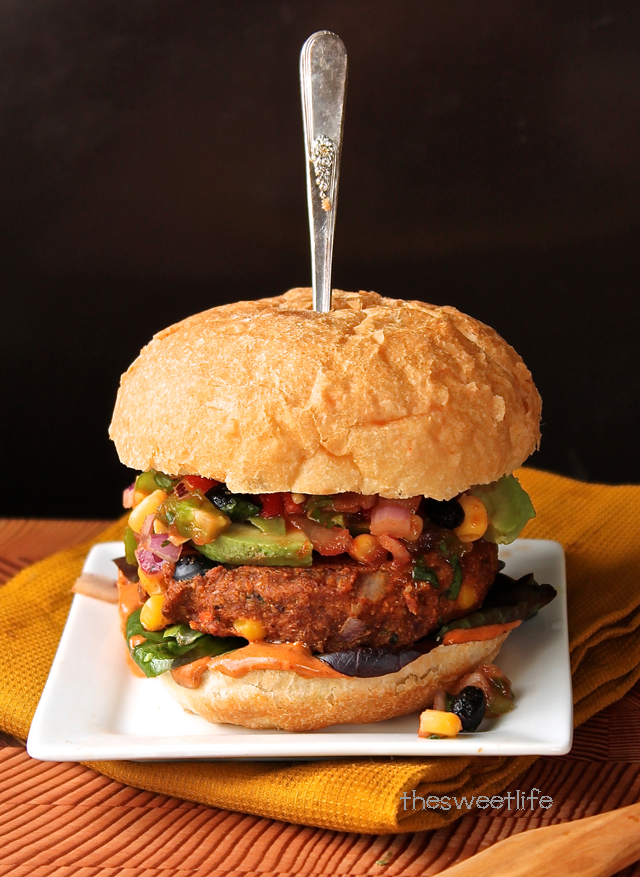 "Neat is a healthy replacement for meat the comes in three different flavored mixes: Original, Mexican, and Italian. Before sampling the product, I took a look at the list of ingredients and was pleased to find Neat contains only nuts, chickpeas, oats, cornmeal, and spices. Meaning these meat-substitutes contain no dairy, no gluten, no soy, and no processed or impossible-to-pronounce ingredients." Recipe: MyDarlingVegan.
Peppery Broccoli Arugula Pesto Pasta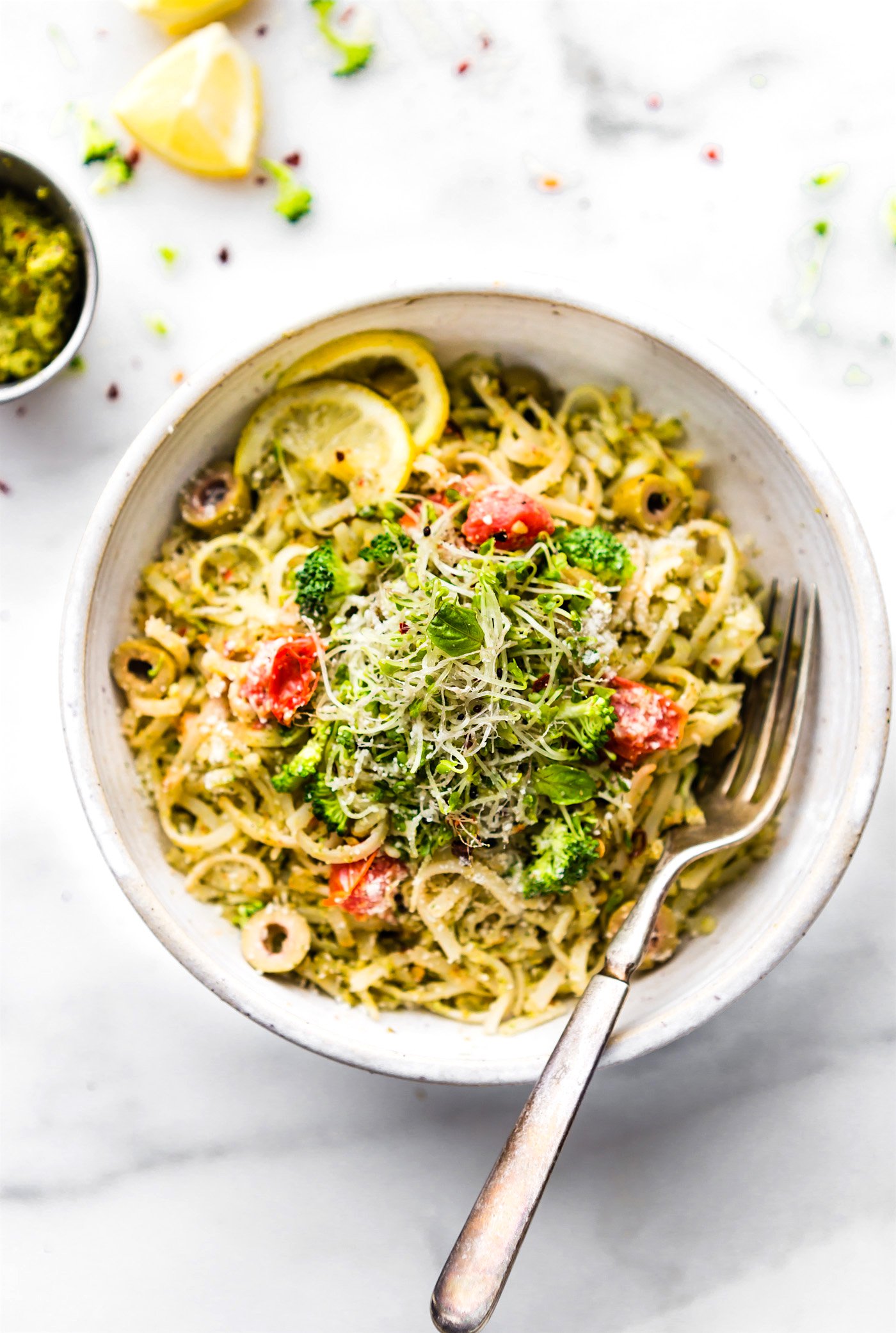 "This gluten free Peppery Broccoli Arugula Pesto Pasta is gonna rock your world! A pesto pasta with broccoli and arugula and packed with nutrition and flavor! An easy pasta dinner for a quick weeknight dinner or healthy lunch! Ready in under 30 minutes and vegan friendly. Can't beat that now, can you?" Recipe: CotterCrunch.
Farro Soup With Mushrooms
"This soup may not look or sound like anything special but WOW. It's honestly one of my favorite soup recipes I've made by far! It's packed with so much bold flavor you don't even need to add any special garnishes. I mixed in some mushrooms, potatoes and farro, perfect for a hearty meal." Recipe: WishfulChef.
Cheesy Veggie Chickpea Burgers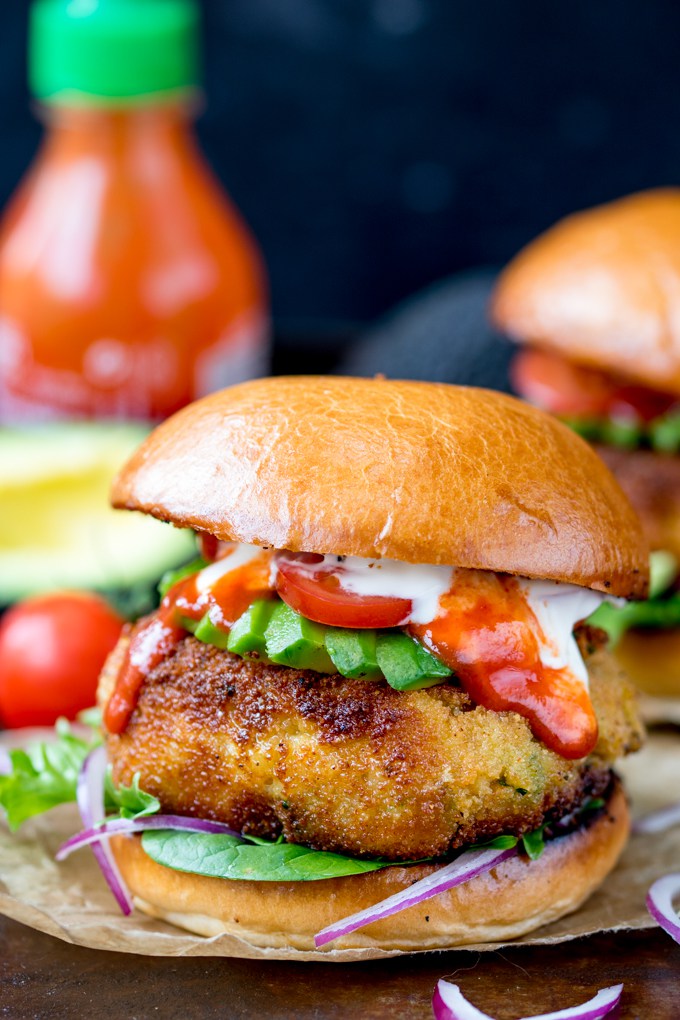 "I figured the addition of veggies, cheese and a lovely crispy coating would sell my chickpea burgers to the family. I ended up going full on with the toppings too – making it Mexican themed with avocado, red onion, tomatoes, chilli sauce and soured cream." Recipe from KitchenSanctuary.
Baked Sweet Potato And Carrot Soup With Cheddar Potato Skin Croutons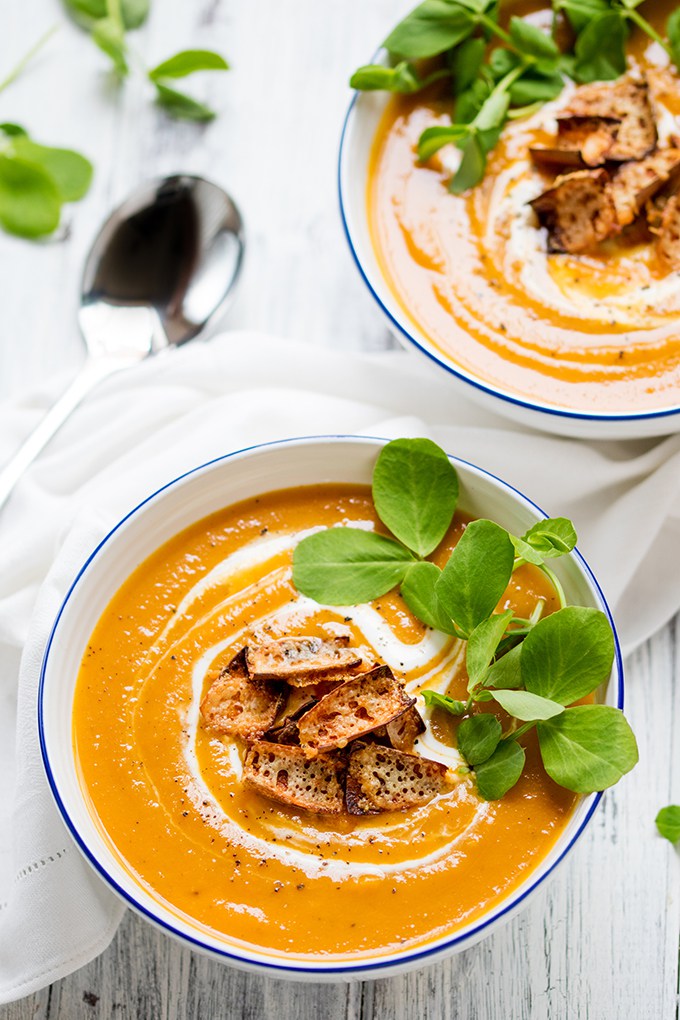 "Baked sweet potato and carrot soup with cheddar potato skin croutons – A warming healthier soup. Gluten free & vegetarian." Recipe from KitchenSanctuary.
Spicy BBQ Chickpea Burgers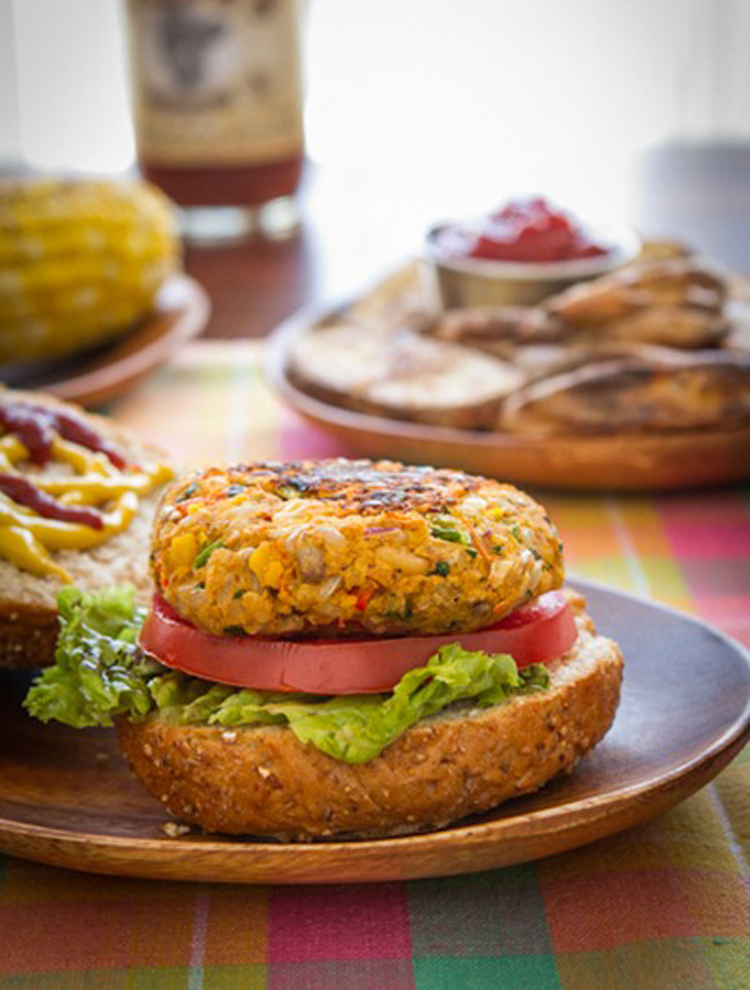 "These burgers pack in 6 colourful vegetables, whole grain brown rice, protein-filled chickpeas, ground flax, seeds, and some spices to round it all out. The ingredient list is impressive and the taste is even better." Recipe: OhSheGlows.
Cheesy Pea Soup With Roasted Pea Croutons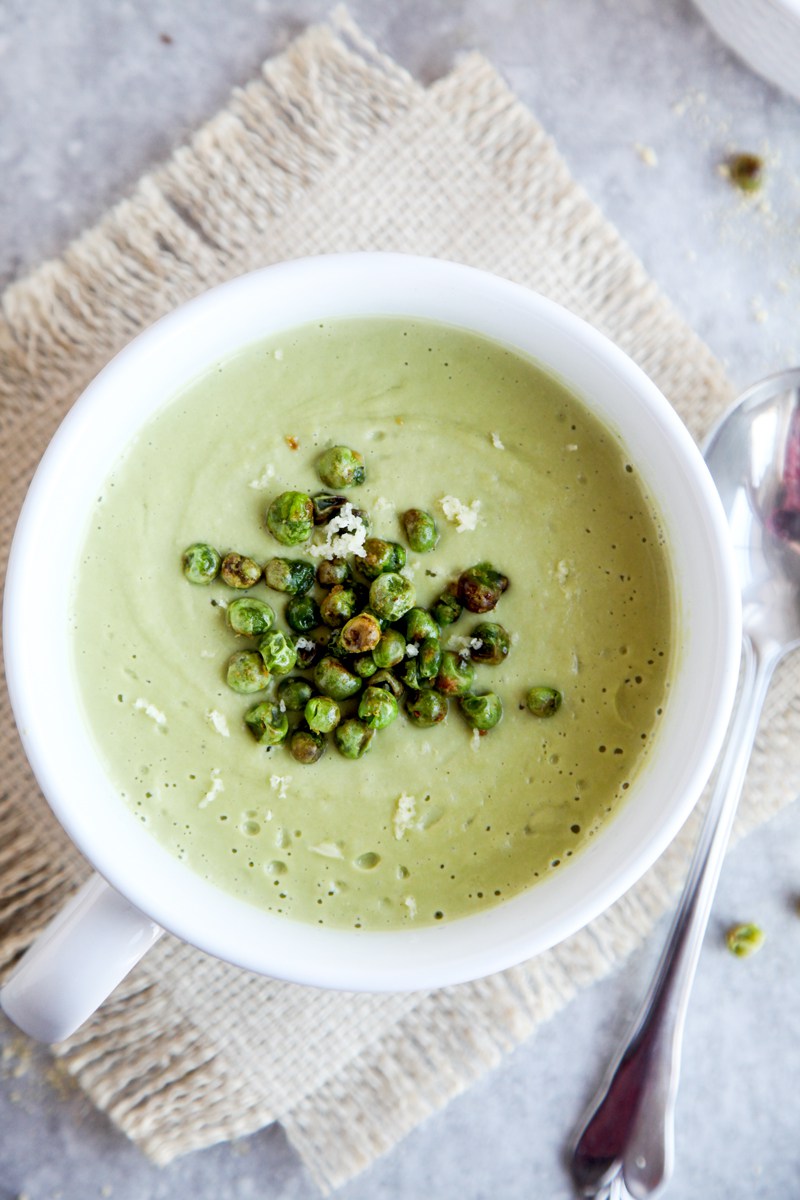 "But since I can't leave a recipe alone, I've developed it into something even more delicious (if I may say so) by giving it a creamy, "cheesy" element and adding some yummy roasted peas as croutons." Recipe: http://wallflowerkitchen.com/cheesey-pea-soup-vegan/
Vegetable Minestrone Soup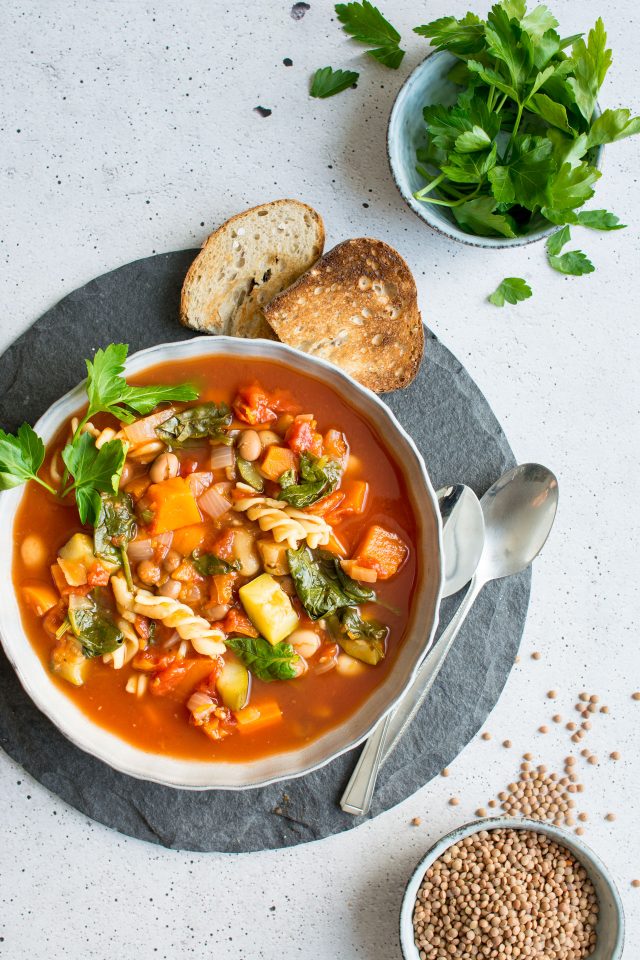 "The beauty of a soup like this is how you can really customise it, for example, if you don't like (or just don't have access to) any of the vegetables suggested below, you can just substitute them for something else." Recipe: http://laurencariscooks.com/winter-vegetable-minestrone-soup/
Mushroom Lasagna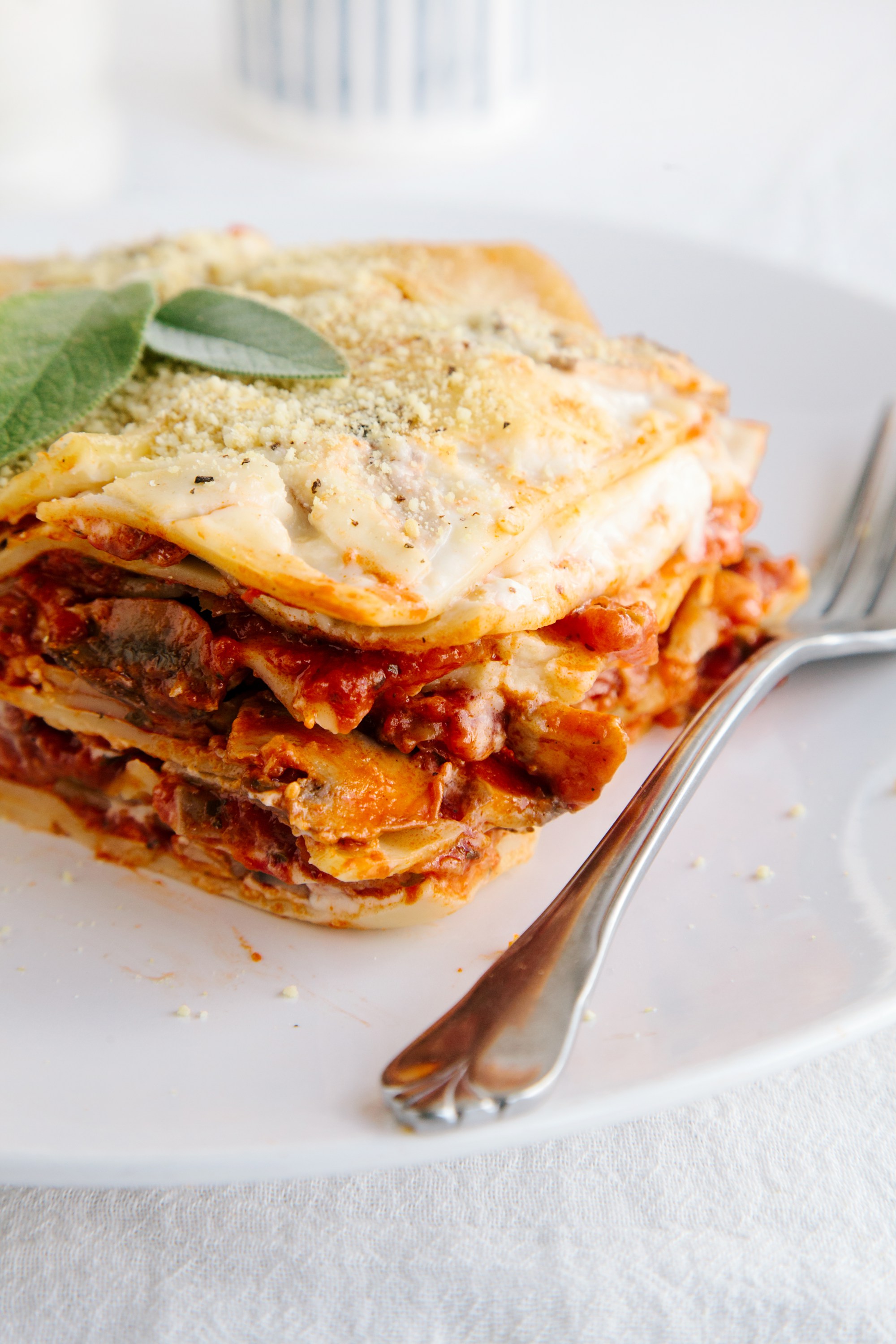 "A good vegan lasagna is hard to come by. But guys… I think I've found one of the best, if I may say so. It's creamy, rich, flavourful, comforting and oh so satisfying to eat. The tastiest vegan lasagna I've tried so far!" Recipe from WallFlowerKitchen.
Butternut Squash Noodles With Creamy Garlic Mushrooms & Lentils (Vegan & GF)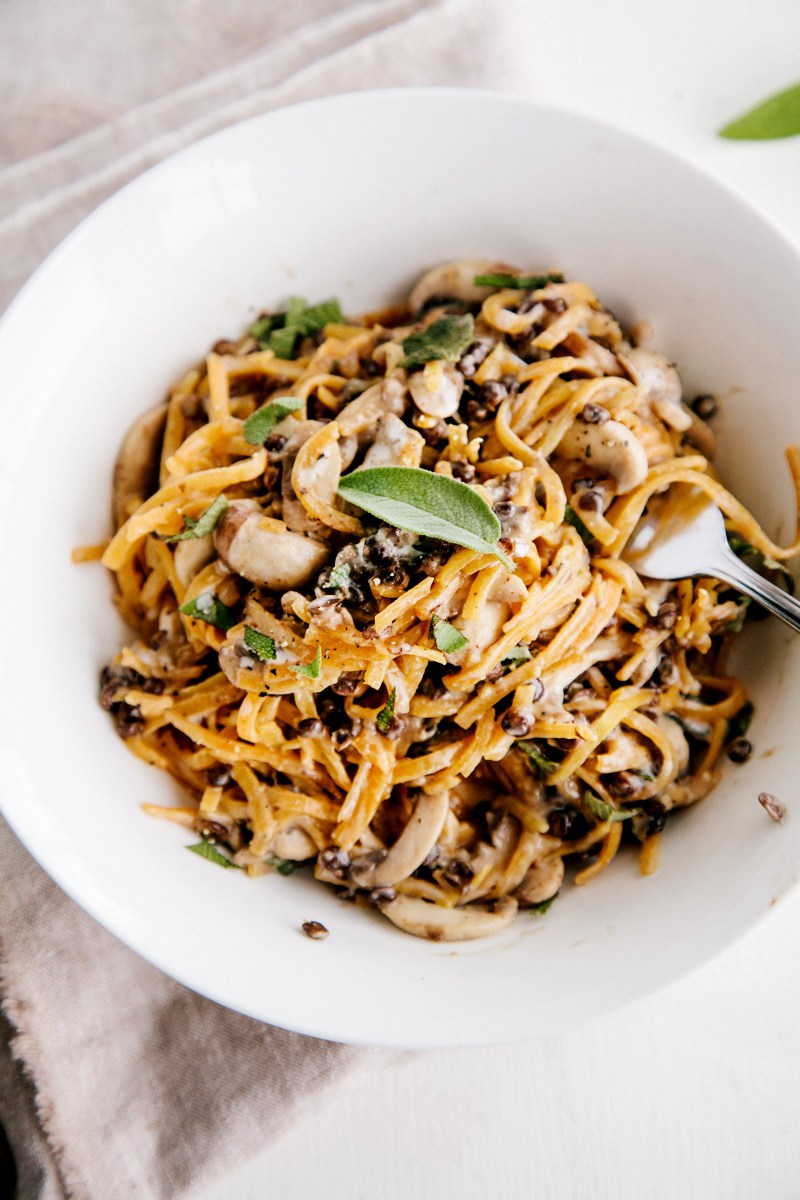 "I'm often guilty of making out-of-season recipes, such as this rather autumnal-looking dish, featuring spiralized butternut squash, mushrooms, sage and lentils." Recipe from WallFlowerKitchen.
Roasted Hatch Green Chile Egg Casserole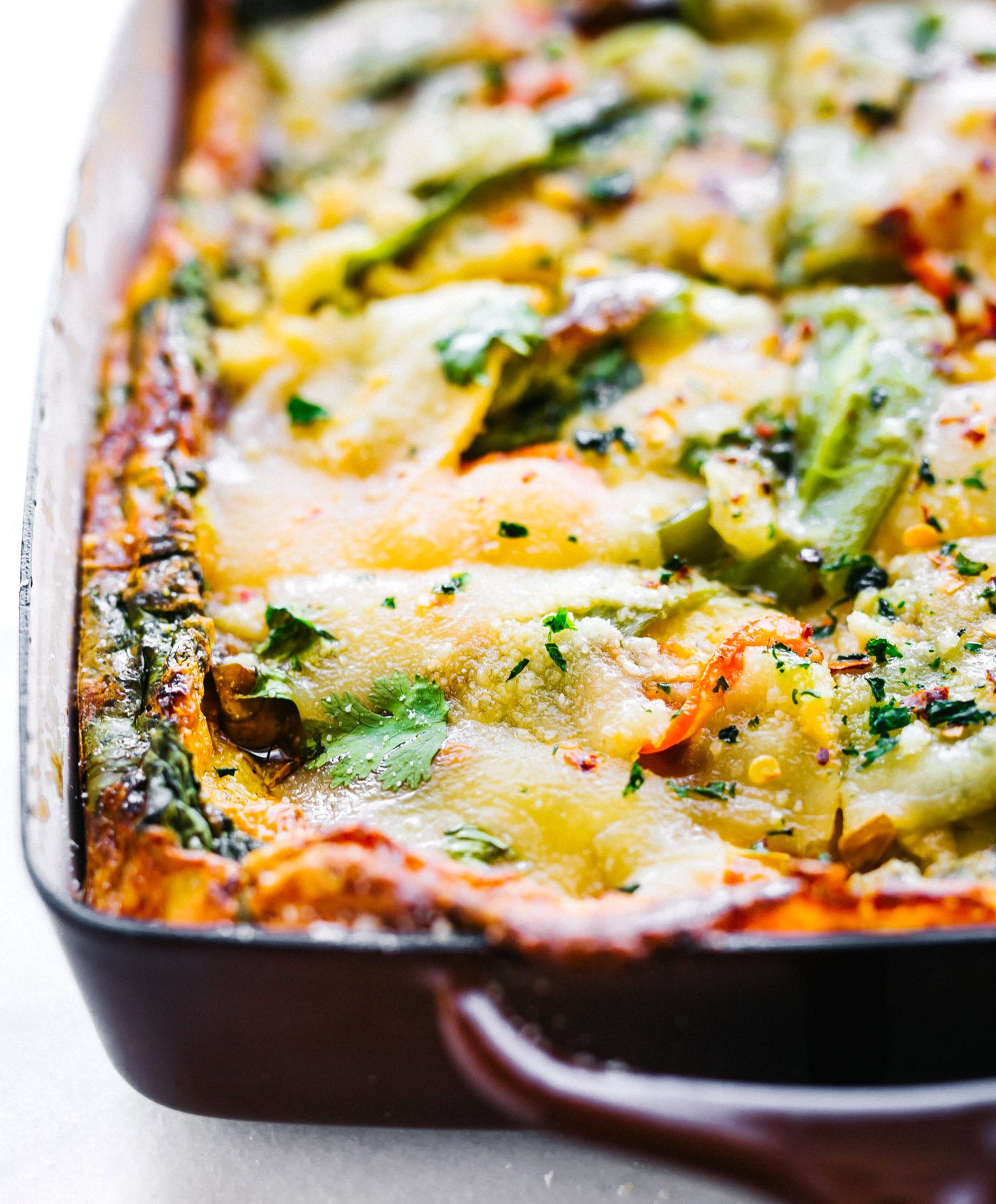 "This Roasted Hatch Green Chile egg casserole makes for a quick breakfast, lunch, or dinner! An egg casserole with layers of green chiles, creamy artisan cheese, spinach, and other vegetables. It's wholesome yet light and delicious! Grain free, gluten free, and easy to make." Recipe: CotterCrunch.
Lentil Pasta With Arugula Pesto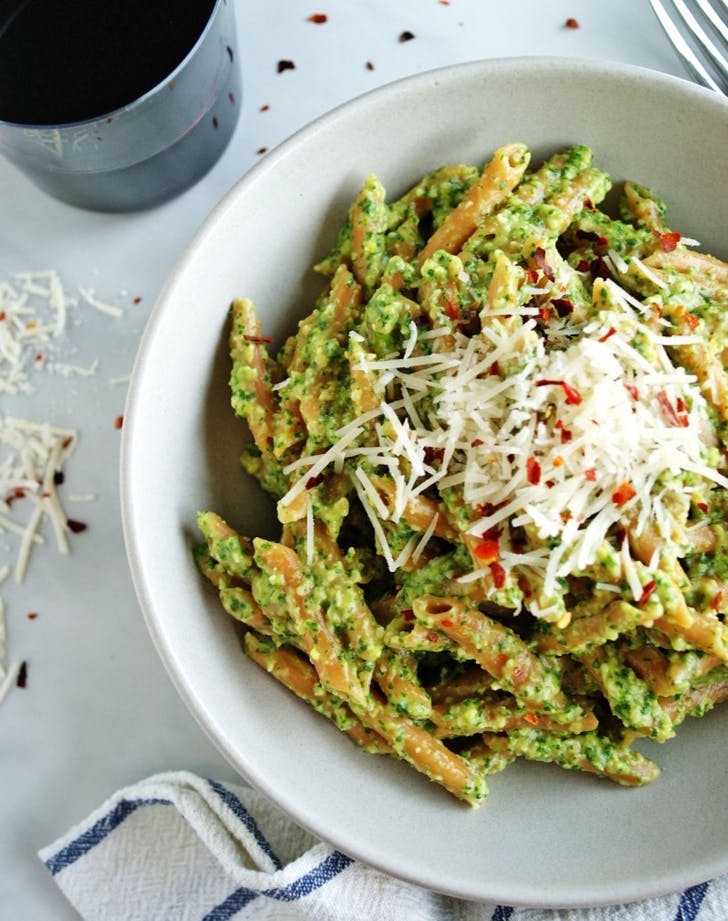 "It's not just any bowl of pasta though. It's LENTIL pasta. (More on that in a minute!) And it's ARUGULA pesto. Yums all the way around because it's absolutely delicious and it's absolutely good-for-you." Recipe from ANutritionistEats. 397 Calories.
Butternut Squash & Lentil Soup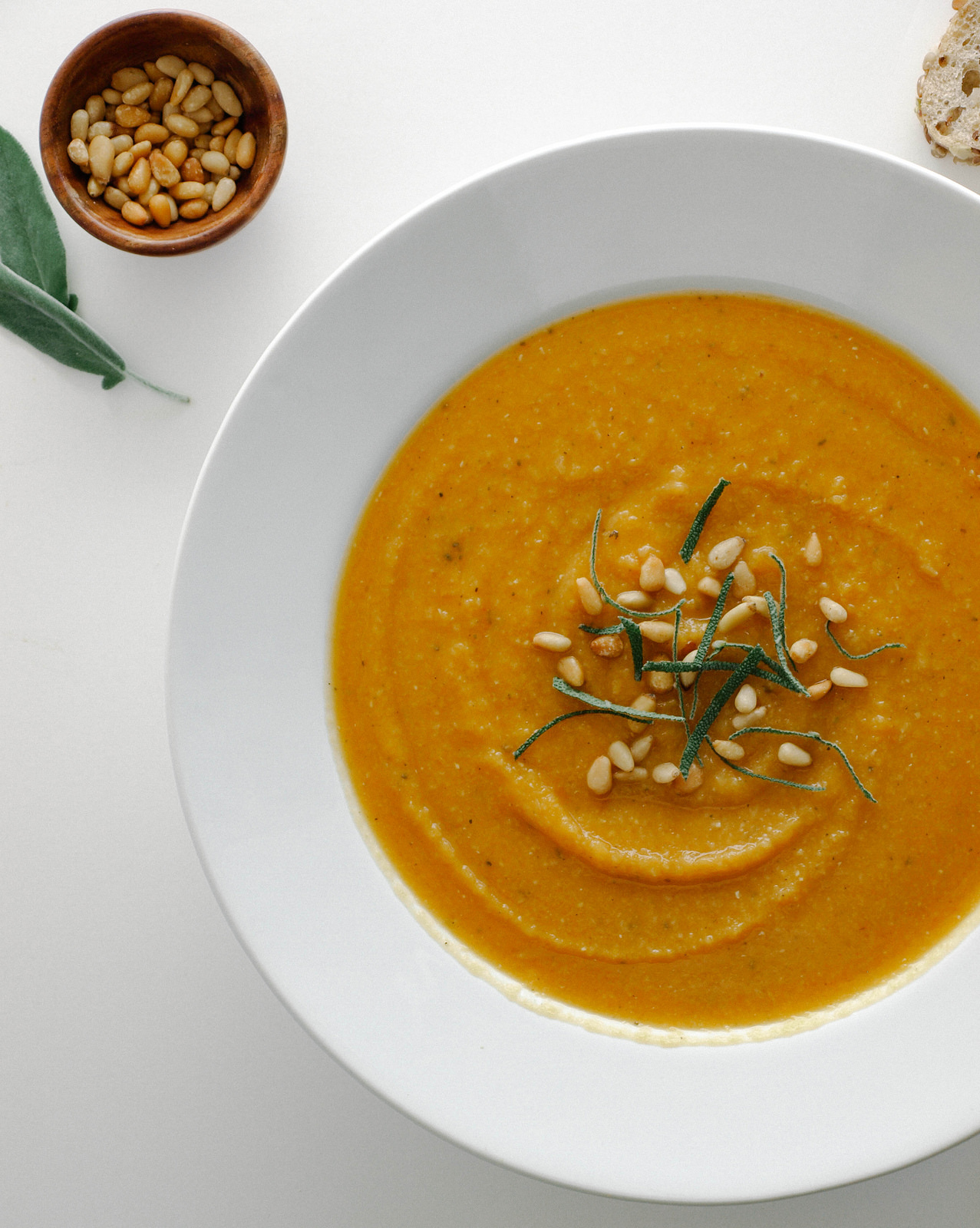 "I'm always doing my best to add in high protein plant-based sources when I can, the addition of lentils are perfect for that while adding extra thickness to the overall soup. Lentils of all color should be a part of any heart healthy diet." Recipe from SimpleVeganista.
Herb Roasted Vegetable Panzanella Fall Salad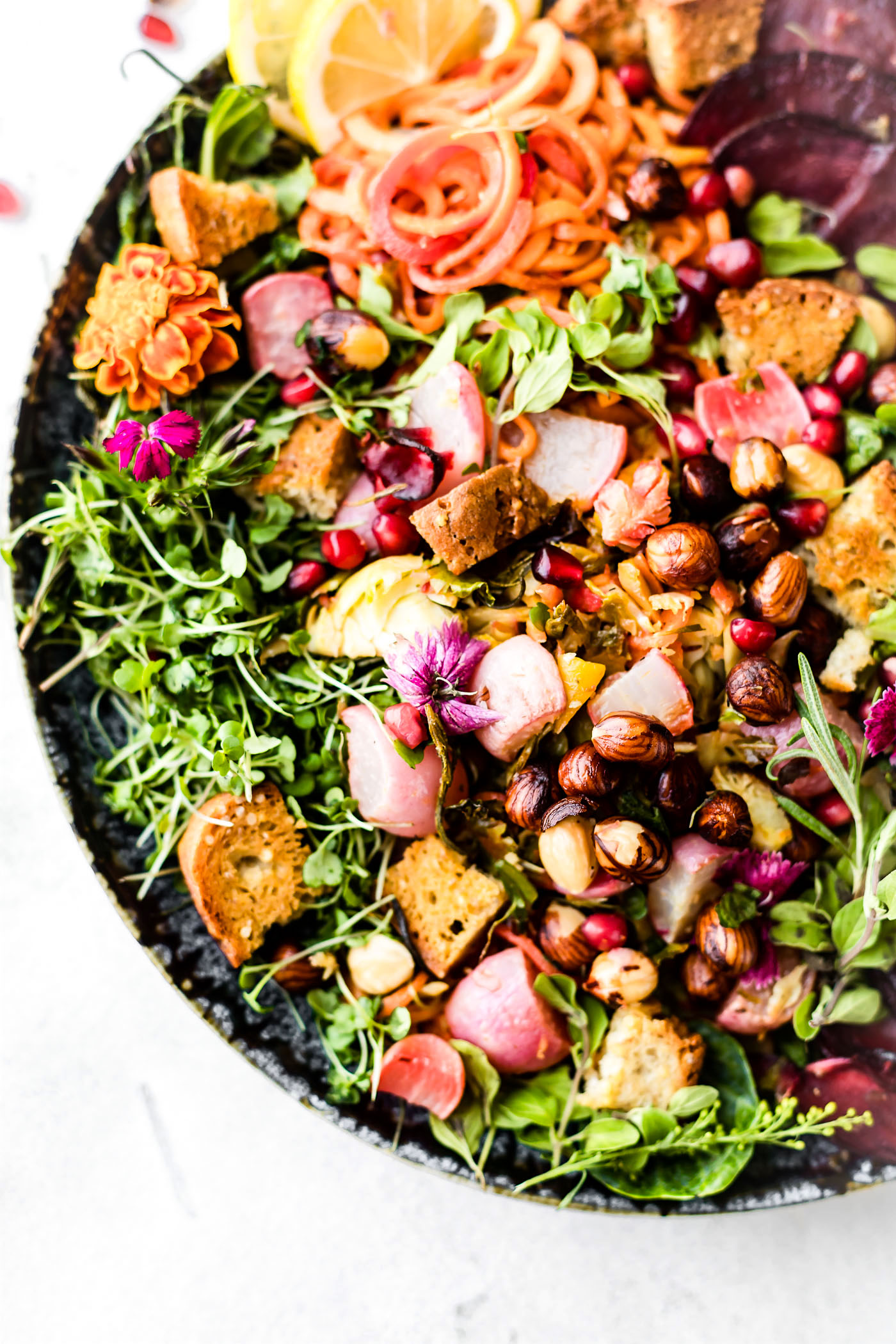 "This Roasted Vegetable Panzanella Fall Salad is the perfect Autumn dish to keep you nourished all season. Herb roasted Fall Vegetables, leafy greens, gluten free ancient grain bread, pomegranate, and toasted hazelnuts. It's a wholesome Fall salad you'll want to make again and again. Dairy free, simple to make." Recipe: CotterCrunch.
Paleo Chili Garlic Cauliflower 'Risotto' Bowls
"These Chili Garlic Cauliflower "Risotto" Bowls are an easy Paleo dish to satisfy that comfort food craving! A healthy vegan recipe with a spicy sauce. The Cauliflower Rice is the "risotto" and is cooked a non dairy (coconut or almond) milk; all in one pan! The sauce is made extra spicy and creamy with chili, garlic, and avocado combined. Pretty much great on EVERYTHING!" Recipe from CotterCrunch.
Avocado Tomato Gouda Socca Pizza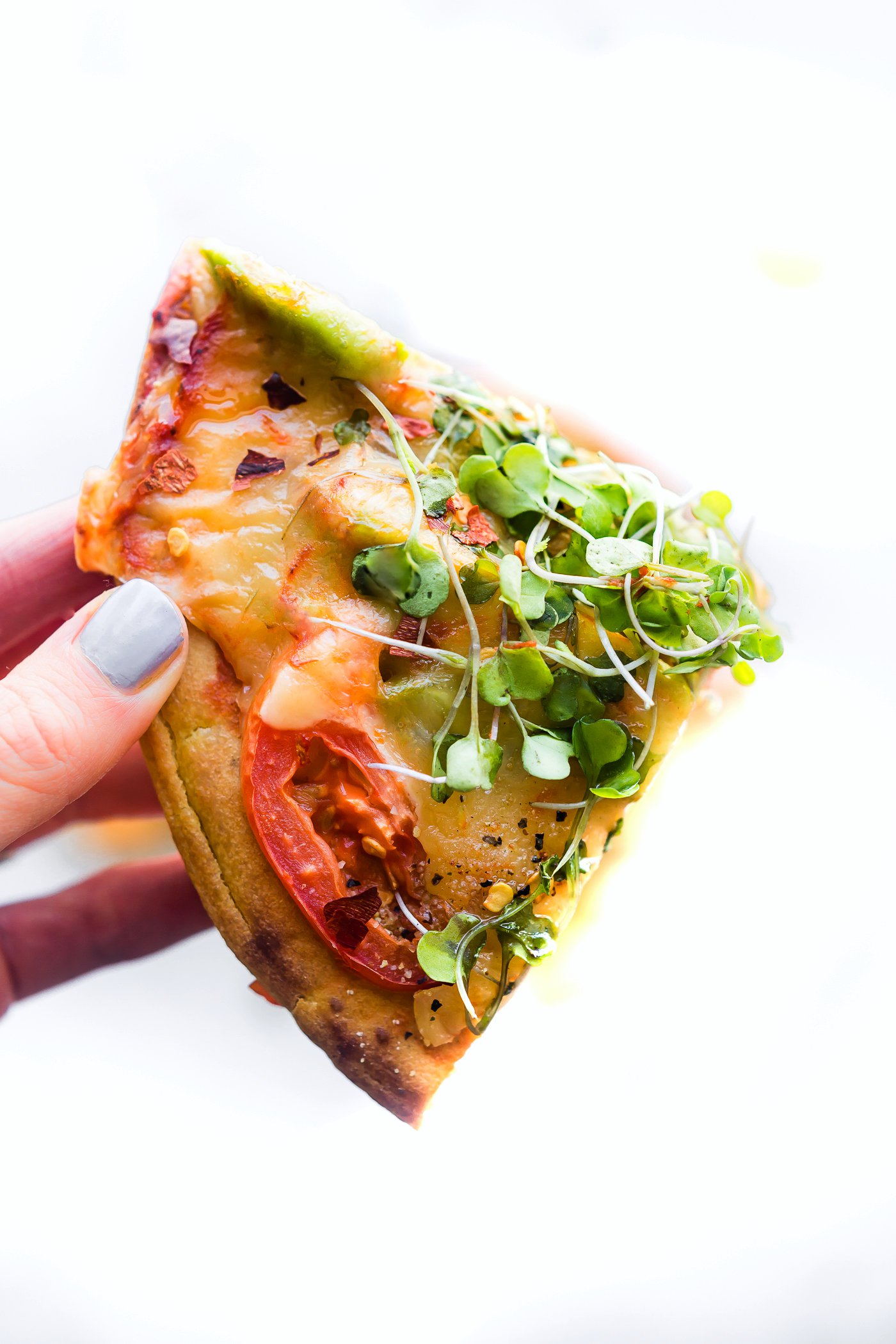 "What's not to love about this Avocado Tomato Gouda Socca Pizza recipe? A grain free, gluten free Avocado Tomato Gouda Socca Pizza made with chickpea flour and topped with Avocado, Gouda, Tomato, and Sprouted Greens! Seriously easy to make, egg free, vegan option, OMG delicious!" Recipe from CotterCrunch.
Creamy Tomato Gluten Free Penne Pasta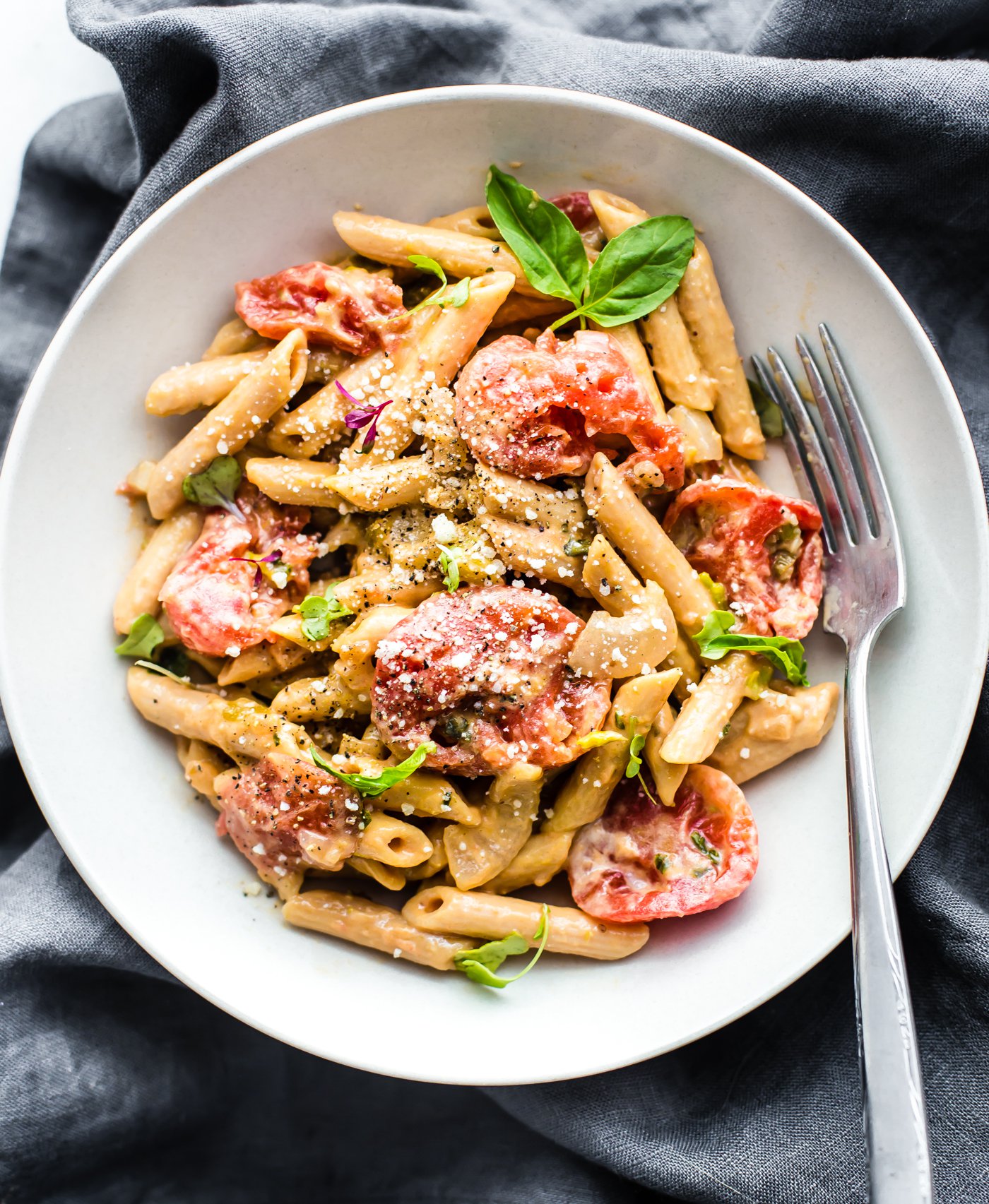 "A Creamy Tomato Gluten Free Penne Pasta dish that's ready in 25 minutes, delicious, and dairy free. This gluten free penne pasta recipe is perfect for those who are new to gluten free or are looking for a lighter pasta dish alternative! It's protein packed vegetarian pasta with a healthy amount of plant based Iron." Recipe from CotterCrunch.
Buffalo Chickpea Burgers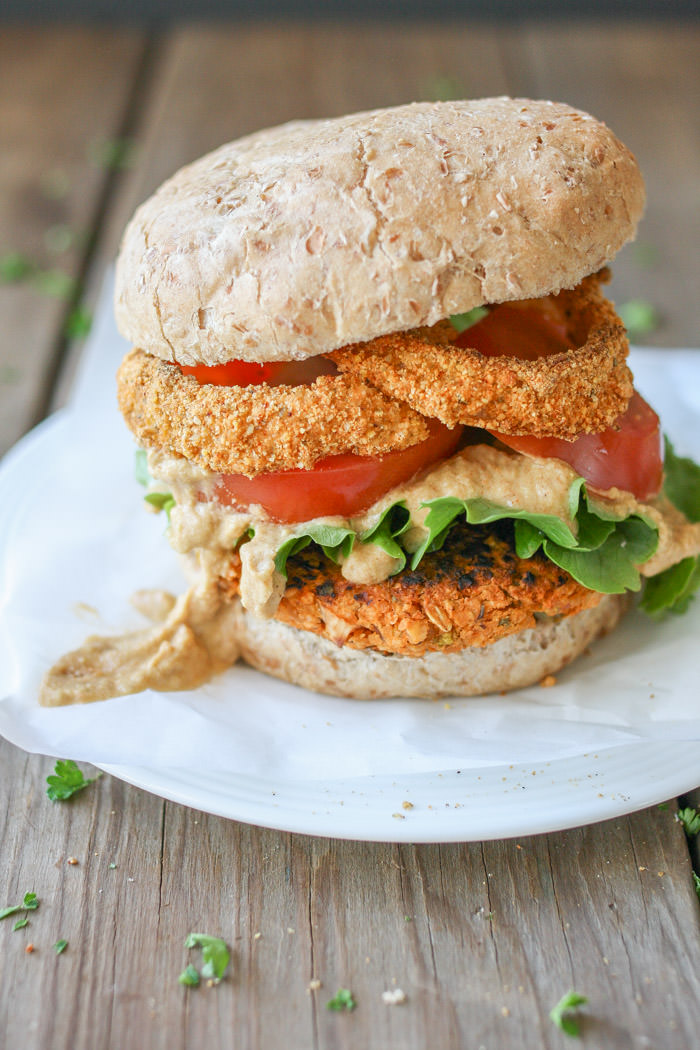 "The ultimate indulging plant based burger. Buffalo sauce flavored, filled with veggies, and paired with amazing toppings, this burger will erase all others from memory. Meat who?" Recipe: VeggiesDontBite.
Beet Burger Sliders With Lemon Garlic Aioli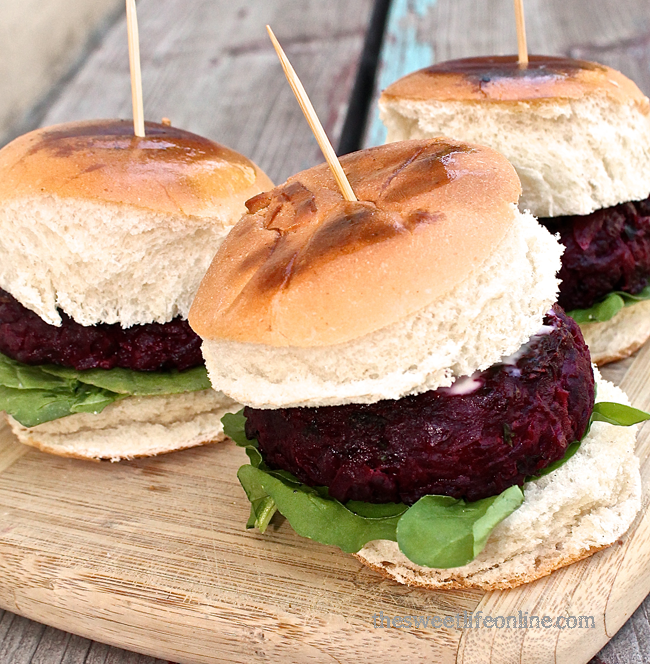 "Vegan beet sliders with aioli infused with lemon and garlic. Perfect for any night of the week." Recipe: MyDarlingVegan.
Spin On Sweet Potato Veggie Burgers: BBQ Peanut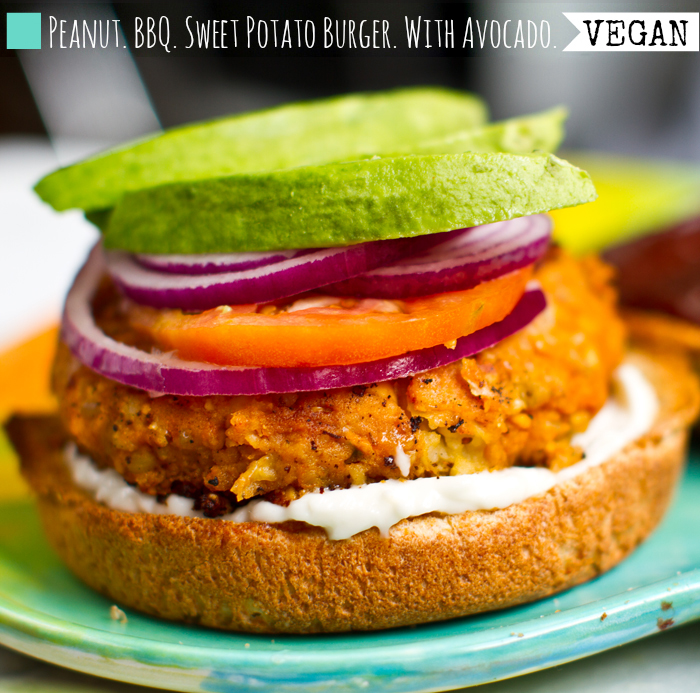 "These BBQ Peanut Sweet Potato Burgers are a spin on one of my fave veggie burger recipes. This time around, I added in some bold BBQ flavors via dry BBQ spices and smoky sweet BBQ sauce. Plus some nutty, amazing crushed roasted peanuts to pump up the burger texture. Crushed nuts in general, taste amazing in veggie burgers." Recipe: LunchBoxBrunch.
Mexican Green Chili Veggie Burgers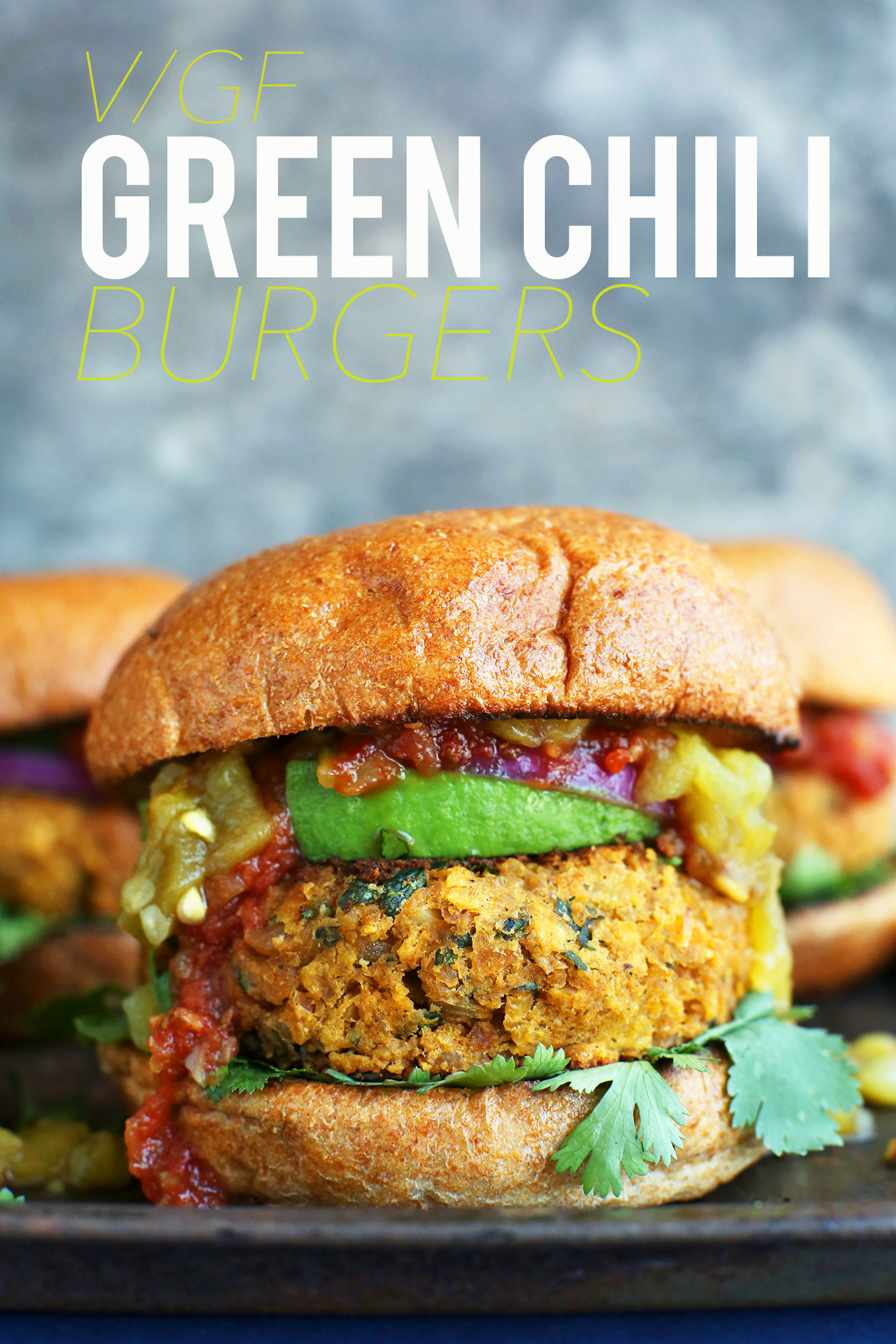 "30-minute Southwest-inspired veggie burgers made with chickpeas, green chilies, and crushed tortilla chips! Tender, flavorful, quick, and so satisfying!" Recipe: MinimalistBaker.
One Pot Ratatouille Spaghetti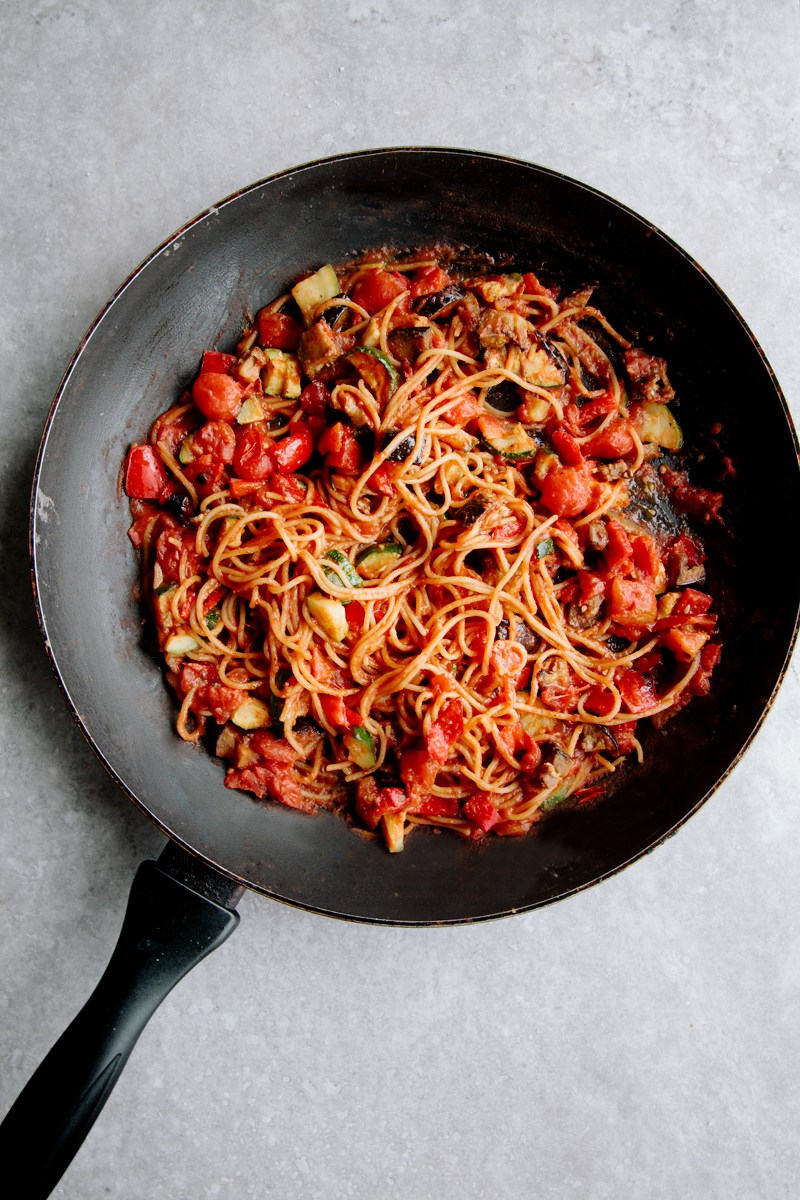 "Thankfully, this Chickpea Spaghetti was on of the best. Especially texture-wise, I feel this spaghetti held together much better than other gluten-free pastas. No sogginess, just that perfect bite and texture." Recipe: wallflowerkitchen.com
Vegan Provencal Burger
"So for this post, I'm sharing one of our meals in Valencia, Spain: the Vegan Provençal Cheeseburger with Violife Tomato & Basil Cheese slices, Provençal hamburger patty by a Spanish brand Natursoy, arugula, whole grain mustard, hummus, sautéed green bell peppers and onions, and of course, the salt & vinegar chips from the supermarket Carrefour in Spain." Recipe: VeganMiam.
Spicy Butternut Squash Soup (Vegan + GF)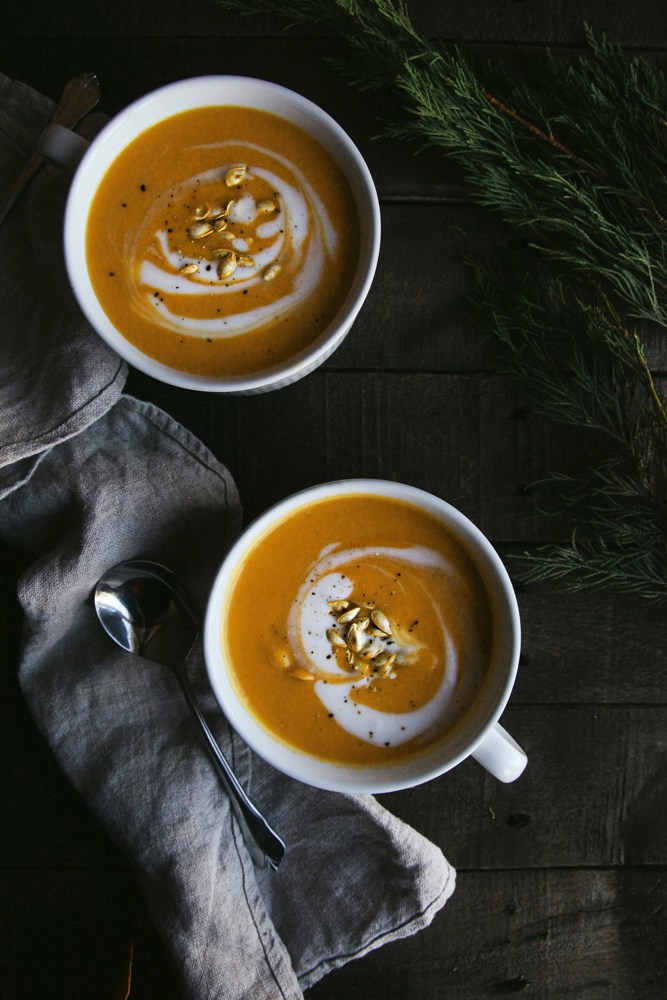 "Butternut squash is one of my favourite ingredients in a soup because it gives such a creamy, smooth and silky texture. Plus that delicious sweet flavour. Mmm!" Recipe from WallFlowerKitchen.
Oh Em Gee Veggie Burgers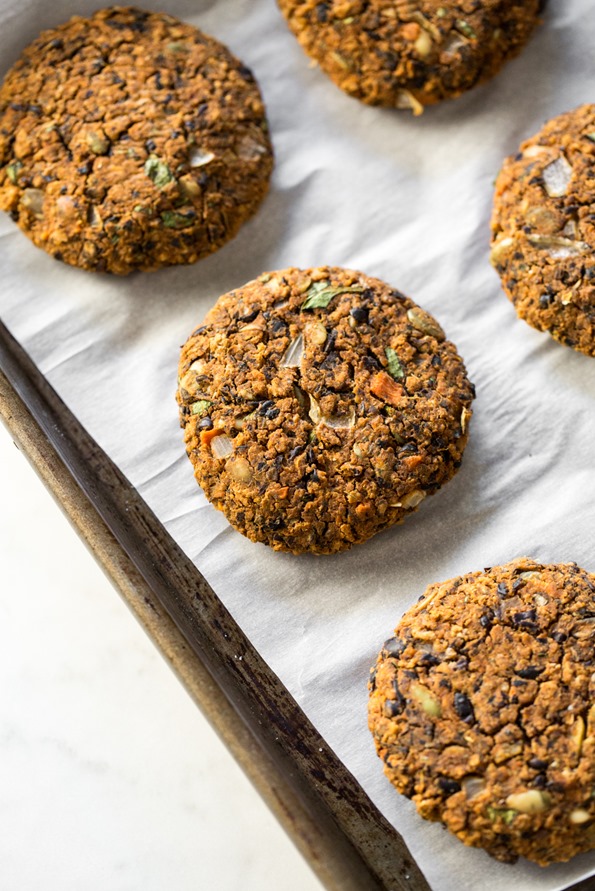 "Hubba, hubba, now that's what I call a veggie burger glam shot! Served with rippled sweet potato chips and a dill pickle, what else could you want in life?!' Recipe: OhSheGlows.
A Very Good Split Pea Soup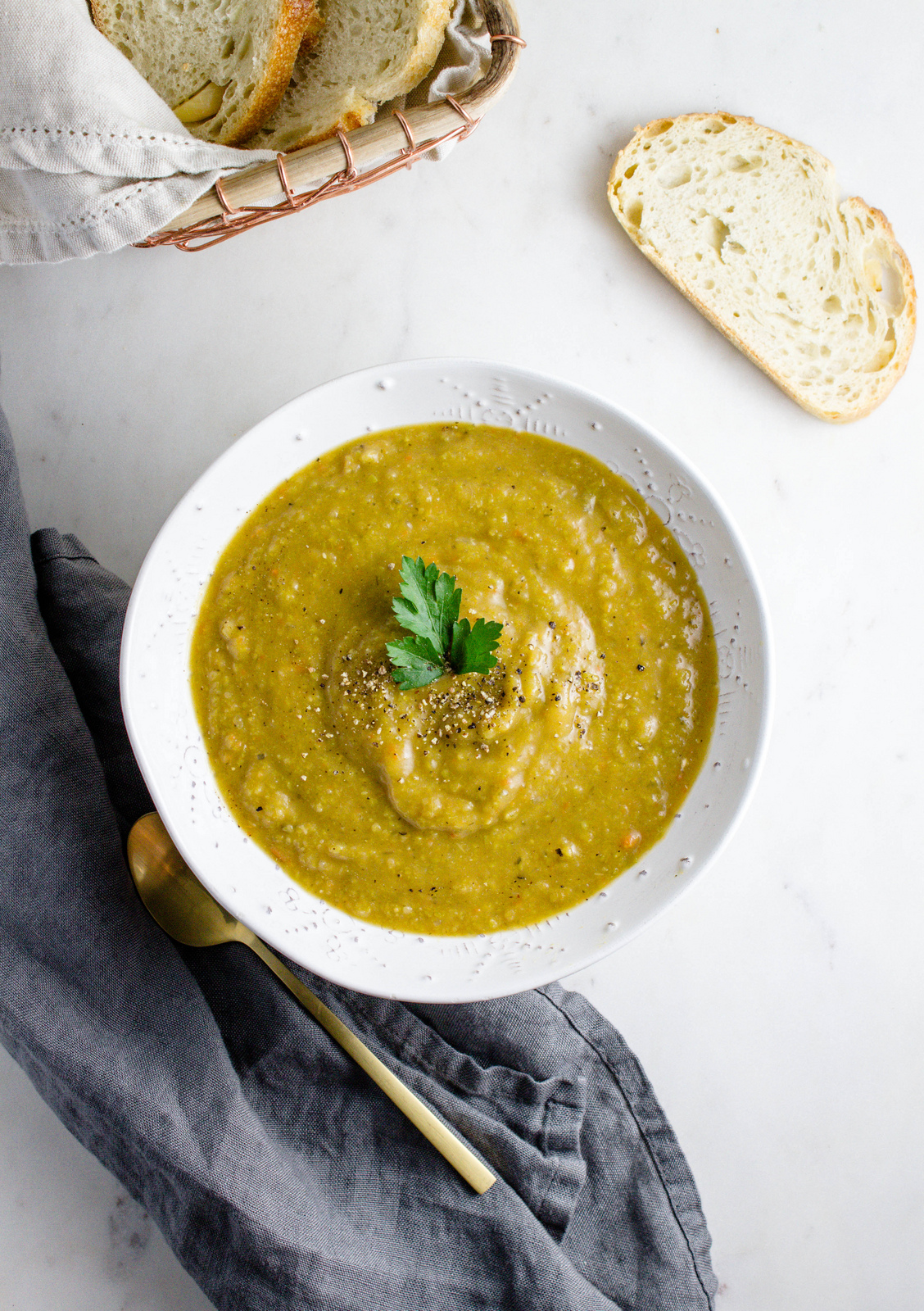 "Thick and hearty, this split pea soup is filled with the usual mirepoix and medley of spices, plus added cabbage for extra heftiness and flavor. Whether you choose to cook it in your slow cooker or on the stove top, it's extremely healthy and so easy to make." Recipe from Simple-Veganista.
Spicy Peanut Tofu Burger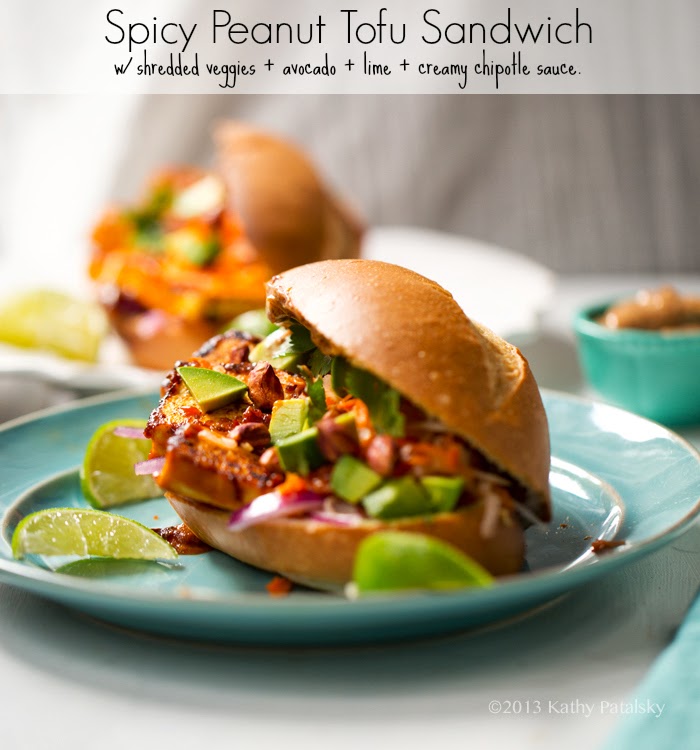 "This Spicy Peanut Tofu Sandwich reminds me of a "bánh mì" Vietnamese sandwich due to the crunchy shredded veggies mingling with fresh cilantro all served on a hearty baguette style, long sandwich roll. But really, this protein-infused recipe has an identity all its own." Recipe: LunchBoxBrunch.
Curried Cauliflower Kale Rice Soup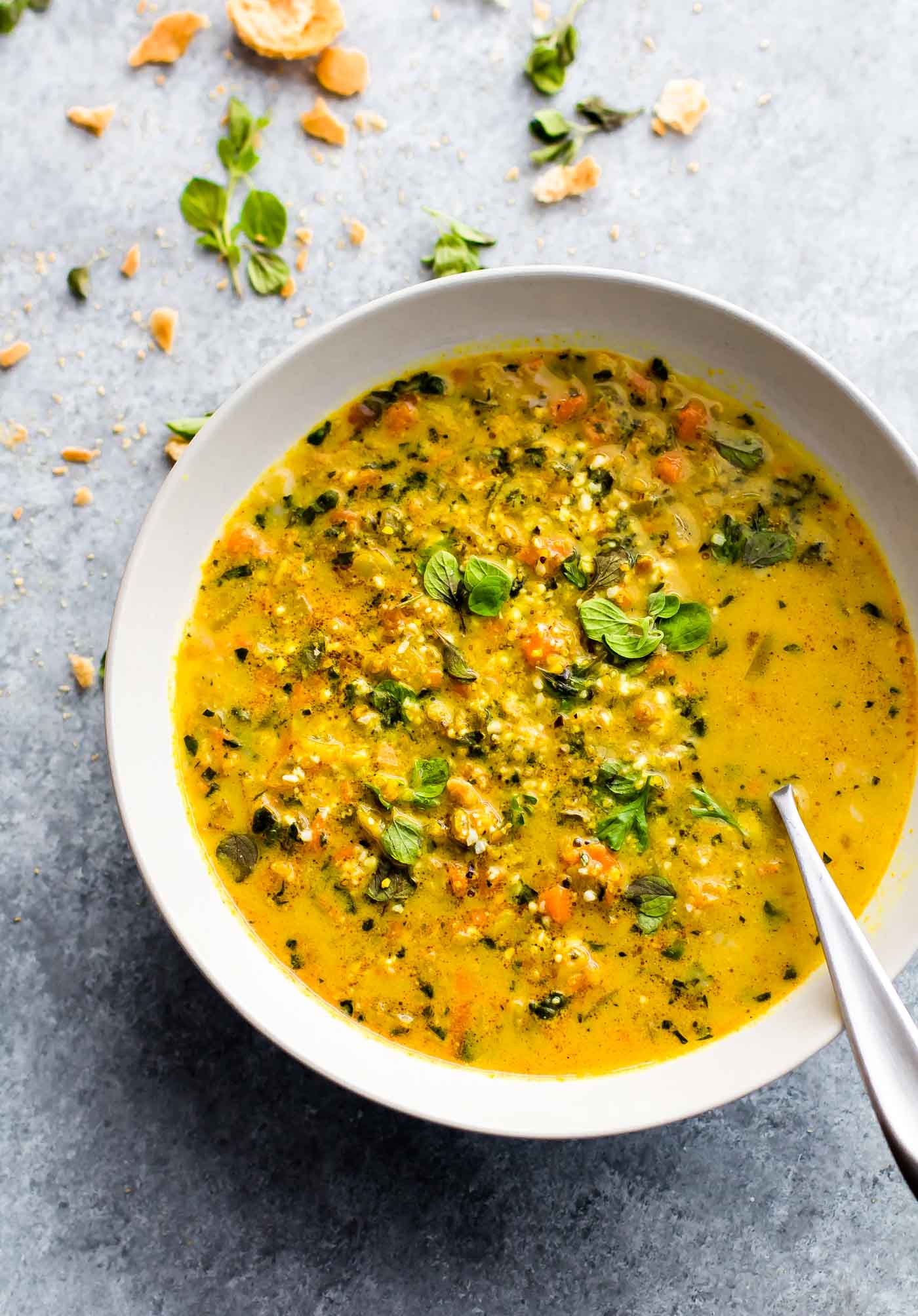 "This Curried Cauliflower Rice Kale Soup is one flavorful healthy soup to keep you warm this season. An easy paleo soup recipe for a nutritious meal-in-a-bowl. Roasted curried cauliflower "rice" with kale and even more veggies to fill your bowl! A delicious vegetarian soup to make again again! Vegan and Whole30 friendly!" Recipe from CotterCrunch.
Pineapple Jerk Veggie Burgers + Sassy Sides!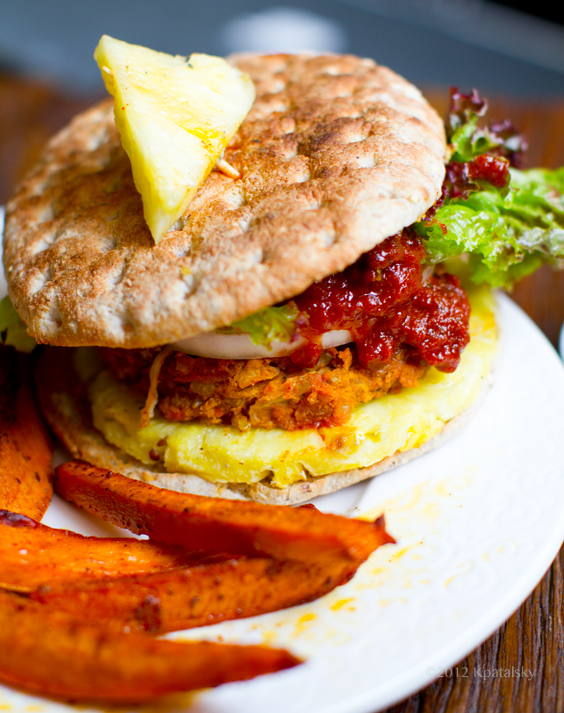 "These Pineapple Jerk Veggie Burgers are infused with some amazing sassy sweet, tropical flavors. Lively lemon, perky-sweet pineapple, rich tahini, cozy sweet potatoes, creamy white beans and spicy, alluring Jerk spice – a mix of ginger, garlic, allspice, brown sugar, sweet chili and more." Recipe: LunchBoxBrunch.