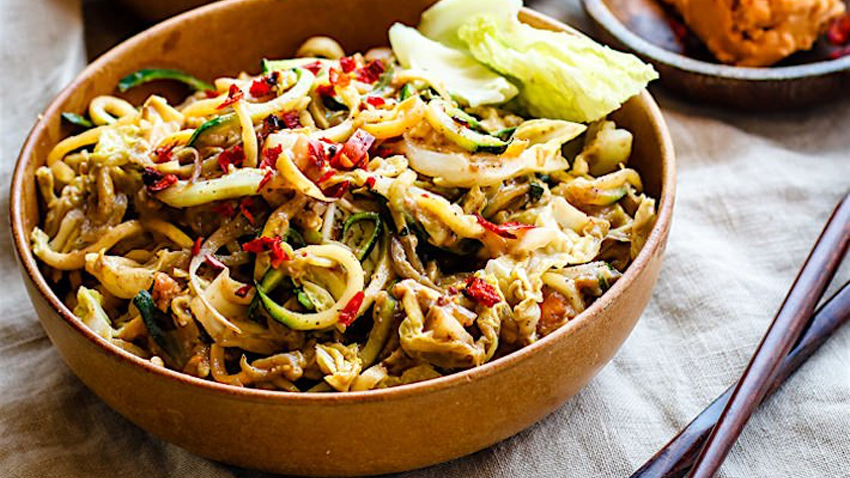 There's a misconception that when you hear "Vegan", you think boring, bland vegetables and flavourless salad leaves that no one could really enjoy, but this couldn't be further from the truth.
It's also true, that just because a recipe is Vegan, doesn't mean it's automatically healthy! It's about finding the right foods, spices and flavours and turning them into perfectly healthy dishes, that are bursting with taste, that simply happen to be Vegan friendly.
So we have collected 39 delicious vegan recipes that you can add into your weight loss diet, that you will absolutely love! Soups, pasta, salads, burgers, wraps, sandwiches, there is something for everyone to enjoy! As always, save and share you favourites to make this week! Enjoy!

39 Delicious Vegan Recipes That Are Perfect For Losing Weight!
1. Vegan Red Thai Coconut Curry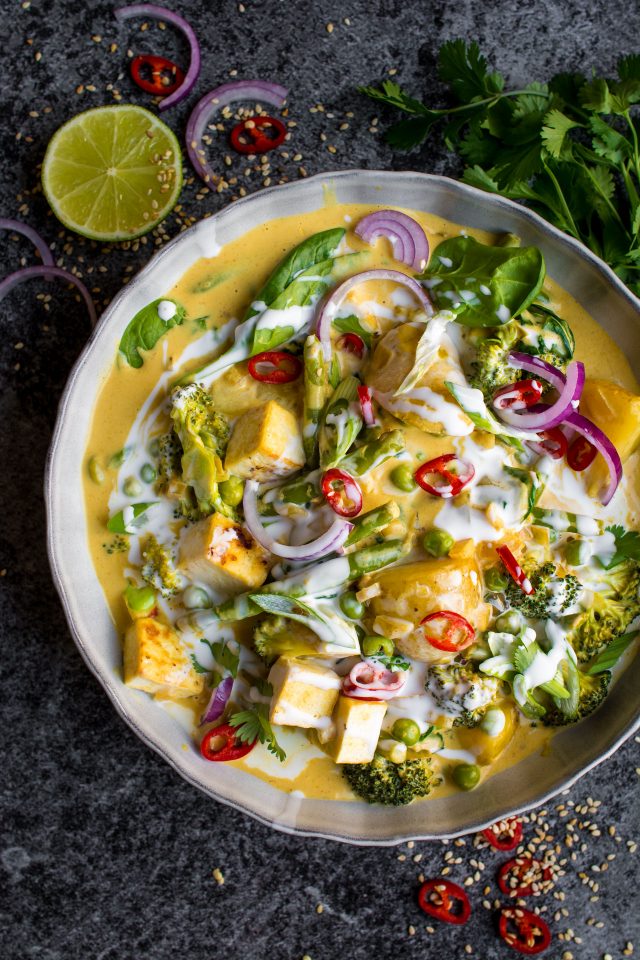 "This creamy Vegan Red Thai Coconut curry is full of delicious veggies and covered with a thick, coconut sauce. It's the perfect winter warmer for these cold evenings!" Recipe: LaurenCarisCooks.
2. Super Quick Vegan Black Bean Burgers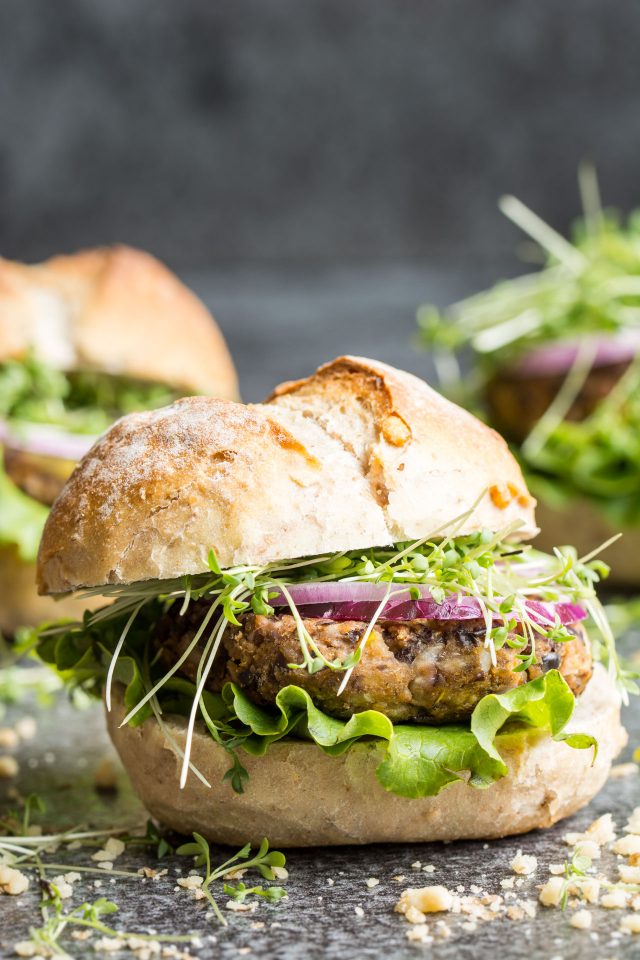 "They are hearty and textured, with a hint of sweetness from the red onion and the barbecue sauce. It's the perfect balance of flavours for your perfect burger. Try it topped with your favourite salad toppings and extra barbecue sauce for good measure!" Recipe: LaurenCarisCooks.
3. Kale Detox Salad w/ Pesto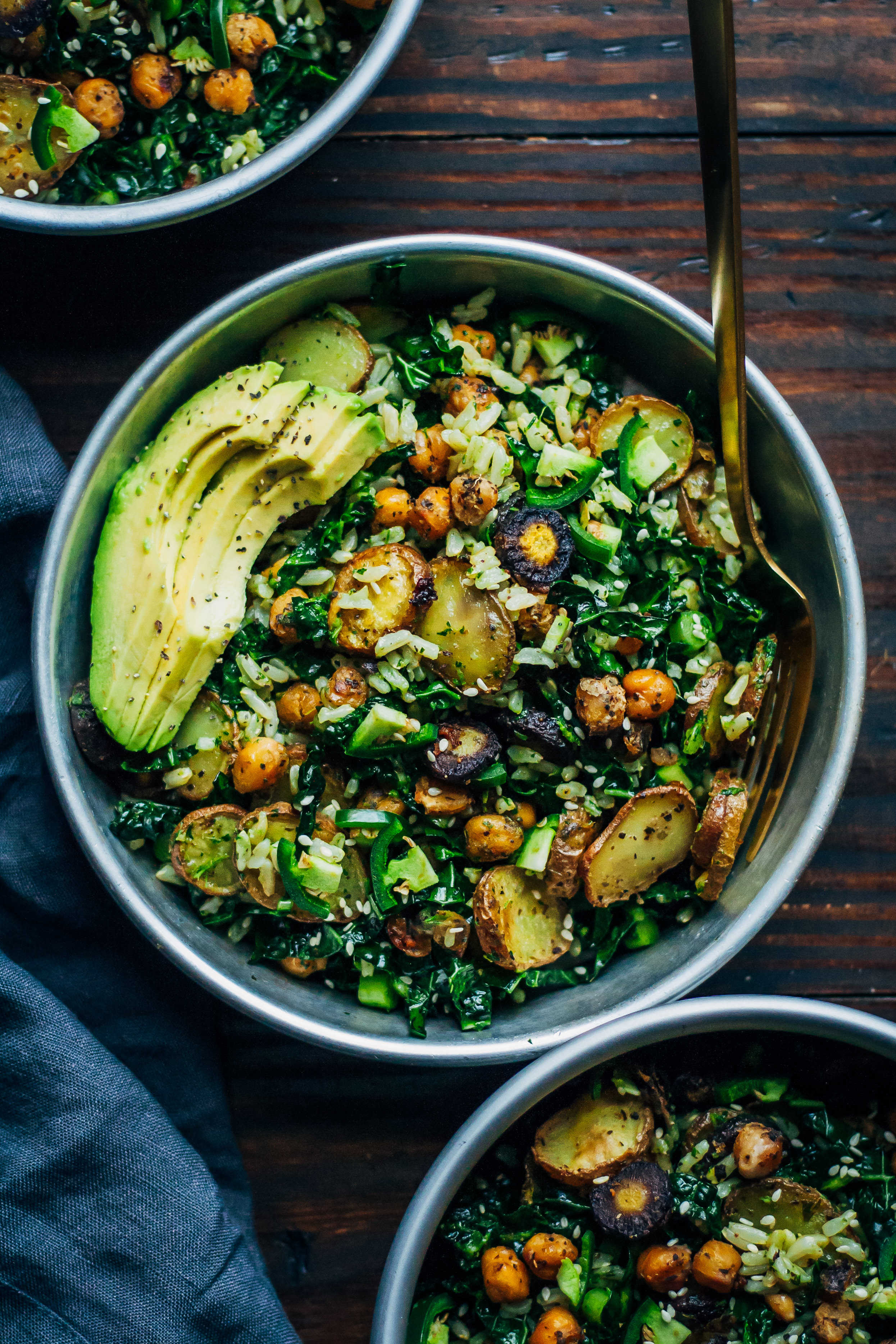 "But I had to make this salad delicious, because what's the point of eating it if it's not delicious?! It's got roasted potatoes and carrots, brown rice for fiber, chickpeas (of course), and lacinato kale – all topped with a deliciously chloro-filled (see what I did there!?) green pesto. It's delicious, AND good for your bod! I hope you all love it!" Recipe: wellandfull.com
4. Vegan Pad Thai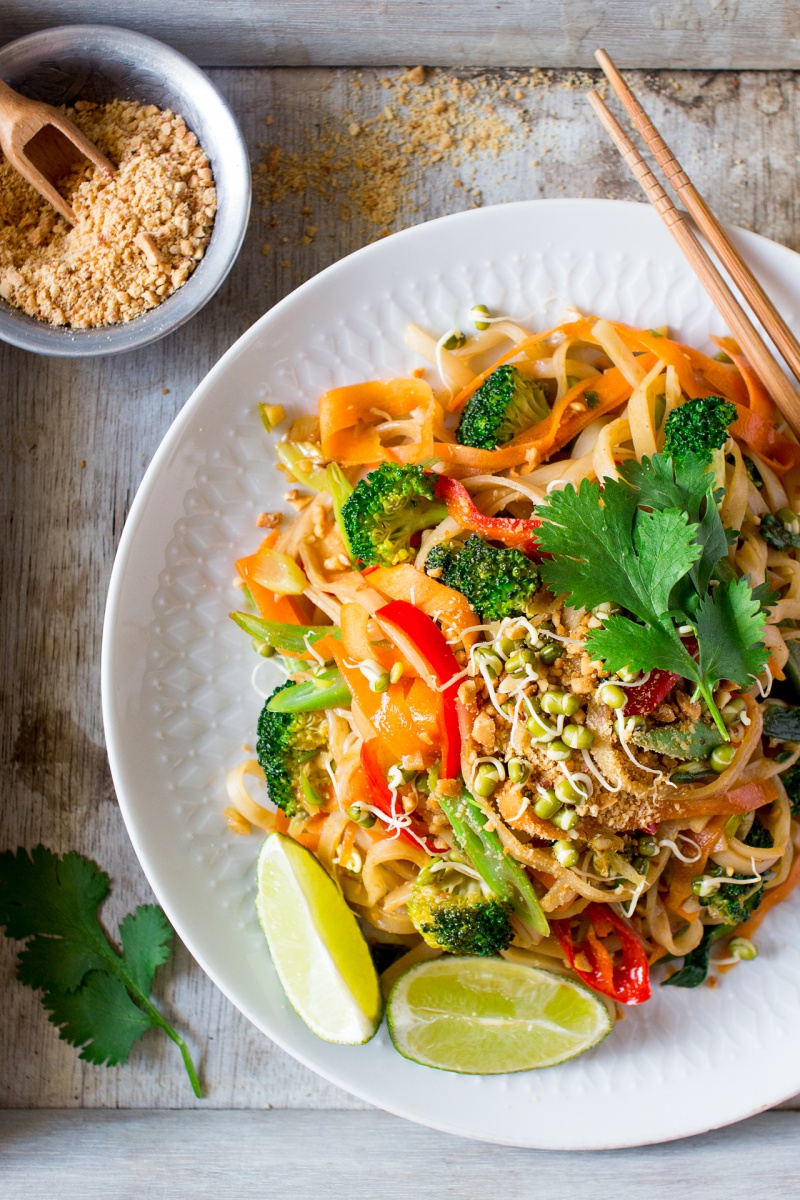 "Pad Thai (or Phad Thai) has been one of my favourite dishes for a while now. Apparently, it's also one of the most popular Thai dishes outside Thailand so I'm hoping this simple recipe will be a welcome addition to the blog. It's one of these dishes that are not that difficult to veganise." Recipe: LazyCatKitchen.
5. Low Fat Pesto Vegan Pasta Salad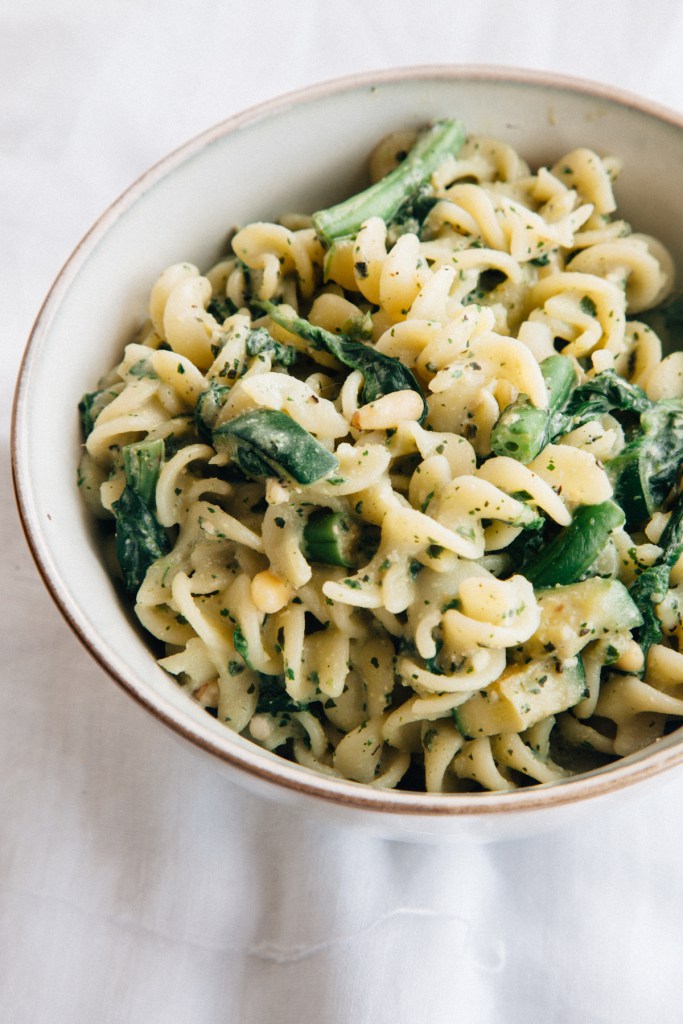 "One of my favourite ever lunch choices used to be a pesto pasta salad from Marks & Spencers. Made with pesto, pine nuts, parmesan, spinach and a TON of olive oil – it wasn't very healthy but it was damn delicious. So I've decided to recreate that deliciousness in vegan, gluten-free and low-fat form!" Recipe: wallflowerkitchen.com
6. One Pot Ratatouille Spaghetti (Vegan + GF)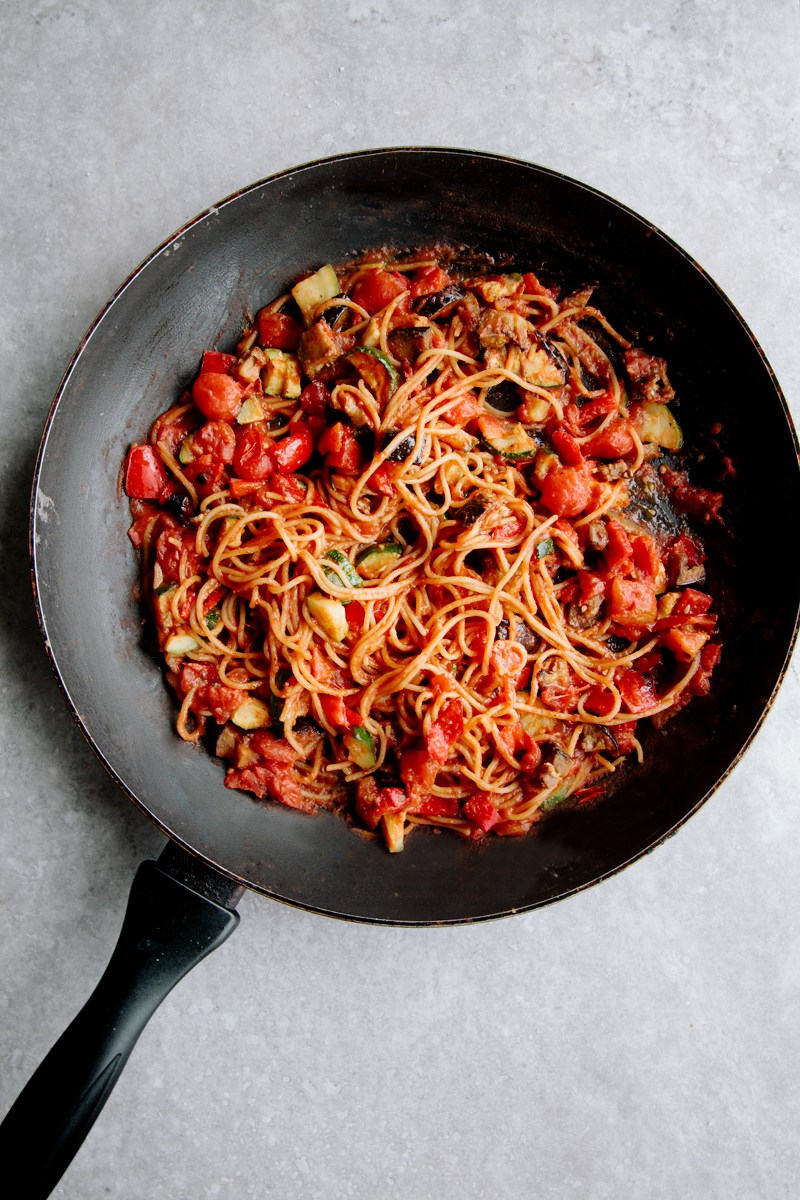 "Thankfully, this Chickpea Spaghetti was on of the best. Especially texture-wise, I feel this spaghetti held together much better than other gluten-free pastas. No sogginess, just that perfect bite and texture." Recipe: wallflowerkitchen.com
7. Easy Vegan Chilli Sin Carne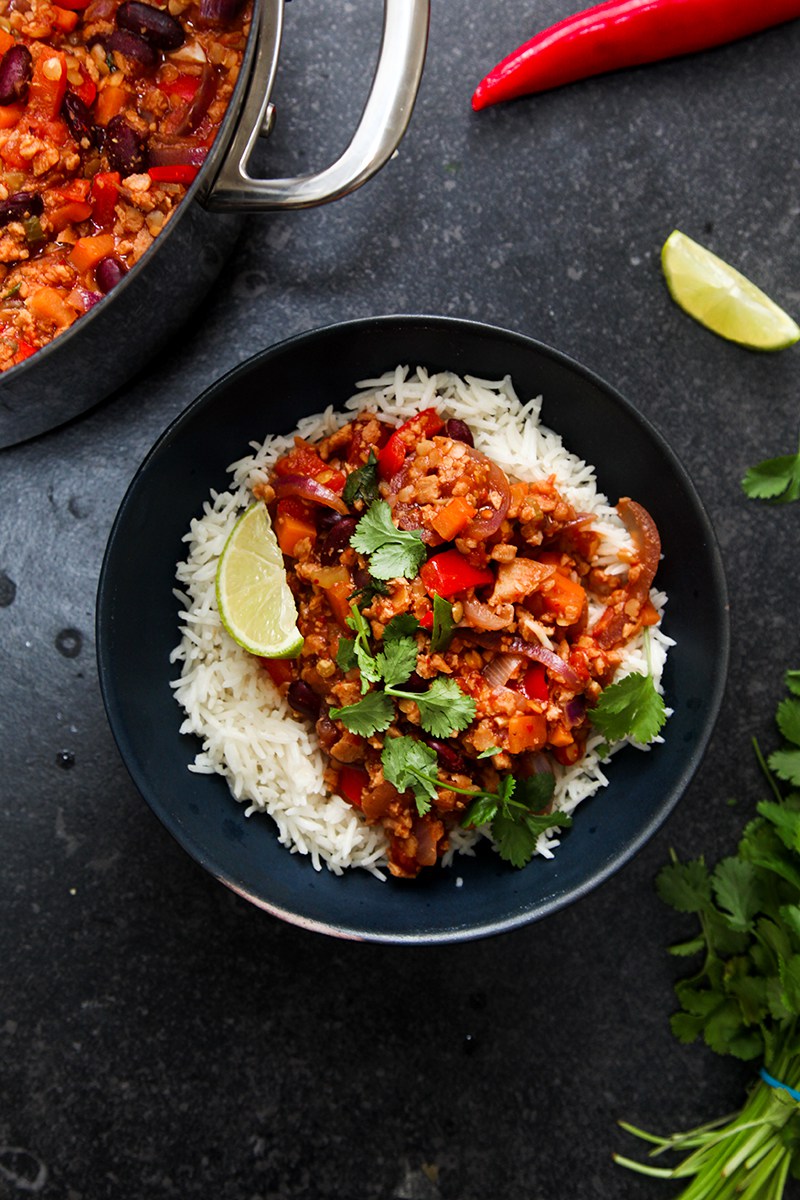 "So I've resolved to make more of those. Including this incredibly delicious and satisfying chilli which is very simple to make and takes just half an hour to cook. And if you want to make it extra easy, you can buy ready-prepared soffrito mixes at the supermarket, either in the fresh veg or frozen section. This is a mixture of pre-chopped onion, celery and carrots which is the beginning of this recipe, and many others. A very handy mixture to keep in the freezer for soups, veggie bolognese etc." Recipe from WallFlowerKitchen.
8. Baked Green Pea Fritters (Vegan + GF)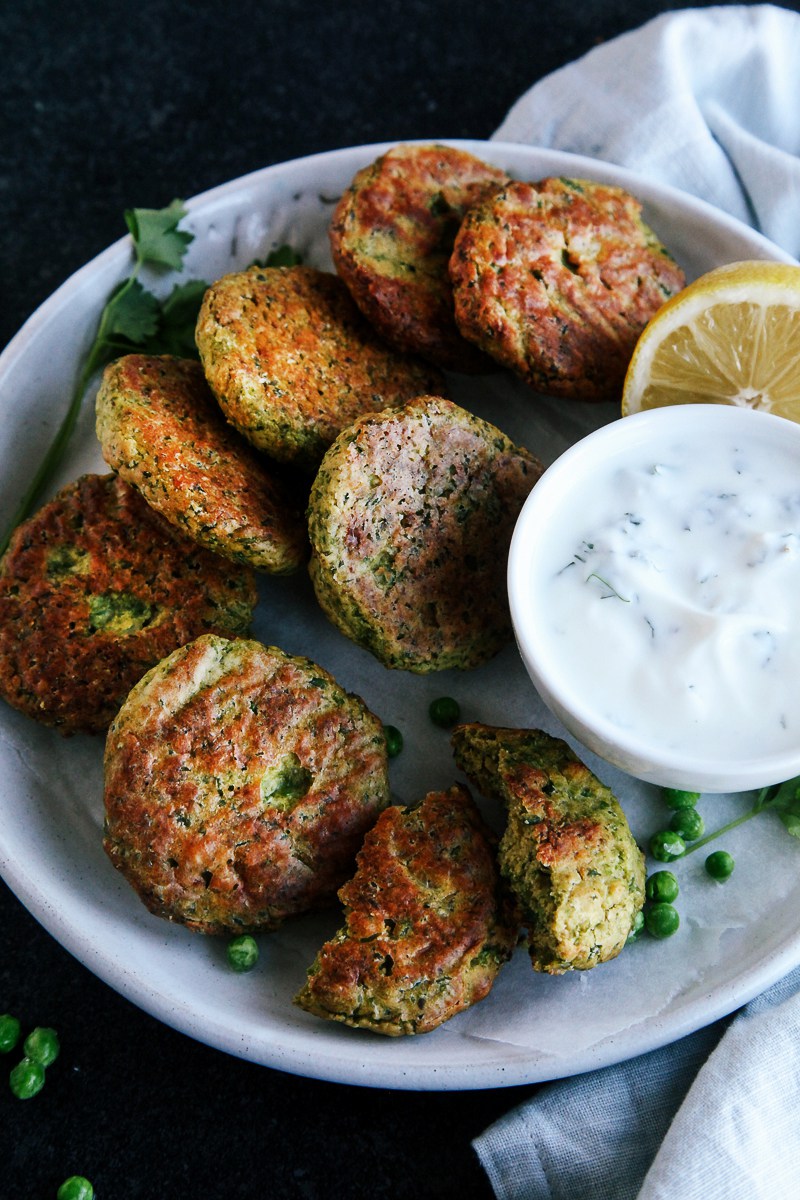 "Peas are an often overlooked legume. We tend to think of them as more of a side dish or something we throw into a dish, last minute. Meanwhile chickpeas and beans are used for all kinds of dishes. But green peas so delicious, sweet, they're a great source of protein, fibre and other goodness. So I wanted to create a recipe that made the best of that. Green pea fritters!" Recipe from WallFlowerKitchen.
9. Spicy Butternut Squash Soup (Vegan + GF)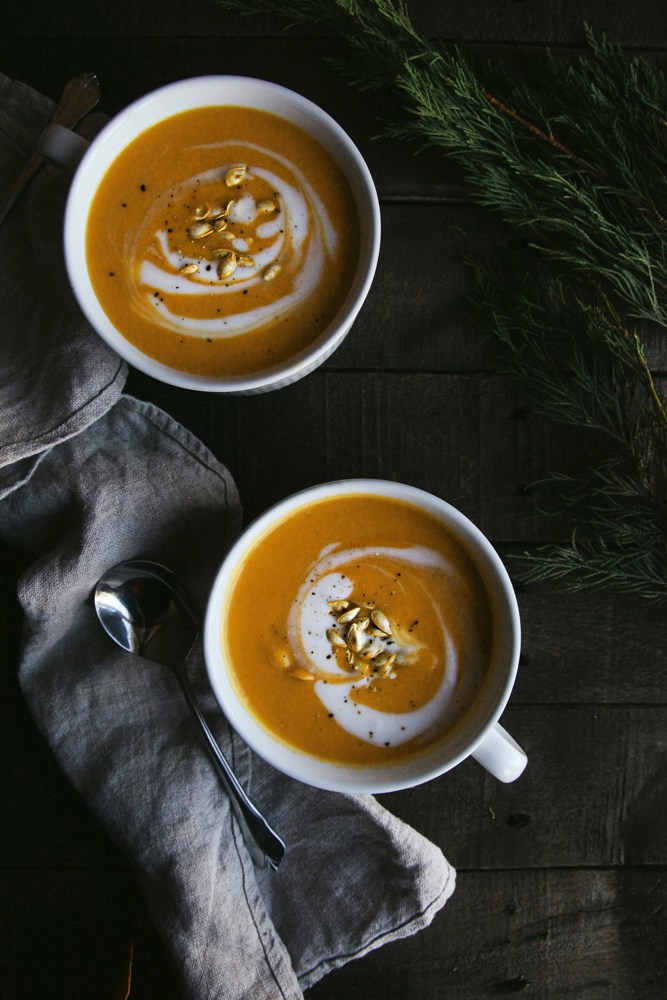 "Butternut squash is one of my favourite ingredients in a soup because it gives such a creamy, smooth and silky texture. Plus that delicious sweet flavour. Mmm!" Recipe from WallFlowerKitchen.
10. Mushroom Lasagna (Vegan + GF)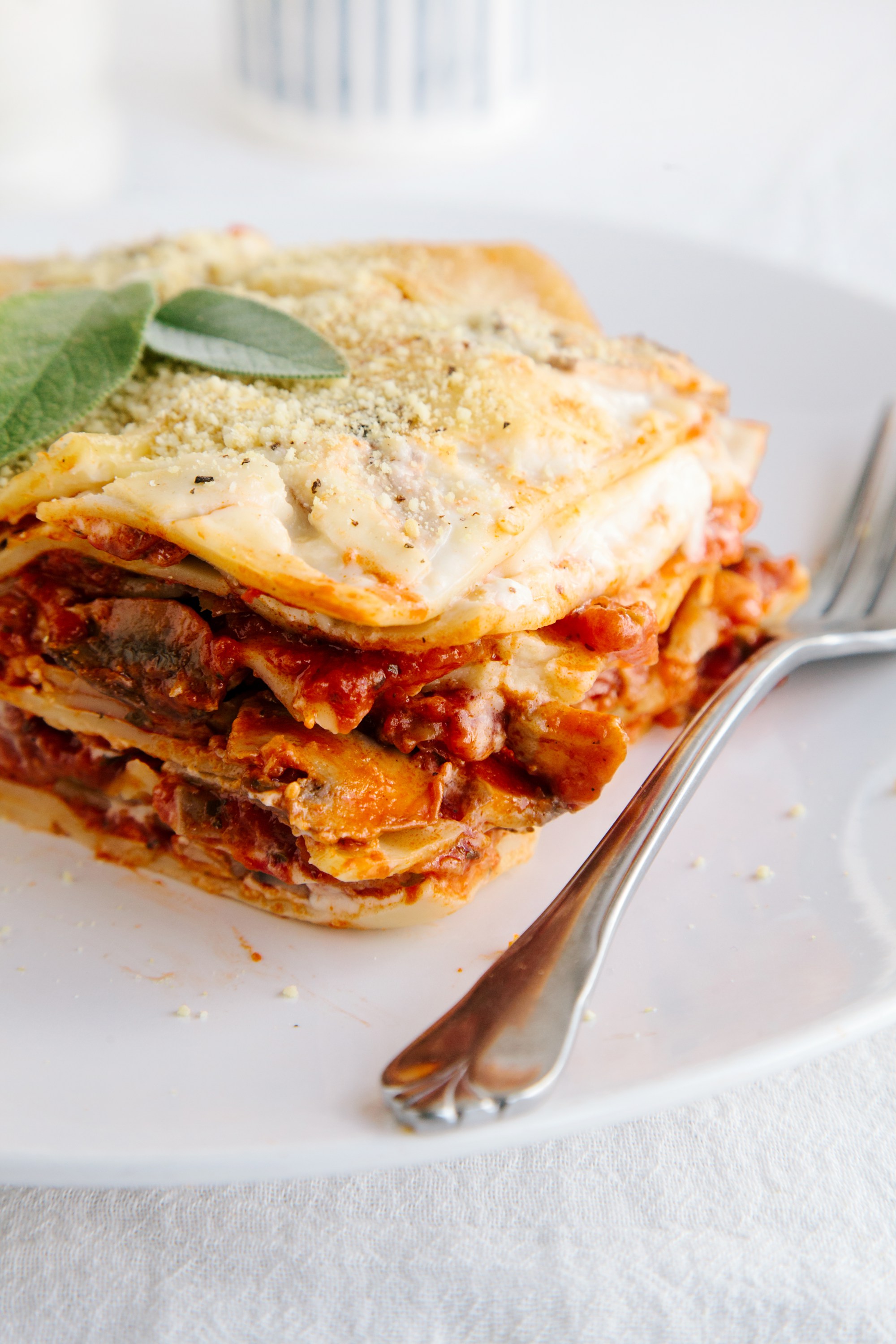 "A good vegan lasagna is hard to come by. But guys… I think I've found one of the best, if I may say so. It's creamy, rich, flavourful, comforting and oh so satisfying to eat. The tastiest vegan lasagna I've tried so far!" Recipe from WallFlowerKitchen.
11. Butternut Squash Noodles With Creamy Garlic Mushrooms & Lentils (Vegan & GF)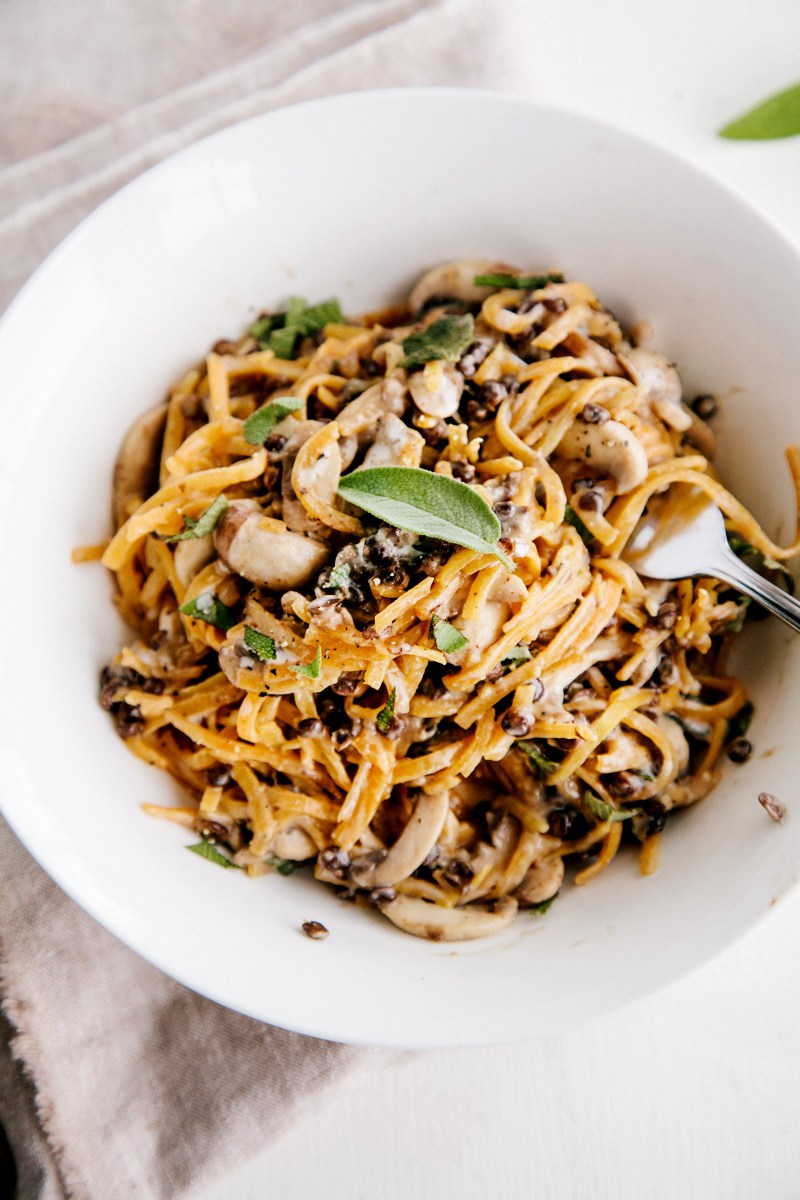 "I'm often guilty of making out-of-season recipes, such as this rather autumnal-looking dish, featuring spiralized butternut squash, mushrooms, sage and lentils." Recipe from WallFlowerKitchen.
12. Shirataki Noodles With Almond Butter Sauce (Vegan + Paleo)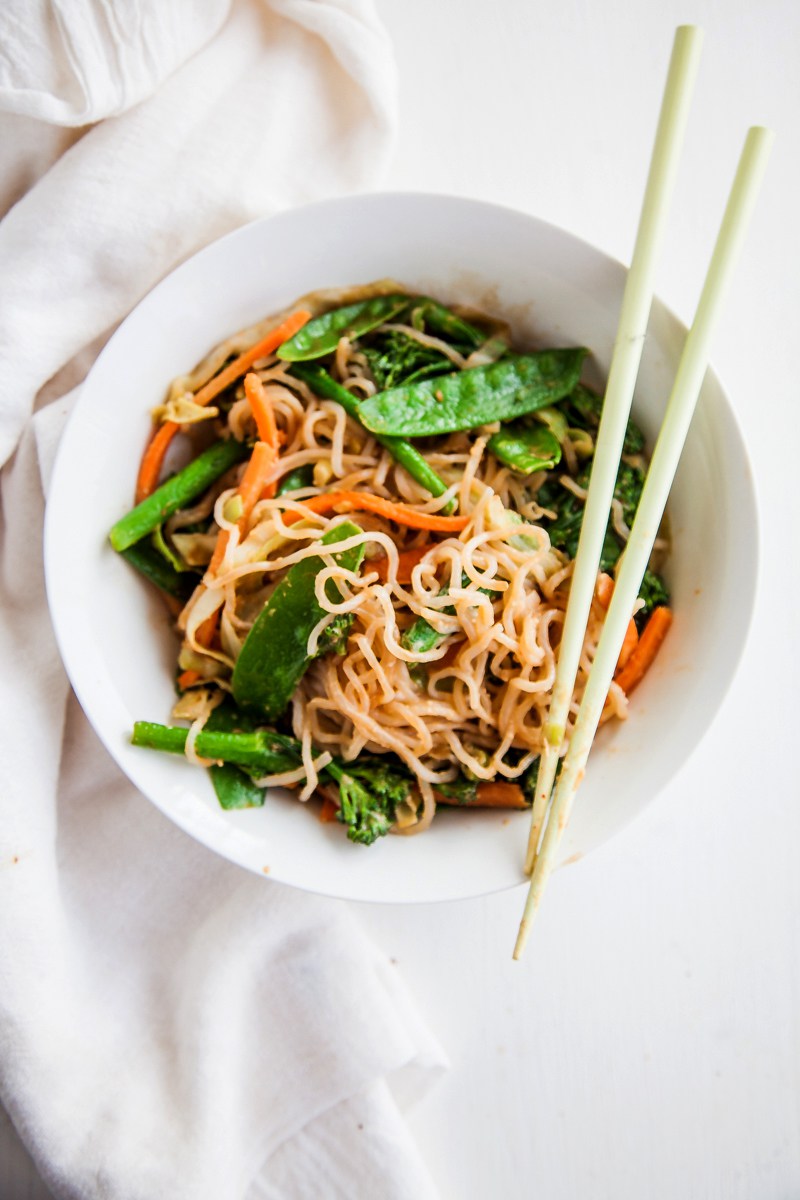 "Have you tried Shirataki noodles before? They're often called "Miracle" noodles or "Zero" noodles because of the fact they contain no calories, fat or carbs! Sounds too good to be true, right? They're naturally gluten-free and grain-free, meaning they are also suitable for Paleo diets." Recipe from WallFlowerKitchen.
13. Greek Pasta Salad With Almond Feta (Vegan + GF)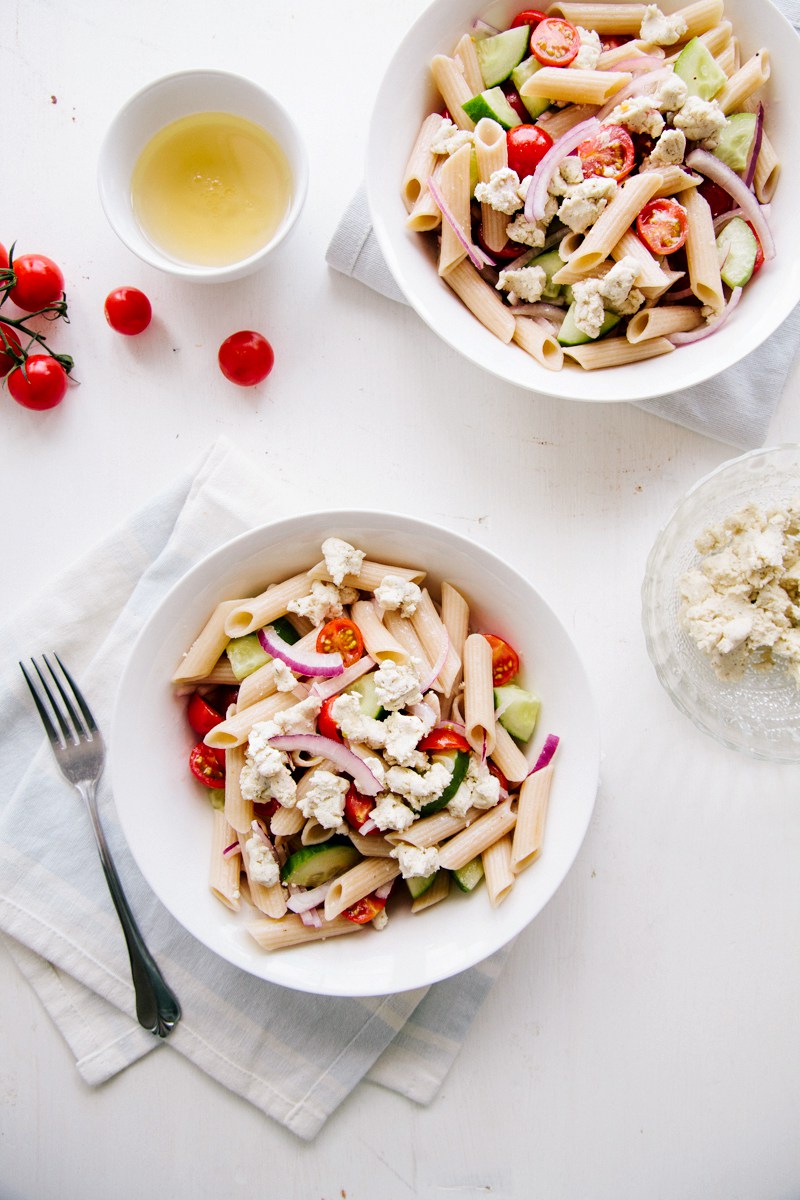 "I've made this Greek salad even more substantial, I've turned it into a pasta salad! Using brown rice penne which is not only gluten-free but high in protein and much more healthy than ordinary wheat pasta. To veganize it, I've made a feta cheese from almonds and don't worry it's SUPER quick and easy to make, with no expensive ingredients…" Recipe from WallFlowerKitchen.
14. Green Goddess Fig Nourish Bowls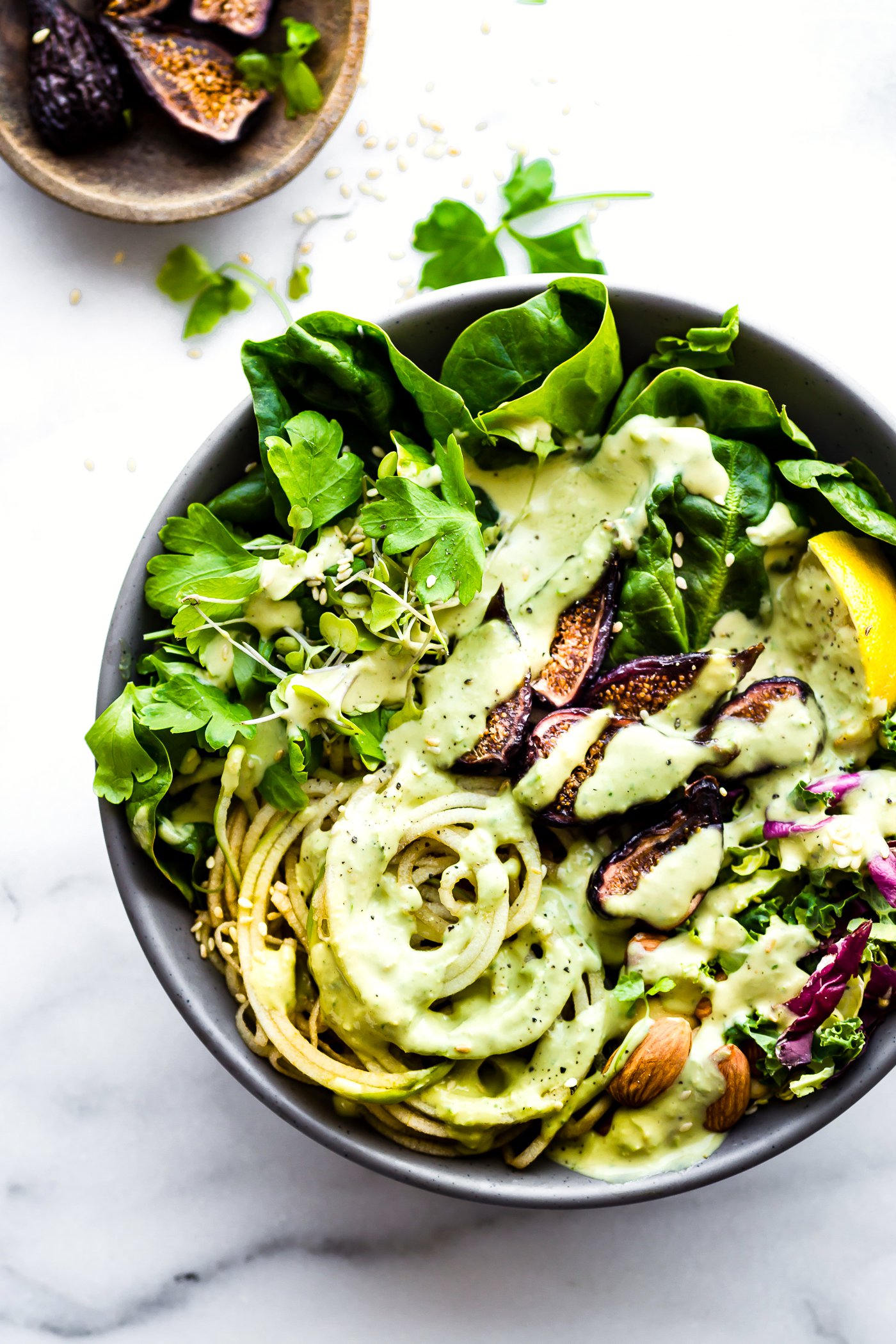 "Quick and Easy Green Goddess Fig Nourish Bowls! These plant powered nourish bowls are packed with super greens, healthy fats, nature's candy (Fruit and Figs), and topped with homemade green goddess dressing. They will fill you up and nourish you all at once. Paleo, Vegan, and Whole 30 friendly!" Recipe from CotterCrunch.
15. Paleo Chili Garlic Cauliflower 'Risotto' Bowls
"These Chili Garlic Cauliflower "Risotto" Bowls are an easy Paleo dish to satisfy that comfort food craving! A healthy vegan recipe with a spicy sauce. The Cauliflower Rice is the "risotto" and is cooked a non dairy (coconut or almond) milk; all in one pan! The sauce is made extra spicy and creamy with chili, garlic, and avocado combined. Pretty much great on EVERYTHING!" Recipe from CotterCrunch.
16. Smashed Mexican Bean Avocado Toast (Vegan Friendly)
"Smashed Mexican Beans Avocado Toast! Avocado Toast Recipes need a little upgrade. This Fully Loaded MEXICAN style avocado toast recipe is Gluten Free, Vegan Friendly loaded with Flavor!! A simple, yet spicy, meatless meal, breakfast, or even a healthy appetizer." Recipe from CotterCrunch.
17. Avocado Tomato Gouda Socca Pizza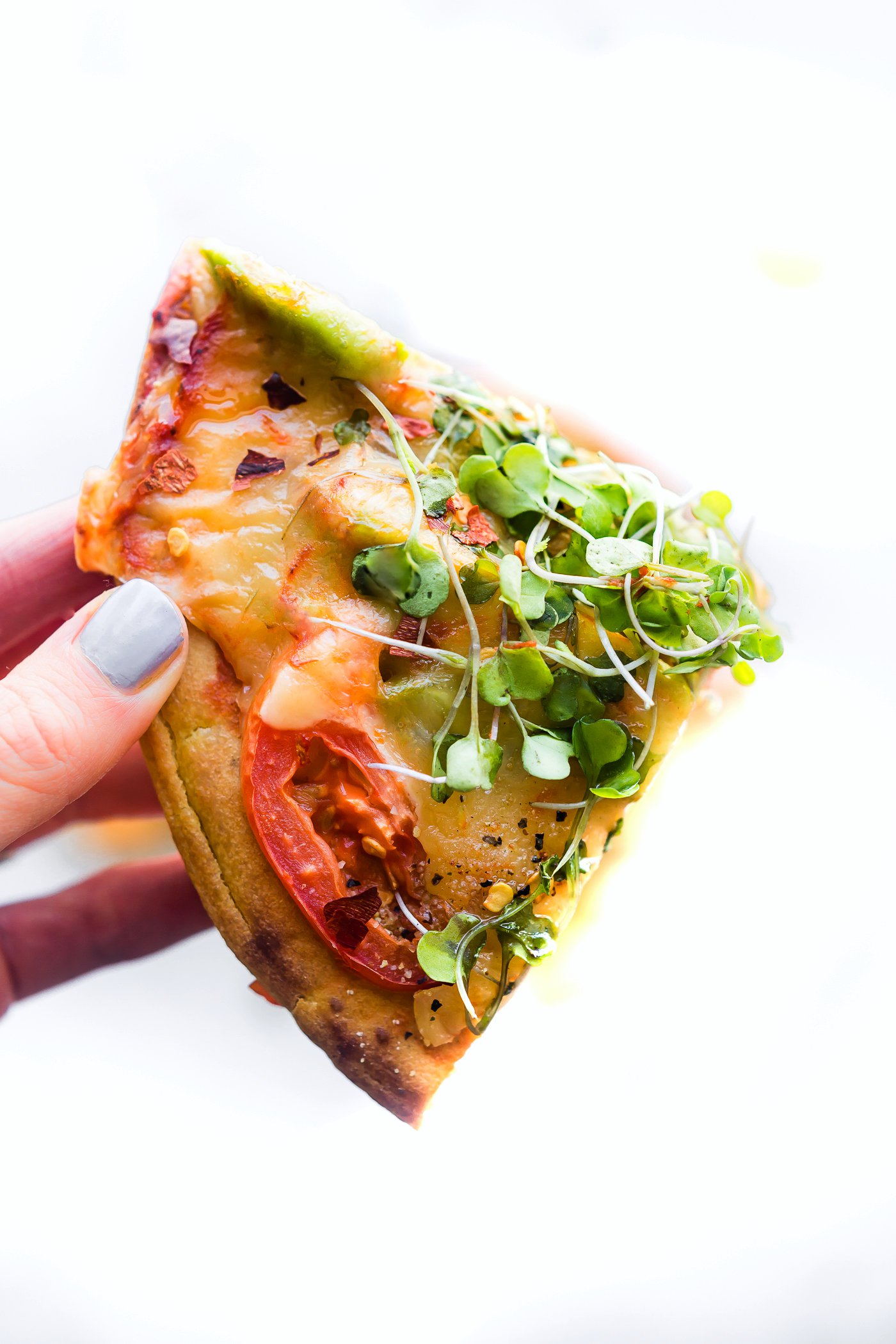 "What's not to love about this Avocado Tomato Gouda Socca Pizza recipe? A grain free, gluten free Avocado Tomato Gouda Socca Pizza made with chickpea flour and topped with Avocado, Gouda, Tomato, and Sprouted Greens! Seriously easy to make, egg free, vegan option, OMG delicious!" Recipe from CotterCrunch.
18. Green Goddess Spiralized Potato Salad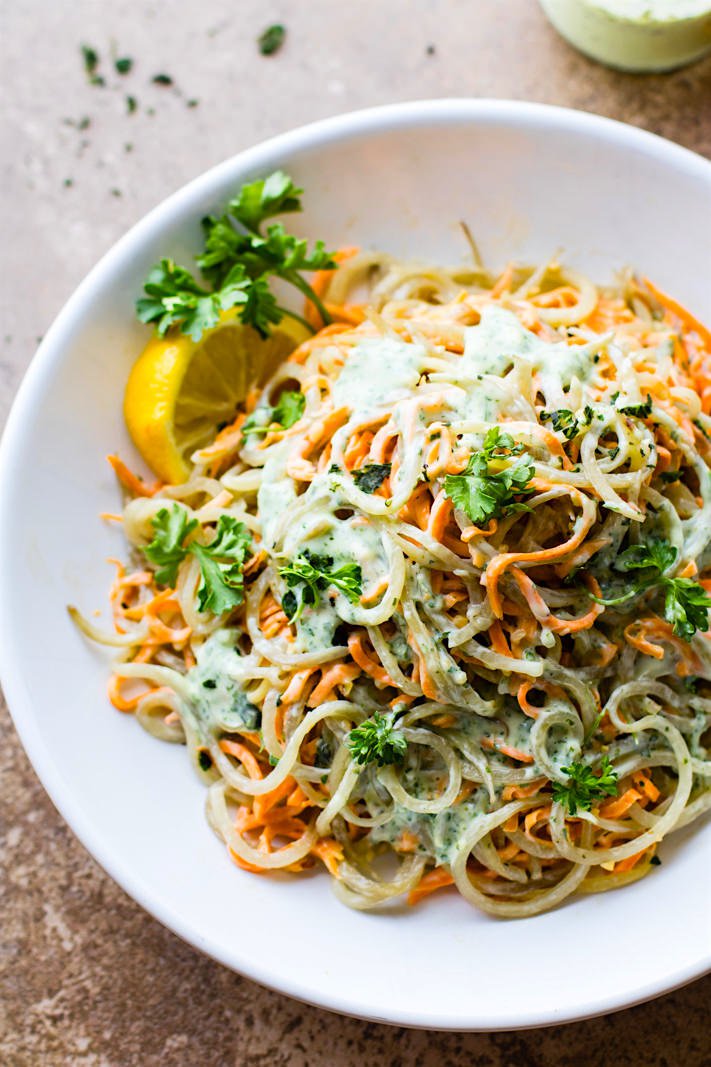 "Easy Green Goddess spiralized Potato Salad! A paleo and vegan pasta style potato salad that's so flavorful and healthy! A perfectly creamy potluck side dish. Or grab a spoon and hog this salad all for yourself!" Recipe from CotterCrunch.
19. Crunchy Vegan Chipotle Salad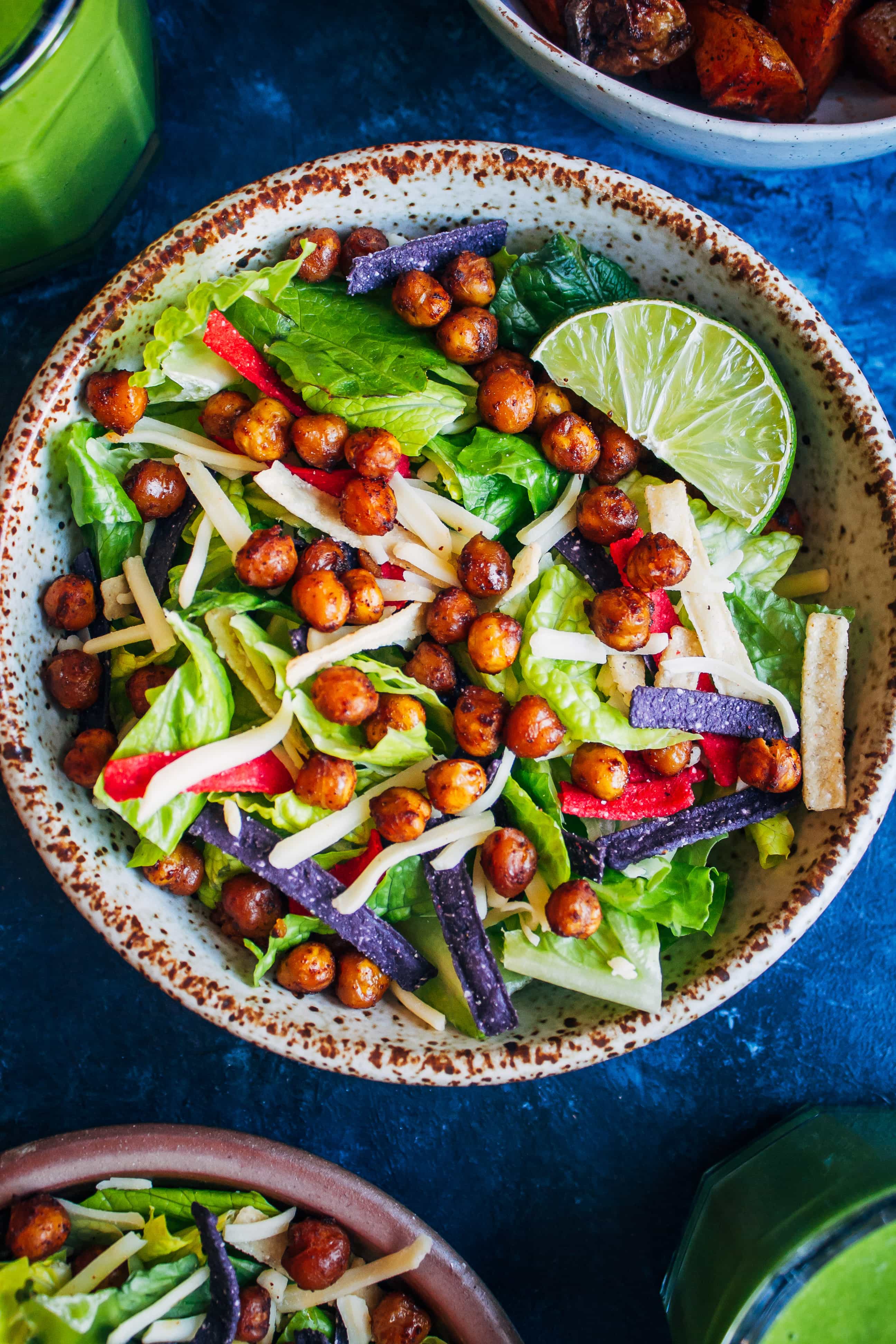 "Nutritionally, the vegan cheese and tortilla strips don't add a whole lot to this salad, but romaine is a great source of Vitamin A, Vitamin K, and folate. Plus, it's low in calories, so you can eat as much as you like without going into caloric overload. (Which is helpful if you're someone like me, and like to eat by volume!) The chickpeas, on the other hand, are a great source of plant-based protein and fiber – plus, they're just delicious! I know you'll love this salad!!" Recipe from WellAndFull.
20. My Favourite Vegan Wrap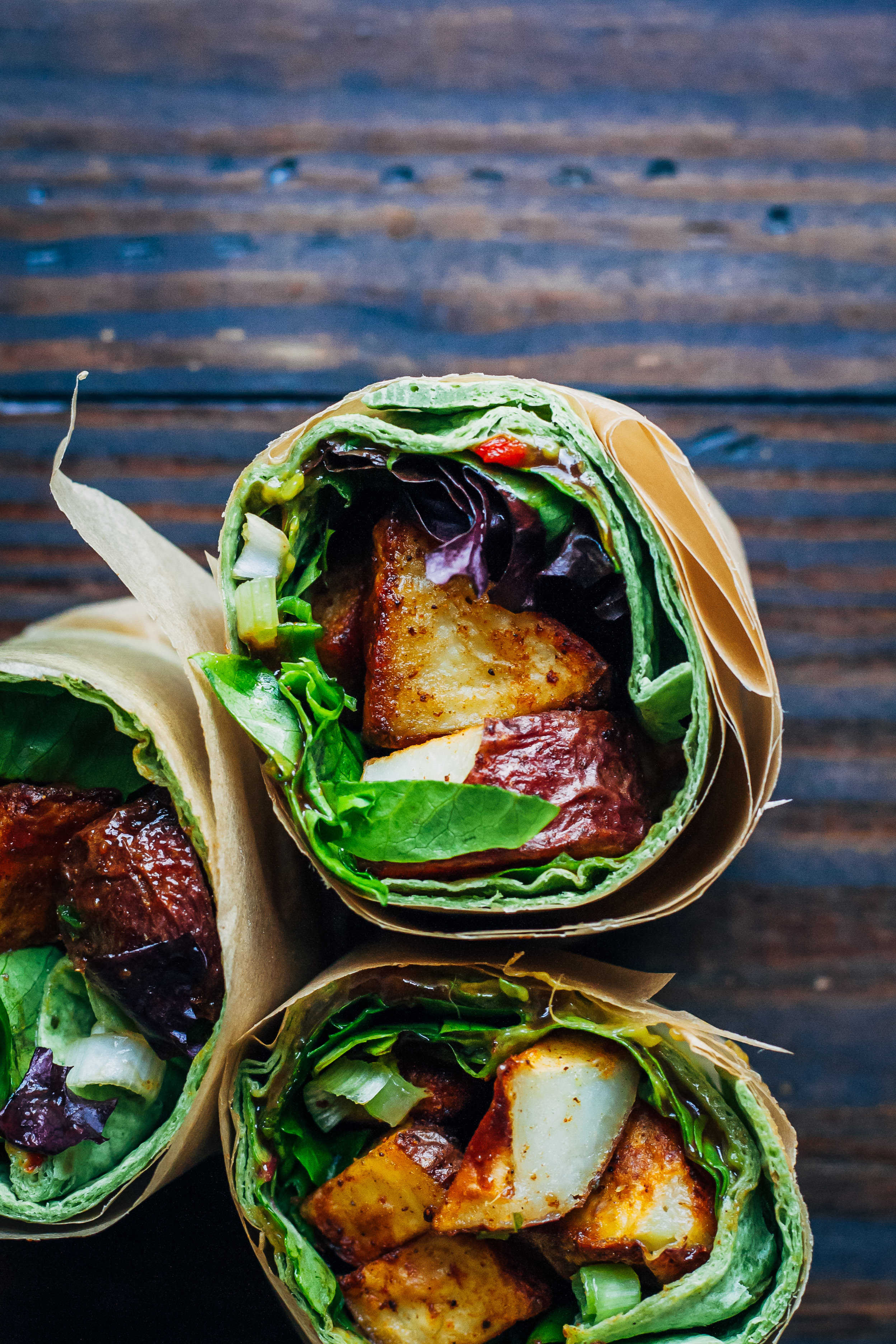 "Today's recipe is something straight out of my own meal rotation – the vegan wrap. I love salads and pasta, but there's something about wraps that I will always love. Potatoes make up the perfect filling, roasted with a touch of olive oil and spices. The flavors I used for these wraps include guacamole and barbecue sauce, but you could try any spreads and sauces you like – try hummus and hot sauce, or baba ganoush and your favorite salad dressing. The possibilities are endless!" Recipe from WellAndFull.
21. A Really Good Vegan Carbonara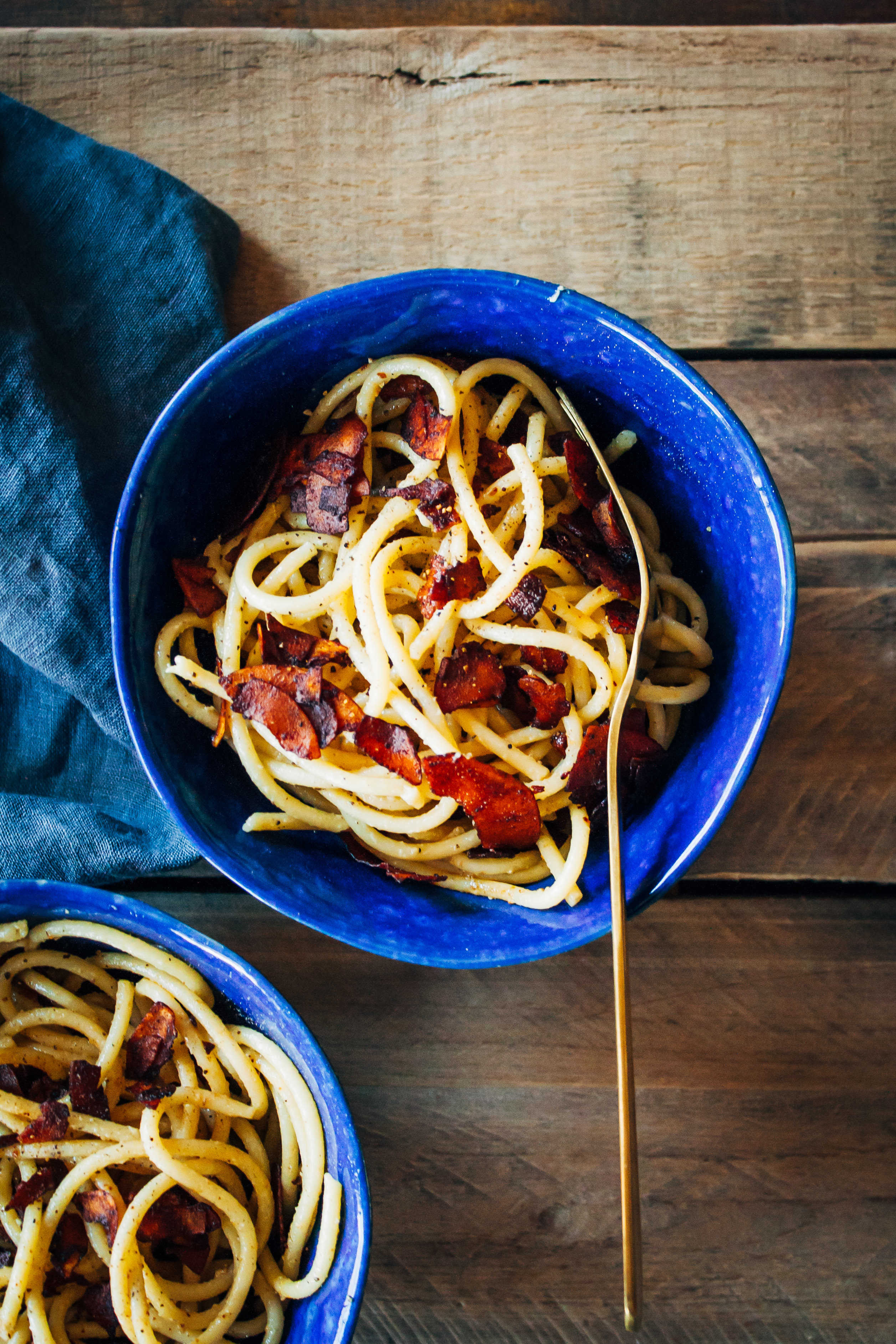 "Today's recipe is one that I'm really excited about – CARBONARA!! I've seen vegan versions online before but they all seem to contain kala namak, a type of black salt that has an egg-y flavor. However, it's really hard to find, so I experimented with other pungent flavors to get that egg taste. And lo and behold, truffle oil did just the trick!" Recipe from WellAndFull.
22. Warming Vegan Chana Masala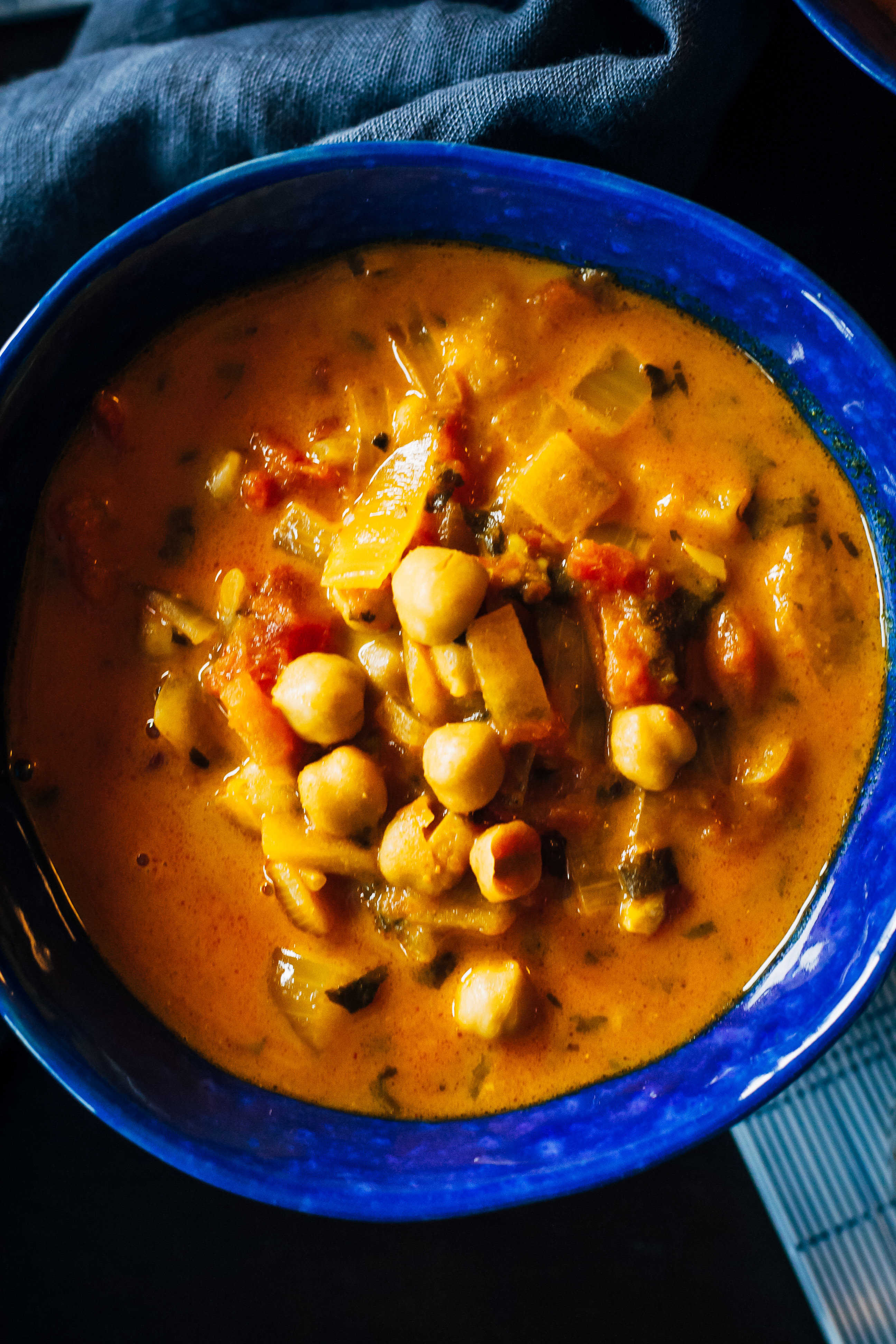 "I thought of that experience while I was developing this recipe, sautéing the onions and garlic with the tomatoes, mixing in the curry powder with the cumin and turmeric. The smell coming out of my kitchen was incredible." Recipe from WellAndFull.
23. Healthy Vegan Potato Salad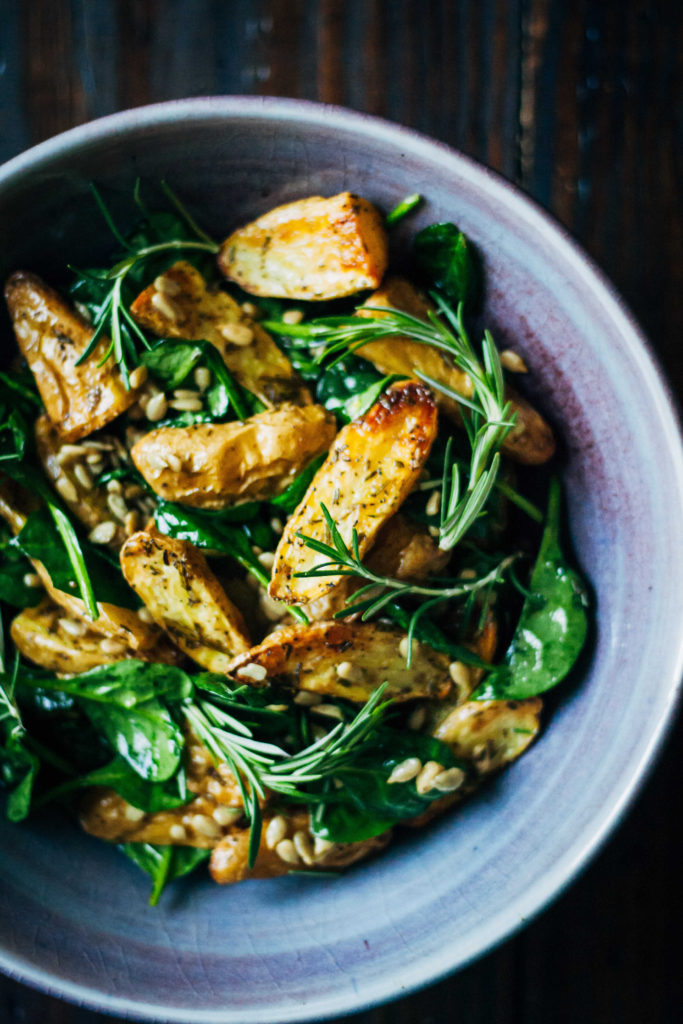 "Imagine crispy yet tender fingerling potatoes, baked with heady rosemary and piquant black pepper, tossed with a mouthwatering spinach salad coated in a mustardy apple cider vinaigrette. YUM.' Recipe from WellAndFull.
24. Vegan Pho With Daikon Noodles
"Of course, presenting an authentic pho recipe on a vegan blog would be, by definition of pho, impossible. So instead of using the traditional meat-based broth, this soup gets its base from shiitake mushrooms, which have a wonderfully meaty flavor and texture. Coupled with garlic, ginger, and a little bit of miso, traditional pho won't even compare!" Recipe from WellAndFull.
25. Easy Vegetable Chili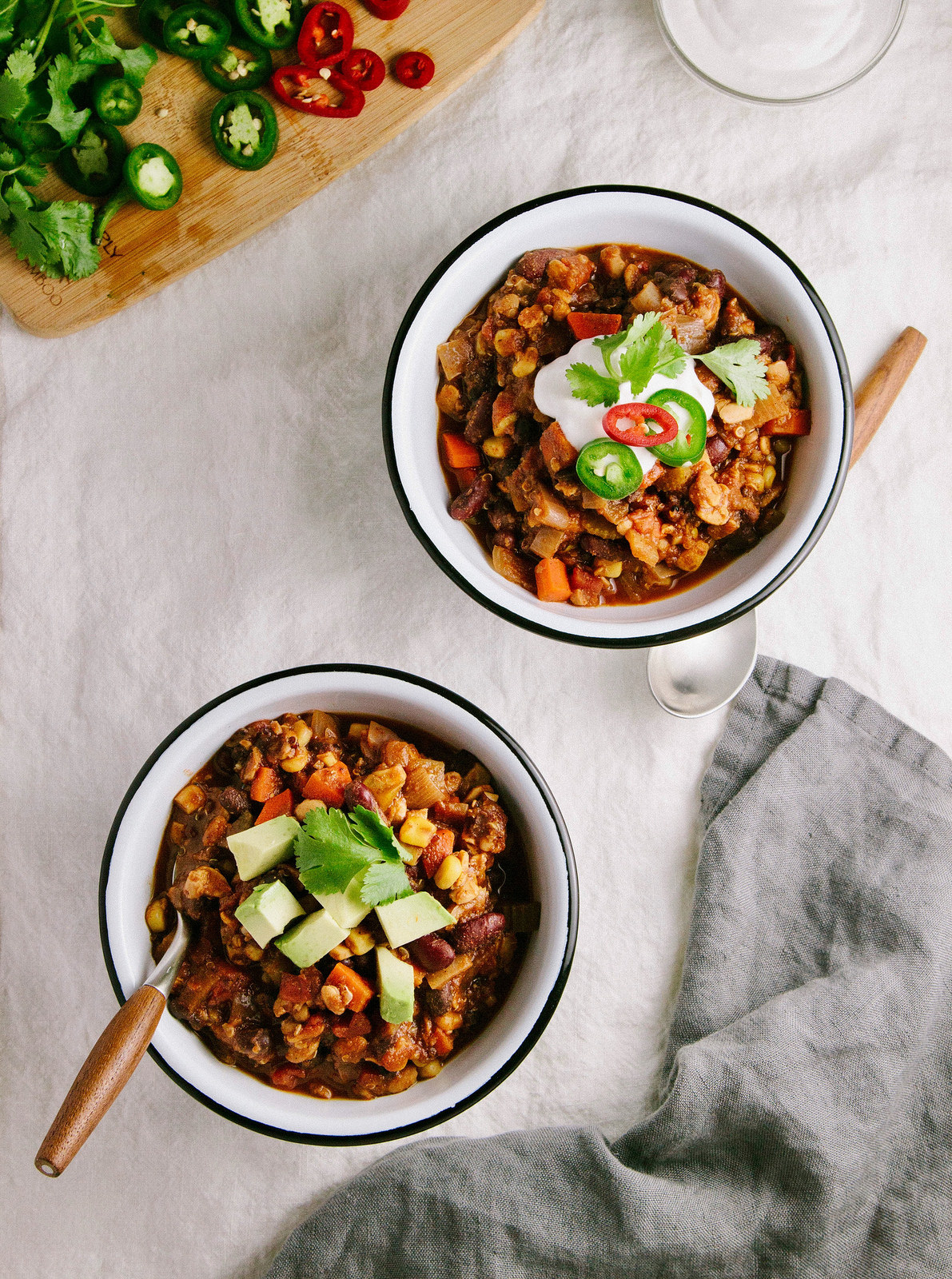 "With everything on hand, I was able to pull this chili together in no time at all. Most likely you will have all, or most, of the ingredients stocked in your kitchen as well. This recipe is low-fat, oil-free, and healthy as can be!" Recipe from Simple-Veganista.
26. Vegetable Quinoa Soup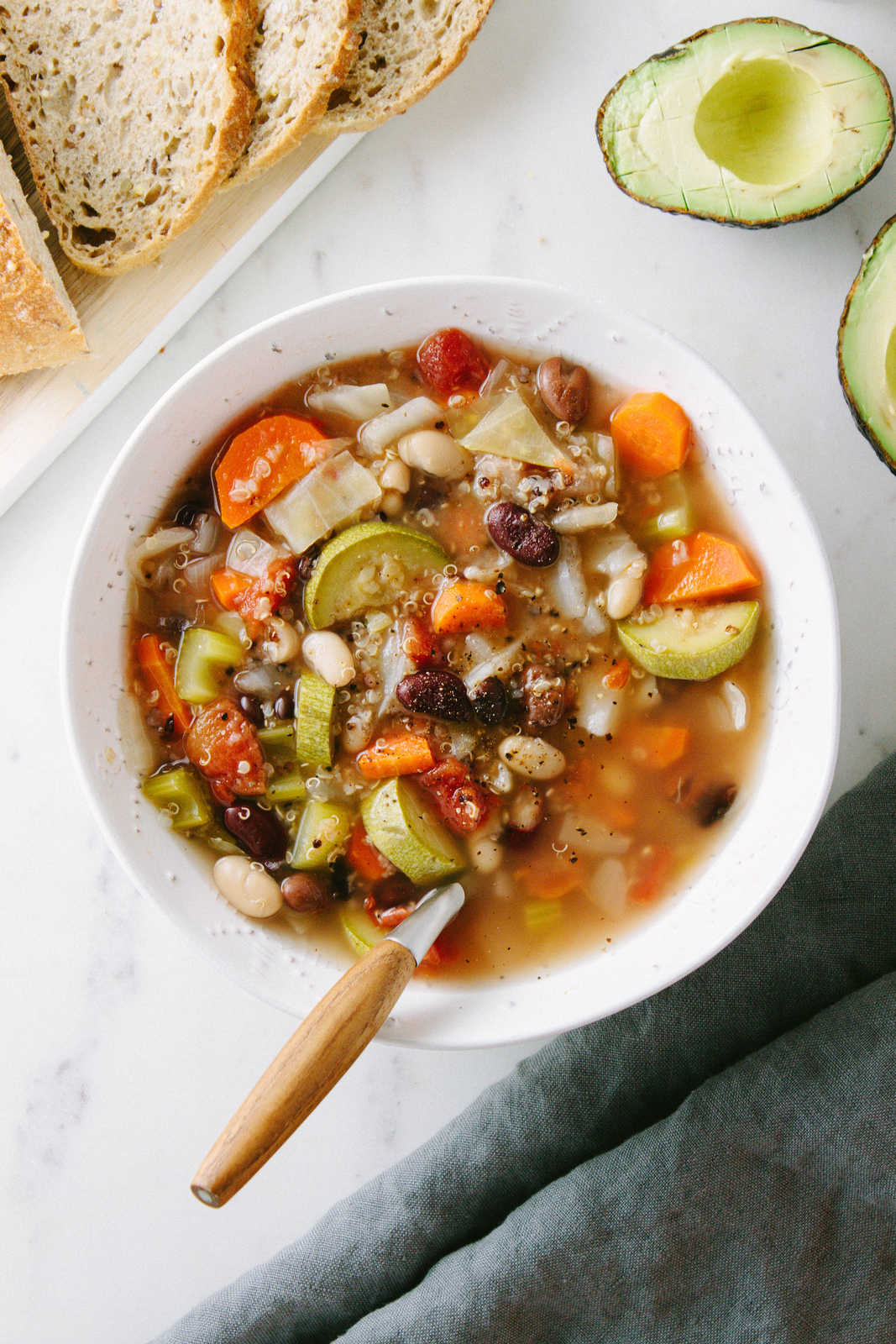 "Not only is this soup super easy to make (whether in the crock pot or on the stove-top), but overall you will find the ingredients to be accessible, healthy and low-fat. It's all the attributes I love!" Recipe from Simple-Veganista.
27. Sweet Potato & Chickpea Salad With Crispy Shallots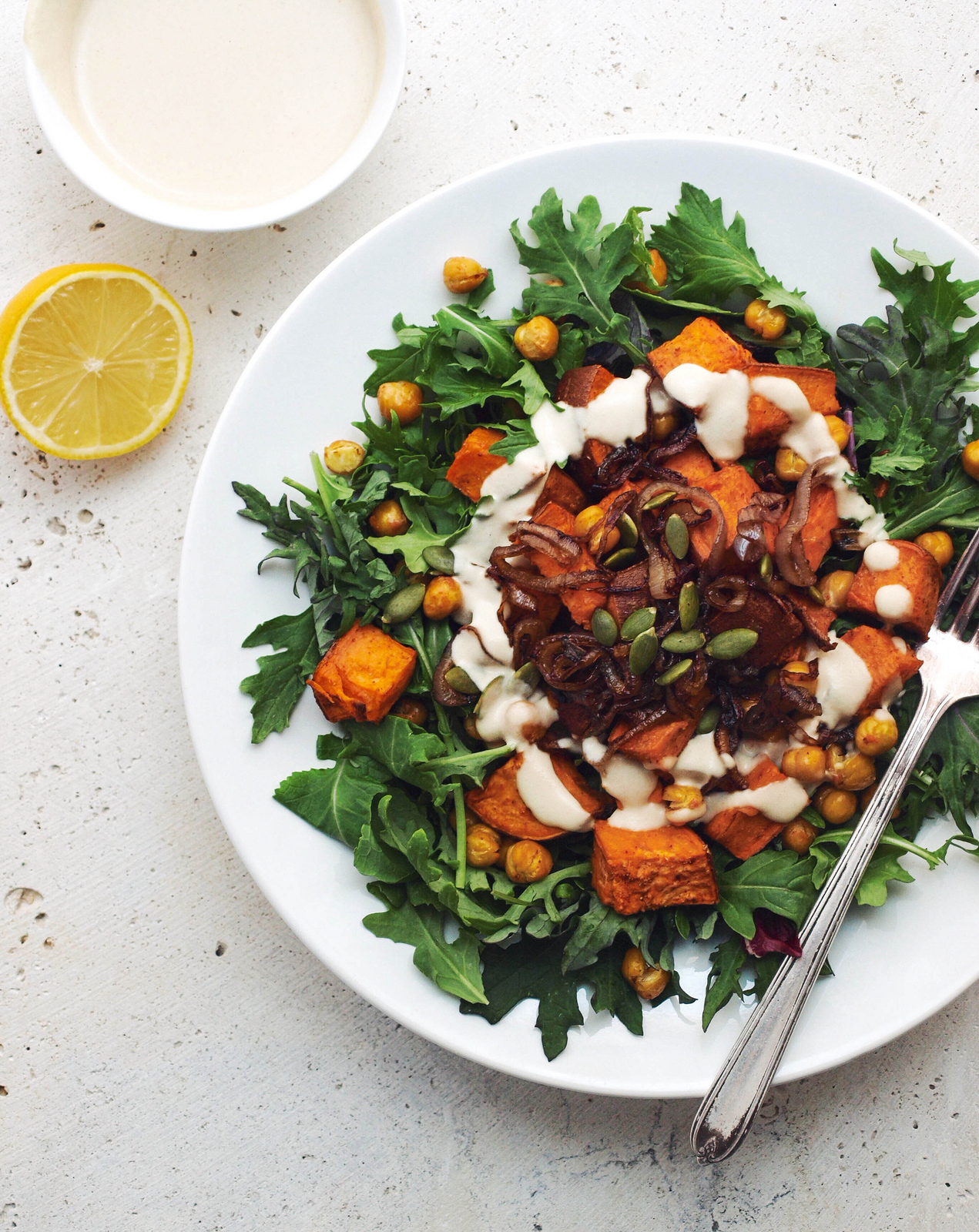 "I'm totally in love with sweet potatoes at the moment (and forever more) and they are great in salads. The crispy shallots take it to another level. Truth is crispy shallots equal awesomeness! And the simple lemon tahini dressing adds a creaminess making this a salad dream come true." Recipe from Simple-Veganista.
28. Mashed Chickpea & Avocado Sandwich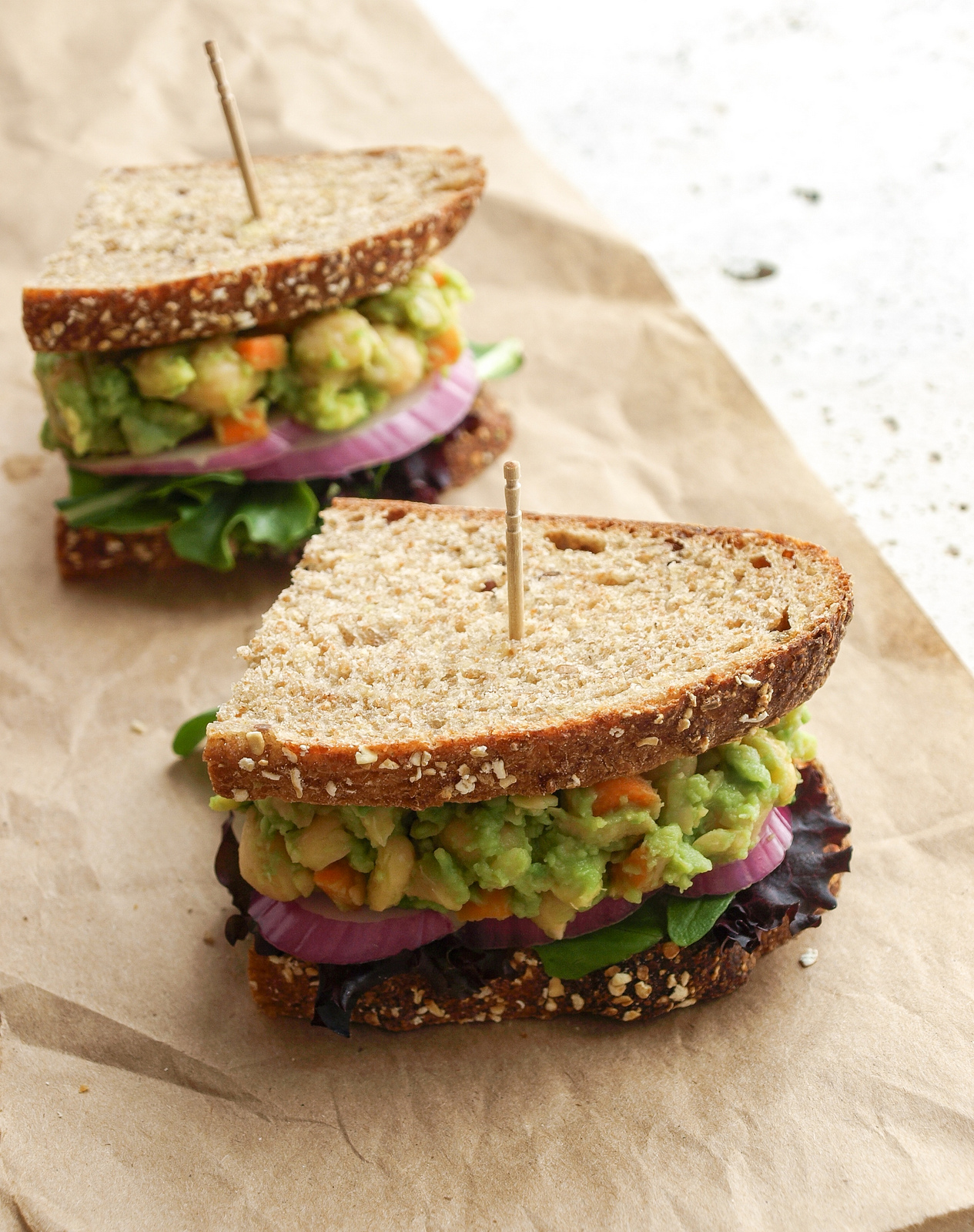 "Chickpeas & avocados are a winning combination, add in a few other ingredients and it's a match made in heaven! Not in the mood for bread? Try serving this over a bed of leafy greens instead. Either way I know you're going to love it!" Recipe from Simple-Veganista.
29. Chana Dal & Sweet Potato Chowder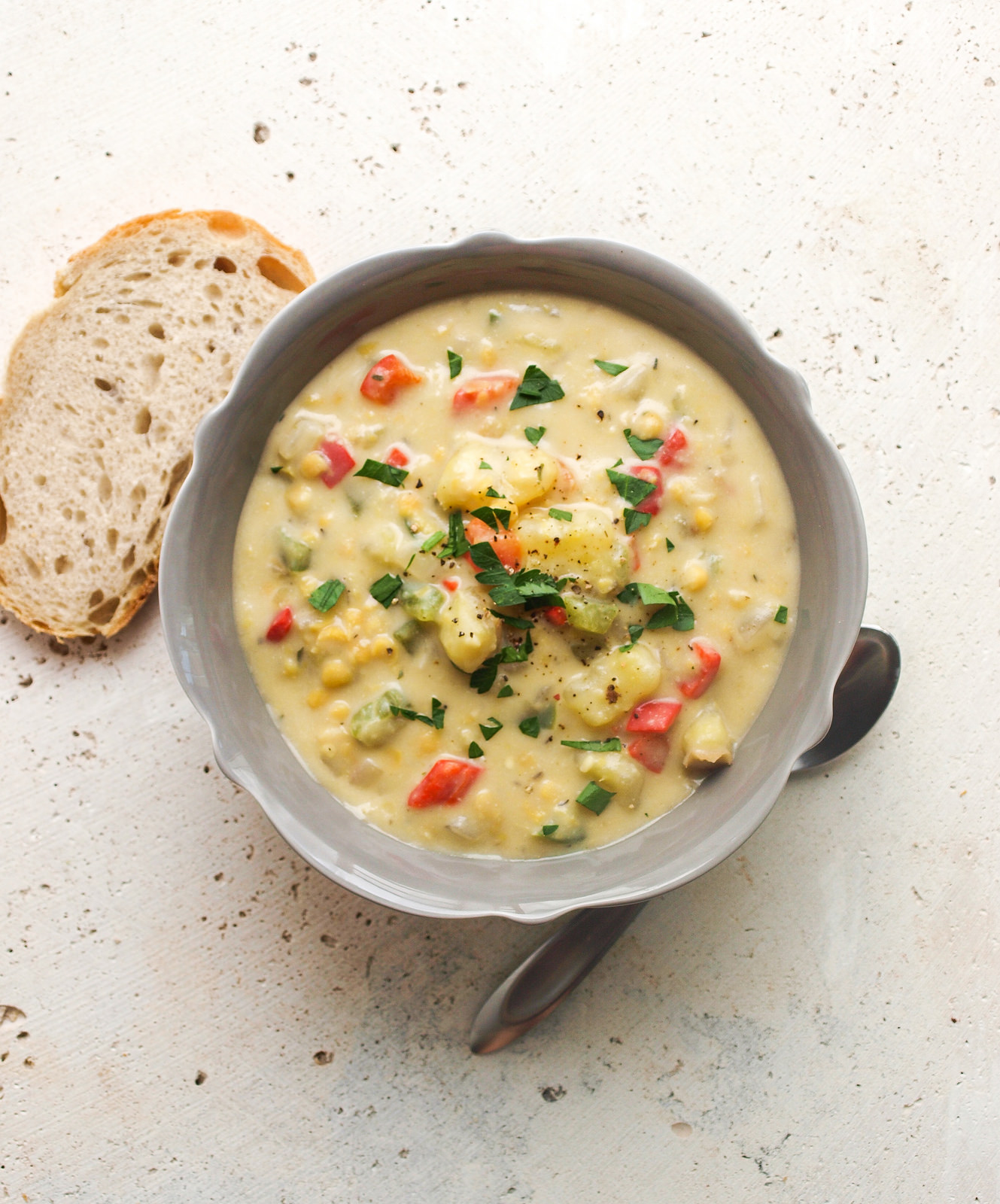 "This recipe is inspired by Bob Red Mill's and comes from a recipe on the back of one of their dried Chana dal packages. I love chowders all year long but especially in the cooler months! This is a healthy and flavorful one packed with protein and fiber." Recipe from Simple-Veganista.
30. A Very Good Split Pea Soup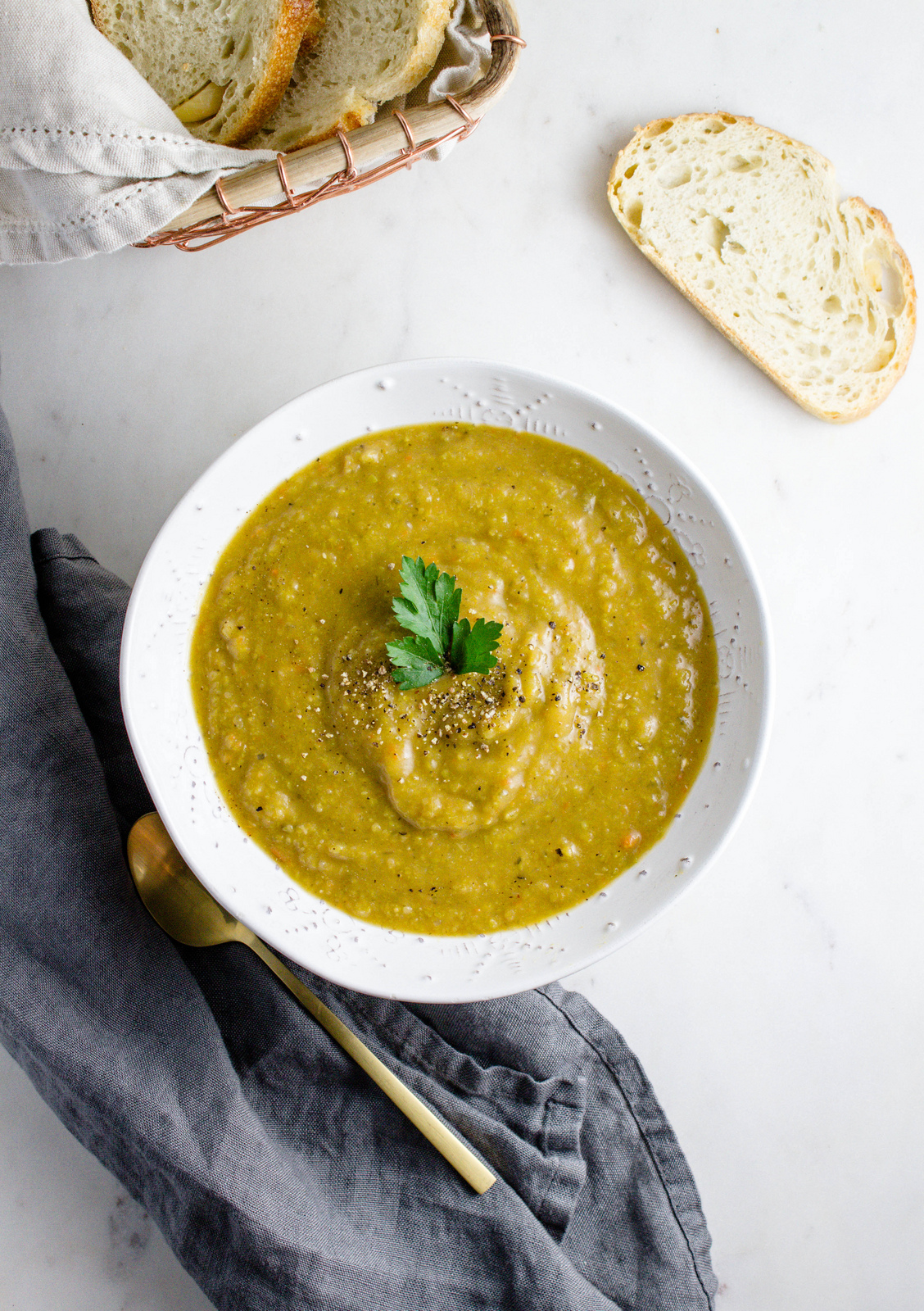 "Thick and hearty, this split pea soup is filled with the usual mirepoix and medley of spices, plus added cabbage for extra heftiness and flavor. Whether you choose to cook it in your slow cooker or on the stove top, it's extremely healthy and so easy to make." Recipe from Simple-Veganista.
31. Quick & Healthy Creamy Pumpkin Sauce + Kale, Vegan Sausage & Zucchini Noodles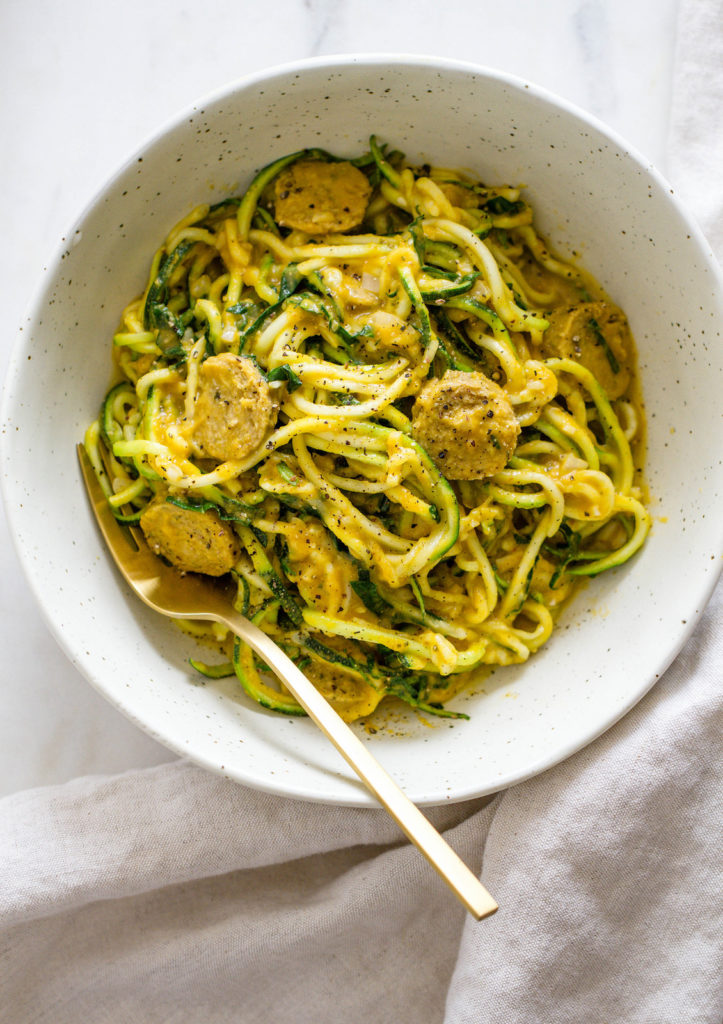 "We'll be making an easy as can be pumpkin sauce, adding vegan sausage and kale, then tossing it with zucchini noodles for a delicious departure from the traditional spaghetti routine. It's full of deliciousness and a perfect way to enjoy the season's flavors!" Recipe from Simple-Veganista.
32. Tex-Mex Quinoa Vegetable Soup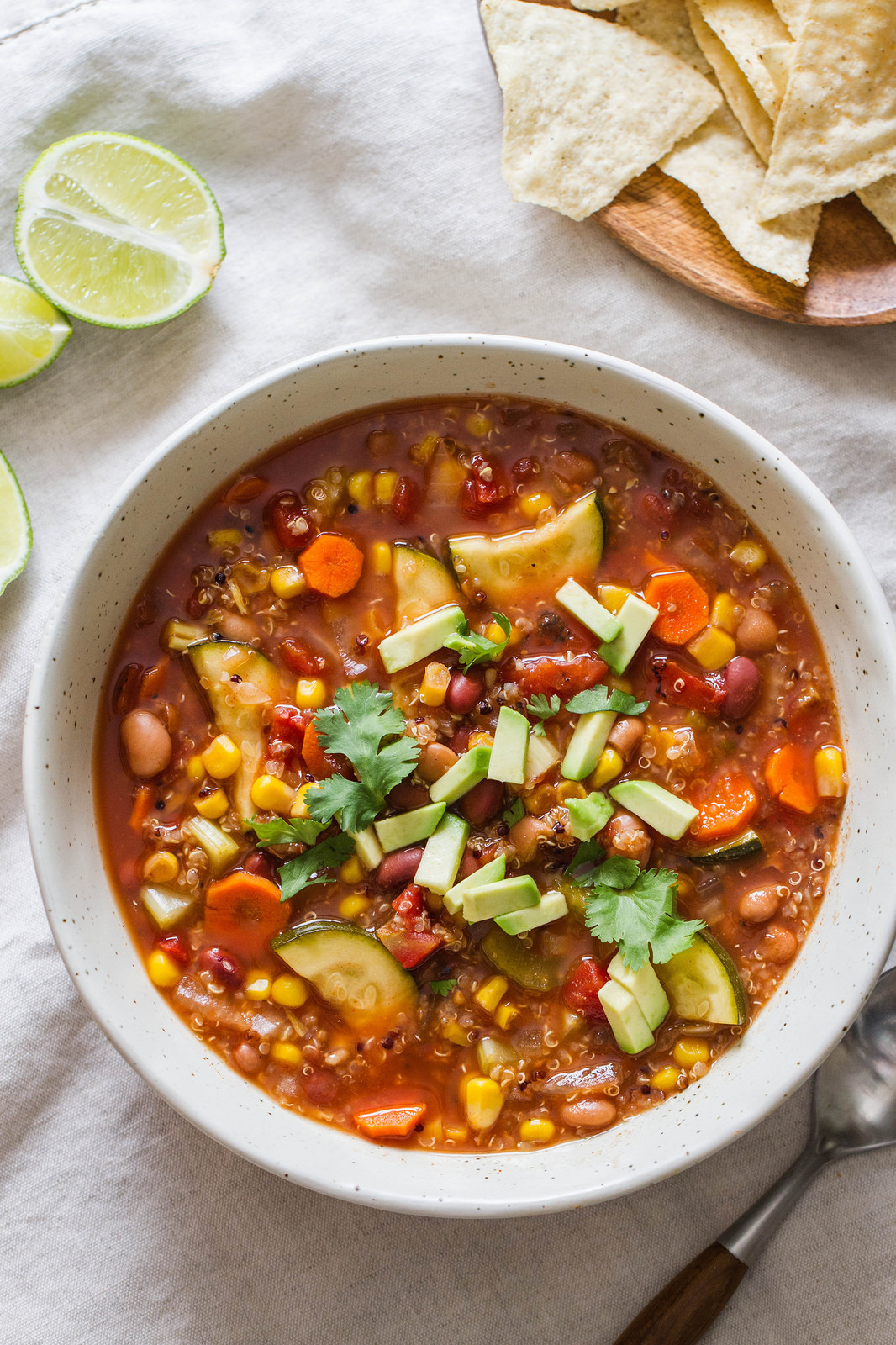 "We start with the basics, carrot, celery and onion, and add in fresh zucchini, a can of corn, tomatoes, beans and dry quinoa. To flavor it all we add chili powder, cumin, garlic powder, a couple bay leaves and a well-flavored vegetable broth. You may find you have almost everything on hand. You'll find the flavor to be warming (not spicy) with a hint of sweetness from the corn. It's simply delicious!" Recipe from Simple-Veganista.
33. BBQ Crock Pot Lentil Chili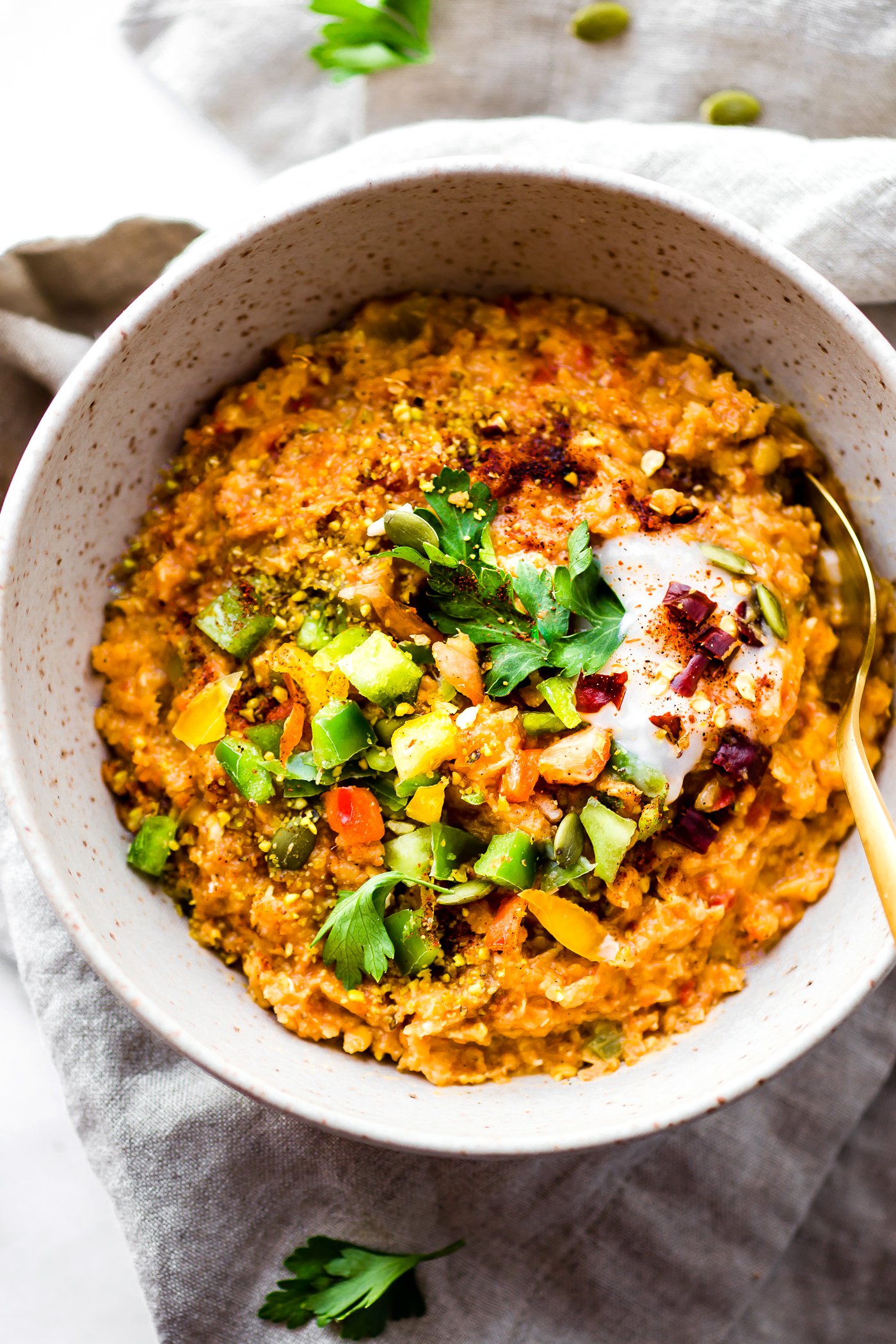 "This crockpot lentil chili is packed with flavor and easy to make. A hearty yet healthy BBQ Vegan lentil chili made with a few simple ingredients. Just like a taste of Texas! BBQ spices, sauce, onions, vegetables, and lentils. Throw in the crockpot and go. A fiber and protein rich meal that will feed plenty. Gluten-free and Grain Free." Recipe from CotterCrunch.
34. Cuban Sweet Potato Picadillo Bowls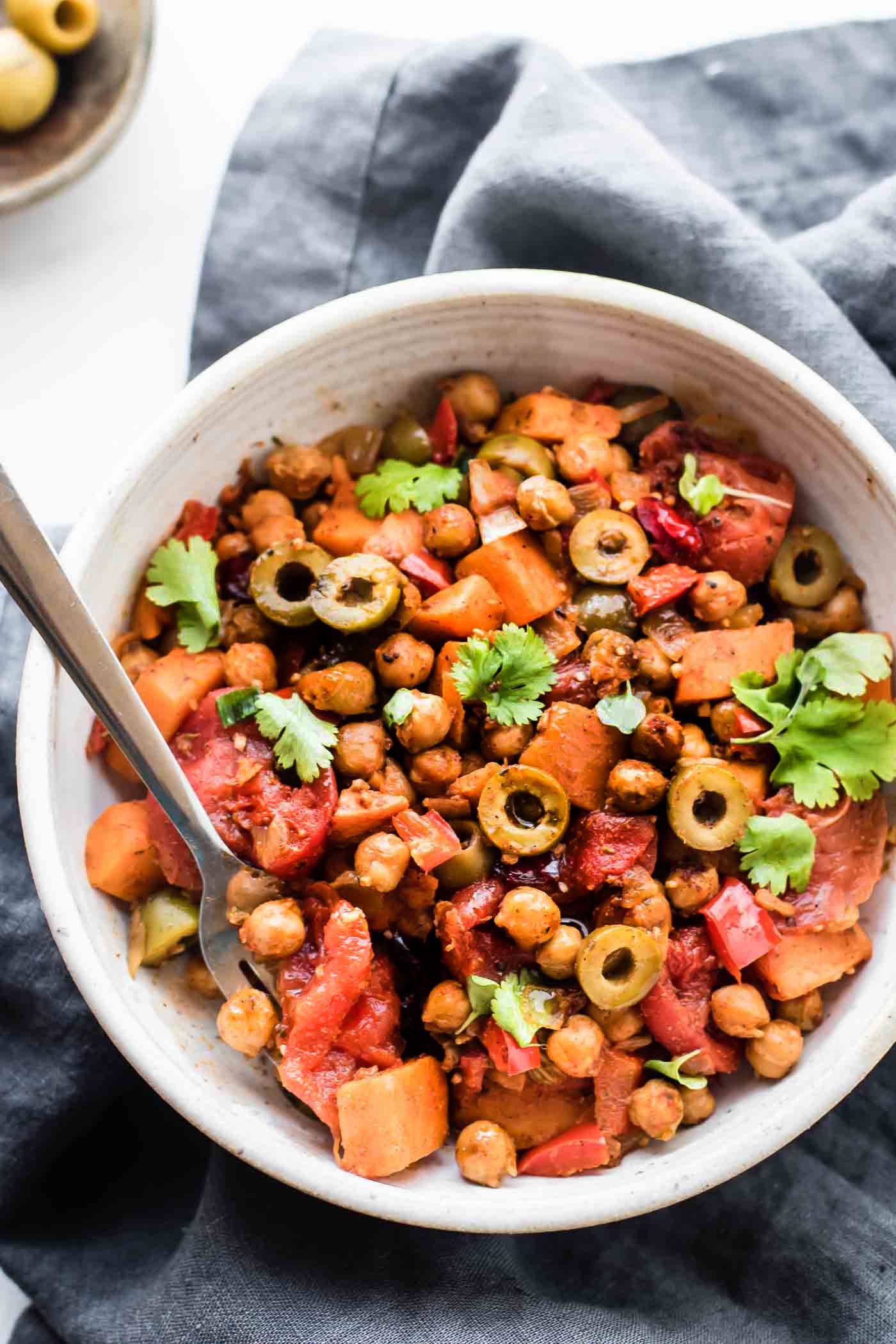 "These Cuban Sweet Potato Picadillo Bowls make for a wholesome Latin-inspired weeknight meal! This vegan picadillo recipe is the perfect combo of sweet and savory. Stewed Tomatoes, roasted chickpeas, sweet potatoes, olives, raisins, and spices! Simple healthy ingredients made into a flavorful one pot meal. Gluten free, grain free, EASY!" Recipe from CotterCrunch.
35. Curried Cauliflower Kale Rice Soup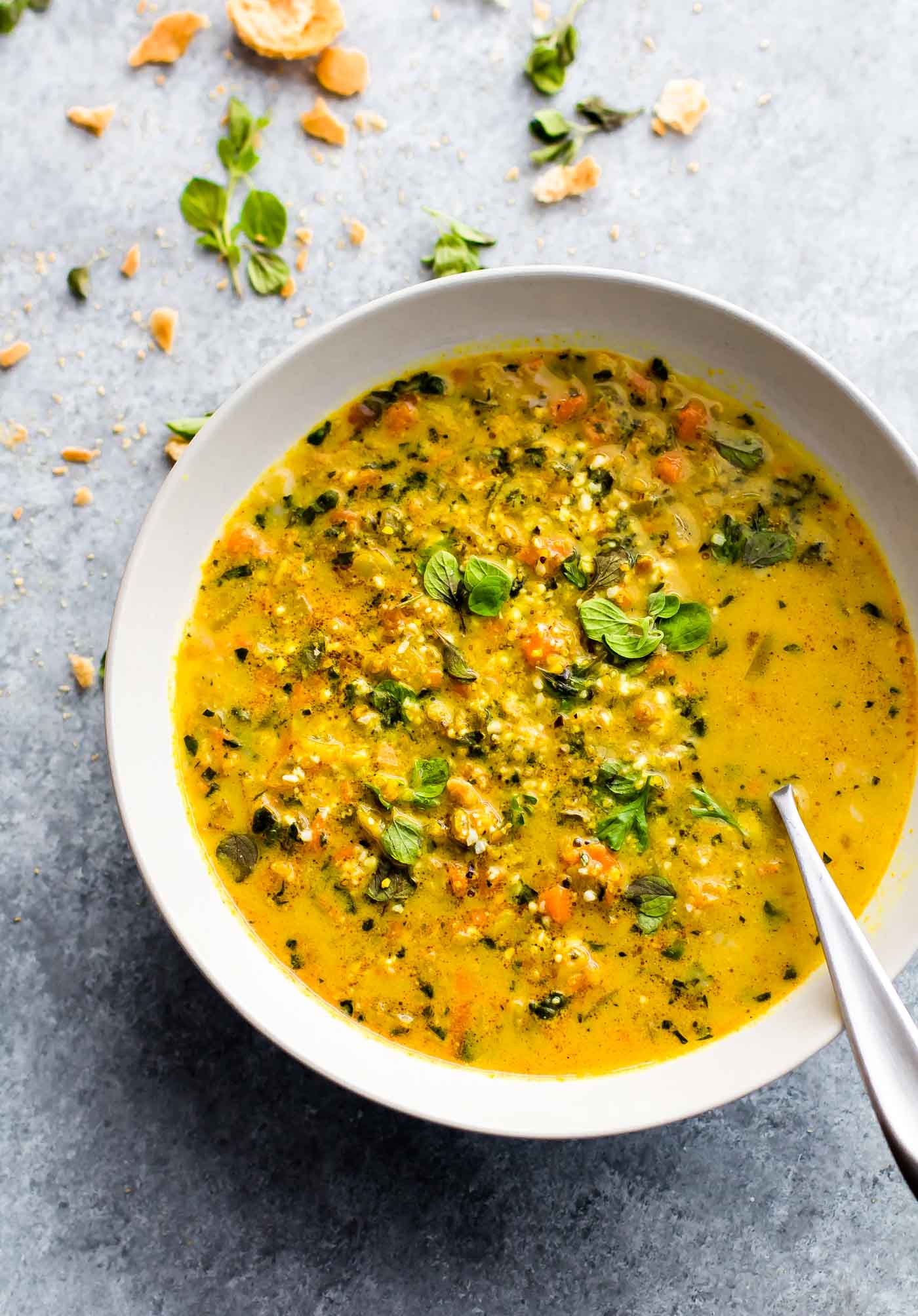 "This Curried Cauliflower Rice Kale Soup is one flavorful healthy soup to keep you warm this season. An easy paleo soup recipe for a nutritious meal-in-a-bowl. Roasted curried cauliflower "rice" with kale and even more veggies to fill your bowl! A delicious vegetarian soup to make again again! Vegan and Whole30 friendly!" Recipe from CotterCrunch.
36. Turmeric Roasted Chickpea Carrot Salad With Apple Cider Tahini Dressing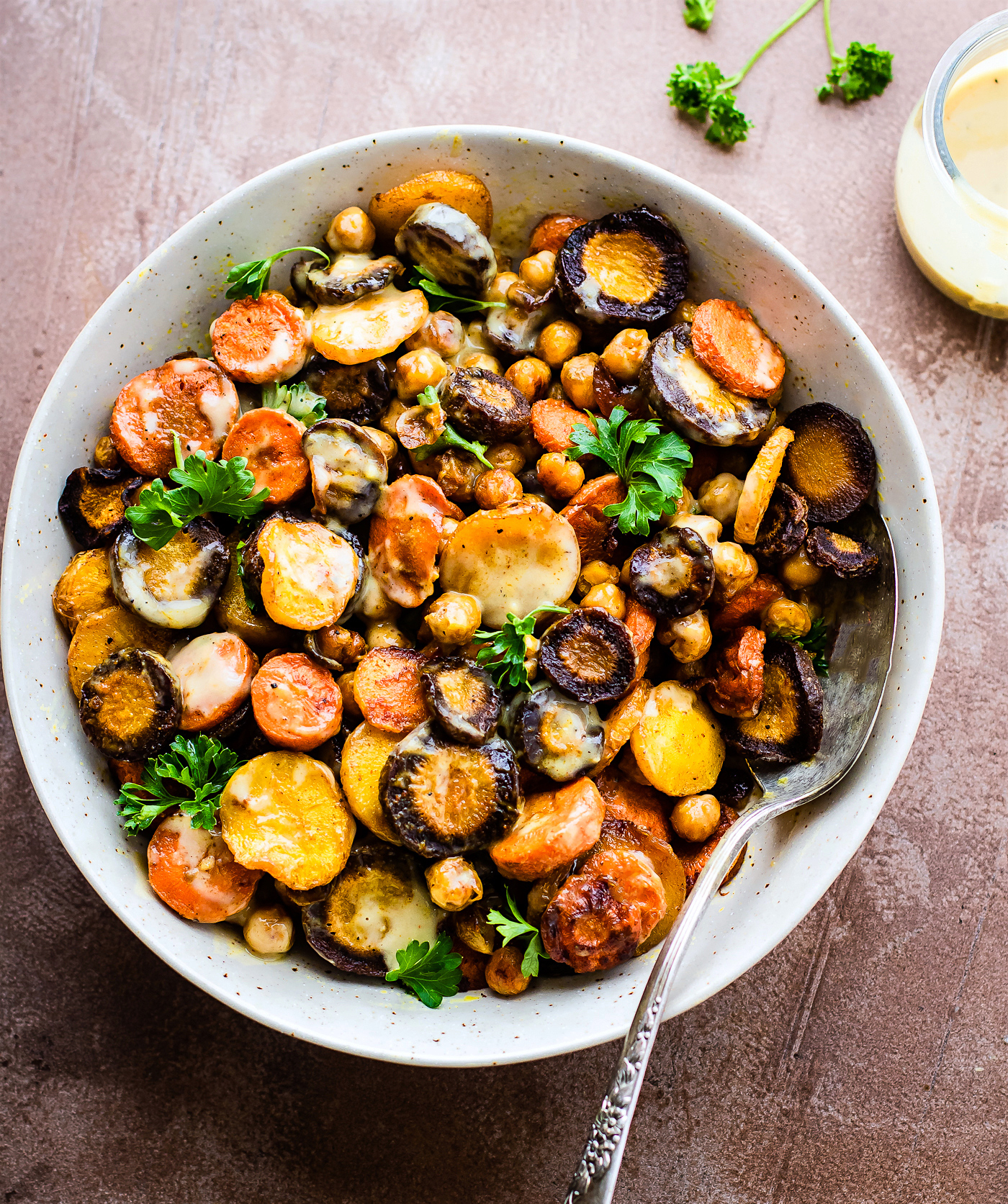 "Turmeric Roasted Chickpea Carrot Salad with Apple Cider Tahini Dressing. A vegan salad with a golden glow! This Turmeric Roasted Chickpea Rainbow Carrot Salad is simple to make yet wholesome and nourishing. A plant based main meal or a healthy gluten free side dish to pass around the table. You choose!" Recipe from CotterCrunch.
37. Snappy Italian Sweet Potato Spaghetti Bowls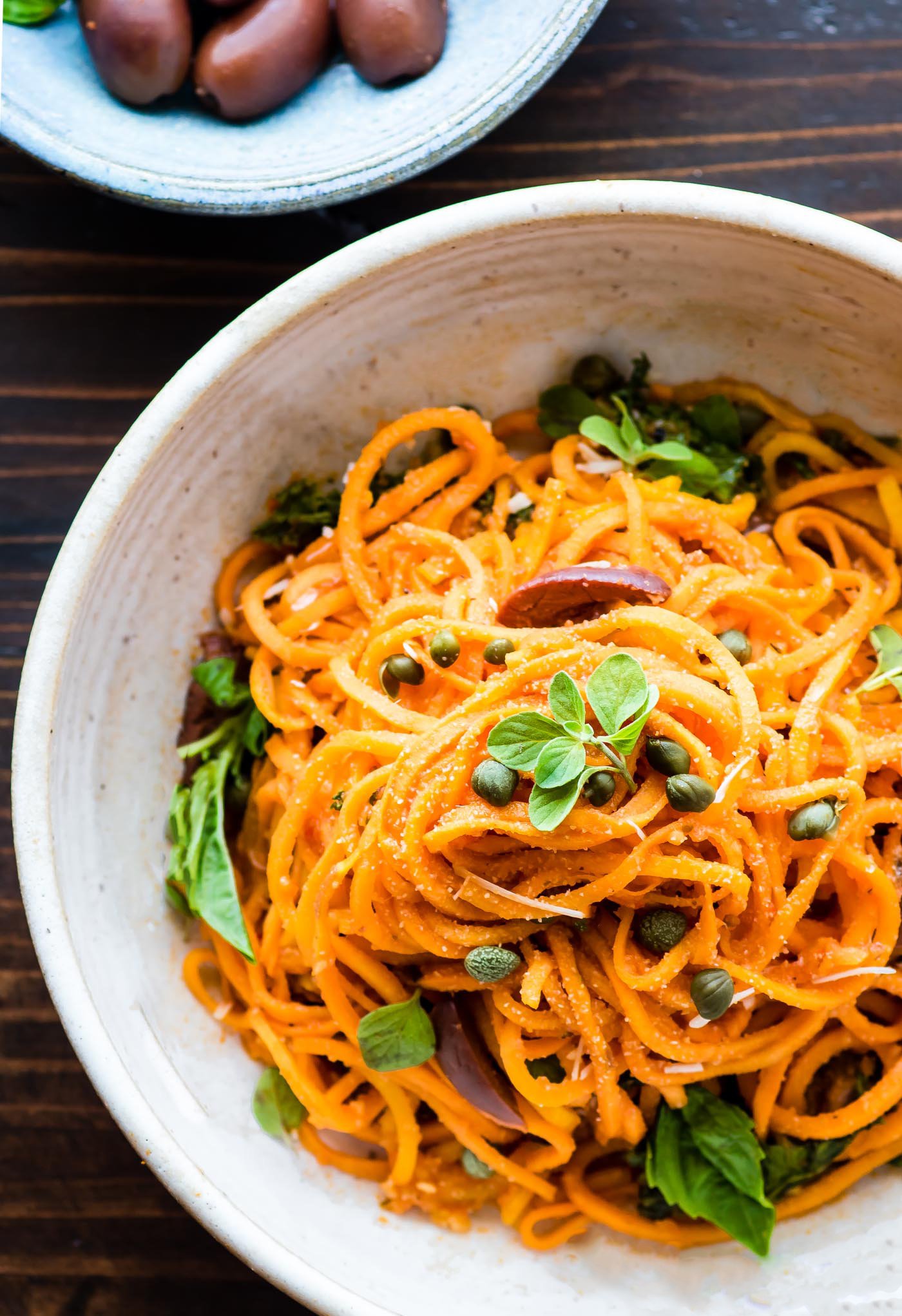 "Snappy Italian Sweet Potato Spaghetti made with spiralized sweet potatoes in zesty tomato sauce. This dish is easy to make to one pot with simple paleo/vegan friendly ingredients already in your pantry! Whip up these Italian Sweet Potato Spaghetti bowls in 20 minutes for a quick yet wholesome meal." Recipe from CotterCrunch.
38. Freezer Friendly Homemade Vegan Veggie Burgers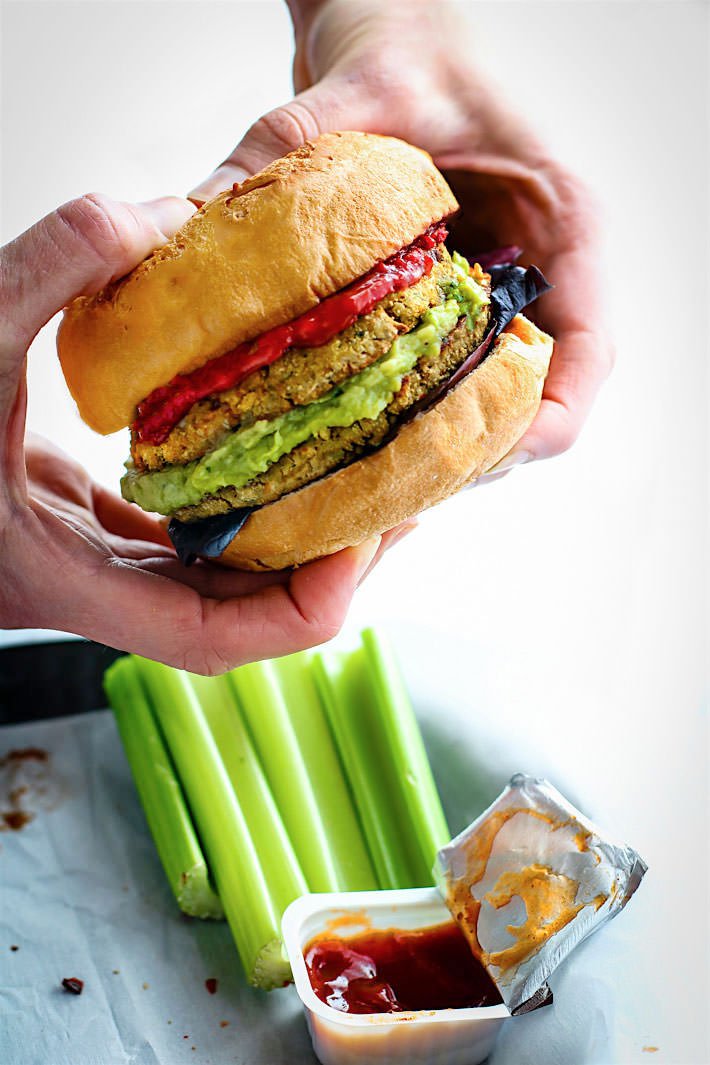 "Freezer Friendly Soy Free Vegan Veggie Burgers. Grain Free and Gluten free Homemade Vegan Veggie burger Patties packed with herbs, seeds, chickpeas, and spices! These homemade vegan veggie burgers are super easy to make, healthy, and great for meal prep!" Recipe from CotterCrunch.
39. Cashew Satay Spiralized Vegetable Stir Fry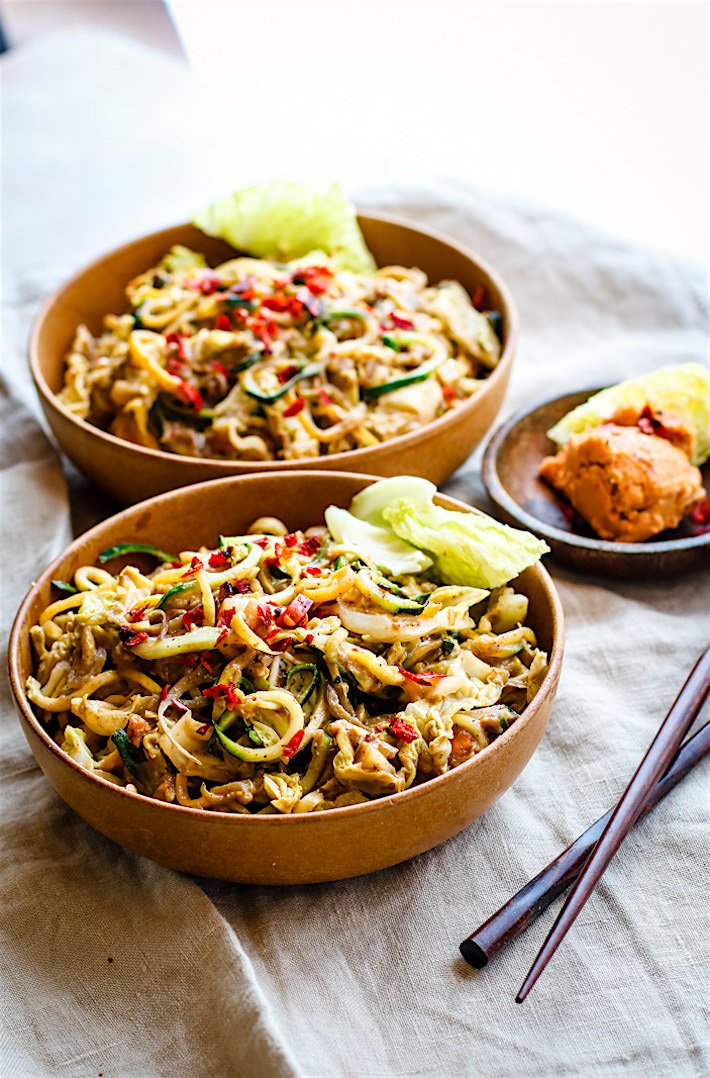 "Spice things up with this Cashew satay spiralized vegetable stir fry! A Cashew satay spiralized vegetable stir fry that is easy to make and healthy! Spicy cashew sauce stir fried with spiralized vegetables and ready in 20 minutes! Paleo and Vegan." Recipe from CotterCrunch.