37 Vegan Breakfast Recipes That Make A Perfect Start To Your Day!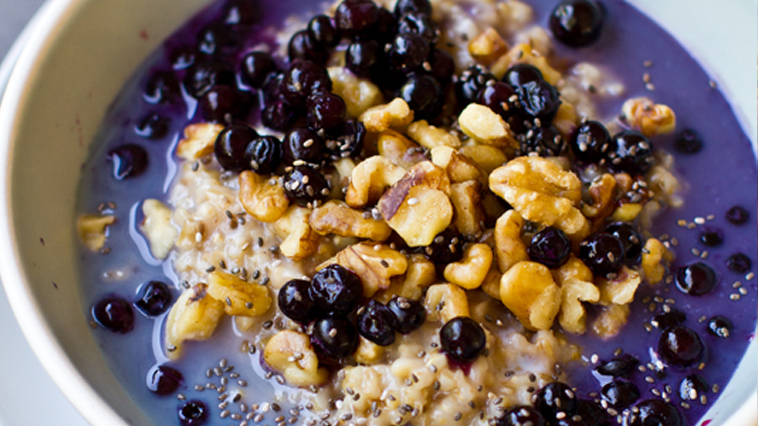 If you succeeded or even tried in completing Veganuary, you may have developed a new found love for a Vegan lifestyle!
As silly as it sounds, some people may look at Vegan recipes and automatically think, "I'm not vegan, that's not for me." But, as with trying out Veganuary, you don't need to be Vegan, to try out some delicious, new recipes that happen to be Vegan and they can be a brilliant way to adjust into a healthier eating pattern.
So whether you're Vegan, Vegetarian or simply want to try out some different, interesting recipes for breakfast, we've got you covered! Here are 37 incredible vegan friendly, breakfast recipes that will set you up with an amazing start to your day! As always, save and share your favourites on social media! Enjoy!

37 Vegan Breakfast Recipes Make A Perfect Start To Your Day!
Vegan French Toast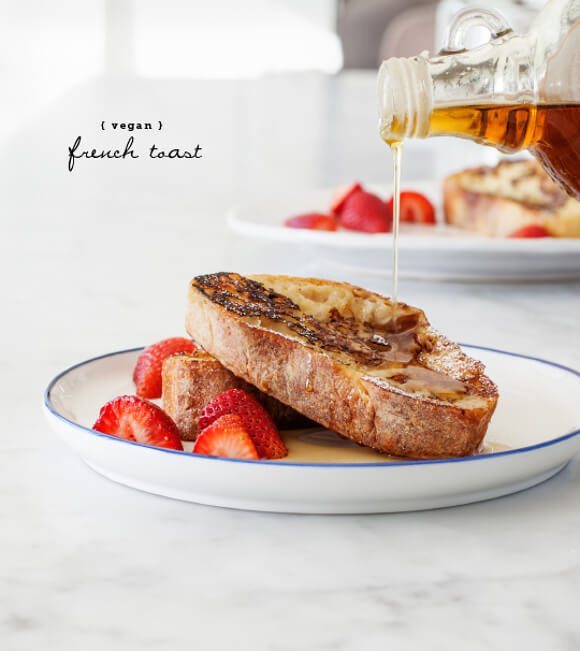 "This one is close, or maybe better. Even Jack was surprised it didn't have eggs. I used vanilla Almond Breeze almond milk, millet flour, nutritional yeast, (which seems strange, but it gives it that eggy essence), cinnamon, nutmeg, and lots of maple syrup." Recipe: LoveAndLemons.
Cinnamon Quinoa Breakfast Bowl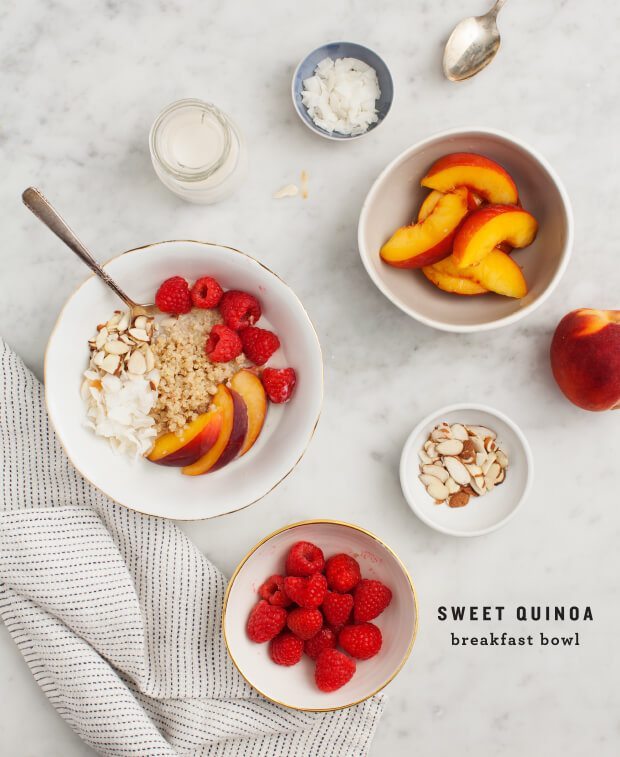 "This one is inspired by all of those beautiful breakfast bowls of oatmeal that I see all over the internet. You know the ones – they're chock full of colorful fruit and other various superfoods. They're so pretty that they make me wish I liked oatmeal… so finally I had this idea to make a sweet non-oat quinoa bowl for breakfast" Recipe: LoveAndLemons.
Vegan Carrot Waffles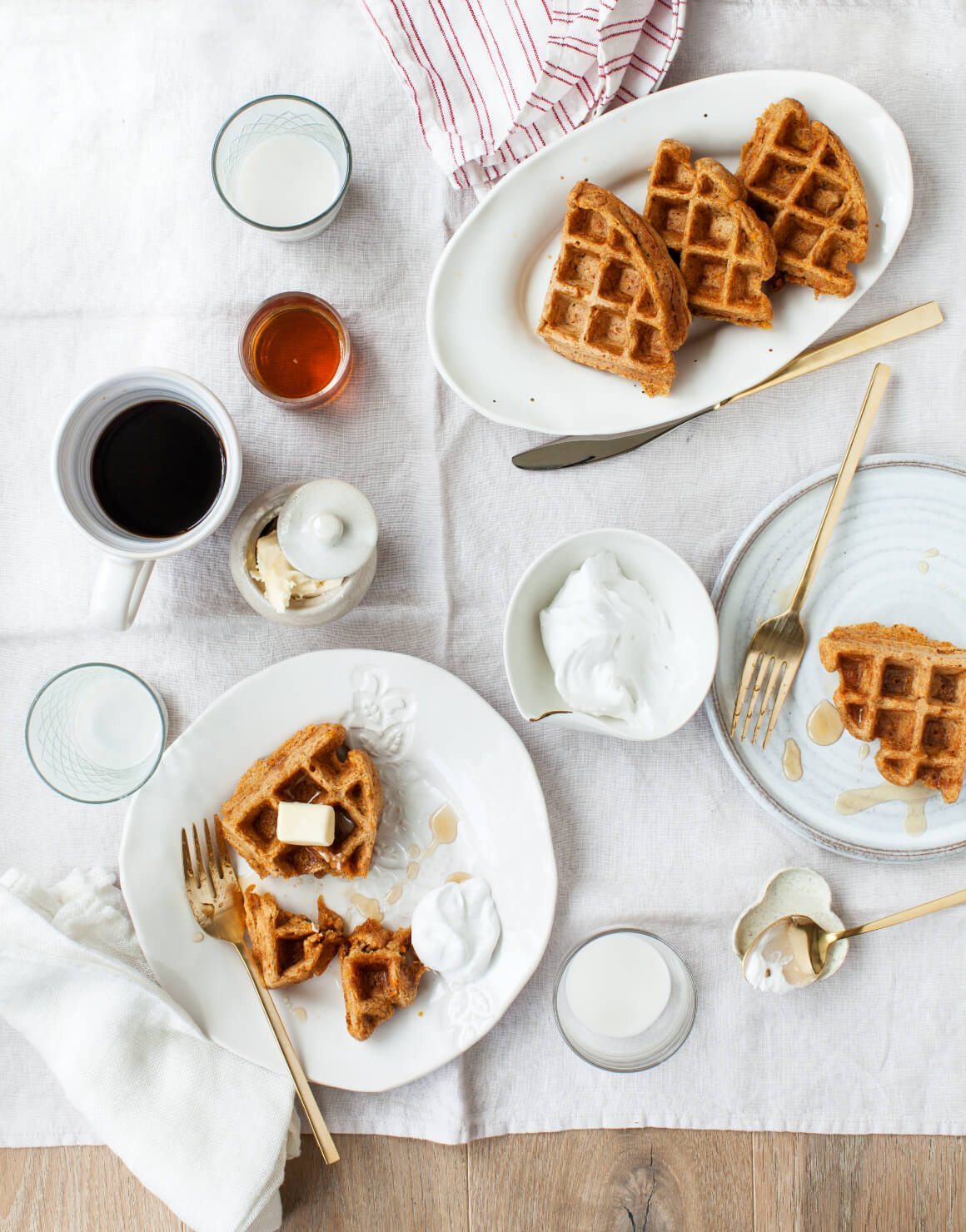 "It's springtime, and one of my favorite veggies is in peak season – the humble carrot. I love them in soups, in tacos… and right now they're my favorite vegetable to eat for breakfast. Currently, I'm alternating between carrot cookies and these waffles that are – you guessed it – in the new cookbook!" Recipe: LoveAndLemons.
Cacao Nib & Strawberry Vegan Waffles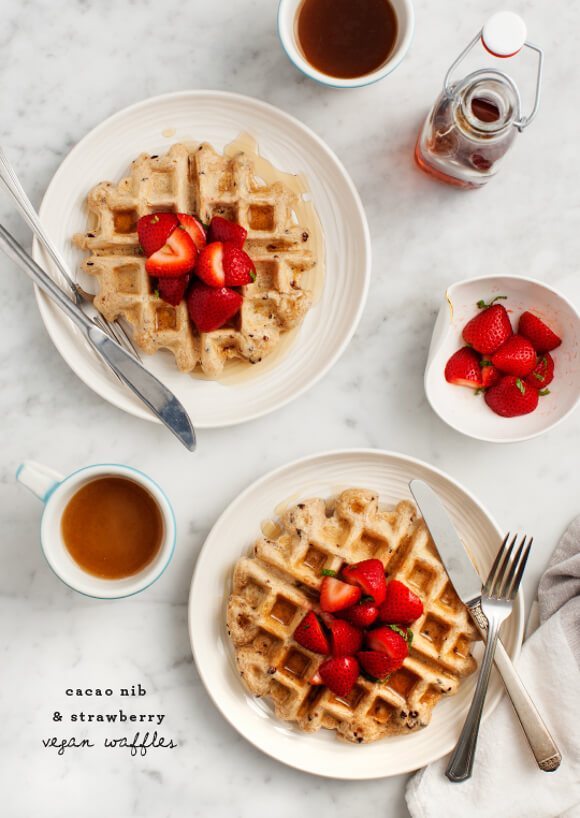 "These are vegan, because I actually like how they get crispier around the edges without any eggs in the batter. I use spelt flour, because that's what I keep on hand. I like it because it's not quite as dense as whole wheat flour." Recipe: LoveAndLemons.
3 Layer Cocoa Almond Banana Berry Smoothies
"The bottom layer is made with almond butter, cocoa powder, and dates. The middle layer is made with banana, vanilla and (more) dates. The top layer is a mix of frozen strawberries and raspberries. Each one is blended with generous amounts of Almond Breeze almondmilk, which is a staple ingredient in my fridge." Recipe: LoveAndLemons.
Apple Cinnamon Crunch Overnight Oats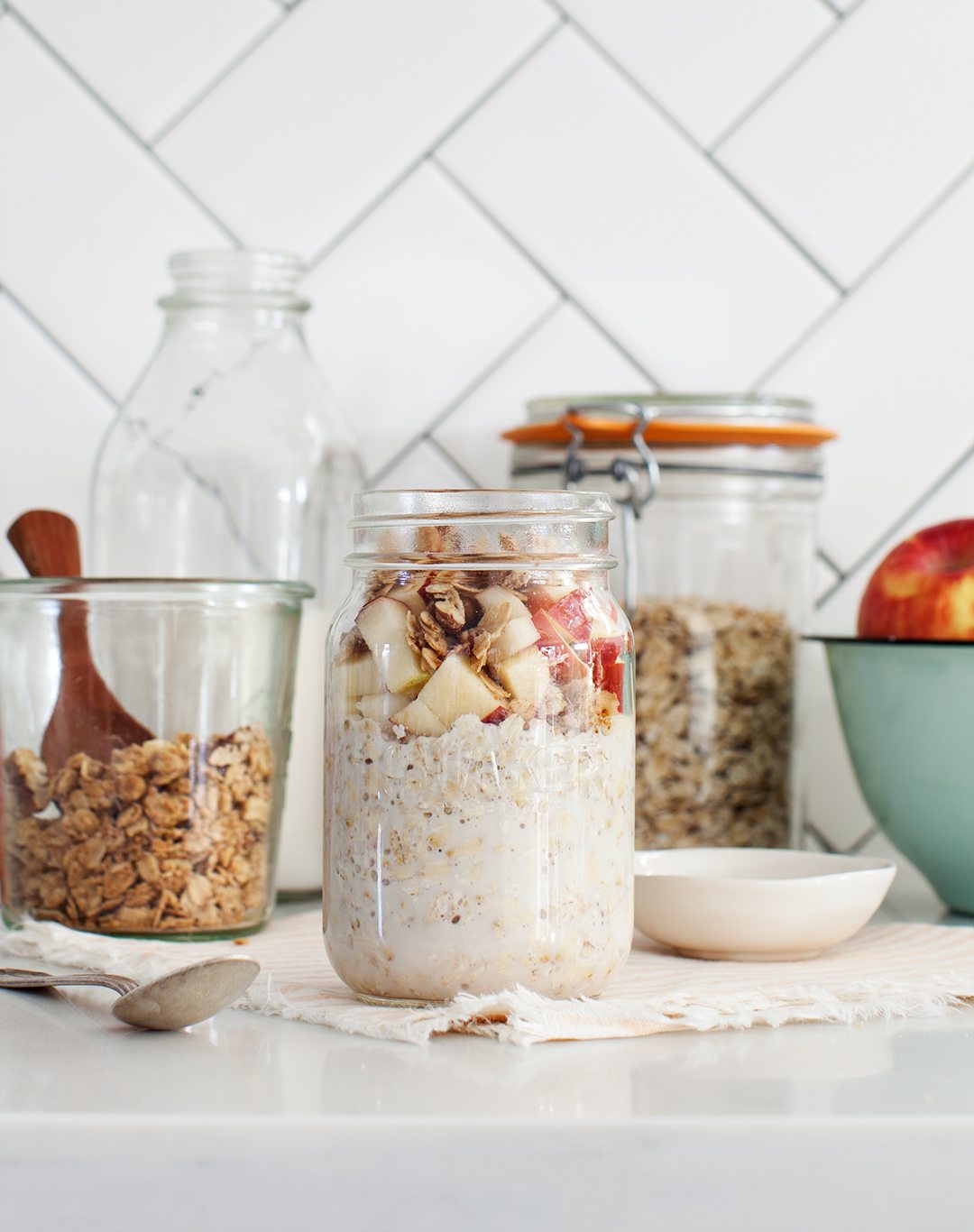 "Admittedly, I was late to the overnight oat craze, but I'm pretty obsessed now. What I love is that they're creamy without being gummy and the flavor combos are endless! I love this version with blueberry jam that I made in the summertime – this fall/winter apple version is just as delicious but totally different." Recipe: LoveAndLemons.
Jumbo Chickpea Pancake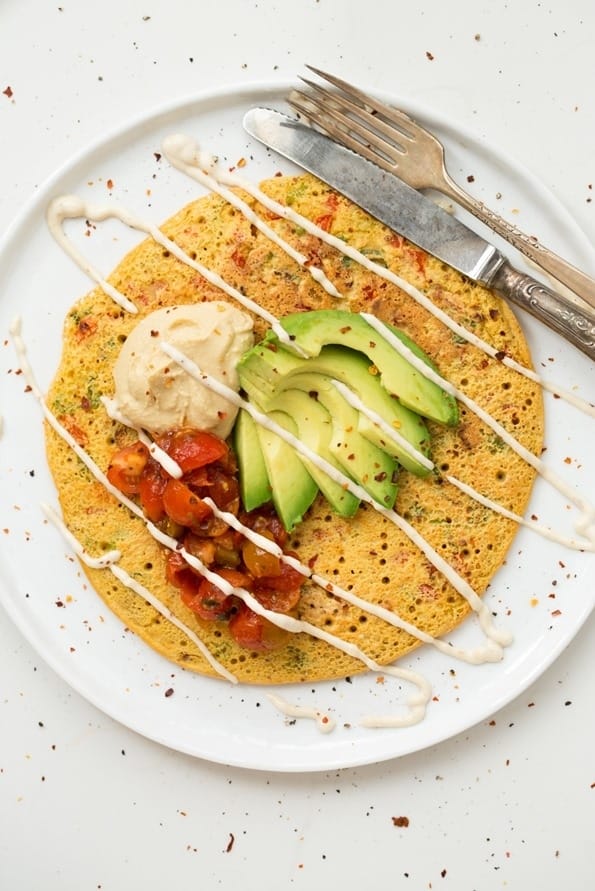 "Today's recipe features chickpea flour, an ingredient you haven't seen much on this blog. Chickpea flour is high in protein (7 grams per 1/4 cup according to Cuisine Soleil) and it's naturally gluten-free making it friendly to our gluten sensitive friends. It also boasts 3 grams of fibre per 1/4 cup. I soon found out what a filling breakfast it makes!" Recipe: OhSheGlows.
Flourless Bite Sized Breakfast Muffins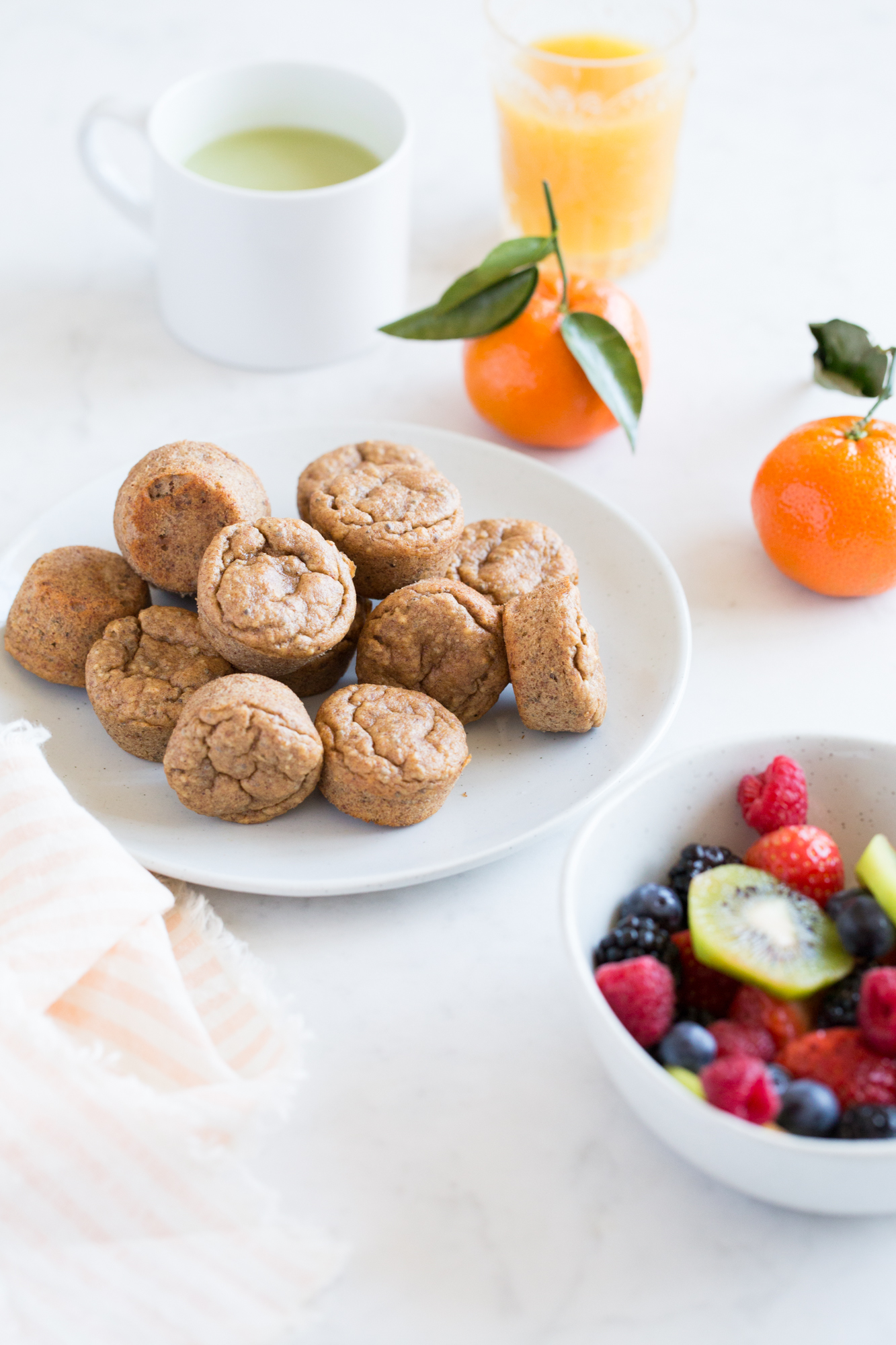 "These grain-free, kid-friendly muffins are packed with fibre-rich chia seeds and contain only a couple tablespoons of natural sweetener! The almond butter base gives them a deliciously nutty flavour, and overripe bananas lend an extra sweetness. We love serving these mini muffins at breakfast and snack time. " Recipe: OhSheGlows.
Glow Smoothie Bowl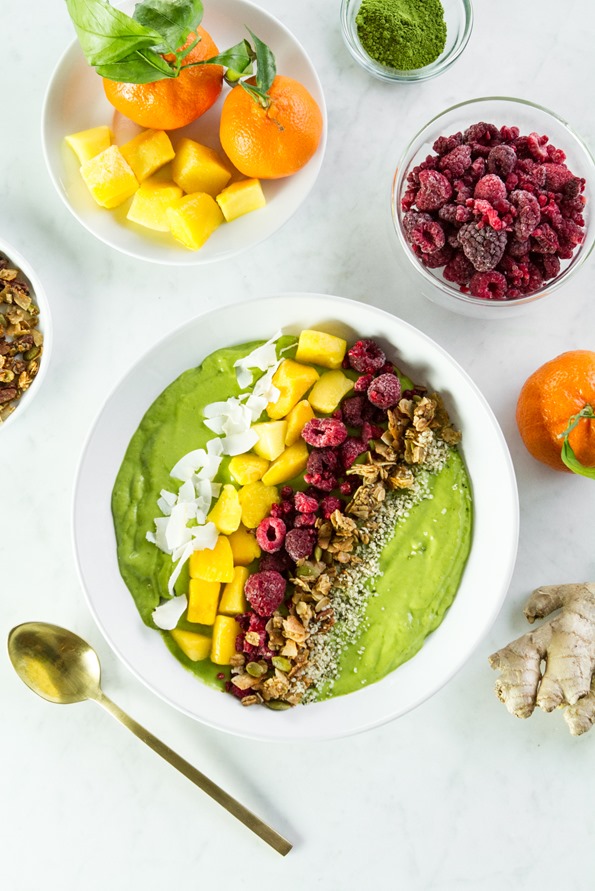 "This creamy, dreamy, tropical green smoothie bowl is perfect for giving yourself a bright boost during the winter months! Mango and clementine add a tangy burst of flavour, and these nutrient-packed fruits are a great way of sneaking in some extra vitamin C during cold and flu season, too. Anti-inflammatory ginger is great for digestion, and avocado lends this smoothie bowl a thick, creamy texture." Recipe: OhSheGlows.
In The Buff Smoothie Bowl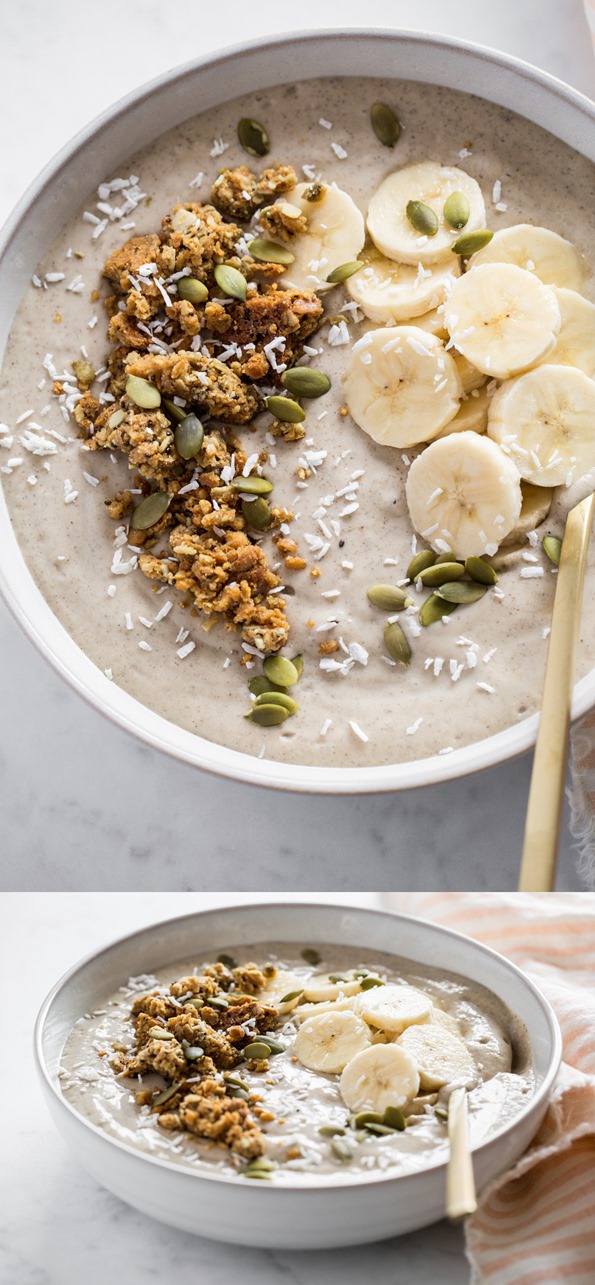 "I just can't get enough of this creamy, monochrome smoothie bowl! Packed with protein and healthy fats, it keeps me going all morning long, and its subtle, earthy flavours and thick texture are the perfect base for loading on all kinds of toppings." Recipe: OhSheGlows.
All Day Green Glow Smoothie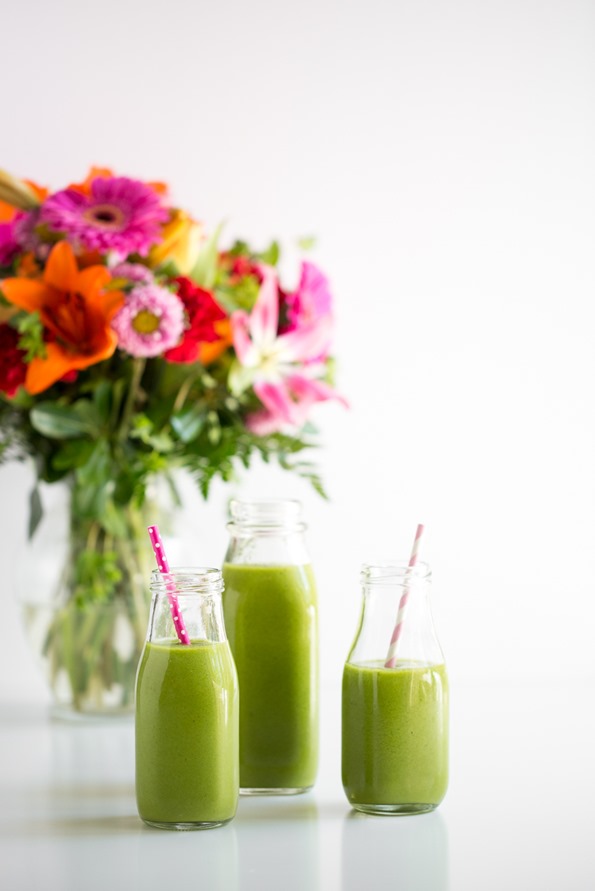 "I'm not sure if I've ever created such a powerhouse smoothie before! This one is jam-packed with nutritious ingredients like fresh turmeric, cilantro, parsley, lemon, avocado, green apple, lettuce, coconut water, and more." Recipe: OhSheGlows.
Easy Vegan And Gluten Free Pancakes (Coconut Cream + Strawberries)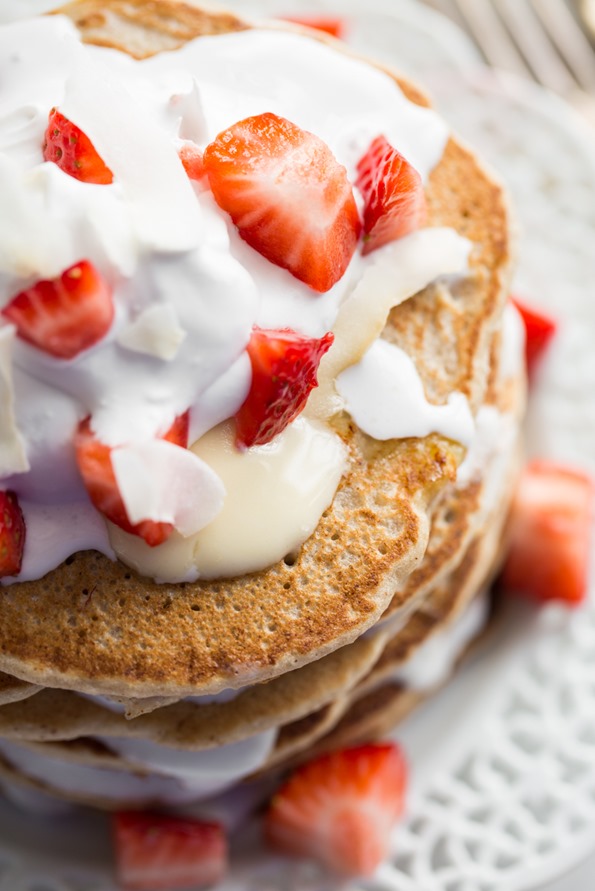 "These vegan pancakes are made with raw buckwheat flour, rice flour, and arrowroot flour – making them naturally gluten-free – and chopped bananas are folded into the batter to provide a fluffy, pillow-like texture." Recipe: OhSheGlows.
Vegan Detox Green Monster Smoothie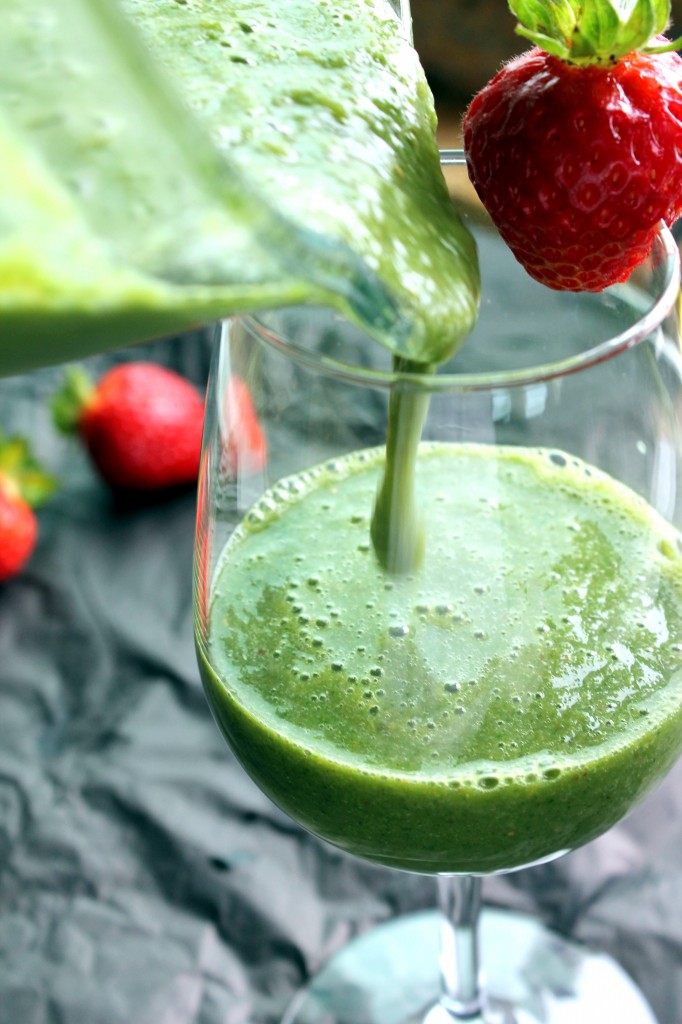 "An easy morning smoothie; it's vegan, and delicious enough to make you forgive yourself for all of that excessive cookie consumption last week. (That's where the detox part comes in!)" Recipe: AmbitiousKitchen.
Scrambled Tofu Breakfast Tacos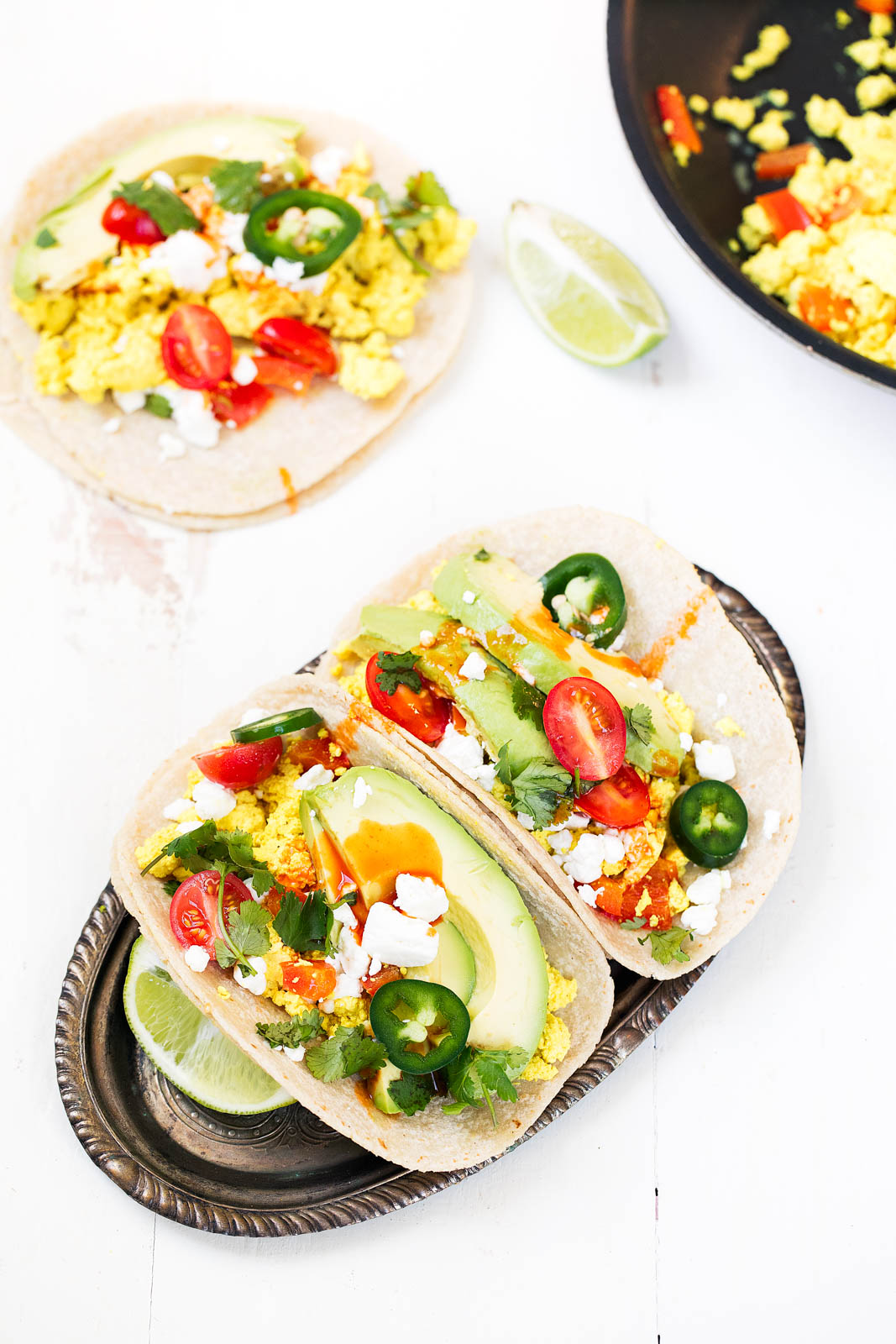 "Scrambled tofu with delicious spices gets piled high into corn tortillas and topped with avocado, cilantro and so much more! Easy to make ahead and reheat for an on the go breakfast." Recipe: AmbitiousKitchen.
Toasted Quinoa, Dried Fig & Dark Chocolate Nut Free Granola Bars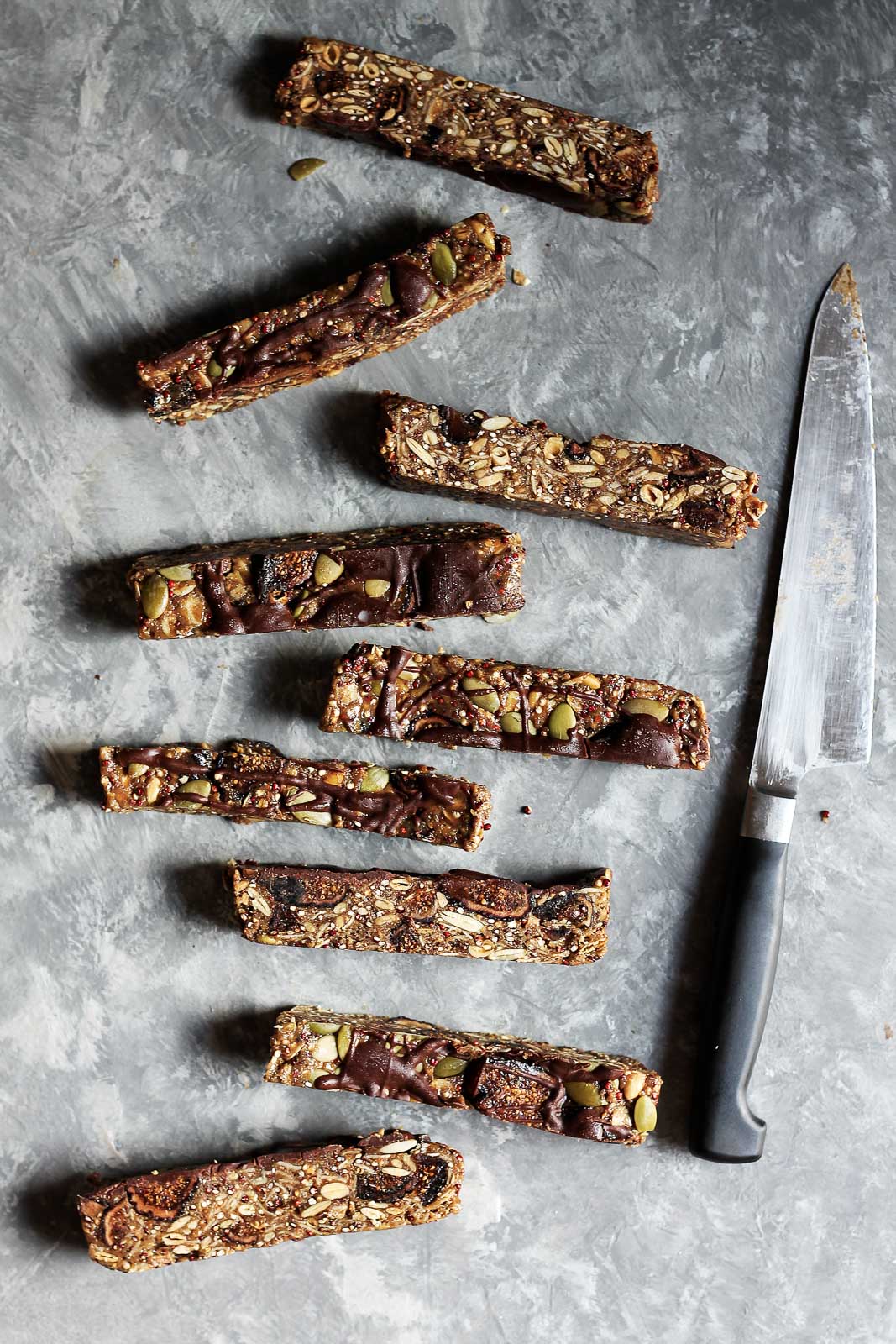 "Immediately, I headed to the bulk section of the store to fill up on pumpkin seeds, sunflower seeds, quinoa and dried figs. A little something different then the usual ingredients! I headed home, both determined and deliriously excited to whip these up." Recipe: AmbitiousKitchen.
Triple Cherry Berry Watermelon Smoothie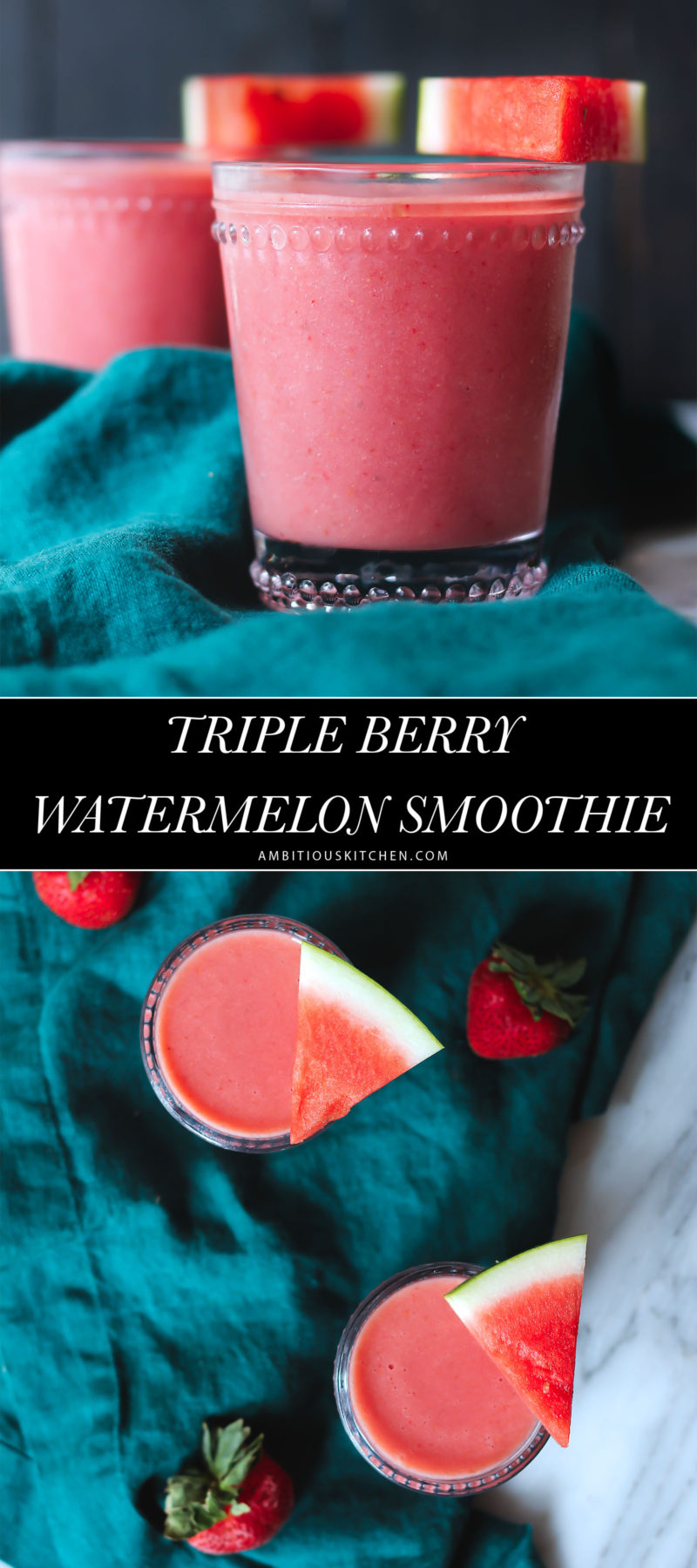 "Well, sometimes it's just necessary to throw everything in a blender and enjoy a refreshing smoothie. Often, the random ingredients create the most delicious flavors. Case in point: this watermelon smoothie packed with cherries, berries & creamy almond milk." Recipe: AmbitiousKitchen.
4 Healthy Breakfast Toasts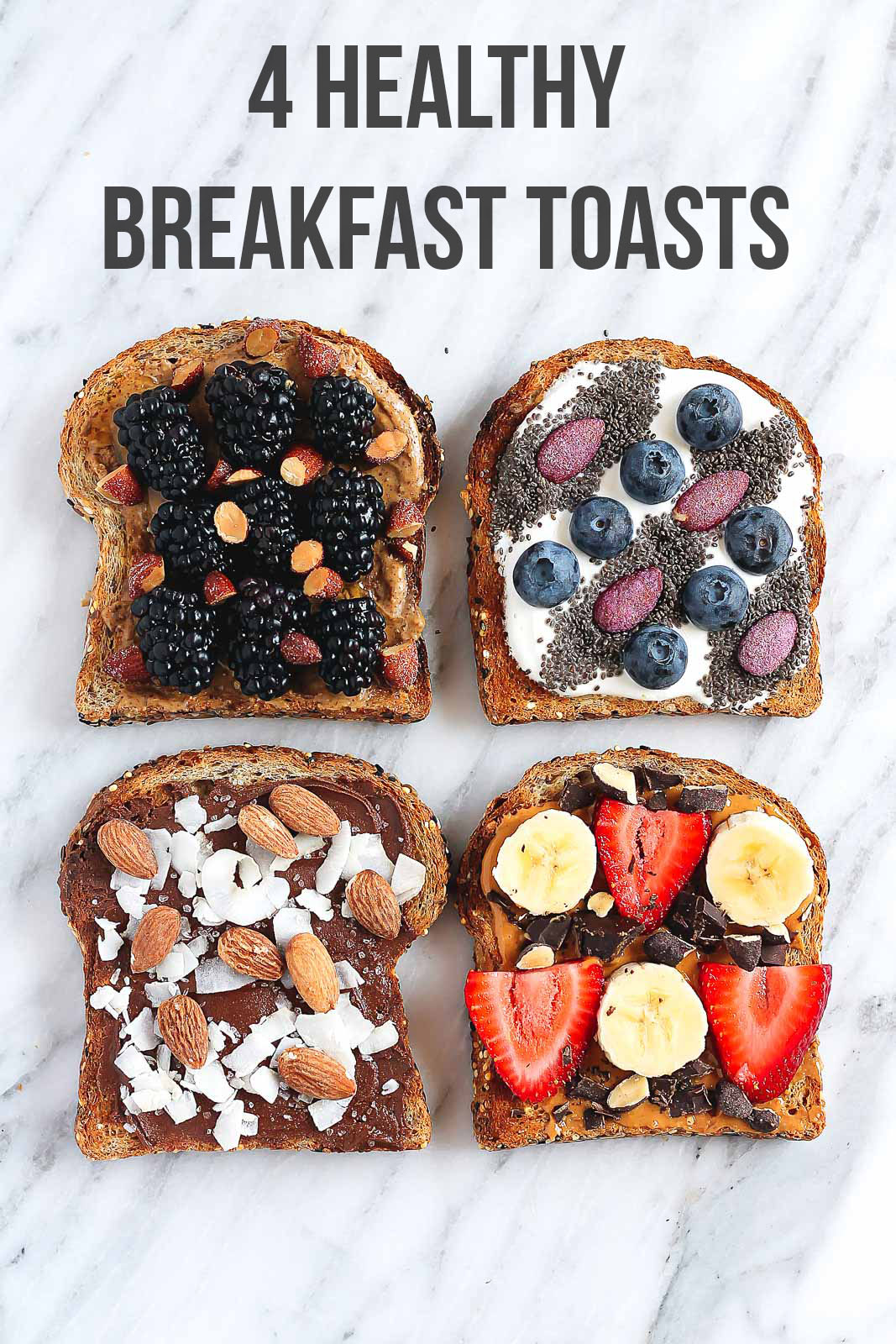 "So, why do I love bread so much? It's easy to throw in the toaster making it a quick on-the-go breakfast. Of course I've been through my peanut butter, almond butter & avocado toast phase, but today we're moving on to bigger and better toppings. Toppings that are as beautiful as they are delicious to eat. Toppings that you may have never thought to put on your toast…" Recipe: AmbitiousKitchen.
Blackberry Peach Oat Bran Muffins With Chia + Flax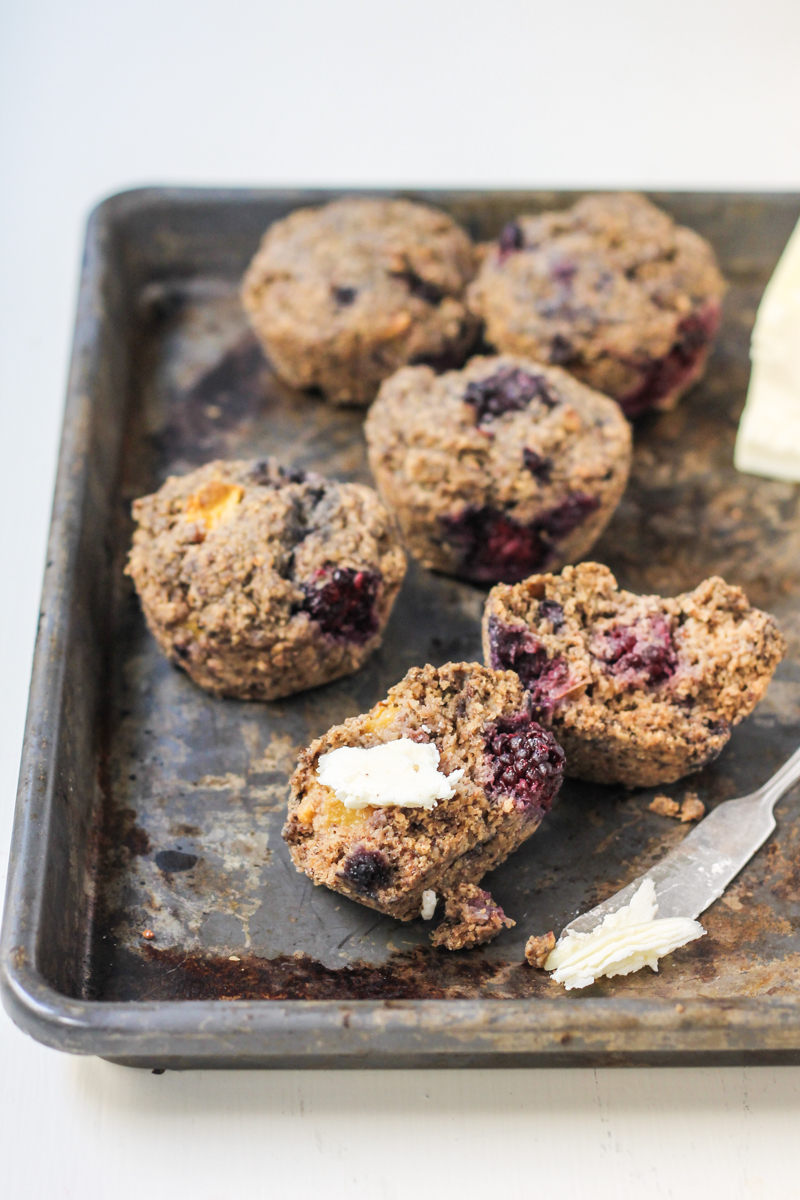 "Oh and the chai spices! I can't forget to mention them. I really wanted to call these Chai-Spiced Oat Bran Muffins but then I added BOTH blackberries & peaches. Nevertheless, please get on the chai train with me because the flavor is undeniably EPIC in these muffs." Recipe: AmbitiousKitchen.
Chia, Quinoa & Banana Granola Bars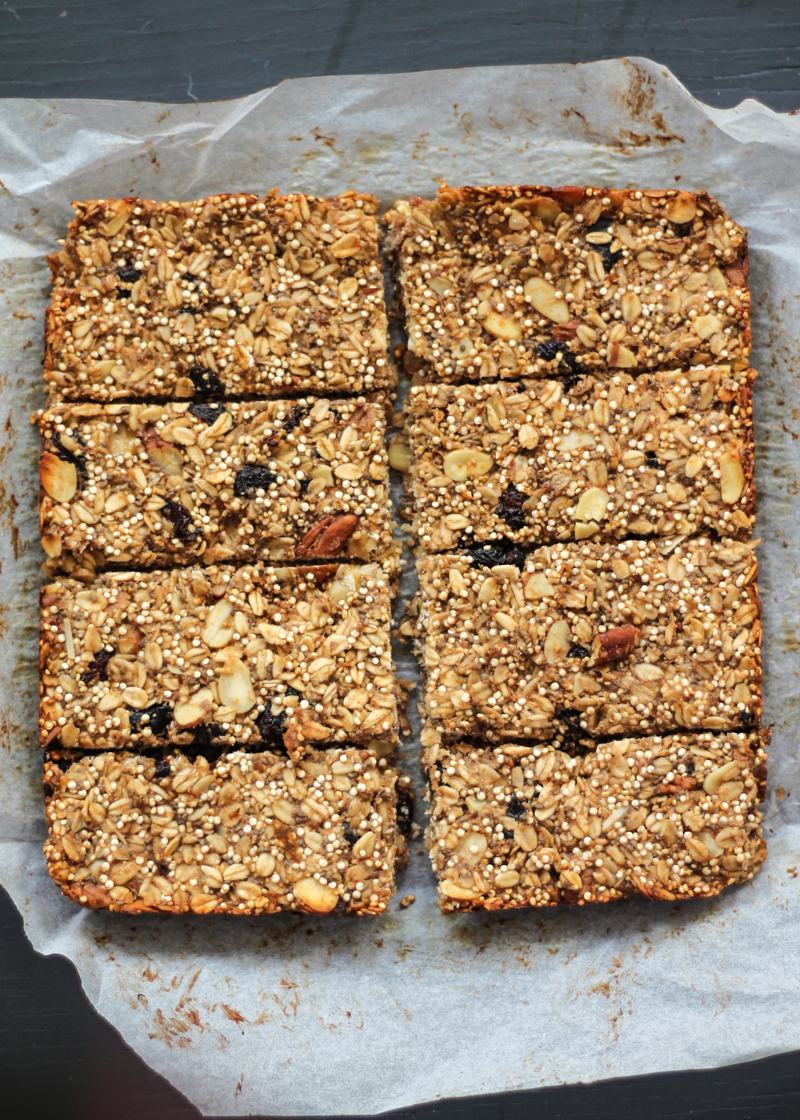 "These granola bars are packed with banana, dried fruit, quinoa, oats and chia seeds. They're a great on the go breakfast or fuel up snack! Gluten free too." Recipe: AmbitiousKitchen.
Peanut Butter Banana Baked Oatmeal With Chia Seeds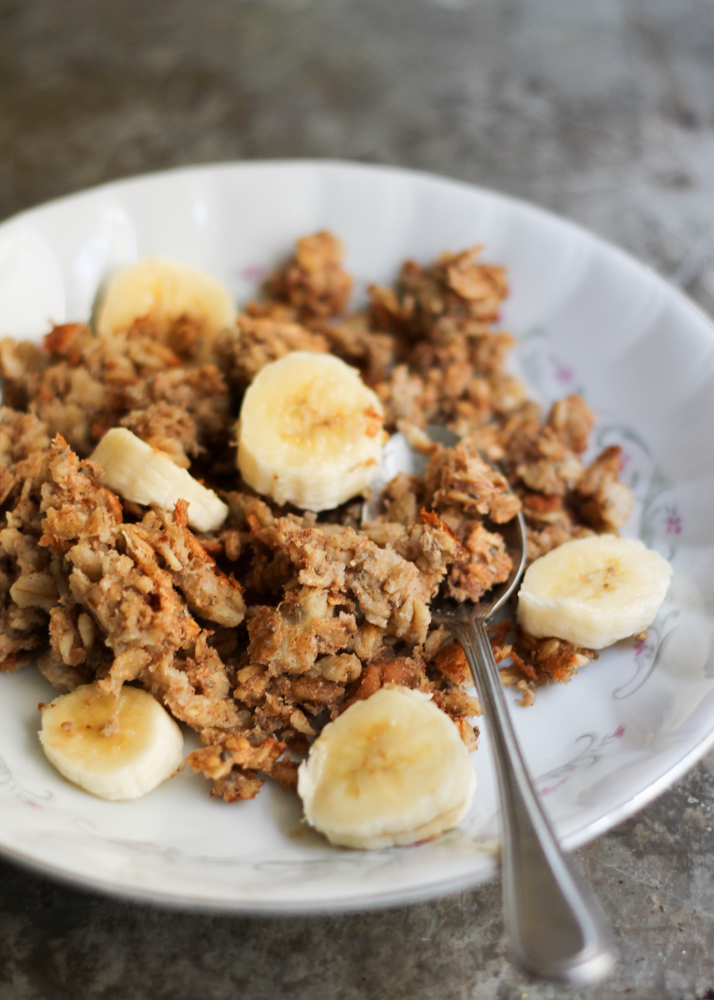 "A healthy make-ahead power breakfast: Peanut Butter and Banana Baked Oatmeal to help start your day off right. Just reheat and eat! Vegan and gluten free." Recipe: AmbitiousKitchen.
Wild Blueberry Banana Spinach Power Smoothie
" A delicious smoothie made with wild blueberries, banana, almond milk and spinach for a nutritional boost. Finished with a sprinkle of chia seeds for a healthy dose of omega-3." Recipe: AmbitiousKitchen.
21
Shamrock Breakfast Sandwich. Kale. Pepitas. Jalapeno Sauce.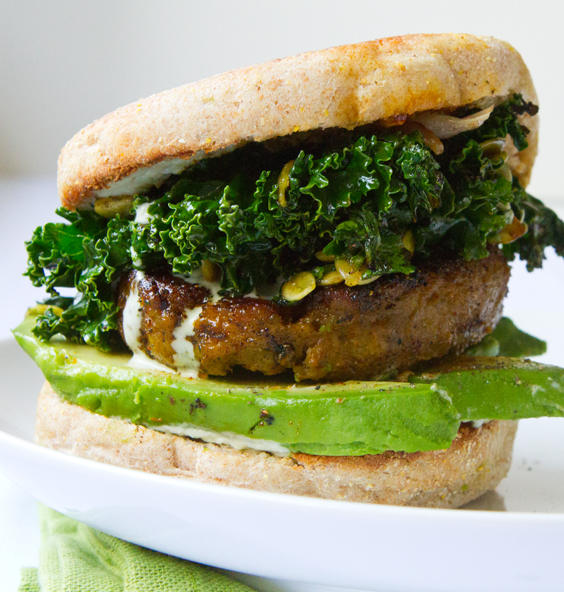 "Creamy chipotle jalapeno sauce drizzles and melts over top tender avocado, a pepper-chipotle spiced vegan sausage patty, buttery pan-toasted pepitas, shallot-infused kale and plenty of fine pepper. All on a toasted English muffin. " Recipe: LunchBoxBrunch.
Vegan Breakfast Burrito. Fun With Daiya Pepperjack!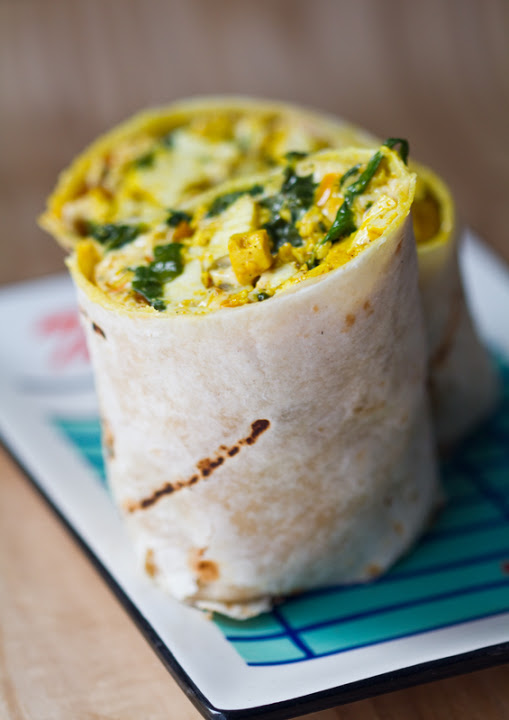 "This was the best Vegan Breakfast Burrito I have ever had. I'll attribute that to the inclusion of Daiya's new product: vegan pepperjack style "cheese" shreds.." Recipe: LunchBoxBrunch.
Vegan Breakfast Sandwiches With "Eggy" Tofu And All The Goodies
"These Vegan Breakfast Sandwiches with "eggy" tofu, smashed avocado, melty vegan cheddar cheese and more are a favorite in our house. The pan-fried tofu, yellow-tinted, has a signature spongy texture that mimics a scrambled egg – only lighter and fluffier even!" Recipe: LunchBoxBrunch.
Loveliest Lemon Vegan Pancakes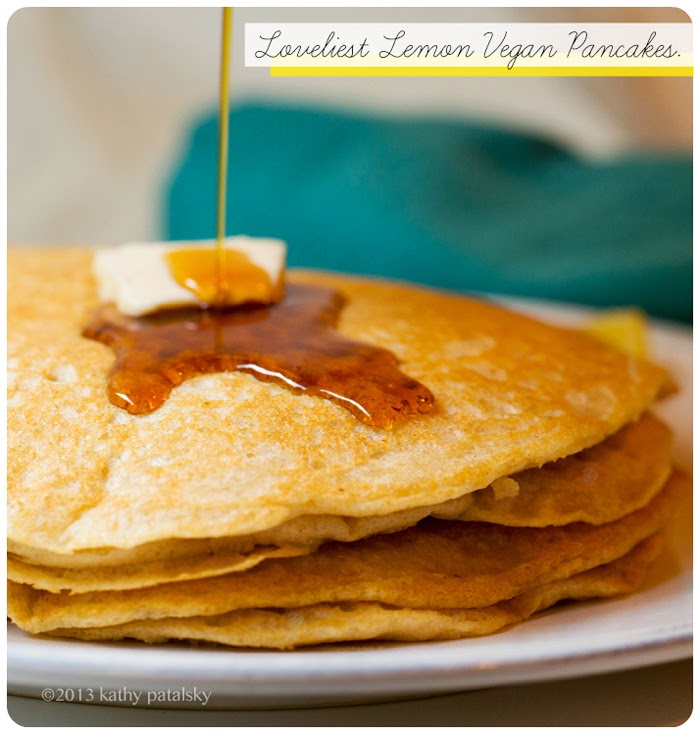 "Today I'll share my recipe for Loveliest Lemon Vegan Pancakes and a few pancake making techniques I use for fluffy, warm, golden, pillow-y, delicious vegan pancakes." Recipe: LunchBoxBrunch.
Pineapple-Power Avocado Toast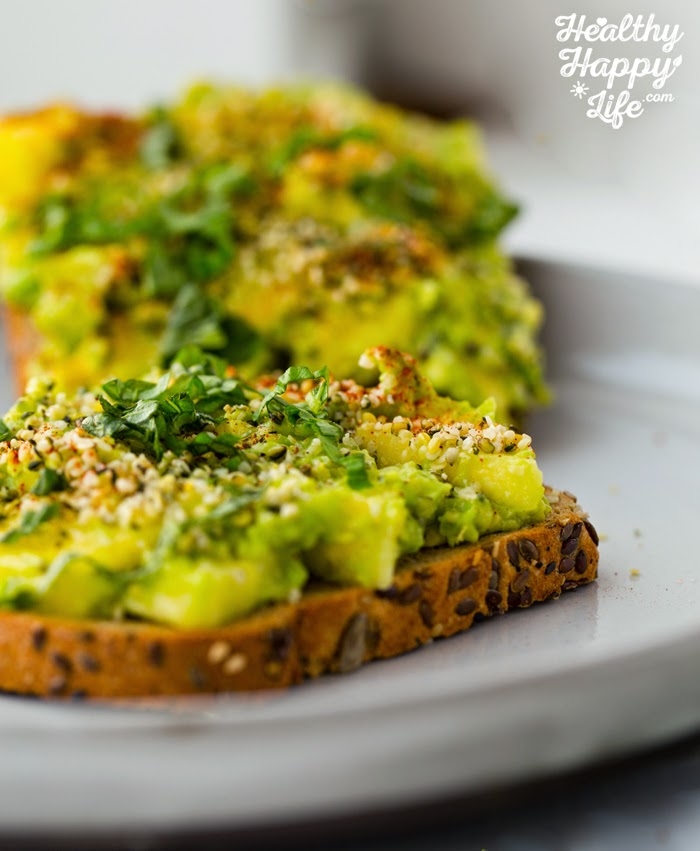 "So why all the pineapple love? Not sure, exactly. I had been craving fresh cut pineapple, and then after one bowl for breakfast I just continued to nibble on it all. day. long. It felt good. Hydrating, Sweet. Rich in vitamin C and bromelain. So the whole pineapple it was." Recipe: LunchBoxBrunch.
Wild Blueberry Chia Oatmeal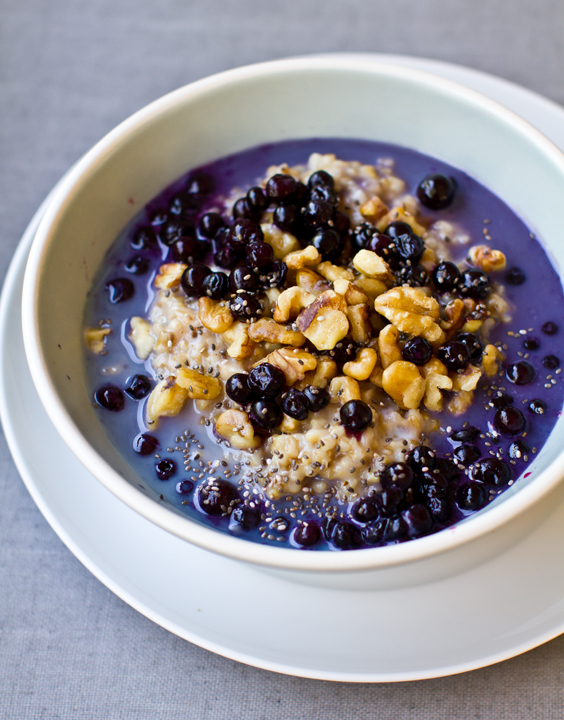 "Purple-Blue Vegan Oats. This bowl starts with some basic, rustic steel cut oats. The tender oats plump when infused with a hearty sprinkle of chia seeds. Crunchy walnuts and a few dashes of cinnamon add warmth. Sweet-tart goji berries that swell and become delightfully squishy in the warm oatmeal add some pink perkiness." Recipe: LunchBoxBrunch.
Mocha Banana Chai Oatmeal Breakfast Parfait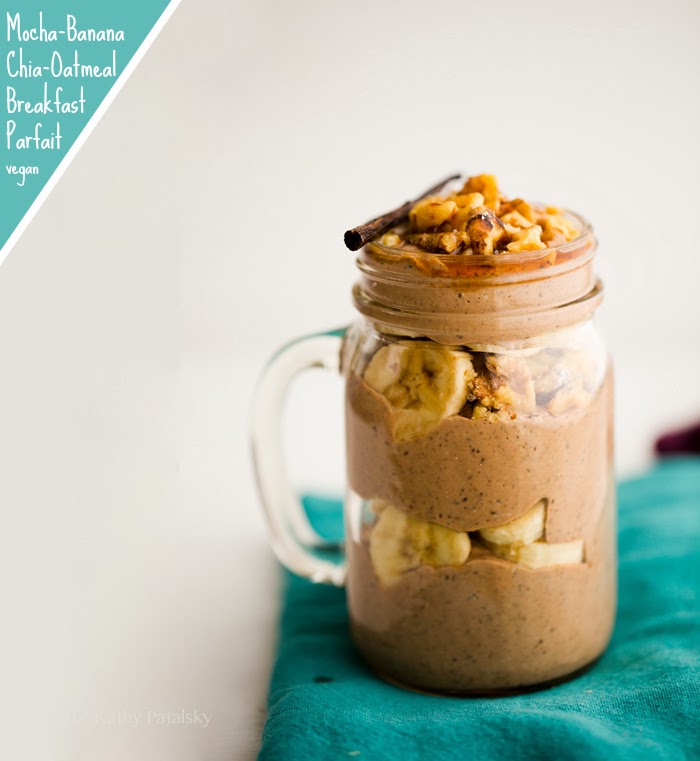 "I love grab-n-go breakfasts. But I also love a cozy, nutrition-filled grain bowl in the morning. Overnight Oats has all the convenience you need on a busy morning, plus all that homestyle, "real meal" goodness you crave. No protein bars here! (Not that I mind a yummy grab-n-go protein bar once in a while.)" Recipe: LunchBoxBrunch.
Apple Buckwheat Pancakes With Coconut Caramel Apples
"Imagine how thrilled I was to find out after a few experiments that they are even better. Just as soft, just as fluffy. AND guilt-free. On top of that, these pancakes are also gluten-free, so if you happen to be intolerant to gluten — rejoice!" Recipe: CocoonCooks.
Energy Boosting Cacao Oatmeal
"We got ahold of their Buddha's Awakening Cacao raw breakfast mix and created this deliciously filling breakfast that gets us through the coldest mornings. " Recipe: CocoonCooks.
Breakfast Banana Oatmeal Pancakes And Chai Nut Butter
"We find ourselves making this recipe for breakfast quite often (while singing along to some Jack Johnson tunes), since it only requires ingredients that we always keep in our pantry. But these pancakes are not the boring and chewy kind. There's a bunch of things we're proud about these: they're fluffy and moist, yet not too dense; they're completely gluten free; AND they've got a great tang from the lemon zest." Recipe: CocoonCooks.
Strawberry, Orange And Goji Smoothie
"And so this energizing smoothie was born, packed with wintery oranges and summery strawberries. And since no smoothie is complete without a superfood addition, we've thrown in a couple of tablespoons of re-hydrated goji berries for good measure." Recipe: CocoonCooks.
Beet Raspberry Smoothie
"About this beautiful bright pink smoothie! If you haven't had the pleasure of tasting the combo of beetroot and raspberry, this smoothie is the perfect way to do so. Don't be intimidated by the idea of adding whole, raw beetroot to your morning drink, it is as delicious as it is beneficial. " Recipe: CocoonCooks.
30 Minute Vegan Breakfast Burrito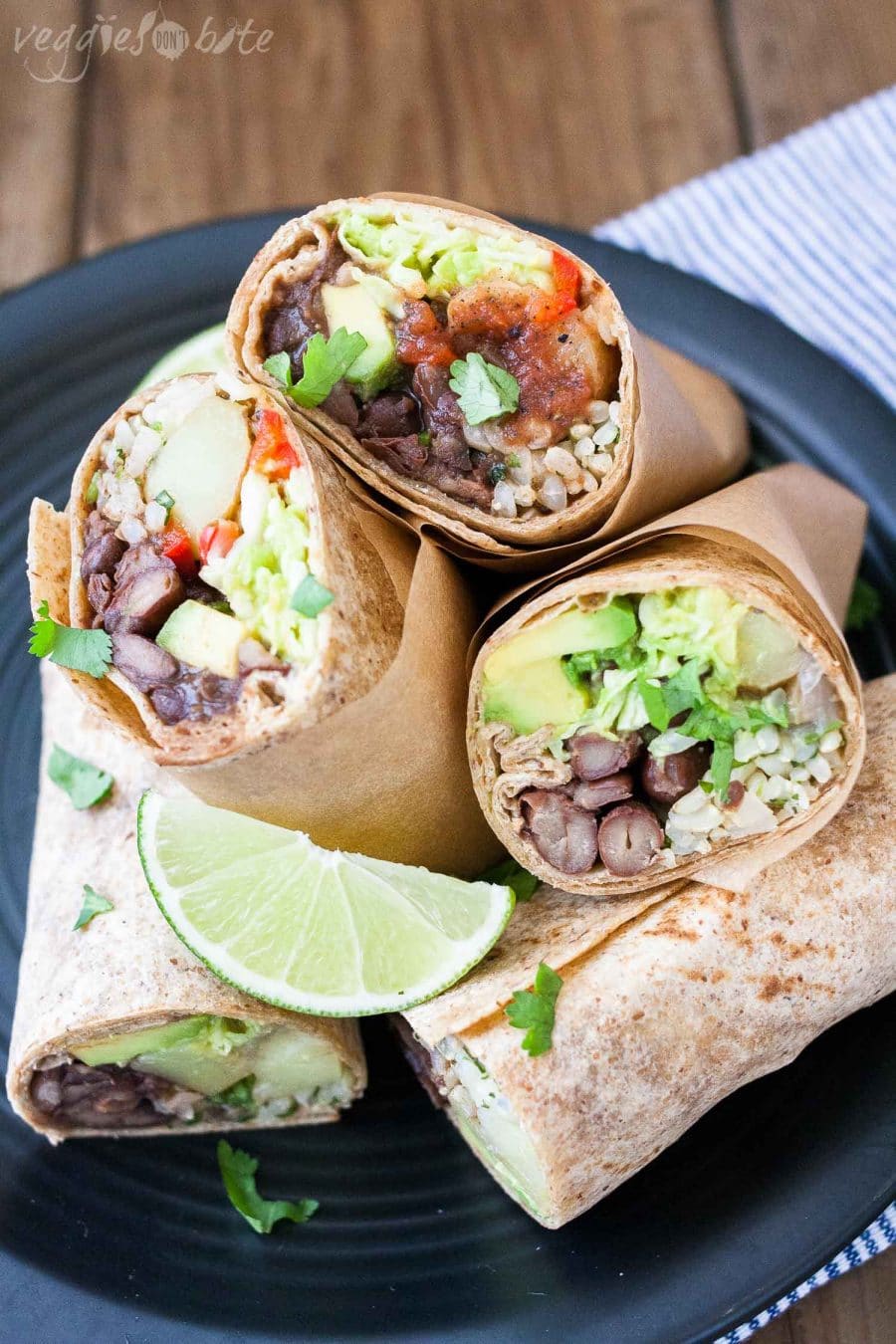 "Vegan breakfast burritos to rock any type of eaters world. These are hearty, filling and downright delicious, all in 30 minutes or less!" Recipe: VeggiesDontBite.
Salted Caramel Cashew Cacao Chunk Smoothie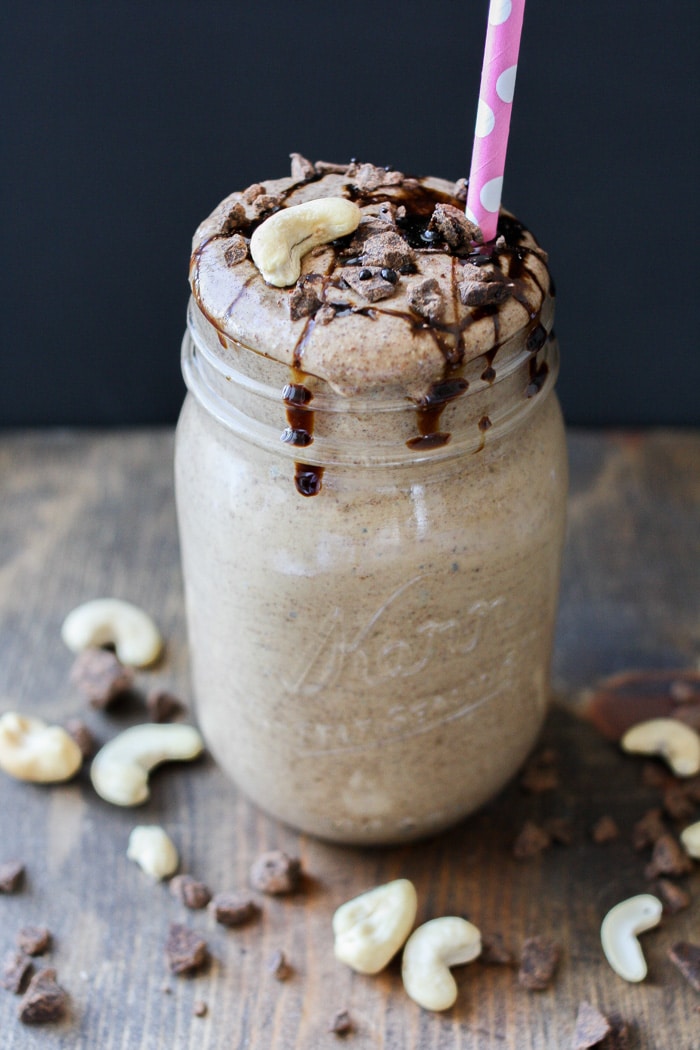 "Do you often crave dessert for breakfast? Look no further than this indulgent smoothie filled with whole food ingredients! Drink your way to a protein packed start to your day." Recipe: VeggiesDontBite.
Blueberry Muffin Pancakes
"This sweet treat will have the little ones jumping for joy and the big ones begging for more. Combining the sweet taste of blueberry muffins with the classic pancake is the perfect way to get your day started off right. Save the leftovers for a tasty snack throughout the day…if there are any!" Recipe: VeggiesDontBite.
Southwest Sweet Potato Breakfast Hash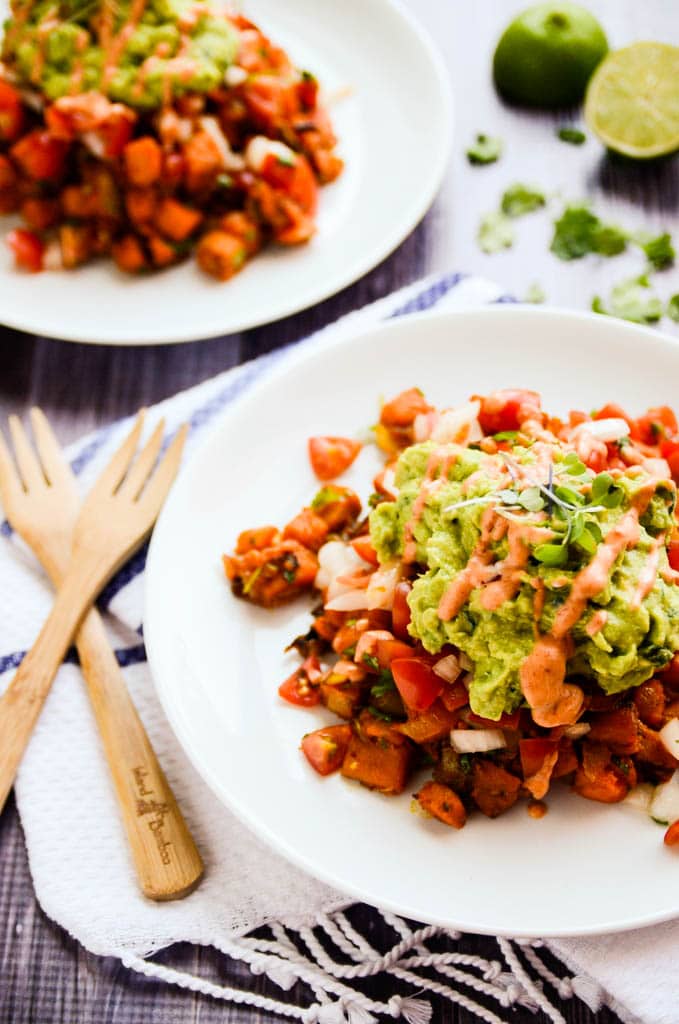 "This vegan southwest sweet potato breakfast hash is brimming with feel-good ingredients and satisfying flavors. Sweet potatoes, yellow onion, and garlic are cooked to slightly-caramelized perfection along with smoked paprika, cumin, and turmeric" Recipe: BlissfulBasil.