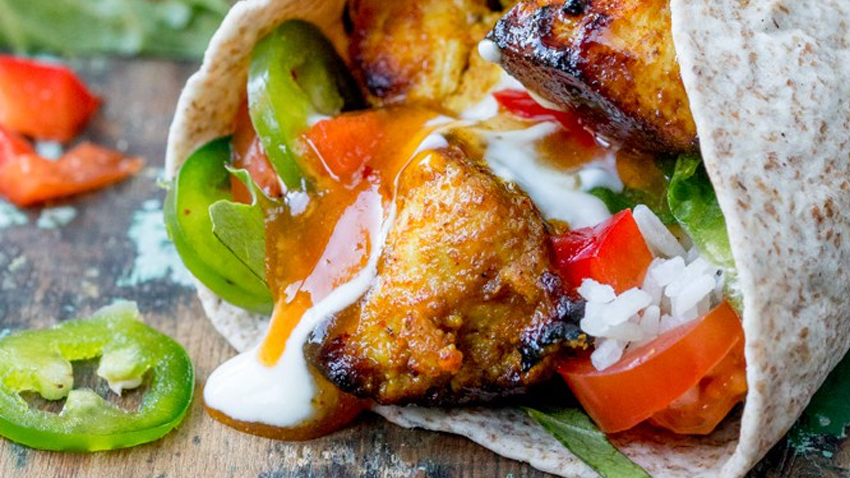 High protein, low fat, no carb, Chicken (particularly the breast) has been a bodybuilding and fitness diet staple forever. Quick to cook, easy to prepare and a great base to create unique dishes and add new flavours to.
It is one of the most versatile meats to use and if you know several ways to cook it that you enjoy, it can be a real diet saver. No more dry, plain chicken breast cooked on the George Foreman.
We have collected 37 amazing, weight loss chicken recipes that are loaded with protein that you will love! As always, share and save your favourites on social media. Enjoy!
37 Healthy Weight Loss Chicken Recipes That Are Packed With Protein!
Teriyaki Chicken Lettuce Wraps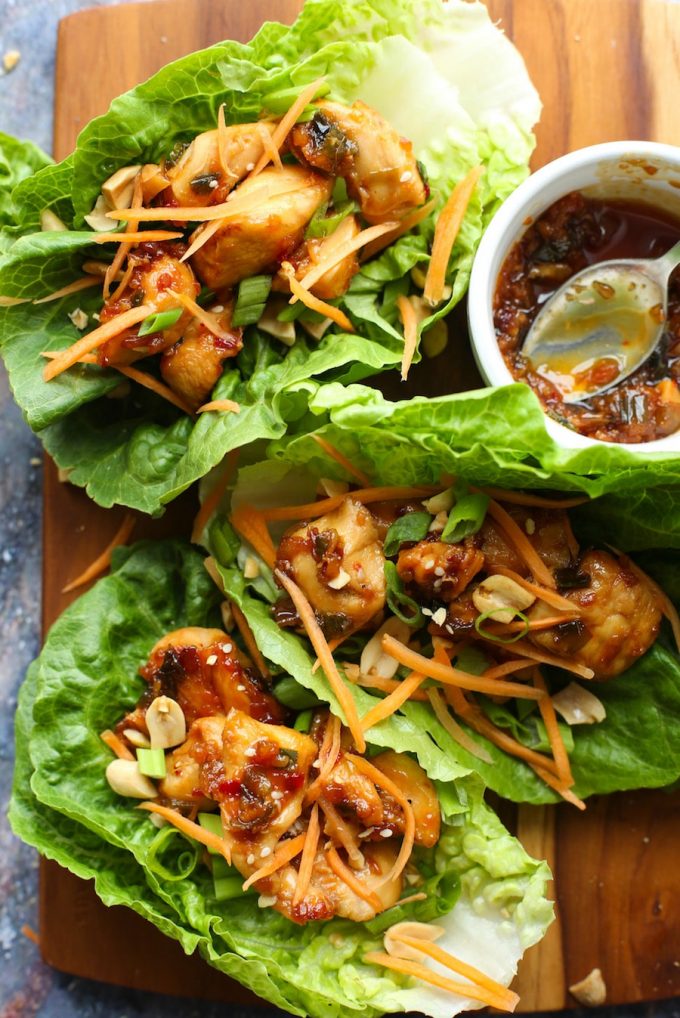 "20 minute Teriyaki Chicken Lettuce Wraps – makes for a quick, low carb healthy lunch or dinner | Gluten Free + Dairy Free + Soy Free Paleo Option". Recipe: DamnDelicious.
One Pan Lemon Roast Chicken and Asparagus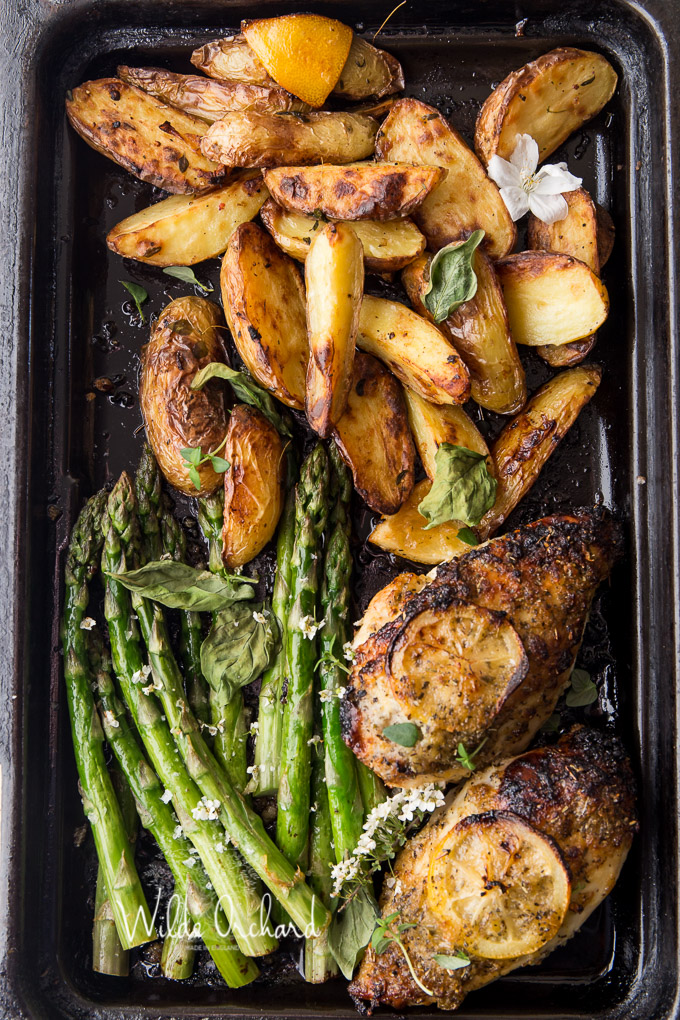 "One Pan Lemon Roast Chicken and Asparagus with roasted lemon pepper potatoes. This is the one pan wonder dinner, of your busy Friday night dreams. Dinner goals, guys!" Recipe: wildeorchard.co.uk
BBQ Chicken Breasts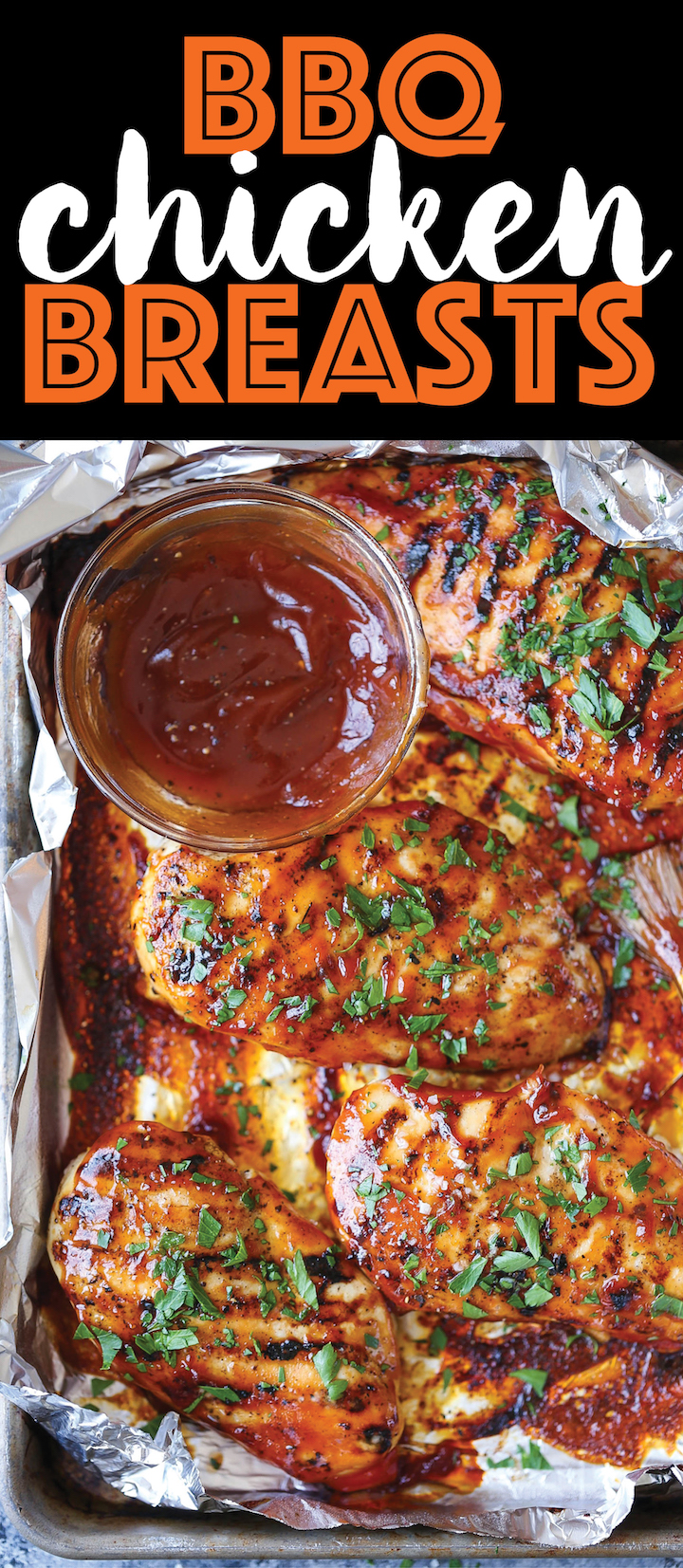 "The most tender, juicy chicken grilled to PERFECTION, smothered in a thick, homemade BBQ sauce. You can also make this ahead of time!" Recipe: DamnDelicious.
Apple, White Cheddar & Grilled Chicken Salad
"There's nothing like grilled chicken to add flavor to a salad. If you don't have an outdoor grill you can use a grill pan. The marinade for the chicken and the vinaigrette for the salad are one in the same. I love time savers like this." Recipe: averiecooks.com
Healthy Chicken Burrito Bowl Meal Prep

"Think of this as healthier (and cheaper!) Chipotle bowls that you can have all week long. Save time and calories here!!!" Recipe: DamnDelicious.
Lemon Chicken & Asparagus Foil Packs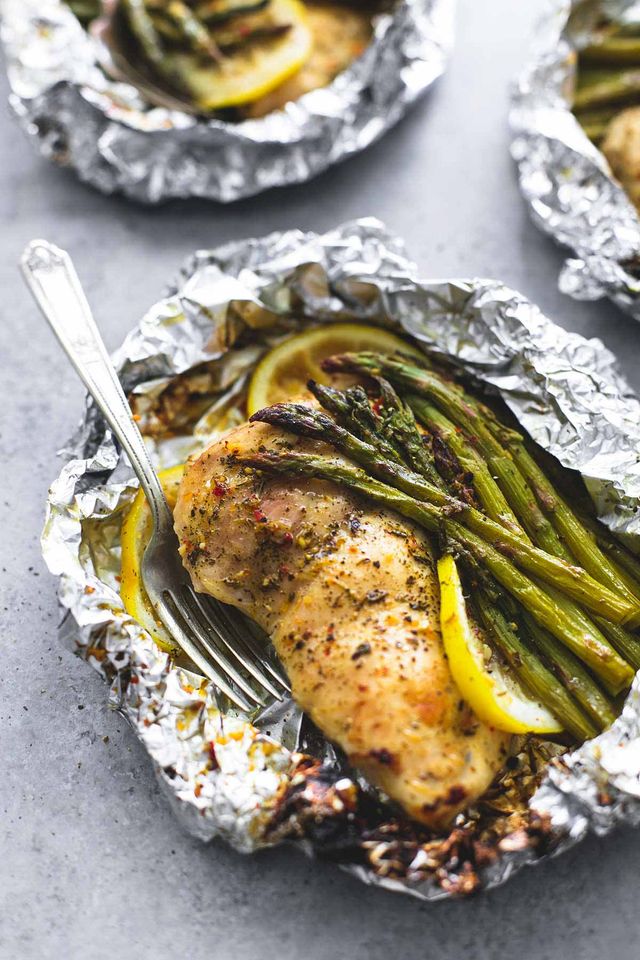 "Simple lemon chicken & asparagus foil packs are an easy and incredibly delicious 30-minute meal you can either grill, or bake any time of the year." Recipe: bloglovin.com
Baked Teriyaki Chicken & Broccoli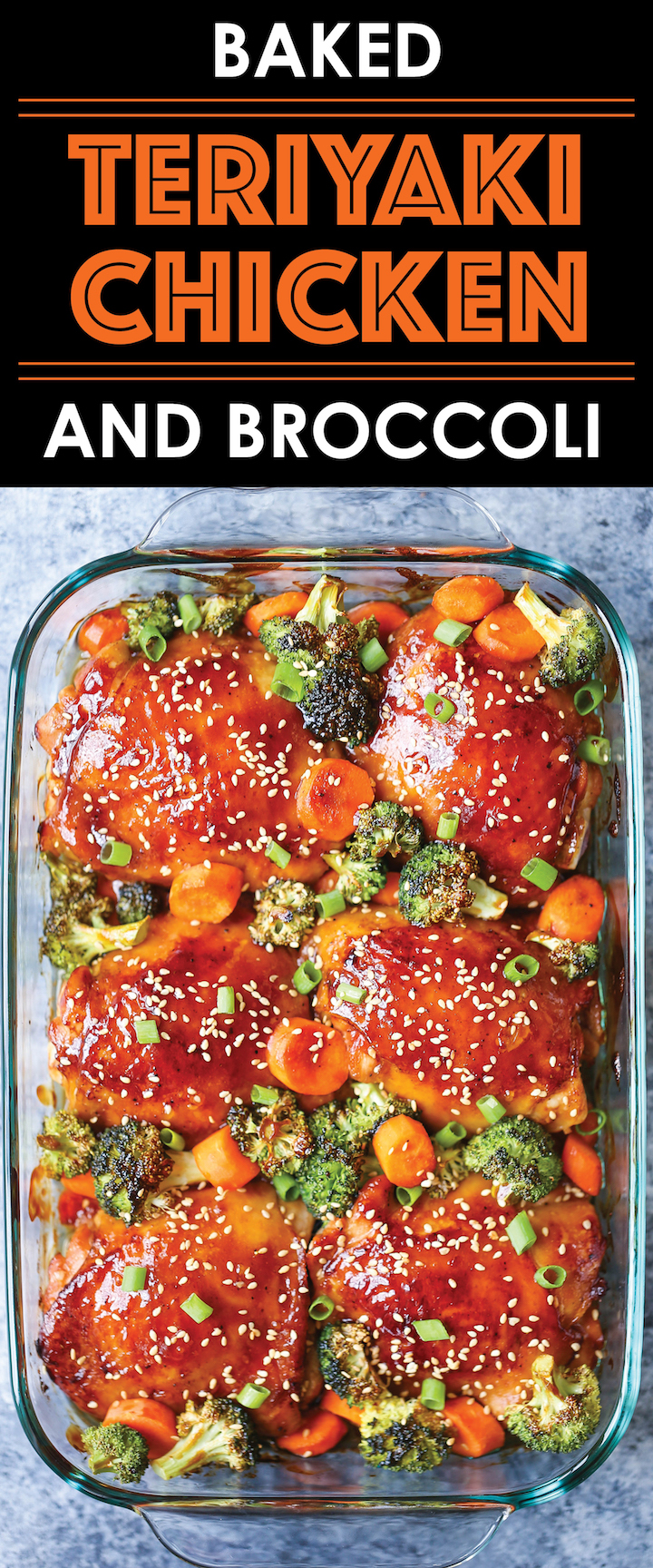 "A takeout classic baked right at home with homemade teriyaki sauce – perfect over rice! Can be made ahead of time too!" Recipe: DamnDelicious.
5 Ingredient Easy White Chicken Chili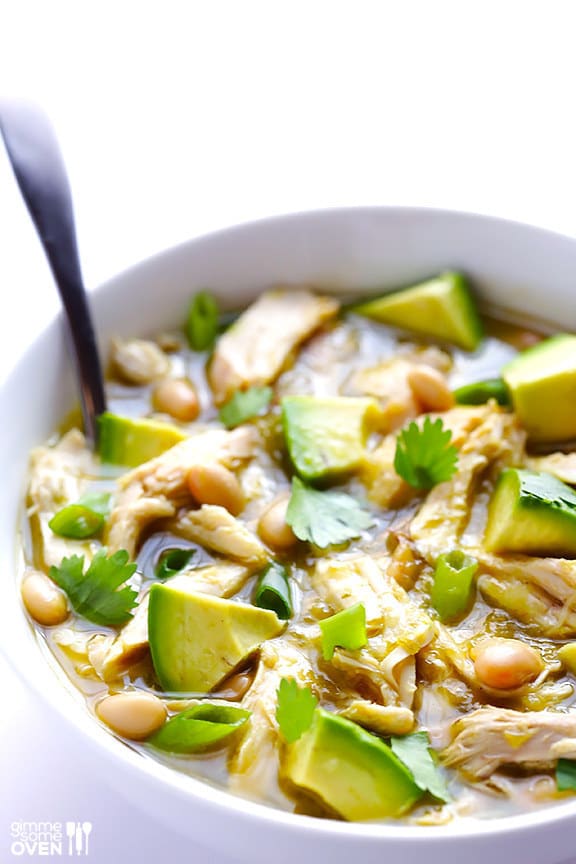 "In addition to only calling for a handful (get it, a handful) of ingredients, this easy white chicken chili recipe also can be made and on the table in just 15 minutes. Definitely a perfect busy weeknight meal, and it also makes great leftovers and can be frozen for later." Recipe: GimmeSomeOven.
Skinny Thai Green Chicken Curry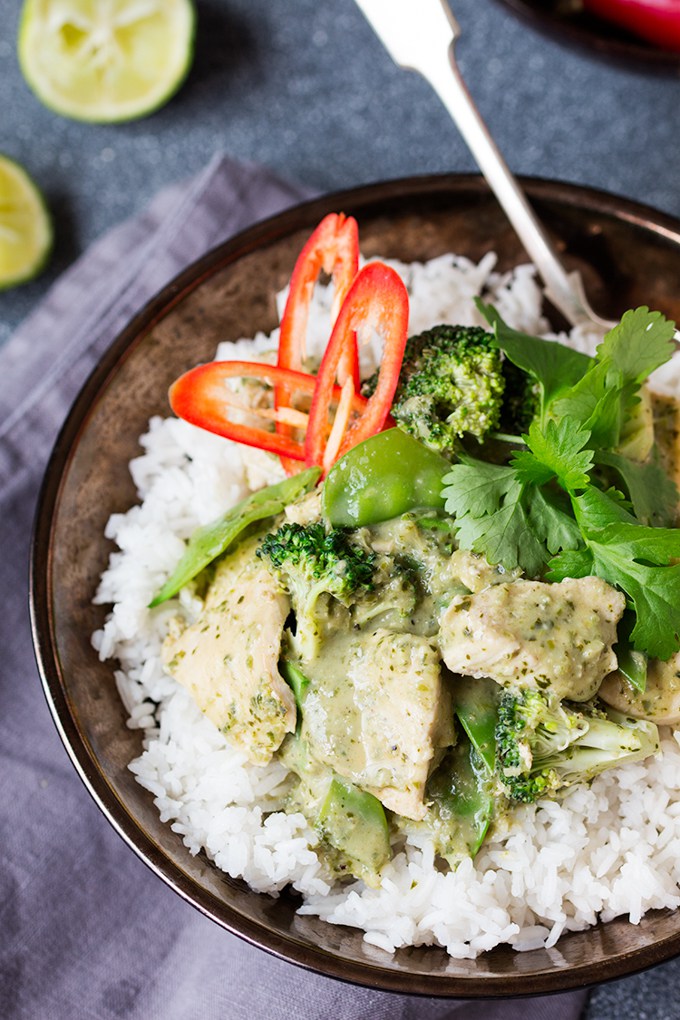 "A fresh, fragrant and light-but-creamy Thai chicken curry. Only 500 cals per serving INCLUDING rice (226 cals without). Less than 2 syns per serving on Slimming World Extra Easy." Recipe from KitchenSanctuary.
Slow Cooker Garlic Parmesan Chicken & Potatoes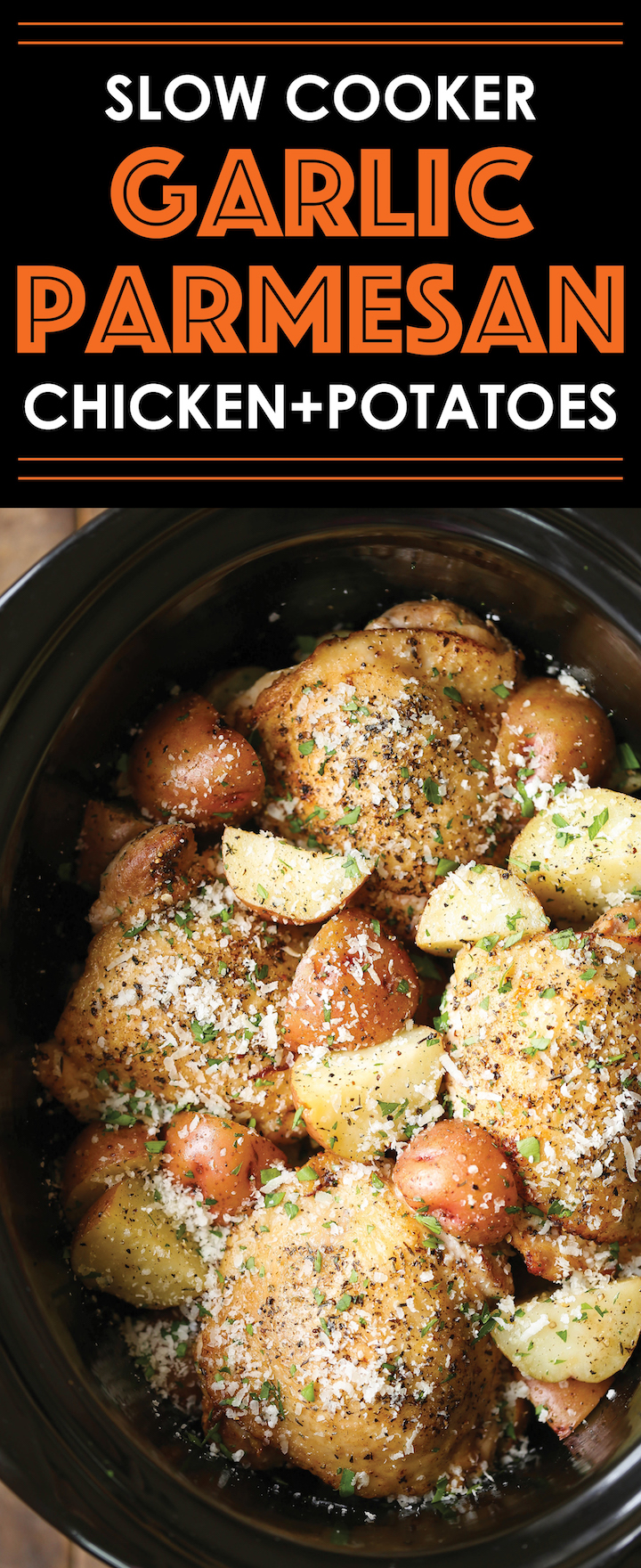 "Crisp-tender chicken cooked low and slow with baby red potatoes for a full meal! So easy and effortless!" Recipe: DamnDelicious.
Chicken With Pesto Zoodles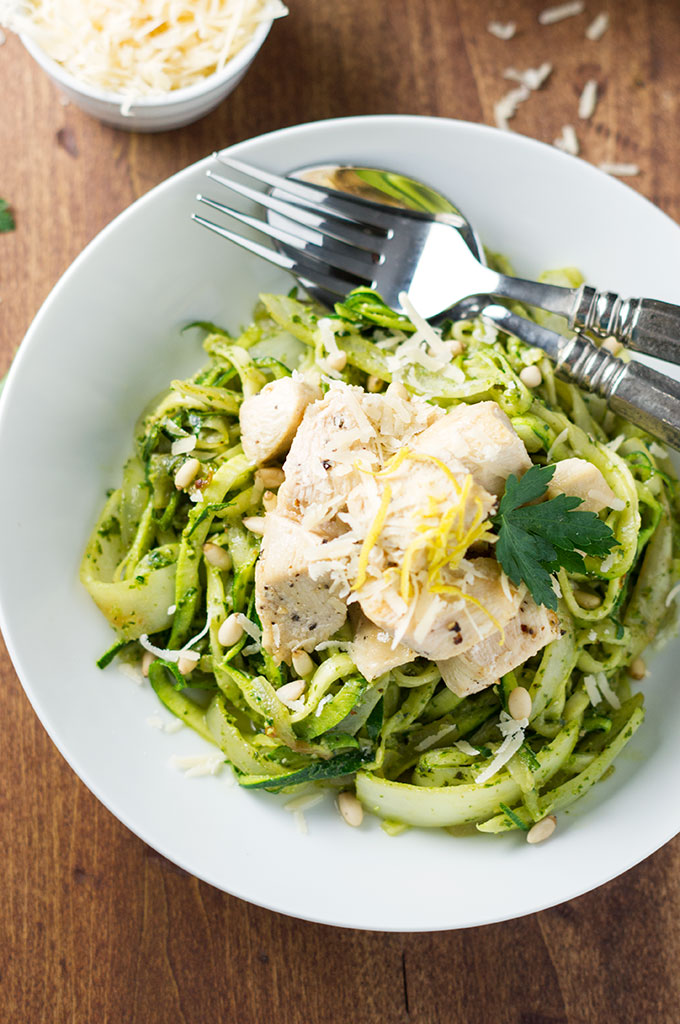 "When the zoodles are cooked al dente, I stir in the pesto and watch as it heats up and coats the zucchini and onions. As soon as the pesto is incorporated and the chicken is done, time to plate up and eat!" Recipe from BoundByFood.com.
Chicken Piccata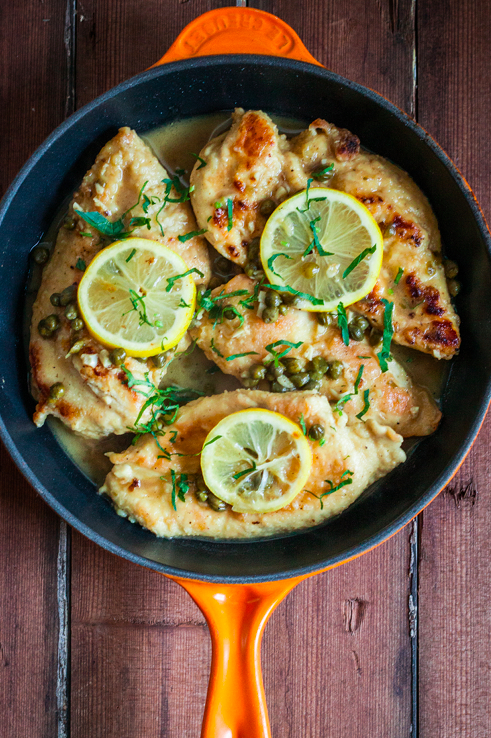 "I don't really remember when was the first time I tried chicken piccata, but I think it was in Seattle. I fell in love with it instantly. But then again, it's pan-fried chicken breasts served with rich lemon caper sauce. What not to like?" Chicken Piccata from RedShallotKitchen.
Pan Seared Chicken Breast With Sun-Dried Tomatoes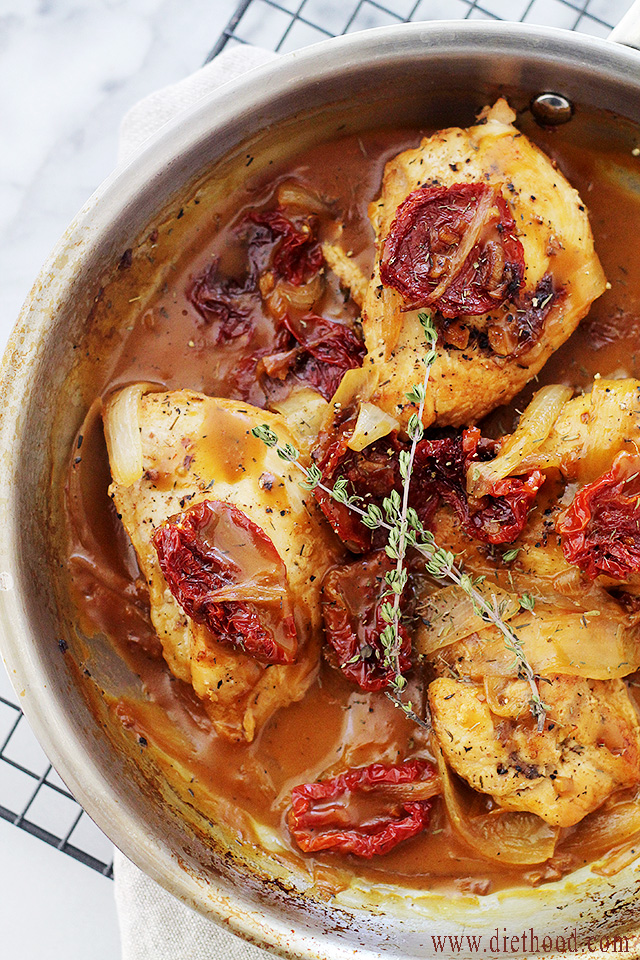 "Pan-Seared Chicken Breasts with Sun Dried Tomatoes: Quick, easy and delicious pan-seared chicken with sun dried tomatoes and a flavorful sauce. Recipe from Diethood. 319 Calories.
Garlic Chicken & Potatoes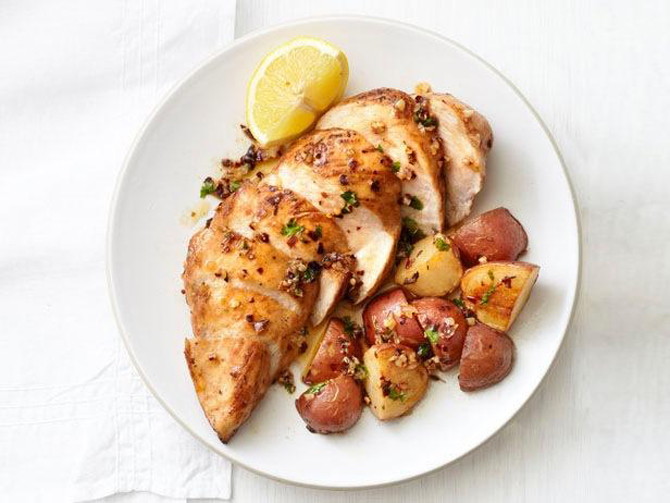 "Hearty, flavorful, easy, and just under 500 calories! I predict this dish will soon become a family weeknight staple." Recipe from FoodNetwork. 474 Calories.
Chicken & Asparagus Lemon Stir Fry
"Asparagus is one of my favorite Spring vegetables, and this quick stir-fry made with chicken, lemon, garlic and ginger is a great way to make it a weeknight meal." Recipe: skinnytaste.com
Healthy Chicken Pesto Kabobs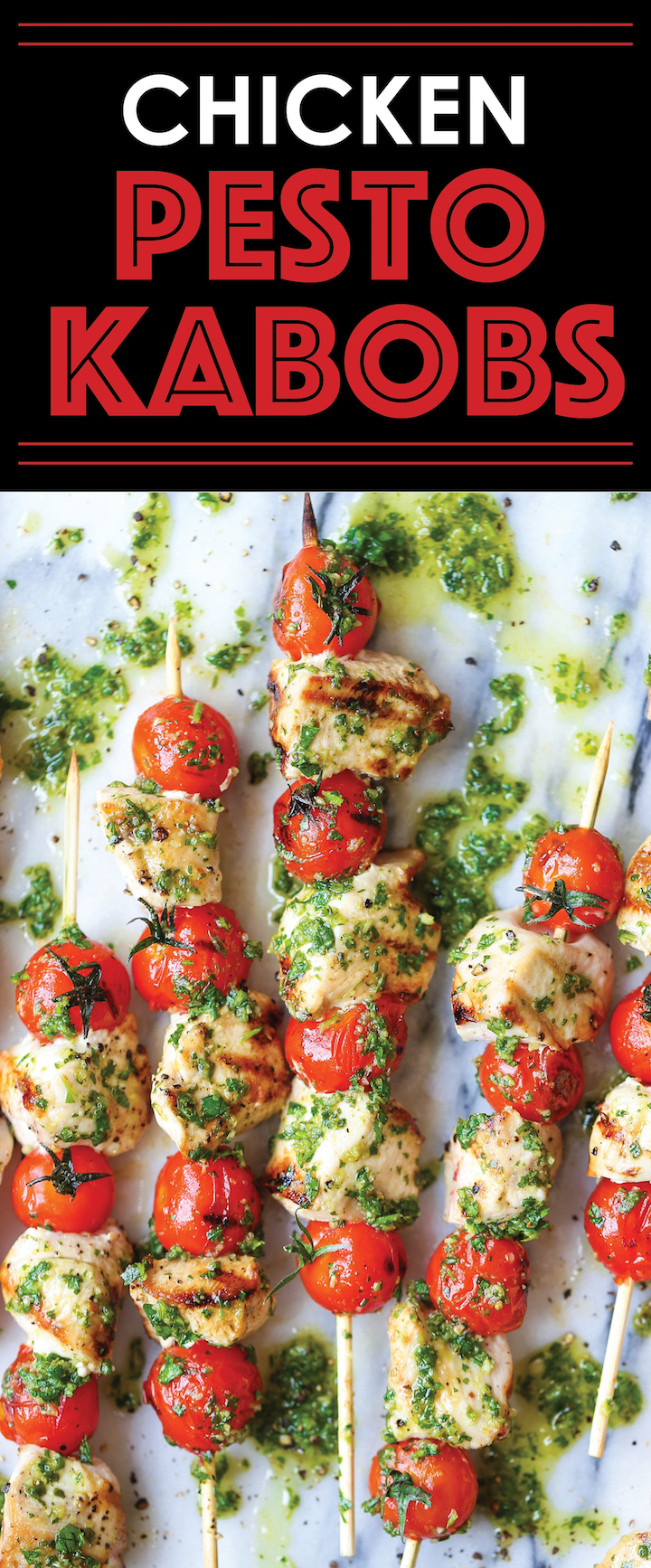 "No-fuss 4-ingredient kabobs! Can be made ahead of time, baked or grilled so you can make this anytime, anywhere. Easy peasy." Recipe: DamnDelicious.
Healthy Buffalo Chicken Wrap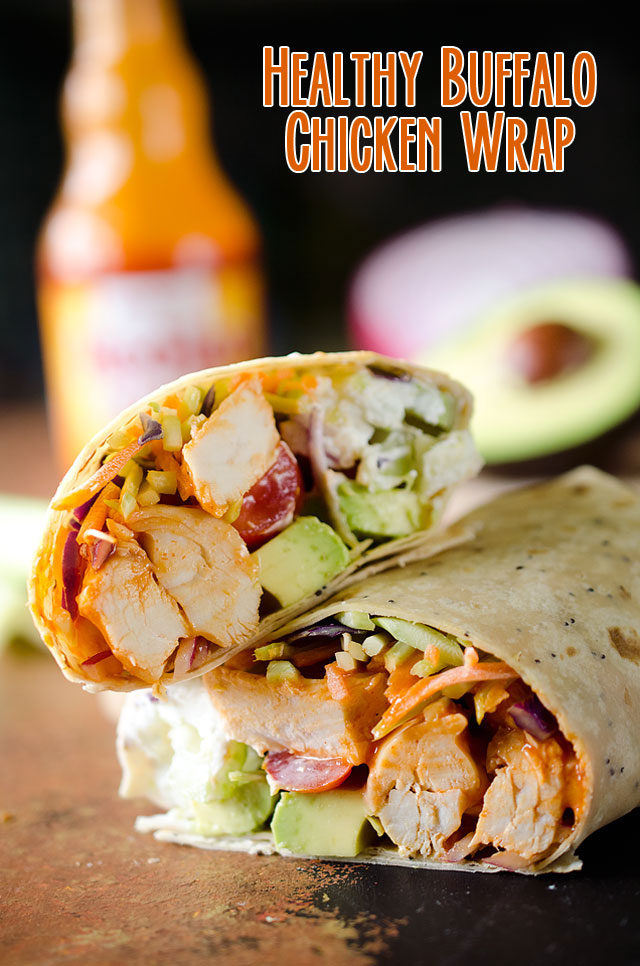 "Healthy Buffalo Chicken Wrap is a light and healthy wrap filled with buffalo chicken breasts, Greek yogurt, bleu cheese crumbles, broccoli slaw, celery, avocado and tomatoes for an easy lunch with bold flavor!" Recipe from TheCreativeBite. 317 Calories.
Sheet Pan Bruschetta Chicken

"A sheet pan dinner without any of the fuss! Just top with fresh tomatoes right before serving! Easy, quick, and refreshing!" Recipe: DamnDelicious.
One-Pot Chicken, Quinoa, Mushrooms & Spinach Recipe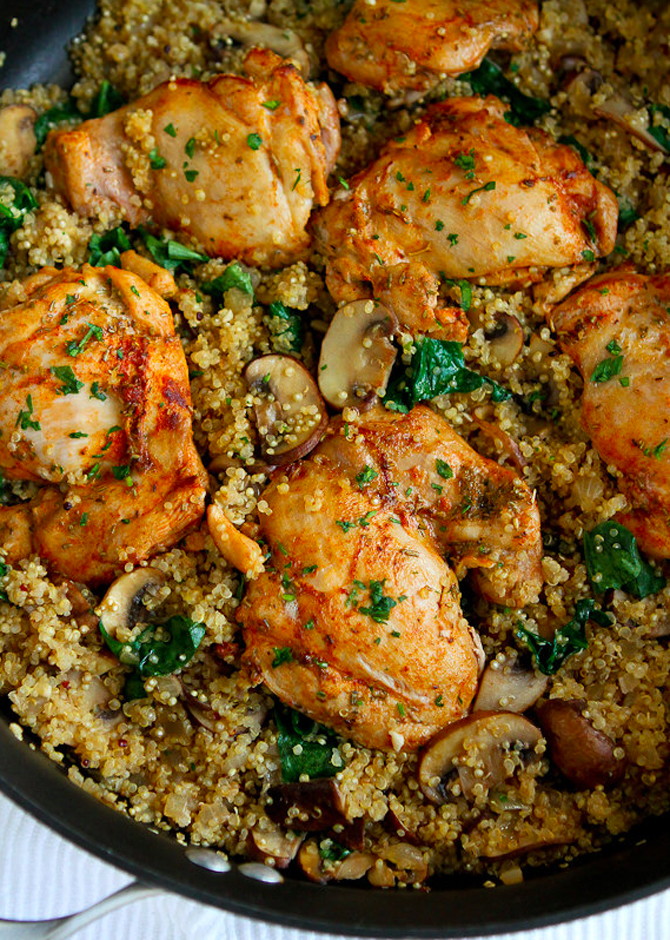 "In this easy one pot chicken recipe, chicken, quinoa, mushrooms and spinach nestle together for a healthy meal with minimal clean-up." Recipe from CookinCanuck. 258 Calories.
Hummus-Crusted Chicken
"And then in order to make it a one-pot meal, I also picked up a bunch of veggies to bake up alongside the chicken. And then in less than 10 minutes of prep time, roughly chopped the veggies and added them and the chicken breasts to a big baking dish, slathered the chicken with hummus and some lemon juices, sprinkled on a little sumac (or you can use smoked paprika), and popped it in the oven. About a half hour later, I learned what "hummus-crusted" is all about." Hummus-Crusted Chicken from GimmeSomeOven.
Healthy Chicken Detox Soup

"Cleansing, immune-boosting soup packed with all the good stuff (kale, mushrooms, celery, carrots, etc.) without compromising any taste!" Recipe: DamnDelicious.
Spaghetti Squash Chicken Parmesan
"An amazingly healthier version of everyone's favorite chicken parm without compromising taste. The best comfort food!" Recipe: DamnDelicious.
Healthy One Pan Pizza Chicken

"Win win chicken dinner! A ONE PAN meal. And it's a LOW CARB cheesy goodness meal for the whole family to enjoy on a busy weeknight!" Recipe: DamnDelicious.

Creamy Chicken Quinoa and Broccoli Casserole
"Creamy Chicken Quinoa and Broccoli Casserole is real food meets comfort food. From scratch, quick and easy, and a big gentle hug loaded with good-for-you ingredients." Creamy Chicken Quinoa and Broccoli Casserole from PinchOfYum.

Slow Cooker Salsa Verde Chicken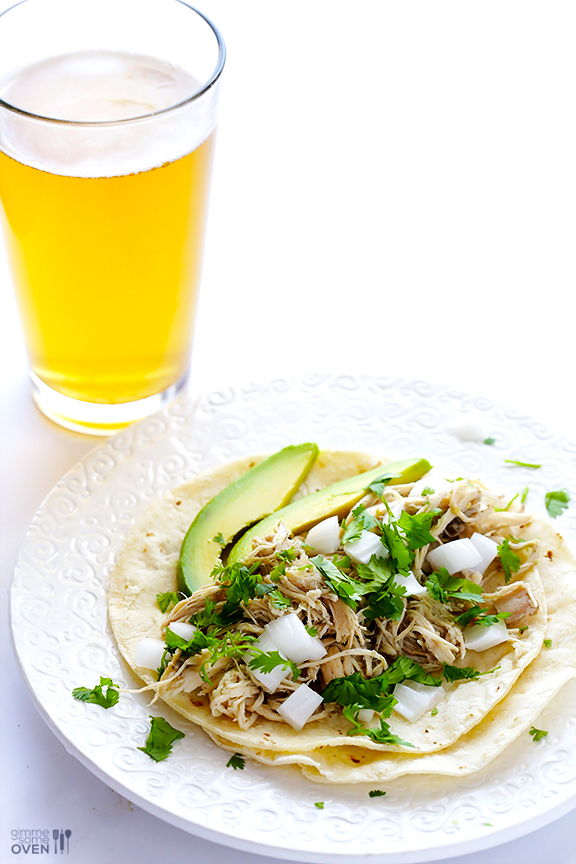 "I actually made this one for a cooking class I taught a few months ago at my church. I wrote about it on here once before, but basically it was a serious taco-a-thon complete with 3 homemade salsas and 3 homemade fillings." Slow Cooker Salsa Verde Chicken from GimmeSomeOven.

Molasses-Dipped Chicken with Mango Salsa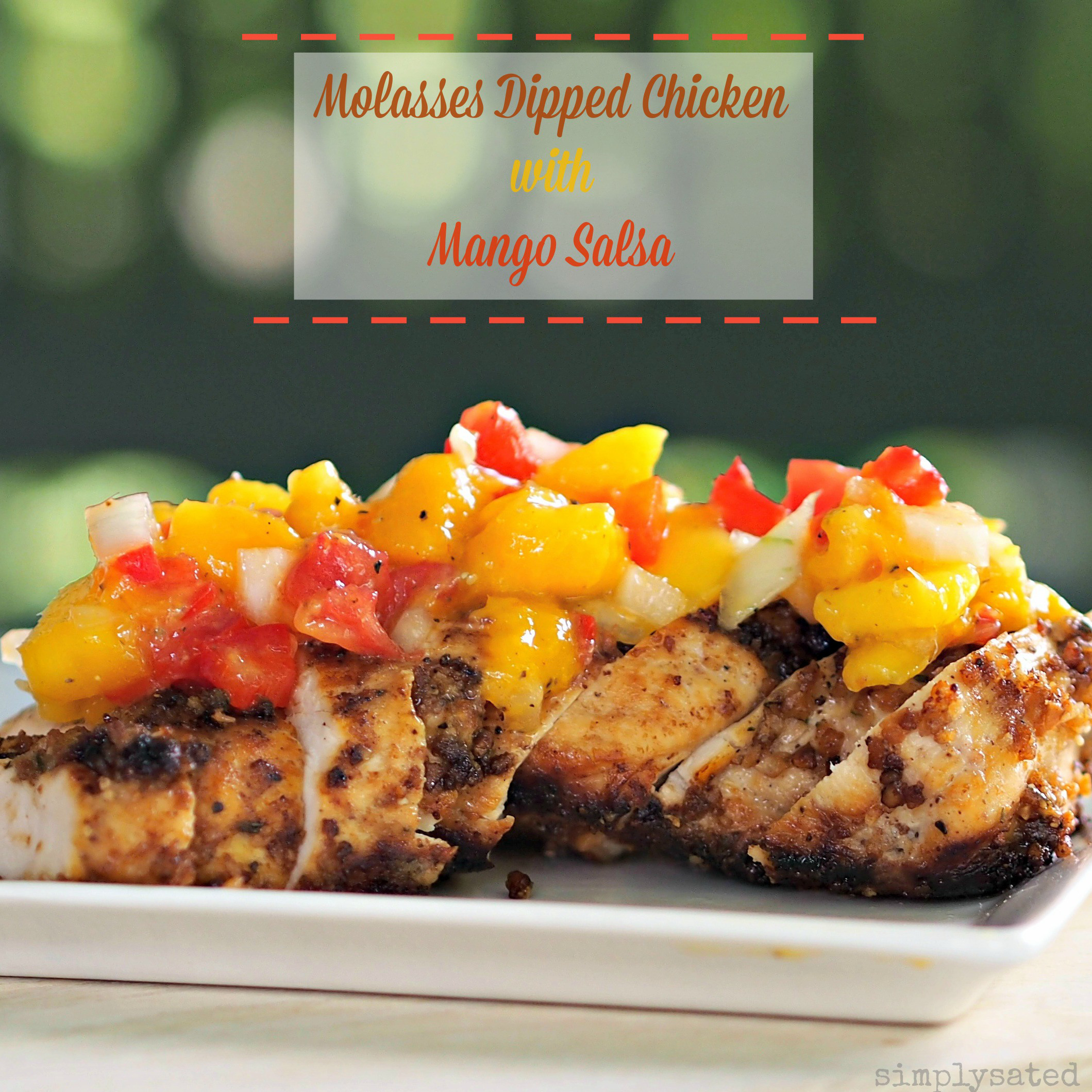 "Molasses Dipped Chicken with Mango Salsa is the star in this flavor-packed show. Chicken dipped in molasses and buttermilk, dredged in spiced-up flour, seared and baked. Then, it is topped off with sweet and spicy Mango Salsa. The two main actors, chicken and salsa, are quite wonderful by themselves, but for this recipe, place them together and let their characters develop" Molasses-Dipped Chicken with Mango Salsa from SimplySated.
Blackened Chicken With Avocado Cream Sauce
"This dish a 10. Why? It can be totally prepped in 10 minutes and has less than 10 ingredients! Plus, it's a great way to change up a boring piece of chicken. You'll love the flavors this recipe offers!" Recipe from Womanista. 162 Calories.
One Skillet Chicken Sausage & Tortellini

"One skillet meals like this Chicken Sausage and Tortellini make easy dinners a breeze — with very little clean up at the end! The pasta, the sausage, and the veggies all cook together in a rich Italian sauce for a simple supper that's ready in less than 30 minutes!" Recipe from TheSeasonedMom. 413 Calories.
Chicken Tikka Chapati Burritos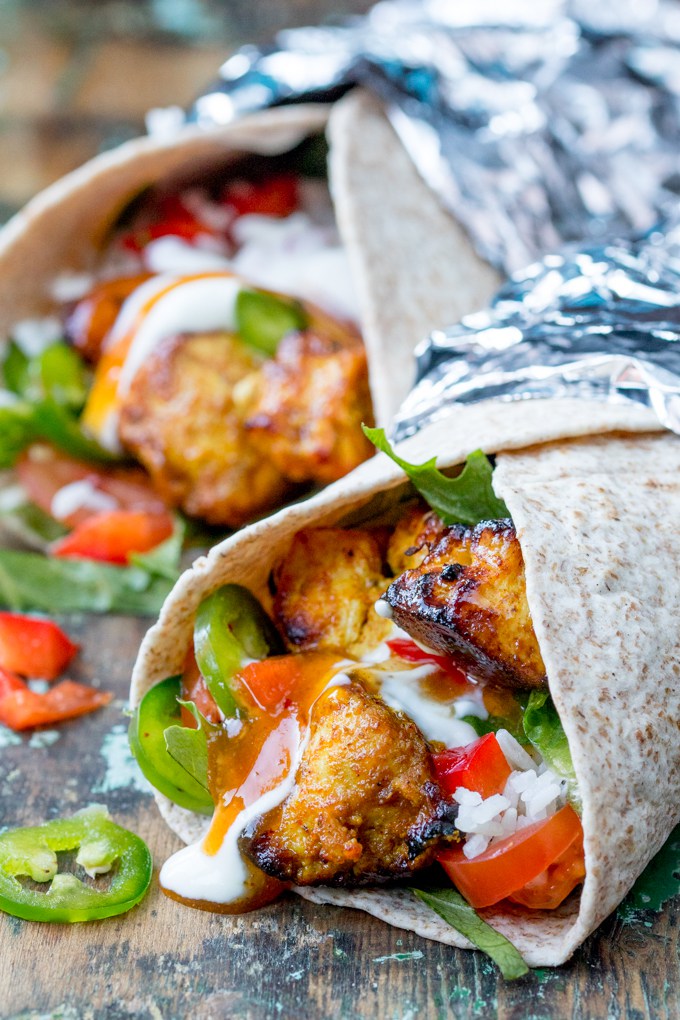 "Chicken pieces marinated in made-from-scratch tikka paste, then grilled or barbecued until just charred. So good! All wrapped up in a chapati and topped with rice, veggies, yogurt and a little mango chutney. I like to add a few sliced chillies too for a bit of heat." Recipe from KitchenSanctuary.
Skillet Garlic Parmesan Chicken Thighs

"Skillet Garlic Parmesan Chicken Thighs, an amazing one pan skillet meal that will rock your socks off on flavor. This healthy meal is done in 30 minutes and finishes off at 262 calories a serving." Serving size: 2 chicken thighs Calories: 262. Recipe from JoyfulHealthyEats.
Basil & Feta Sauce Chicken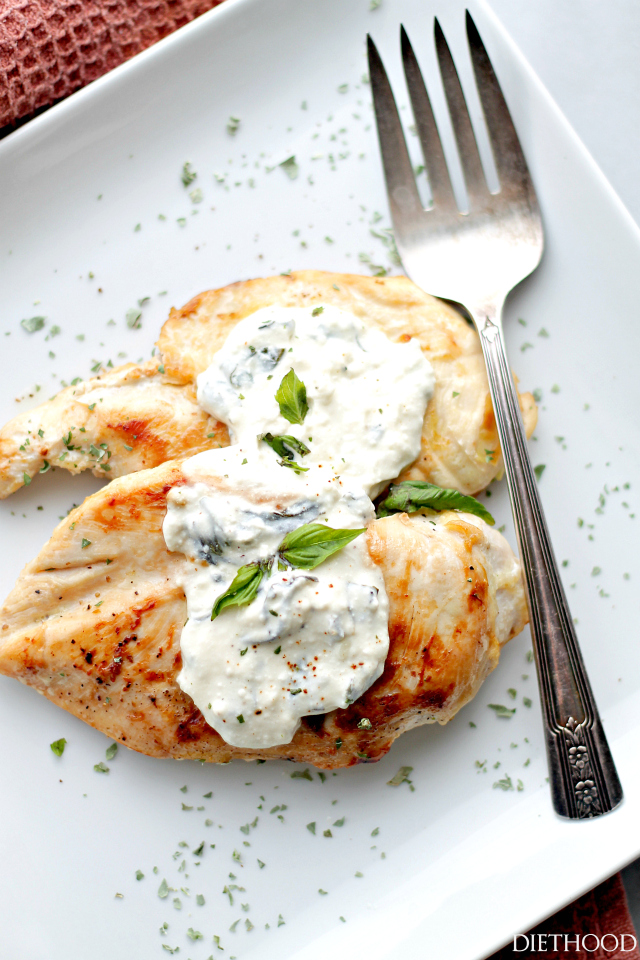 "Basil-Feta Sauce Chicken – Flavorful and tangy sauce made with basil, garlic and feta cheese served over deliciously juicy chicken." Recipe from DietHood.
Mozzarella Chicken In Tomato Sauce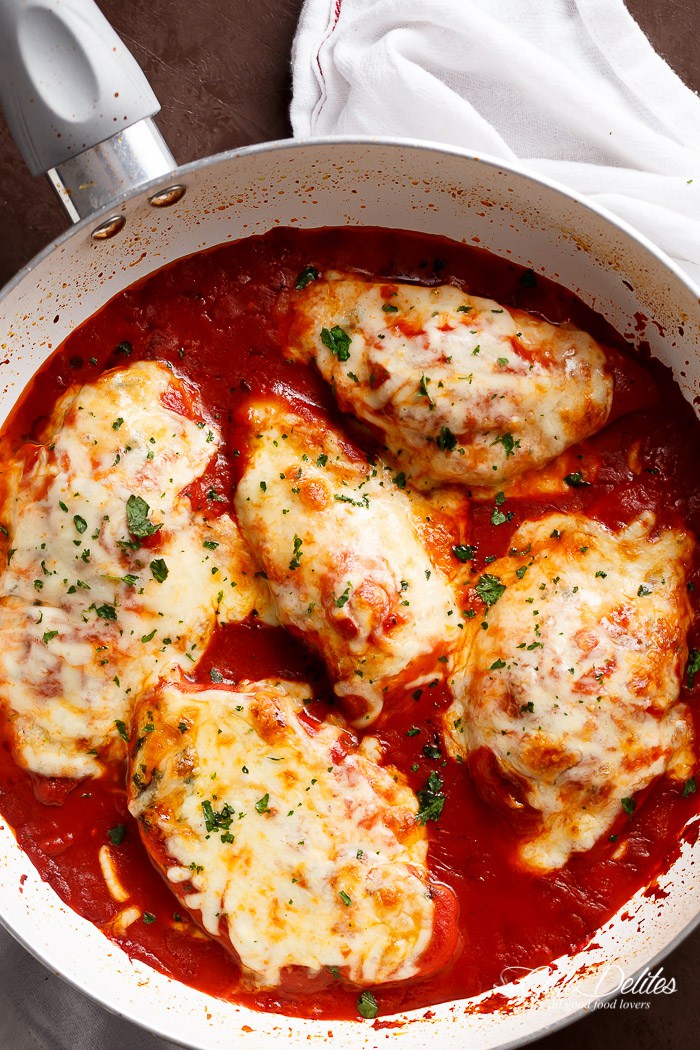 "If you don't have the time to make a restaurant quality dinner, but you're craving those flavours, this recipe is for you! Mozzarella Chicken In Tomato Sauce always wins!" Recipe from CafeDelites.
Saucy Low Calorie Chicken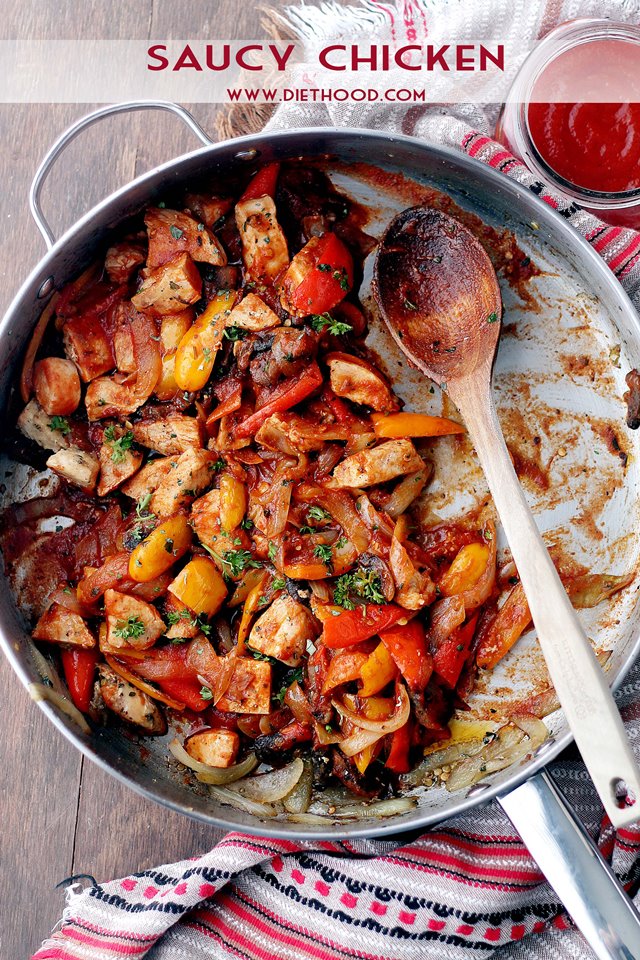 "Super quick, flavorful pan-fried chicken, combined with tender veggies and a delicious Ragú Traditional Sauce." Recipe from DietHood.
Crispy Baked Chicken Tenders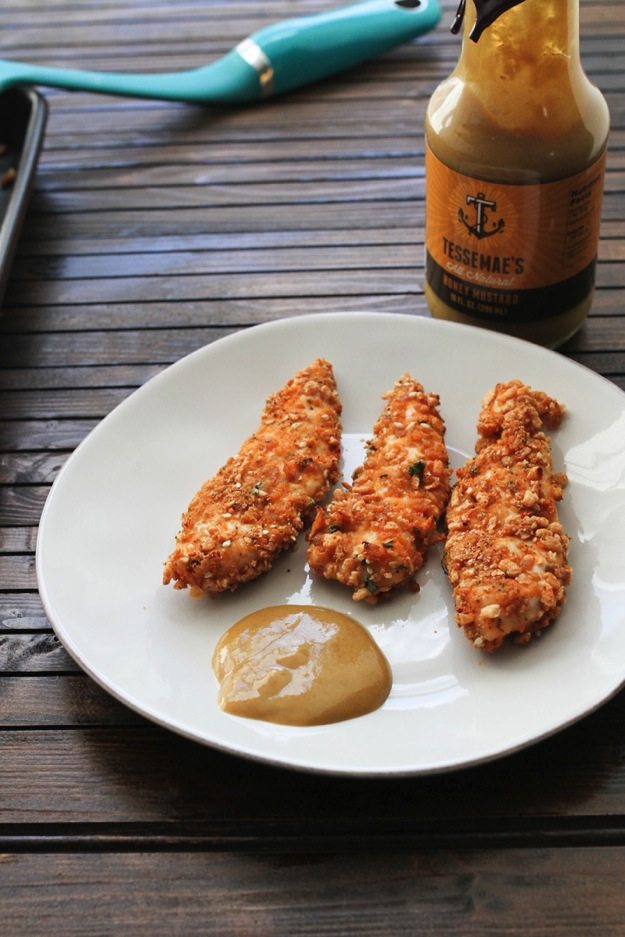 "If you're looking for a way to spice up your usual chicken dinner, try these gluten-free baked chicken tenders!" Recipe from EatingBirdFood. 172 Calories.
Chicken Fried Rice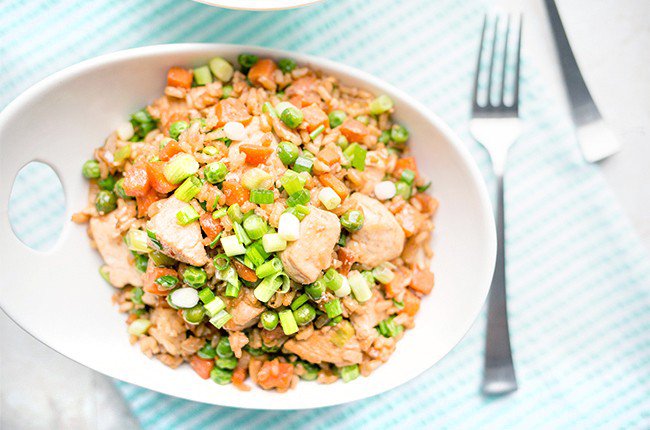 "Chinese takeout may be a preferred weekly meal for your family, but this lightened-up version of chicken fried rice could easily replace that high-calorie, -fat and -sodium to-go order. This is also the perfect way to sneak veggies onto your little ones' plates. They'll never notice they're eating peas, carrots and onions mixed in with that yummy chicken and rice!" Recipe from WomanInsta. 290 Calories.
Hawaiian Baked Chicken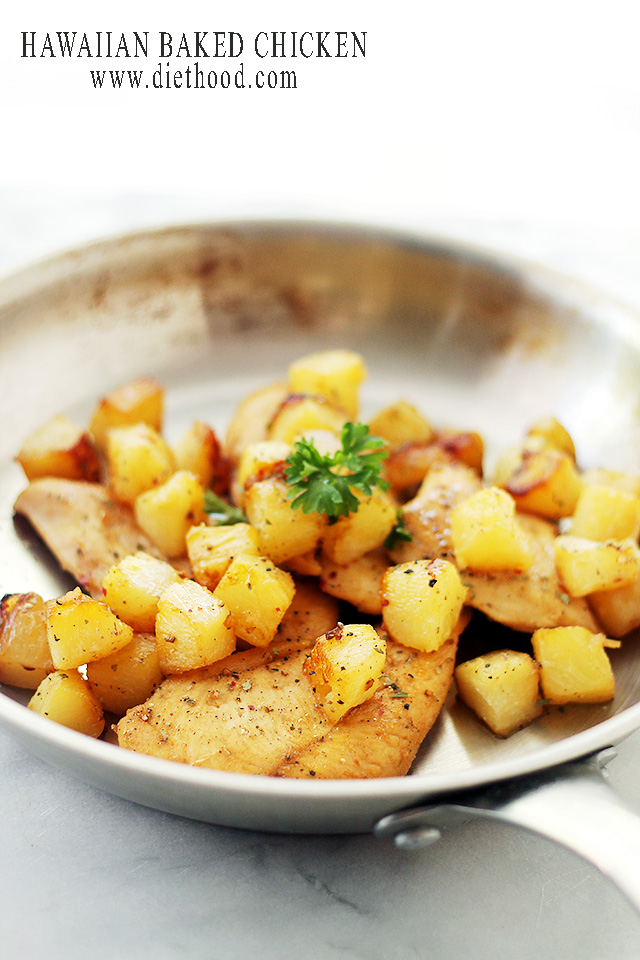 "Hawaiian Baked Chicken: Marinaded in a garlicky-pineapple juice mixture, this is the most flavorful chicken you will ever make!" Recipe from DietHood.
Green Chile Chicken Enchilada–Stuffed Spaghetti Squash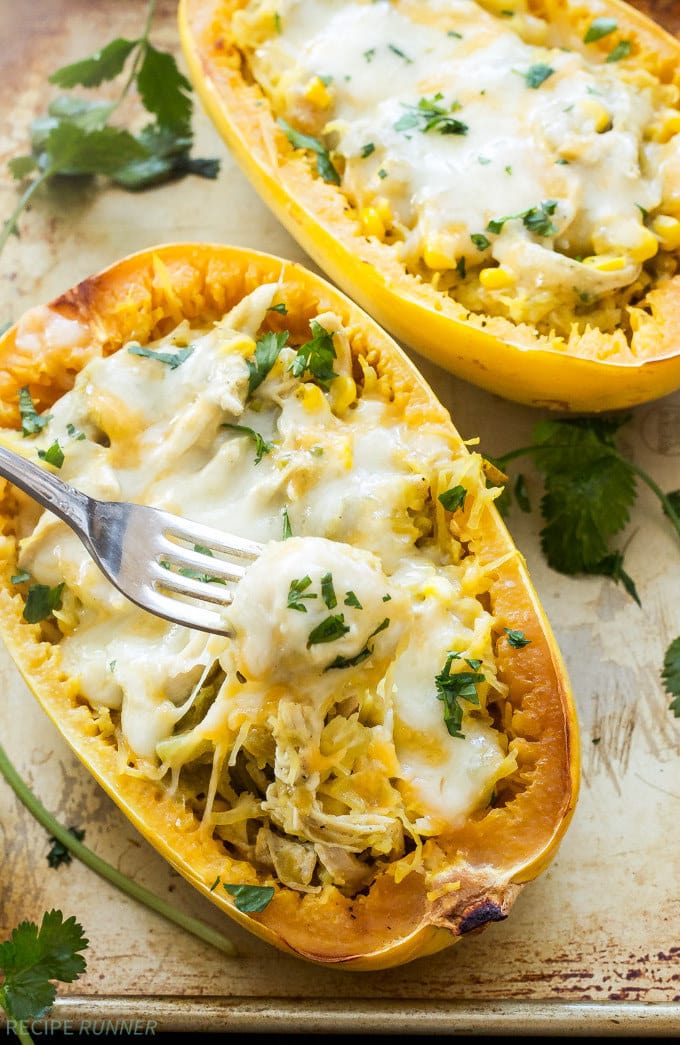 "Basically it's how I make chicken enchiladas only instead of wrapping it up in a tortilla I mixed the filling in with the strands of spaghetti squash. Not only was it easier because I didn't have to individually roll up each enchilada, but I was also getting a serving of vegetables in." Recipe from RecipeRunner.