Sarah Filleter Lost Over 65lbs With This Exact Diet & Training Plan!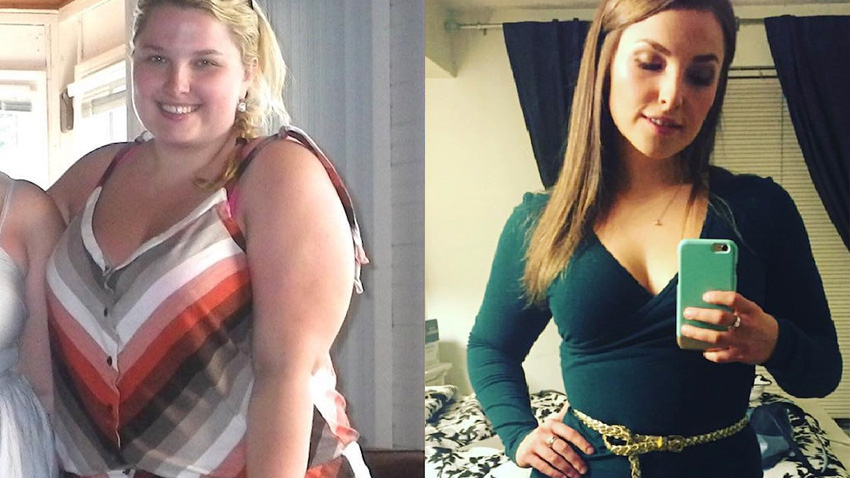 Sarah Filleter started off overeating and not caring about what kind of food she put on her plate. Then a friend asked her to participate in a run to raise money for a children's charity and her interest in fitness exploded.
"I've been the heavy girl as long as I can remember, but in 2012 I ballooned up an extra 30lbs due to health issues. This killed my self esteem and made me feel like I shouldn't be in the gym. I decide that I needed to make a change and through regular workouts at the gym and changing my diet I've lost over 65lbs. Im now running half marathons, squatting over 200lbs and making healthy meals regularly. I still have about 15-20lbs to go, but I'm loving this journey and the changes I'm noticing everyday!"
Sarah was kind enough to reveal her diet and training plan for how she lost the weight, how she stayed motivated and how you can do it too!
Check Out & Follow Sarah On Instagram Here:
Instagram: @sarahtrainsforgains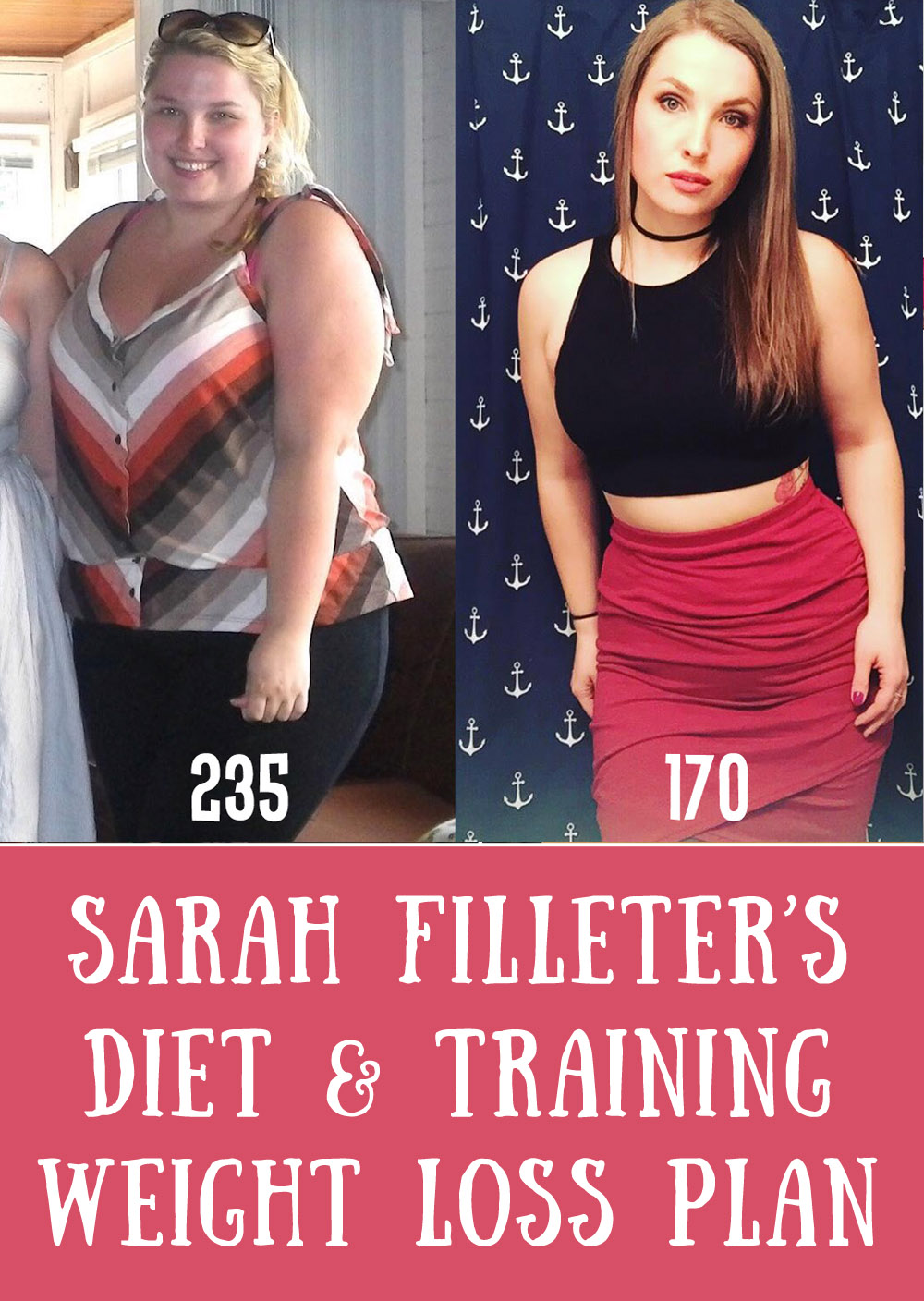 Sarah Filleter Weight Loss Diet:
Breakfast:
2 Eggs
Sliced turkey/turkey bacon
½ English Muffin
Basil
Midmorning Snack:
Handful of almonds
Lunch: (I usually ate leftovers from what I had for dinner the night before)
½ chicken breast (spiced with salt/pepper/curry is my favorite)
½ sweet potato or ½ cup of whole grain rice/quinoa
Salad with balsamic vinaigrette/mixed vegetables
Afternoon Snack:
Tablespoon of homemade peanut butter (to limit sugar)
Celery or apple
Dinner:
Turkey/Chicken/Extra Lean Ground Beef
½ sweet potato or ½ cup of whole grain rice/quinoa
Salad with balsamic vinaigrette/mixed vegetables
Note: It looks really boring but I mixed it up with different spices/seasonings/low carb sauces etc.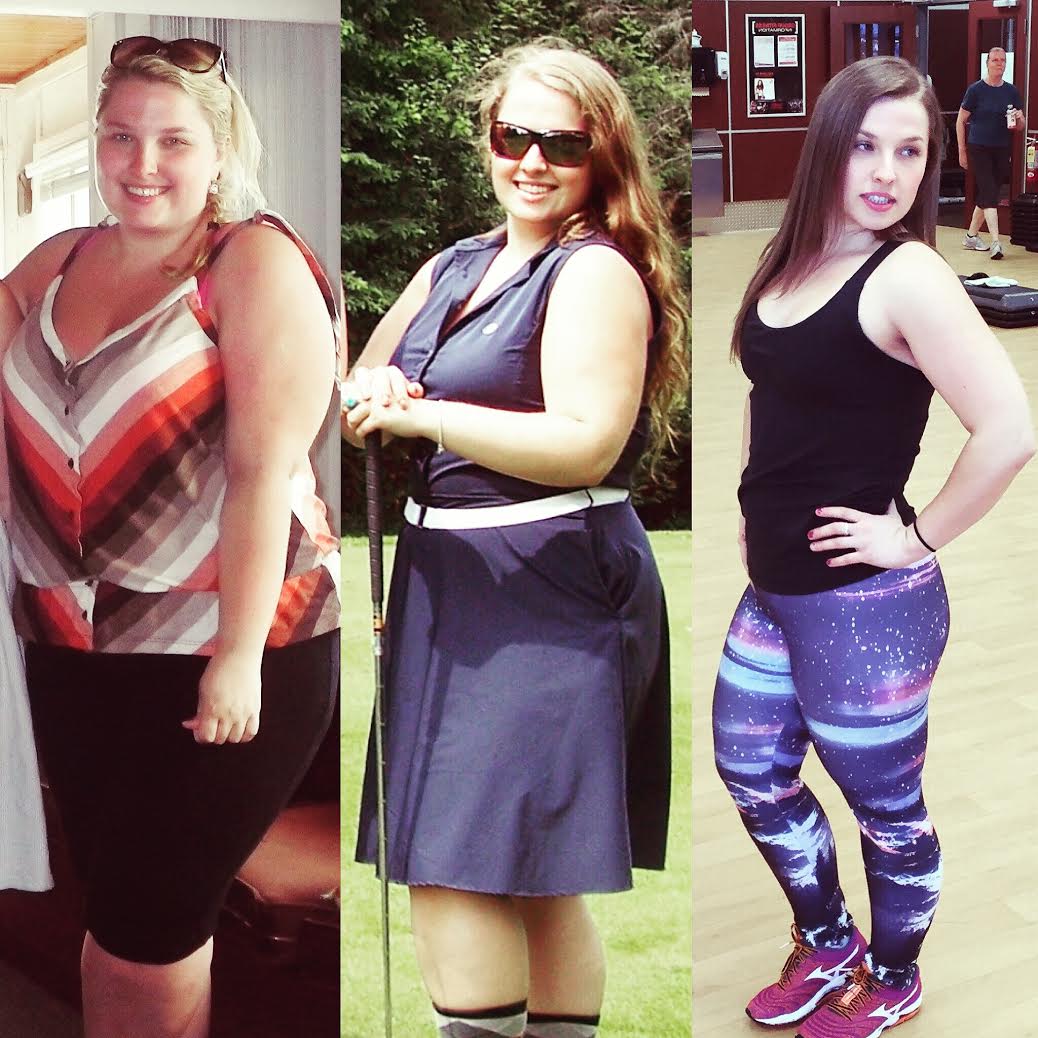 Sarah Filleter Weight Loss Workout:
I did a lot of cardio. I lost a lot of weight by training for a half marathon. The program I was on had me running up to 8km four times a week with one long run 12+km. After that I started weight training, 3 times a week (day 1: lower body, day 2: chest and back, day 3: biceps/triceps/shoulders) and doing HIIT 2-3 times a week on top of that.
Sarah Filleter Interview: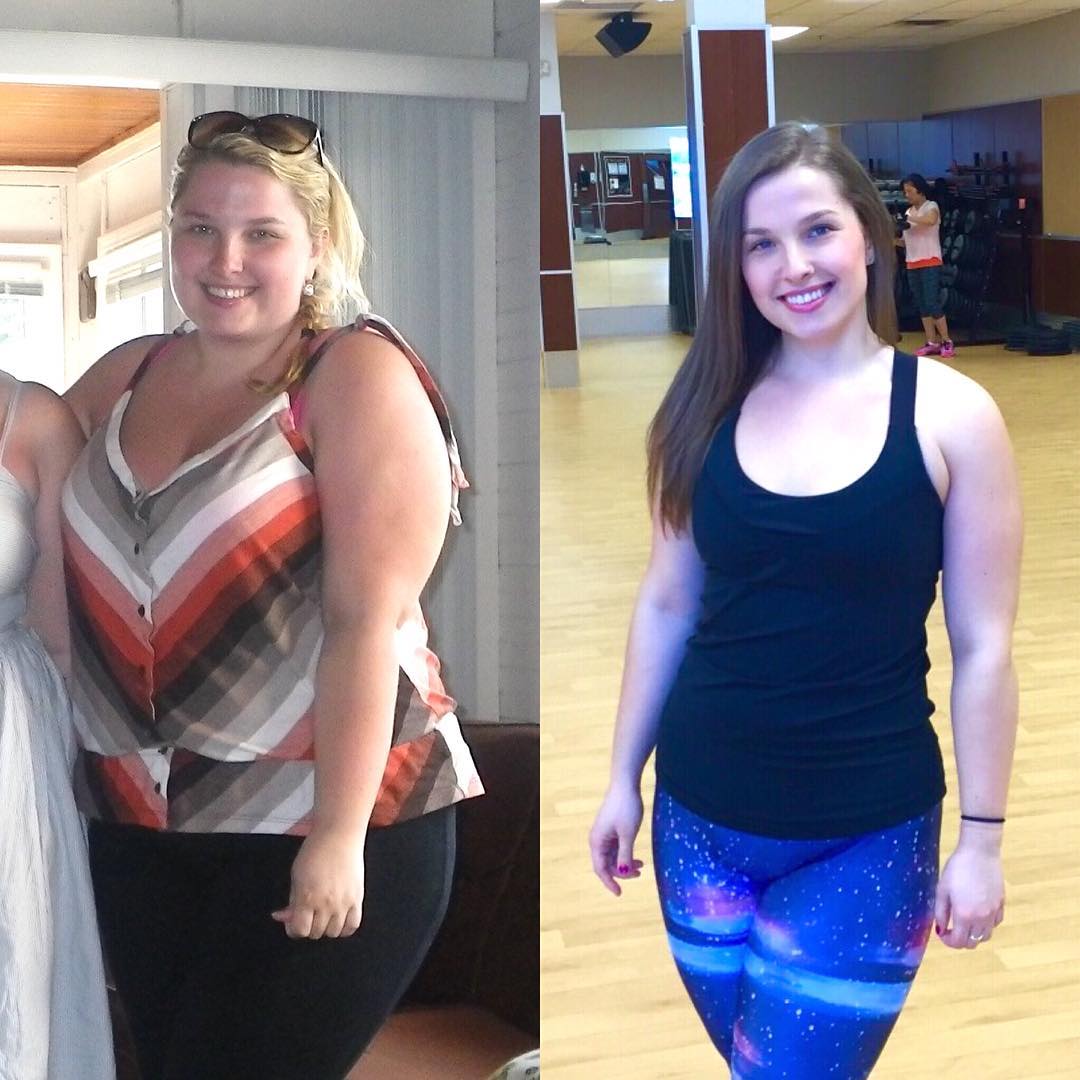 Before Stats: 22. 5'4". 235-240lbs. Unknown | After Stats: 26. 5'4". 170lbs. 28% BF.
What Was Your Diet Like Originally?
I would eat out all the time, not caring what I was putting in my body. I would eat way past the point of not being hungry anymore. My ideal snack was a poutine, which as we all know is insanely high in calories.
What Made You Start Getting Healthy?
I had a friend who asked me if I would participate in a run to raise money to help end children's cancers, and in training for this run, I unintentionally got into fitness. After I started working out, I realized how terrible my habits were. I realized that if I ever wanted to have kids one day, I never wanted them to take on the habits I had.
What Small Changes Do You Think Had The Biggest Impact?
I think when I realized how easy it was to eat healthy or how simple it was to order healthy foods at restaurants, it started to fall into place. Meals at home don't need to be complicated and every restaurant will accommodate you!
I also started actually listening to my body when it told me it was no longer hungry which made a difference. I used to eat to finish the plate, now I eat to fuel my body.
When Did You Start Incorporating Heavy Weight Training?
I started weight training as soon as I completed my half marathon (1.5 years ago now).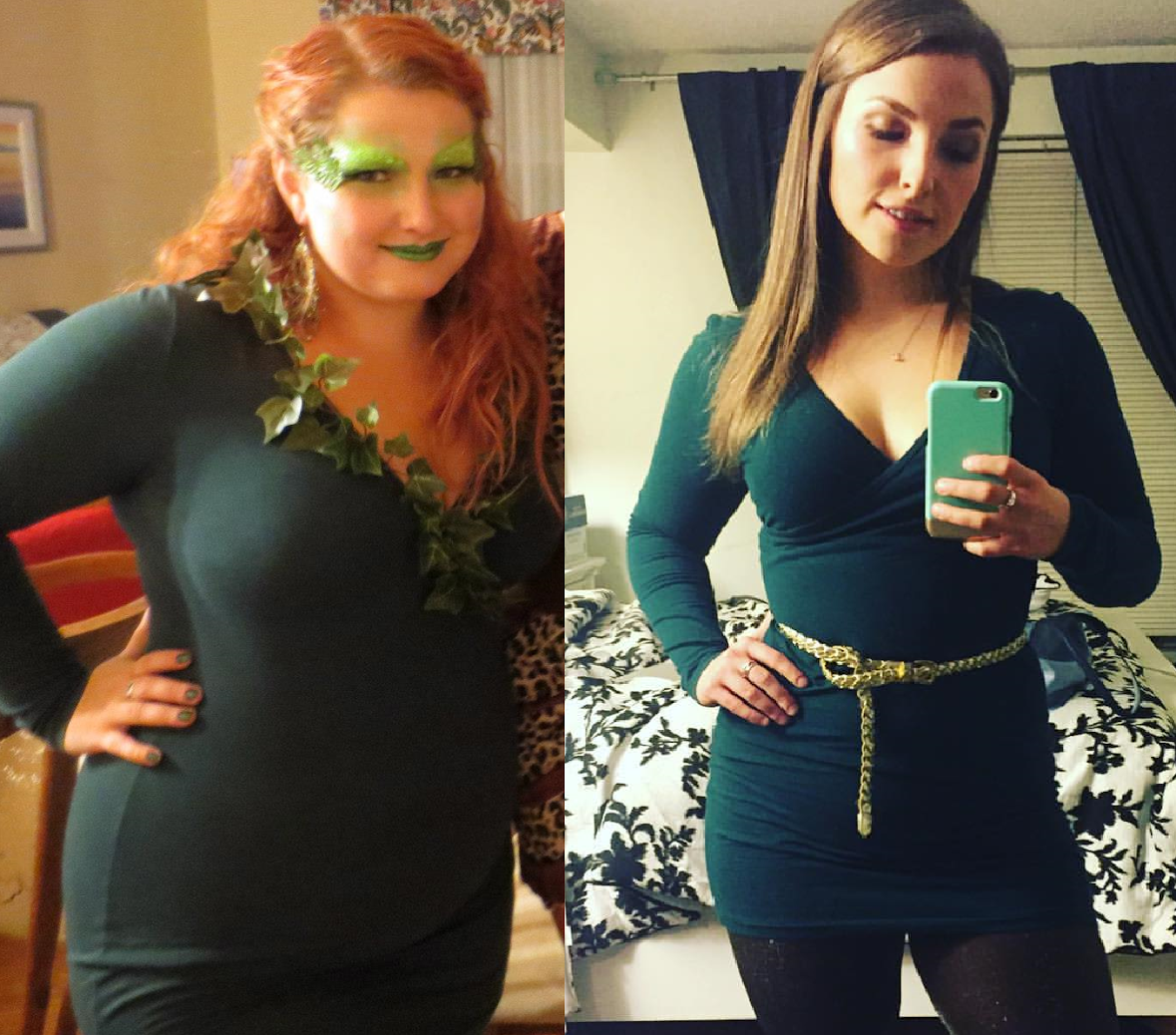 How Did You Stay Motivated?
I won't lie and say it was easy. It wasn't. I still have days that are harder than others. I discovered this whole community of women and men on Instagram who were showing their weight loss progress and that was so motivating! It wasn't these impossibly beautiful people showing slightly overweight before pictures followed by an after picture with a six-pack. These people were relatable to me. They had stretch marks and looser skin from the journey they had been on. It occurred to me that if they can do it, what's stopping me? Anytime I'm feeling a lack of motivation I just open my Instagram and look at other people's transformation pictures and it pushes me out of my slump.
Were There Any Particular Tough Points On Your Journey?
Losing a lot of weight is not just a physical journey; it's also an emotional one. That's something that people don't usually talk about. Sometimes I still feel like I'm the heavy version of myself, but as time goes on, it happens less and less. Aside from the psychological transition, anytime I hit a plateau, it's a struggle. When you are working so hard and nothing changes, or you even GAIN weight, it's frustrating unlike anything else.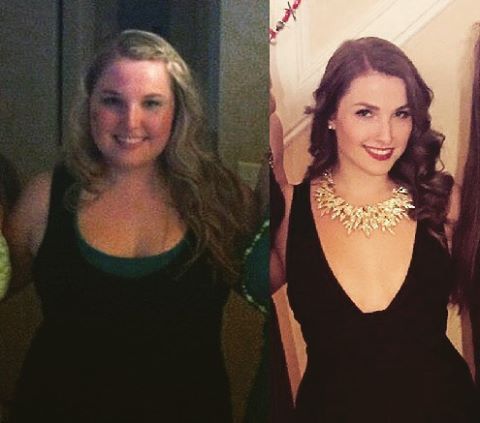 What Advice Would You Give Someone Looking To Lose Weight?
Don't think of this as a diet. Think of it as a lifestyle change. If you work hard and cut back on everything only to return to your former habits right after, you'll gain every pound back.
I would also tell people to start small. I've seen so many people fail by trying to change everything in their lives right away, but that's not the way to make long-term changes.
Lastly, keep healthy snacks on you at all times. It's so easy to give in to temptation when you're hungry!
What Can People Do To Set Themselves Up For Success?
Find meal plans that work for you and stick to them. Drink tons of water. Don't beat yourself up if you miss a day at the gym or eat something you feel you shouldn't. Remember that you WILL mess up, but that you just need to get back to it as soon as you can.
What Are Your Favourite Healthy/Weight Loss Recipes?
I'm a huge fan of modifying recipes I already love and making them healthy.
This is one of my favorite recipes where I switched out the rice for cauliflower rice: http://www.myrecipes.com/recipe/curried-chicken-cashews
This is also a favorite of mine: http://www.skinnytaste.com/mediterranean-quinoa-salad/ It's so fresh! I recently tried it with cauliflower rice and it was beyond amazing.
How Do You Feel After Completing Such An Amazing Transformation?
Most days I feel really accomplished because of how far I've come. By knowing that I was able to lose all that weight, I realized that I could do anything I wanted if I put in time and effort. It enabled more self-confidence and I was able to do things out of my comfort zone. I still have 10-20lbs to get to where I want to be, but I know that I can get there because I've already come this far.