Josh Steele Lost An Incredible 300 Pounds With These Exact Diet Meals!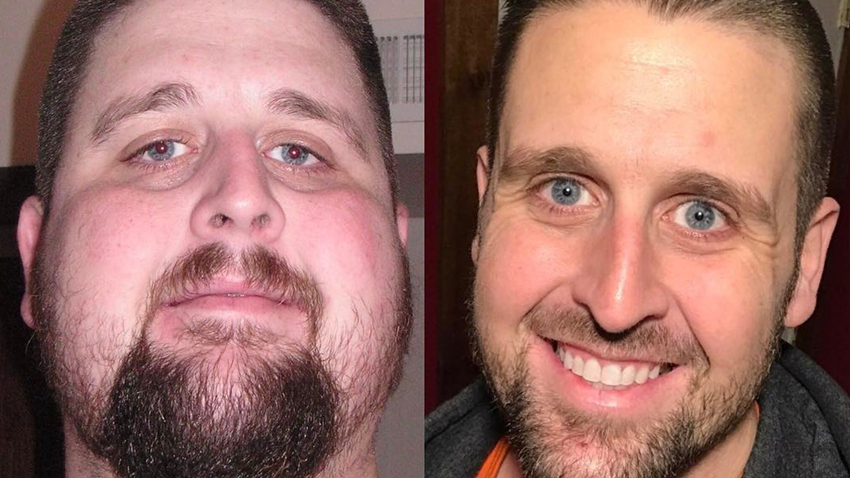 At 6 foot 9 inches tall, Josh Steele was always going to weigh more than an average person. It wasn't until the scale started slowly creeping up, eventually stopping just short of 600 pounds, that he realised he had a serious problem.
He was in constant pain, even just moving his massive frame around and found his knees and feet were regularly swelling up. He was in line for a whole host of medical complications and he started to feel depressed.
Searching for help, Josh wrote to many of the popular weight loss programs on TV, including The Biggest Loser and Extreme Weight Loss. However, every application was met with a rejection and he lost hope with finding help through a show. He decided to take his health into his own hands and completely overhaul how he was living his life.

"I totally changed my lifestyle. Hard work, dedication, and clean eating. Once I got an idea of what foods to eat. I switched things up and just did what I knew would work and be long term."
He initially started walking, just to get active and get his body moving again. As the weight started to come off, he got more invested into the gym and working out. Combined with a new heathy eating diet plan he soon was in the best shape of his life.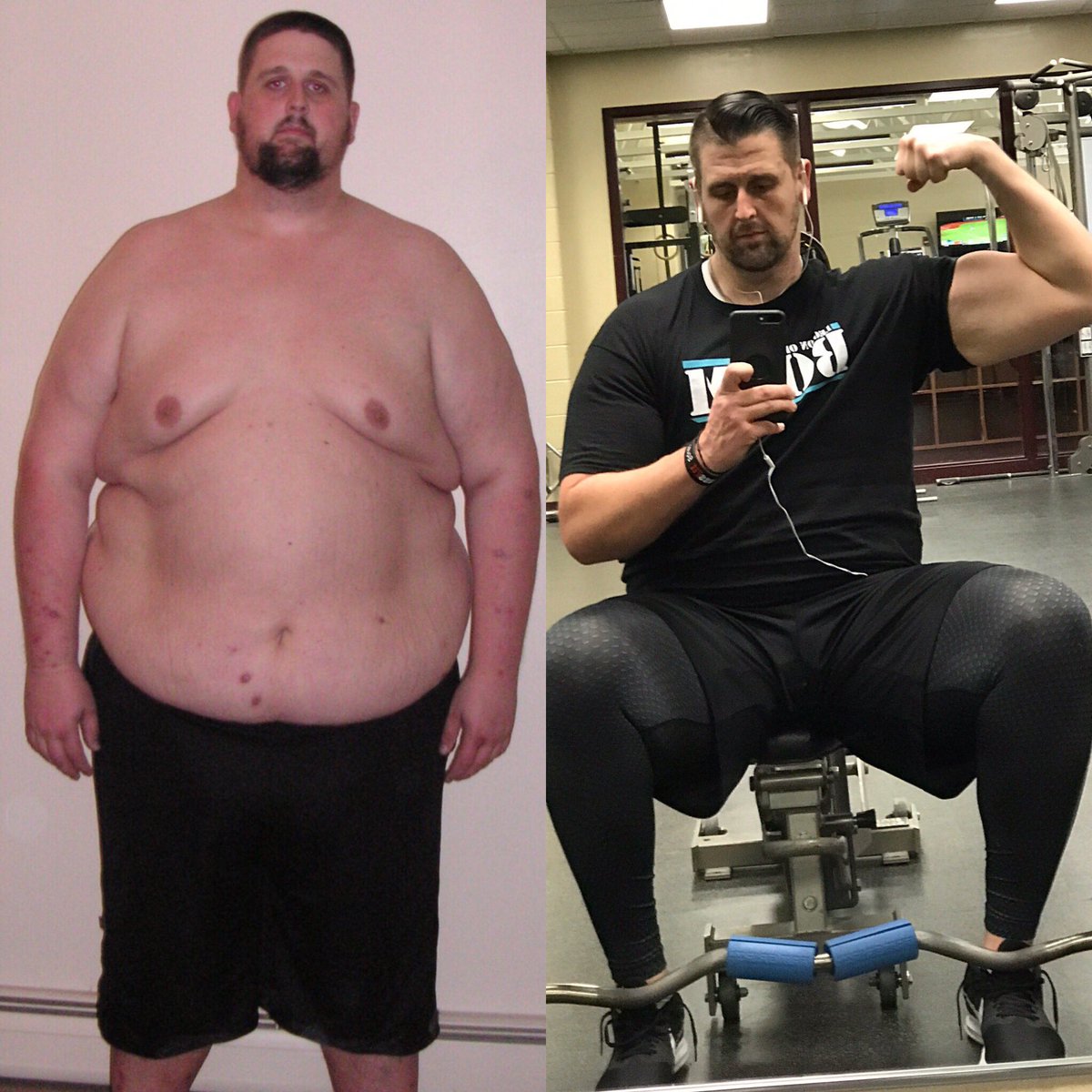 Since he first started, Josh has lost over 300 pounds and become half the person he was before. He has completely changed his life and through his journey, also met his wife, Kristine, who went through her own weight loss transformation at the same time. Josh has also become a personal trainer and wants to help people lose weight and use his knowledge to "pay it forward".
Below, we have collected some of Josh's weight loss meals and sample days of eating from his Instagram. Delicious, healthy meals and recipe ideas that you can fit into your own diet and share some the same weight loss success as Josh!
Be sure to follow Josh on his Instagram here: @thesteeleproject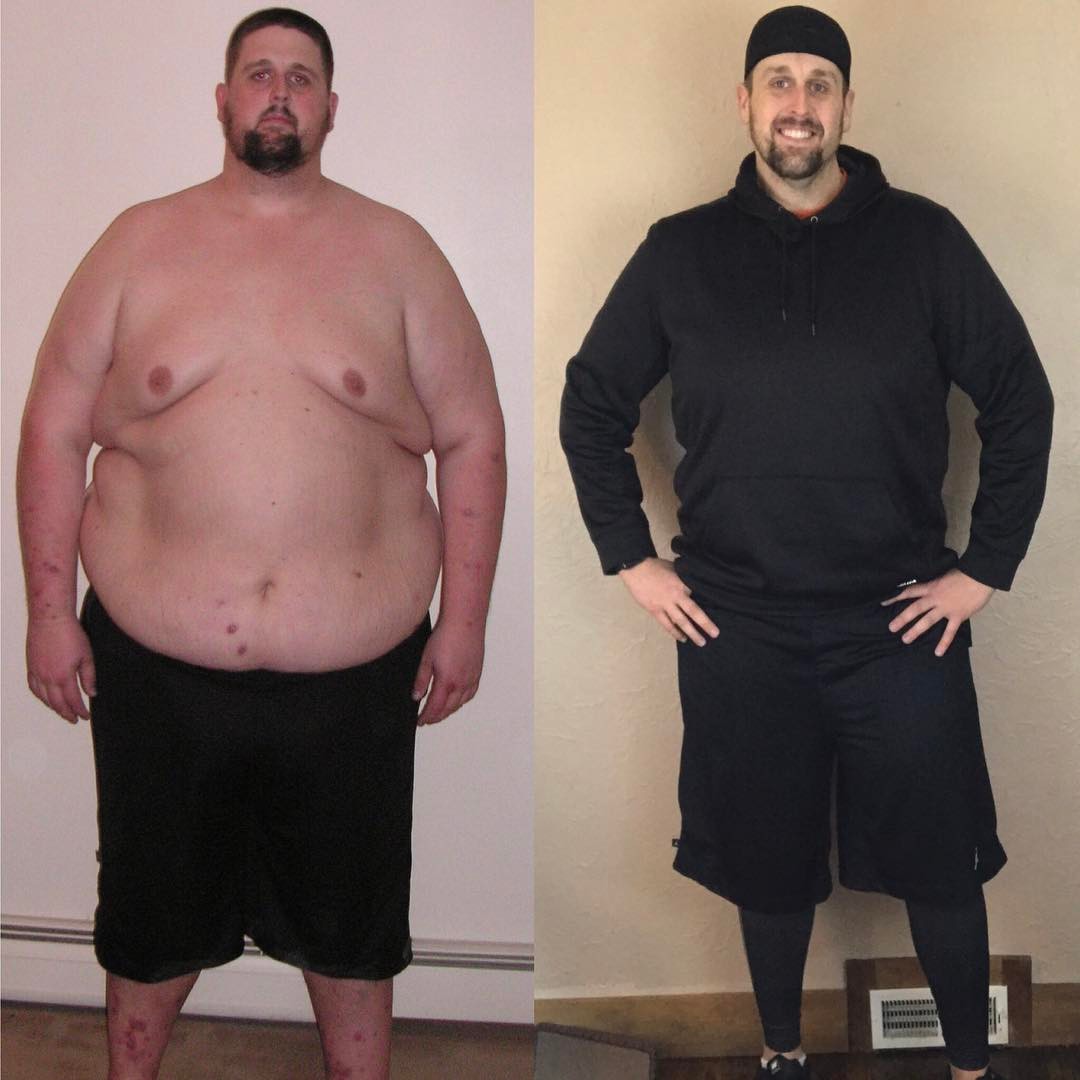 Sample Weight Loss Meals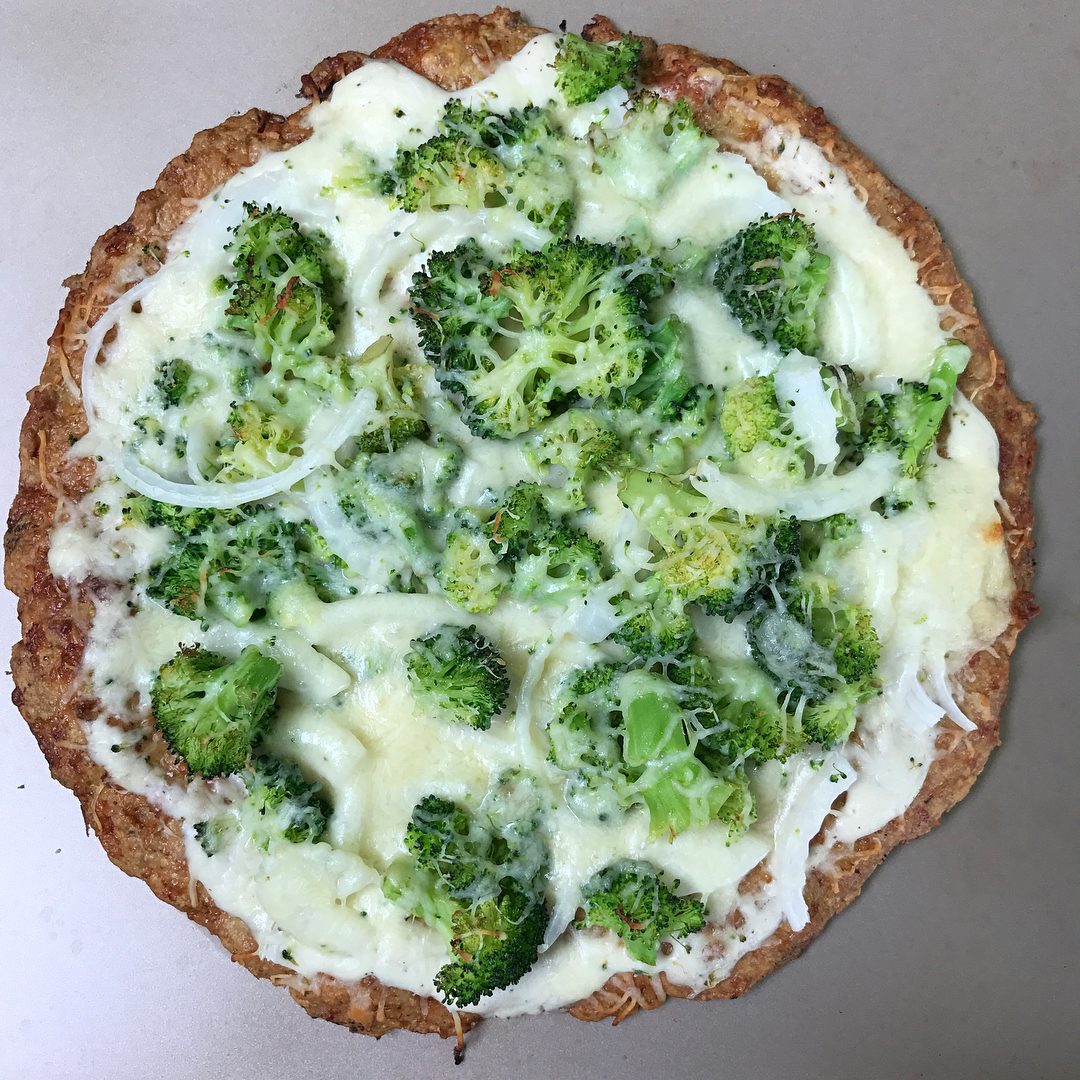 "Dinner is SERVED! Chicken 🍗 Crust Pizza 🍕!! I took a pound of ground chicken, 1/8 cup of mozzarella cheese, 1 egg, 1/8 cup of almond flour, salt, pepper, Italian seasoning.. mixed all together and flattened out on a pan. Put in my @traegergrills at 350 degrees for roughly 40 minutes.. removed off of pan and placed on grate, then topped with Ranch, onions, broccoli, and mozzarella cheese.. left in traeger until melted. The only thing I would do different would be that I would use parchment paper. The crust stuck alittle to the pan. Other than that… DELICIOUS! (You could also just bake this as well) cut into 8 slices – 2sp per slice!"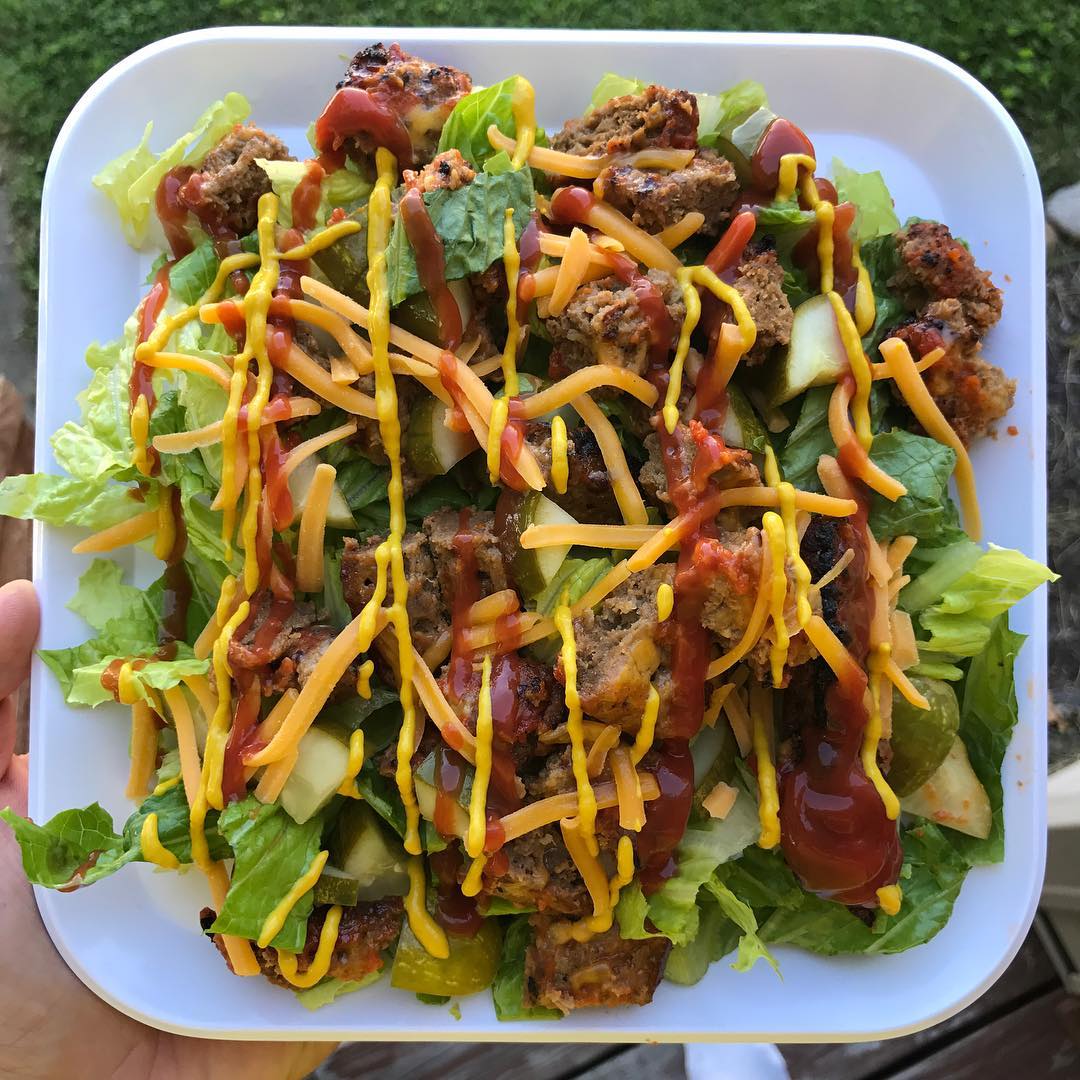 "Dinner is served!! Cheese burger salad! I took one of the new works burgers from @personaltrainerfood and put on top of a bed of lettuce. Then added chopped pickles, cheese, reduced sugar ketchup (1g of sugar), and mustard.. Sooo good"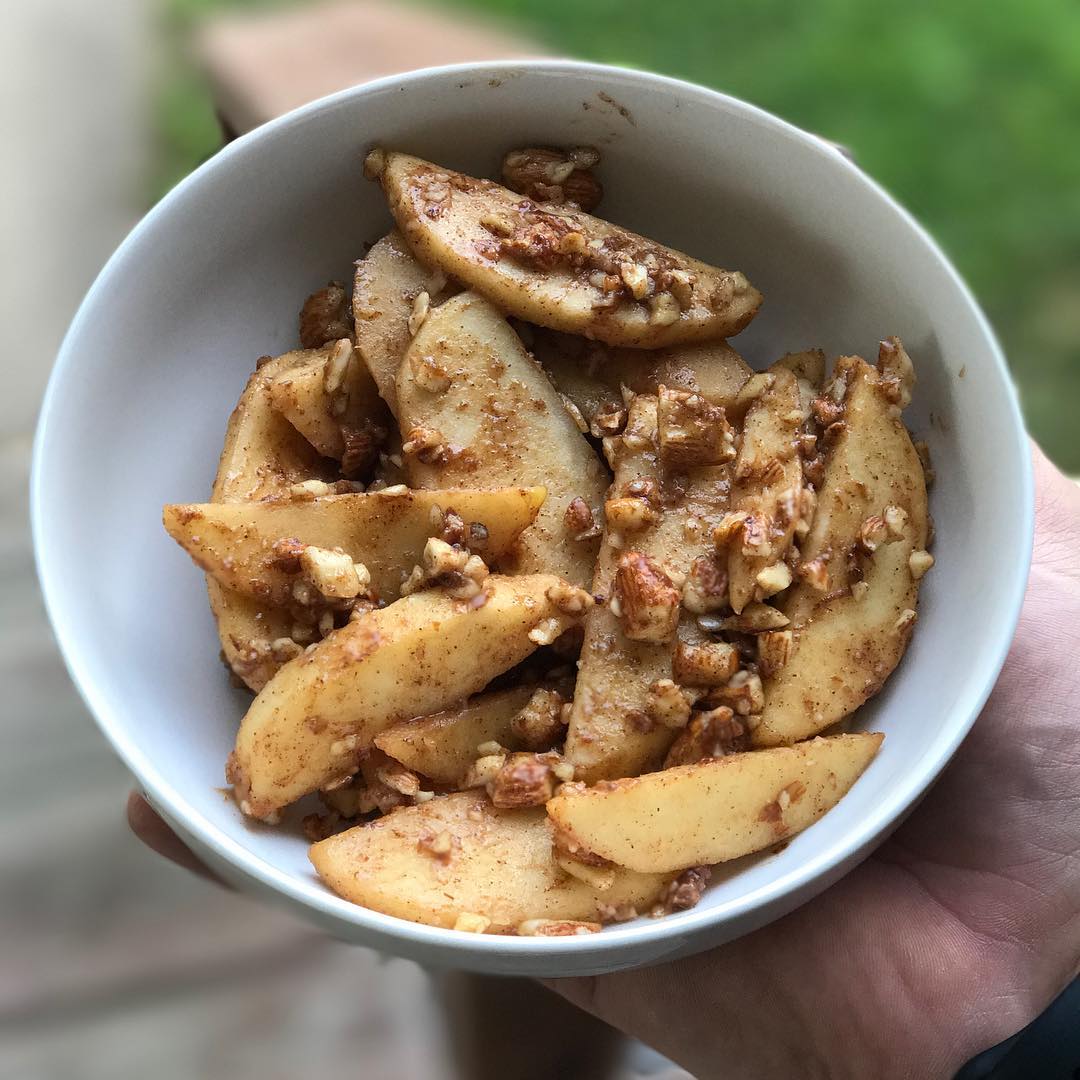 "I wanted some dessert, but when you aren't having sugar or carbs.. it's tough! I can have one apple 🍎 a day.. so I decided to slice it up, toss in cinnamon and put in a pan.. let cook until soft and added crushed almonds, tossed some more and then dug in! SOOOO GOOD! Simple, but good!"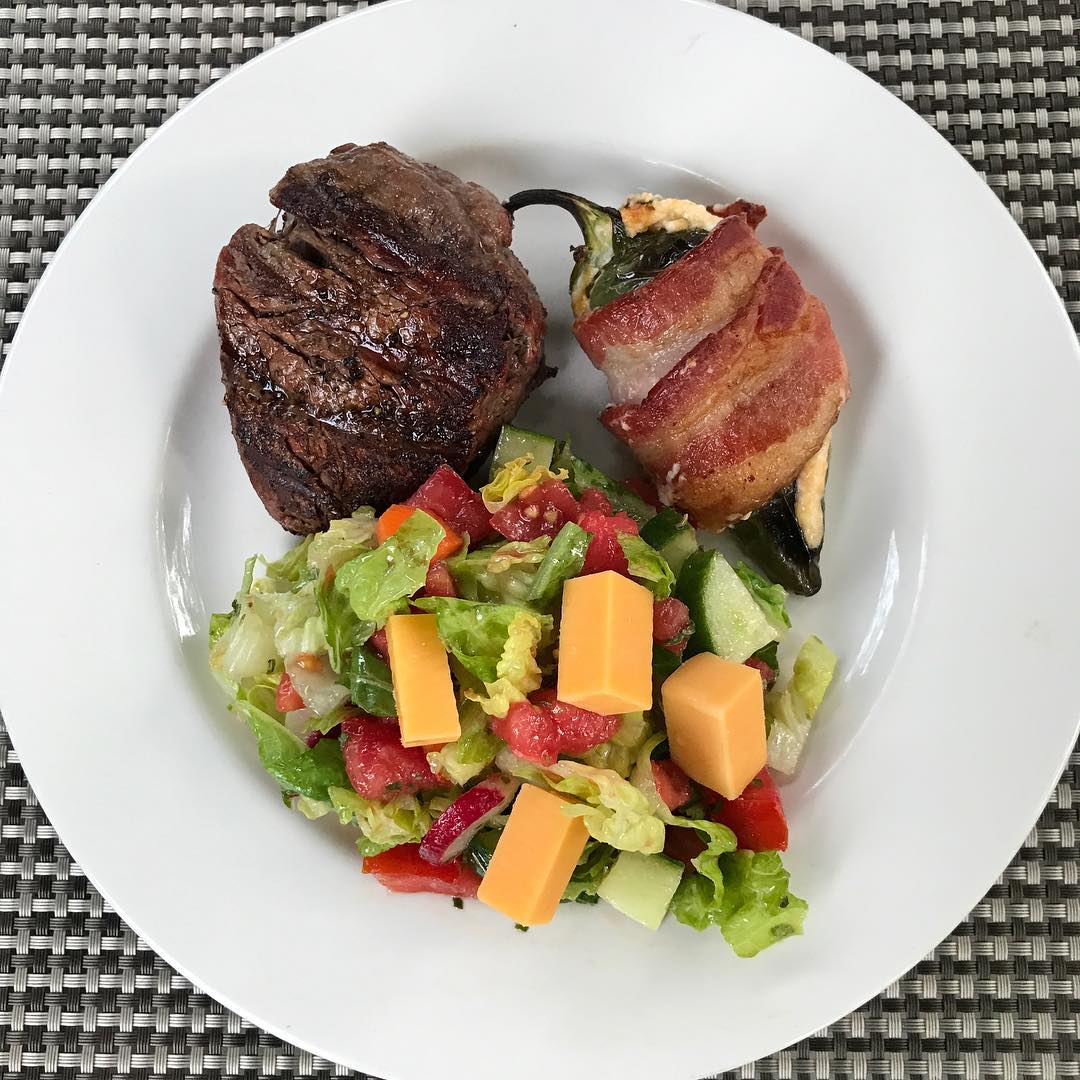 "Dinner is served!! Kristine's dad fired up his Weber charcoal grill for some Filets! Then her mom made a salad and bacon wrapped jalapeño poppers… SOOOO GOOD.. Thanks Pam & Tom for the hospitality!"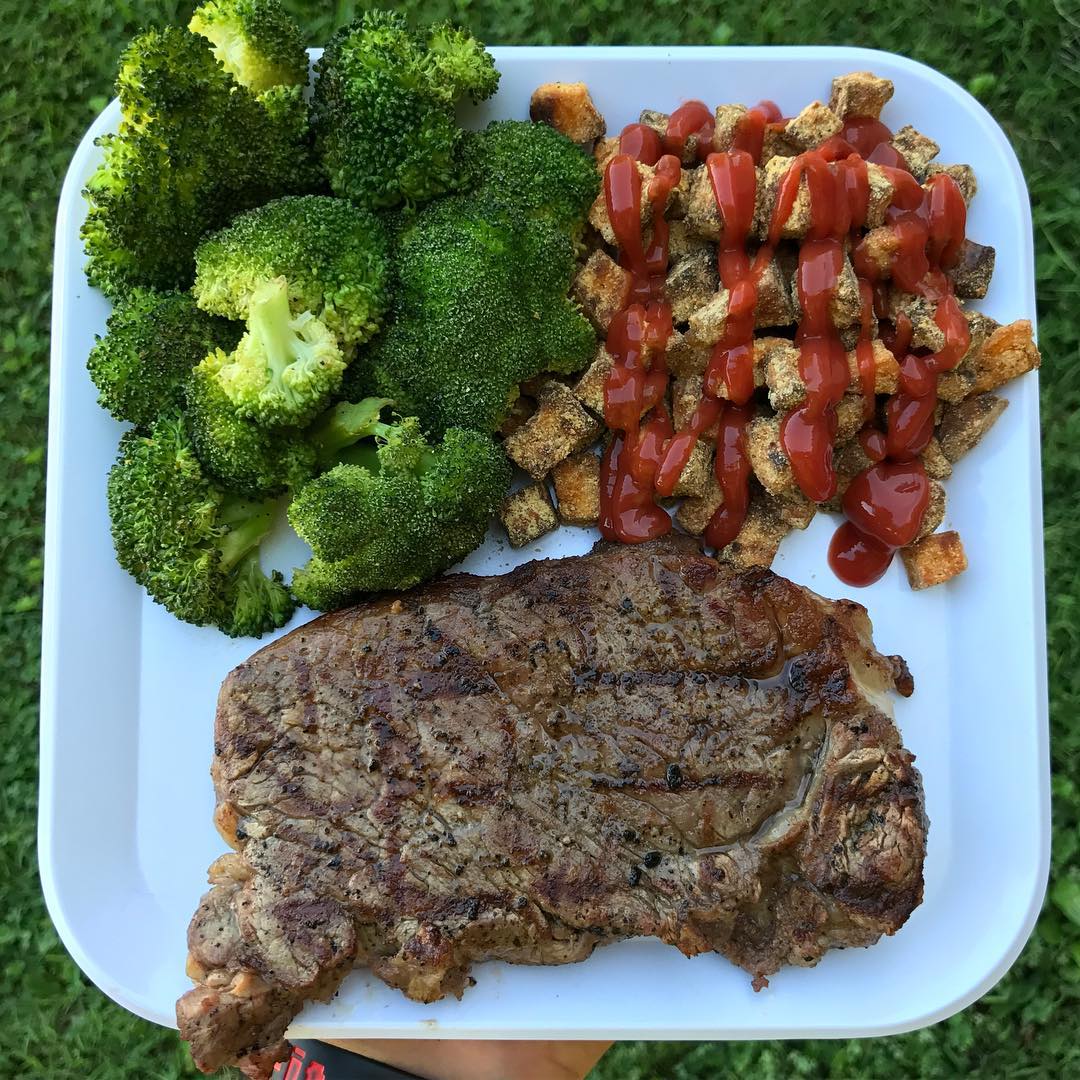 "New York Strip, Roasted Broccoli, and Diced Air Fried Sweet Potatoes…. DINNER IS SERVED! I fired up the charcoal grill and dusted the steak in some @caribeque beef rub.. AMAZING!"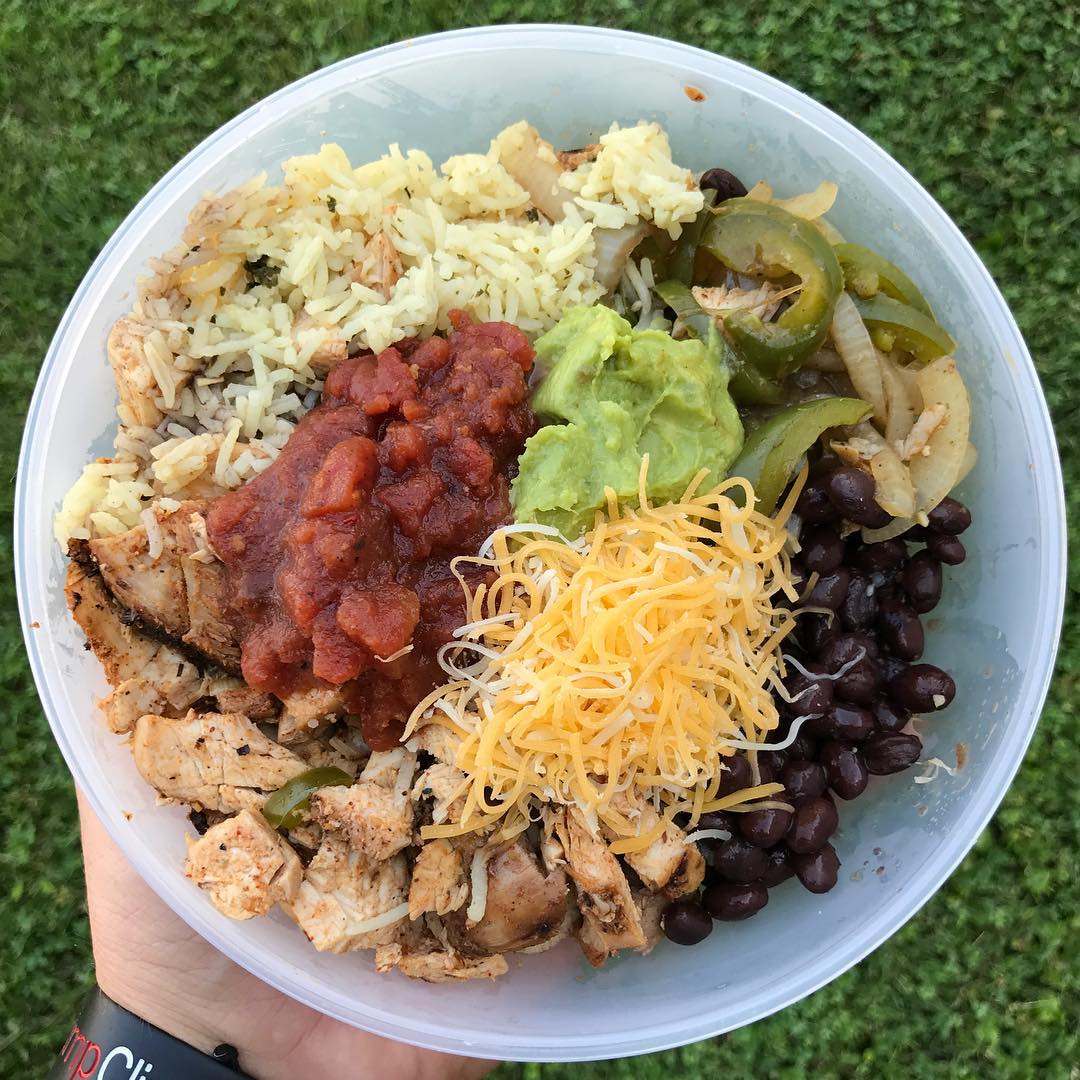 "Dinner is served! Burrito Bowl for the win! 8 oz of grilled chopped Chicken, 4 ounces cilantro lime rice, 1/2 cup black beans, peppers, onions, @eatwholly guac, salsa, and cheese.. 16 sp for everything! SOOOO GOOD! Now off to the gym!"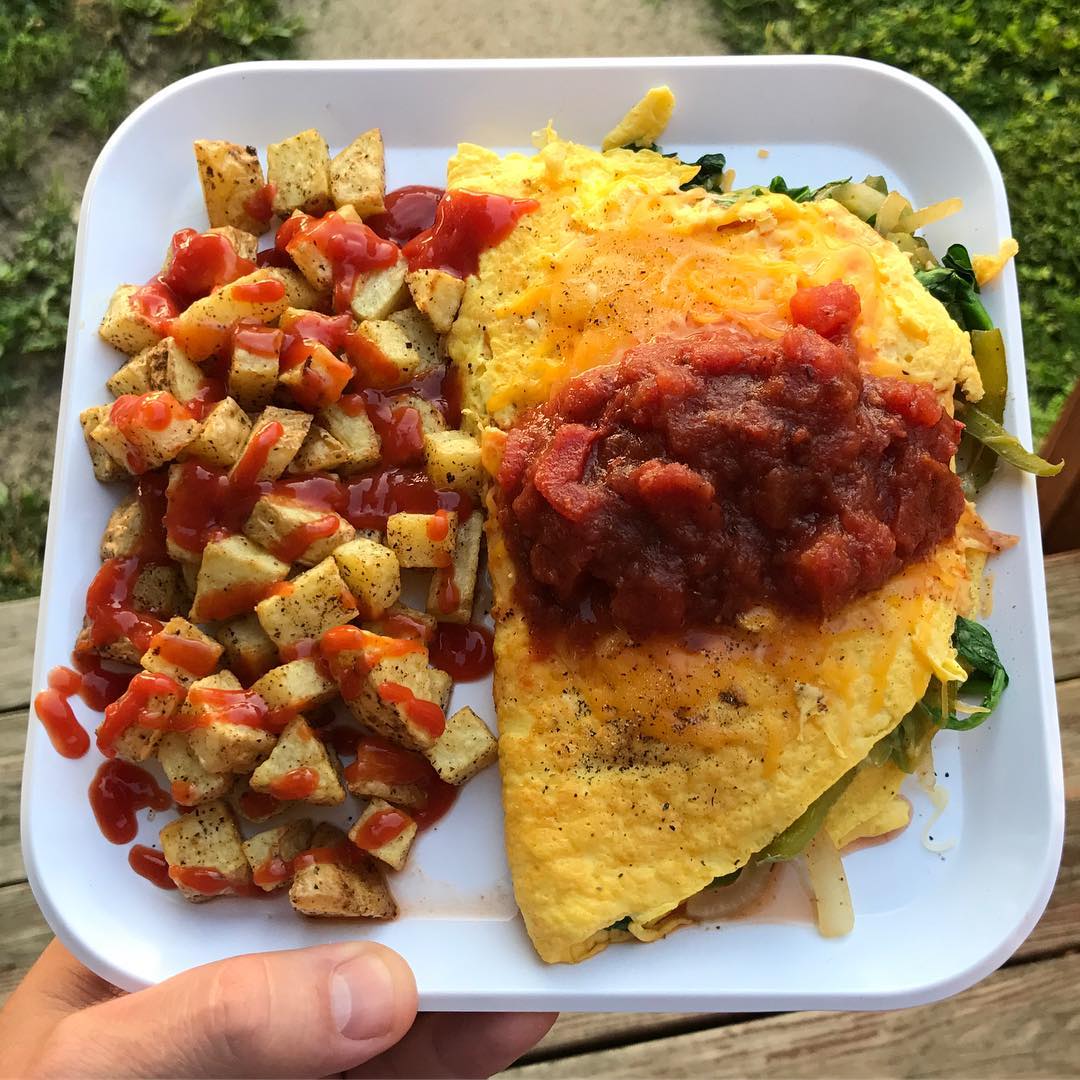 "Breakfast is served! 1 cup of egg beaters omelet stuffed with spinach, peppers, onions, and guacamole. Then topped with a little cheese and salsa. On the side is a potato diced up and air fried, topped with reduced sugar ketchup."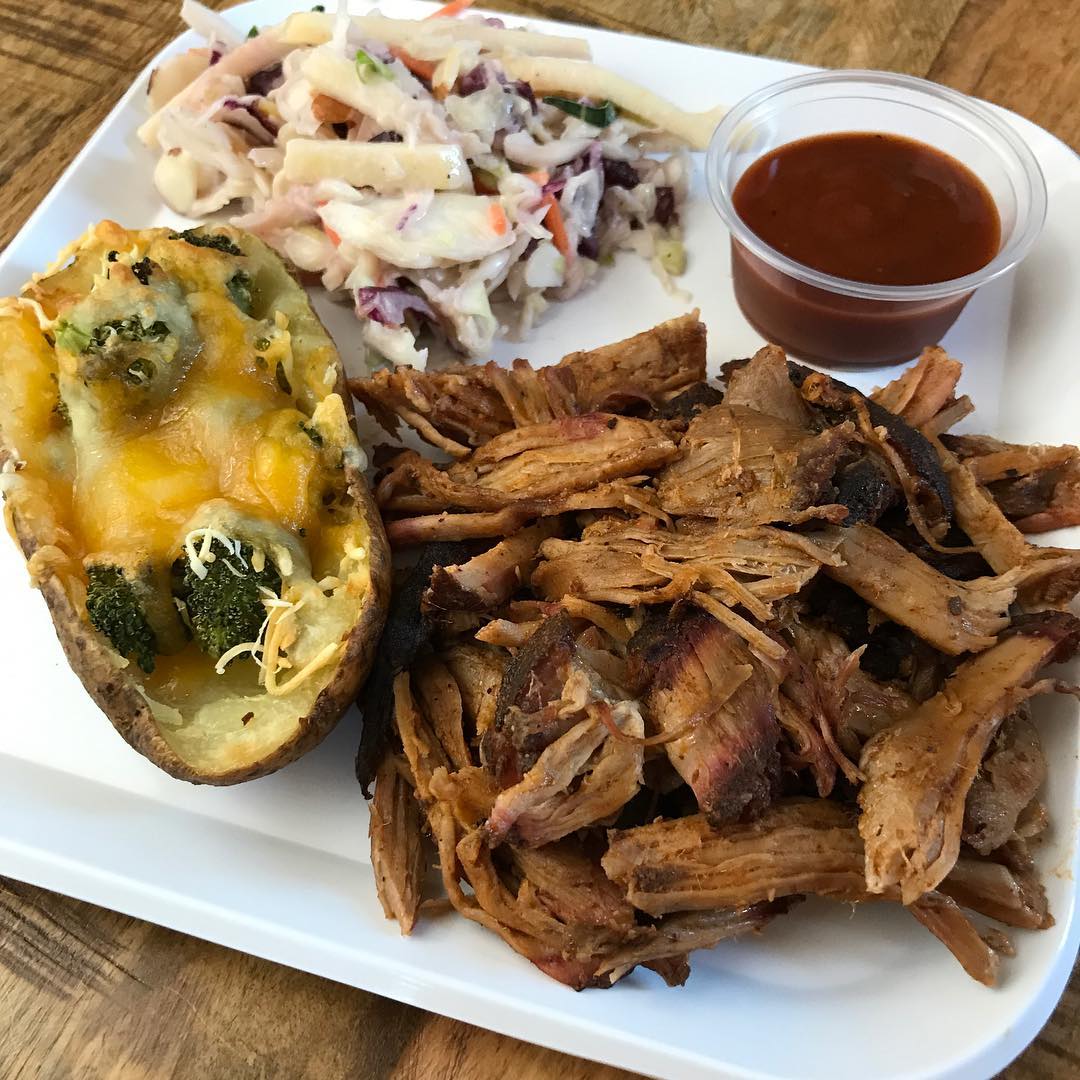 "Dinner is served!!!!!!! I smoked a pork shoulder rubbed down with some @caribeque rub… smoked it low and slow.. actually started it out on my charcoal smoker then moved over to my @traegergrills … then I made some potato skins stuffed with broccoli and cheese.. and cranberry apple coleslaw"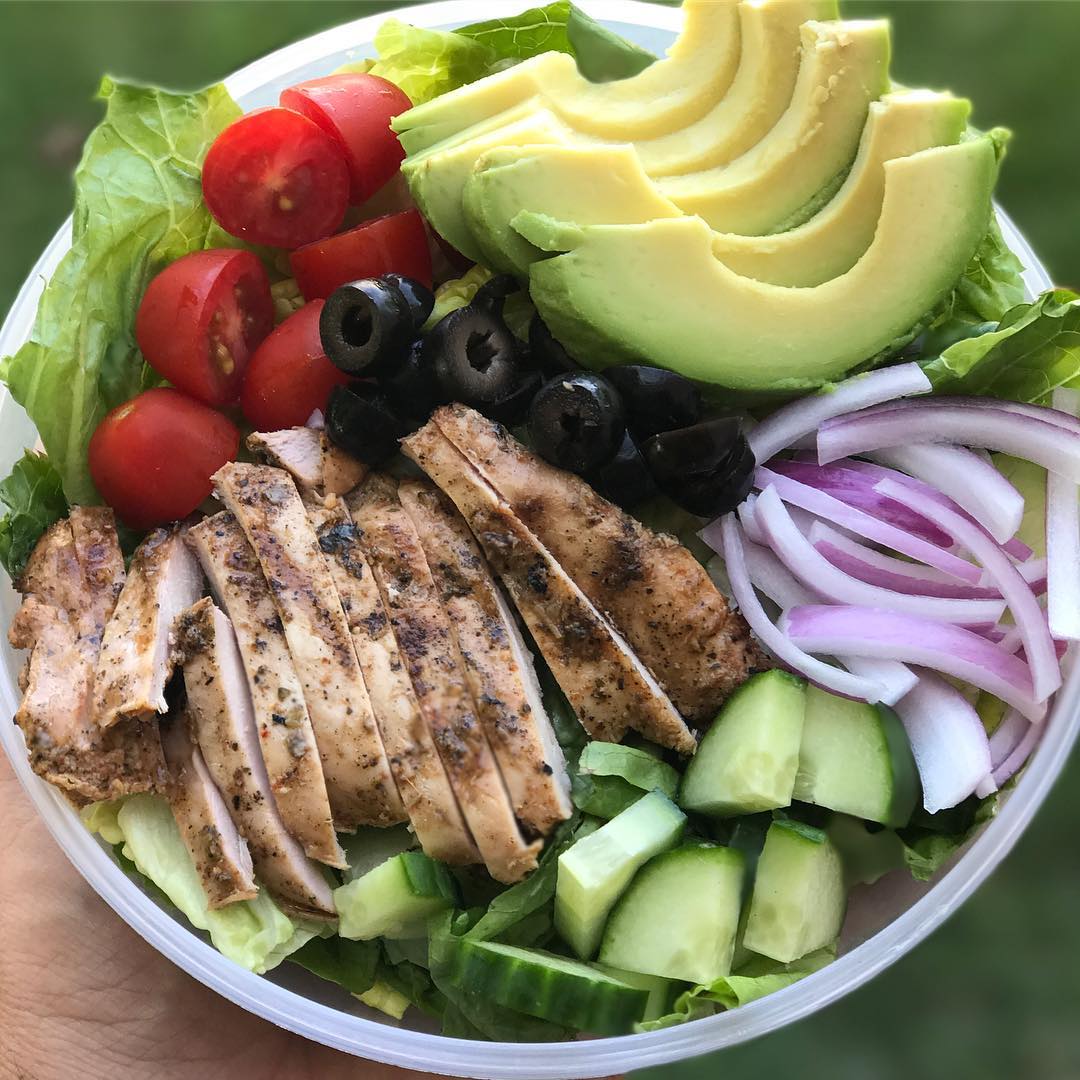 "Grilled chicken thigh salad for the win!!!! I've never put avocado on a salad, this will be something I do more! I love the creaminess this adds to it! This salad starts with romaine lettuce.. then topped with grilled chicken thighs, cucumber, red onion, avocado, tomatoes, and black olives.. I used @bolthousefarms avocado dressing.. SOOOO GOOD!"
"Meat & Potatoes! 🐮 Dinner is served! Tonight we decided to stay in and I fired up the charcoal grill.. Kristine had a filet and I had NY strip.. red skin mashed potatoes.. and green beans! SOOOO GOOD! I love the flavor from a charcoal grill! Gas is so easy, but charcoal will add some amazing flavor!"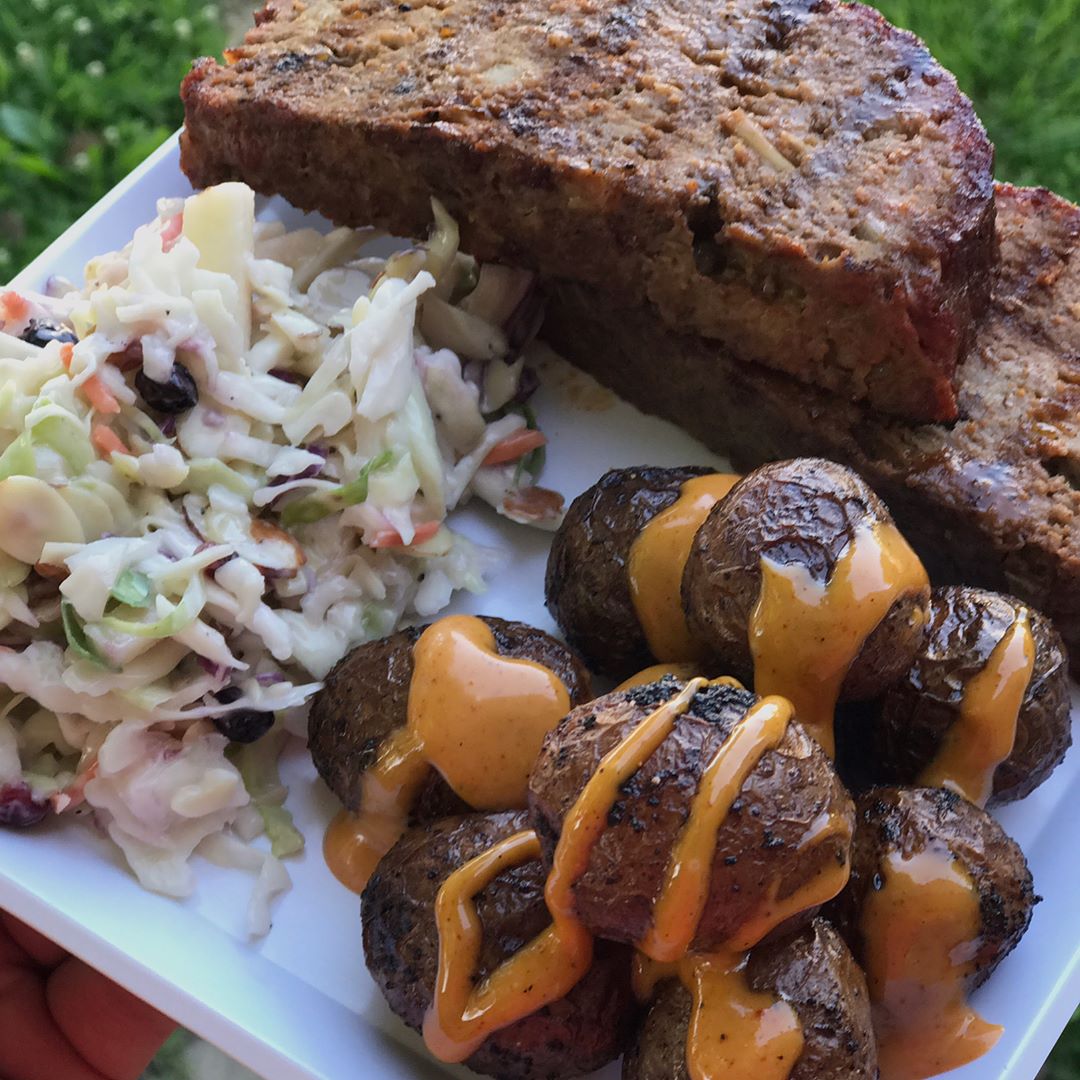 "Dinner is served!!! After a weekend away I had to get back to meal prepping.. this week I wanted smoked meatloaf with smoked potatoes and coleslaw… The meatloaf is lean ground beef, turkey sausage, onions, eggs, bread crumbs, and some @caribeque beef rub.. then topped with rub and brushed with a mixture of apple juice and BBQ sauce towards the end, all smoked in my @traegergrills. Potatoes were tossed in just a little butter and @caribeque lemon garlic seasoning.. then smoked them in my @traegergrills as well.. I topped the potatoes with some Smack Sauce from Caribeque.. bad thing is.. I just ran out! Lol Coleslaw was two bags of coleslaw, light mayo, honey, apple cider vinegar, apples, dried cranberries, and sliced almonds…"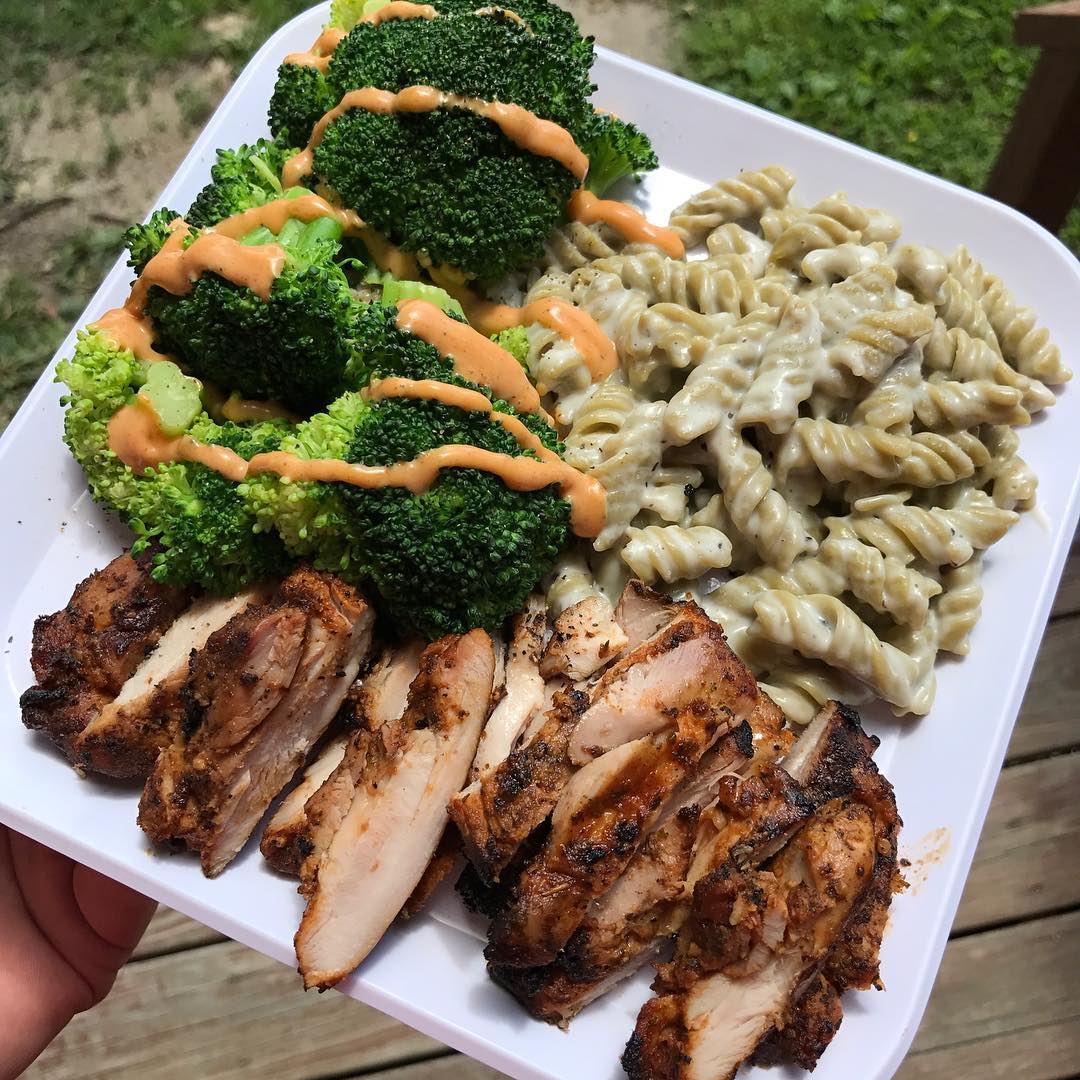 "LUNCH is served! Grilled chicken thighs, steamables spinach pasta, and broccoli topped with @caribeque smack sauce! So good!!"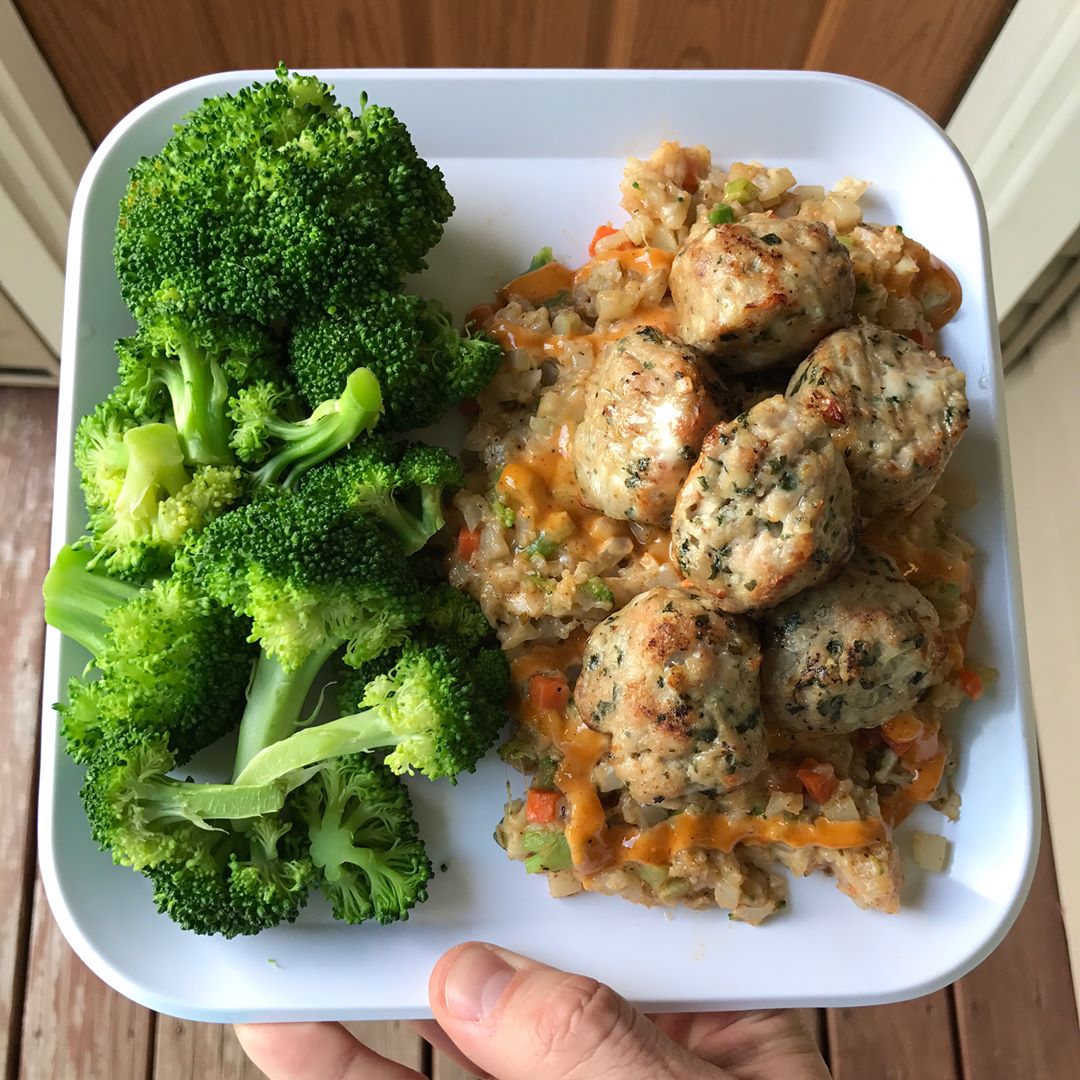 "Dinner is served! Cauliflower Rice seasoned with @caribeque Jamaican Jerk seasoning and topped with Smack Sauce. I bought some Great Value Mozzarella Chicken Meatballs to put on top. Then finished off with a side of steamed broccoli. I also have some grilled chicken breasts and thighs for some days this week as well!"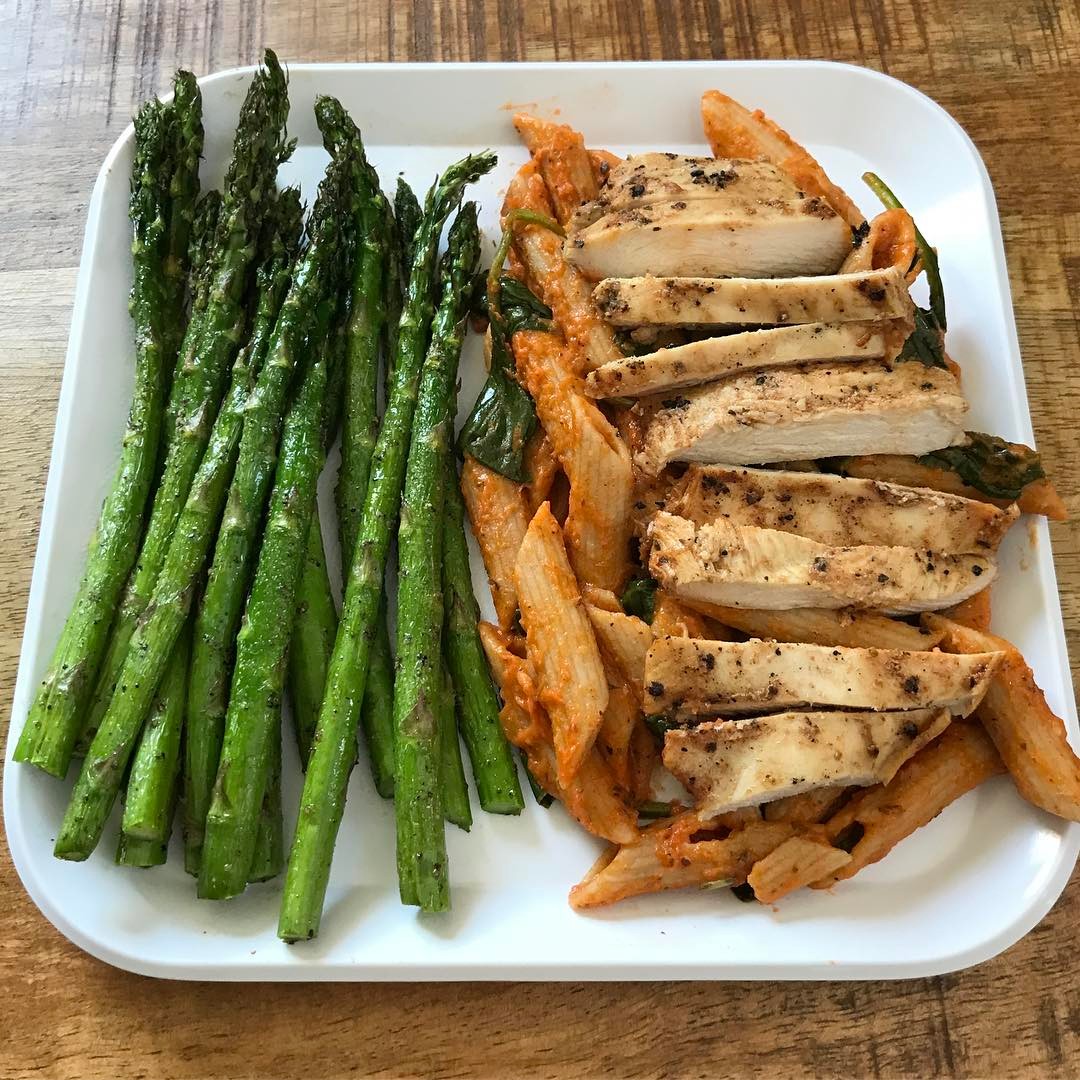 "Lunch is served!!! I'm working from home today on conference calls all day.. so why not eat amazing! Whole wheat pasta, spinach, homemade sauce, chicken, and a side of asparagus! Do you have a go to lunch meal?? Or how do you stay on track for lunch if you are working??"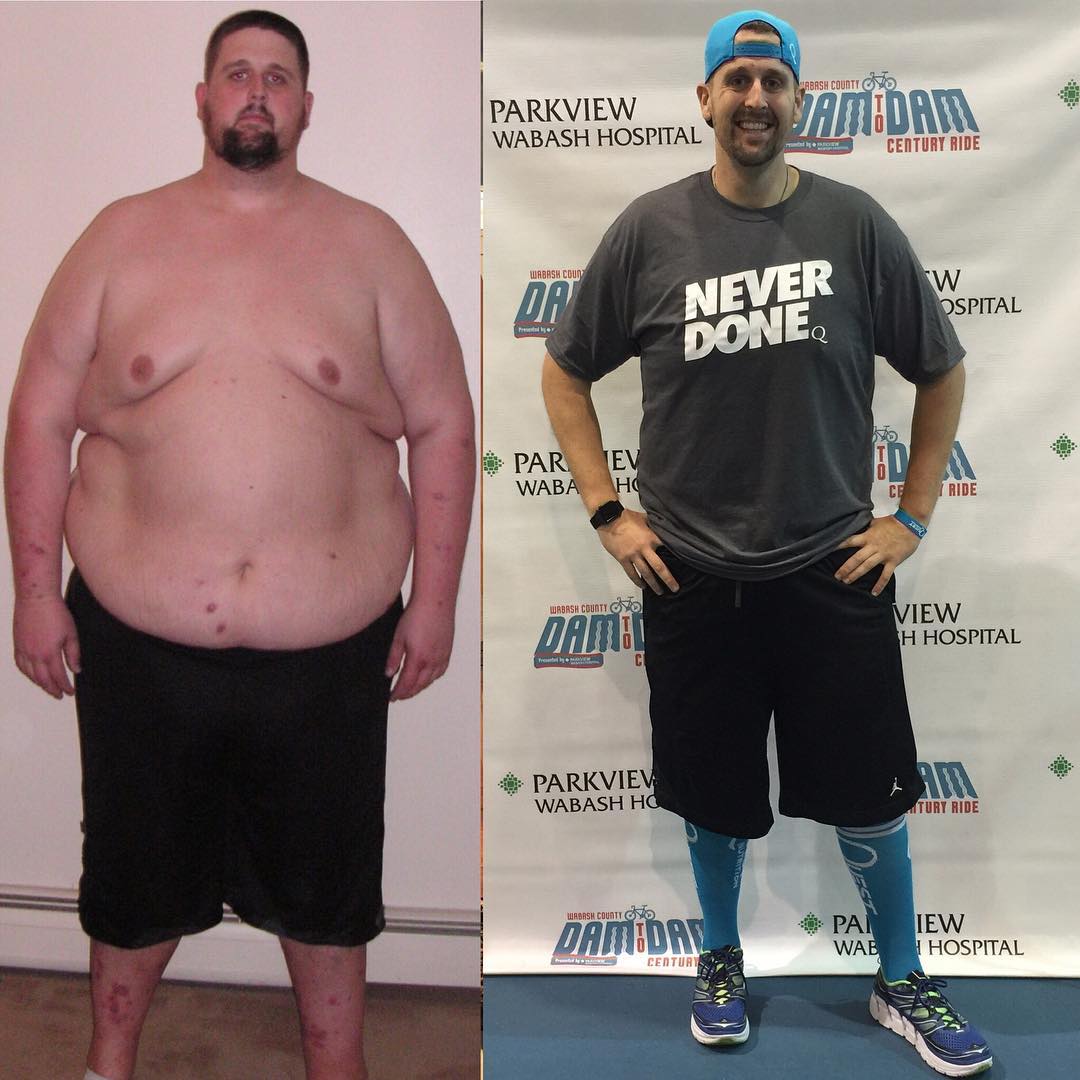 Sample Full Days Of Eating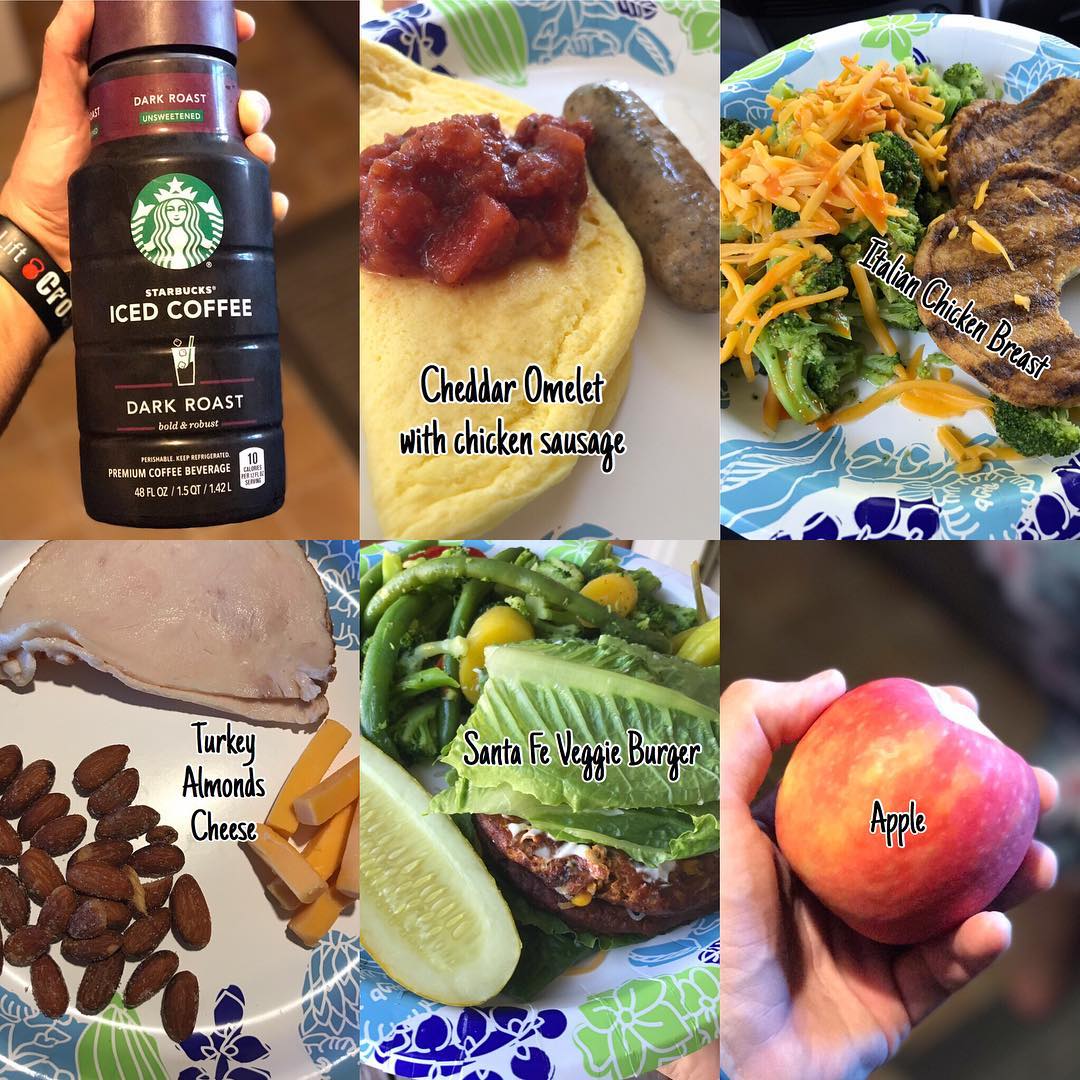 "Wanted to put all my meals into one picture today… iced coffee.. Omelet.. sausage.. chicken.. veggie burger.. veggies.. apple.. Since I am doing Weight Watchers with Kristine, this is 53 smart points.. I'm short of my allowed points but I am full.. I had two chicken breasts for lunch and two veggie burgers for dinner.. so cut the extra one out and you're dropping 10 points. Just to give you an idea!"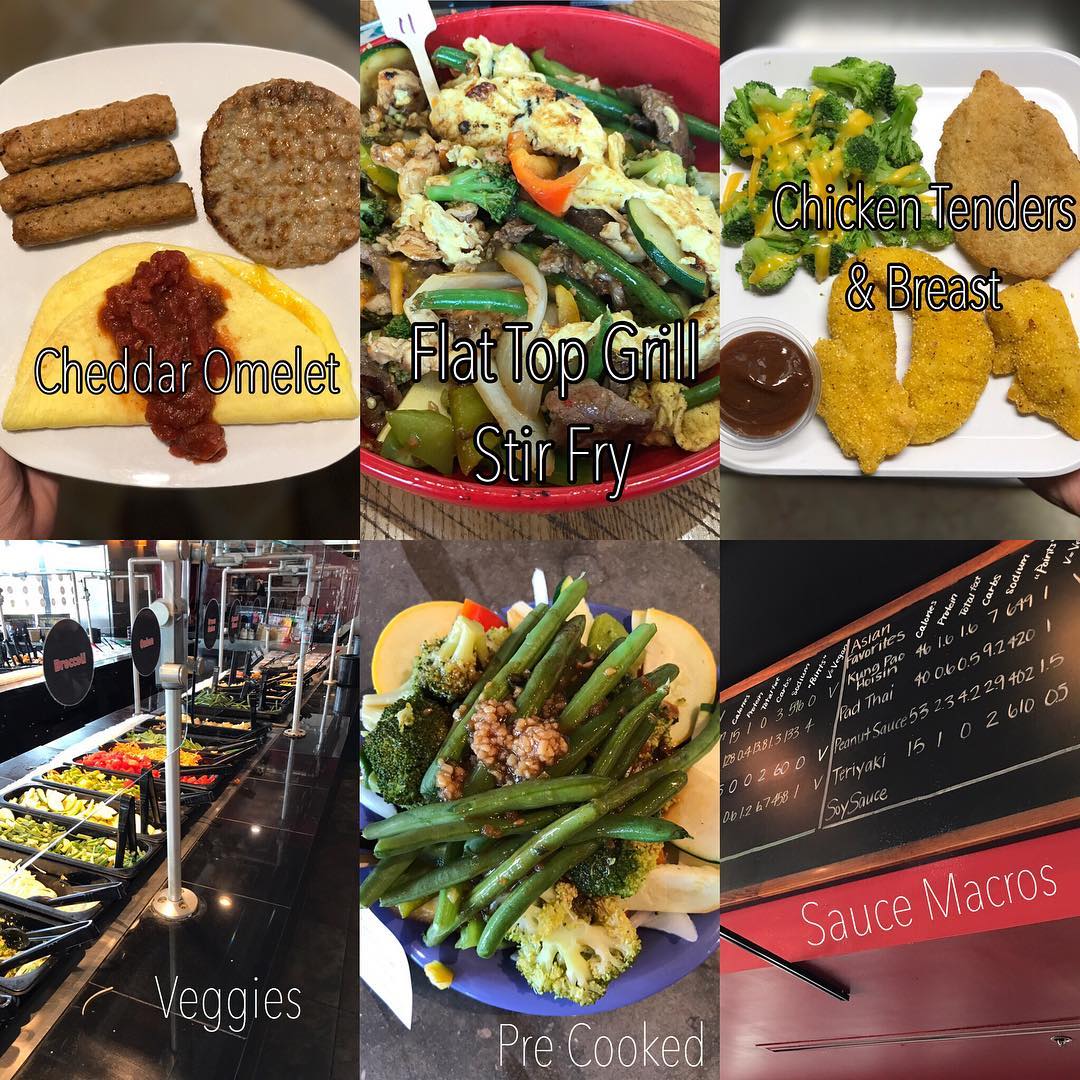 "Daily Food Today! Breakfast and Dinner at home with @personaltrainerfood .. lunch was at Flat Top Grill.. Broccoli, peppers, onions, squash, zucchini, green beans, chicken, and beef. SOOO good and can easily stay on track! Especially since they have the sauce info on the wall! I also had some almonds today for a grand total of 55 smart points…"