Grace Borst Reveals The Exact Steps She Took To Lose Over 110 Pounds!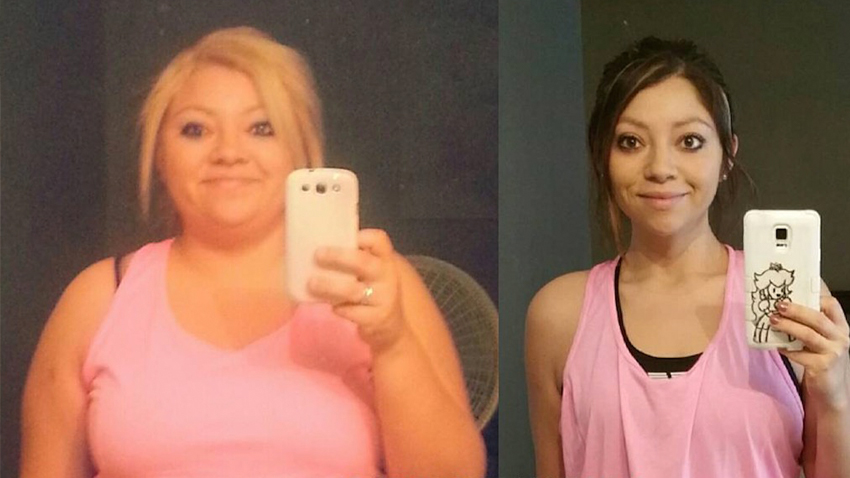 Grace Borst (GraciesJourney) is an incredibly popular fitness Youtuber and Instagram star who has inspired hundreds of thousands of people with her weight loss story. Her journey has been tough as she had always struggled with her eating habits:
"Even as a kid, I struggled with my weight. I tried to stay active by going out for sports teams and doing dance, but I always had trouble sticking with eating healthy. I loved fast food, especially burgers and pizza. When I reached high school, I constantly felt upset about my weight."
Grace details out some key steps and important tips that she used to lose over 110 pounds and finally get the body that she always wanted.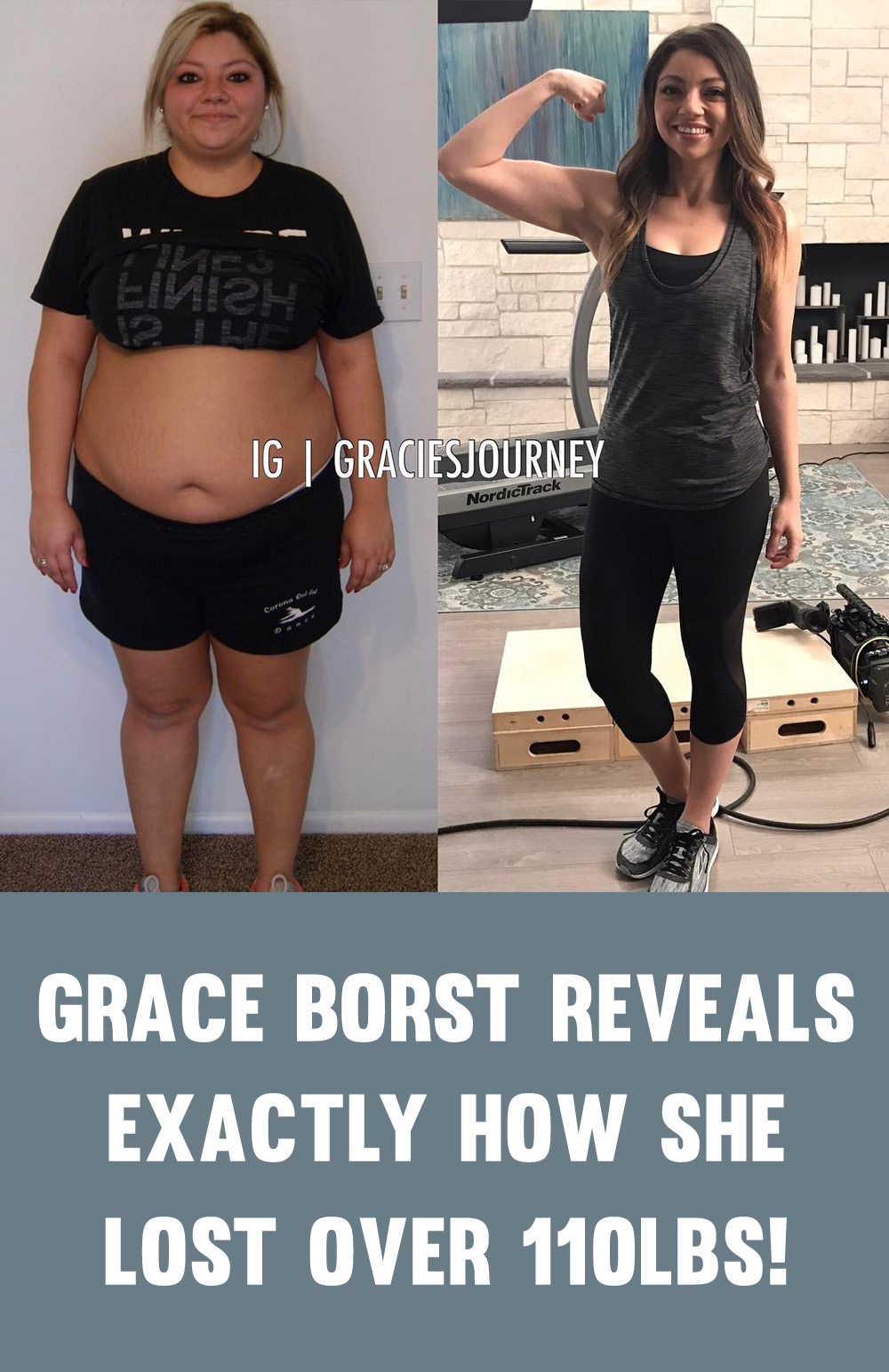 Follow Grace On All Her Social Media Here:
Instagram: @graciesjourney
Youtube: YT/GraciesJourney
Grace opened up to WomensHealthMag about her story and described how hard it was, growing up with a food addiction and body image issues.
"During my junior year of high school, I started using laxatives to try to lose weight. Sometimes, I took more than 15 a day. At some point, I turned to diet pills and started skipping meals. Even though I felt light-headed all the time and had trouble sleeping, I couldn't stop obsessing over weight loss. I fell into a cycle of bingeing and purging. At my lowest point, I turned to drugs to suppress my appetite, which turned into an addiction. For the next two years, I went days without eating. I lost almost 100 pounds, but I experienced terrible mood swings. By my first year of college, my desire to be skinny had completely taken over my life."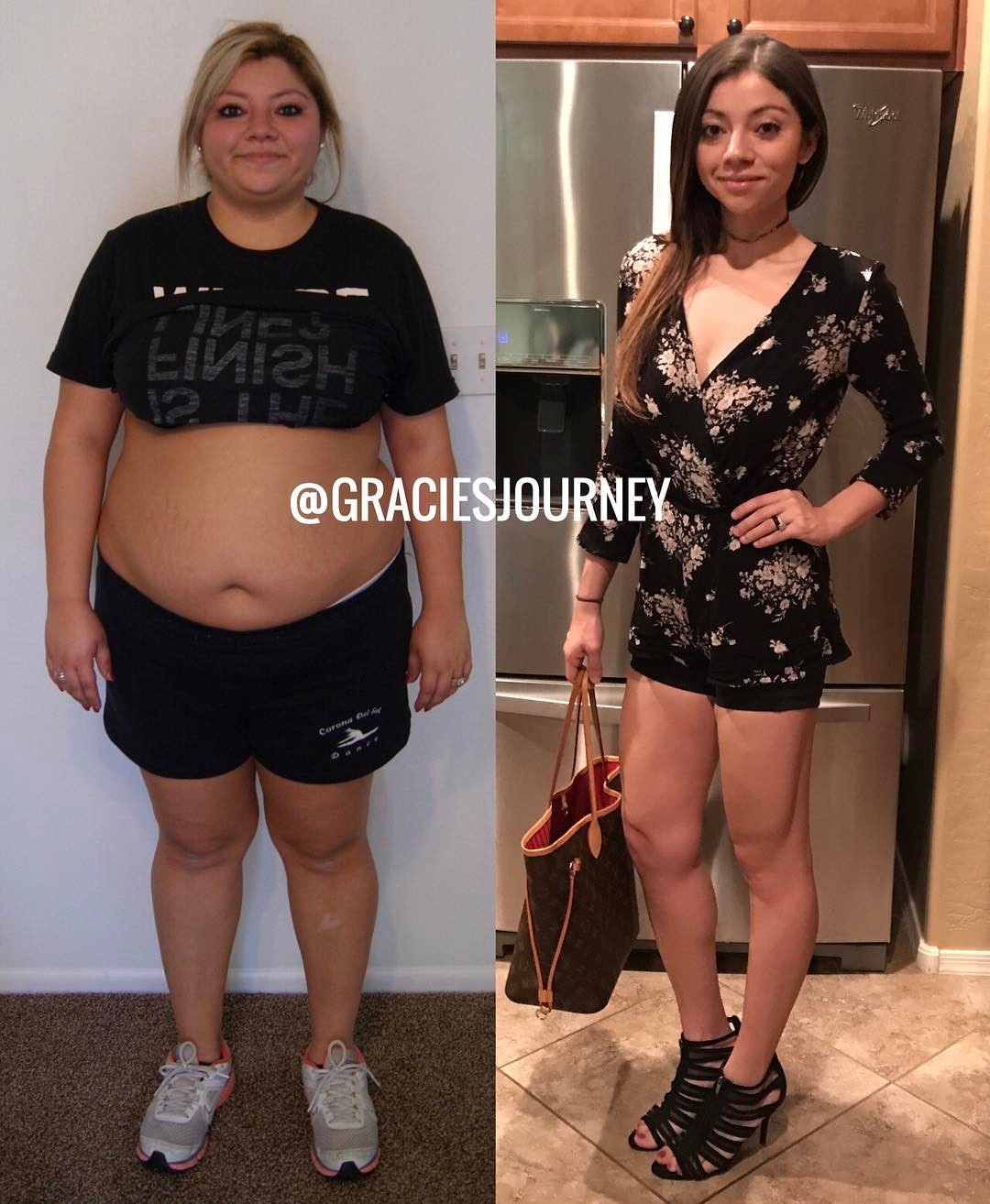 Things turned around when Grace met her future husband, who helped show her the real reasons behind her eating.
"That was also the year that I met my now-husband, who was also attending my college. He helped me face my addiction, and a few months after meeting him, I was clean. The only downside was that I completely let my body go. Over the next seven years my weight crept up to 240 pounds. I thought, "Maybe I'm just supposed to be overweight.""
After Grace reacher her highest weight, she knew enough was enough and started making smarter, healthier choices each day.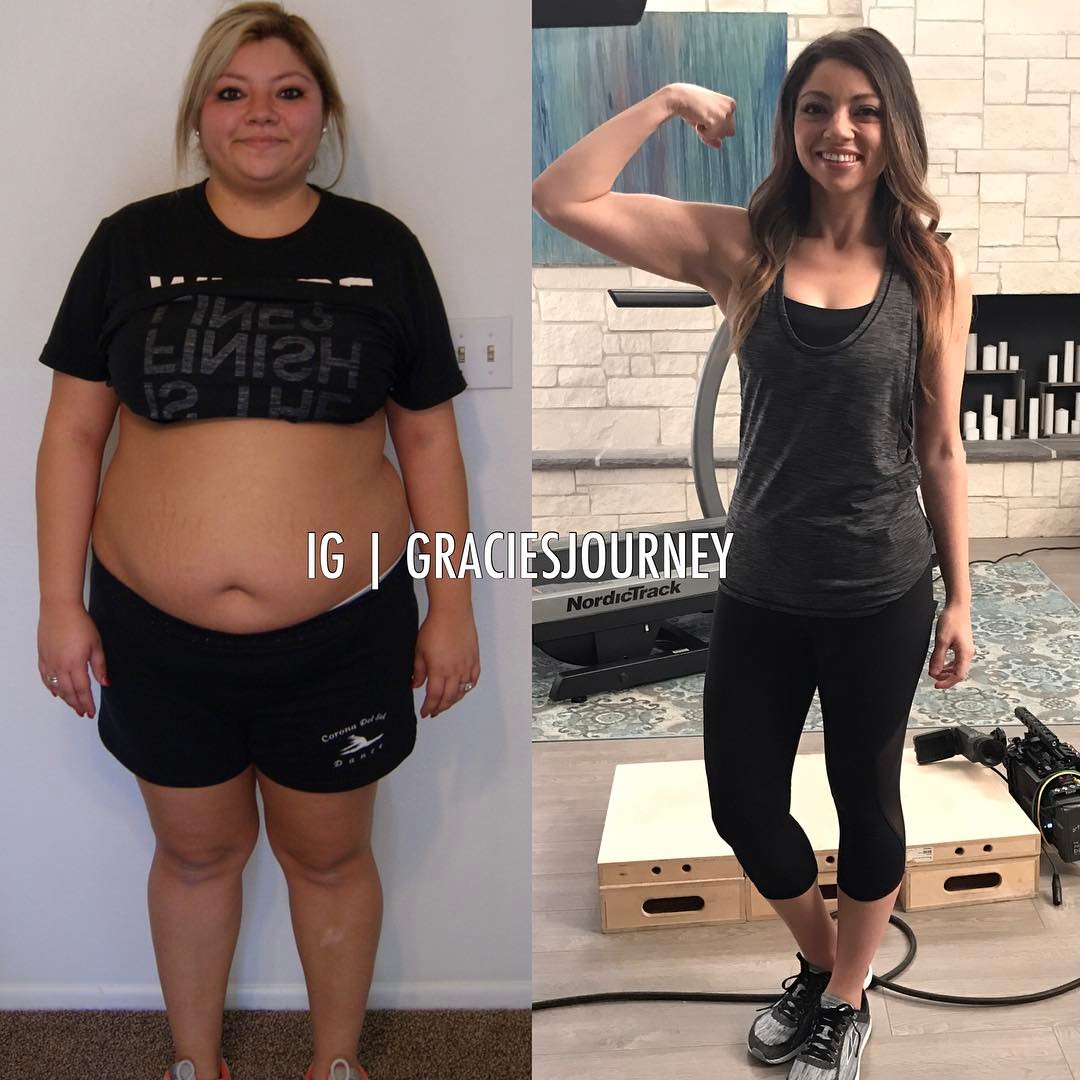 "A few months after reaching 240 pounds, I decided to commit to losing weight in a healthy way. I started out by finding lighter, more nutritious versions of meals I love, like tacos. I used whole-wheat tortillas with lean ground turkey, lettuce, salsa, and light sour cream."
"I also quit soda and fast food cold turkey (which was easier than I expected), but I didn't make other extreme changes. I hate oil and vinegar on salads, so I didn't force myself to eat it. I knew that I had to enjoy getting healthy to stick with it. Then, I created an Instagram account, @graciesjourney, to track my progress and share my story."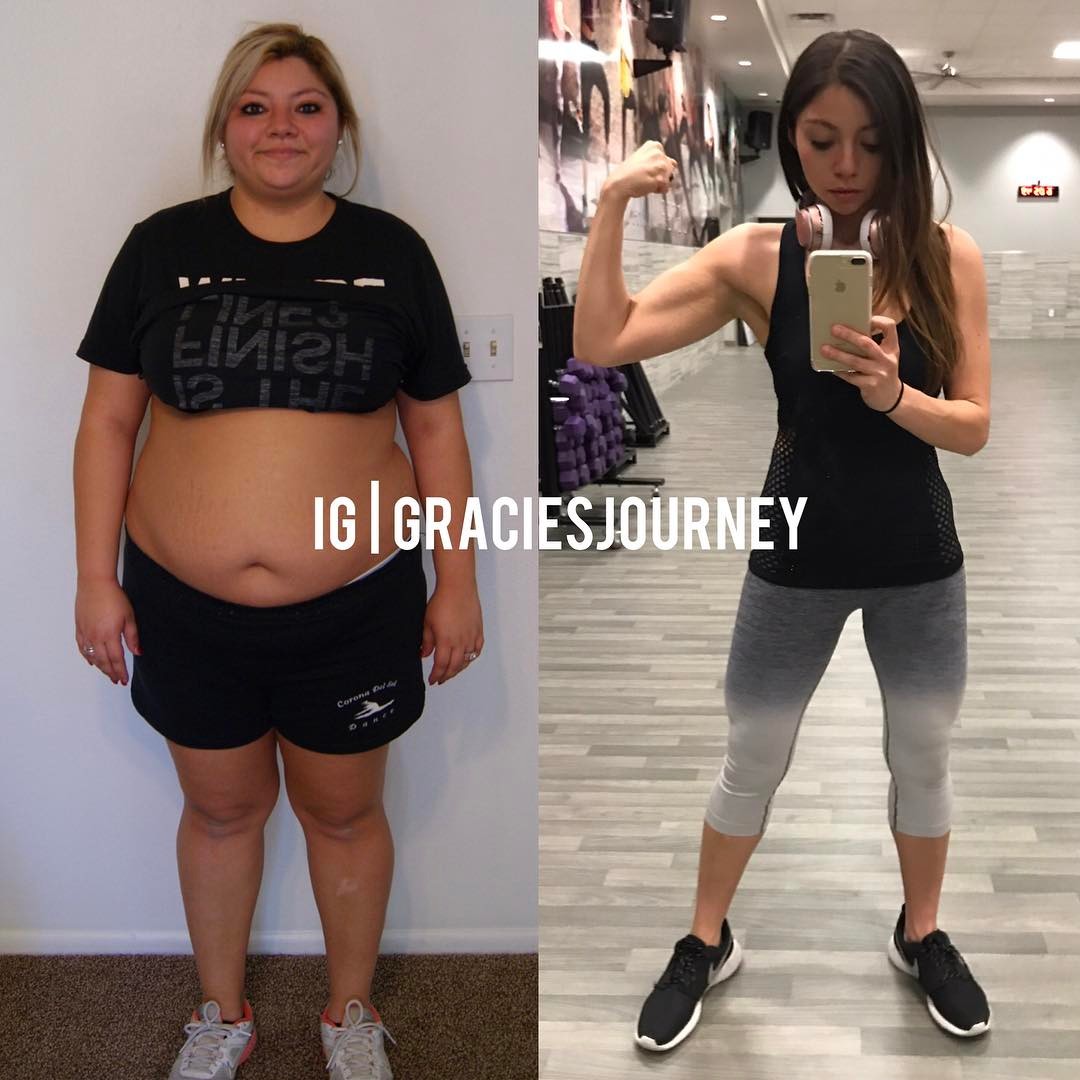 Grace also find ways around any problems or excuses that she had. Solving problems is better than avoiding them.
"One of my old excuses for not exercising was that I didn't want to drive to the gym, so my husband and I bought a treadmill and a weight machine for our place. I started out walking at an incline for about 30 minutes, and after a few months, I increased the speed on the treadmill and could walk without holding the handlebars. My husband (who also started eating healthier with me) alternated between using the treadmill and doing weight exercises with me. After eight months, I'd lost more than 50 pounds."
After losing 50 pounds, Grace noticed it was harder to lose weight each week, so she started to dial in her nutrition and workouts further.
"When I hit a plateau two months later, I knew I had to make more changes. I started working with a trainer I'd met on Instagram to learn how to eat cleaner and switch up my workouts. I started by adding more vegetables and lean proteins to my diet and focused more on lifting weights."
It hasn't just been a physical change, it's been a mental one as well.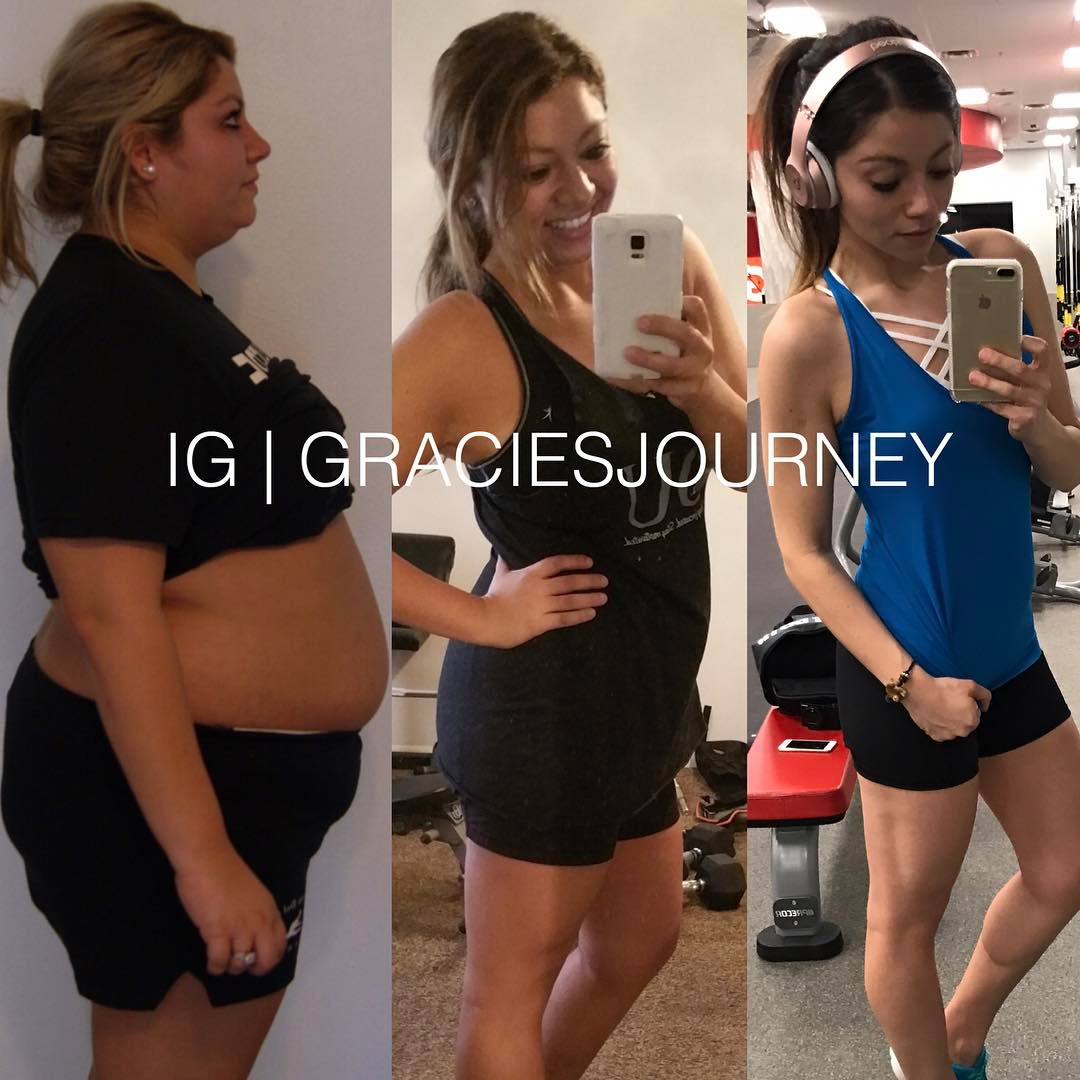 "A year and a half after I decided to transform my life in a healthy way, I've lost more than 80 pounds (110 Now). Now, I know that I just needed a positive mindset in order to do what was best for my body and my health. I am infinitely happier than I ever imagined possible and feel so full of the self-love I lacked for so many years."
Grace's top tips for people who are looking to follow in her footsteps and lose weight:
"Stay positive. That might sounds like a duh tip, but there are times when I miss a workout or fall off track. But I have to accept it, brush it off, and know that I can keep moving forward. I always tell myself, "You can do this!""
"Take it day by day. Taking my lifestyle transformation slowly helped me stick with it and enjoy it. I knew if I went from eating McDonald's to a strict clean diet overnight, I'd quit. I learned to be patient with the process."
"Plan for success. If I know I have something to do after work, I know that means I have to get up earlier to work out in the morning, which also means I have to go to bed earlier the night before. I make sure I always plan my days in advance so I don't miss workouts when things get busy."