Fitness Model Justine Moore's Workout Routine & Diet Plan Revealed!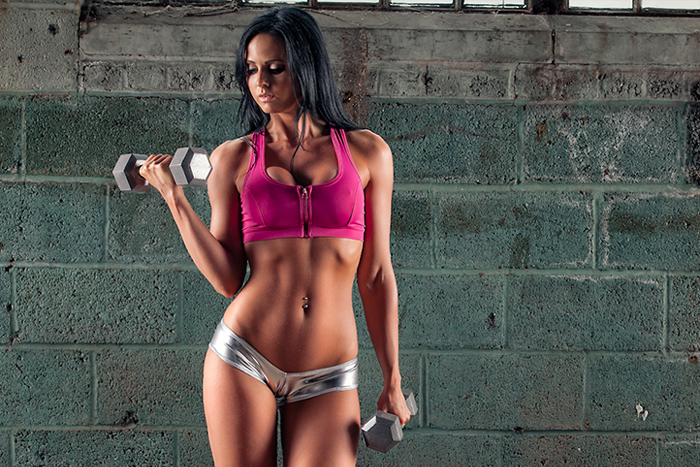 For More Of Fitness Model Justine Moore Please Check Out His
Justine can be contacted for online fitness coaching, nutrition plans, contest prep and one-on-one personal training via her website or email: [email protected]
Website: www.JustineFit.com
Twitter: @JustineKMoore
Facebook: www.facebook.com/JustineKMoore
Instagram: @JustineFit
BodySpace: JustineFit
YouTube: Justine Moore www.youtube.com/channel/JustineMoore
Justine Moore's Workout Routine
My workout routine varies quite a bit depending on my schedule and what events I have coming up. This is a typical week of training for me:

Monday

45-60 minutes Cross Training/ Full Body HIIT


Tuesday: Quads/Glutes/Core

Leg Extensions: 4 sets, 12-15 reps
Barbell Squat: 5 sets, 20. 15, 12, 10, 8 reps
Split Squat: 4 sets, 10-12 reps each leg
Walking Lunges: 4 sets, 12 reps each leg
Step Ups: 4 sets, 10 reps each leg
Cable Kickbacks: 3 sets, 15 reps
Abduction Machine: 3 sets, 15-20 reps
Hanging Leg Raises: 3 sets, 15 reps
Weighted Crunch On Machine: 3 sets, 15-20 reps


Wednesday- Chest/Shoulders/Arms

Cable Chest Flyes: 4 x 12-15
Push Ups: 4 x 12
Side Lateral Raise: 4 x 12-15
Military Press: 4 x 8-10
Skull Crushers: 4 x 12-15
Tricep Dips: 4 x 12-15
Barbell Curls: 4 x 8-10
Hammer Curls: 4 x 12-15


Thursday

90 minutes Hot Yoga


Friday

45-60 minutes Cross Training/ Full Body HIIT


Saturday- Back/Rear Delts/Hamstrings

Pull Ups: 4 x 8-10
Lat Pulldown: 4 x 10-12
Seated Row: 4 x 10-12
Rear Delt Rope Pull: 4 x 12-15
Dead Lifts: 4 x 10-12
Hyperextensions: 4 x 15
Good Mornings: 4 x 15
Lying Leg Curl: 4 x 10-12


Sunday

Rest
What Is Your Diet Like?
I believe in incorporating tons of "superfoods" into your daily diet… Nutrient-rich foods with tons of health benefits. I center my diet around these foods year-round. I eat clean about 90-95% of the time. I love to indulge in a cheat meal here and there, but in general I just FEEL a lot better when I'm eating mostly clean food.

Justine Moore's Diet Plan:
Meal 1: Protein pancakes make with egg whites, oat bran, and MET-Rx Vanilla Whey Protein Powder, 1/2 of a grapefruit and 1 serving of greens powder.
Meal 2: Greek yogurt, berries, walnuts
Meal 3: 4 oz turkey breast, 4 oz sweet potato, green vegetables
Meal 4: (Post workout snack)- MET-Rx Vanilla Whey Protein Isolate and a large apple
Meal 5: 4 oz fish or lean red meat, large green salad, and 1/2 cup brown rice, quinoa, or black beans
Meal 6: MET-Rx Peanut Butter Cup Whey Protein mixed with 1 tbsp almond butter, 1/4 cup almond milk and 2 tbsp unsweetened natural cacao powder (my nighttime dessert treat!)
What Food Would We Find In Your Fridge?
Tons of green vegetables, grapefruit, apples, berries, turkey, fish, bison, eggs, egg whites, cottage cheese, Greek yogurt, unsweetened almond milk, brown rice, beans, quinoa, and almond butter.

Justin Moore's Supplement Stack
My year round staples include: MET-Rx Active Woman Multivitamin, MET-Rx CLA with Raspberry Ketones, MET-Rx Super Joint Guard, MET-Rx Liquid L-Carnitine, MET-Rx BCAA 5000 Powder, MET-Rx L-Glutamine Powder, MET-Rx Ultramyosyn Whey Isolate, and MET-Rx ZMA.