41 Weight Loss Meals Under 500 Calories That You Need To Know!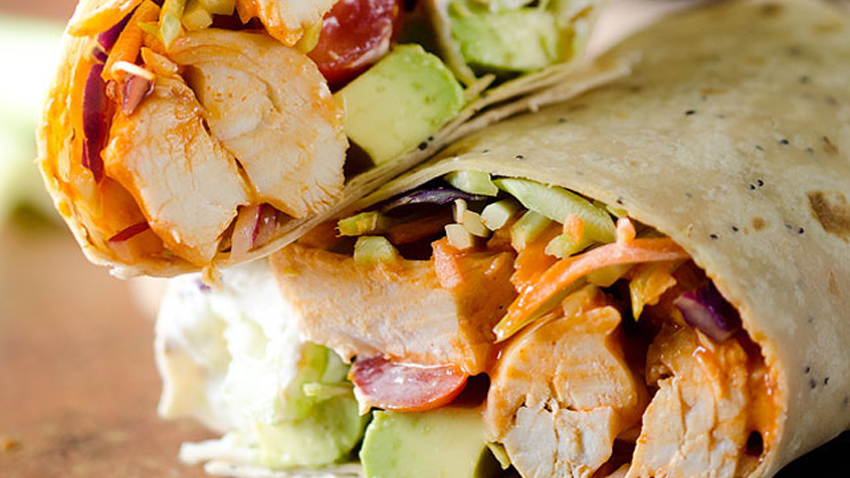 A medium Big Mac meal at your local McDonalds clocks in at around 1080 calories. A large Dominoes pizza could be around 2000 calories. Delicious? Yes. On occasion, but indulging too often in these fast, high calorie, nutrient deficient meals are a sure fire way to stall your diet progress!
So we have collected 41 incredible, weight loss meals, totalling (in most cases a lot) under 500 calories for you to enjoy each day! Delicious, nutritious and sensible calorie totals are the best way to keep you on track with your diet.
Never worry about what to eat for dinner again, simply save, pin and share all your favourite recipes on your social media and make all the recipes that you like. Enjoy!

41 Weight Loss Meals Under 500 Calories That You Need To Know!
Healthier Slow Cooked Spicy Beef Curry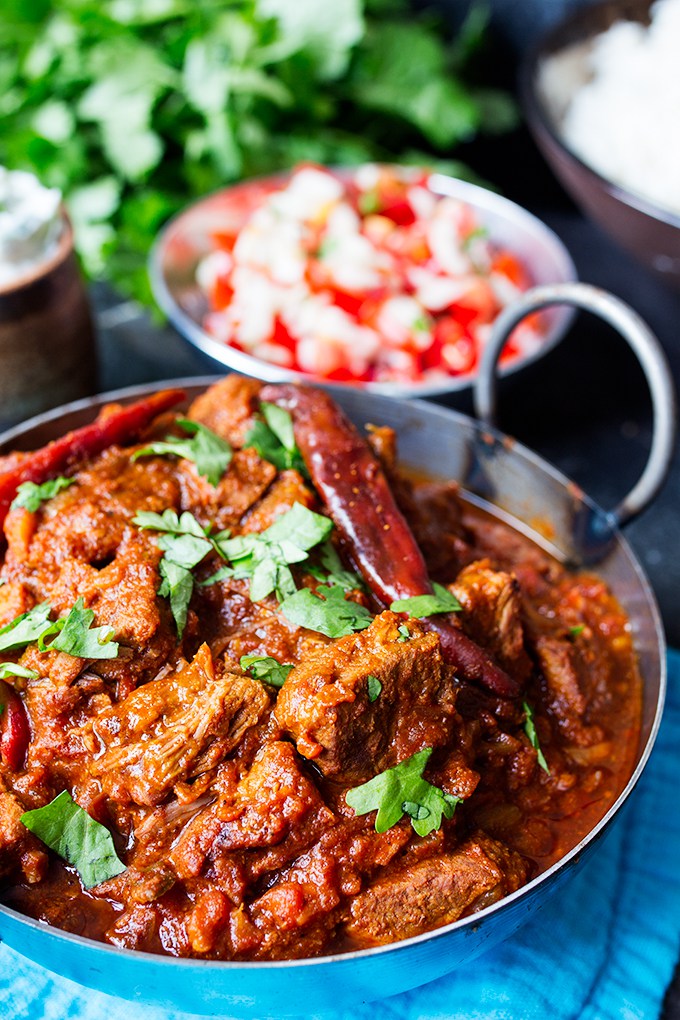 "If you're trying to lose a little holiday weight like me, this healthy slow-cooked spicy beef curry is the perfect recipe. Less than 500 calories including rice!" Recipe from KitchenSanctuary.
Slow Cooker Teriyaki Pulled Pork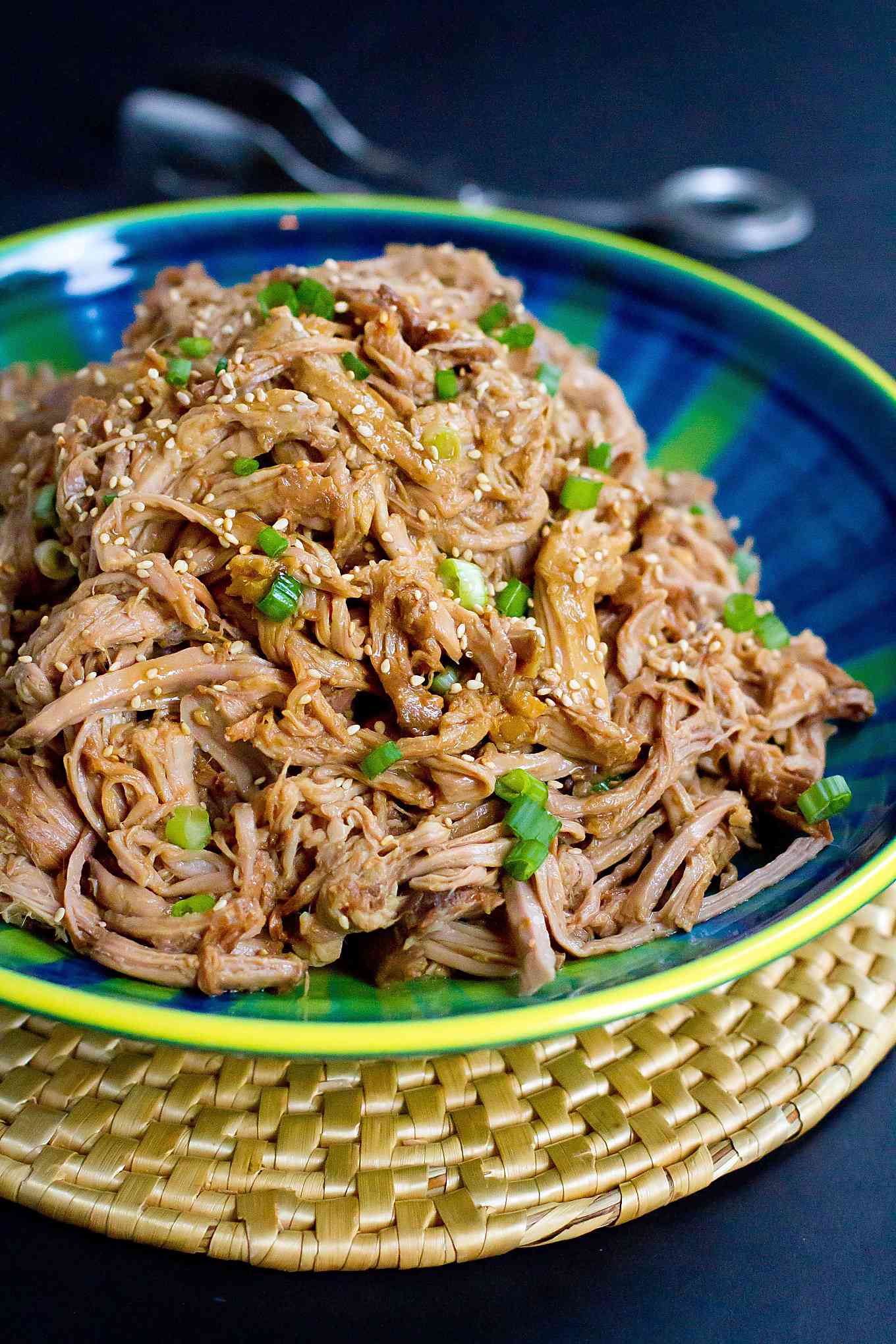 "This Slow Cooker Teriyaki Pulled Pork is fantastic over rice, in tacos with slaw or on hamburger buns. Throw it all in the crockpot and walk away!" Recipe from CookinCanuck. 240 Calories.
Lentil Pasta With Arugula Pesto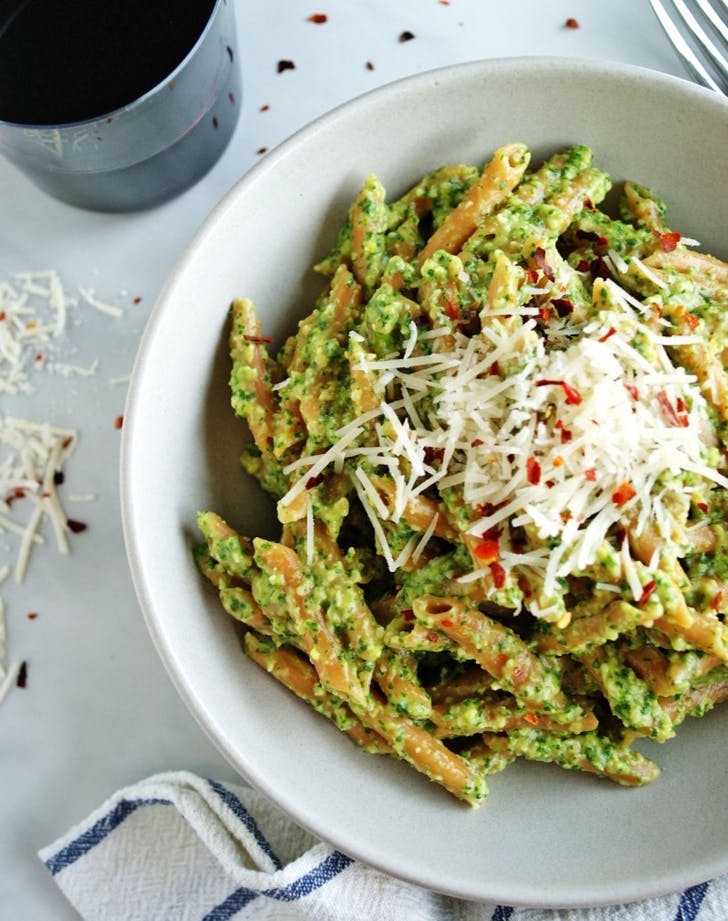 "It's not just any bowl of pasta though. It's LENTIL pasta. (More on that in a minute!) And it's ARUGULA pesto. Yums all the way around because it's absolutely delicious and it's absolutely good-for-you." Recipe from ANutritionistEats. 397 Calories.
Butternut Squash & Lentil Soup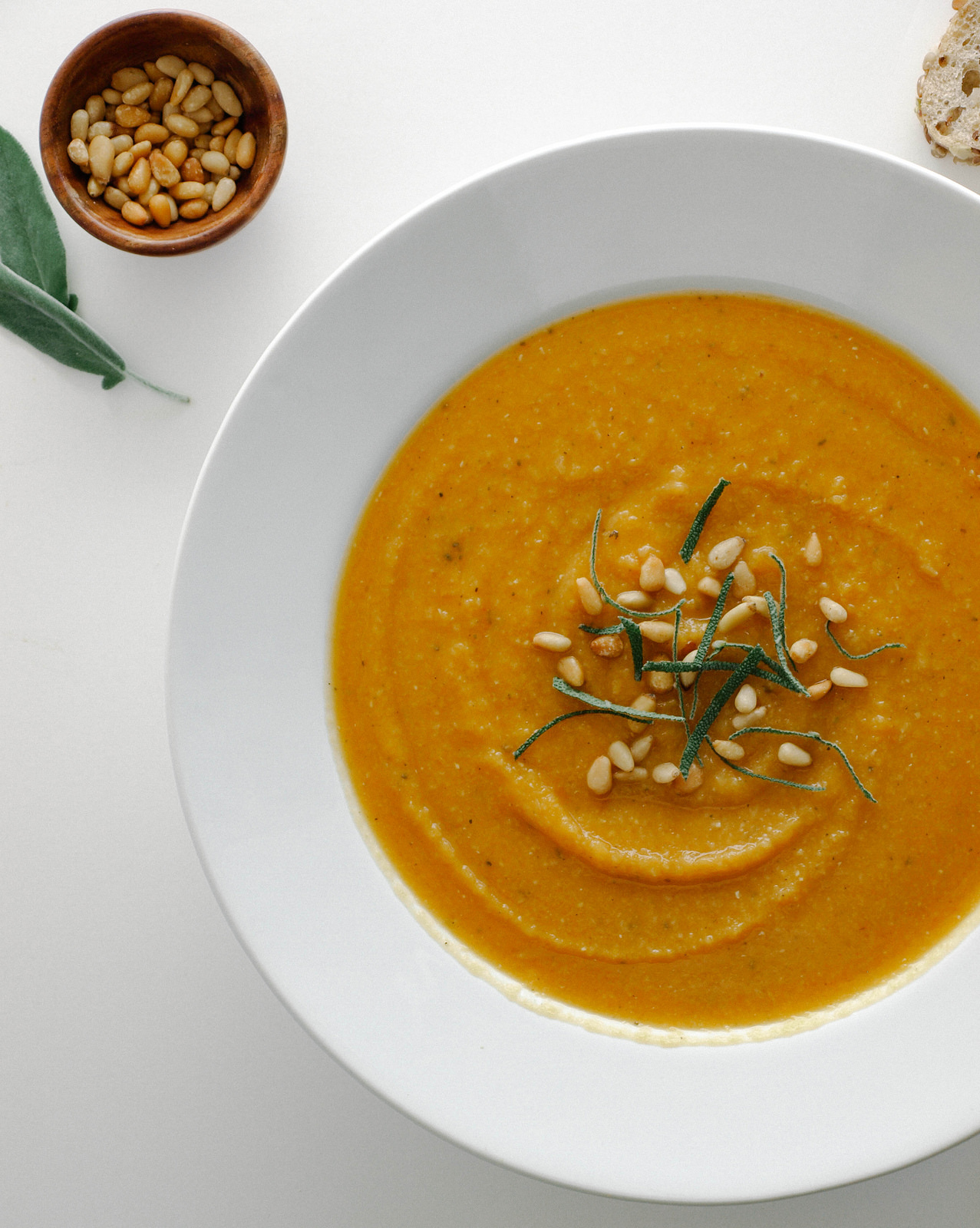 "I'm always doing my best to add in high protein plant-based sources when I can, the addition of lentils are perfect for that while adding extra thickness to the overall soup. Lentils of all color should be a part of any heart healthy diet." Recipe from SimpleVeganista. Calories 425.
Blackened Chicken With Avocado Cream Sauce
"This dish a 10. Why? It can be totally prepped in 10 minutes and has less than 10 ingredients! Plus, it's a great way to change up a boring piece of chicken. You'll love the flavors this recipe offers!" Recipe from Womanista. 162 Calories.
Maple Pecan Crusted Salmon

"This Maple Pecan Crusted Salmon is a fresh, easy, and healthy clean eating seafood dinner recipe to change up your boring old fish routine — and it's ready in 20 minutes!" Recipe from TheSeasonedMom. 205 Calories.
Honey Garlic Dijon Pork Tenderloin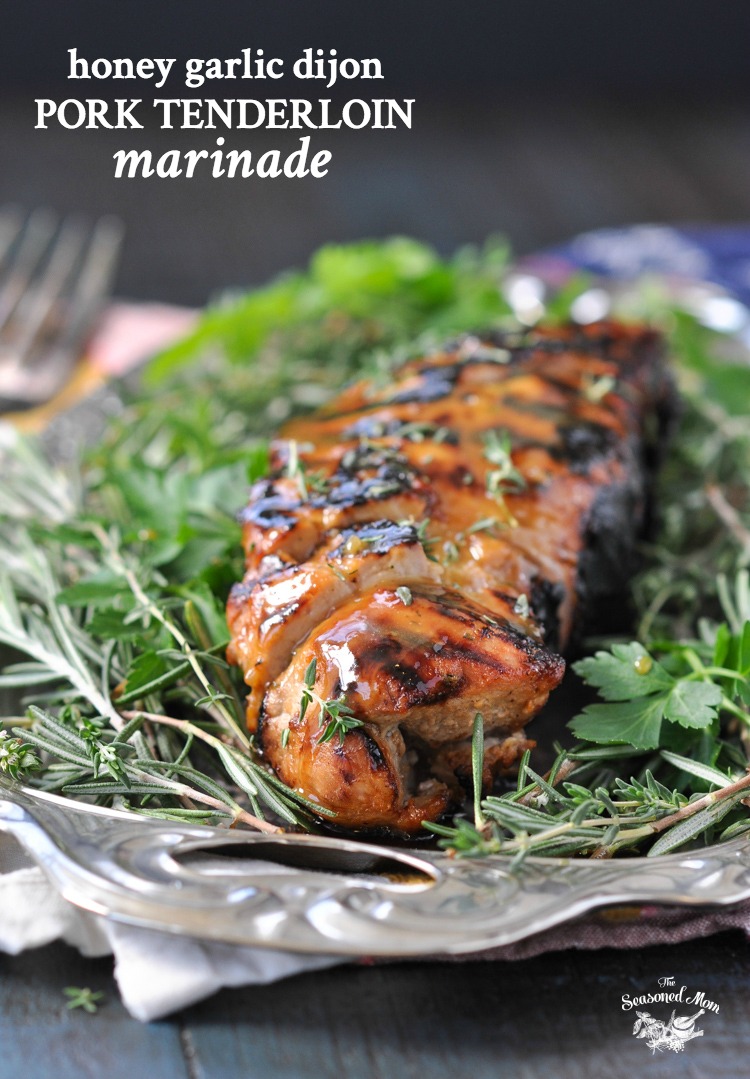 "Pork tenderloin can get a bad rap as the dry, lean, tough alternative to chicken breasts. But that's so not fair! With a simple Honey Garlic Dijon Pork Tenderloin Marinade, this humble cut of meat is elevated to Super Star status! Best of all, the easy dinner only requires 10 minutes of prep before leaving it to marinate in the refrigerator. It's a healthy, make-ahead meal for any busy weeknight!" Recipe from TheSeasonedMom. 301 Calories.
One Skillet Chicken Sausage & Tortellini

"One skillet meals like this Chicken Sausage and Tortellini make easy dinners a breeze — with very little clean up at the end! The pasta, the sausage, and the veggies all cook together in a rich Italian sauce for a simple supper that's ready in less than 30 minutes!" Recipe from TheSeasonedMom. 413 Calories.
Spicy Chipotle Turkey Burritos (make ahead)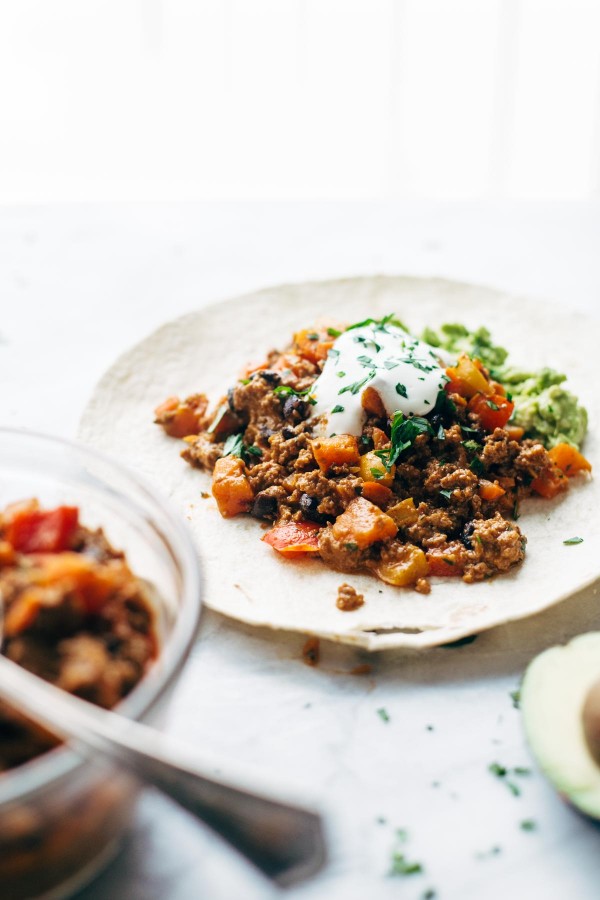 "A big ol' soft flour tortilla with some spiced ground turkey and a few veggies –> who knew this combo could be so humble meets revolutionary? Not me, until I started making these a few months ago." Recipe from PinchOfYum. 357 Calories.
Spicy Shrimp & Cabbage Stir Fry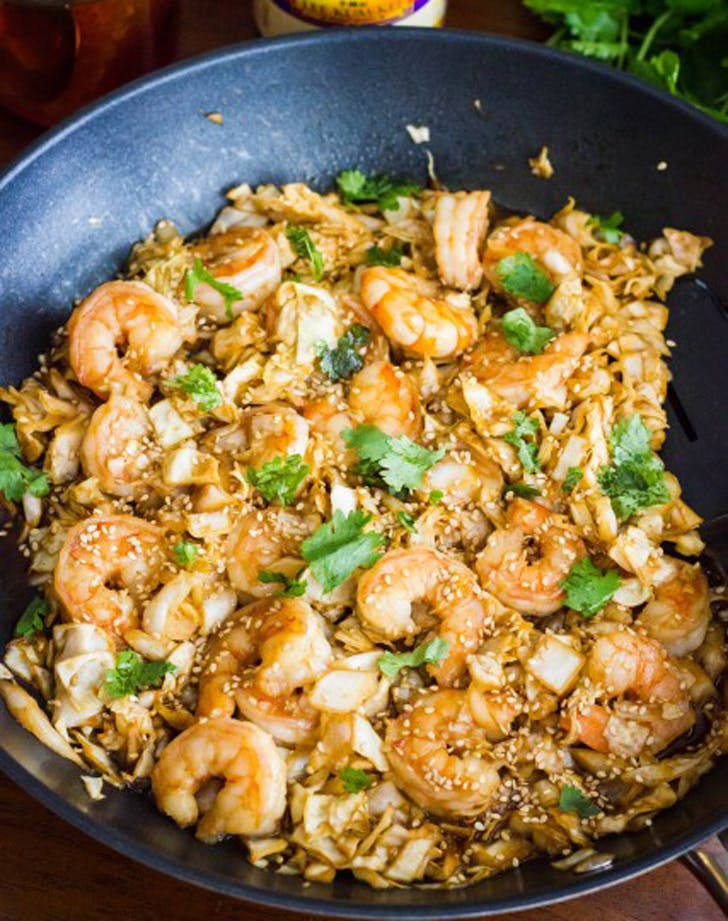 "I love the taste of shrimp, but they're also one of my go-to ingredients when I need a quick and easy dinner because they cook in minutes." Recipe from KendrasTreats. 174 Calories.
Chicken Tikka Chapati Burritos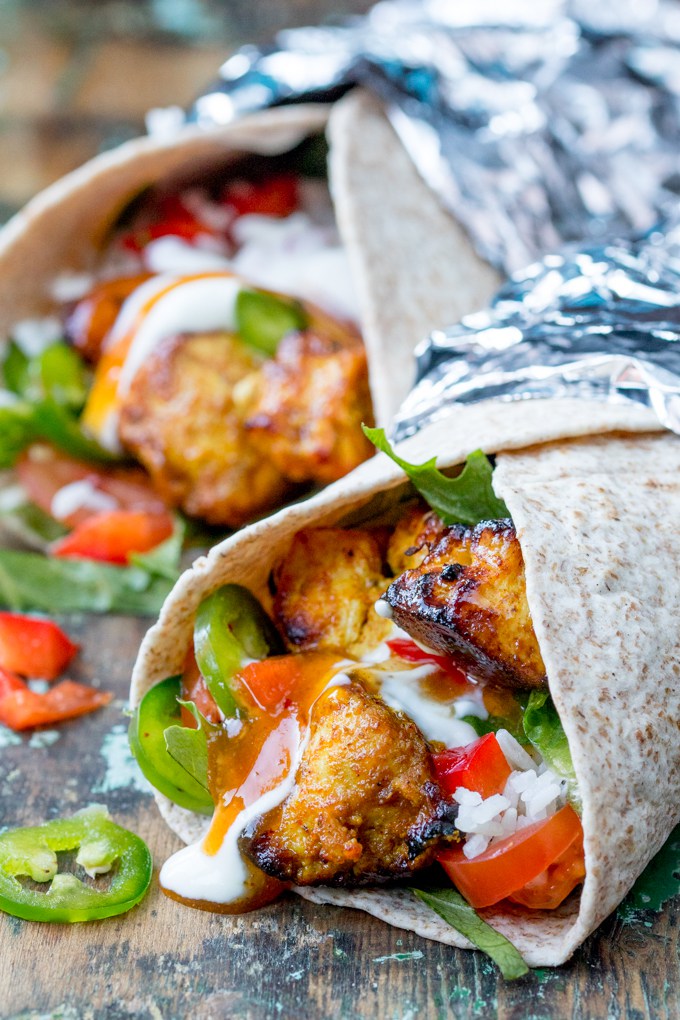 "Chicken pieces marinated in made-from-scratch tikka paste, then grilled or barbecued until just charred. So good! All wrapped up in a chapati and topped with rice, veggies, yogurt and a little mango chutney. I like to add a few sliced chillies too for a bit of heat." Recipe from KitchenSanctuary.
Moroccan Turkey And Chickpea Skillet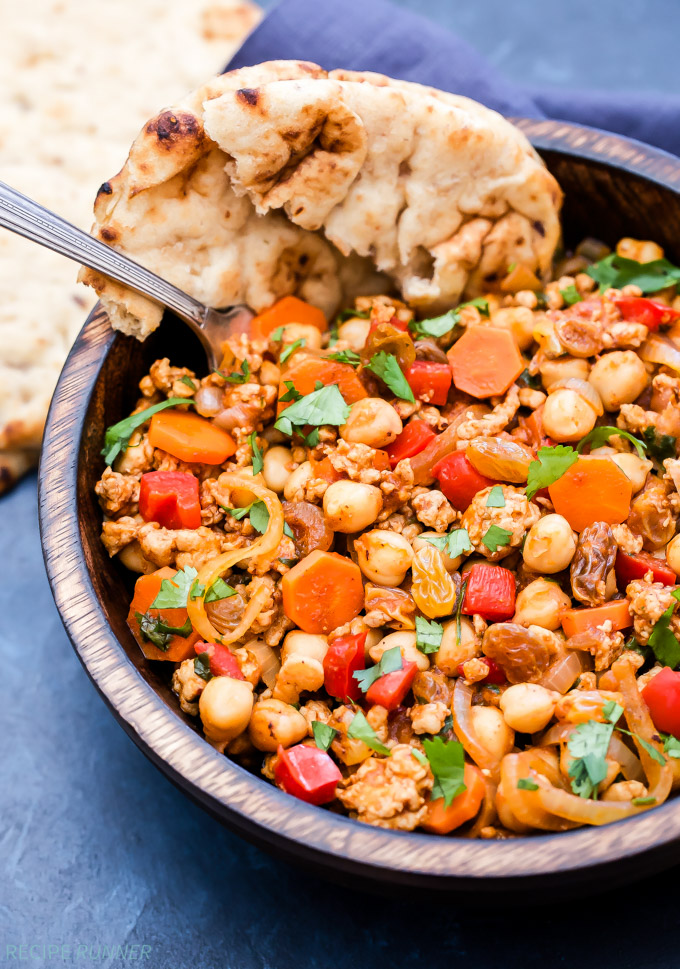 "Every bite of this Moroccan Turkey and Chickpea Skillet is filled with savory and sweet flavors. Warm spices such as cinnamon and cumin tie everything together in this easy, gluten-free dinner!" Recipe from RecipeRunner. 435 Calories.
10 Minute Black Bean & Corn Quesadillas Recipe
"These black bean quesadillas are one of my favorite things to make for lunch! They are quick, simple, and ready in 10 minutes or less!" Recipe from DashingDish. 330 Calories.
Clean Eating Garlic Parmesan Pork Chops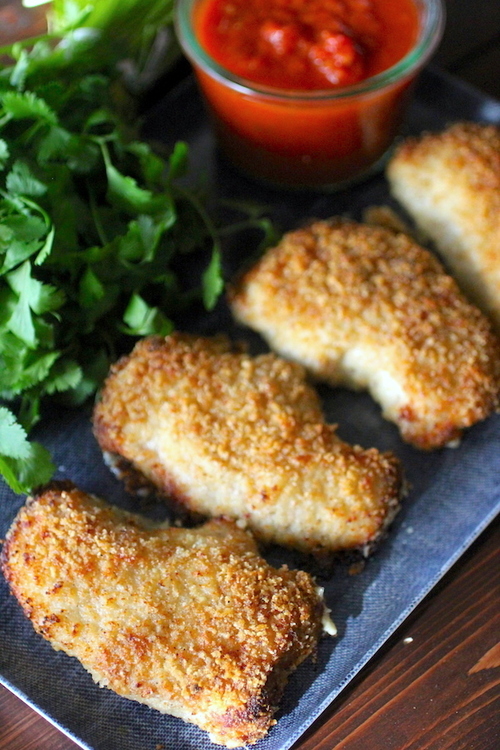 "Clean Eating Garlic Parmesan Pork Chops are moist and tender on the inside, with a crispy, crunchy, cheesy, garlicky coating on the outside!" Recipe from DashingDish. 257 Calories.
Skillet Garlic Parmesan Chicken Thighs

"Skillet Garlic Parmesan Chicken Thighs, an amazing one pan skillet meal that will rock your socks off on flavor. This healthy meal is done in 30 minutes and finishes off at 262 calories a serving." Serving size: 2 chicken thighs Calories: 262. Recipe from JoyfulHealthyEats.
Paleo Burgers With Caramelized Balsamic Onions & Avocado

"Who says burgers can't be healthy!? Paleo Burgers served on a slice of tomato topped with Caramelized Balsamic Onions that will make you swoon and of course Avocado! A quick 30 minute meal you're family will want on repeat!" 367 Calories. Recipe from JoyfulHealthyEats.
Sriracha Almond Crusted Pork Chops With Spicy Honey Mustard Sauce

"Sriracha almond crusted pork chops are perfectly crunchy with a little heat. Serve them with the sweet and spicy sriracha honey mustard sauce for a delicious weeknight meal!" Recipe from RecipeRunner.
Creamy Chicken Quinoa and Broccoli Casserole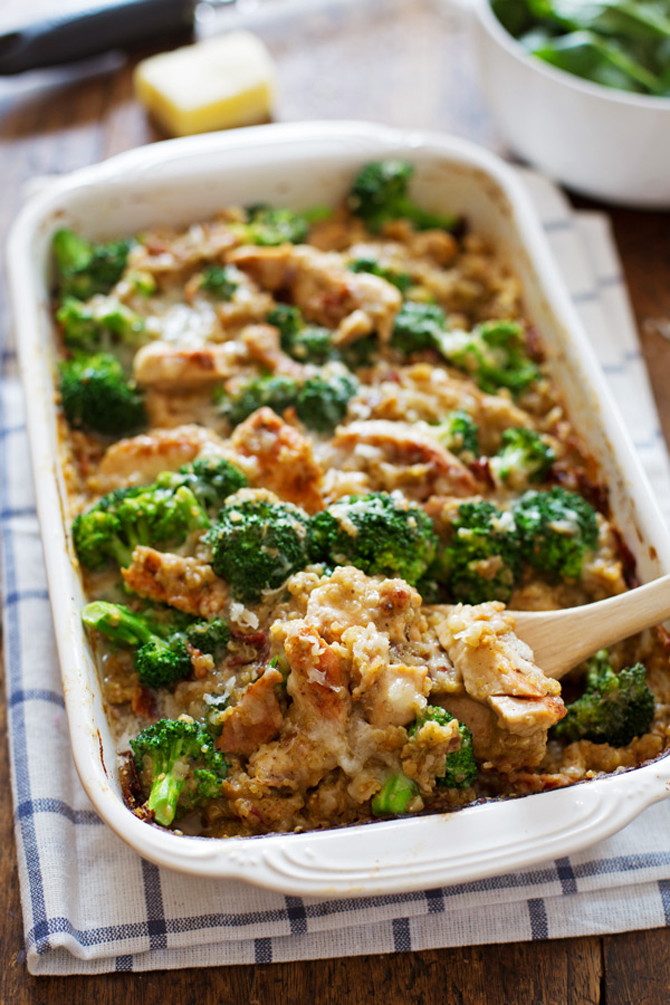 "Creamy Chicken Quinoa and Broccoli Casserole is real food meets comfort food. From scratch, quick and easy, and a big gentle hug loaded with good-for-you ingredients." Recipe from PinchOfYum. 363 Calories.
Ginger Peanut Lettuce Wraps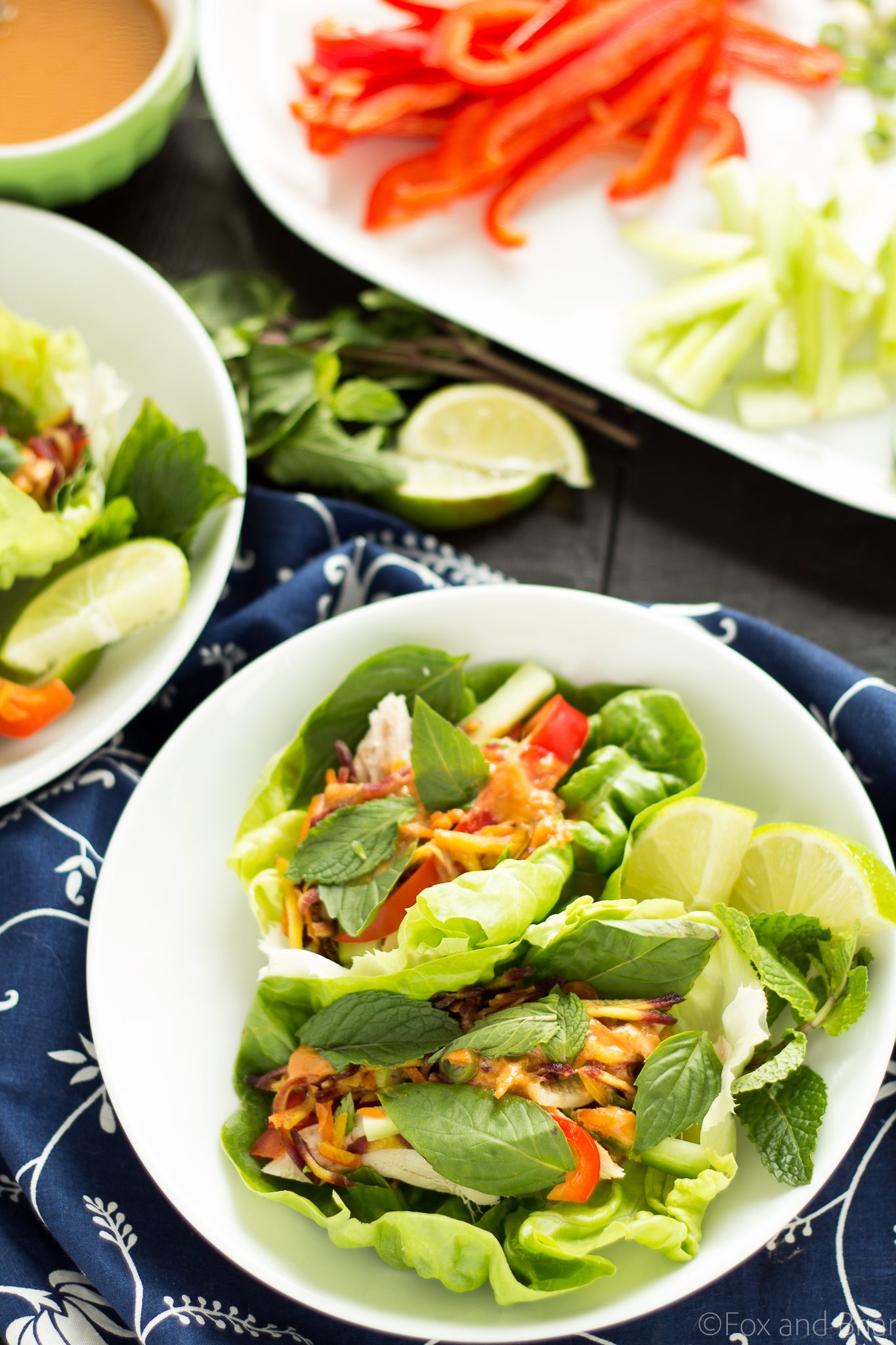 "These Ginger Peanut Lettuce Wraps are filled with colorful veggies, your protein of choice, and the most addictive peanut sauce ever!" Recipe from FoxAndBriar.
Beef Burgers With Jerk Onions & Cucumber Avocado Salad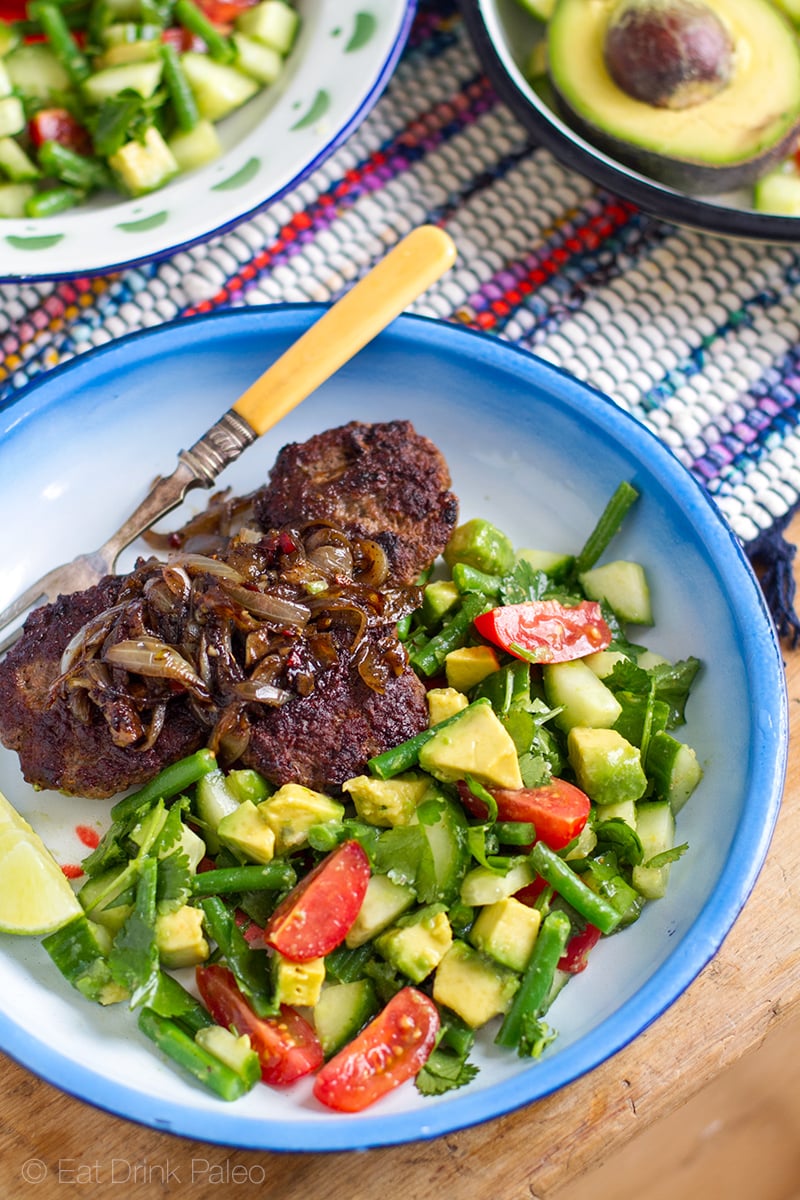 "You might have had jerk chicken before but have you tried jerk onions? My latest experiment was to use jerk spices and flavours with cooked onions, which I then used as a flavoursome condiment with simple beef burger patties. Super fun and tasty tasty interpretation of the classic Caribbean favourite. Paired with a quick and easy cucumber, avocado and green bean salad, this was another winning paleo dinner. Under 30 minutes!" Recipe from EatDrinkPaleo.
Spiralized Zucchini Casserole With Red Peppers, Spinach And Artichokes (Low Carb)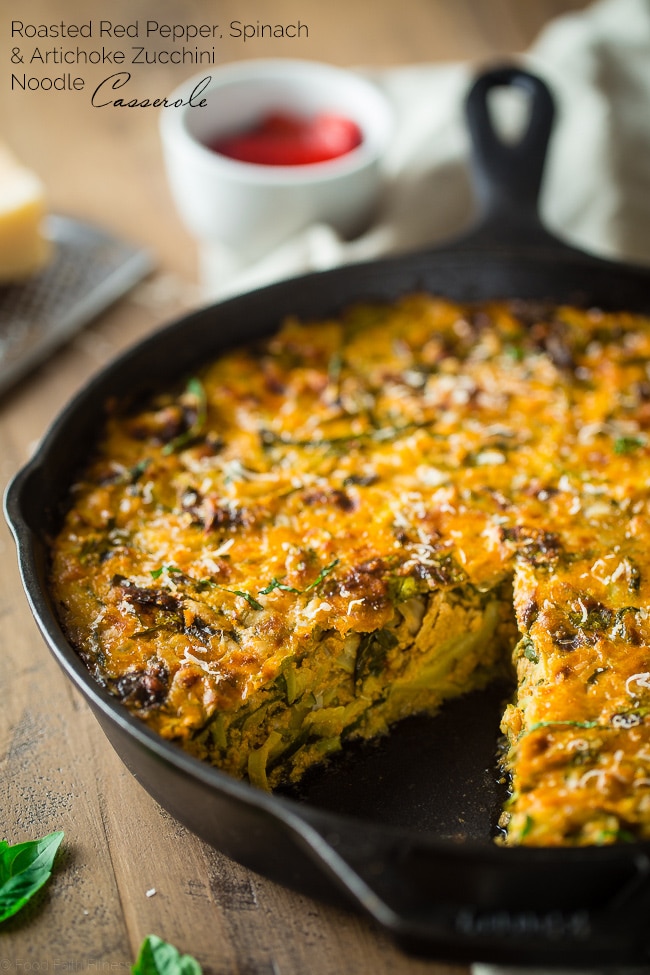 "This spiralized zucchini casserole is packed with protein and is a low carb and gluten free breakfast or dinner that is under 150 calories! Spinach and artichokes keep it light and healthy!" Recipe from FoodFaithFitness.
Basil & Feta Sauce Chicken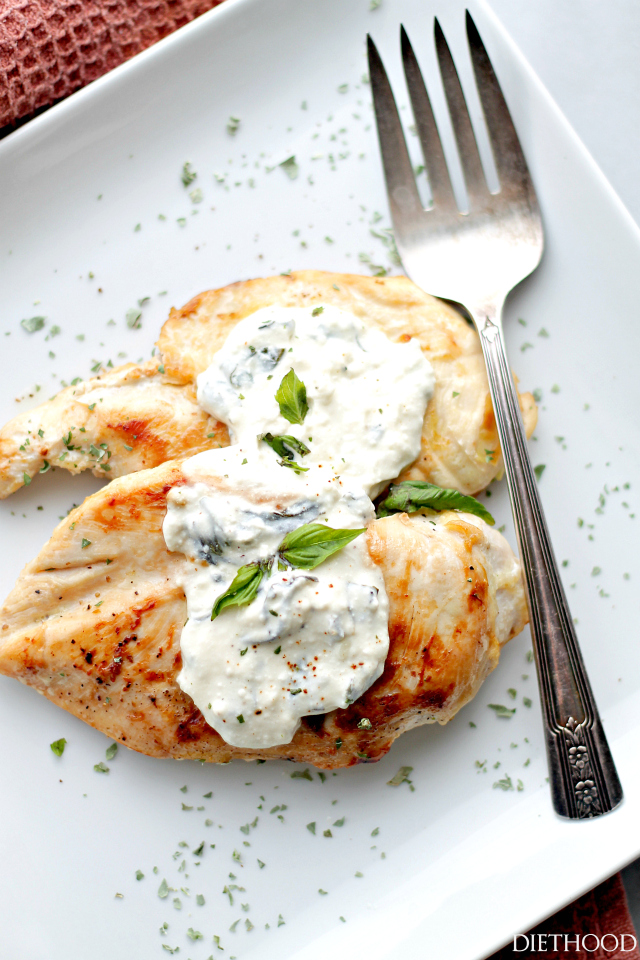 "Basil-Feta Sauce Chicken – Flavorful and tangy sauce made with basil, garlic and feta cheese served over deliciously juicy chicken." Recipe from DietHood.
One-Pot Turkey Taco Skillet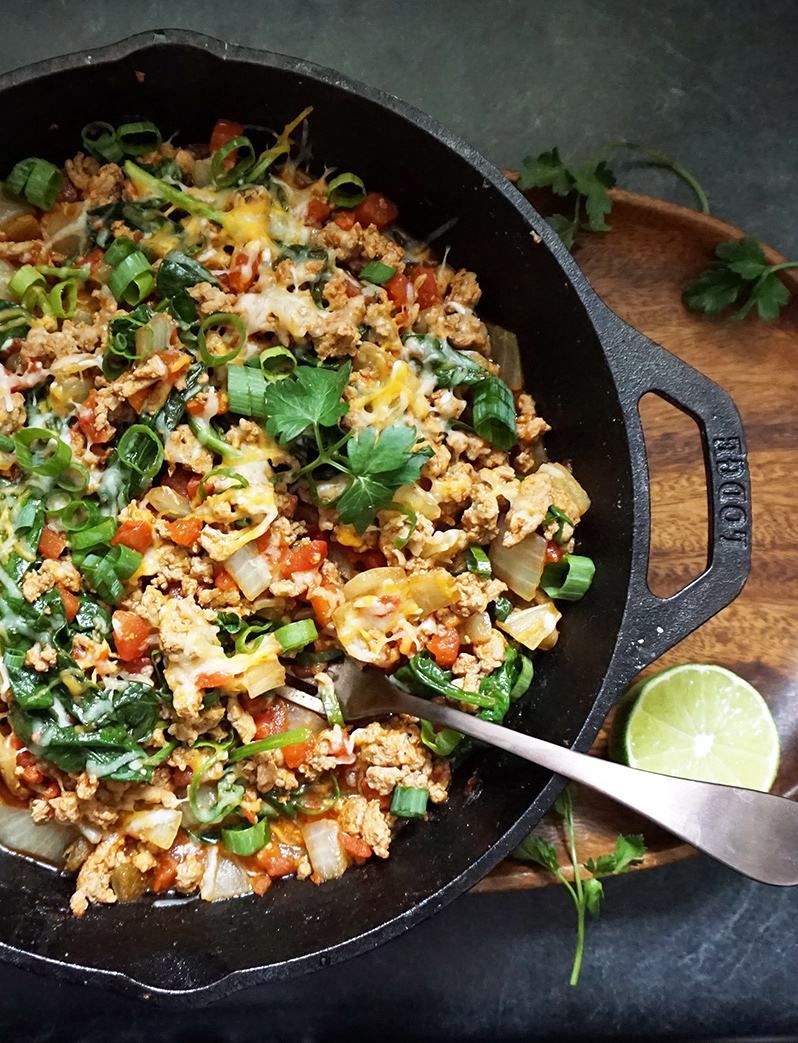 "My goal with this turkey taco skillet was to keep it as healthy as possible, low carb, pile in as many veggies as I could (since they'll be smooshed in alongside cheese and spices!), and make it take just one skillet." Recipe from BijouxAndBits.
Easy Lemon Herb Pork Chops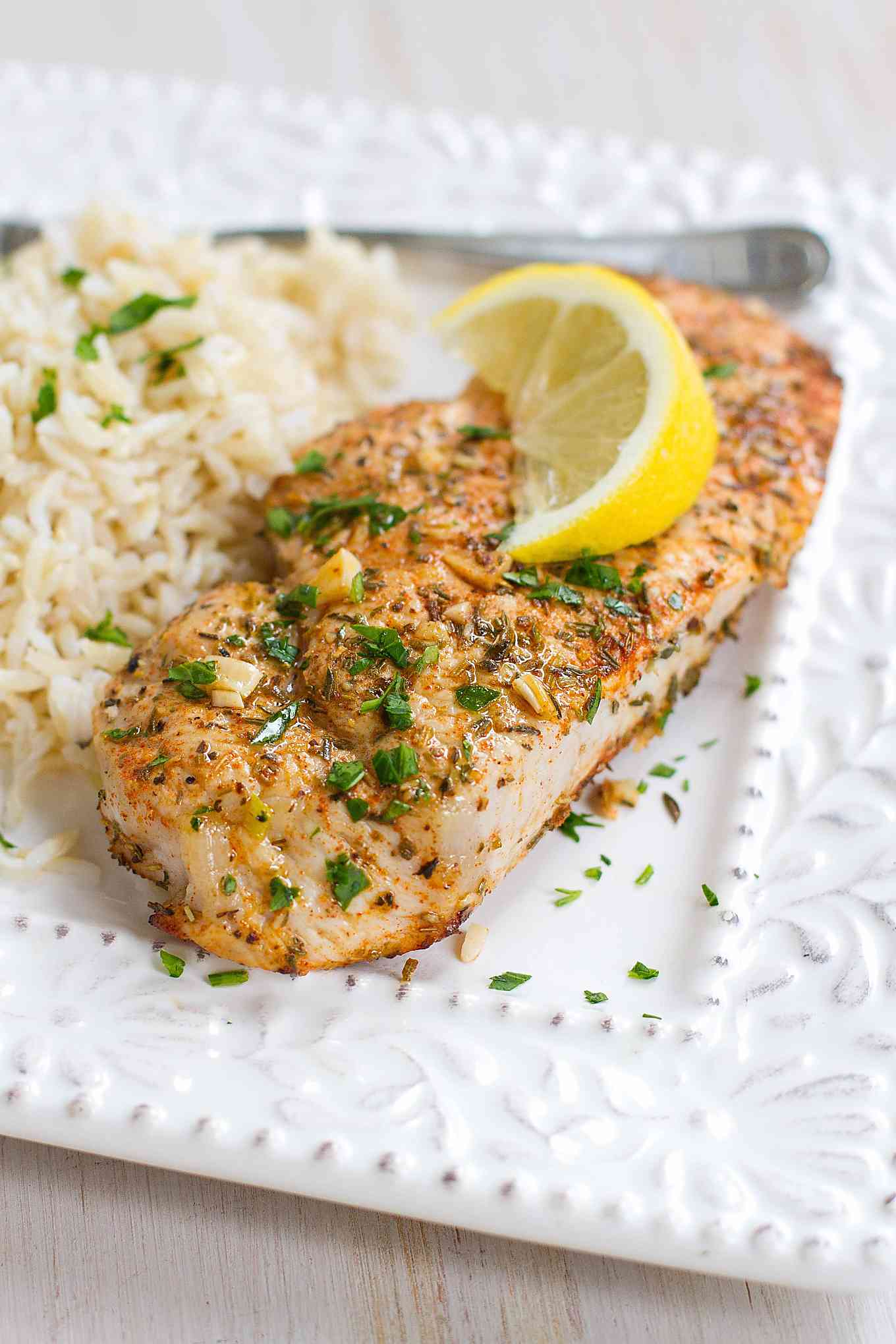 "These Easy Herb Lemon Pork Chops will become a regular on your family's menu. Tender and absolutely delicious, serve these up with sides or on a salad!" Recipe from CookinCanuck. 272 Calories.
Mozzarella Chicken In Tomato Sauce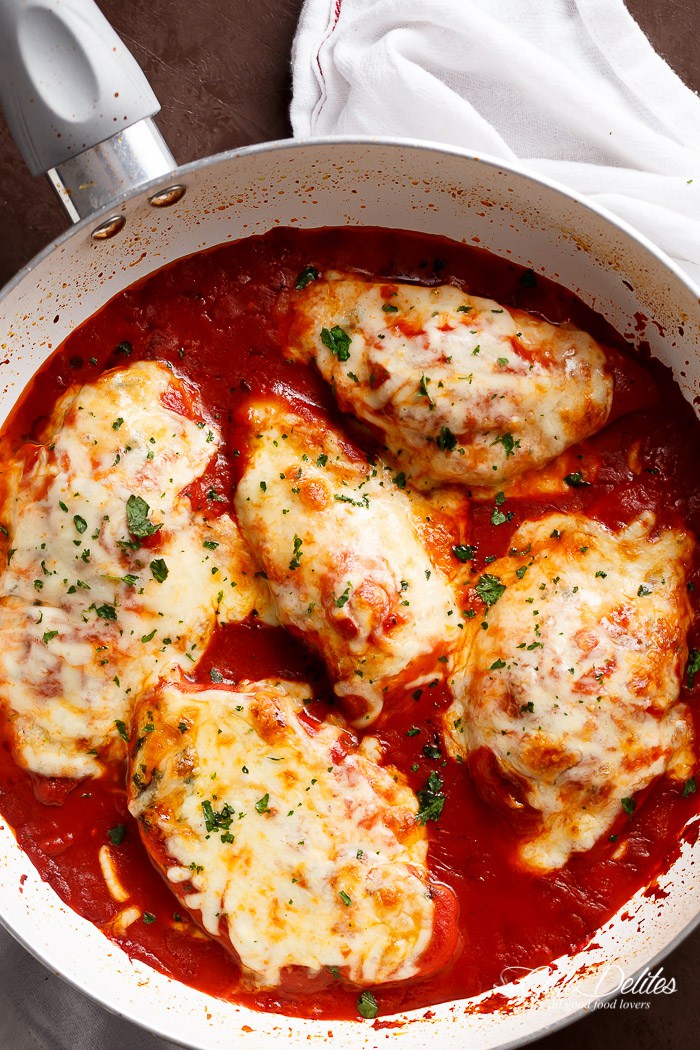 "If you don't have the time to make a restaurant quality dinner, but you're craving those flavours, this recipe is for you! Mozzarella Chicken In Tomato Sauce always wins!" Recipe from CafeDelites.
Saucy Low Calorie Chicken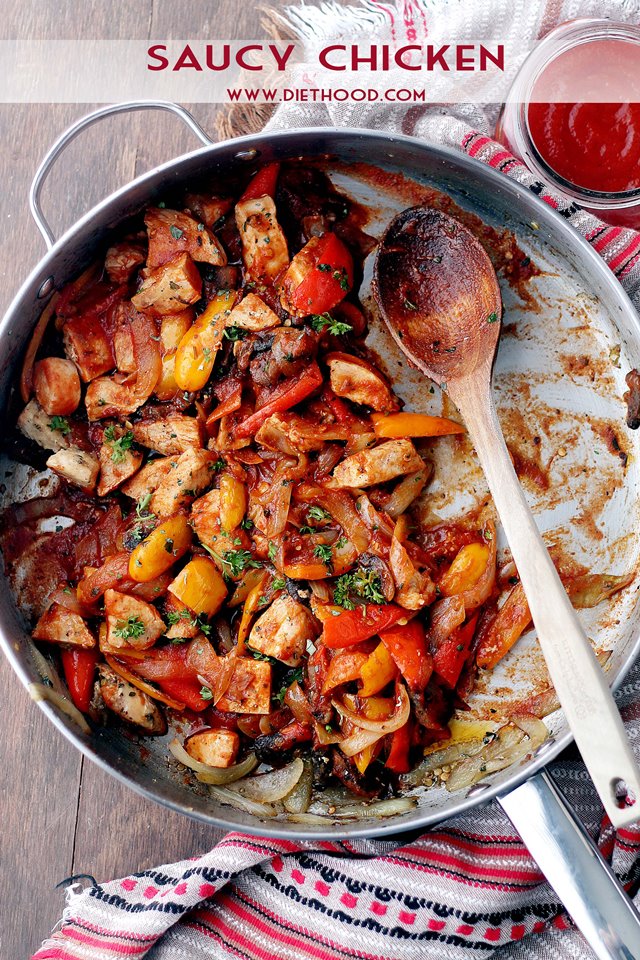 "Super quick, flavorful pan-fried chicken, combined with tender veggies and a delicious Ragú Traditional Sauce." Recipe from DietHood.
Crispy Baked Chicken Tenders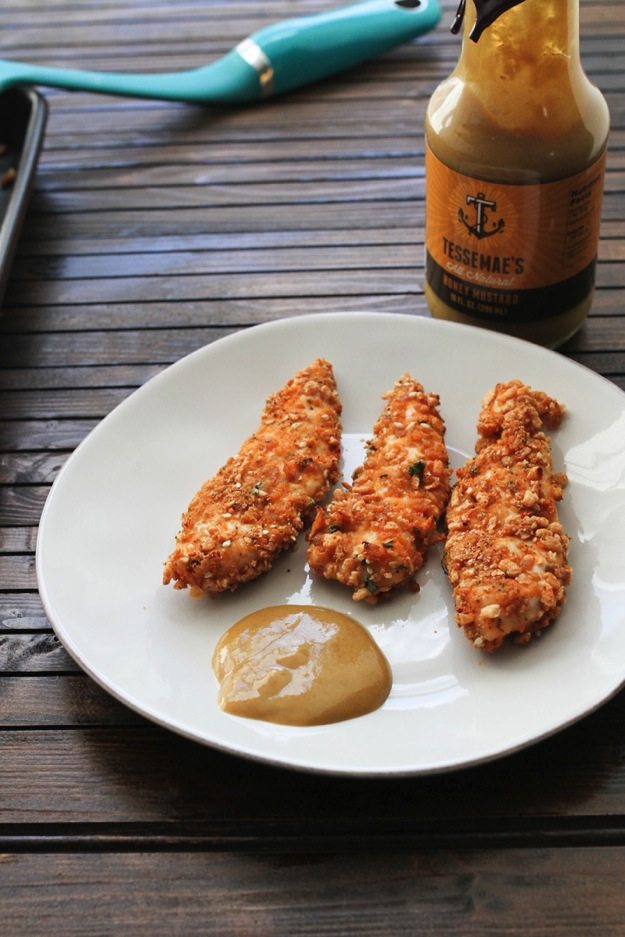 "If you're looking for a way to spice up your usual chicken dinner, try these gluten-free baked chicken tenders!" Recipe from EatingBirdFood. 172 Calories.
Chicken Fried Rice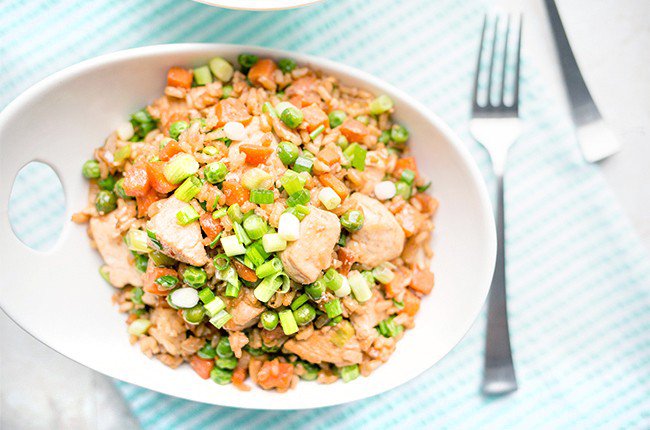 "Chinese takeout may be a preferred weekly meal for your family, but this lightened-up version of chicken fried rice could easily replace that high-calorie, -fat and -sodium to-go order. This is also the perfect way to sneak veggies onto your little ones' plates. They'll never notice they're eating peas, carrots and onions mixed in with that yummy chicken and rice!" Recipe from WomanInsta. 290 Calories.
Hawaiian Baked Chicken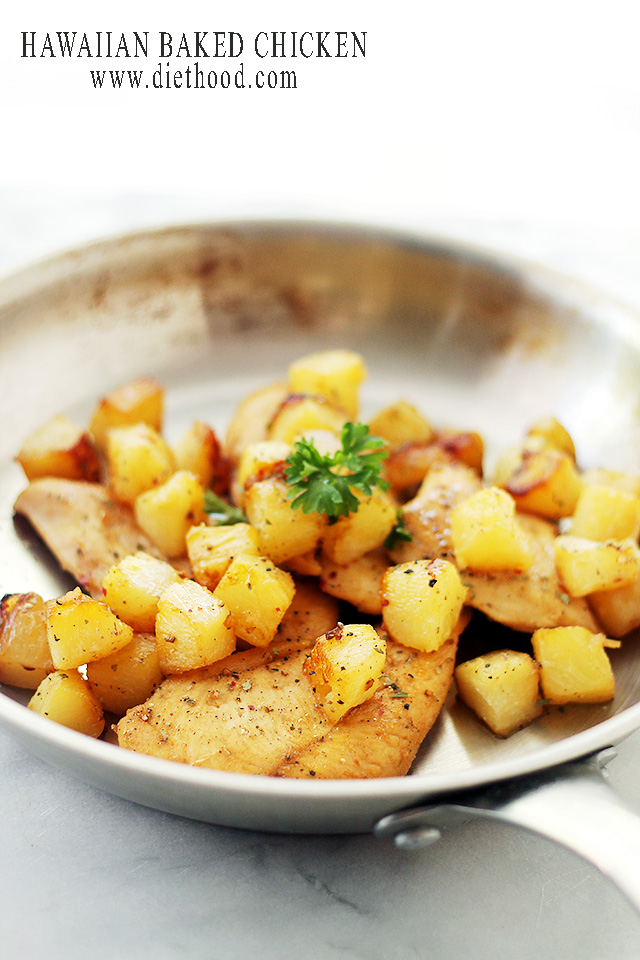 "Hawaiian Baked Chicken: Marinaded in a garlicky-pineapple juice mixture, this is the most flavorful chicken you will ever make!" Recipe from DietHood.
Sesame Salmon and Cucumber Salad
"Eating a low carbe dinner is one trick she's learned to avoid going to sleep uncertain about her blood sugar. Plus, with a simple salad and quick-cooking fish, it doesn't take long to prepare." Recipe from TheGantzery.
Spaghetti Squash Mac & Cheese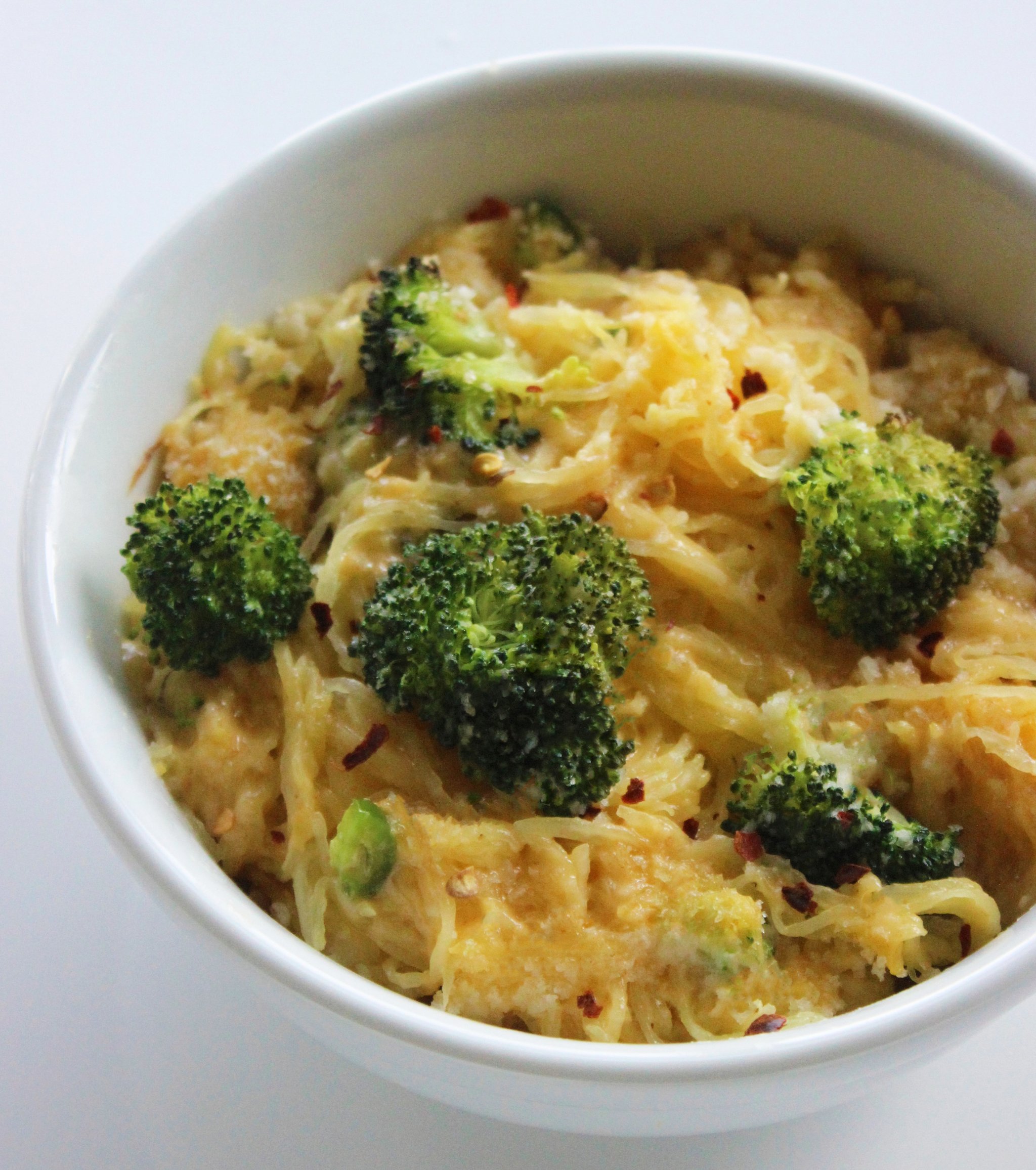 "Lighten things up with this healthy twist on mac and cheese that amps up the nutritional value as it cuts back on calories and carbs." Recipe from FitSugar. 296 Calories.
Skinny Thai Green Chicken Curry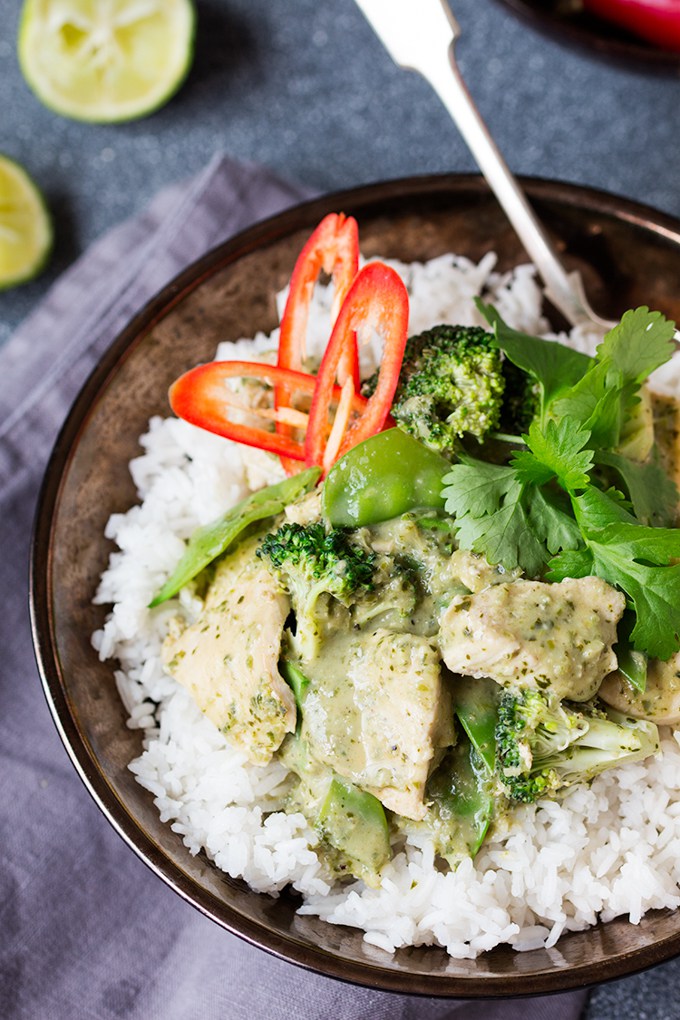 "A fresh, fragrant and light-but-creamy Thai chicken curry. Only 500 cals per serving INCLUDING rice (226 cals without). Less than 2 syns per serving on Slimming World Extra Easy." Recipe from KitchenSanctuary.
Chicken With Pesto Zoodles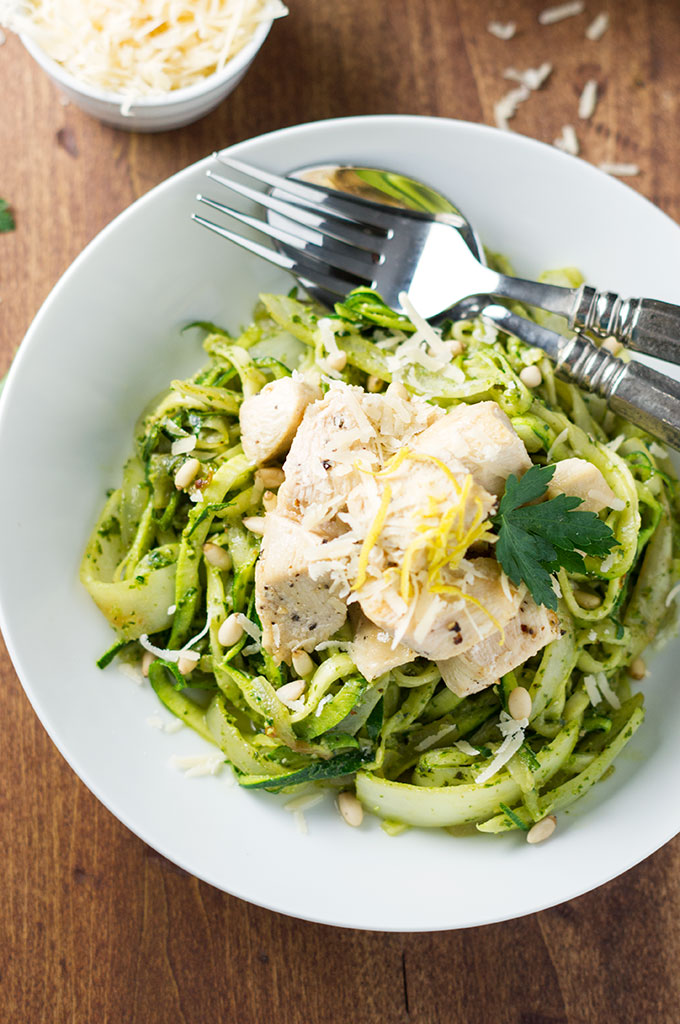 "When the zoodles are cooked al dente, I stir in the pesto and watch as it heats up and coats the zucchini and onions. As soon as the pesto is incorporated and the chicken is done, time to plate up and eat!" Recipe from BoundByFood.com.
Mushroom and Spinach Cauliflower Pilau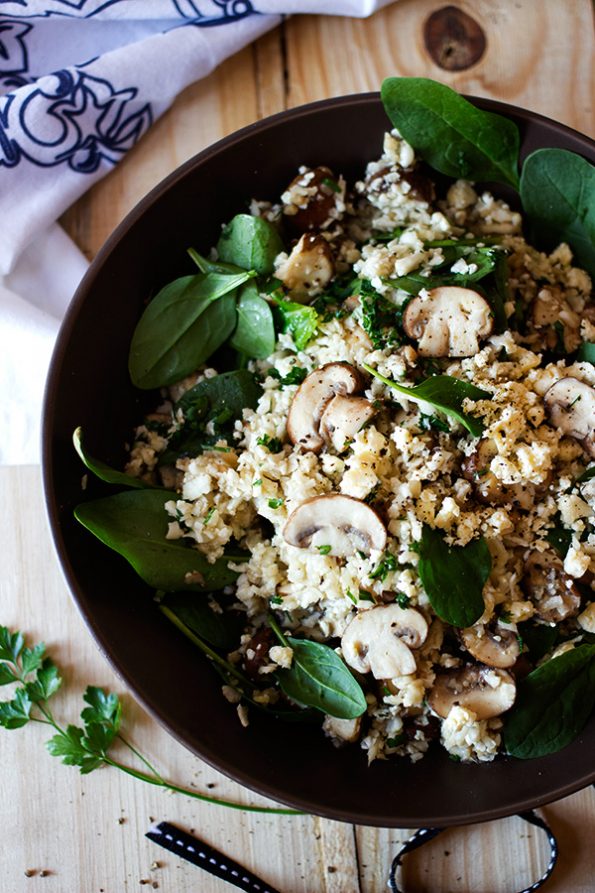 "So for my second blendability recipe I decided to use Portabellini mushrooms, sauteed with a little garlic, butter and chilli, then combined with grated cauliflower and baby spinach and topped off with fresh chopped parsley. As easy as that. Combining the mushrooms with these fresh ingredients, a simple dish is transformed into a healthy and wholesome meal." Recipe from Aninas-Recipes.
Green Chile Chicken Enchilada–Stuffed Spaghetti Squash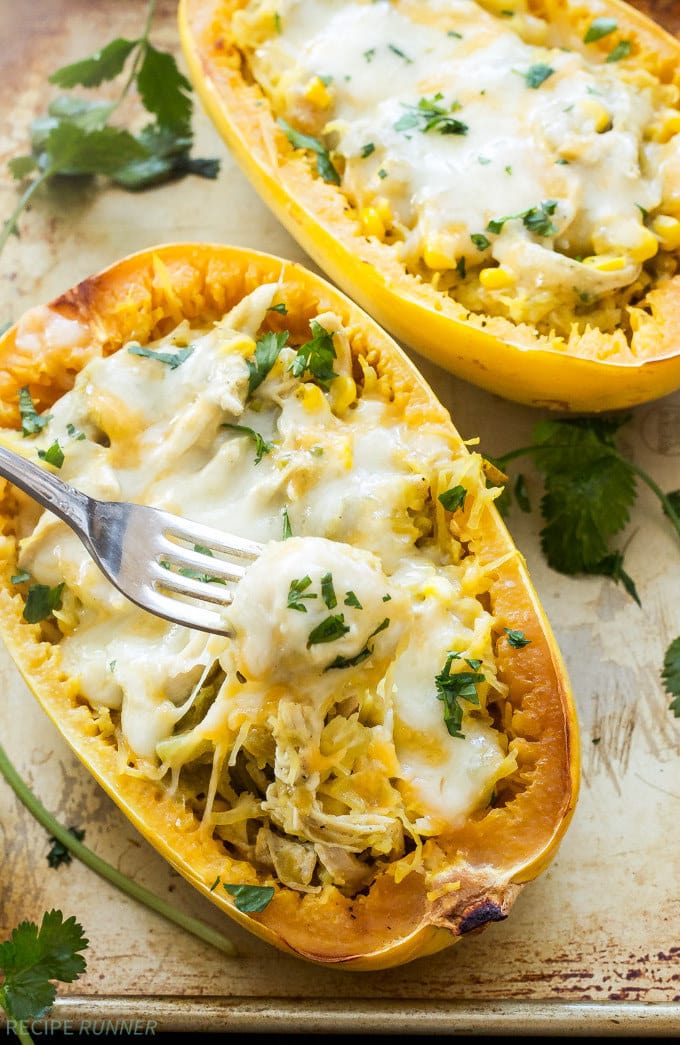 "Basically it's how I make chicken enchiladas only instead of wrapping it up in a tortilla I mixed the filling in with the strands of spaghetti squash. Not only was it easier because I didn't have to individually roll up each enchilada, but I was also getting a serving of vegetables in." Recipe from RecipeRunner.
Cauliflower Crust Pizza
"If Saturday is pizza night at your house, try this veg-powered alternative. Freshly grated cauliflower serves as the base for the creative and delicious crust that you can fold up just like traditional pizza!" Recipe from FitSugar. 272 Calories.
Pan Seared Chicken Breast With Sun-Dried Tomatoes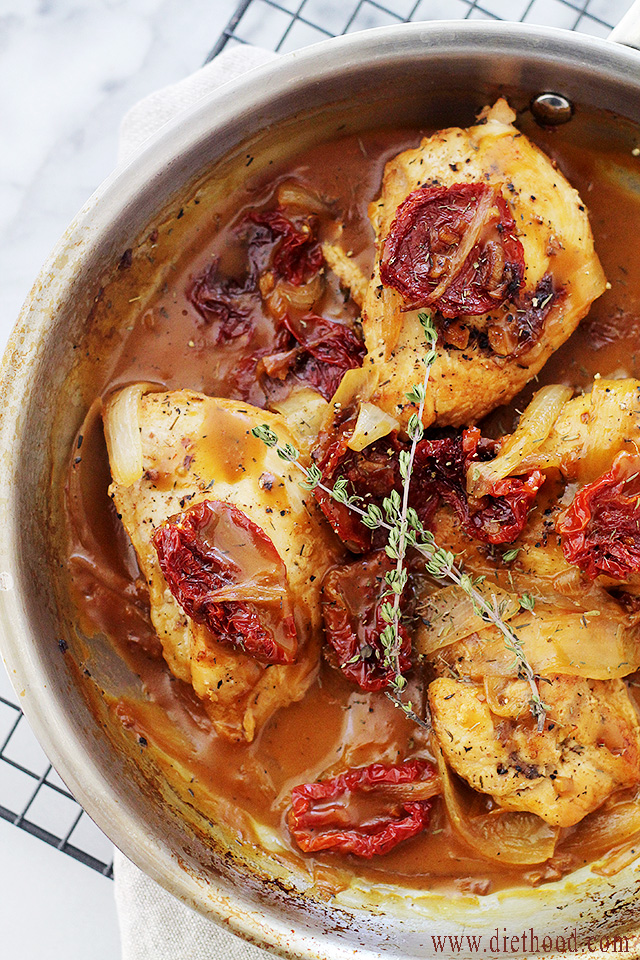 "Pan-Seared Chicken Breasts with Sun Dried Tomatoes: Quick, easy and delicious pan-seared chicken with sun dried tomatoes and a flavorful sauce. Recipe from Diethood. 319 Calories.
Garlic Chicken & Potatoes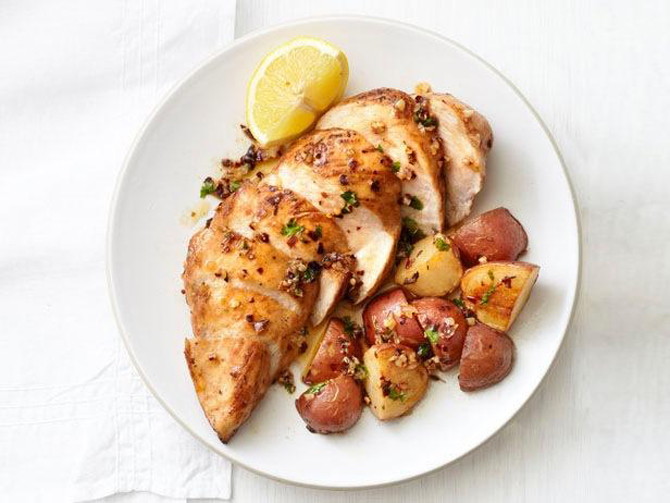 "Hearty, flavorful, easy, and just under 500 calories! I predict this dish will soon become a family weeknight staple." Recipe from FoodNetwork. 474 Calories.
Healthy Buffalo Chicken Wrap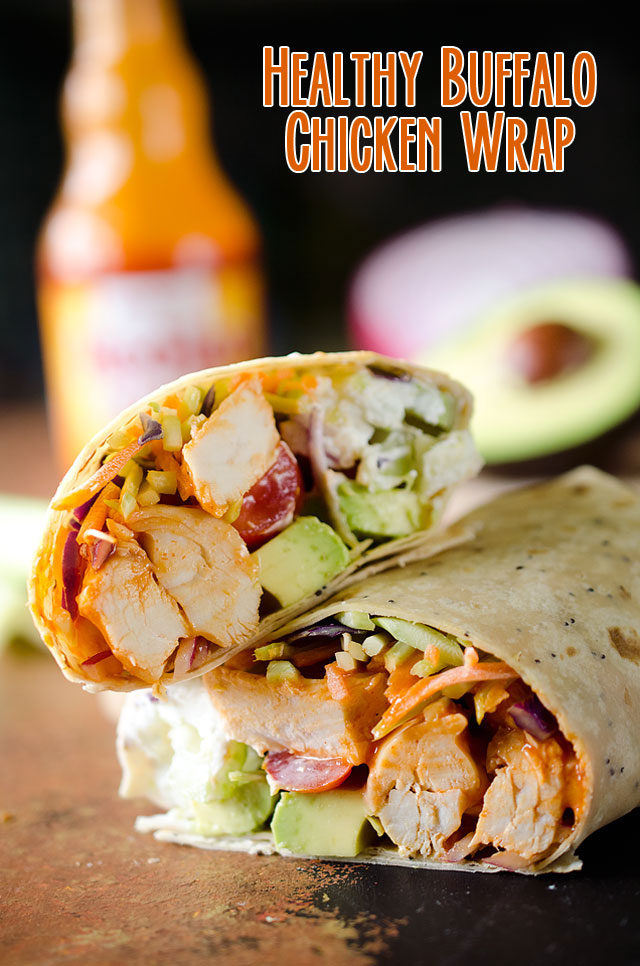 "Healthy Buffalo Chicken Wrap is a light and healthy wrap filled with buffalo chicken breasts, Greek yogurt, bleu cheese crumbles, broccoli slaw, celery, avocado and tomatoes for an easy lunch with bold flavor!" Recipe from TheCreativeBite. 317 Calories.
One-Pot Chicken, Quinoa, Mushrooms & Spinach Recipe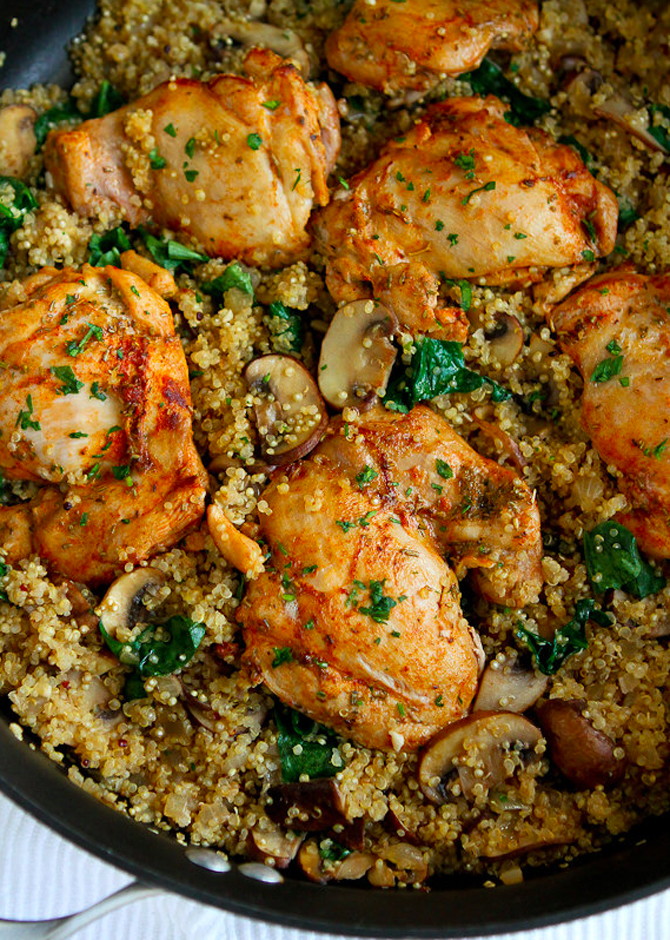 "In this easy one pot chicken recipe, chicken, quinoa, mushrooms and spinach nestle together for a healthy meal with minimal clean-up." Recipe from CookinCanuck. 258 Calories.
Chicken & Asparagus Stir Fry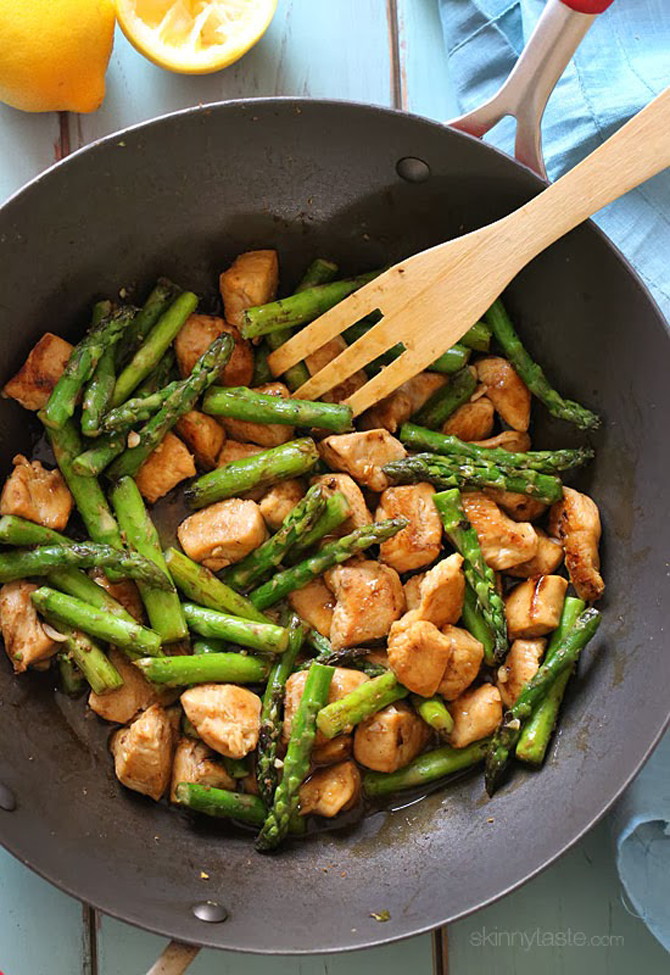 "Brighten up your winter dinner with the refreshing taste of lemon and the ease of this recipe. Serve over brown rice for a complete meal your family is bound to love." Recipe from SkinnyTaste. 268 Calories.