31 Veganuary Recipes You Need To Make If You're Trying A Plant Based Diet!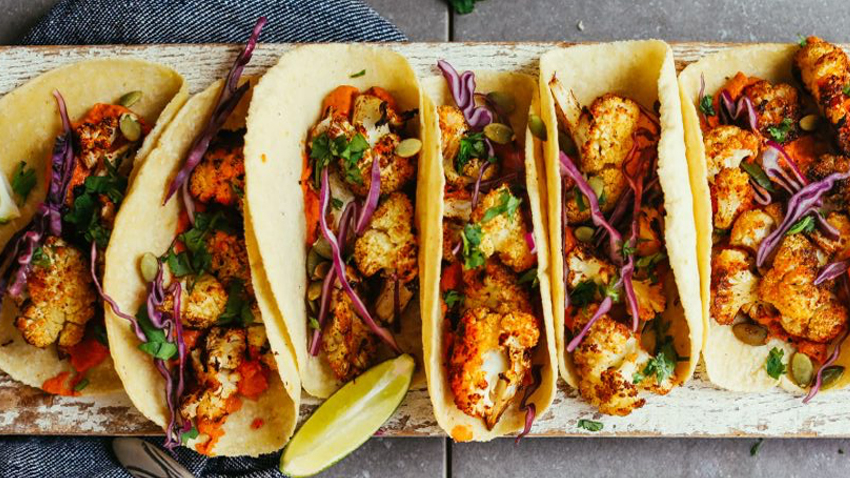 A new year can mean a new start for your health and fitness lifestyle and could be the perfect time to try out a new eating philosophy. "Veganuary" has become popular concept over the past few years as a plan to go Vegan for the month of January, to see if you can do it, if you enjoy it, and possibly try it out past January and throughout the year.
If you've been considering going Vegan, or simply want to cut back on certain foods such as meat and dairy products, it could be a brilliant idea to try. It doesn't matter if you want to completely stick to the plan for the full month or just want to enjoy some Vegan meals that you haven't tried before, trying some of these Vegan recipes is for everybody!
So we have collected 31 incredibly, delicious vegan recipes that you can add into your Veganuary plan or healthy eating diet. Soups, pasta, salads, burgers, wraps, sandwiches, there is something for everyone to enjoy! As always, save and share you favourites to make this week! Enjoy!

31 Veganuary Recipes You Need To Make If You're Trying A Plant Based Diet!
1. Roasted Cauliflower Tacos With Chipotle Romesco
"This is an easy, 30-minute recipe with smoky, roasted cauliflower and a spicy romesco-inspired sauce. It's also plant-based, gluten-free, and oil-free optional and grain-free optional. I do a lot for you people! ". Recipe: MinimalistBaker
2. Vegan Mushroom Philly Cheese Sandwich/Burger
"These Philly Cheese sandwiches are meat and dairy free, but still super cheesy and satisfying! And packed with flavor!" Recipe: LunchBoxBrunch.
3. Green Goddess Fig Nourish Bowls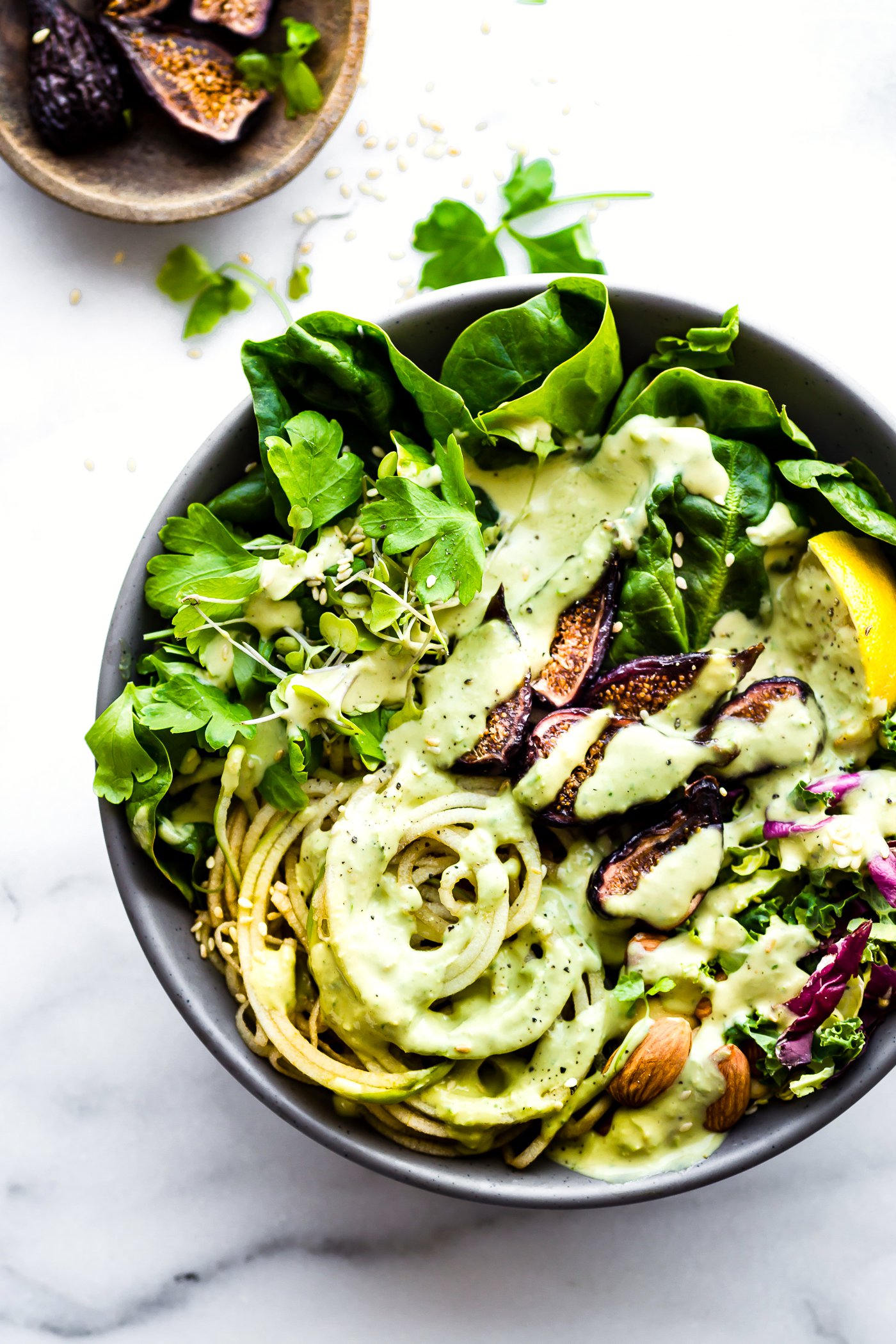 "Quick and Easy Green Goddess Fig Nourish Bowls! These plant powered nourish bowls are packed with super greens, healthy fats, nature's candy (Fruit and Figs), and topped with homemade green goddess dressing. They will fill you up and nourish you all at once. Paleo, Vegan, and Whole 30 friendly!" Recipe from CotterCrunch.
4. The Best Vegan Meatball Sub Ever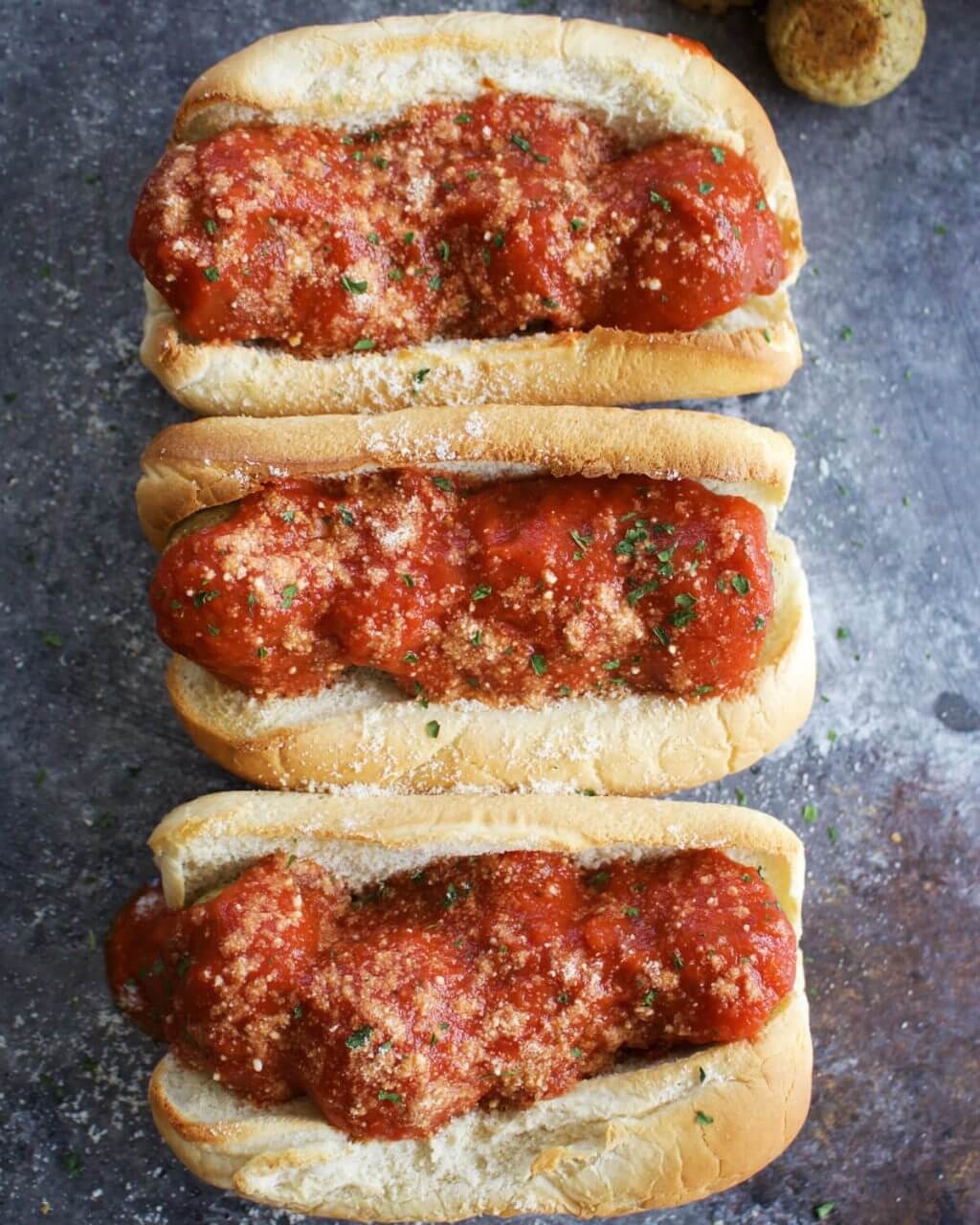 "I decided to call these the best vegan meatball subs ever because, well, they are – thanks to the super delicious chickpea meatballs! Top with your fav marinara sauce, some vegan parm, and you have an amazing dinner or lunch that will please the whole family.". Recipe: KarissasVeganKitchen
5. Vegan Red Thai Coconut Curry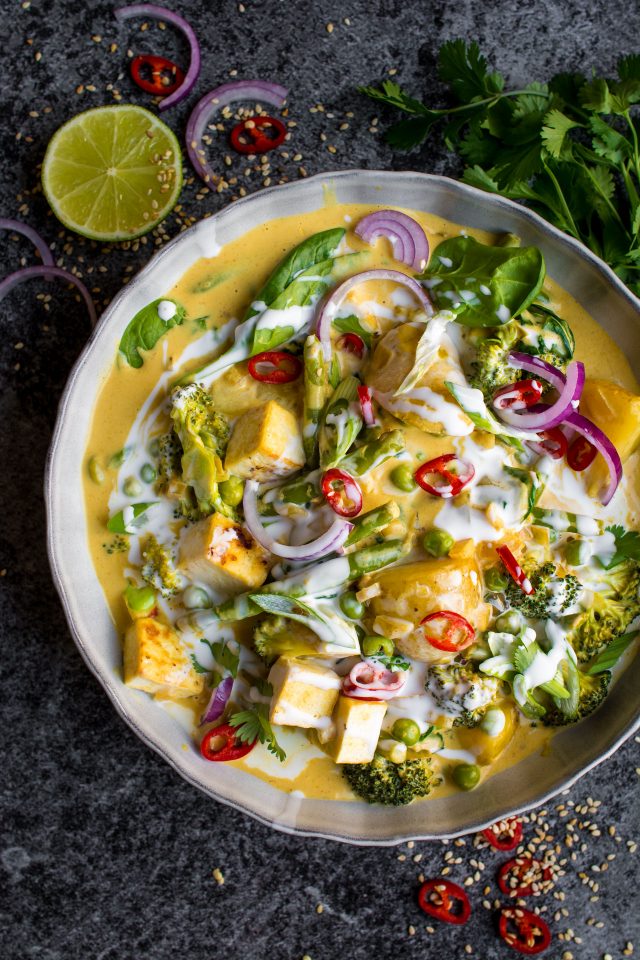 "This creamy Vegan Red Thai Coconut curry is full of delicious veggies and covered with a thick, coconut sauce. It's the perfect winter warmer for these cold evenings!" Recipe: LaurenCarisCooks.
6. Vegan Pad Thai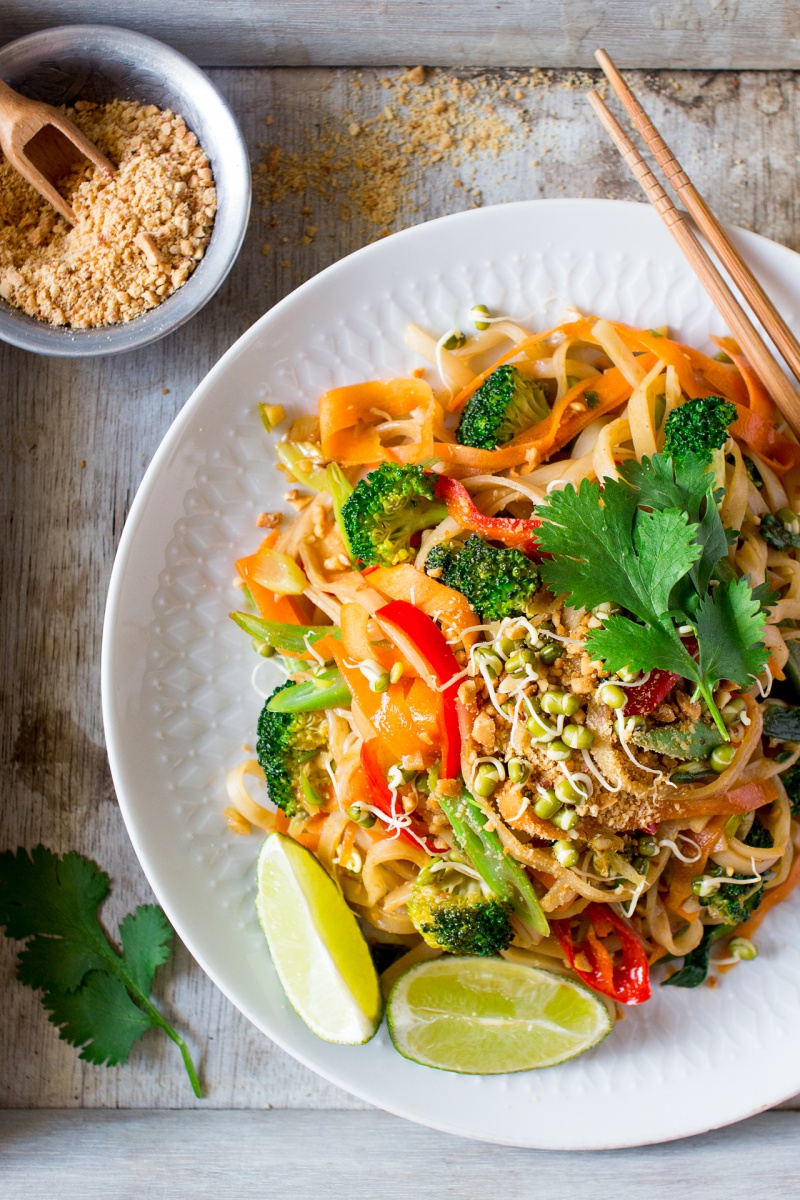 "Pad Thai (or Phad Thai) has been one of my favourite dishes for a while now. Apparently, it's also one of the most popular Thai dishes outside Thailand so I'm hoping this simple recipe will be a welcome addition to the blog. It's one of these dishes that are not that difficult to veganise." Recipe: LazyCatKitchen.
7. Sweet Potato Cauliflower Curry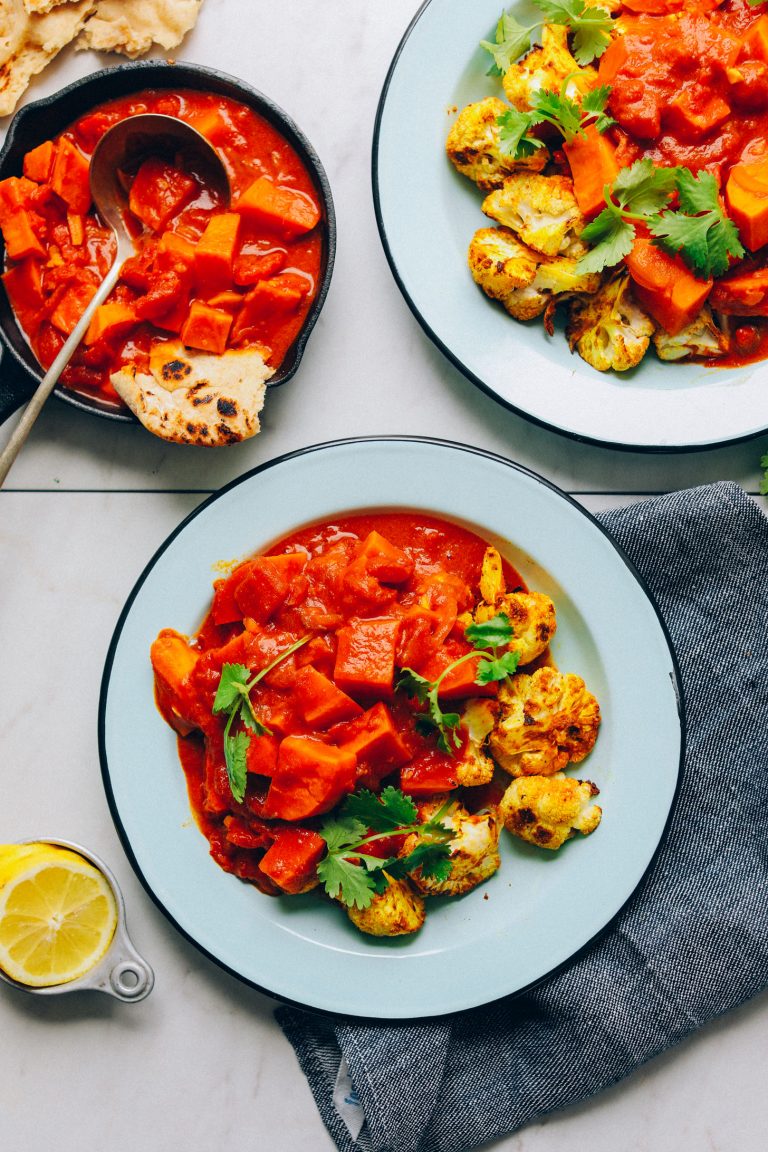 "A cauliflower sweet potato curry inspired by aloo gobi with sweet potatoes and roasted cauliflower! Simple ingredients and 30 minutes required for this delicious, hearty plant-based meal!". Recipe: MinimalistBaker
8. Creamy Zanzibar Carrot & Tomato Soup
"This creamy Zanzibar carrot-tomato soup is an African Inspired type of dairy free bisque. Made with simple wholesome ingredients such as peeled tomatoes, yellow carrots, spices, herbs, coconut milk, and a curry or chili paste. It's quick to make and naturally paleo and vegan. A soup for any season!" Recipe: CotterCrunch.
9. Peppery Broccoli Arugula Pesto Pasta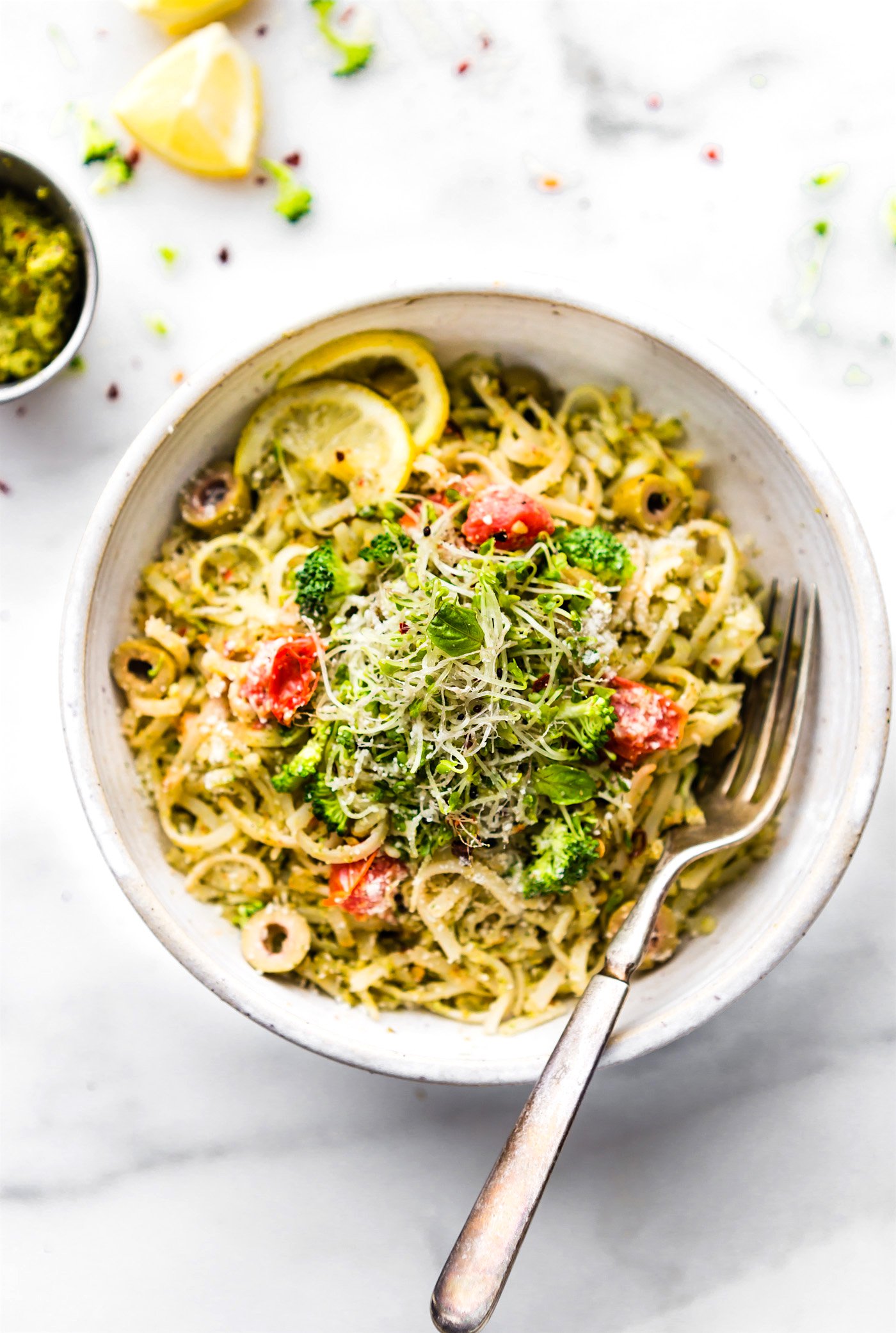 "This gluten free Peppery Broccoli Arugula Pesto Pasta is gonna rock your world! A pesto pasta with broccoli and arugula and packed with nutrition and flavor! An easy pasta dinner for a quick weeknight dinner or healthy lunch! Ready in under 30 minutes and vegan friendly. Can't beat that now, can you?" Recipe: CotterCrunch.
10. A Very Good Split Pea Soup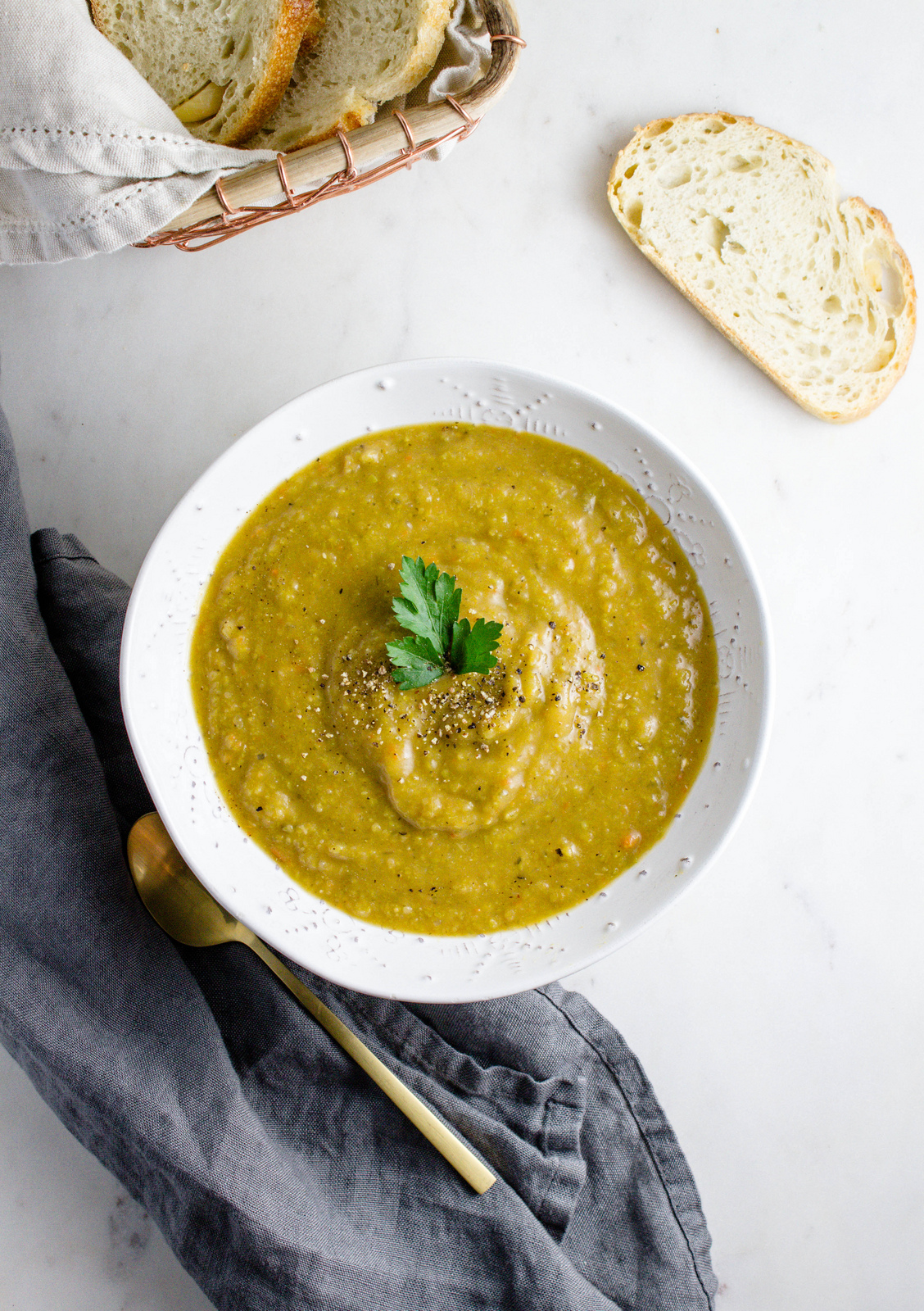 "Thick and hearty, this split pea soup is filled with the usual mirepoix and medley of spices, plus added cabbage for extra heftiness and flavor. Whether you choose to cook it in your slow cooker or on the stove top, it's extremely healthy and so easy to make." Recipe from Simple-Veganista.
11. Teriyaki Tofu-Tempeh Casserole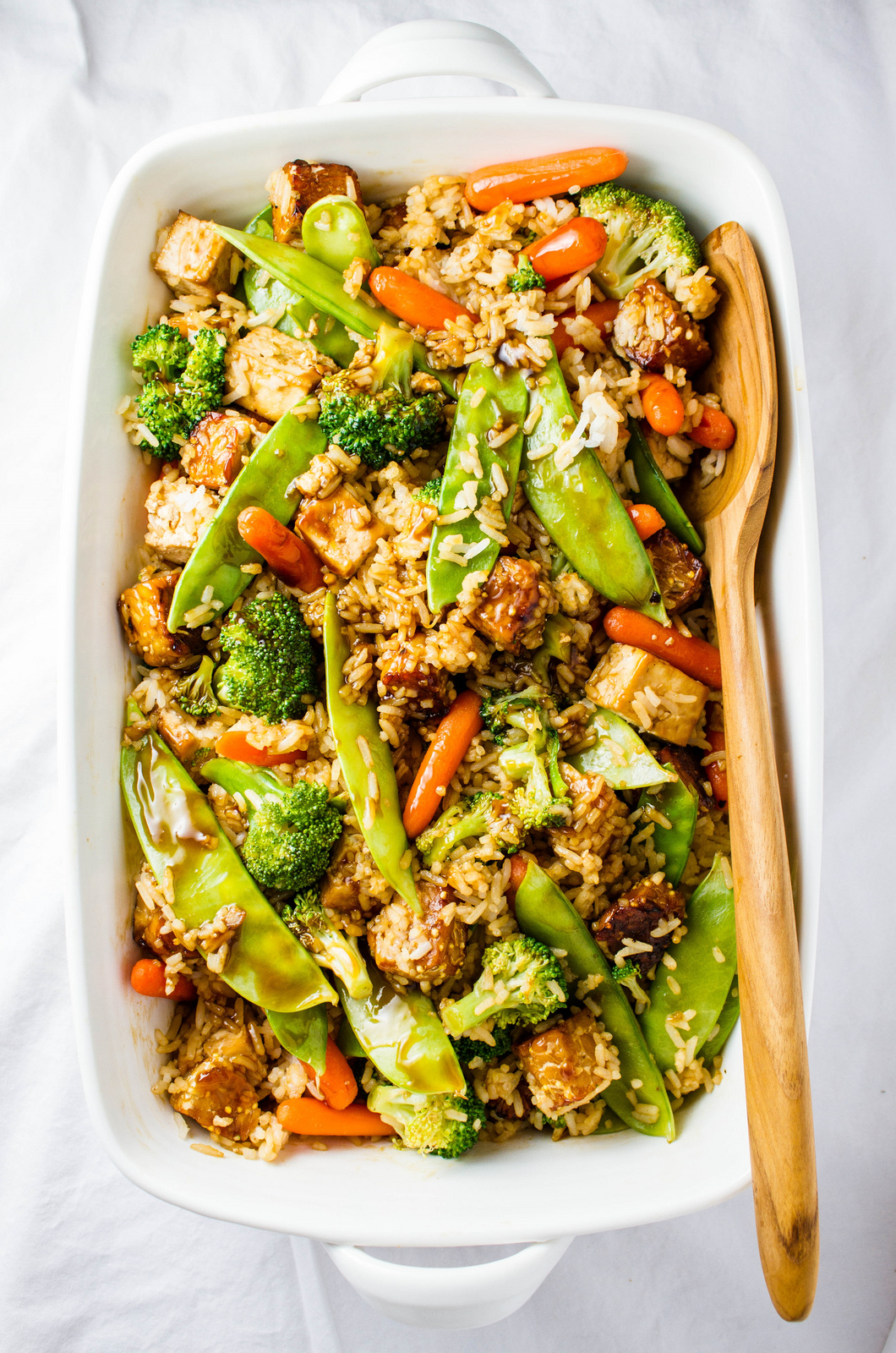 "I know you're going to love this meal. It's a wonderful combination of fluffy rice, steamed veggies, baked tofu-tempeh all mixed together in a flavorful homemade teriyaki sauce. It's another great addition to the recipe collection!". Recipe: Simple-Veganista.
12. The Ultimate Vegetable Lasagna
"I've had the pleasure of eating this lasagna bit by bit over the last two days. Even the leftovers have been great! I've been craving comfort foods now and this was an excellent meal to satisfy that craving! I think my internal clock knows that the fall is coming and it's time for warm and cozy meals.". Recipe: Simple-Veganista.
13. Verde Taco Sliders
"All the goodness of green in a taco! Roasted poblanos, avocados, scallions, fresh squeezed limes and cilantro all make for great taco slider toppings. I love tacos and make them often as a snack or meal. They're quick, easy and perfectly satisfying.". Recipe: Simple-Veganista.
14. Dill Pesto Potato Wedge Salad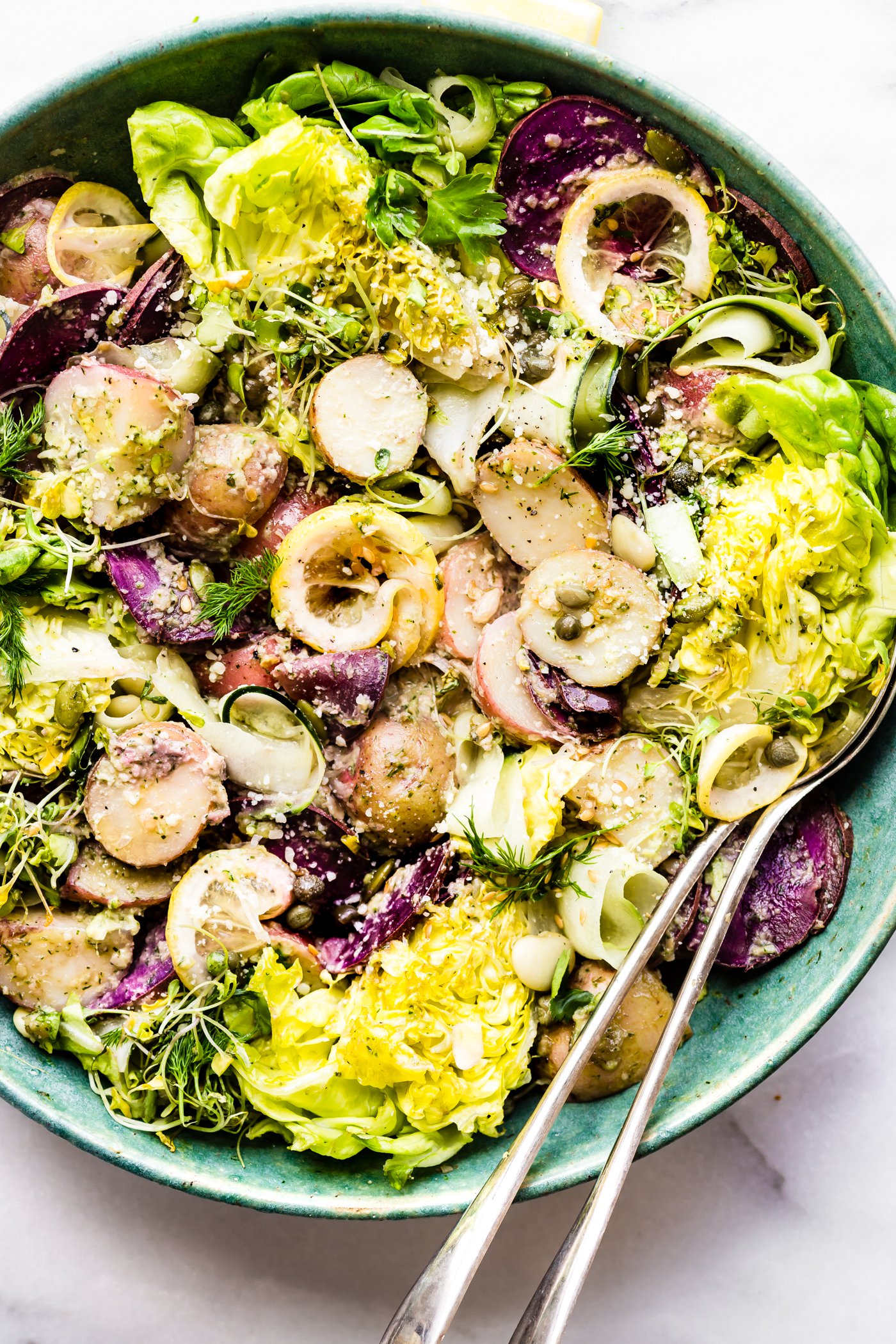 "This Dill Pesto Potato Wedge Salad makes a great healthy side dish for your next barbecue or gathering! A crunchy wedge salad and creamy potato salad all packed into one then tossed a zippy dill pesto sauce. It's gluten free, paleo/vegan friendly, and super easy to make." Recipe: CotterCrunch.
15. Roasted Vegetable Tacos With Chimichurri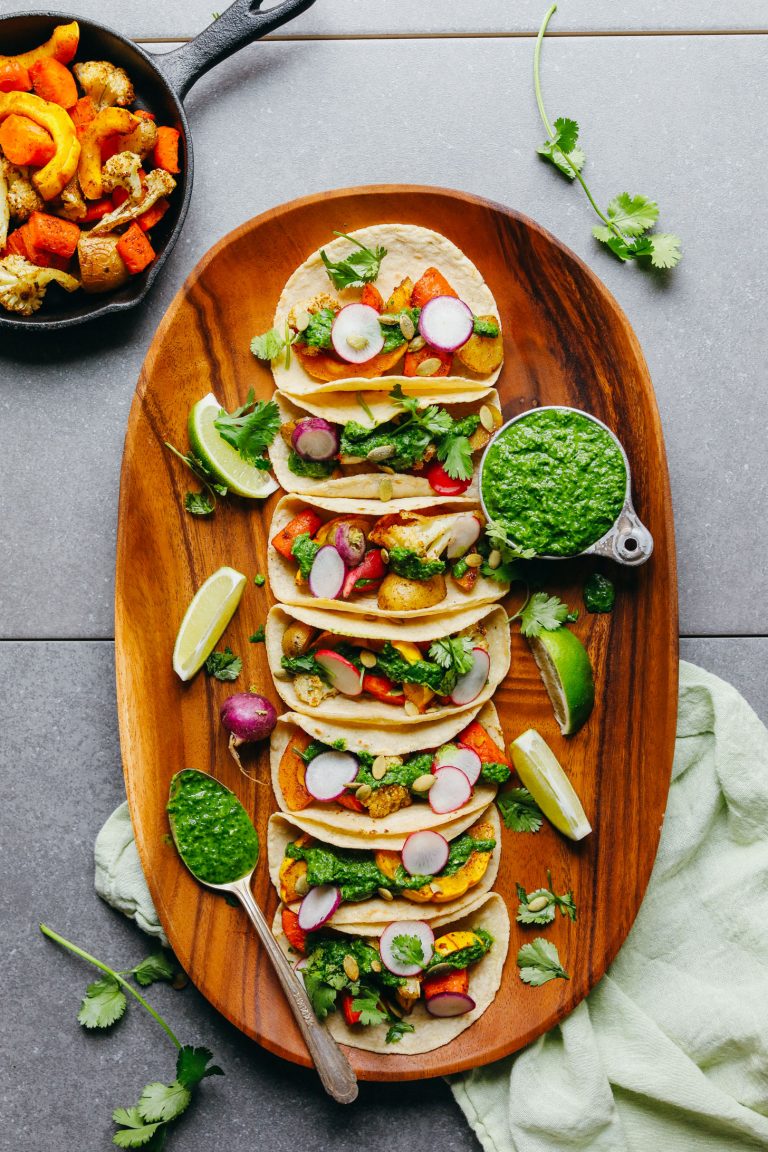 "Consider this a taco remix: colorful, seasonal roasted vegetables wrapped inside warm corn tortillas and topped with vibrant green chimichurri sauce.". Recipe: MinimalistBaker
16. Moroccan Lentil Stuffed Eggplants
"Stuffed baked eggplant with Moroccan-spiced lentils! Just 9 ingredients, big flavor, plenty of protein and fiber, and the perfect side dish or entrée.". Recipe: MinimalistBaker
17. Vegan Pumpkin Mac 'N' Cheese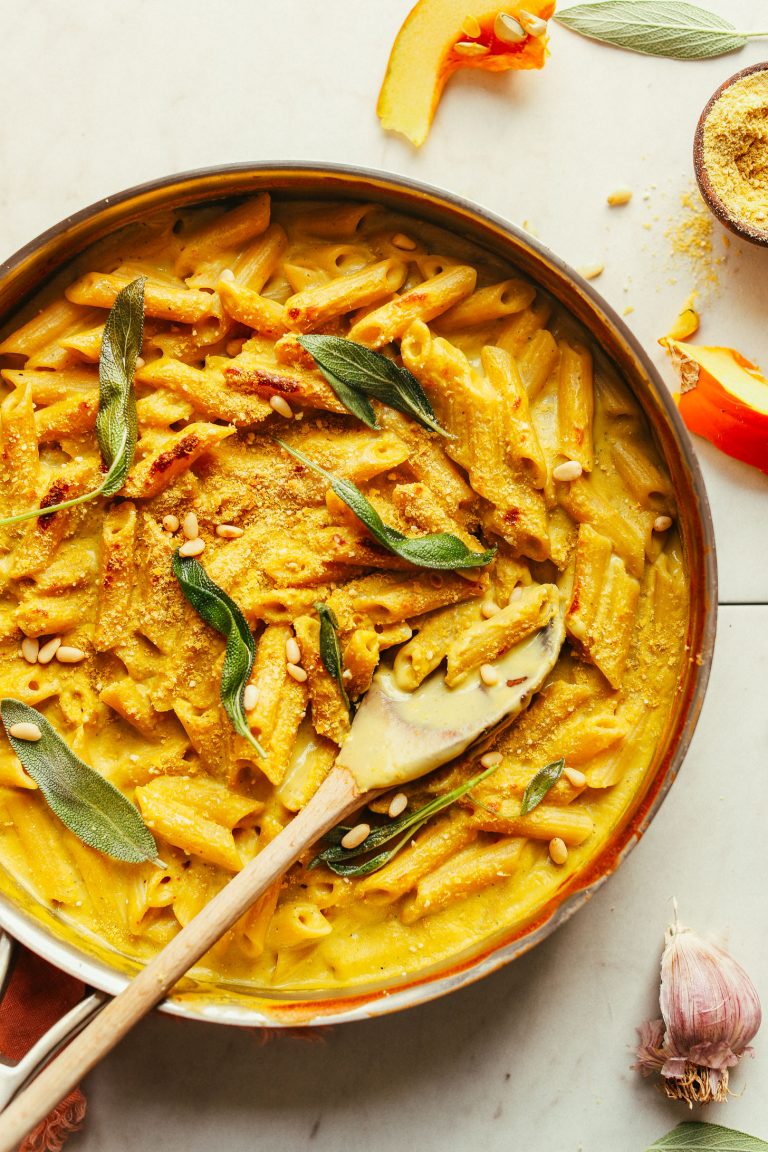 "Amazing, creamy, flavorful pumpkin mac 'n' cheese made with 10 simple ingredients! The perfect dairy- and gluten-free entrée for fall and the holiday season!". Recipe: MinimalistBaker
18. Spicy Peanut Tofu Burger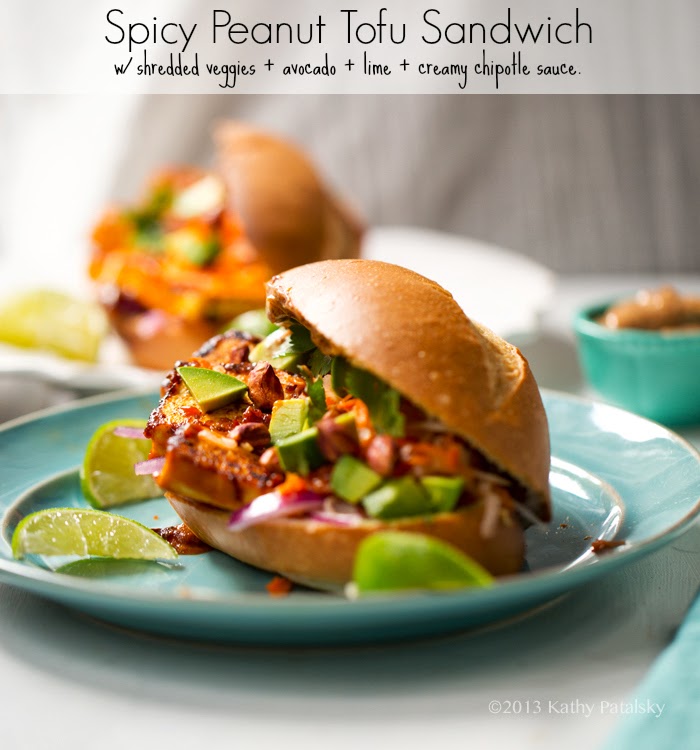 "This Spicy Peanut Tofu Sandwich reminds me of a "bánh mì" Vietnamese sandwich due to the crunchy shredded veggies mingling with fresh cilantro all served on a hearty baguette style, long sandwich roll. But really, this protein-infused recipe has an identity all its own." Recipe: LunchBoxBrunch.
19. Thai Sweet Potato Veggie Burgers With Spicy Peanut Sauce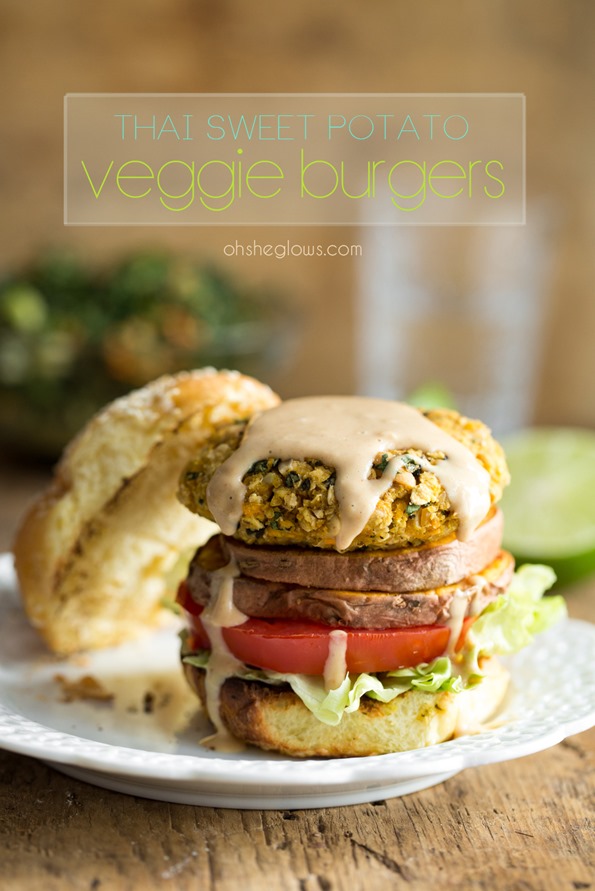 "These Thai-inspired veggie burgers are made with a base of shredded sweet potato and chickpeas and are flavoured with fresh ginger, garlic, cilantro, basil, and a sprinkle of lime juice and toasted sesame oil. Oh my lanta! If that weren't enough, salted, roasted chopped peanuts are stirred into the mix to give these burgers a wicked nutty crunch that's just downright hard to resist." Recipe: OhSheGlows.
20. BBQ Lentil Veggie Burger With Mango Carrot Slaw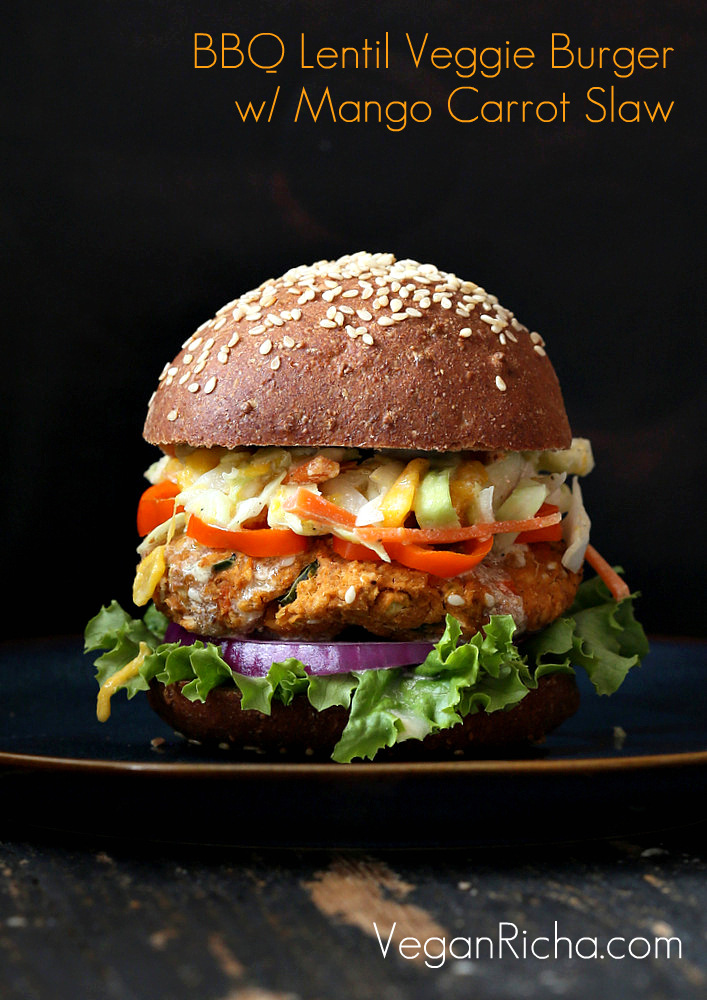 "BBQ Lentil Veggie Burger with Mango Carrot Slaw and barbecue sauce. Serve as burgers or over a crisp salad. Easy lentil veggie burger. Vegan Recipe. Can be gluten-free, soy-free" Recipe: VeganRicha.
21. Noodle Free Pad Thai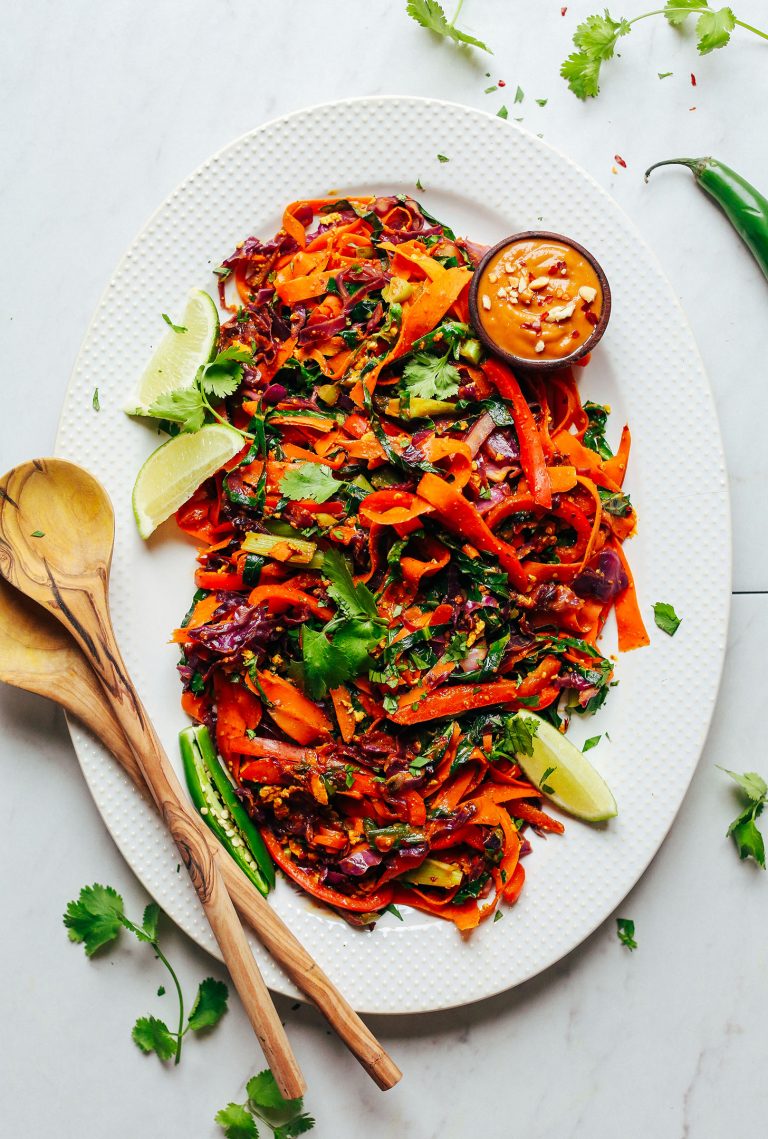 "Amazing noodle-free Pad Thai with rainbow vegetables and a spicy-sweet almond butter sauce. Just 30 minutes required and SO versatile!". Recipe: MinimalistBaker
22. Glowing Green "Pasta" Primavera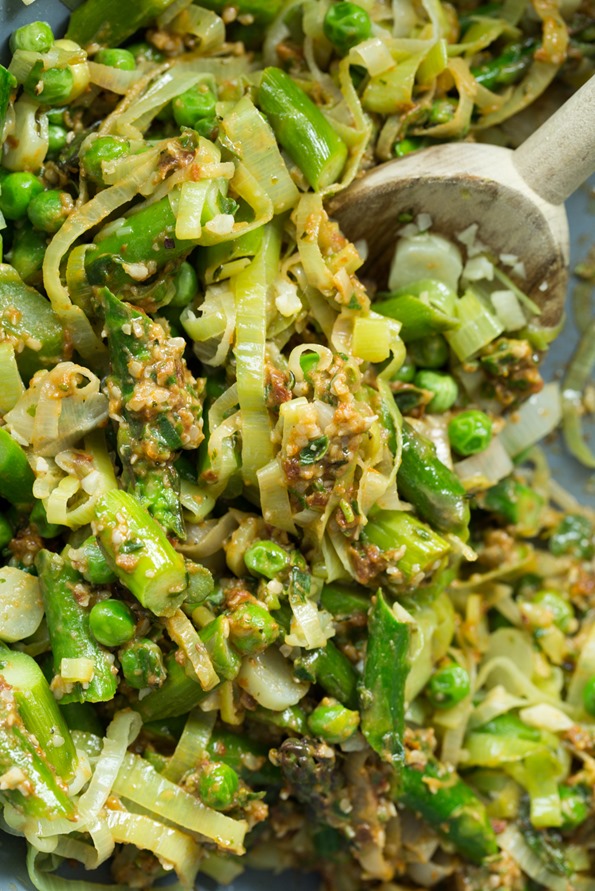 "This recipe is an ultra-fresh take on pasta primavera – a spring vegetable pasta dish. Rather than relying on heavy pasta for a spring recipe, I decided to lighten things up with a fresh carrot "pasta", which is simply julienned carrots. Obviously, the carrot pasta tastes nothing like actual pasta, but I promise you won't miss it one bit!". Recipe: OhSheGlows
23. Vegan & Gluten Free Kare-Kare (Filipino Peanut Stew)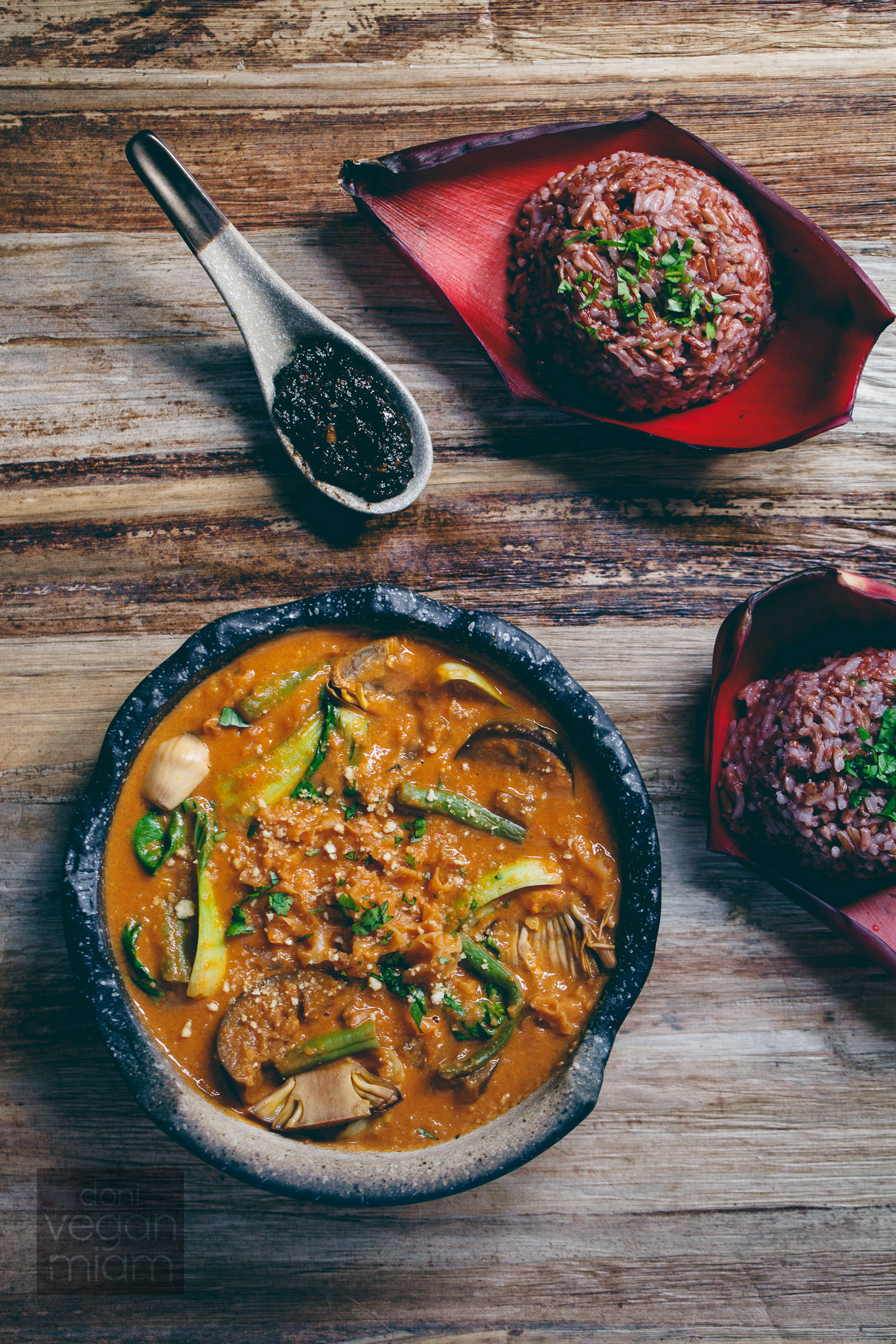 "After several days in the kitchen testing and altering recipes, I finally perfected my Vegan & Gluten-Free Kare-Kare (Filipino Peanut Stew) with banana blossom, adapted from the recipe of the fabulous Astig Vegan and served with her tasty vegan bagoong". Recipe: VeganMiam
24. Garlic Kale Pesto Pasta
"Garlic, balsamic vinegar and kale come together to create a boldly flavored pesto. Only a few ingredients are needed for a big impact. Rich acidic flavor comes from the balsamic vinegar, while the sweet peas help to balance it. The kale keeps it fresh tasting. Tossed with fresh pasta, this makes a very filling, healthy and delicious meal that comes together really quickly.". Recipe: TheVegan8
25. Homemade Italian Vegan "MeatBalls"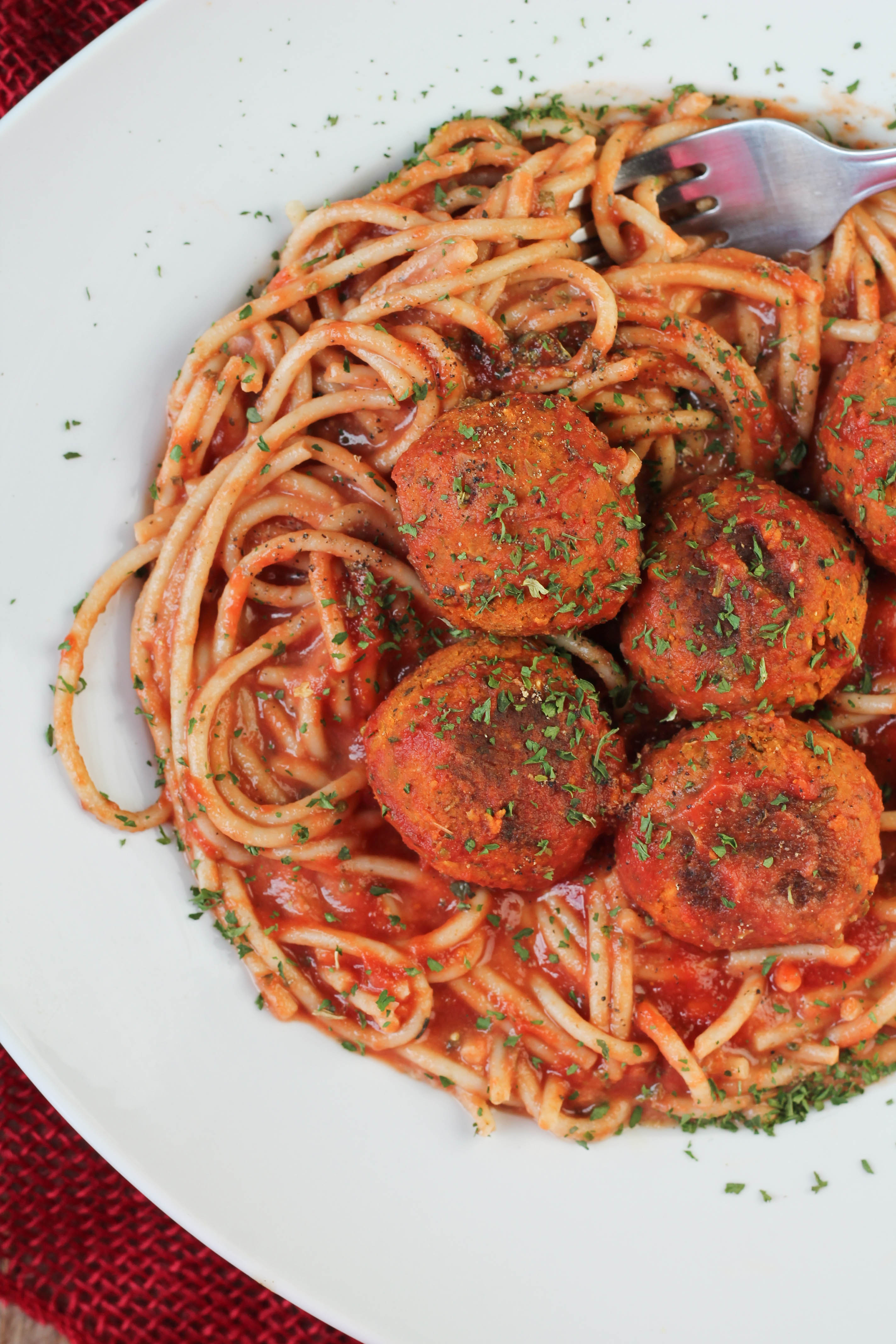 "Classic Spaghetti and Meatballs gets a vegan makeover with these amazing Italian dried herb infused veggie balls. Made with chickpeas and couscous for amazing texture. These are loaded with flavor and spice and will leave you feeling wonderfully satisfied.". Recipe: TheVegan8
26. Creamy Chili Sauce With Zucchini, Spinach And Pasta (Vegan)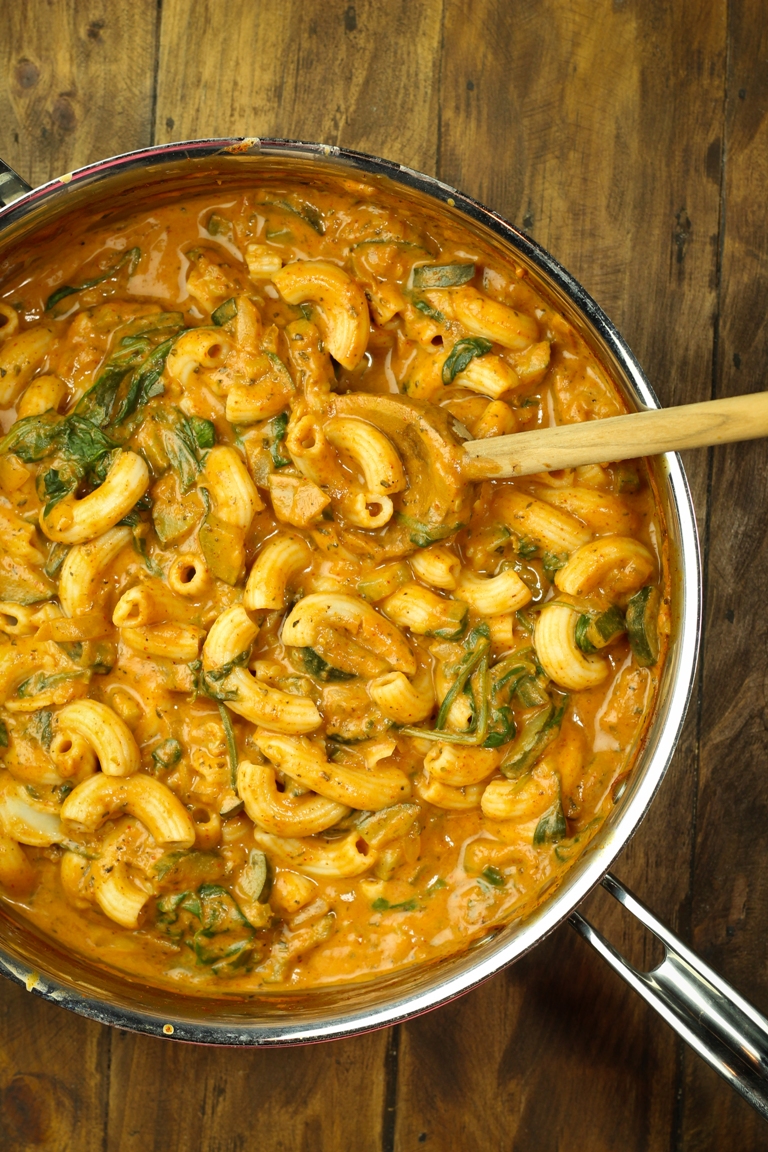 "Vegan and gluten-free Creamy Chili Sauce with Zucchini, Spinach and Pasta. An incredibly creamy, rich and yet light with no oil or butter. Just whole food ingredients. So much flavor from Italian dried herbs and chili powder and tomato sauce.". Recipe: TheVegan8
27. Abundance Kale Salad With Savory Tahini Dressing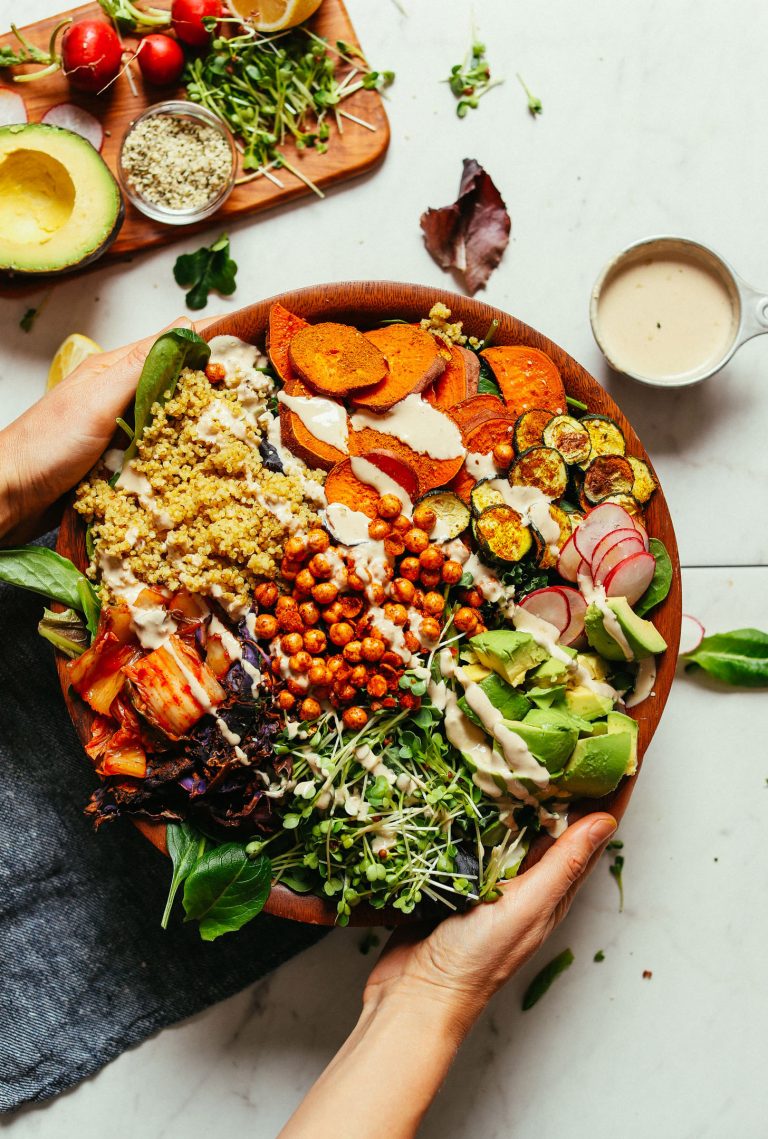 "Lately when flying, we've been craving big, hearty salads. Bonus: They're easy to pack to go for travel! This 30-minute salad is customizable and insanely satisfying, and it features my NEW favorite savory tahini dressing! Let's do this!". Recipe: MinimalistBaker
28. Vegan Cauliflower Pizza Crust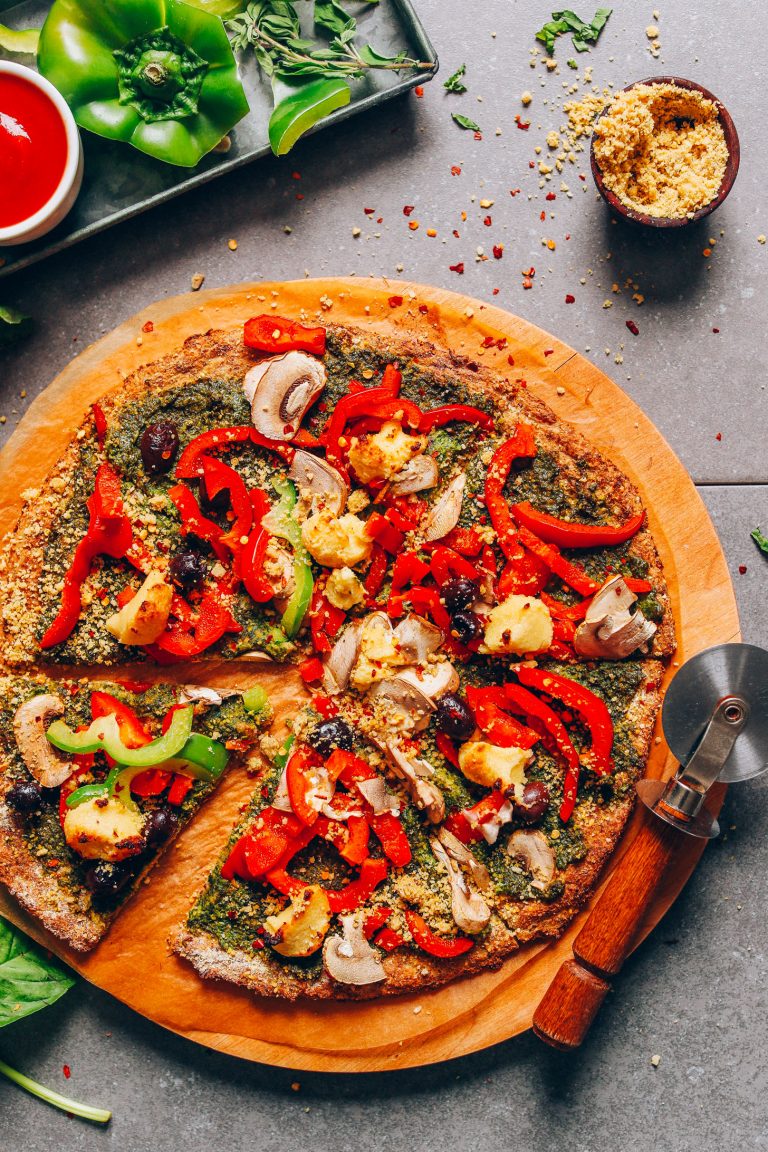 "This recipe requires 9 basic ingredients to make. It's also entirely gluten-, grain-, and oil-free, and it's vegan!". Recipe: MinimalistBaker
29. My Favourite Vegan Wrap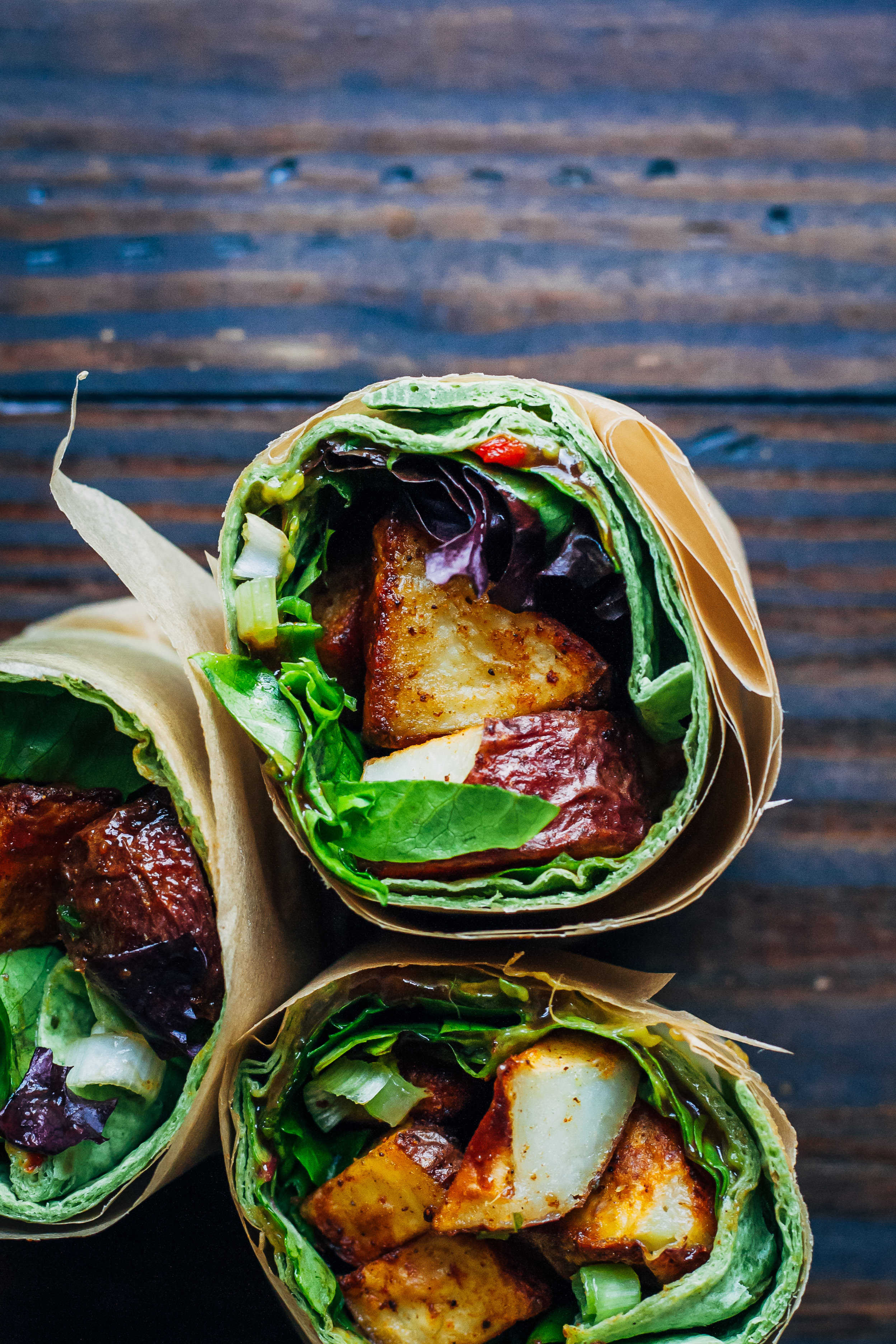 "Today's recipe is something straight out of my own meal rotation – the vegan wrap. I love salads and pasta, but there's something about wraps that I will always love. Potatoes make up the perfect filling, roasted with a touch of olive oil and spices. The flavors I used for these wraps include guacamole and barbecue sauce, but you could try any spreads and sauces you like – try hummus and hot sauce, or baba ganoush and your favorite salad dressing. The possibilities are endless!" Recipe from WellAndFull.
30. Curried Cauliflower Kale Rice Soup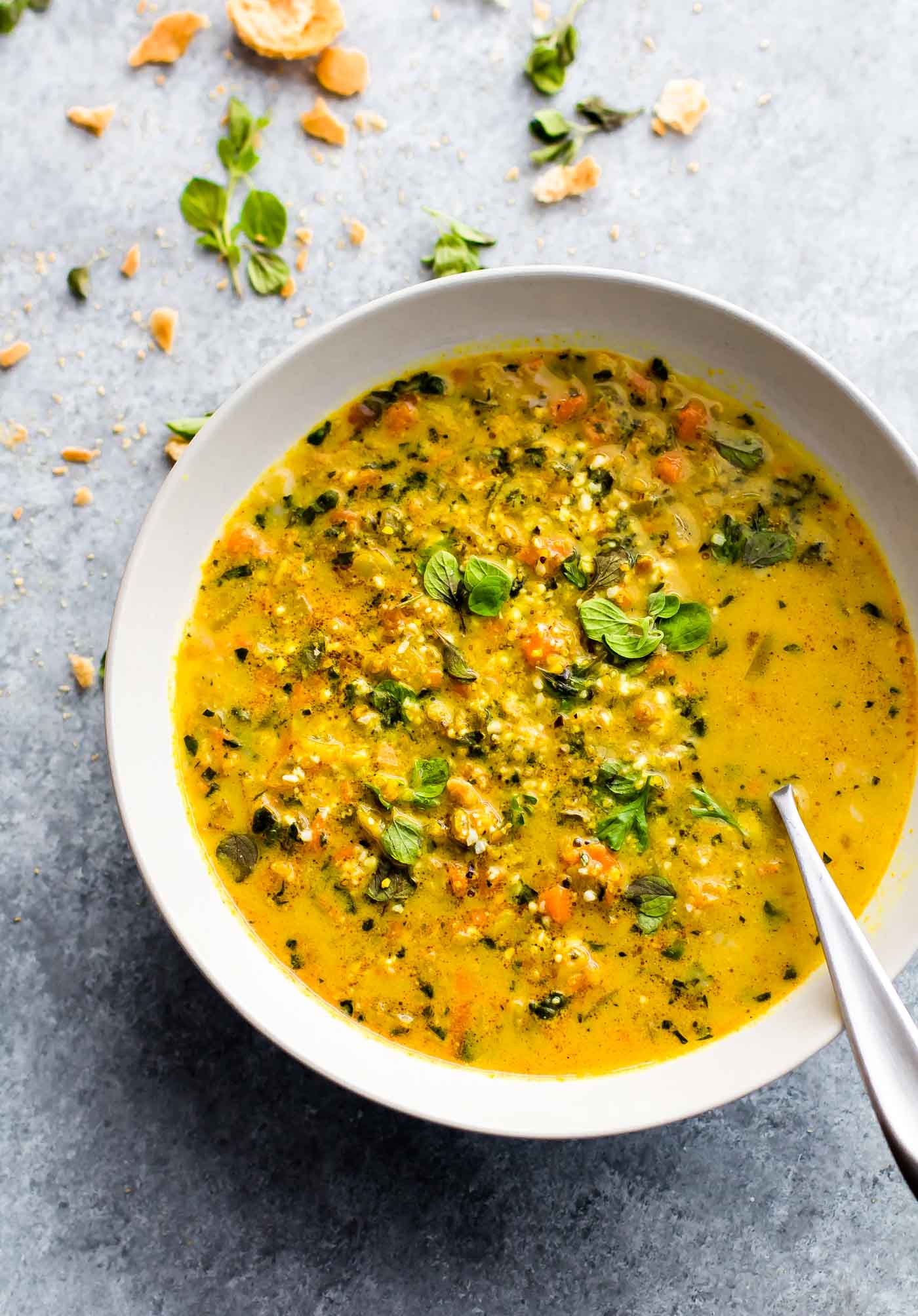 "This Curried Cauliflower Rice Kale Soup is one flavorful healthy soup to keep you warm this season. An easy paleo soup recipe for a nutritious meal-in-a-bowl. Roasted curried cauliflower "rice" with kale and even more veggies to fill your bowl! A delicious vegetarian soup to make again again! Vegan and Whole30 friendly!" Recipe from CotterCrunch.
31. Cashew Satay Spiralized Vegetable Stir Fry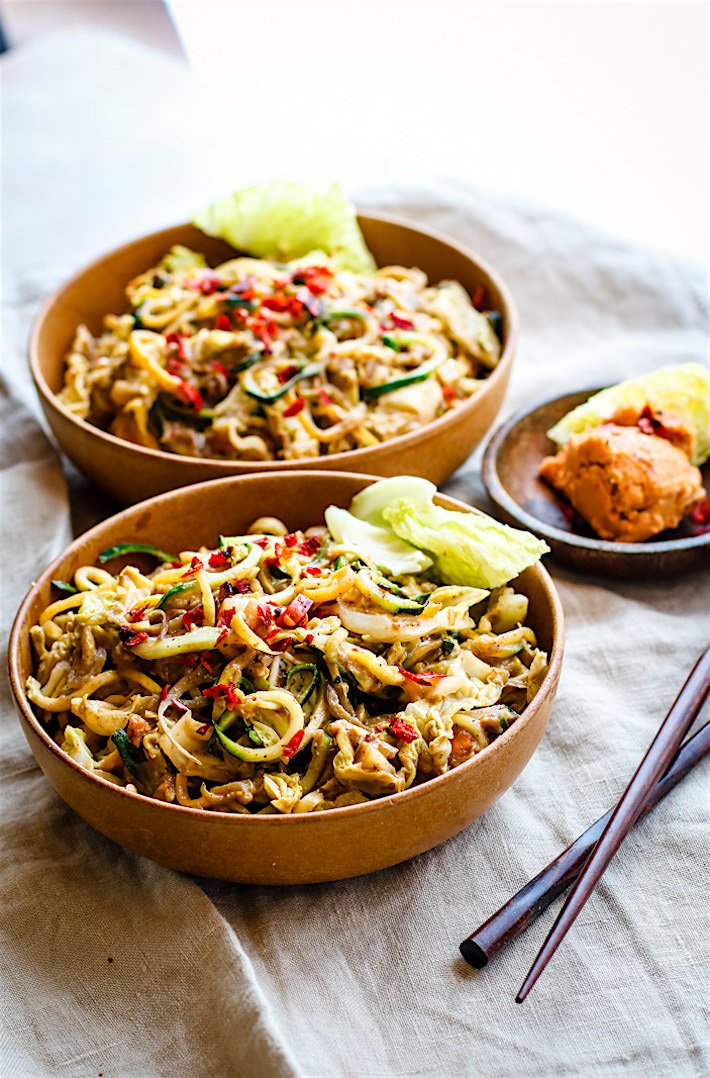 "Spice things up with this Cashew satay spiralized vegetable stir fry! A Cashew satay spiralized vegetable stir fry that is easy to make and healthy! Spicy cashew sauce stir fried with spiralized vegetables and ready in 20 minutes! Paleo and Vegan." Recipe from CotterCrunch.