31 Healthy Egg Recipes That Will Help Up Your Protein Intake!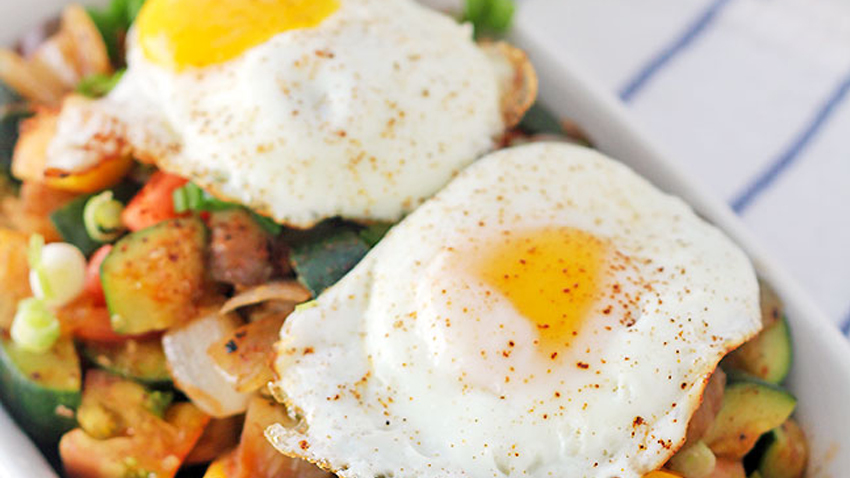 Eggs are one of the most versatile foods, that can add a delicious twist to almost any meal.
They provide a brilliant source of protein and nutrients and no matter which way you like your eggs, you are sure to find something here that you will love!
Here are 31 healthy egg recipes that you can enjoy at any time of day. Be sure to share and save your favourites on your social media. Enjoy!

31 Healthy Egg Recipes That Will Help Up Your Protein Intake!
4 Ingredient Egg & Sausage Muffin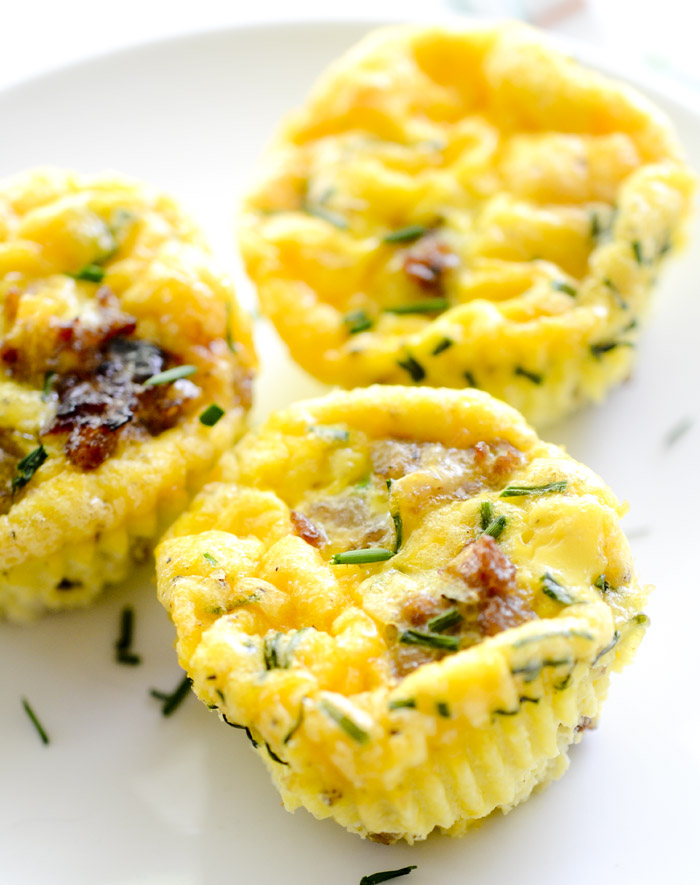 "These sausage and egg muffins are so easy, you don't really need a recipe for them. They're so versatile, if they're vegetarian just leave out the sausage and add in some mushrooms and bell peppers." 9g of protein per muffin. Recipe: Recipe-Diaries.
110 Calorie Crustless Veggie Quiche
"A lightened-up, healthy crustless quiche with heavy flavor and little calories. Get creative and use your favorite vegetables and spices!" Recipe: SallysBakingAddiction.
Sweet Potato Hash Egg Cups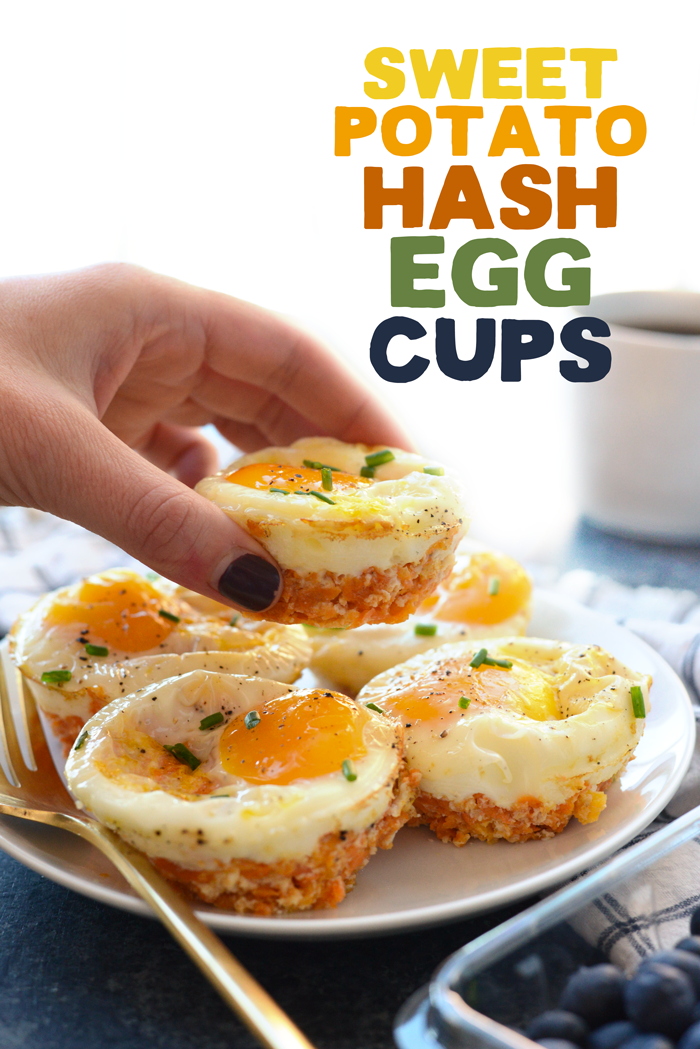 "Sweet Potato Hash Egg Cups – we're taking baked eggs to the next level and adding a sweet potato/cheddar cheese base for the most delicious, satisfying savory breakfast you'll eat this year!" Recipe: FitFoodieFinds.
Simple Poached Egg And Avocado Toast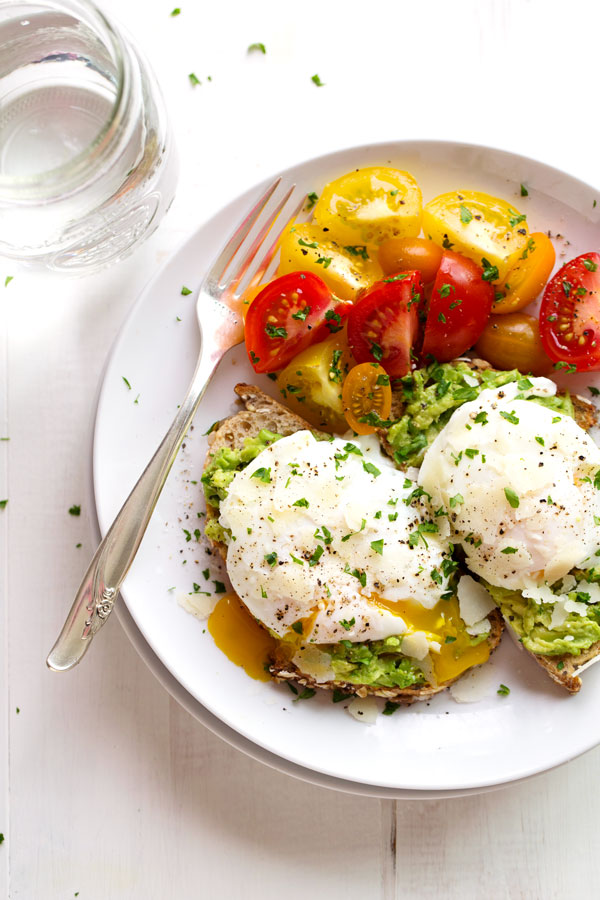 "Just a few days ago I struck simple breakfast poached egg gold with this poached egg and avocado toast combo, which means no more squishy scrambley eggs EVER again." Recipe: PinchOfYum.
Microwave Egg Caprese Breakfast Cups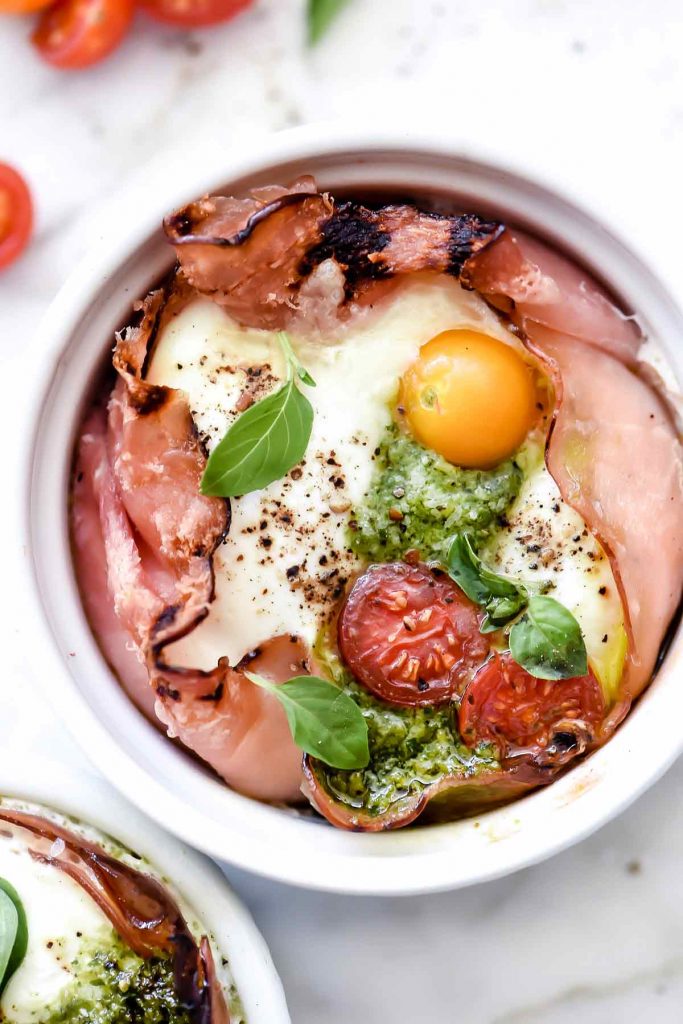 "This hot homemade ham, egg and caprese-flavored breakfast can be in yo' belly in just two minutes thanks to a quick cook in the microwave. Yes, this is how you can easily cook eggs in the microwave." Recipe: FoodieCrush.
One Pot Spicy Eggs & Potatoes
"That I'm making a spicy ancho chili homemade tomato simmer sauce (whatever you do, don't look back at the last month of recipes to check if this is my new obsession, but for real please don't) to cover a crowd of spicy, salty, pan-fried potatoes, a handful of shredded kale, and, uhhhhhm, EGGS?" Recipe: PinchOfYum.
Baked Eggs In Stuffed Peppers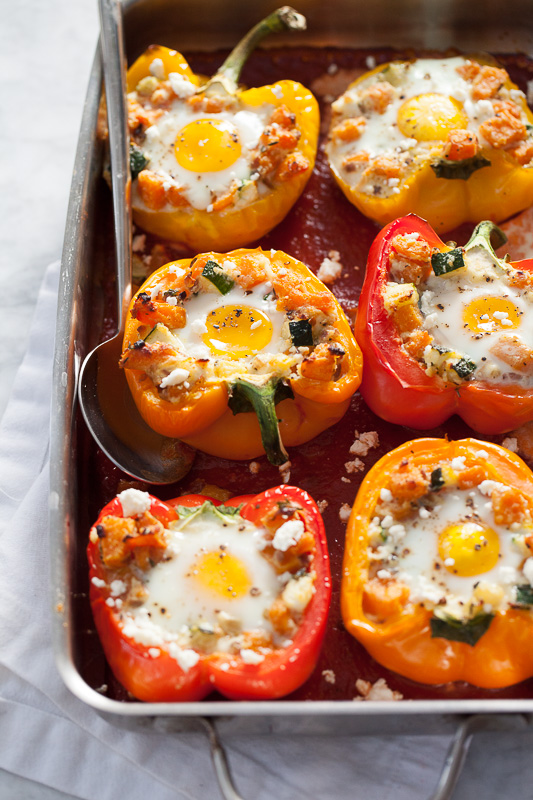 "Sweet yellow, orange or red bell peppers are the cradle for a mix of sweet potato hash with thyme and a splash of brandy topped with cheese and nestled in a bed of marinara. And lest us not forget the sunny side up egg." Recipe: FoodieCrush.
Scrambled Egg And Roasted Asparagus Toasts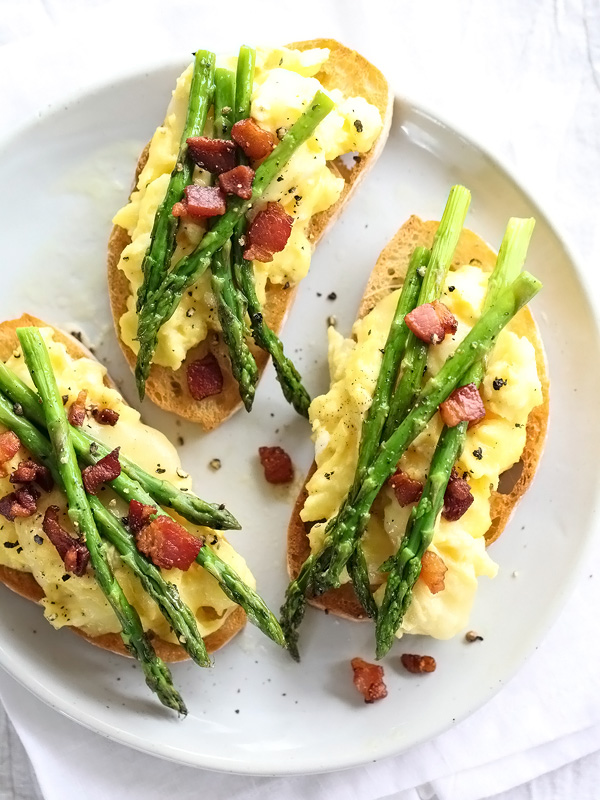 "Simple ingredients that blend together to create a special dish. That's my kinds of meal to share for breakfast, lunch, brunch or brinner." Recipe: FoodieCrush.
Asparagus And Shitaki Mushroom Egg Cups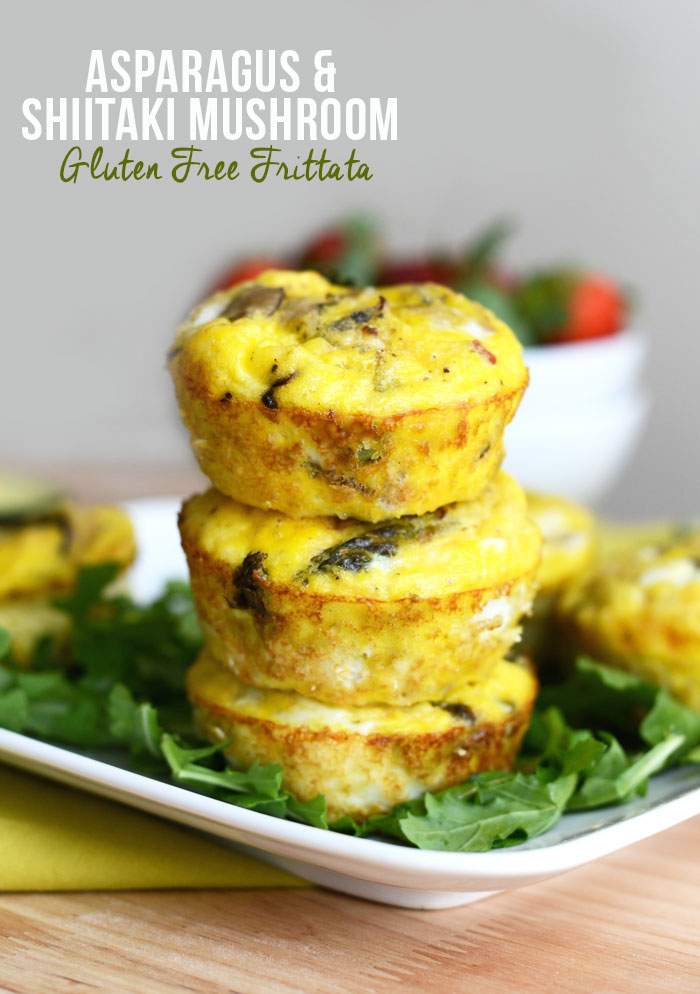 "The second I got home from the Propel Photo Shoot in LA I knew I wanted to start recreating the delicious food we ate a la our personal chefs. One morning we ate the most amazing asparagus egg white frittatas. I decided to add a twist, because I am a huge fan of egg yolks (full eggs)." Recipe: FitFoodieFinds.
Veggie Packed Black Bean Omelette
"Get all your veggies in for the day at breakfast with this Veggie-Packed Black Bean Omelette! With this meal, you'll get tons of plant-based and egg protein, too!" Recipe: FitFoodieFinds.
Spinach And Mushroom Egg White Fritata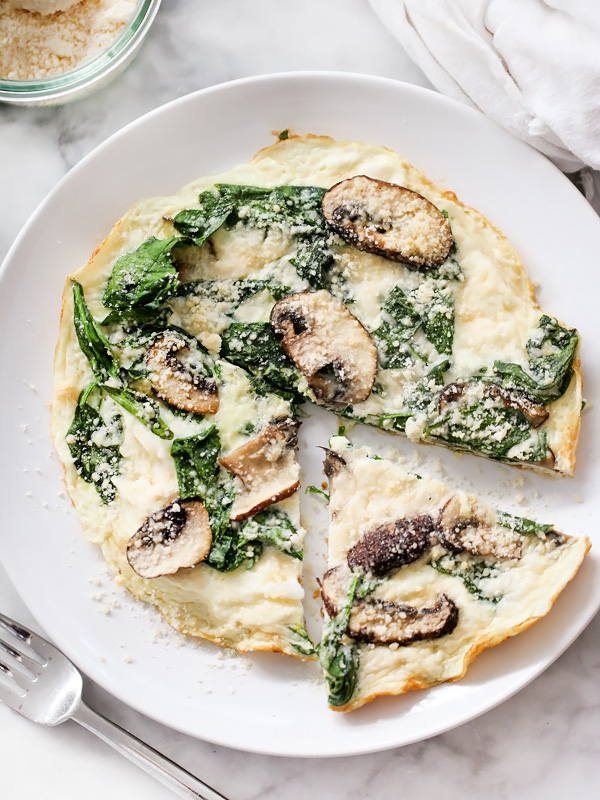 "I used spinach and mushroom but this would be equally good with red bell peppers, finely chopped broccoli or asparagus. I like sautéing the veggies first to soften them. And finally, the piece of the puzzle that brings it all together: Parmesan cheese." Recipe: FoodieCrush.
Ham N' Quinoa Hash With Baked Eggs
"EGGS. QUNIOA. and MEAT. Win-win-win situation here folks. This recipe uses leftover ham…and would be PERFECT for a Christmas morning brunch…and a great way for you to use up your leftover ham from your Christmas dinner." Recipe: FitFoodieFinds.
Scrambled Eggs And Sausage Breakfast Burrito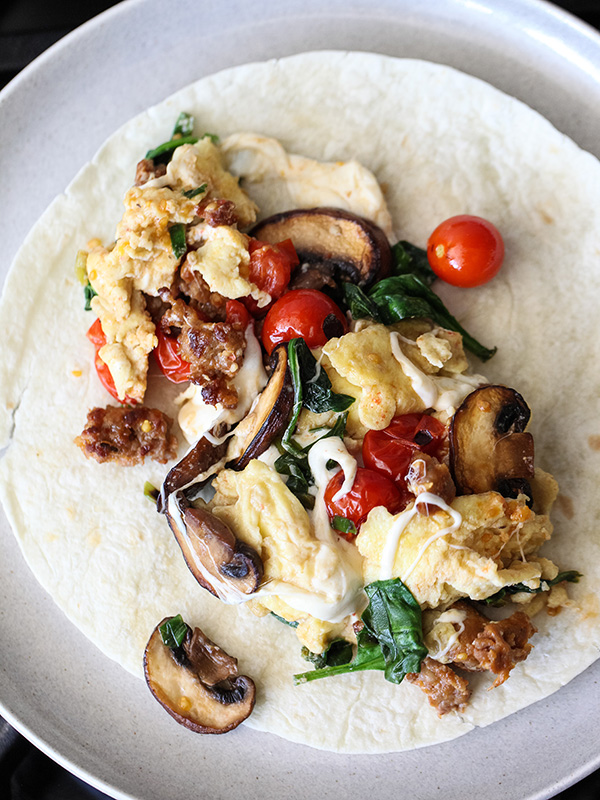 "These scrambled eggs are perfectly delicious all on their own, or pop into a warmed tortilla for a portable breakfast on the go." Recipe: FoodieCrush.
Breakfast Twice Baked Sweet Potatoes
"Have the taste of fall all year round! Flavorful breakfast sausage in twice baked sweet potatoes and topped with an over easy egg." Recipe: HomemadeHooplah.
Breakfast Tacos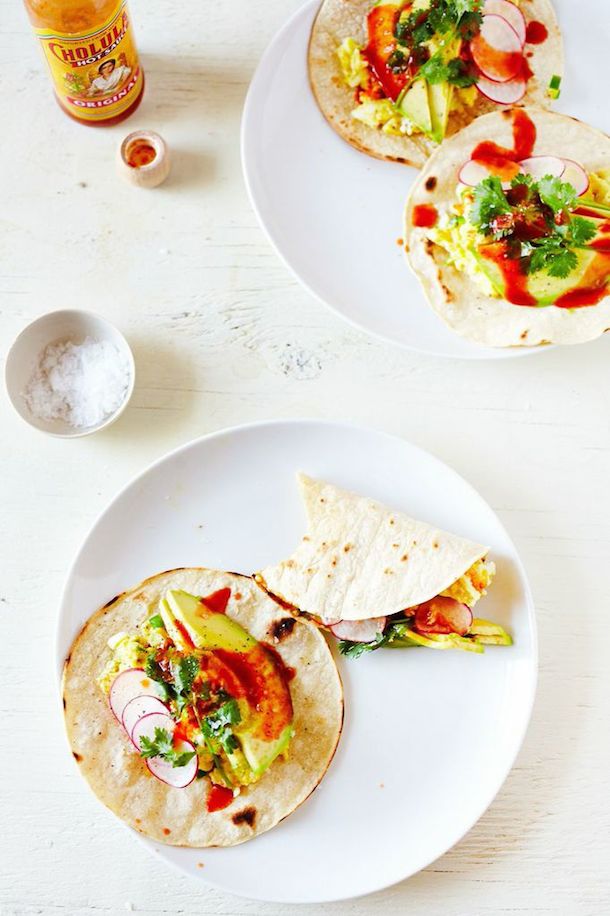 "Breakfast tacos and burritos were a huge part of my family's breakfast menu. It also happens to be a seriously simple and delicious morning meal. This one is light and perfect for summer with radish, avocado and a few cilantro leaves. I promise it won't disappoint and you might even fall in love with Mexican for breakfast." Recipe: CamilleStyles.
Healthy Denver Omelet Egg Bake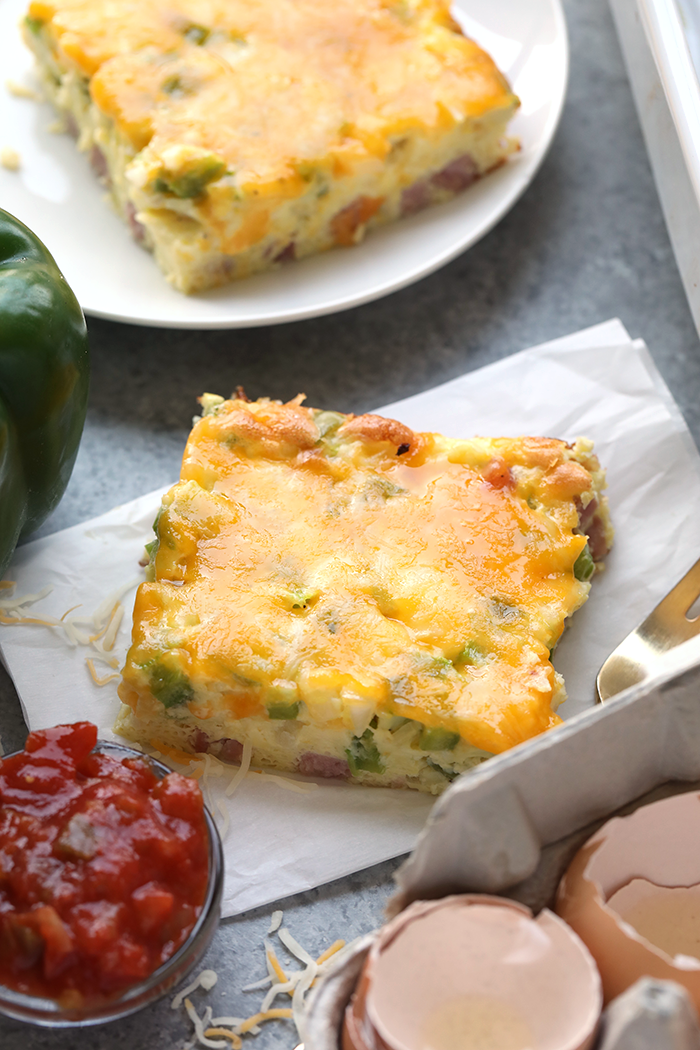 "Serve a crowd this Healthy Denver Omelette Egg Bake or make it for meal-prep for the week! Either way, it's high in protein, only requires a few ingredients, and will become a staple in your kitchen." Recipe: FitFoodieFinds.
Mediterranean Breakfast Scramble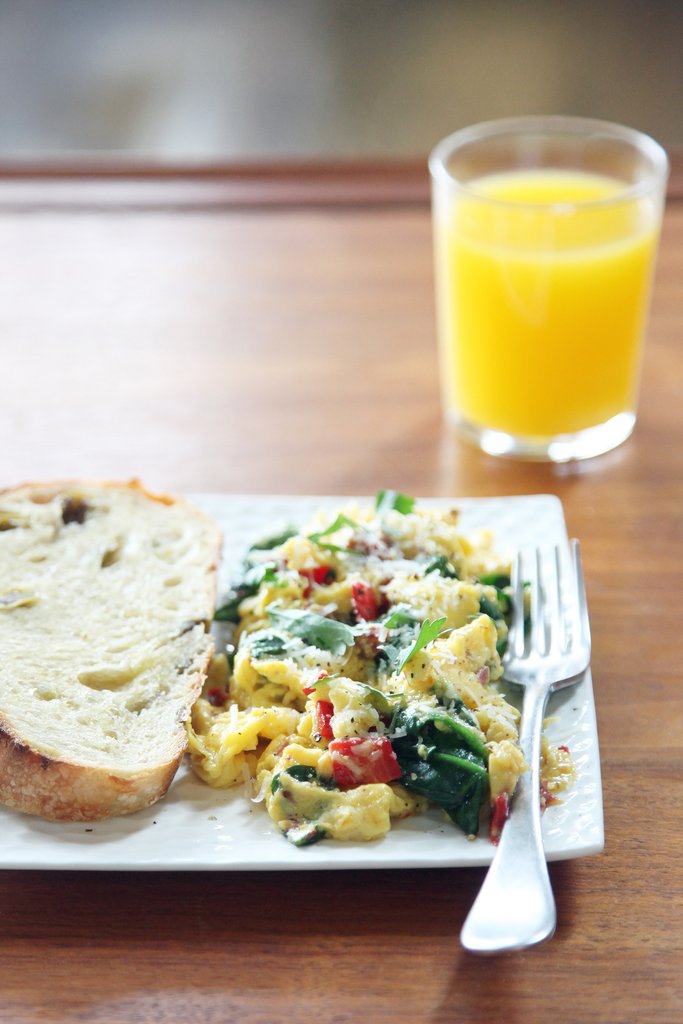 "Many days it's a smoothie or a bowl of oatmeal. When I'm craving something savoury, it's typically this simple Mediterranean scramble or a mushroom and goat cheese version." Recipe: PopSugar.
Open Faced Burger Eggs Benedict
"This open faced burger eggs benedict takes the famous breakfast to the next level. Served on a grain free english muffin, it's paleo too!" Recipe: RunningToTheKitchen.
Ham And Egg Tostadas With Strawberry Peach Avocado Smash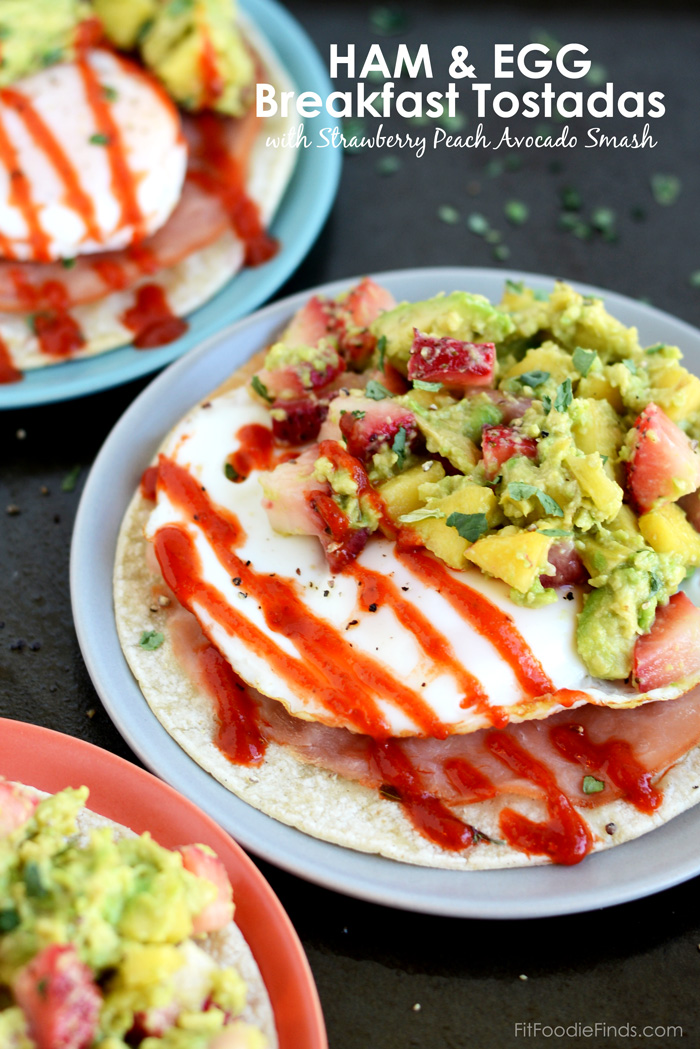 "If you love mixing sweet and salty, then you will love these Ham and Egg Breakfast Tostadas. They are topped with a a strawberry peach avocado smash adding some sweet into your eggy breakfast." Recipe: FitFoodieFinds.
Paleo Baked Eggs In Ham Cups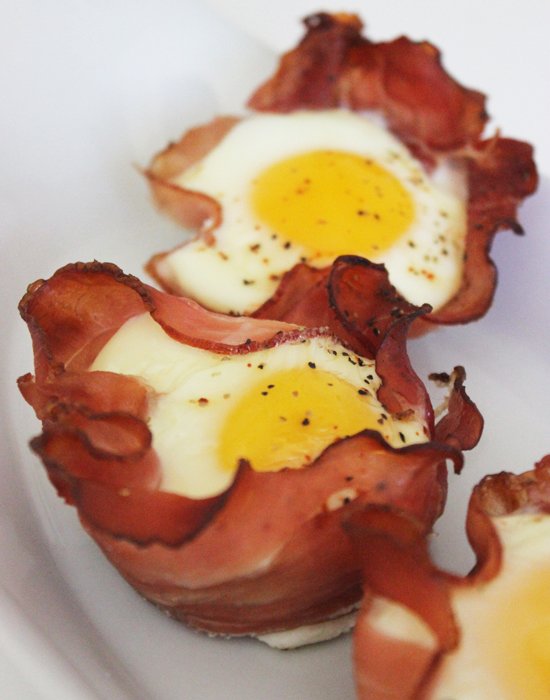 "Now we make eggs at home most mornings, but there are some days when I need to grab a quick bite. Thus "egghamcakes" were born. You can call them Baked Eggs in Ham Cups." Recipe: PopSugar.
Salmon Asparagus Fritata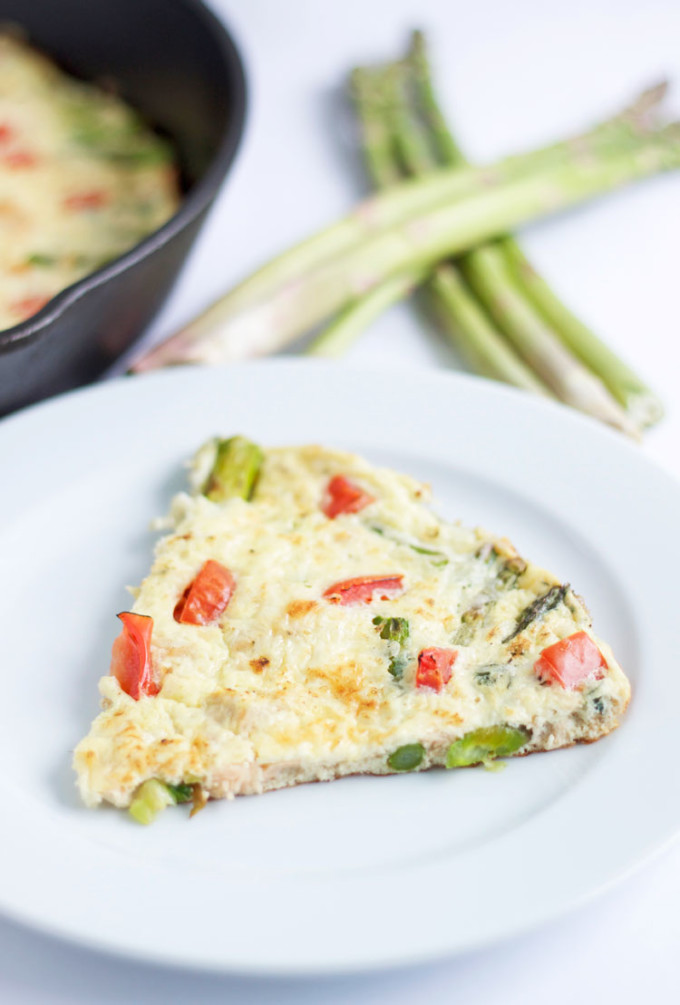 "Do you have any go to, easy to make meals that you find yourself making at least once a week? For me it's frittatas. I love eggs, but I especially love adding things like vegetables, meats, and cheese to them which is exactly what you do with a frittata." Recipe: RecipeRunner.
Baked Eggs With Shredded Chicken And Salsa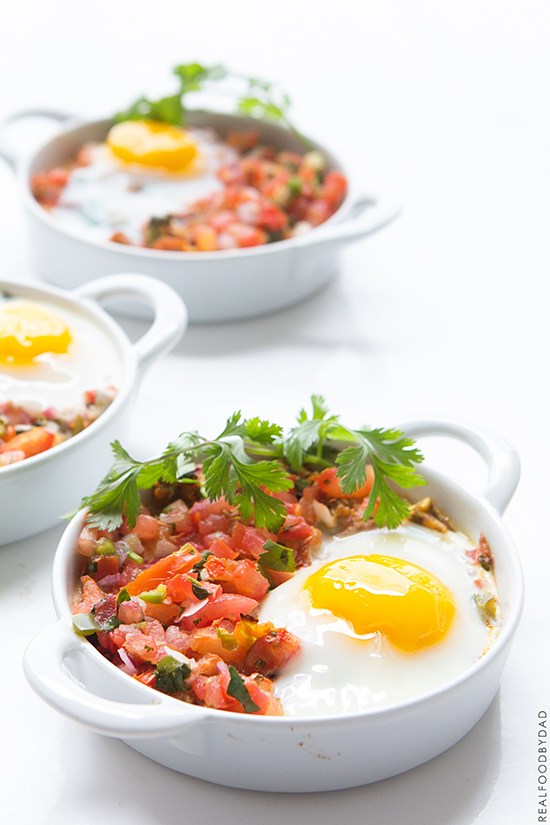 "Another breakfast recipe—shocker, right? Well, in my home breakfast rules and we have "breakfast" more often than not, so using eggs in a variety of different ways is key." Recipe: RealFoodByDad.
Sofrito Egg Scramble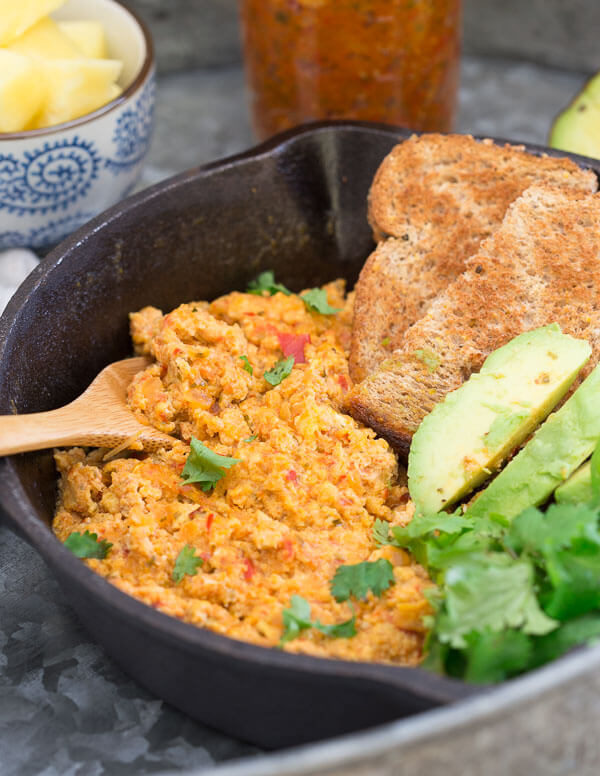 "These eggs are scrambled with sofrito, a classic Spanish sauce cooked in oil that brings a ton of flavor and spice to this breakfast." Recipe: RunningToTheKitchen.
Spicy Roasted Harvest Vegetables With Fried Eggs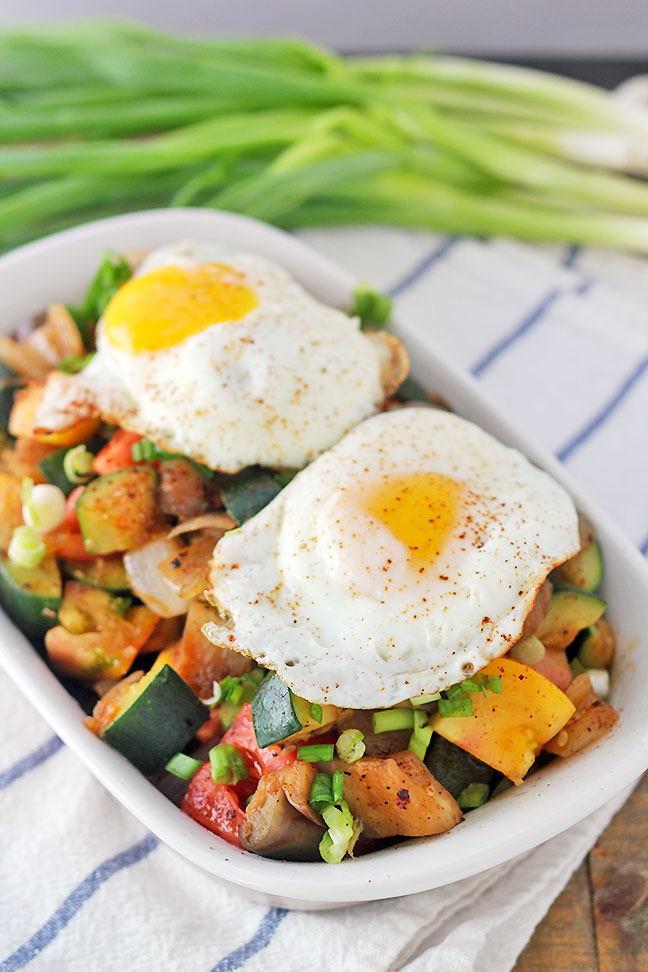 "This Spicy Roasted Harvest Vegetables with Fried Eggs recipe uses a spice called urfa biber that I've been playing around with in my kitchen. Have you cooked with this before?" Recipe: InSonnetskitchen.
Crispy Hash Breakfast Skillet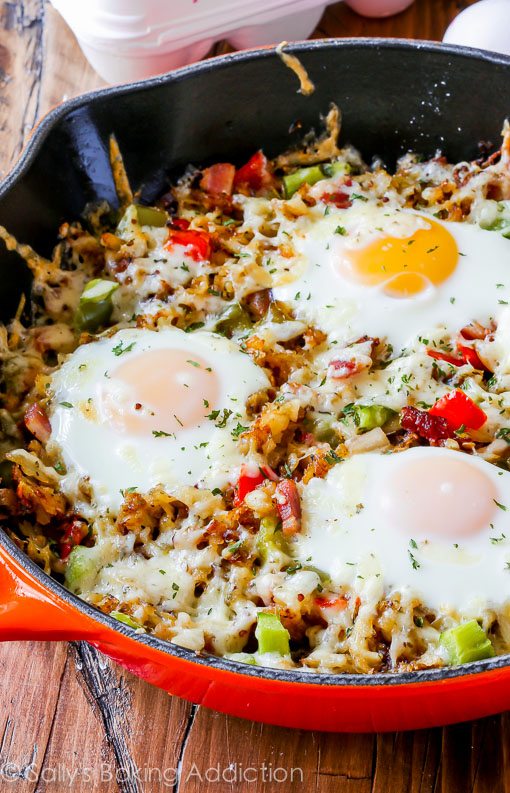 "Super simple one pan breakfast prepared in a skillet. This brunch dish starts with super crispy shredded hash browns, peppers, some bacon, and is finished off with eggs and melty cheese." Recipe: SallysBakingAddiction.
Healthy Deviled Eggs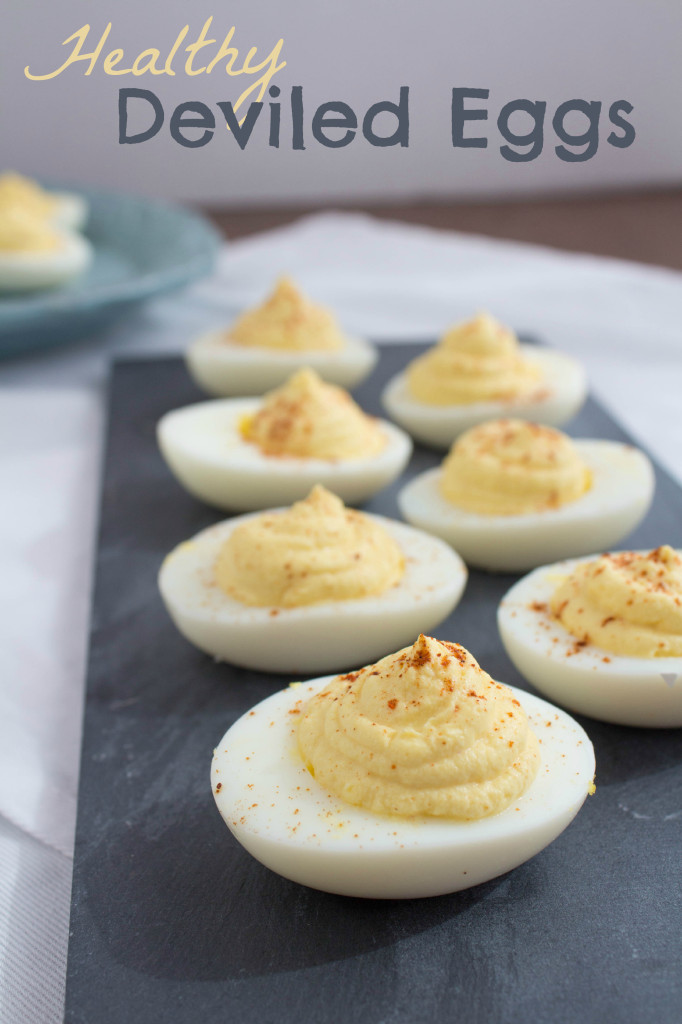 "Deviled eggs have always been a favorite of mine at parties, but I am not a fan of the fact that they're usually drowning in mayo, so I set out to make a healthier but still tasty version. Introducing: Healthy Deviled Eggs! It will be our little secret that they're healthy – you won't know the difference!" Recipe: FannestasticFood.
Easy Spinach Artichoke Quiche Cups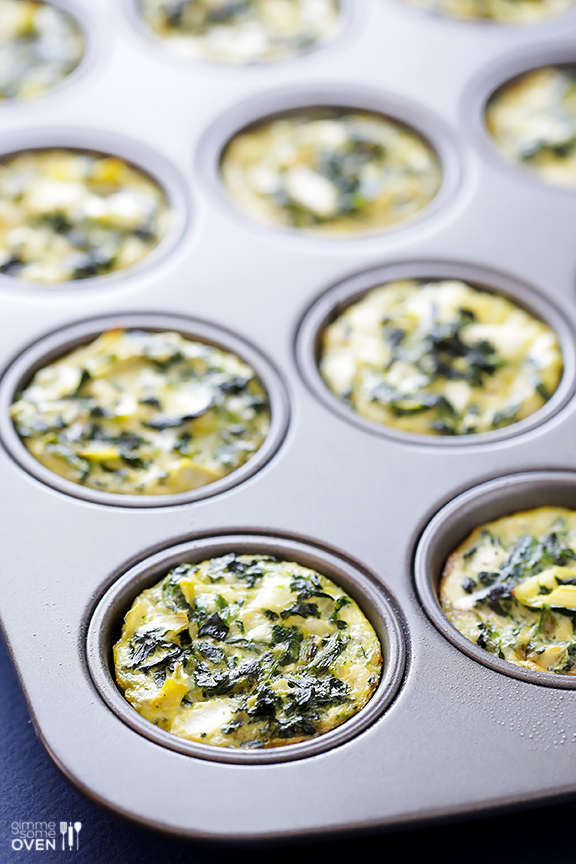 "The good news about this spinach and artichoke quiche recipe, though, is that it literally just takes a few minutes to whip up. No crust necessary. And you can totally freeze these guys for future breakfasts on-the-go.' Recipe: GimmeSomeOven.
One Pan Full Monty Breakfast

"This is the ultimate breakfast, though we'd happily eat it at any time of day. To keep your morning as chilled as possible, get your oven to do all the hard work for you. Place everything in your largest dish, bung in the oven – et voilà!" Recipe: hemsleyandhemsley.com
Breakfast Quesadillas With Spinach and Black Beans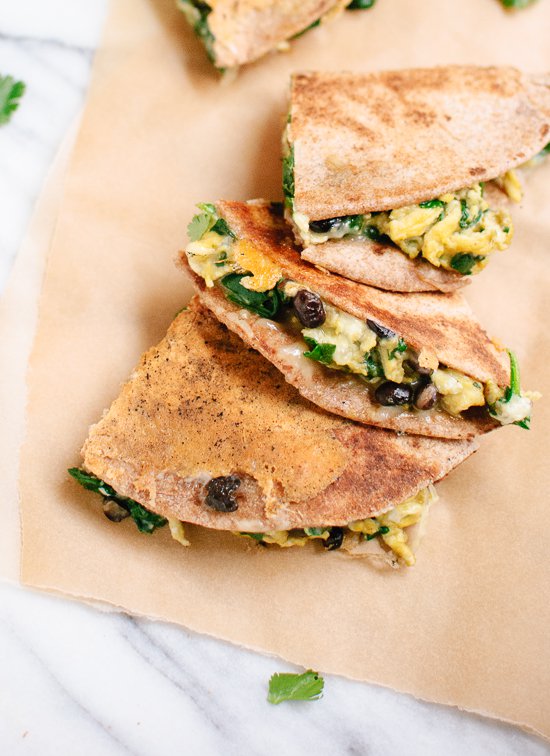 "I'm hoping these pictures will entice you to make these extra-crispy scrambled egg quesadillas. The filling is composed of spinach, black beans and scrambled eggs (hello, protein!), which is secured to the tortillas with a light sprinkle of shredded cheese." Recipe: CookieAndKate.
Easy Kale Feta Egg Toast
"Easy Kale Feta Egg Toast is an important reminder that—no matter what else happens today—we can still feed ourselves a decent meal." Recipe: WellPlated.
Healthy Kale Egg Breakfast Cups

"Healthy Kale Egg Breakfast Cups are full of flavor and healthy goodness. With kale, sun-dried tomatoes, spicy chicken sausage, mushrooms, and feta cheese they will surely be the best part of waking up in 2017!" Recipe: tasteandsee.com