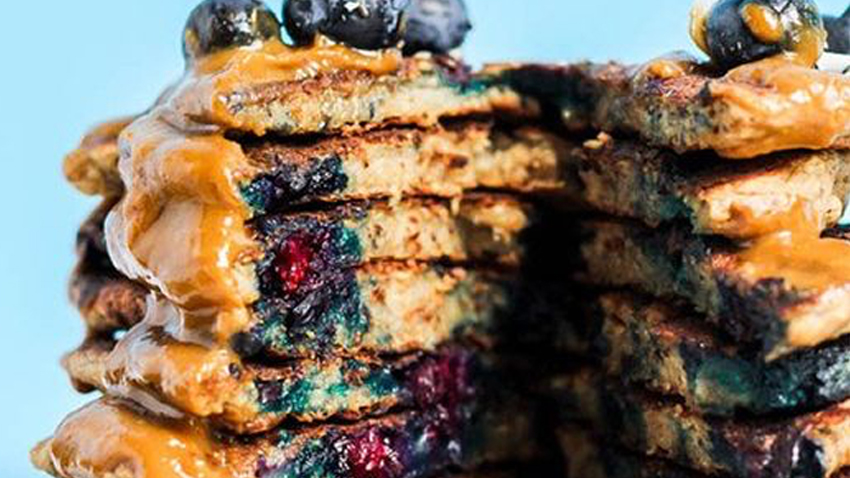 Everybody loves pancakes, so why not make them healthy, full of protein and healthy enough to fit into your diet every single day.
Protein pancakes are an amazing weight loss breakfast. The will keep you feeling fuller, for longer, taste amazing, and with many of these being made with protein powder, will help your body build muscle and recover faster than it ever has before.
Here are 23 high protein pancake recipes that you will absolutely love. As always, save and share your favourites on social media and try out the ones that catch your eye tomorrow! Enjoy!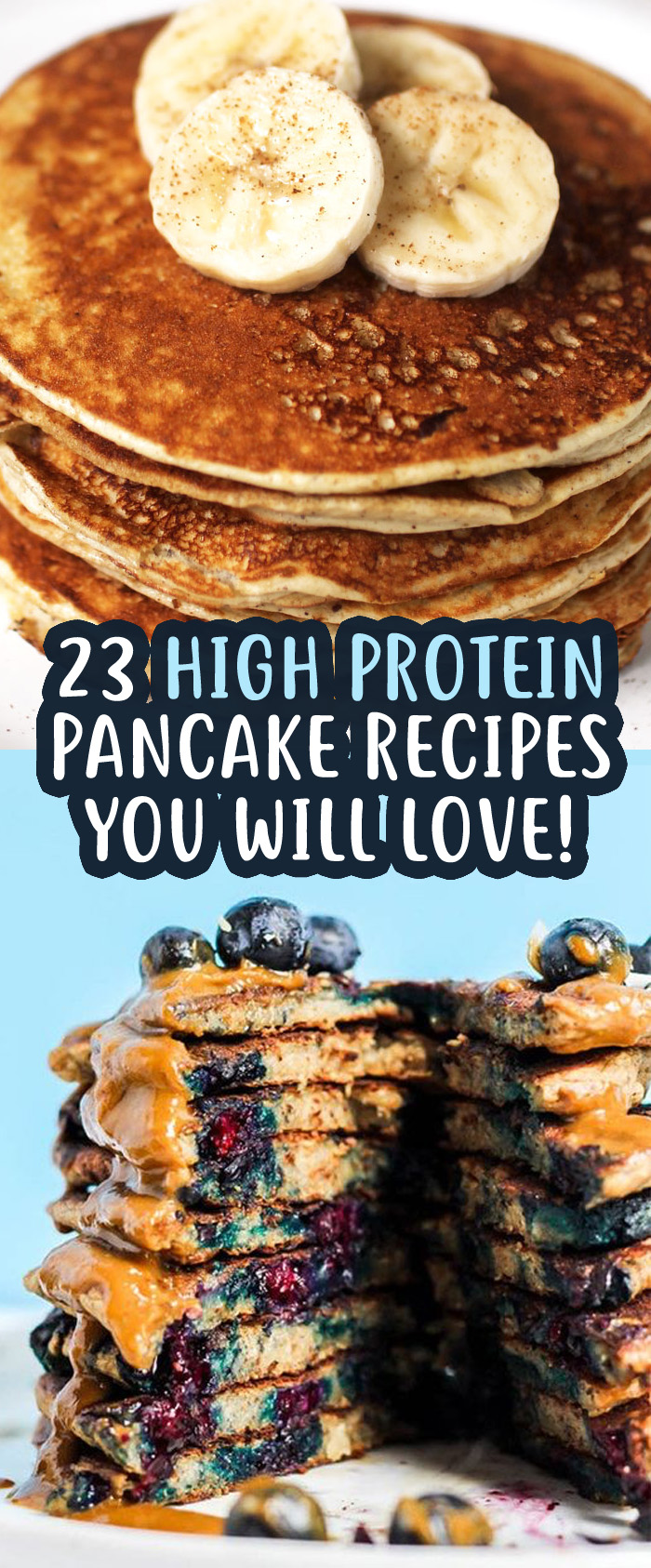 23 Super High Protein Pancake Recipes To Start Your Weight Loss Day!
Funfetti High Protein Pancakes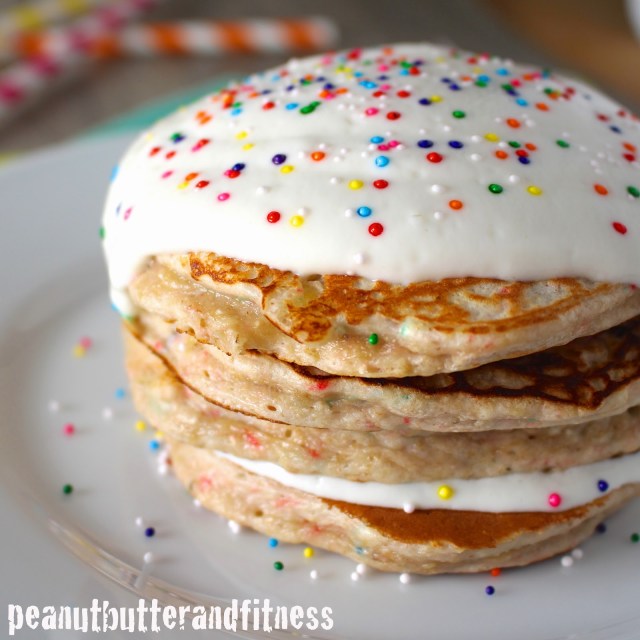 "Breakfast wouldn't be breakfast without some fruit, right? Well I mashed up some bananas for in these guys and they do a nice job of keeping the pancakes nice and moist, but not too heavy. You can taste some of the banana flavor coming through along with the cake batter flavor, but it's not overpowering." Recipe: PeanutButterAndFitness.
Strawberry Cheesecake Protein Pancakes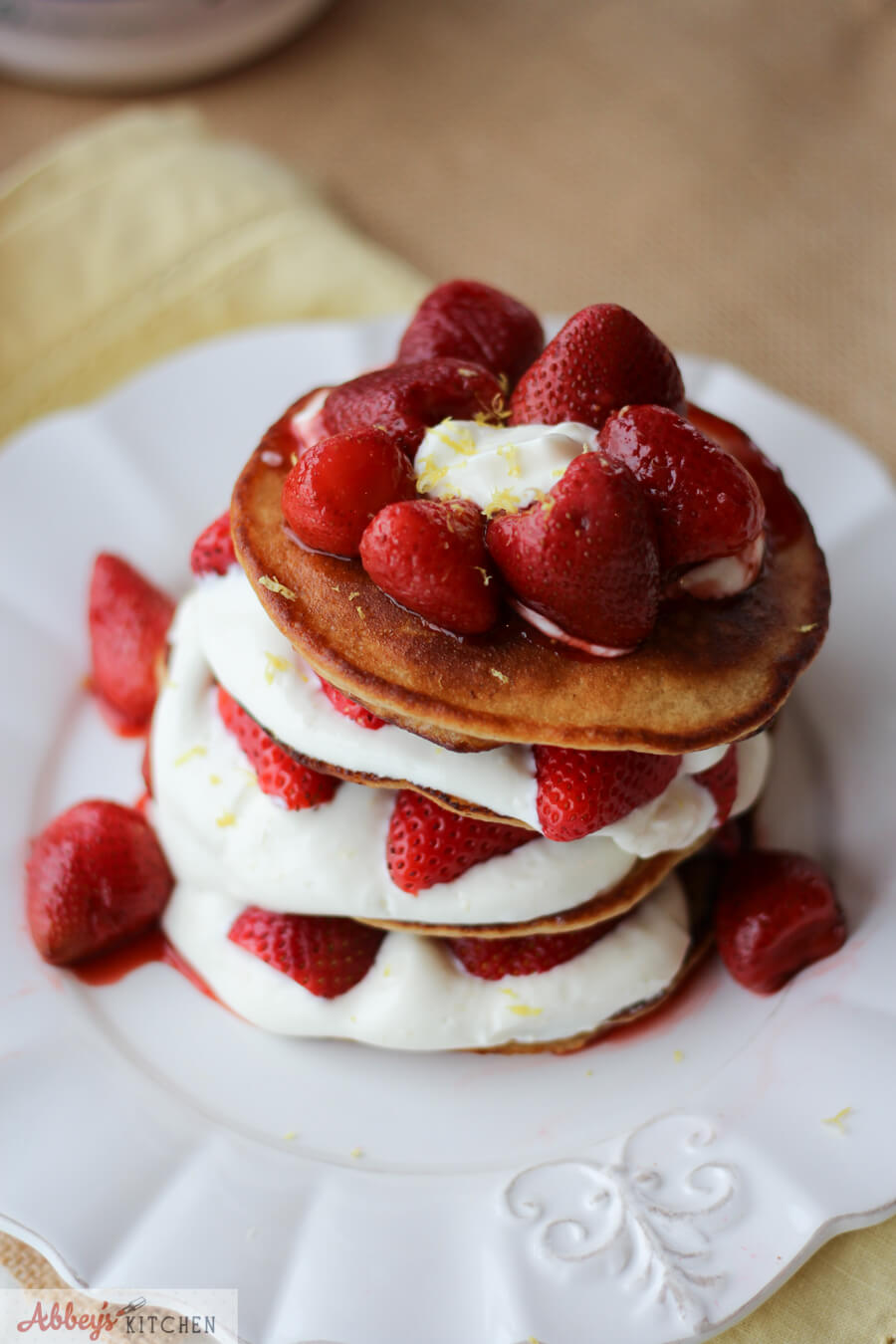 "These decadent strawberry cheesecake stuffed layered protein pancakes are totally gluten free, low in fat and packed with high quality fermented dairy protein." Recipe: AbbeysKitchen.
Chocolate Peanut Butter Banana Protein Pancakes
"These crazy yummy stacked chocolate peanut butter banana protein pancakes are totally gluten free, low in fat and packed with high quality fermented dairy protein." Recipe: AbbeysKitchen.
Red Velvet Protein Pancakes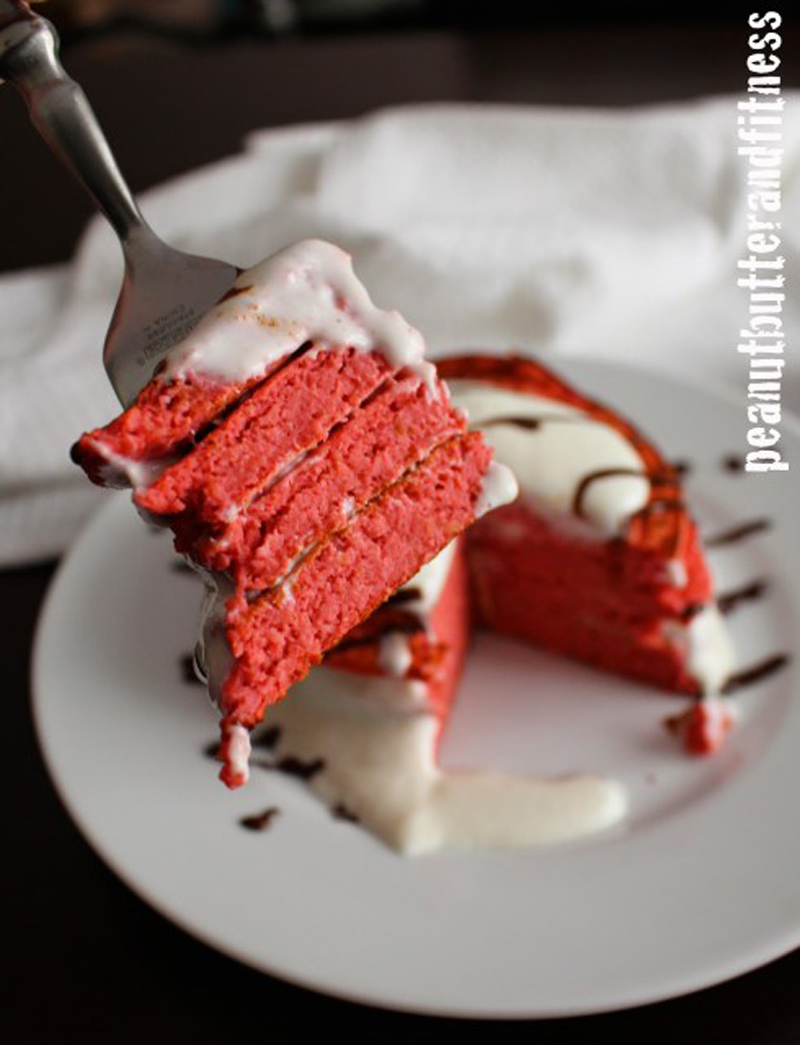 "So the particular one I used in this was their Red Velvet flavor which I have yet to try in a protein shake. But it does make a mean pancake! And this recipe has a whopping 51 grams of protein – plenty to keep you full and feed your muscles." Recipe: PeanutButterAndFitness.
Oatmeal Protein Pancakes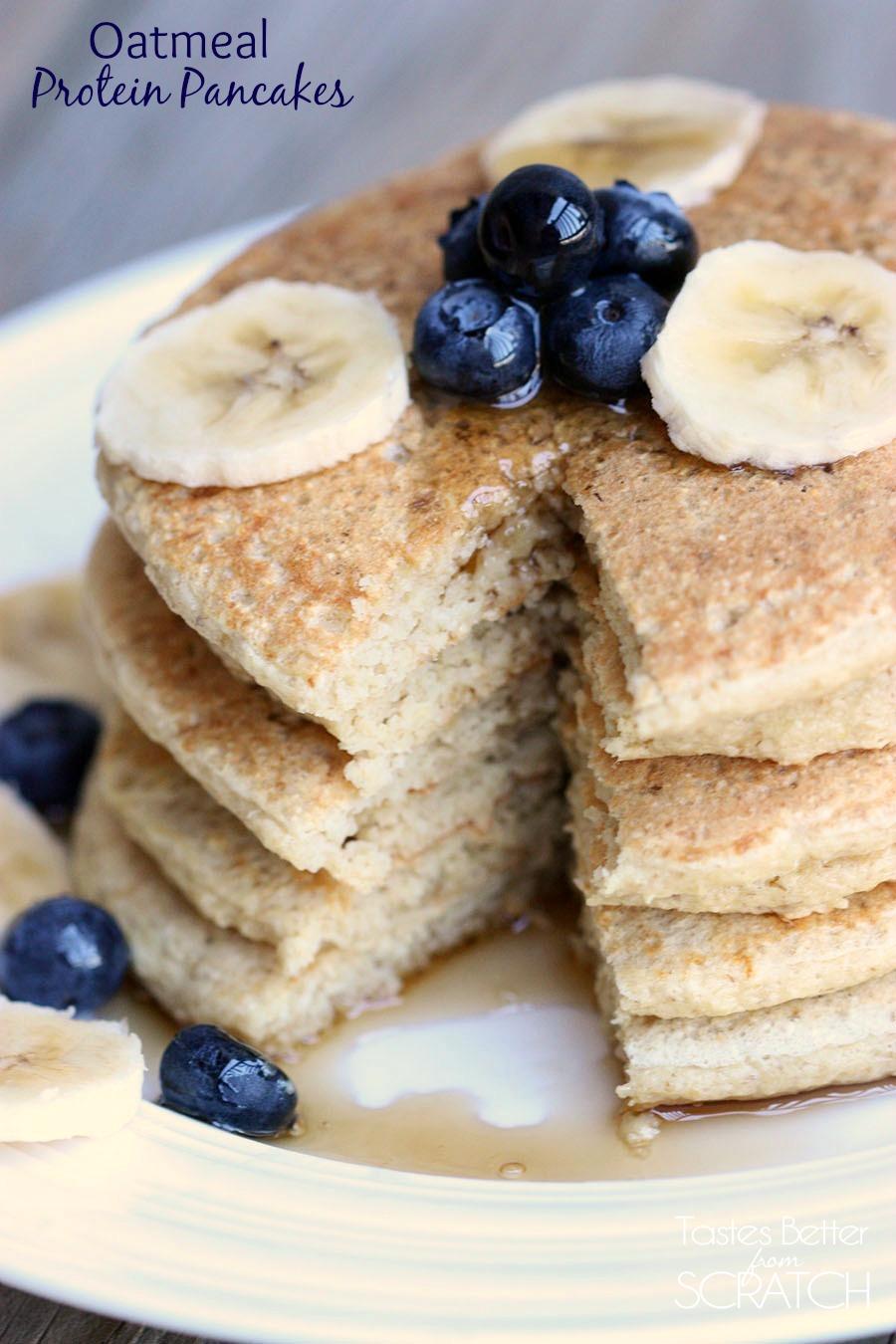 "These protein pancakes are AMAZING! They have the same great light and fluffy-ness of regular pancakes but they have no flour, canola oil, sugar or butter! They're packed with protein rich ingredients as well, so I can feel good giving them to my family, and they make us feel full longer." Recipe: TastesBetterFromScratch.
Chocolate Peanut Butter Protein Pancakes
"Normally I like some fruit in my pancakes since fruit just belongs with breakfast. But who can argue with peanut butter and chocolate? Not this kid." Recipe: PeanutButterAndFitness.
Black Forest Chocolate Protein Pancakes | Gluten Free – Low Fat

"We're kind of going crazy over protein pancakes over here. These stacked & stuffed Black Forest Cake Chocolate Protein Pancakes are gluten free, low in fat and packed with high quality fermented dairy protein. Suddenly, I'm actually looking forward to my workout!" Recipe: AbbeysKitchen.
Gluten Free Protein Pumpkin Pancakes

"These gluten free pumpkin protein pancakes make perfect freezer meals that you can pull out and rewarm any day of the week!" Recipe: AbbeysKitchen.
Protein Pancakes With Blueberry Sauce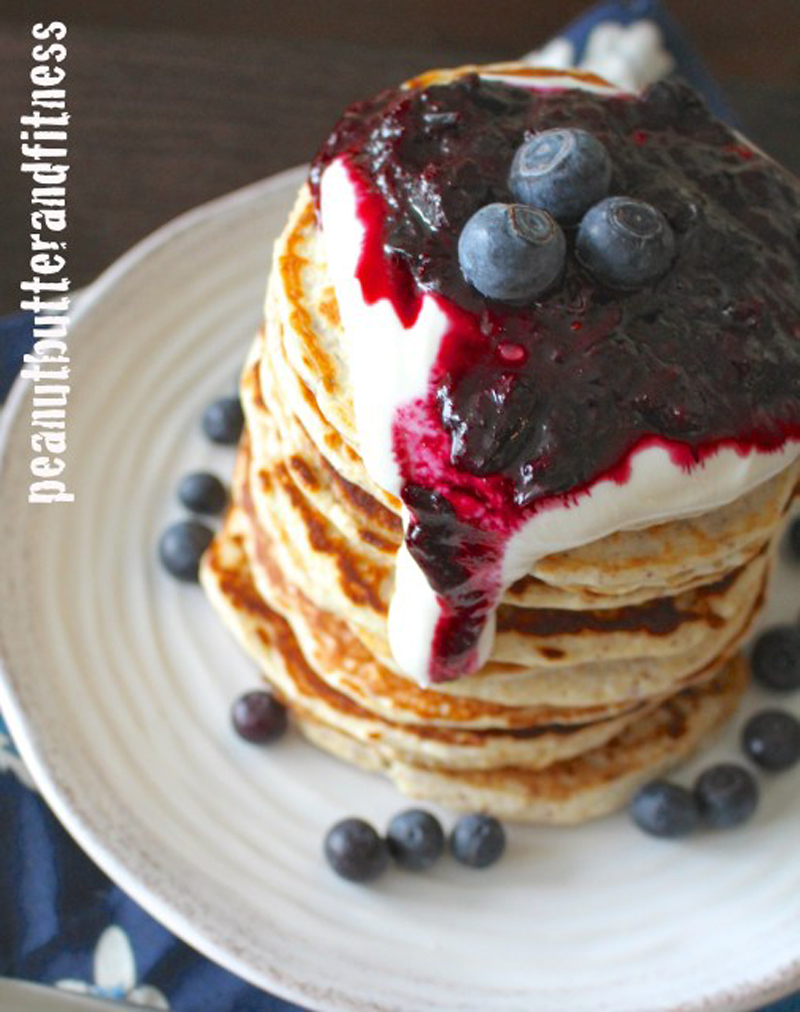 "Now, on to the actual food – these babies are packed with protein! 40 whopping grams of it. Paired with only 12 grams of sugar, it's like these are the for-real grown up version of pancakes, not just some illusion in my head. They taste great and cook just like regular pancakes, so you don't have to do anything too crazy to throw them together." Recipe: PeanutButterAndFitness.
Birthday Cake Protein Pancakes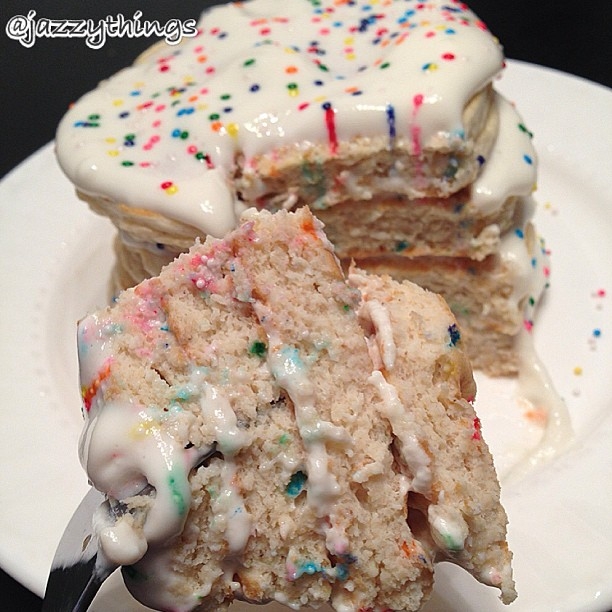 "I figured I could follow-up a cake booty picture with the appropriate pancakes. Also, someone asked if I have a recipe for birthday cake pancakes – I do now !! Also, it's not my birthday, but I love cake." Recipe: RippedRecipes.
Blueberry Protein Pancakes (Eggless)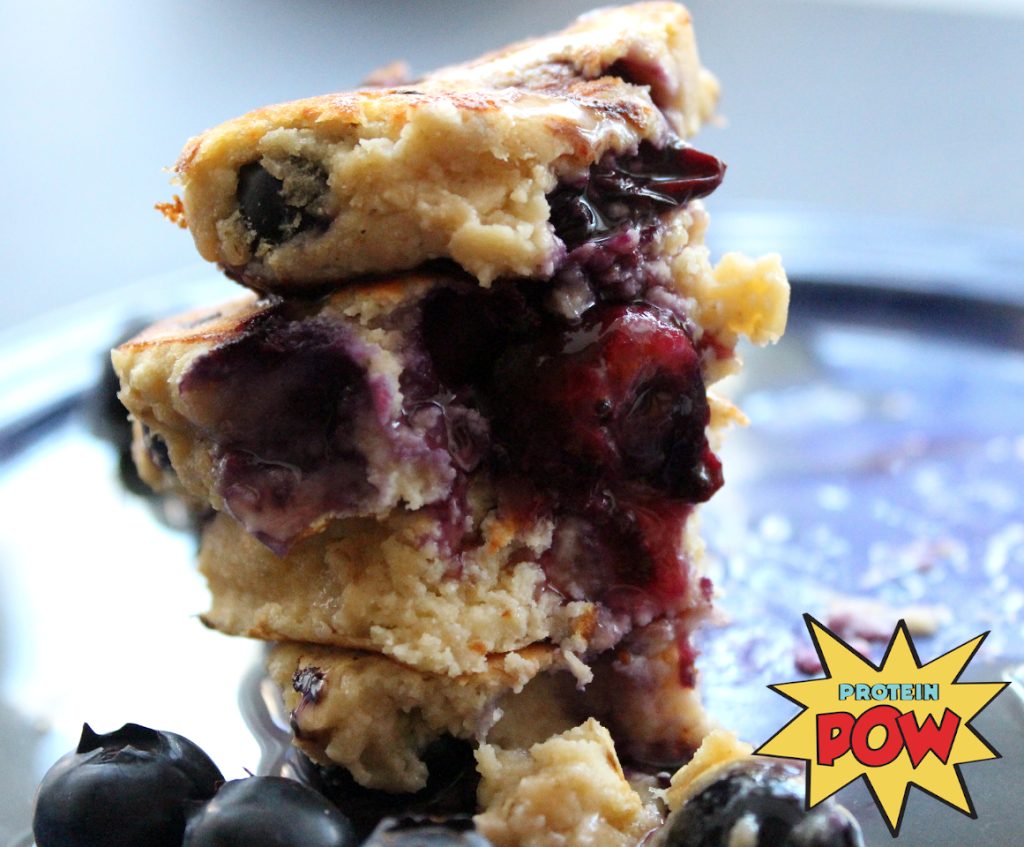 "These pancakes are top notch. They're kind of like patties, yes, in that they're not that bready at all. But what they are is absolutely delicious! They almost melt in your mouth and, with the bursting blueberries inside? Pure old fashioned nommage." Recipe: ProteinPow.
Chocolate & Strawberry Protein Pancakes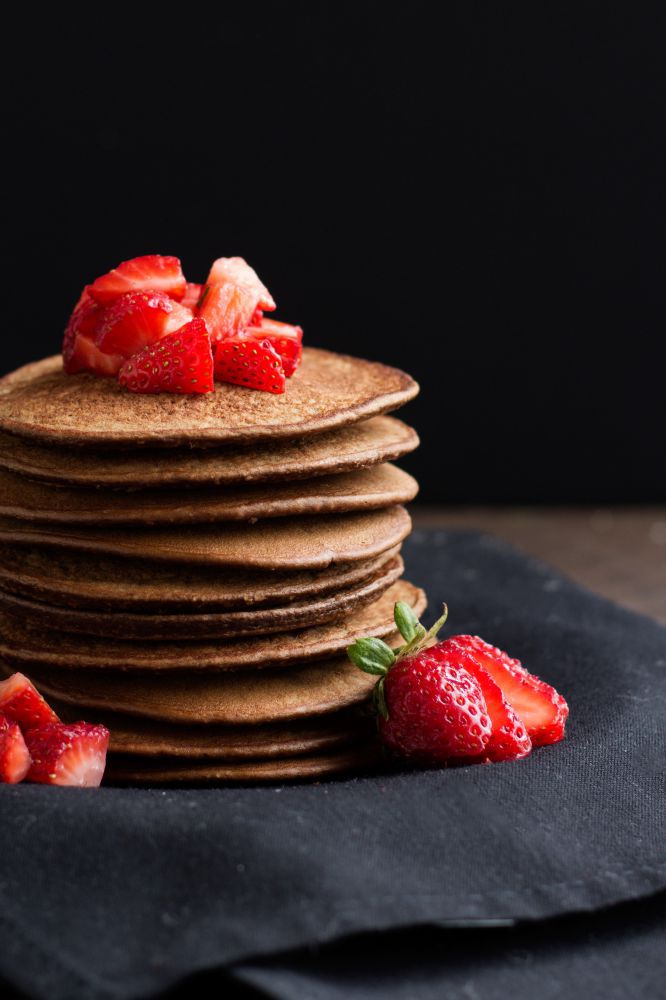 "Chocolate Protein Pancakes that are light and amazingly healthy for you. Topped with a little powdered sugar and strawberries and it's the perfect way to start your day!" Recipe: JenniferMeyering.
Chocolate Chunk Protein Pancakes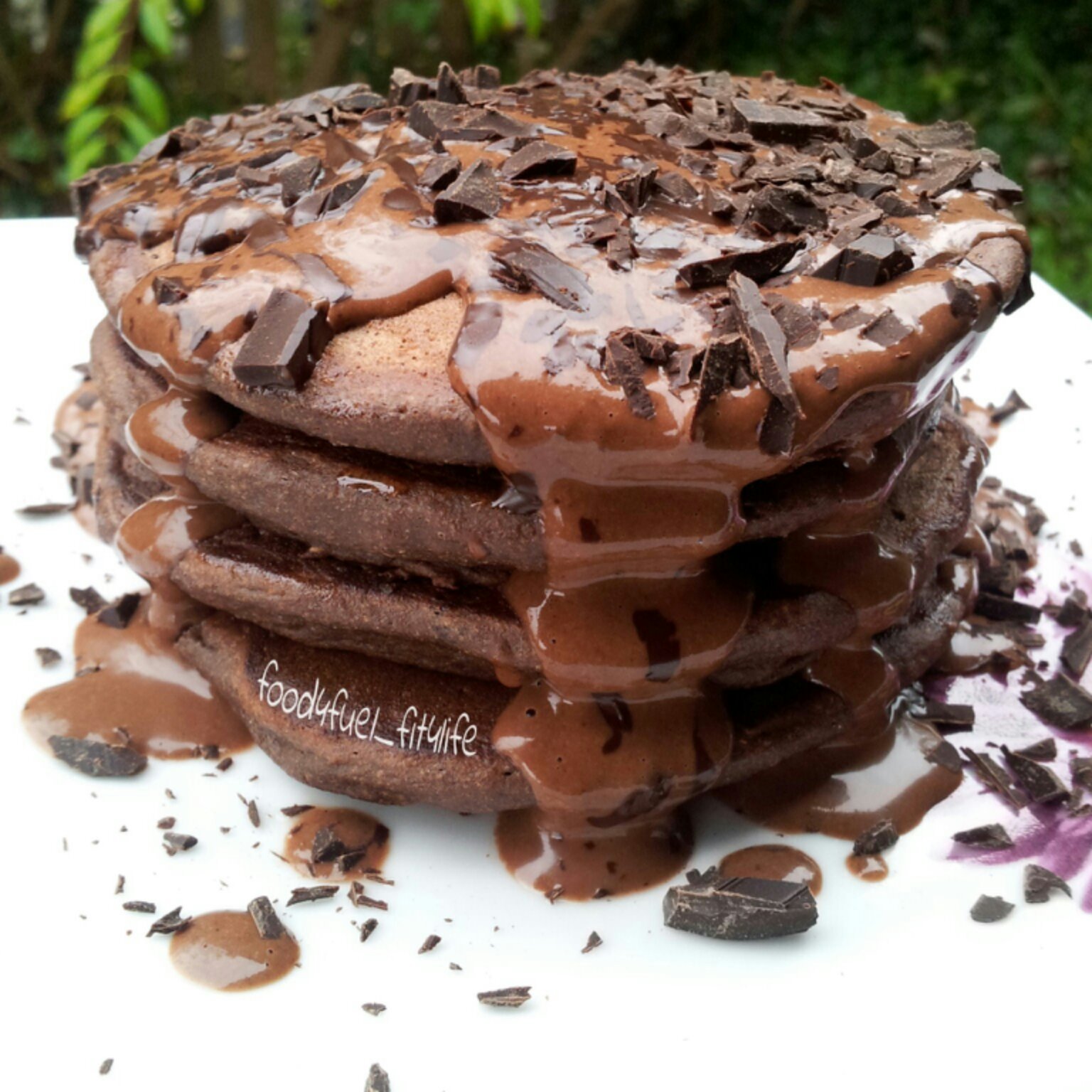 "I look forward to Saturday's as I always make pancakes! I came up with these last week and eyeballed everything so I didn't have a recipe, so by request I made them again and wrote down the ingredients!" Recipe: Food4FuelFit4Life.
Protein Pumpkin Pancake With Cinnamon Maple Sauce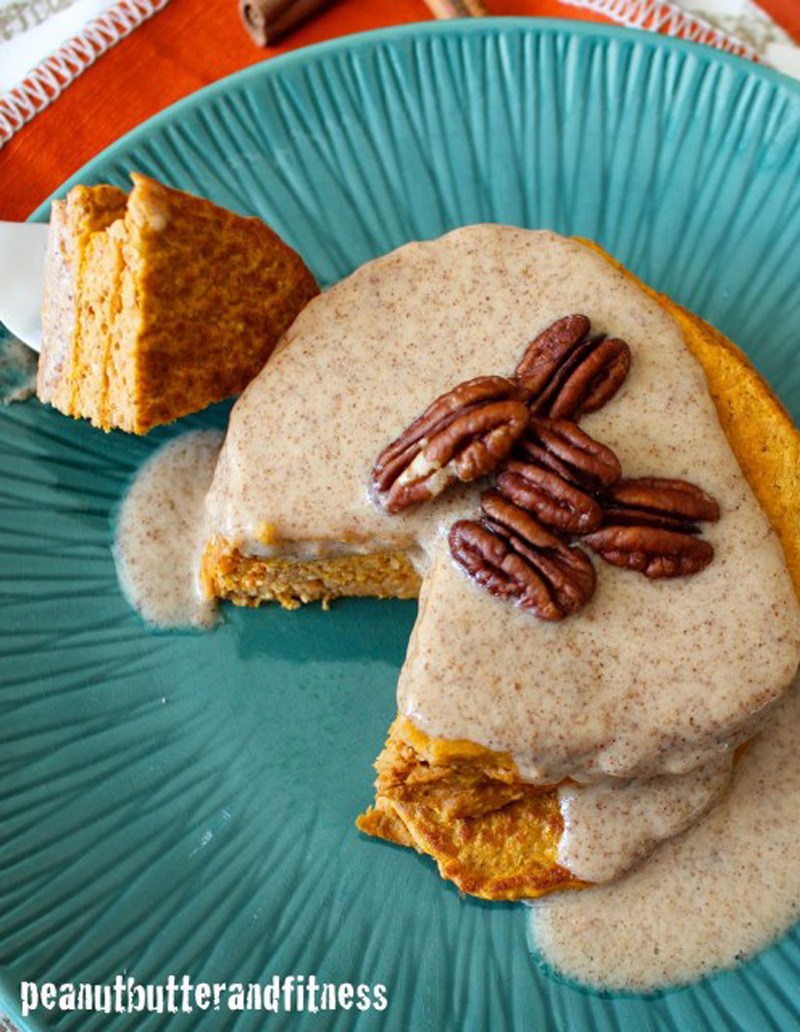 "If you like flat flapjack style pancakes, leave out the baking powder. Sometimes I like big fluffy pancakes, sometimes I like the flat ones. My pancake mixture was a little too thick, I should have known to add more almond milk before I plopped it on the skillet" Recipe: PeanutButterAndFitness.
Blueberry Vegan Protein Pancakes
"Current life motto: there is no such thing as too many pancakes. You all have good food taste, so I'm sure you agree with me. Let's get into this fat stack of blueberry vegan protein pancakes because I know you're drooling." Recipe: EmilieEats.
The Easiest Protein Pancakes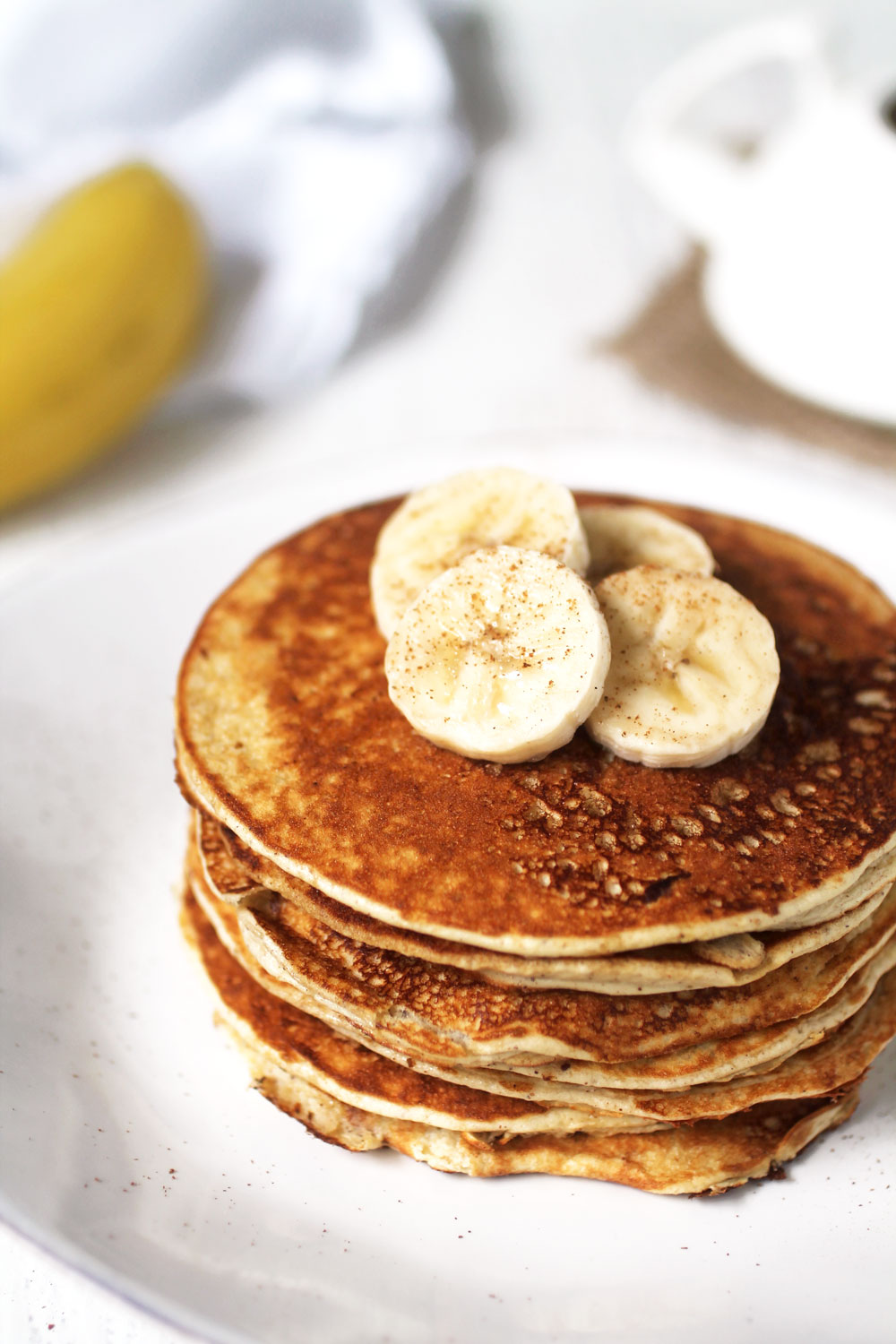 "I will say, as good as these do taste, they are designed to be able to eat pancakes for breakfast and not feel like you're cheating. I mean think about it, you're eating one banana, one egg, about 20 grams of plant based protein, and cinnamon. Maple syrup is a natural sweetener (totes fine), but they don't even need the extra sweetness". Recipe: Spinach4Breakfast.
Maple & Banana Whey Protein Pancakes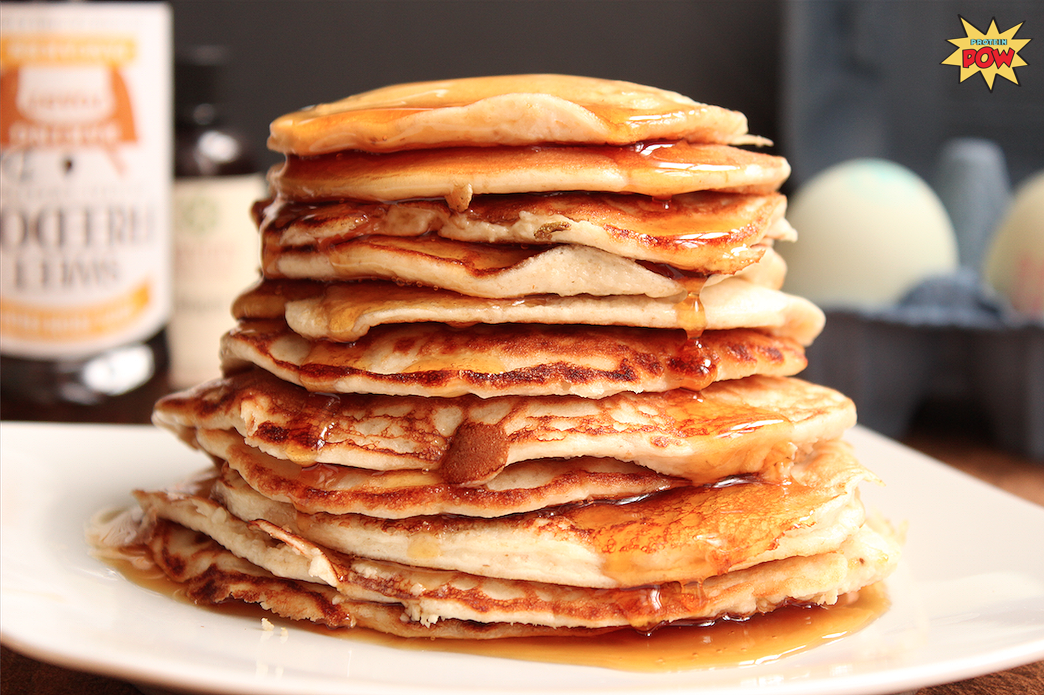 "Plate the beasts, add maple syrup, honey or Sweet Freedom on top + sliced bananas and/or strawberries, some bacon, ham, nut butter, coconut oil… basically, whatever your tastebuds demand and your macros allow for." Recipe: ProteinPow.
Healthiest Pumpkin Oat Protein Pancakes
"After taking a break for a few months to find ourselves and evaluate our relationship, I'm pleased to report that, thanks to this easy recipe for the Healthiest Pumpkin Oat Protein Pancakes, pumpkin and I are going steady again." Recipe: KimsCravings.
Red Quinoa Protein Pancakes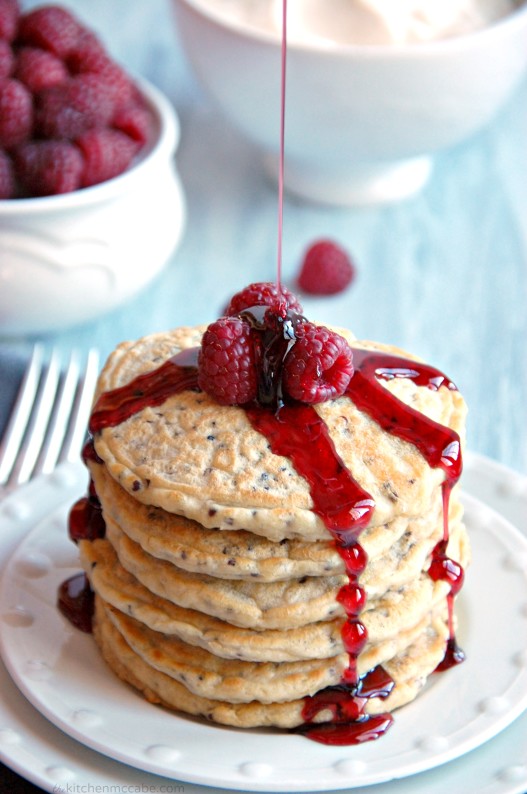 "These pancakes are dairy free. I used coconut oil and coconut milk in place of the milk and butter. There are no refined sugars thanks to the coconut palm sugar(have you heard of this kind of sugar? I really think you should look into it if you haven't! It's life changing!)." Recipe: TheKitchenMcCabe.
Zucchini Chocolate Chip Pancakes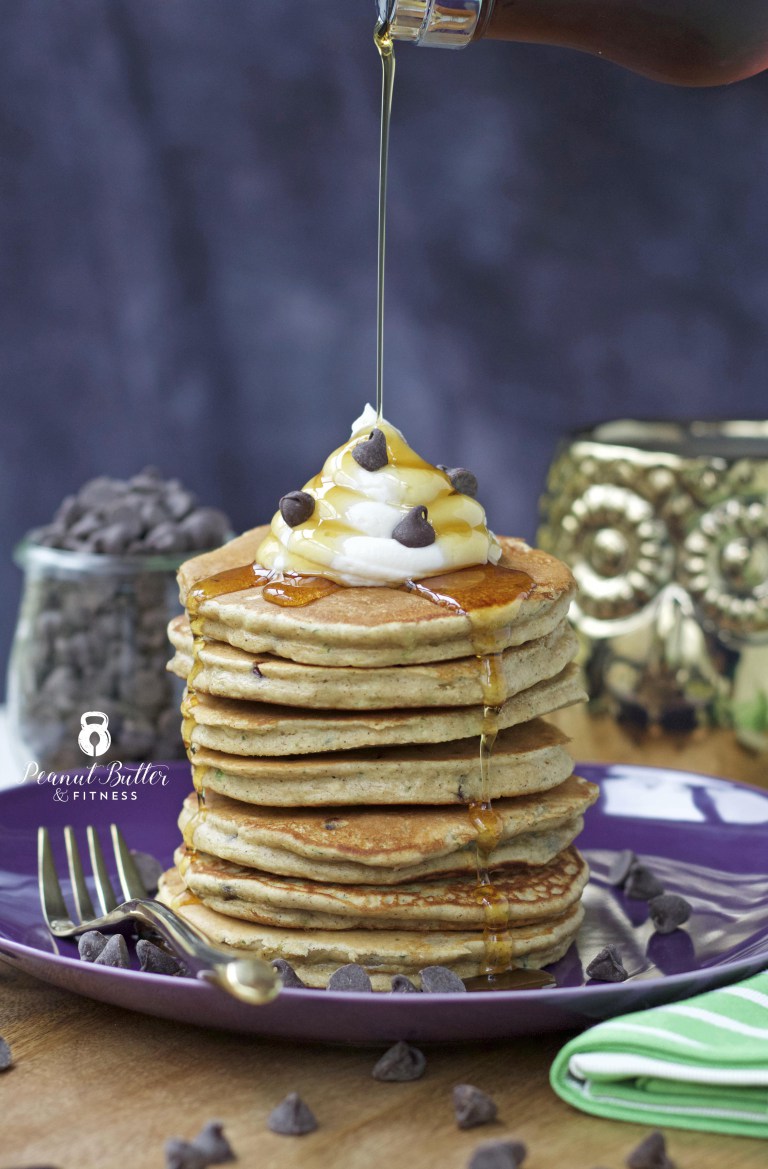 "I actually meant for these pancakes to have a lot more zucchini in them but I ran out! Bad planning on my part, but luckily I had a really ripe banana on hand and just improvised." Recipe: PeanutButterAndFitness.
Yummology Protein Pancakes With Maple Yoghurt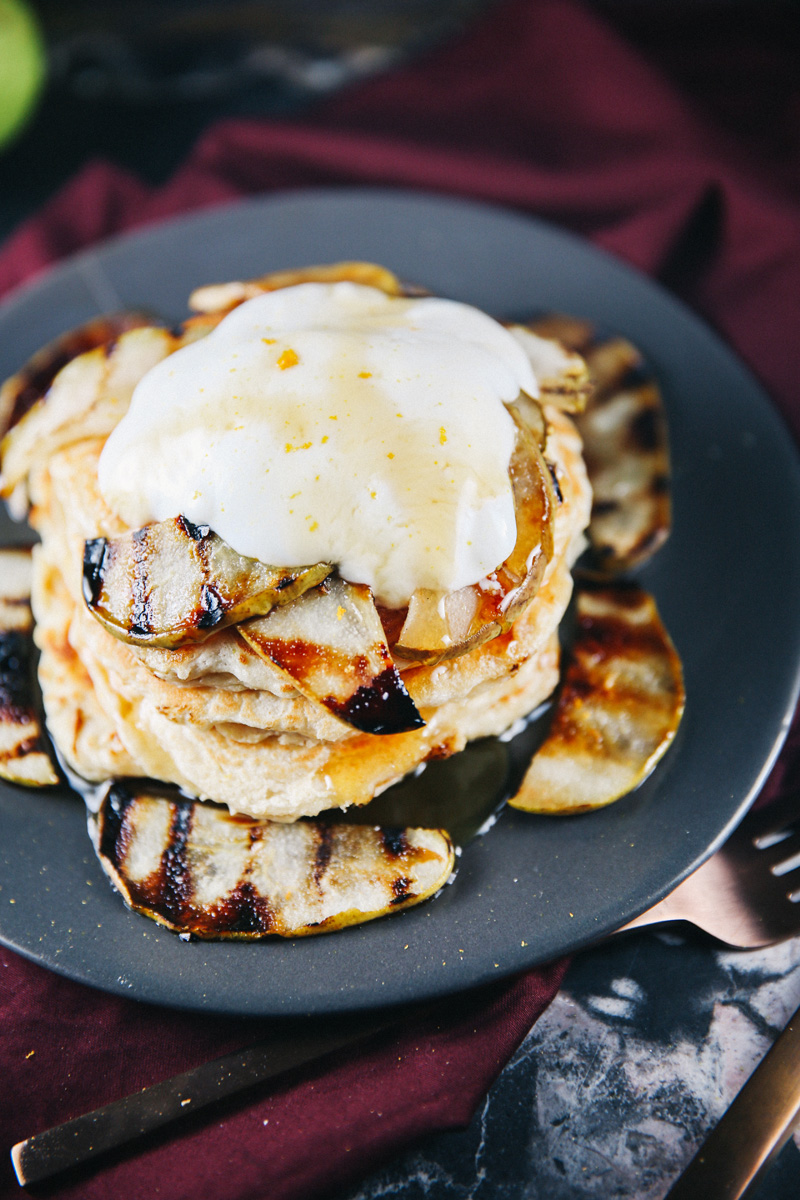 "Topped with lightly grilled pears drizzled with honey, these Yummology Protein Pancakes with Maple Yogurt are perfect for a beautiful clean eating brunch and easy for a healthy every day breakfast." Recipe: ForTheLoveOfBasil.
Peanut Butter Banana Protein Pancakes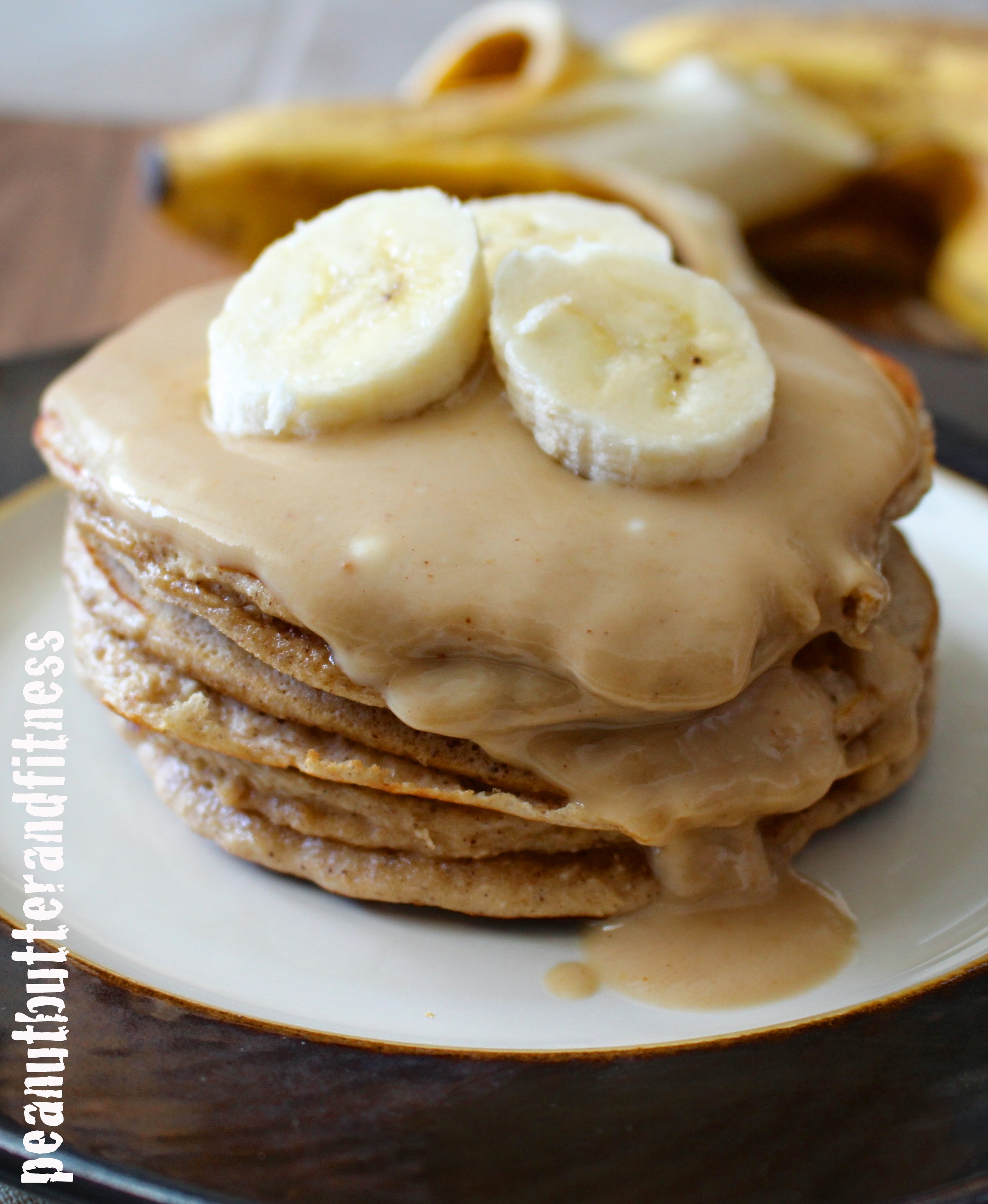 "Oh. My. God. These are the most amazing pancakes I've ever had. Not to toot my own horn, but seriously…I might just eat these for breakfast every day. And lick the plate afterwards just to make sure I didn't miss any of the maple peanut butter sauce yumminess." Recipe: PeanutButterAndFitness.
Orange, Blueberry & Vanilla Pancakes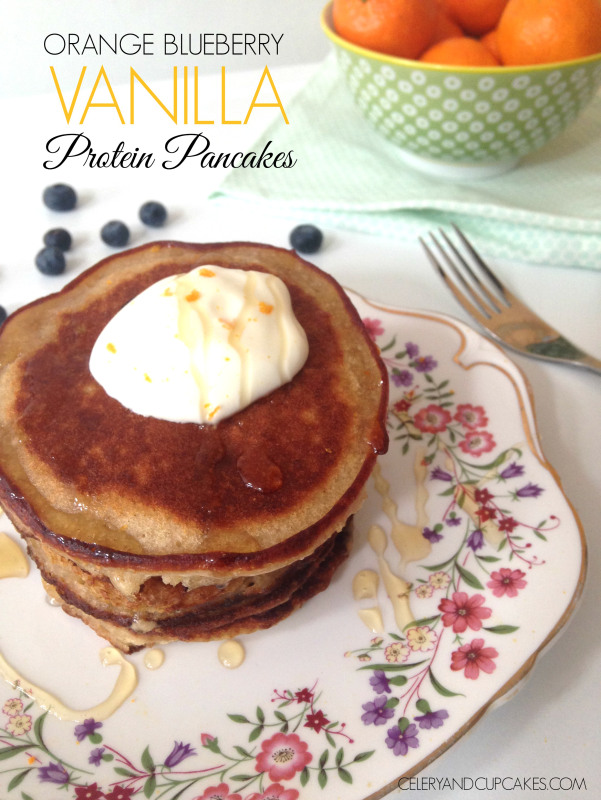 "One of my favourite ways to cook pancakes is giving them a nutritional boost by adding in my favourite protein powder." Recipe: CeleryAndCupcakes.