23 Incredible Foil Pack & Paper Wrapped Weight Loss Meals That Make Dieting Easy!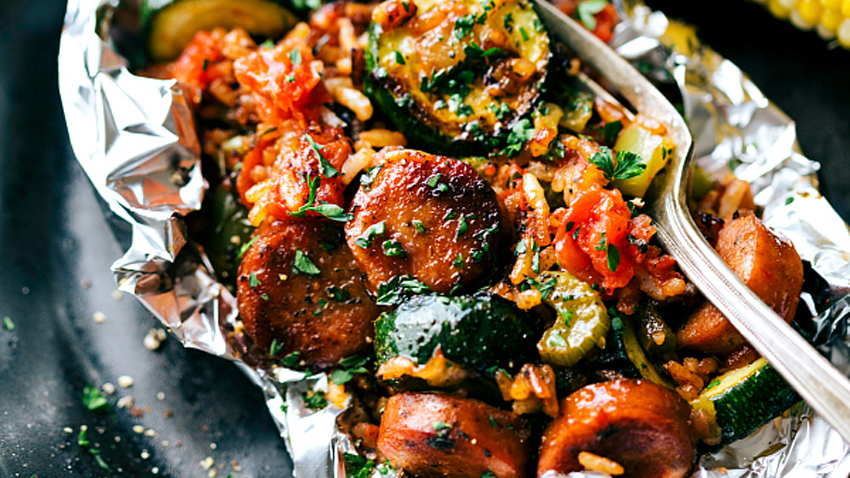 Wrapping meals in paper or foil and throwing them in the oven is fast becoming one of the go to staples for everyone trying to lose weight and get in shape.
"En papillote", meaning to cook in parchment (paper), or simply using the same technique with foil, is the method of placing your ingredients (generally being lean proteins, vegetables and delicious flavourings) in a parcel. Once sealed, it is placed in the oven to cook. All the steam, juices and flavours seal in and create an amazing, healthy dish with no standing over a stove for 40 minutes and no clean up!
High protein, weight loss meals that you can customise to your own taste without 5 pots and pans to clean up after? Sign us up! We have collected 23 of the best foil pack and paper recipes for you to try. As always, share and save your favourites on all your social media. Enjoy!
23 Incredible Foil Pack & Paper Wrapped Weight Loss Meals That Make Dieting Easy!
Tinfoil Cheesy BBQ Pulled Pork And Veggies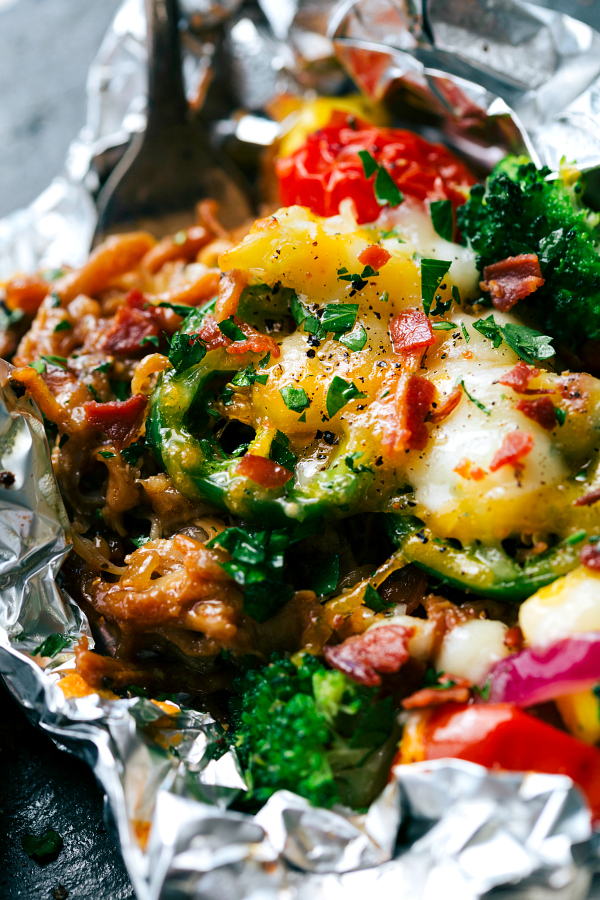 "Foil pack "crustless" sweet BBQ pulled pork pizza with your favorite pizza toppings all cooked together with a side of veggies: broccoli and cherry tomatoes!" Recipe: ChelseasMessyApron.
Lemon Garlic Butter Fish in Parchment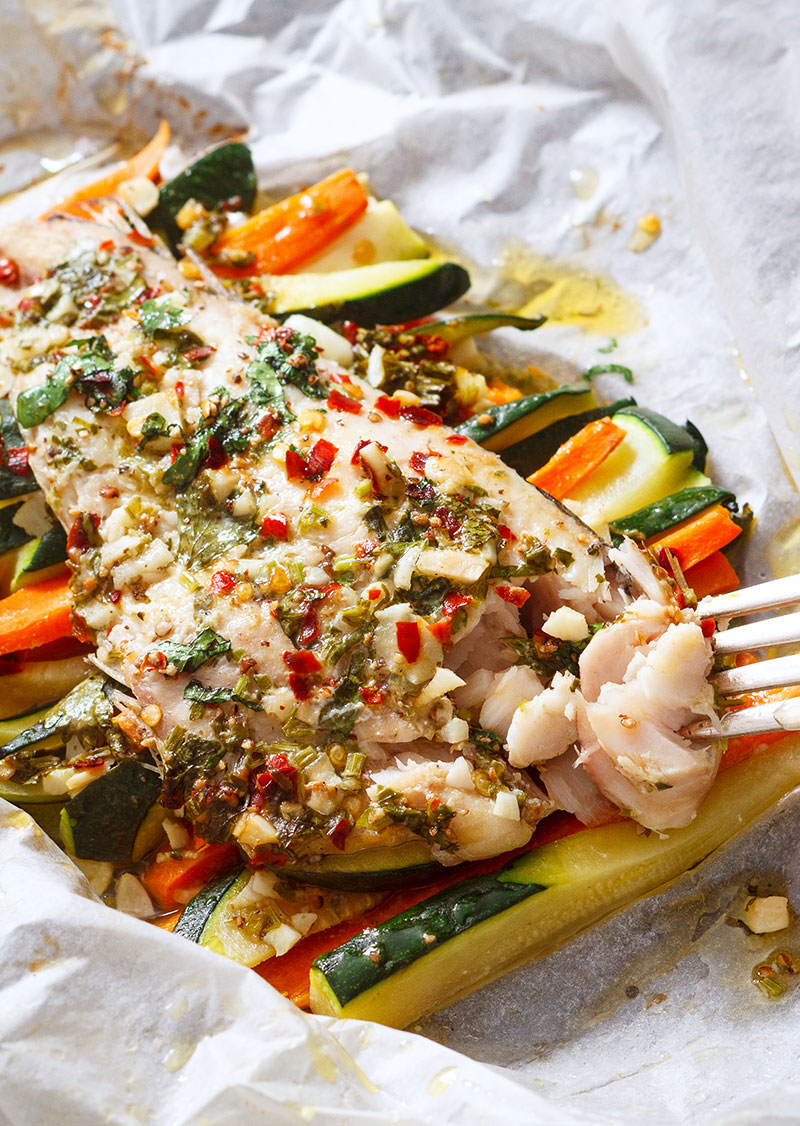 "For a healthy all-in-one dinner you can make any time in the week, this garlic butter fish in parchment takes a few minutes to prepare and requires minimal clean-up. Cooking in parchment paper pouches enhances the flavors of spices, crisp vegetables and the garlicky butter sauce." Recipe: EatWell101.
Easy Tin Foil Sausage & Vegetables Dinner
"These delicious and easy tin foil packets are so quick to assemble! They are packed with sausage, tons of veggies, and the best seasoning mix. This easy tin foil sausage and veggies dinner is sure to be a family favorite this summer!" Recipe: ChelseasMessyApron. 333 Calories.
Foil Pack Creamy Salsa Verde Chicken, Rice And Veggies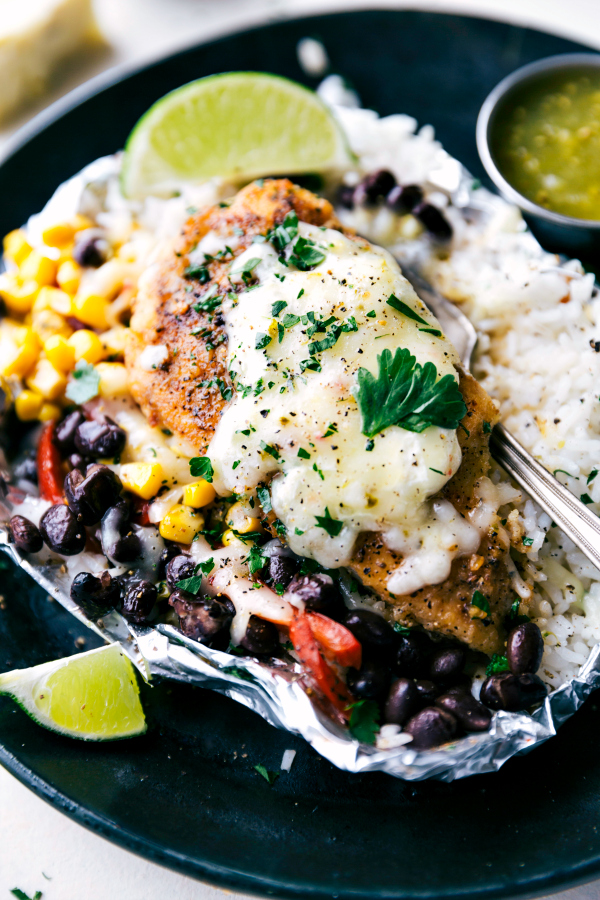 "Creamy salsa verde chicken with rice and veggies all cooked at once in a foil packet! No need to pre-cook the rice or chicken. This dish takes no more than 10 minutes to assemble and is bursting with delicious Mexican flavor." Recipe: ChelseasMessyApron.
Tinfoil Garlic Parmesan Salmon And Veggies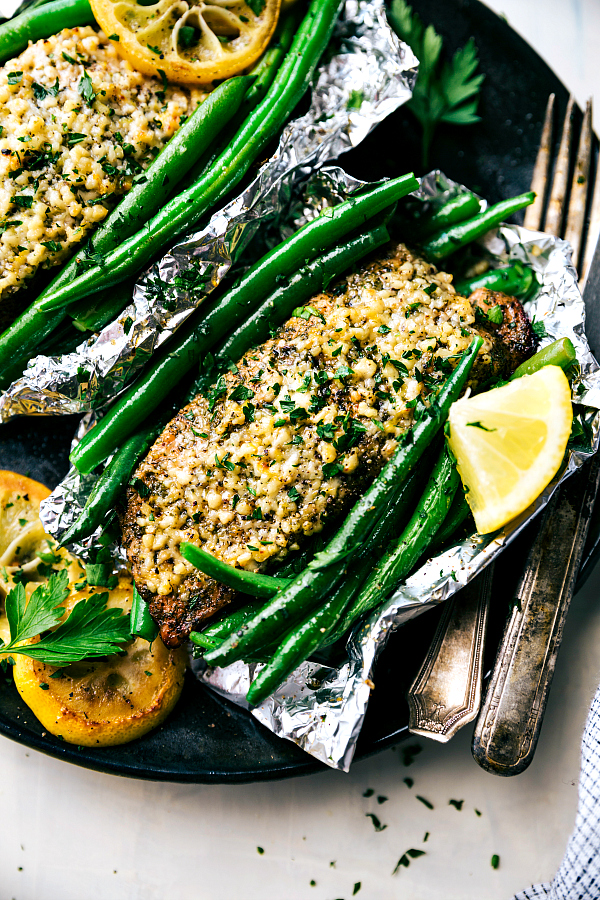 "So fast and easy to make! Lemon garlic parmesan salmon and green beans in foil packets cooked over the grill or in the oven." Recipe: ChelseasMessyApron.
Asian Salmon In Foil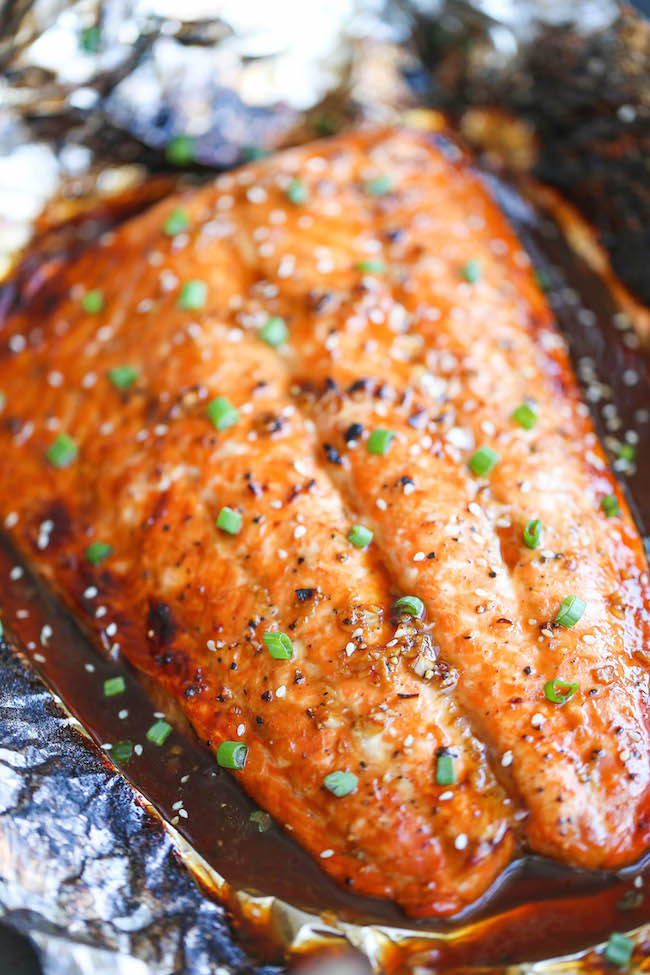 "The best and easiest way to make salmon in foil – and you won't believe how much flavor is packed right in!" Recipe: DamnDelicious. 434 Calories.
Lemon Chicken & Potatoes In Foil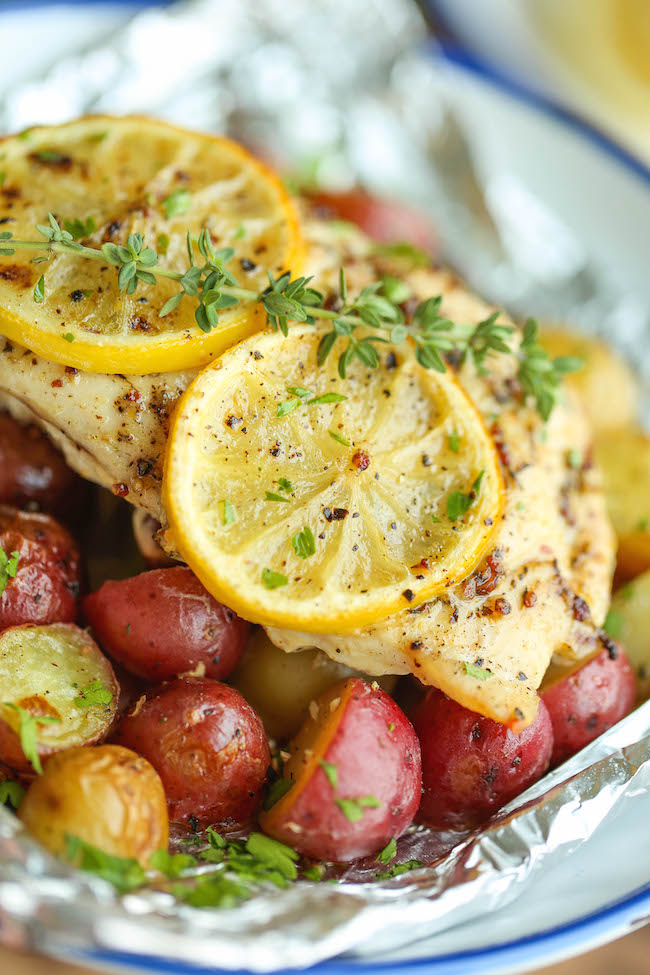 "The most amazingly moist and tender chicken breasts cooked in foil packets – so easy and packed with tons of flavor!" Recipe: DamnDelicious. 396 Calories.
Baked Pork Loin And Veggies In Parchment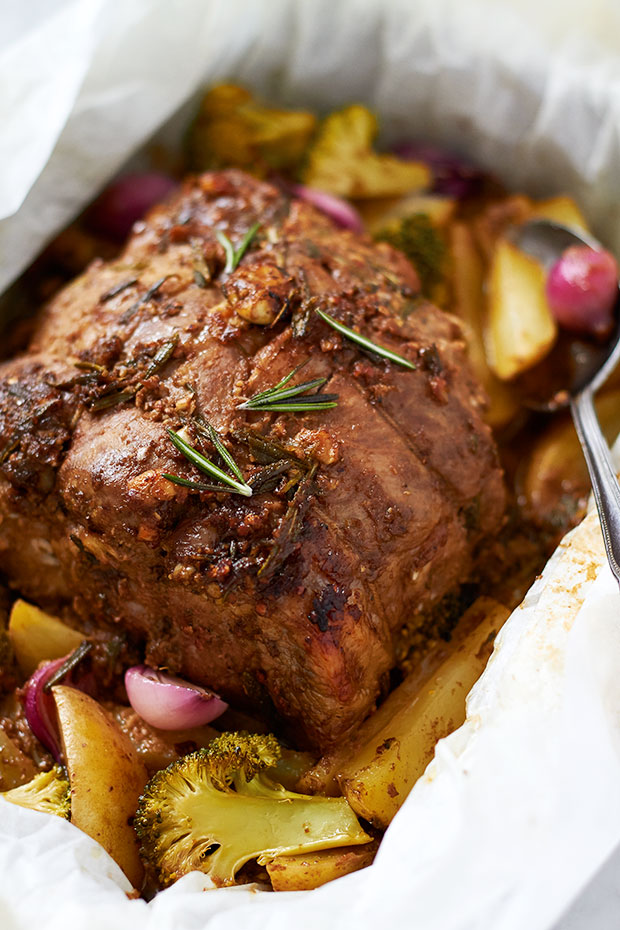 "With this tender and sweet baked pork loin and Vegetables, you are sure to make a huge hit with your family. Cooked with balsamic, garlic and herbs marinade in a parchment paper packet, the meat comes out incredibly moist and juicy." Recipe: EatWell101.
Healthy Thai Salmon In Foil
"The flavors are sealed right into a foil packet with no clean up! The salmon comes out so tender/juicy. Sure to be a family favorite!" Recipe: DamnDelicious.
Cod en Papillote with Potatoes, Asparagus and Scallion Pistou
"This method cooks the fish and vegetables perfectly, leaving the asparagus with a little bit of crunch to balance out the flaky cod. It's perfect if you're avoiding grains and want something bright tasting, but filling that's not incredibly time consuming." Recipe: ABetterHappierStSebastian.
Garlic Butter Baked Salmon In Foil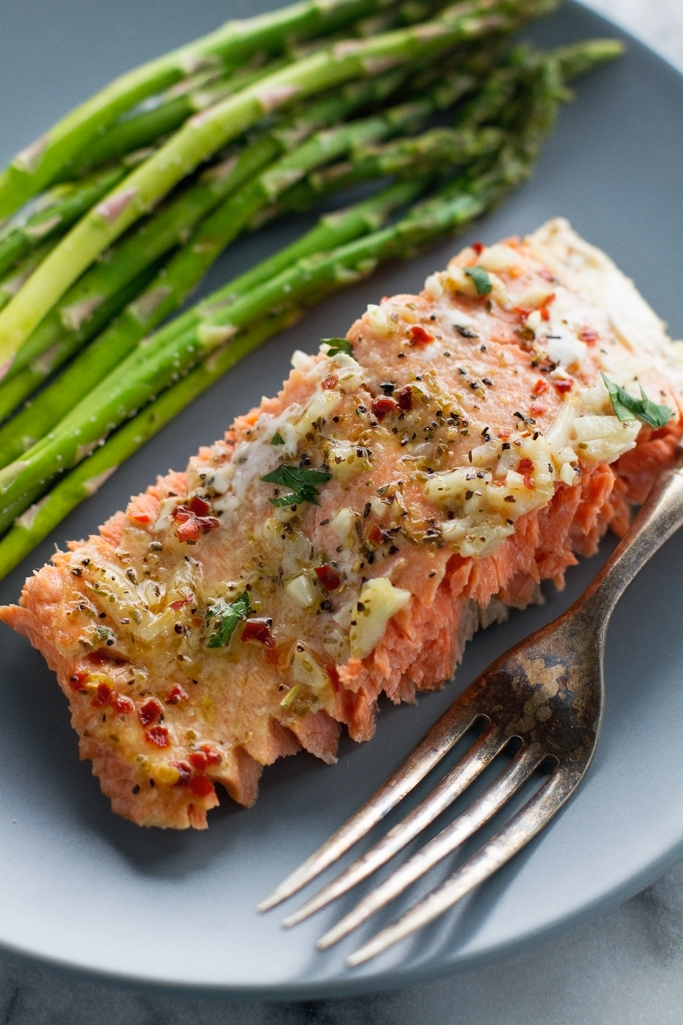 "Baked salmon in foil that's been brushed with my lemon garlic butter sauce. This recipe is so easy to make and pulls together in less than 30 minutes! The salmon is so flakey and tender when baked inside foil. You're going to love this recipe!" Recipe: littlespicejar.com
Sausage, Potato & Green Bean Foil Packets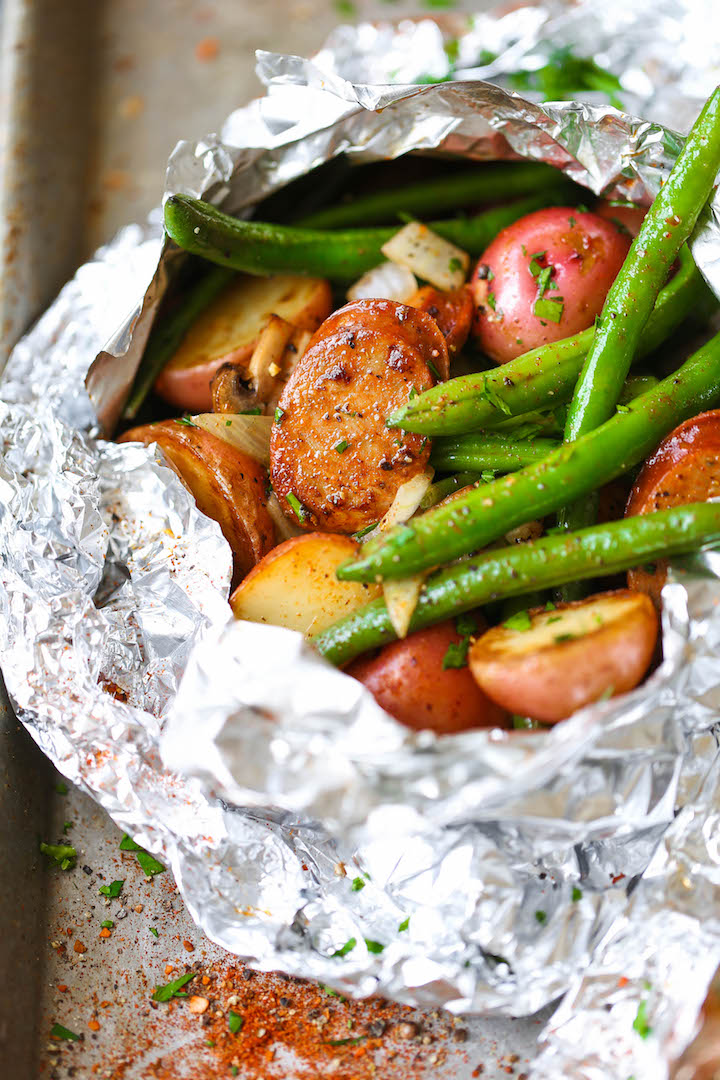 "Sausage and veggies packed in easy foil packets. Perfect for camping or a quick dinner! Can be baked/grilled." Recipe: DamnDelicious.
Healthy Lemon Dill Salmon In Foil
"Seriously dead-simple salmon cooked right in foil! 10 minutes prep. No clean-up! And you know lemon-dill flavors are THE BEST!" Recipe: DamnDelicious.
Grilled Herbed Chicken & Potato Foil Packs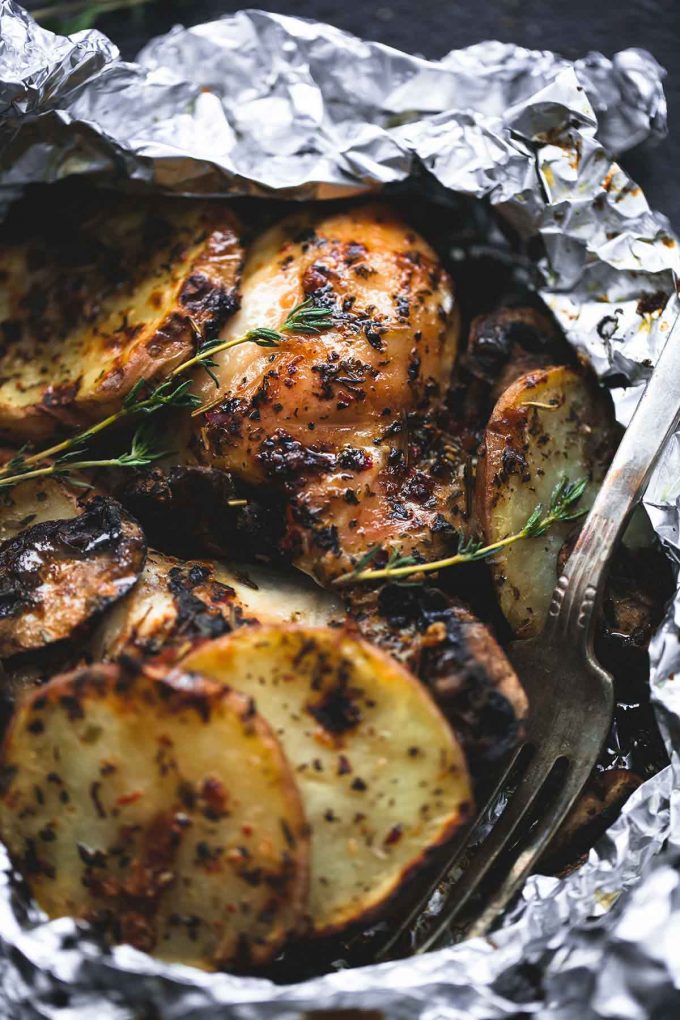 "Grilled herbed chicken & potato foil packs are a fun and simple summer dinner that the whole family will love. They can even be cooked on a camping stove or over a fire!" Recipe: LaCremeDeLaCrumb.
Tinfoil Sausage And Vegetables Jambalaya
"Andouille sausage, veggies, uncooked rice, and a delicious spice mixture — throw it all together in some tin foil and forget about it!" Recipe: ChelseasMessyApron. 429 Calories.
Mediterranean Cod En Papillote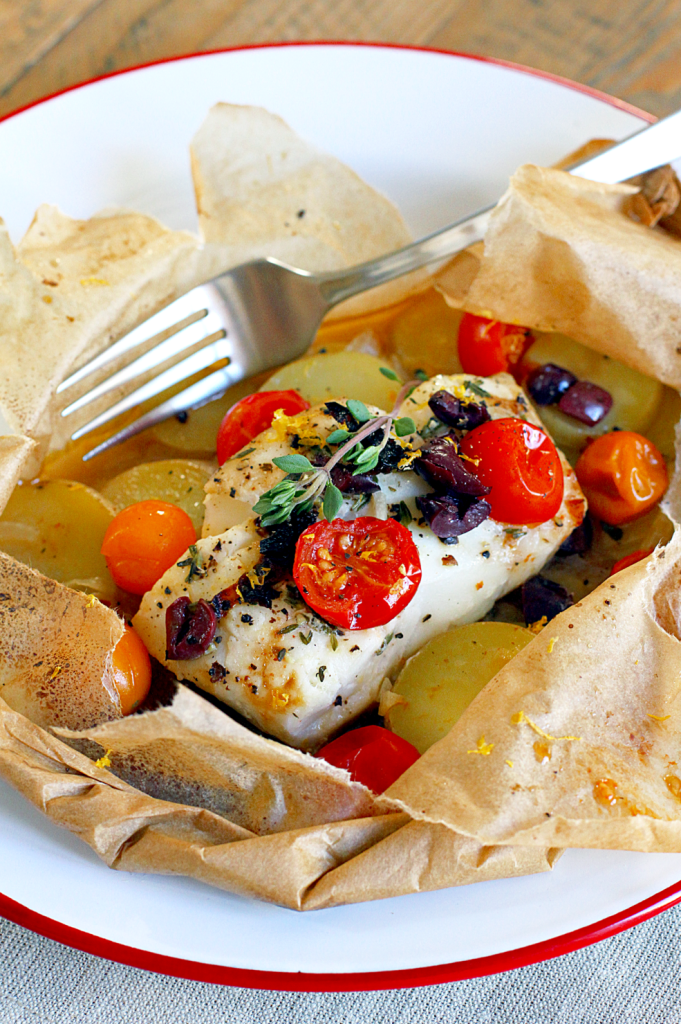 "Cod en papillote is at once rustic and elegant, making it an ideal entrée for casual or formal dining. Serve it with a green salad and your favorite white wine, and I guarantee you and your guests will be delighted." Recipe: TwoOfAKindCooks.
Lemon Chicken & Asparagus Foil Packs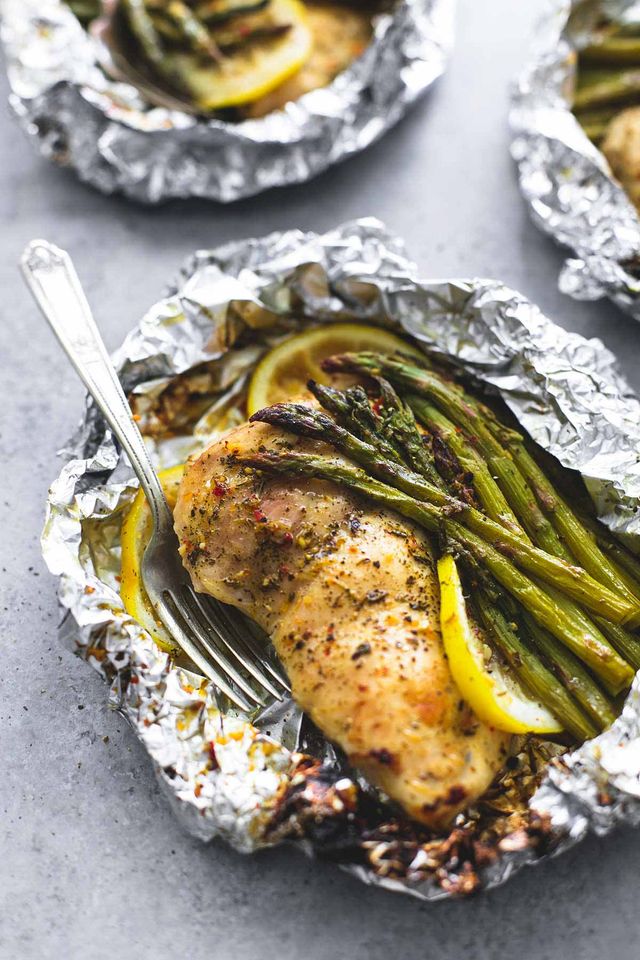 "Simple lemon chicken & asparagus foil packs are an easy and incredibly delicious 30-minute meal you can either grill, or bake any time of the year." Recipe: bloglovin.com
Salmon En Papillote With Vegetables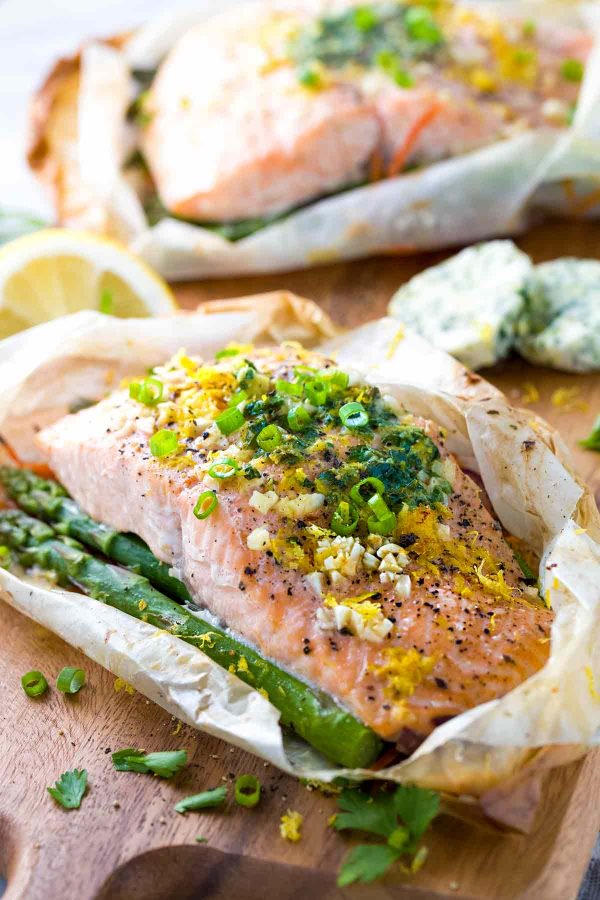 "Salmon fillets placed on a bed of vegetables, wrapped in a parchment paper pouch (en papillote) and baked in the oven. The fish is also topped with basil compound butter for extra flavor!" Recipe: JessicaGavin. 363 Calories.
Foil Pack Italian Chicken + Veggies
"I changed up the veggies a bit, but you've still got all the amazing Italian seasonings. Plus, this dish is just about as inexpensive to make and just as healthy. Good-for-you ingredients, very little prep, and virtually no clean-up! This dinner is a mega win!" Recipe: ChelseasMessyApron.
Shrimp, Bok Choy & Noodles En Papillote
"Delicious, Asian-inspired Shrimp en Papillote, with shrimp, bok choy and noodles, cooked in parchment paper packets." Recipe: SeasonsAndSuppers.
Sausage And Peppers Foil Packets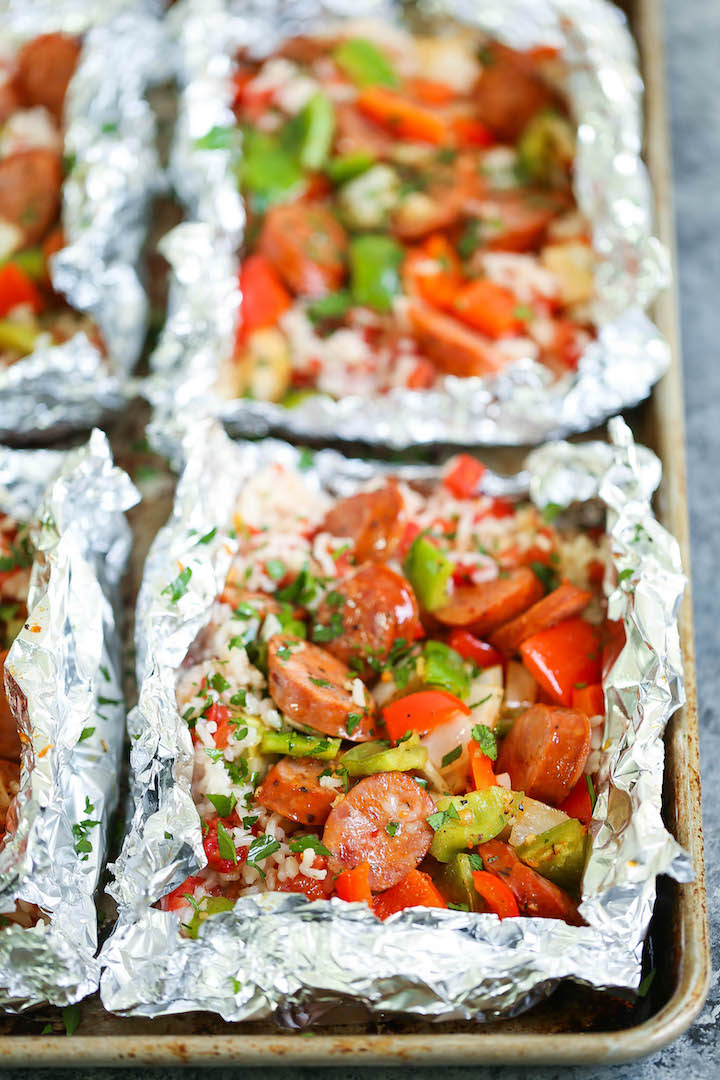 "Prep ahead of time and portion these into individual servings! Loaded with sausage, peppers, rice and cajun seasoning!!!" Recipe: DamnDelicious. 463 Calories.
Pesto Caprese Chicken In Foil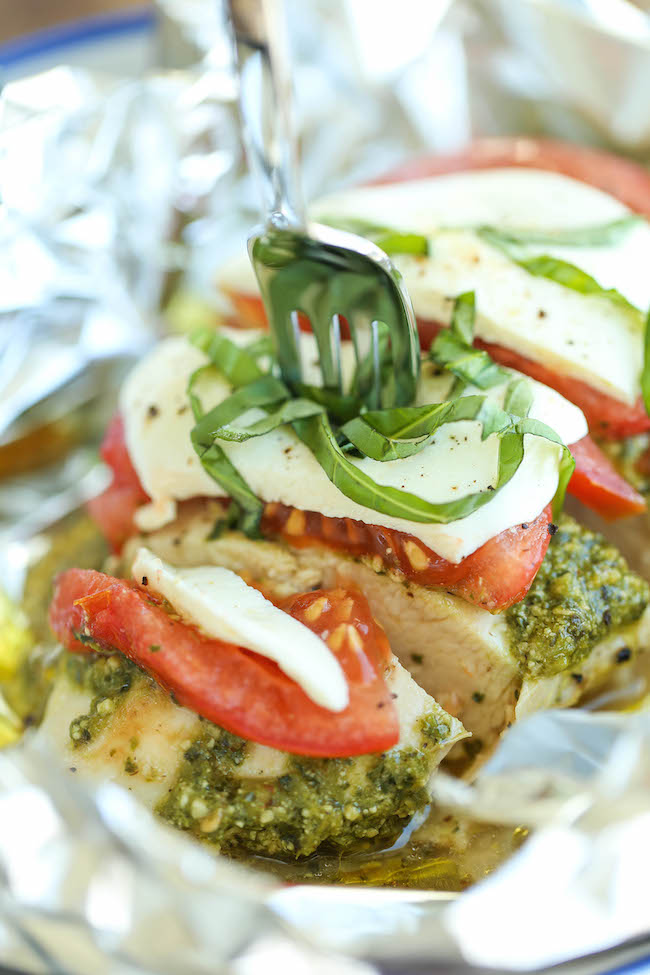 "Dinner has never been easier with these foil packets – simple wrap and bake. SO EASY! And the leftovers taste even better!" Recipe: DamnDelicious. 605 Calories.
Shrimp Fajitas In Foil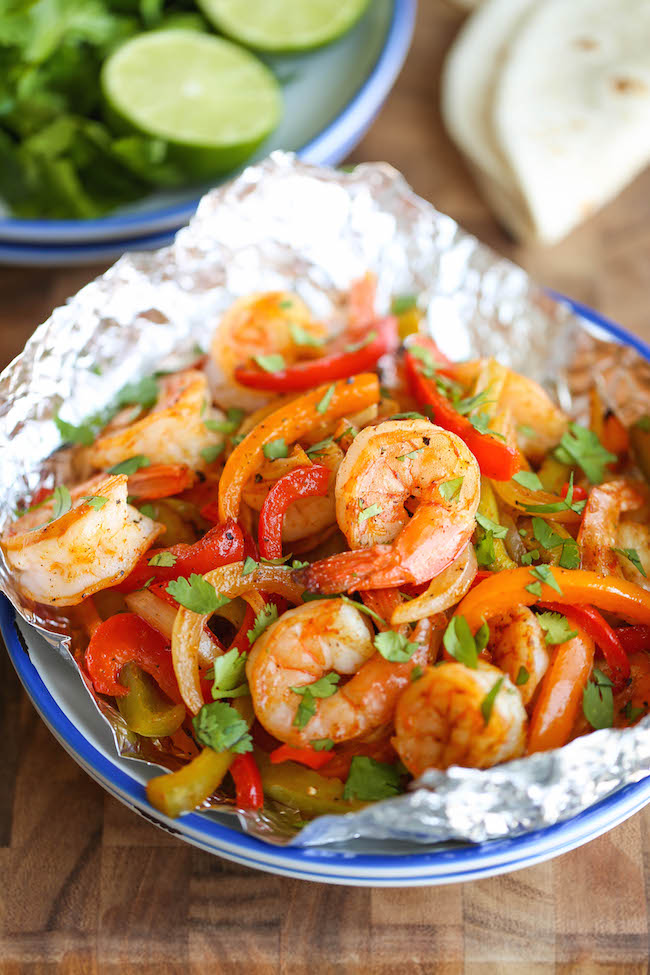 "Making fajitas has never been easier than this – simply wrap and bake. That's it! And clean-up is an absolute breeze!" Recipe: DamnDelicious. 273 Calories.