20 Most Delicious And Healthy Juice Recipes You Will Love!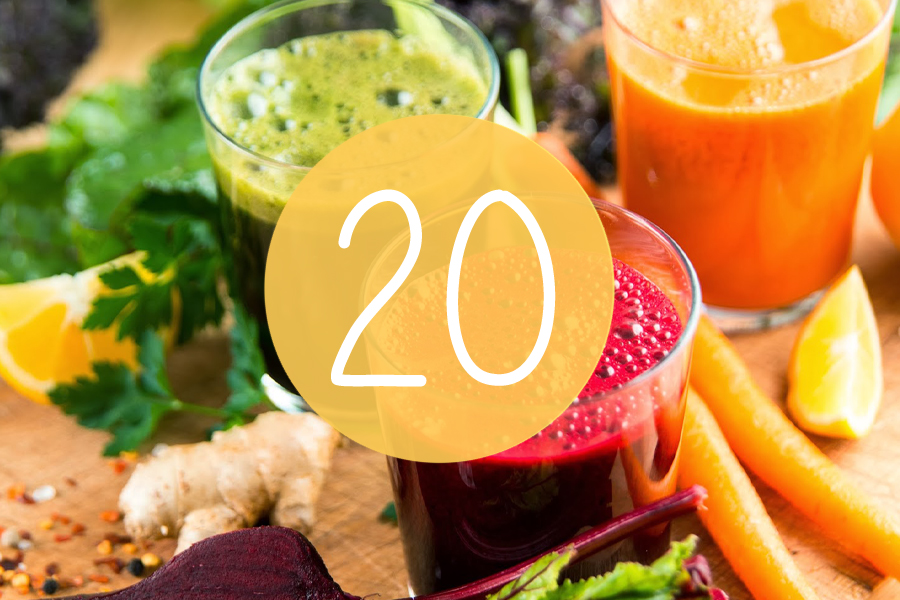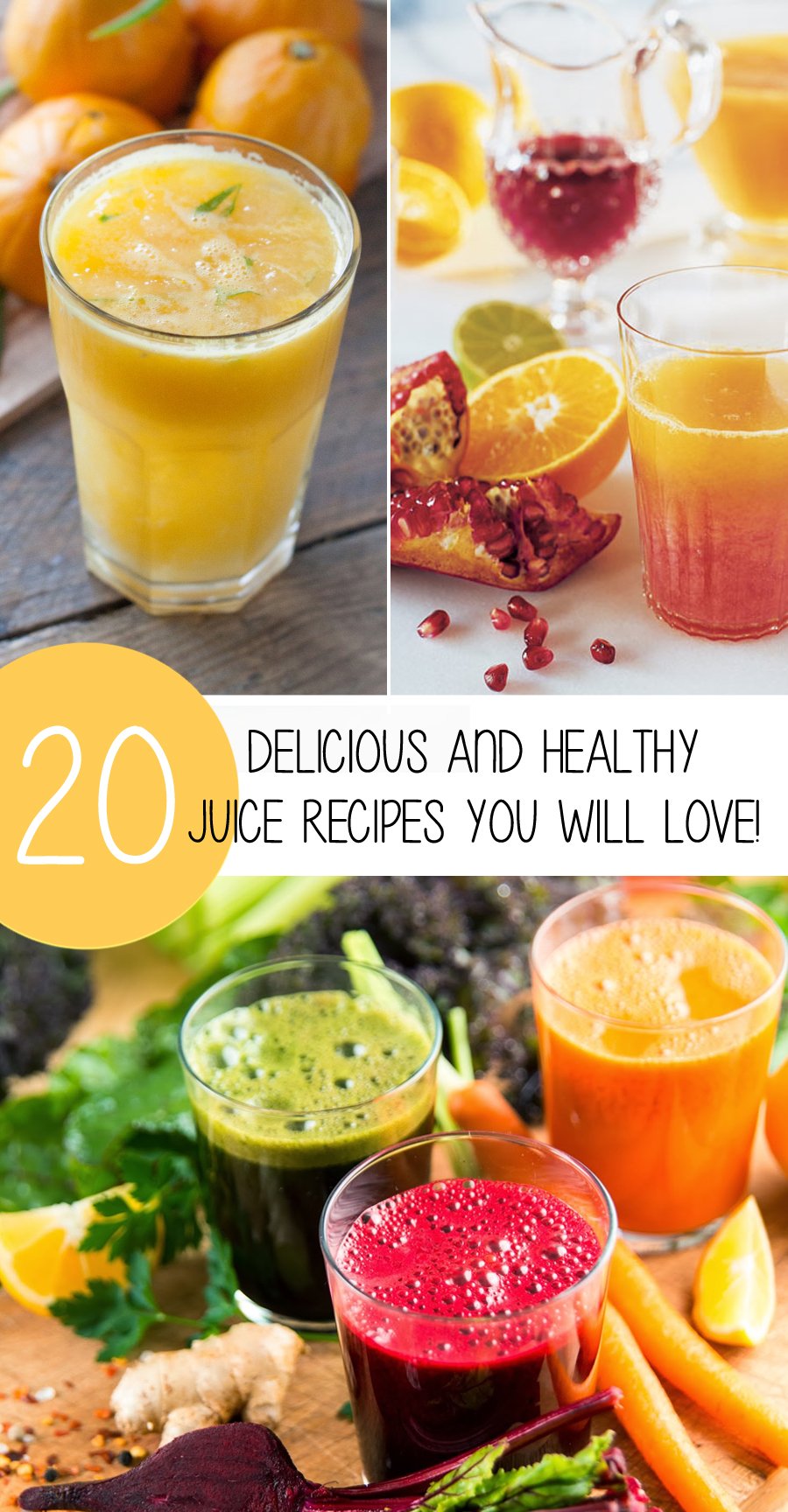 1. Green Smoothie.
Gotta get your greens! This smoothie is loaded with immunity-boosting kale, potassium-loaded bananas and omega-3's from flaxseed. Talk about health in a glass. You can find the fabulous recipe here.
2. Creamsicle Breakfast Smoothie.
Aren't Creamsicle only supposed to be for treat time? Great news: Now you get to enjoy the taste of a Creamsicle as a healthy breakfast drink! See how to make them!
3. Total Health Booster.
The name says it all! Cheers to good health with this excellent source of vitamins – vitamins A, B, C and E just to name a few!) Read how to make this drink that even fights aging here.
4. Antioxidant Supreme.
The berries in this super juice help to fight the aging process! Coming in at only 151 calories, you simply can't go wrong with this excellent drink. Read how to make it!
5. Pomegranate Citrus Juice.
What a powerful combination – grapefruit, orange, tangelo, lime and pomegranate! The colors in this drink will remind you of a tropical sunrise, and the antioxidants it provides will help boost your immune system. See the ingredients here.
6. Vegetable Juice.
Get your electric juicer ready for this wonderful concoction. Vegetable juice made at home has much less sodium than the kind you can buy in stores. Plus, nothing beats homemade! Find out about it here.
7. Coconut-Kale-Ginger Juice.
Wow, this drink has some interesting ingredients! But fear not, combined together they will tickle your taste buds and give you a powerful energy boost at the same time. Interested? Read about it here.
8. Spiced Green Tea Smoothie.
Studies have shown that green tea just may increase your body's ability to burn fat. Combine that fact with the point that this drink is just plain yummy, and you have smoothie success! Read how to make this drink!
9. Banana Maple Smoothie.
Jam packed with potassium, this smoothie is banana-licious! The maple syrup makes it a rich and sweet treat any time of the day. Make it by following the instructions here.
10. Immune Booster Juice.
With the cold and flu season upon us, you will be able to ward off any sickness with this drink that's exploding with vitamins! Kiwis, grapefruits and oranges make it the perfect punch to ward off the sniffles! See how to make it!
11. Wild Spiced Dandelion Berry Bliss Juice.
This easy-to-make pulped juice has an exotic name as well as an exotic taste! Many people believe that drinking pulped juice is actually healthier for you. What do you think? Give it a try by following the instructions here.
12. Carrot Juice Boost.
Do you need more vitamin C in your daily diet? If your answer is "yes", we have just the solution for you! Try out this vitamin C packed drink that even helps to fight cancer and heart disease. Click here!
13. Blood Orange Blast.
The perfect balance of sweet and tart, this drink will give you the energy boost you need to start your day! Whether going for a morning run or starting the work day at the office, the vitamin C in this recipe will help guide you to success! Make it today!
14. Apple Orchard Medley.
Apple lovers unite! If you are a fan of apples, this drink is certainly for you. Using five different types of apples – Gala, McIntosh, Granny Smith, Golden Delicious and Braeburn – this drink will help fight off disease and promote weight loss. See the fantastic recipe here!
15. Nice Green.
Lower your blood pressure, improve your complexion and protect your bones with this "nice" drink! Use apples, celery, lemons and tangerines to make this recipe.
16. Flower Power.
If you have high blood pressure, you will want to try this concoction. Brussels sprouts, oranges, cucumbers, spinach, and pineapples make it a force to be reckoned with! Read about it here.
17. The Anytime Cocktail.
Like its name suggests, you can drink it anytime! It tastes so good, you probably will. Find out about it here!
18. Six Vegetable Juice Recipe.
You need a Dutch oven to make this spicy yet filling drink – but it's worth it! Packed with wonderful veggies, it's sure to delight your palate! Get the recipe here.
19. Blackberry Down.
What do you get when you add peppermint to a drink that contains blackberries, kiwis, pears and pineapples? The answer is excellence! Try this drink here.
20. Sweet Lullaby Celery Juice.
I've you're craving a better way to fall asleep at night, then you will be craving this nutritious recipe for a long time to come! Get it here.
Photo Credits:
http://rosalieruardy.com/
http://www.wholeliving.com/