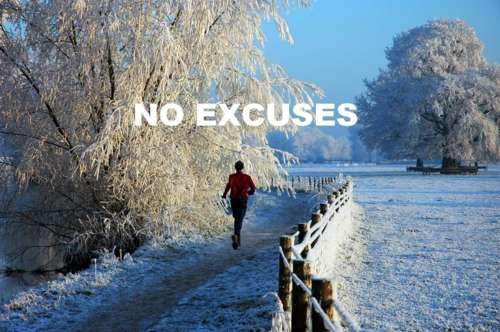 It's easy to get caught in a bad cycle of excuses. 'I'm too tired', 'My legs hurt', 'I don't feel like it', 'It's too hot', 'It's too cold', 'I'm busy', 'I'll do it tomorrow'. Everybody has excuses, some have damn good ones, but it's important to go past them. To work past them. To forget them. That's what 'No Excuses' means. It doesn't mean your reasons aren't important, or even valid, it means that you WILL have reasons not to do something, but it's more important to focus on the goal you want to achieve and do whatever it takes to reach it.
This is a collection of 20 of the best motivational 'no excuses' images, that show people working past a situation or adversity, where a lot of people would throw in the towel and quit (or not even try at all). Amazing fitness motivation and inspiration.
"There's a difference between interest and commitment. When you're interested in doing something, you do it only when it's convenient. When you're committed to something, you accept no excuses – only results."
No Excuses Pics – 20 Incredible Fitness & Gym Motivational Pictures To Inspire You!