45 'New Year, New You' Weight Loss Recipes That Will Help You Drop Body Fat!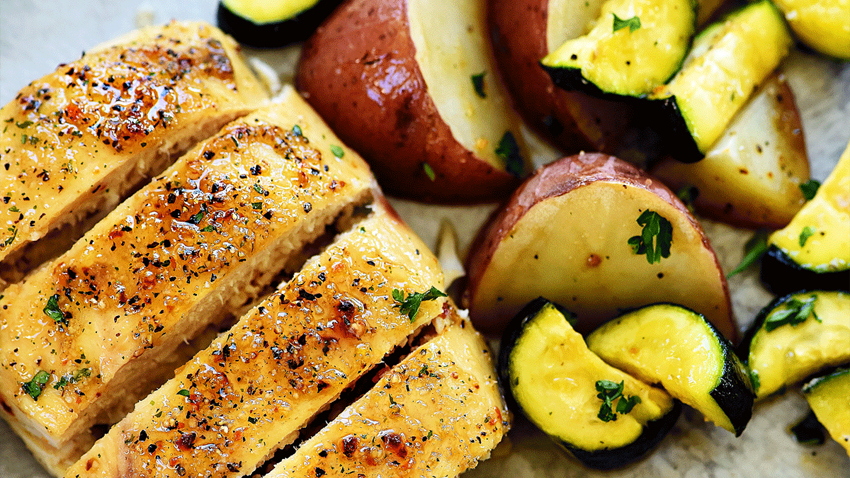 If you've started off the New Year with a resolution to be healthier and lose some unwanted body fat, then we are here to help!
You lose weight and feel healthier, by consistently making better choices, eating healthier, calorie sensible meals and sticking to it for the long term.
Here are 45 delicious, calorie smart meals, that will help you lose weight and will make smashing your resolution a breeze! Be sure to save and share all your favourite recipes to your social media! Enjoy!
45 'New Year, New You' Weight Loss Recipes That Will Help You Drop Fat!

Chinese Chicken Salad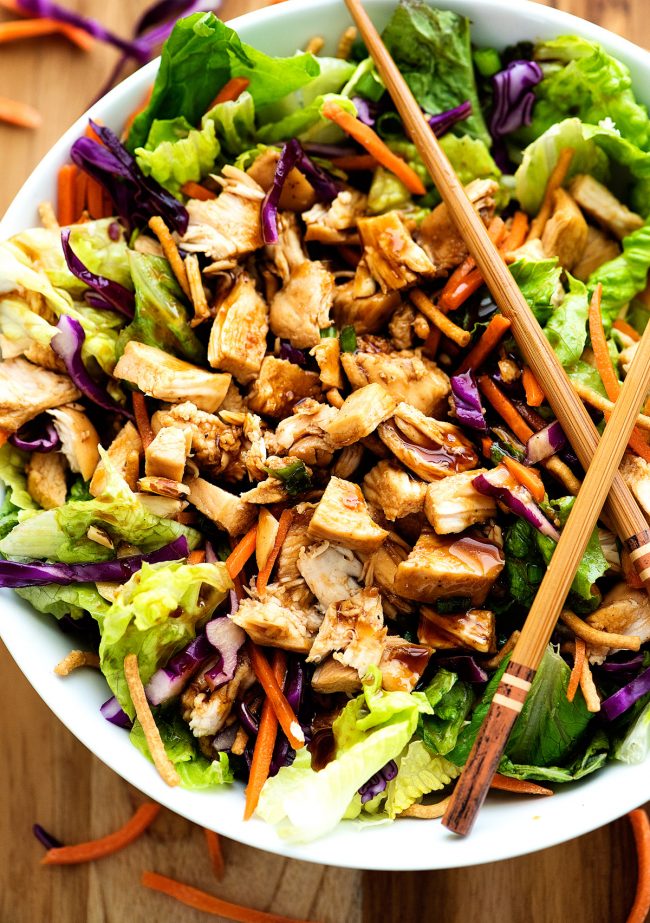 "Okay, now we need to talk about this salad. This CHINESE CHICKEN SALAD! I made this for dinner a few days before my surgery and we just loved it. Shredded carrots, green onion, red cabbage over a bed of romaine lettuce. Then you top it with the most delicious chicken and Chinese dressing. Yummers. It has so much flavor in every bite!" Recipe: LifeInTheLoftHouse.
6 Ingredient Creamy Roasted Tomato Soup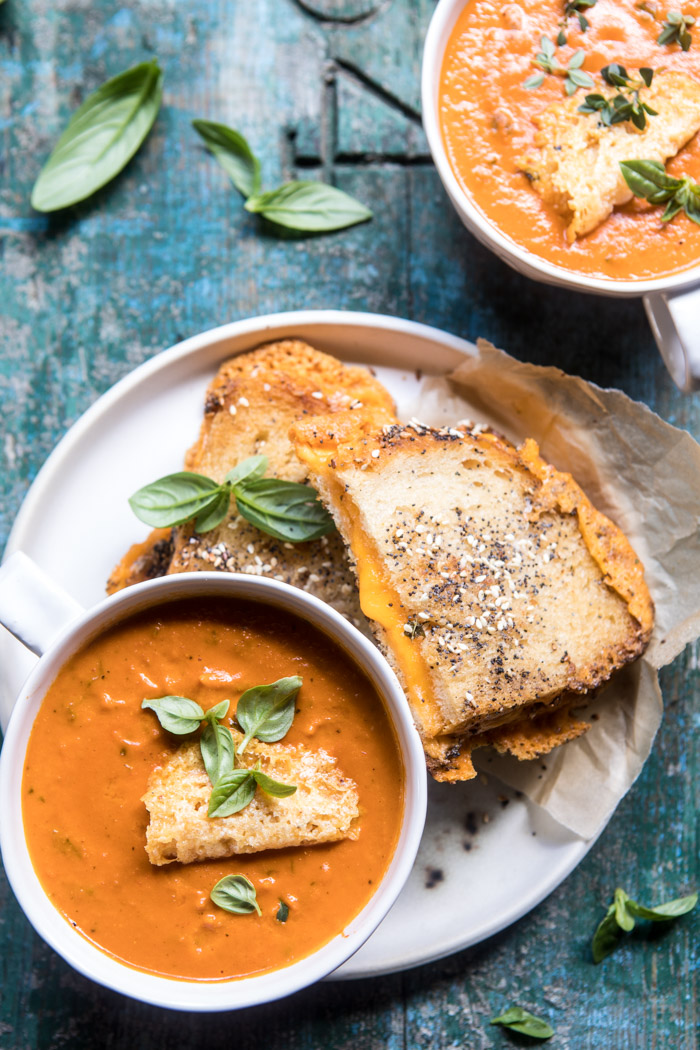 "I wanted this soup to turn out amazing, but also be simple. So I relied on my fall-back skill of throwing everything into a pot and hoping for the best. I roasted the ingredients together, simmered and prayed. Thankfully it worked!" Recipe: HalfBakedHarvest.
Tinfoil Cheesy BBQ Pulled Pork And Veggies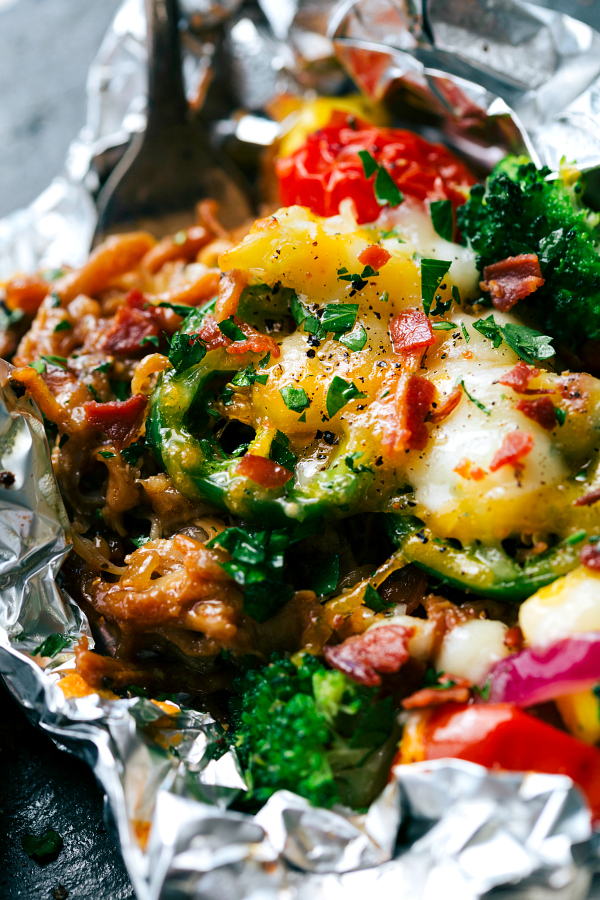 "Foil pack "crustless" sweet BBQ pulled pork pizza with your favorite pizza toppings all cooked together with a side of veggies: broccoli and cherry tomatoes!" Recipe: ChelseasMessyApron.
Chicken Caeser Pasta Salad
"I love this salad for many reasons. It's super easy to whip up, healthy and packed with flavor. I love the homemade caesar dressing that comes with this recipe." Recipe: LifeInTheLoftHouse.
Taco Lettuce Wraps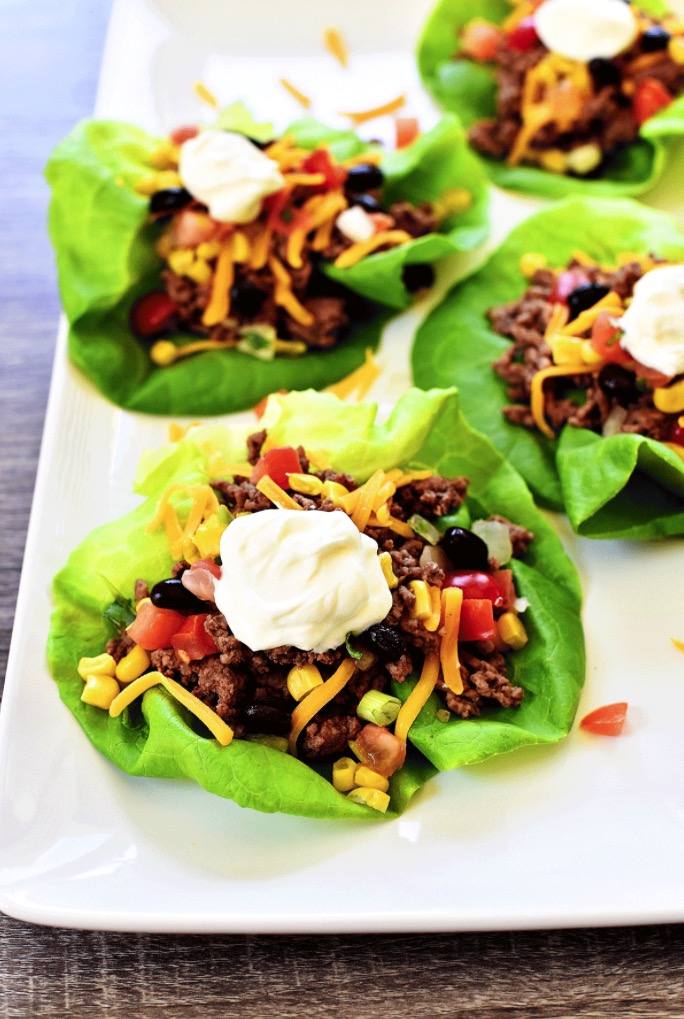 "It's amazing how something so healthy and can taste this incredible! I like to fill my TACO LETTUCE WRAPS with seasoned lean ground beef, onion, corn, black beans, cheese and lots and lots of taco sauce. These tacos are ready in hardly any time at all. I make them on weeknight dinners all the time." Recipe: LifeInTheLoftHouse.
Lemon Garlic Butter Fish in Parchment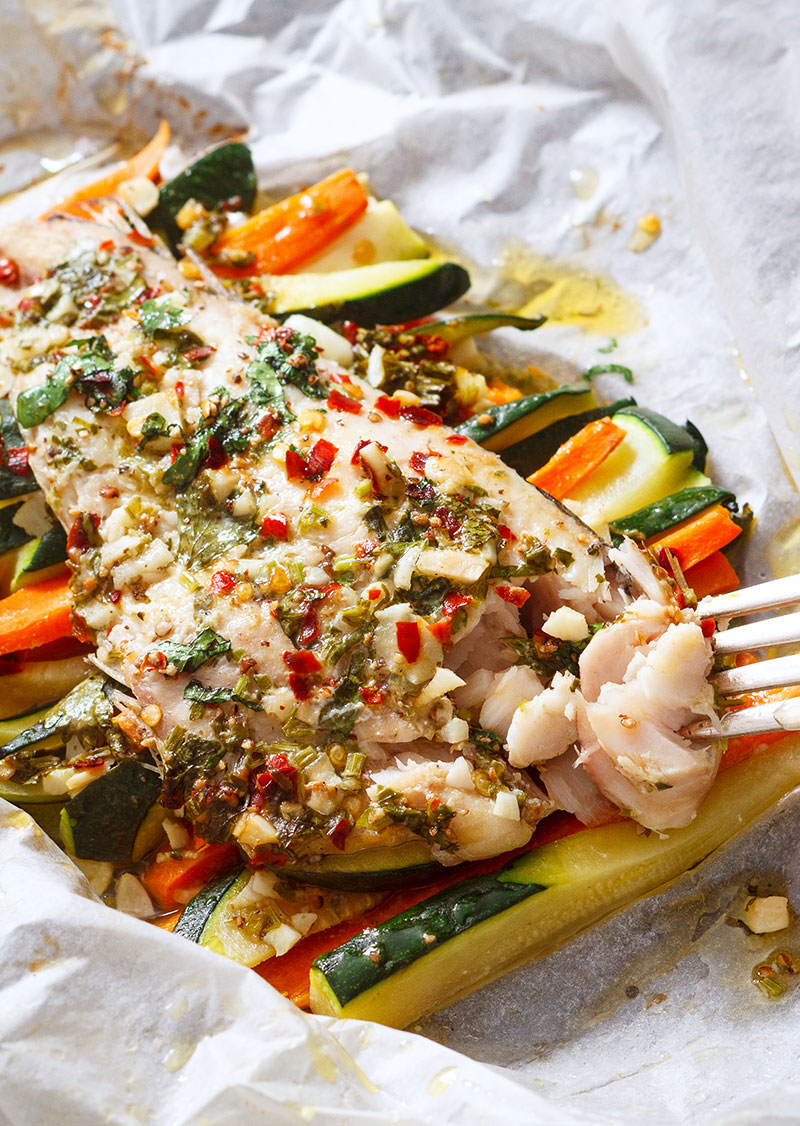 "For a healthy all-in-one dinner you can make any time in the week, this garlic butter fish in parchment takes a few minutes to prepare and requires minimal clean-up. Cooking in parchment paper pouches enhances the flavors of spices, crisp vegetables and the garlicky butter sauce." Recipe: EatWell101.
Barbecue Pineapple And Pork Skewers – 298 Calories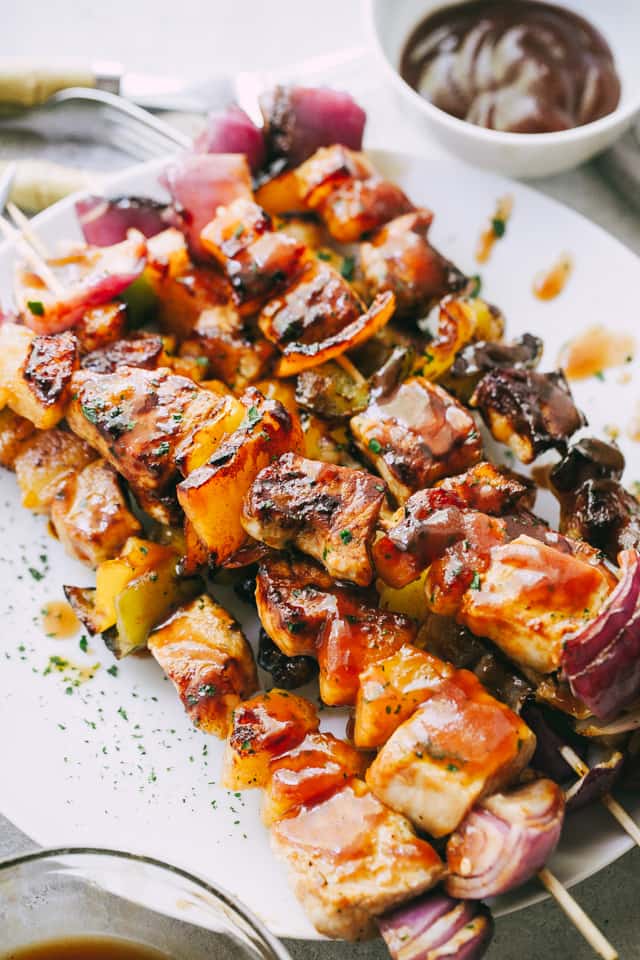 Barbecue Pineapple and Pork Skewers – Stacked with pork, sweet pineapples, and veggies, these juicy barbecue pork skewers are simple, incredible, and SO darn flavorful! Recipe: DietHood. 298 Calories.
Healthy Buffalo Chicken Wrap – 317 Calories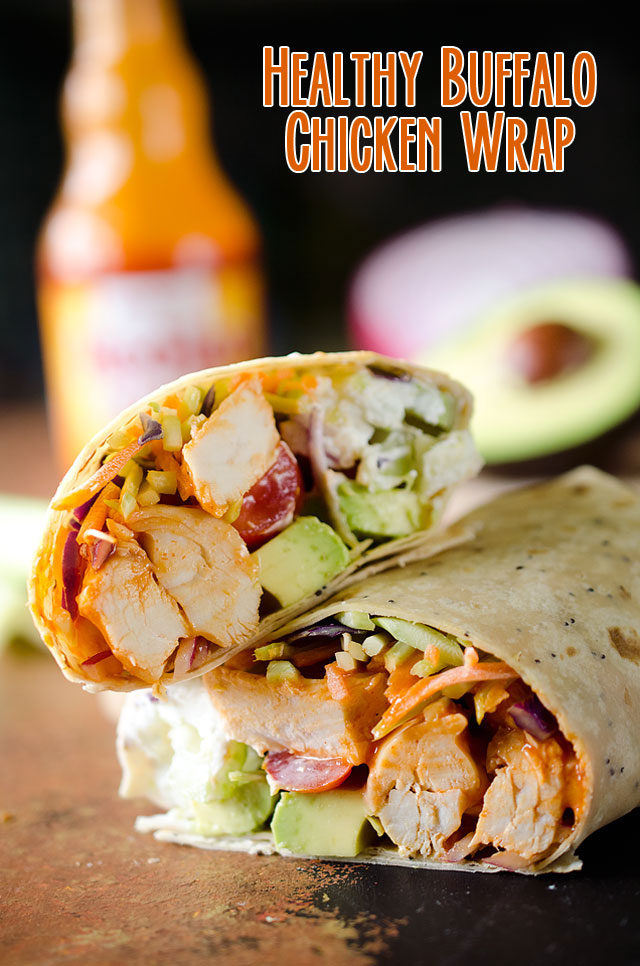 "Healthy Buffalo Chicken Wrap is a light and healthy wrap filled with buffalo chicken breasts, Greek yogurt, bleu cheese crumbles, broccoli slaw, celery, avocado and tomatoes for an easy lunch with bold flavor!" Recipe from TheCreativeBite. 317 Calories.
California Pasta Salad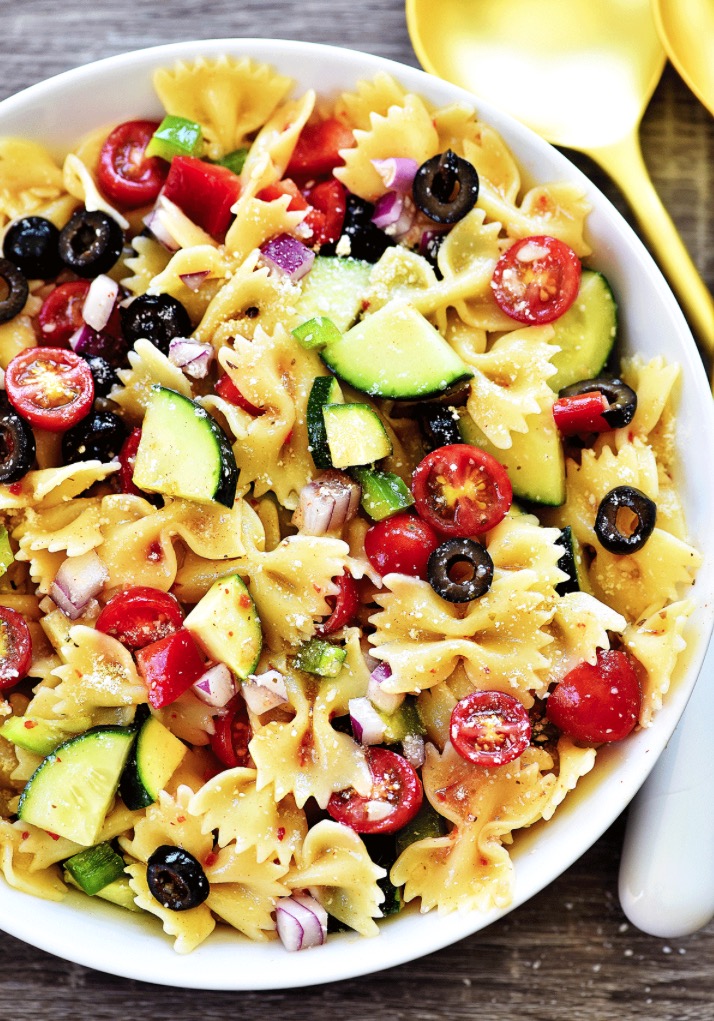 "This CALIFORNIA PASTA SALAD is a great example. No oven required for this AMAZING salad. I served it at a small barbecue we had Saturday night and it was a hit. It is fresh, healthy and packed with flavor. All of my favorite veggies are inside this delicious bowl of yum." Recipe: LifeInTheLoftHouse.
Tex Mex Chicken Chopped Salad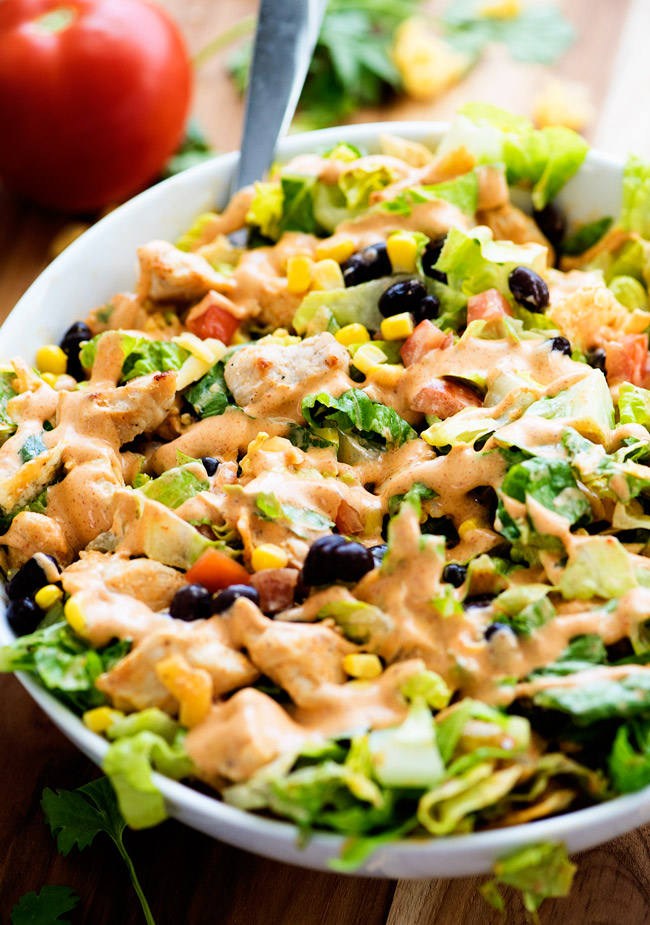 "This Tex-Mex salad contains lots of yummy things. Crunchy romaine lettuce, corn, black beans, tomatoes, green onion and of course grilled chicken. I like to cook up small bite-size pieces of chicken seasoned with just salt and pepper. Then throw them in at the very last while they're still a little warm. Then I toss it all together with the heavenly taco-flavored ranch dressing." Recipe: LifeInTheLoftHouse.
Greek Chicken Wraps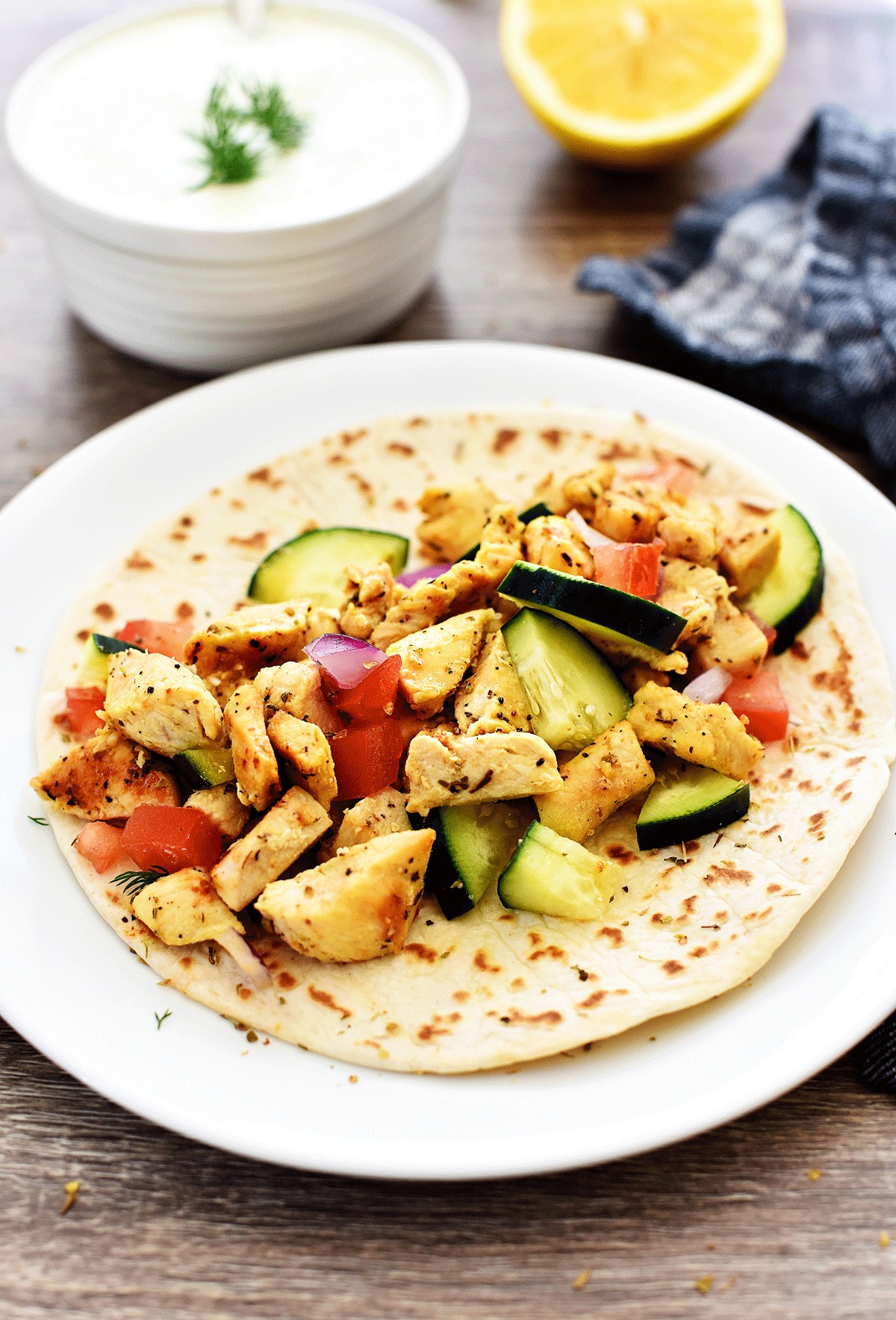 "I found my new favorite lunch- these GREEK CHICKEN WRAPS! Holy moly, talk about delicious. They are loaded with lots of veggies and seasoned grilled chicken all wrapped inside a warm flatbread. These are another flavor-packed lunch or dinner that is actually good for you! I can't tell you how nice it is to eat food that's healthy and tastes amazing!" Recipe: LifeInTheLoftHouse.
Cheeseburger Lettuce Wrap
"A flavorful burger topped with cheese, tomato, and a mouth-watering spread is always a winning combo. Wrap it up in a nice piece of lettuce and you won't even miss the bun. I know you should not use lean ground beef if you want juicy burgers, but when I'm trying to watch calories I use 93% lean beef for these and they are still amazing as ever. I add a few extra things that make these burgers so yummy!" Recipe: LifeInTheLoftHouse.
Island Teriyaki Chicken Skillet – 287 Calories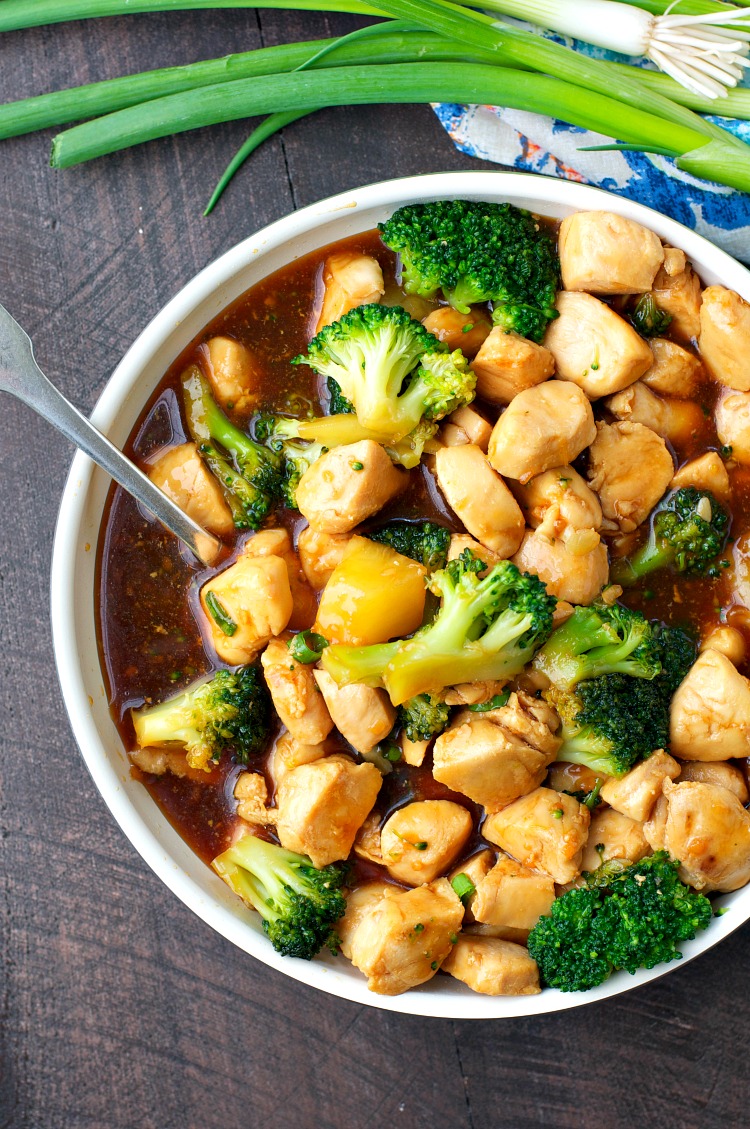 This healthy dinner comes together in about 20 minutes with just a few simple ingredients! My Island Teriyaki Chicken Skillet is a clean eating meal that's less than 300 calories — and the whole family loves it! Recipe: TheSeasonedMom. 287 Calories.
PF Chang's Chicken Lettuce Wraps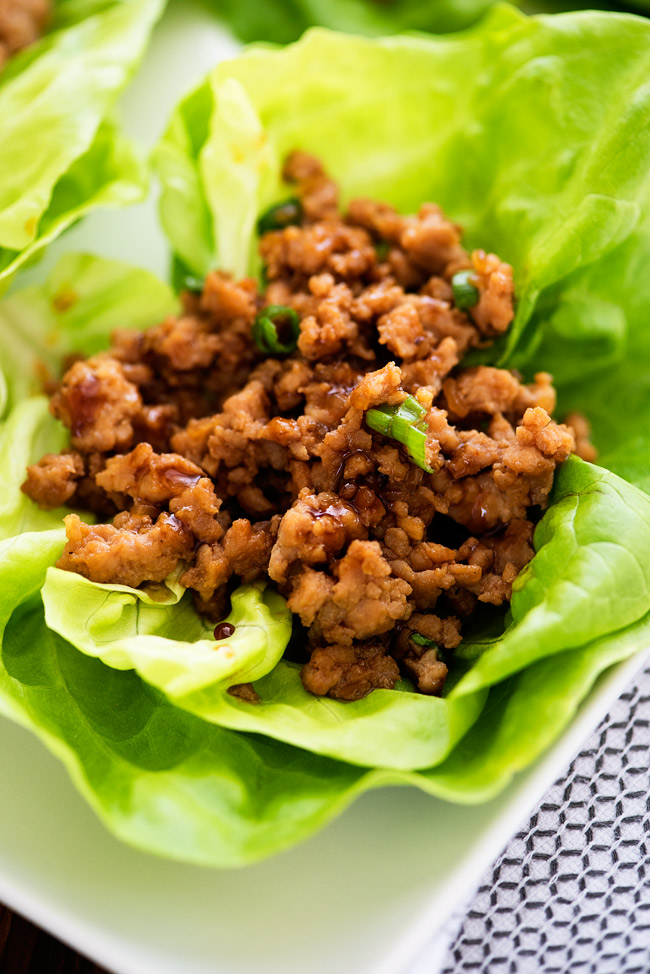 "These wraps. Holy moly are they good! First of all, I love PF Changs. Their food is so incredibly delicious. The closest one to us is in Las Vegas, so we don't get to eat there too often but when we do it's these babies I order!" Recipe: LifeInTheLoftHouse.
Baked Sweet Potato And Carrot Soup With Cheddar Potato Skin Croutons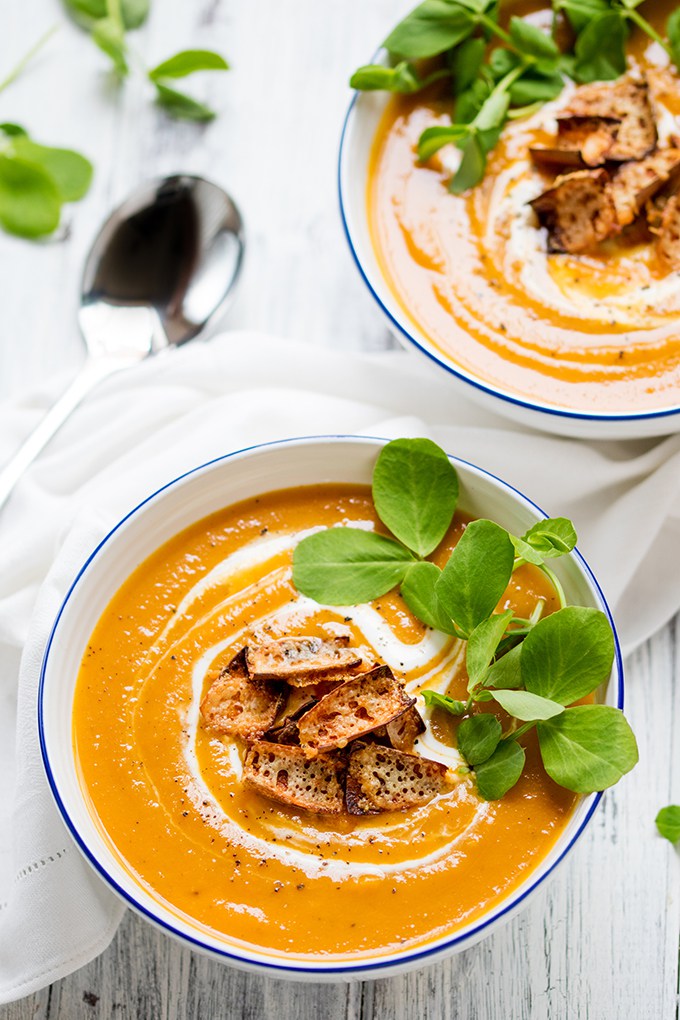 "Baked sweet potato and carrot soup with cheddar potato skin croutons – A warming healthier soup. Gluten free & vegetarian." Recipe from KitchenSanctuary.
Vegetable Minestrone Soup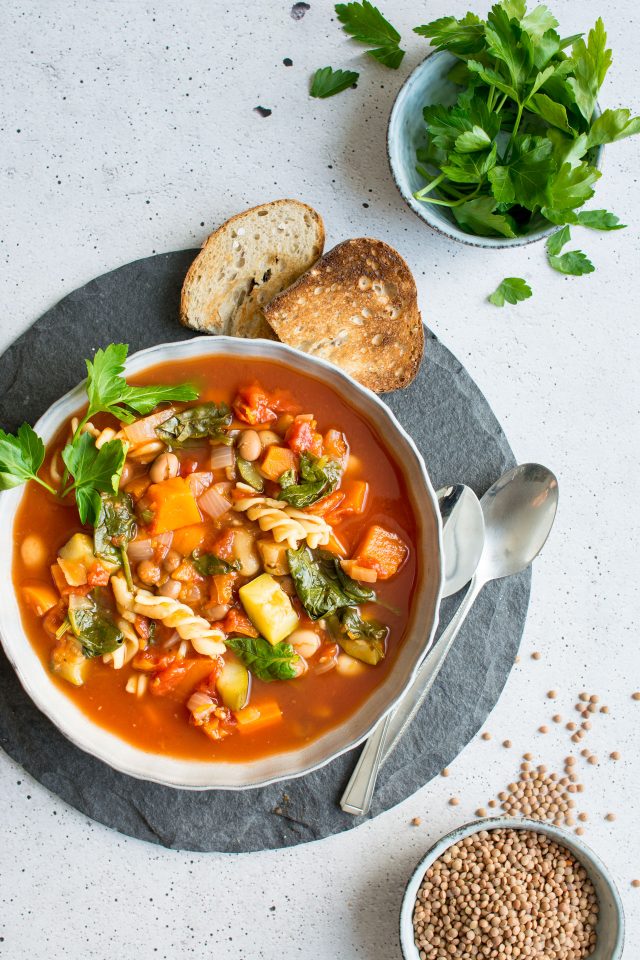 "The beauty of a soup like this is how you can really customise it, for example, if you don't like (or just don't have access to) any of the vegetables suggested below, you can just substitute them for something else." Recipe: http://laurencariscooks.com/winter-vegetable-minestrone-soup/
A Very Good Split Pea Soup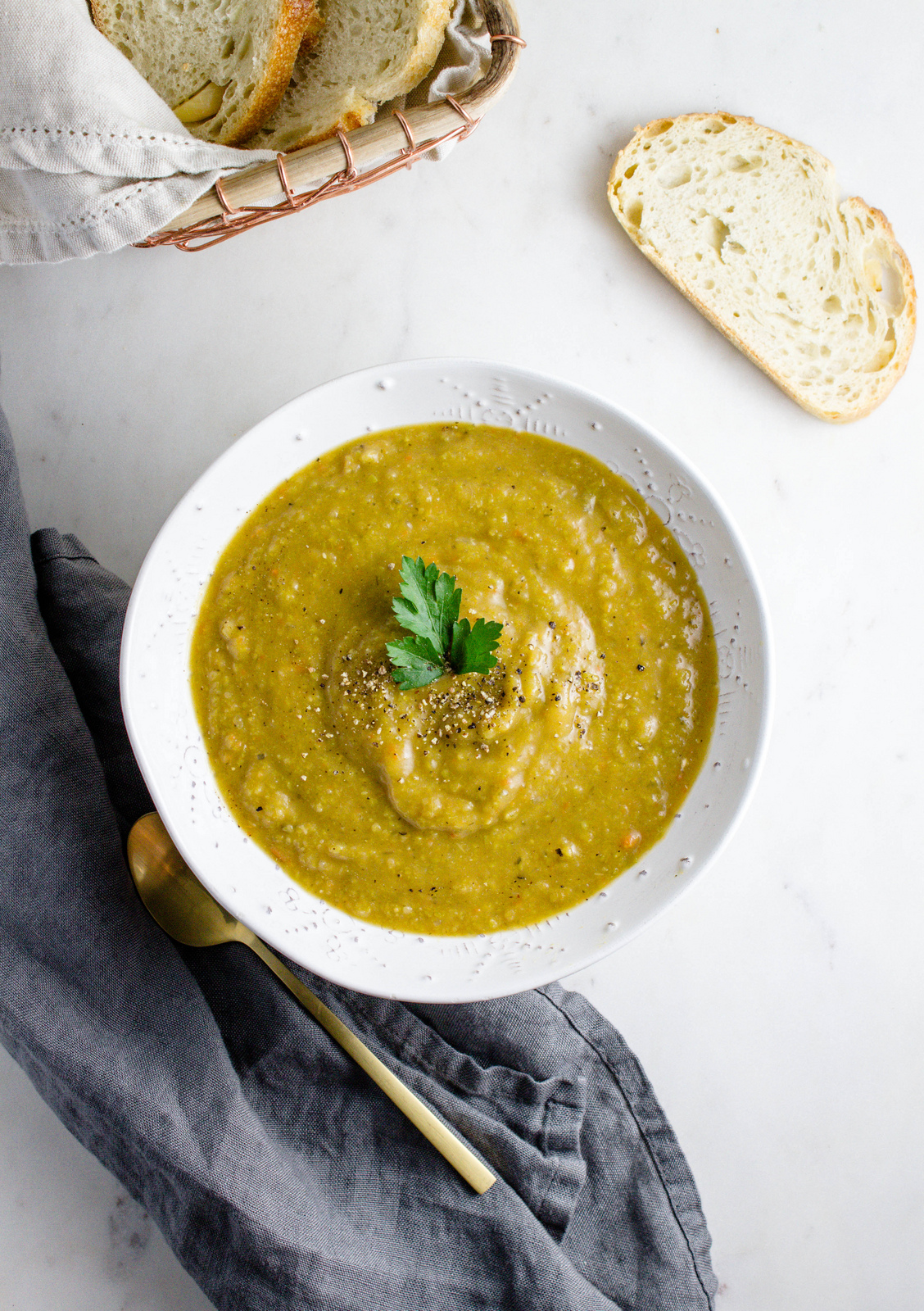 "Thick and hearty, this split pea soup is filled with the usual mirepoix and medley of spices, plus added cabbage for extra heftiness and flavor. Whether you choose to cook it in your slow cooker or on the stove top, it's extremely healthy and so easy to make." Recipe from Simple-Veganista.
One Pan Brown Sugar Italian Chicken And Veggies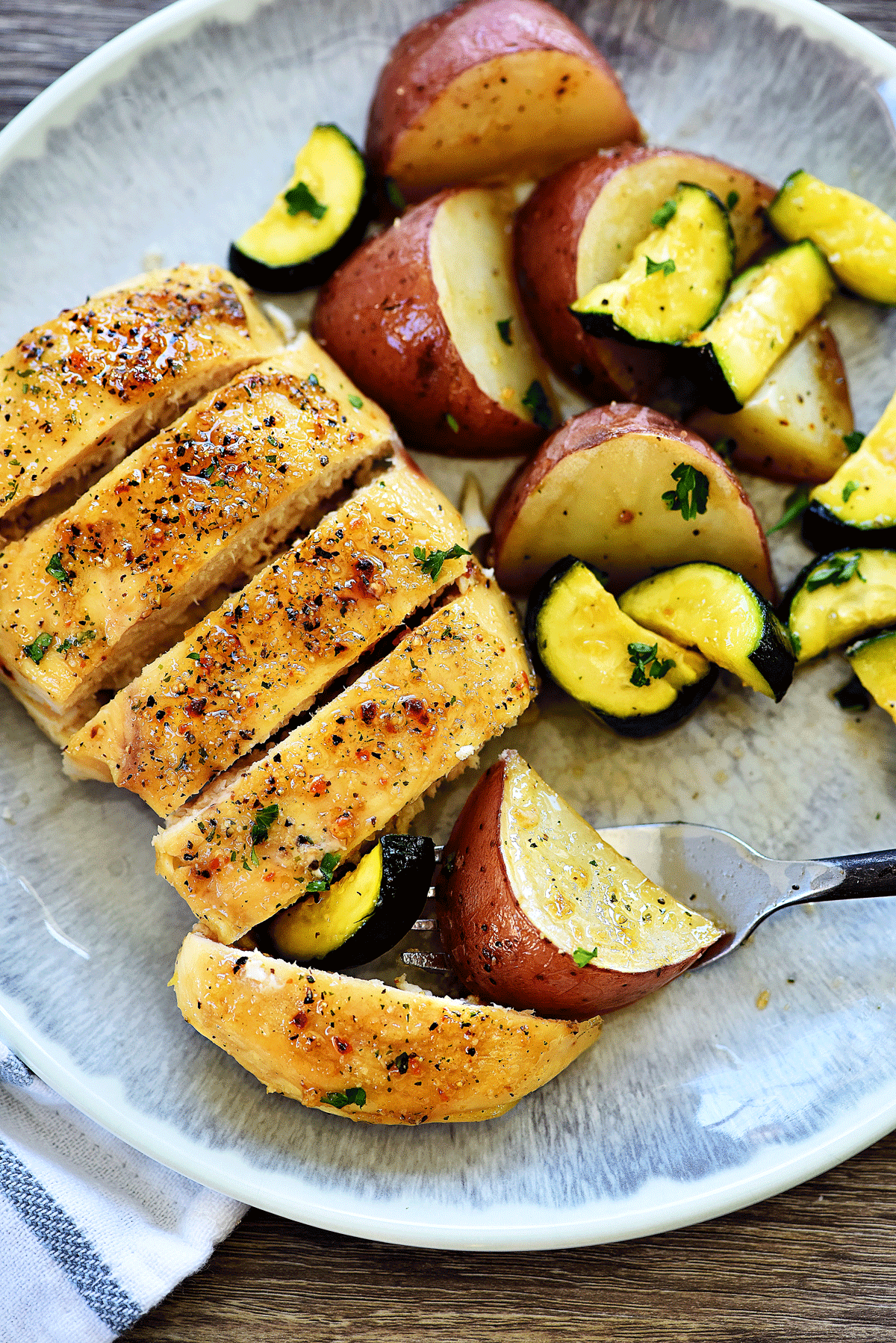 "This BROWN SUGAR ITALIAN CHICKEN AND VEGGIES is delicious and packed with flavor. You won't believe how easy this is. All you need is brown sugar and a packet of Italian seasoning mix to flavor the chicken and veggies." Recipe: LifeInTheLoftHouse.
Curried Cauliflower Kale Rice Soup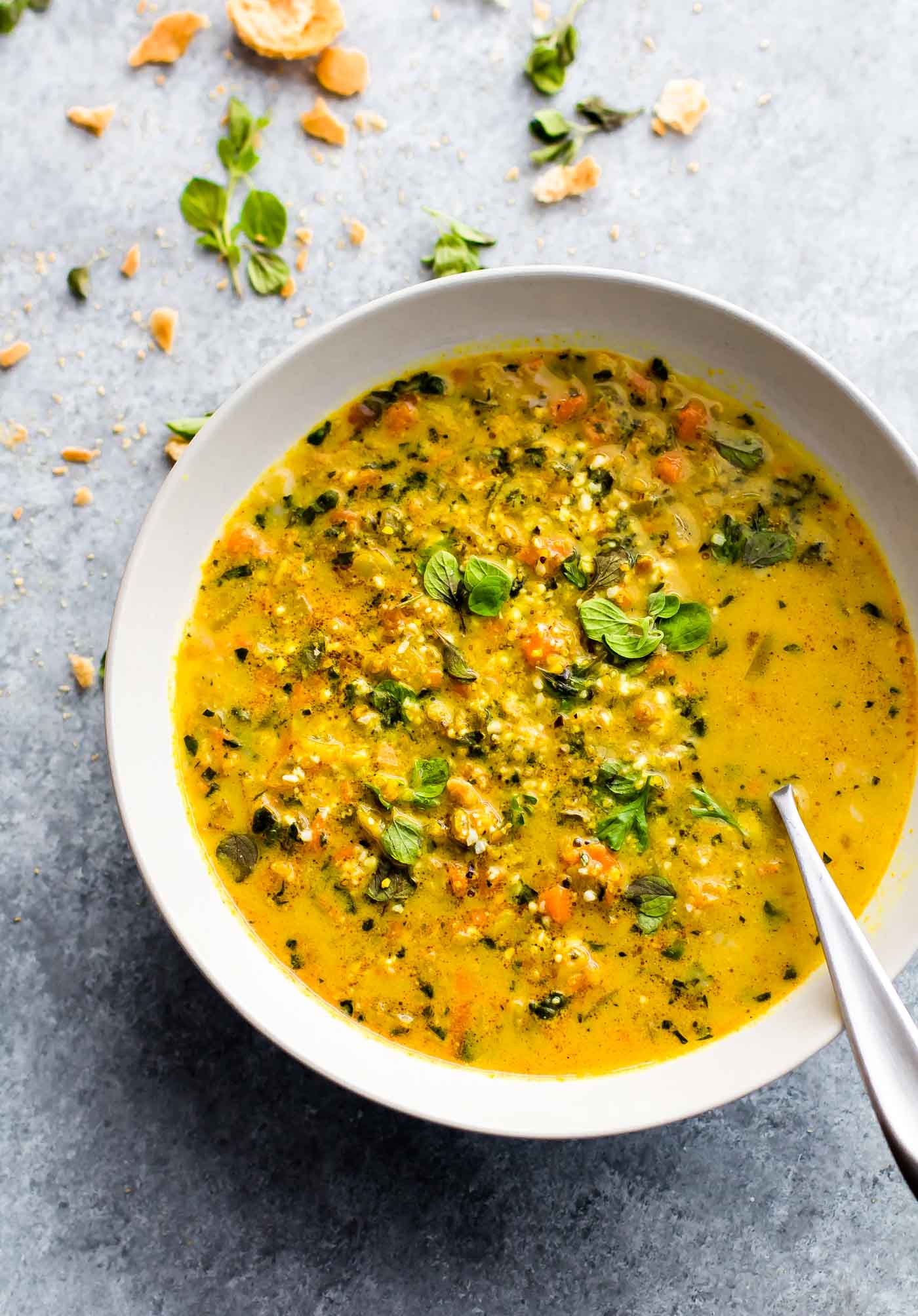 "This Curried Cauliflower Rice Kale Soup is one flavorful healthy soup to keep you warm this season. An easy paleo soup recipe for a nutritious meal-in-a-bowl. Roasted curried cauliflower "rice" with kale and even more veggies to fill your bowl! A delicious vegetarian soup to make again again! Vegan and Whole30 friendly!" Recipe from CotterCrunch.
Dump-and-Bake Chicken Teriyaki – 251 Calories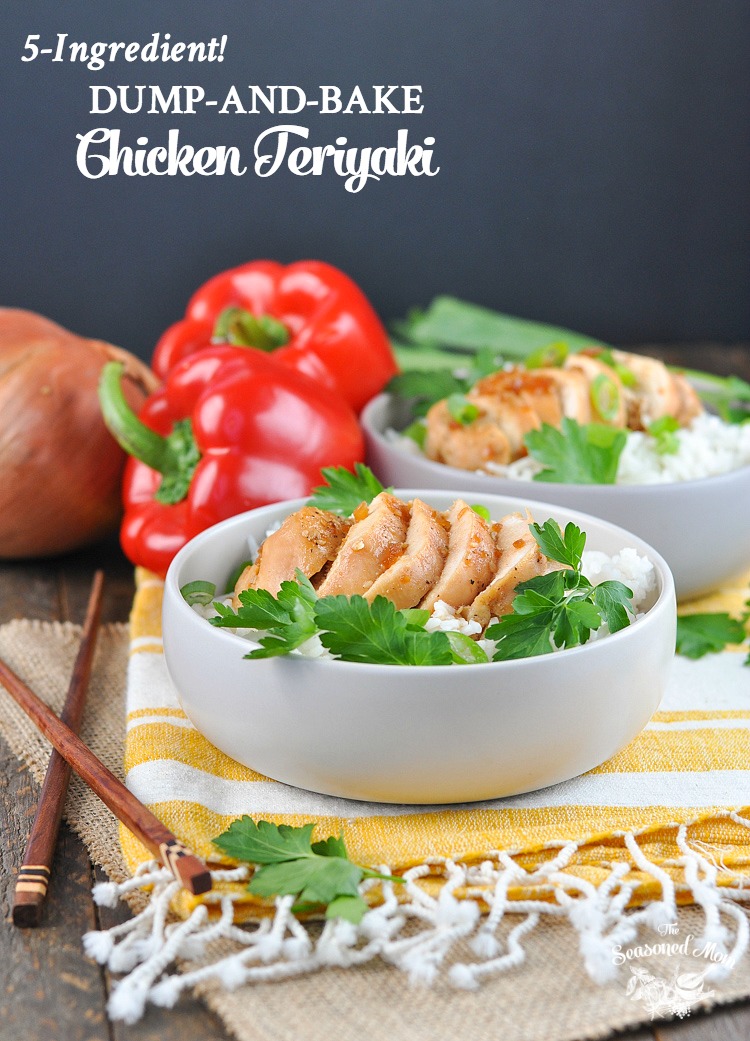 With just 5 minutes of prep and only 5 ingredients, this Dump-and-Bake Chicken Teriyaki is an easy, family-friendly dinner for busy nights! Tender, juicy chicken bakes in a rich, sweet-and-savory sauce for a complex dish that tastes like you spent hours in the kitchen. Served with rice and plenty of steamed vegetables, this healthy dinner is a simple way to bring the family together at the end of the day — without much effort on your part! Recipe: TheSeasonedMom. 251 Calories.
Foil Pack Creamy Salsa Verde Chicken, Rice And Veggies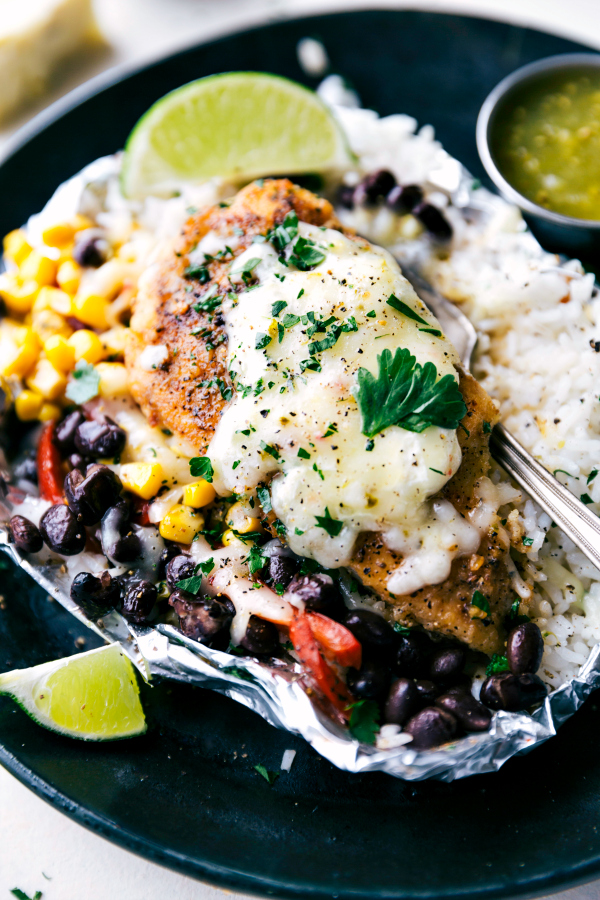 "Creamy salsa verde chicken with rice and veggies all cooked at once in a foil packet! No need to pre-cook the rice or chicken. This dish takes no more than 10 minutes to assemble and is bursting with delicious Mexican flavor." Recipe: ChelseasMessyApron.
Hawaiian Chicken Meal Prep Bowls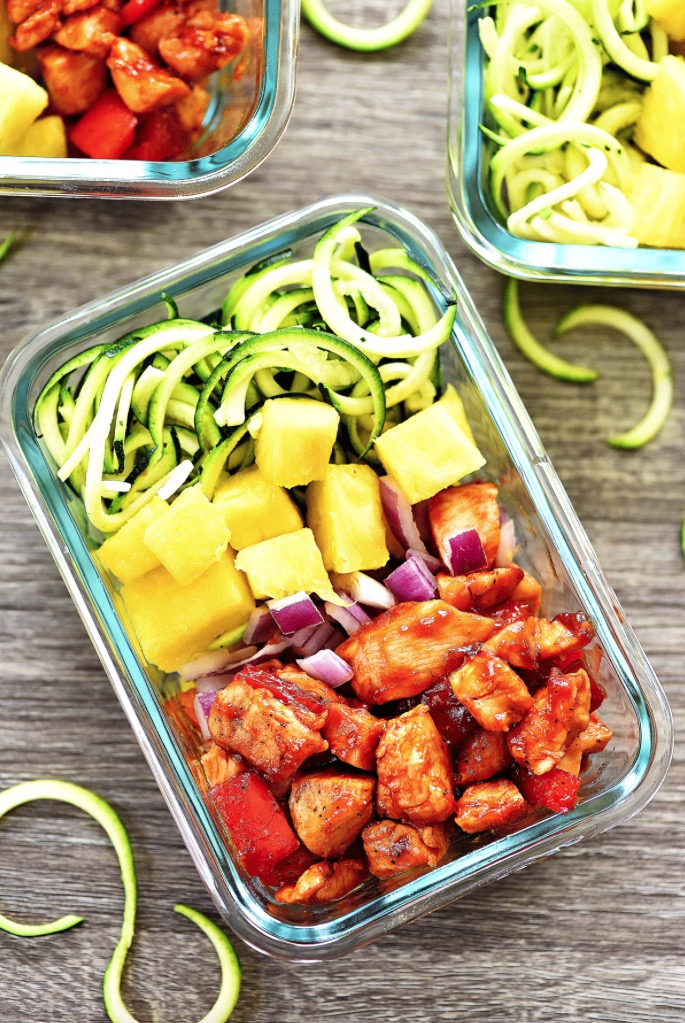 "Seasoned barbecue chicken, bell pepper, fresh pineapple, red onion and zucchini noodles are all inside these easy and awesome meal prep bowls! I'll make about 6 or 8 for Kale and I on a Monday and we'll eat them for lunch or dinner during the week. They are so yummy and super healthy. I love that you can make healthy food taste so good, and that's exactly what these bowls are." Recipe: LifeInTheLoftHouse.
Tinfoil Garlic Parmesan Salmon And Veggies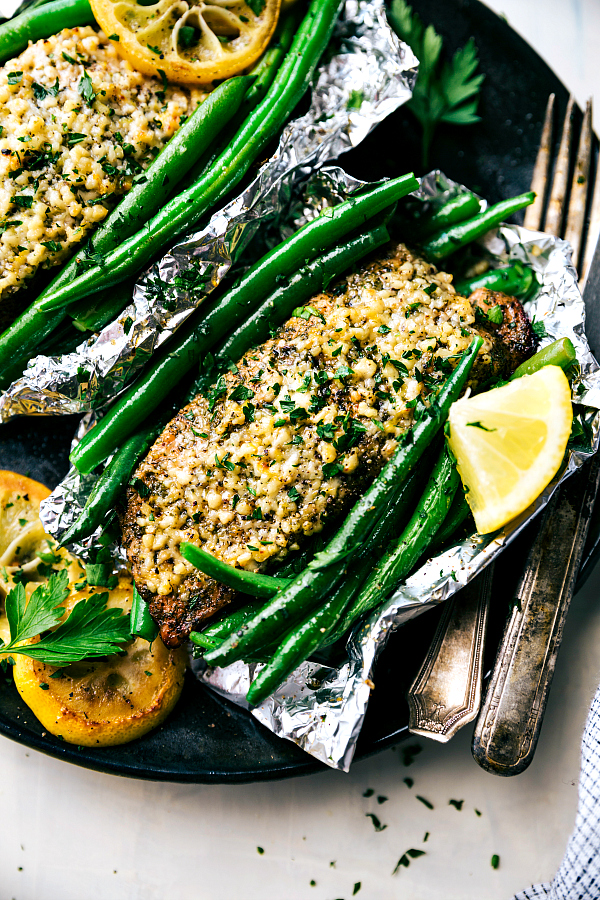 "So fast and easy to make! Lemon garlic parmesan salmon and green beans in foil packets cooked over the grill or in the oven." Recipe: ChelseasMessyApron.
Pan Seared Chicken Breast With Sun-Dried Tomatoes – 319 Calories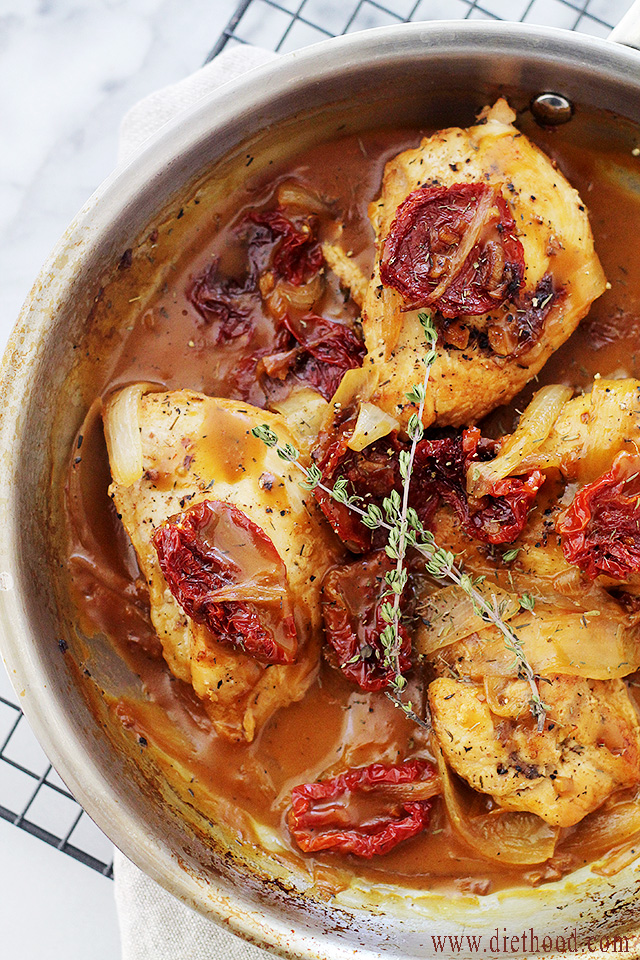 "Pan-Seared Chicken Breasts with Sun Dried Tomatoes: Quick, easy and delicious pan-seared chicken with sun dried tomatoes and a flavorful sauce. Recipe from Diethood. 319 Calories.
Keto Steak Tacos With Pork Rind Tortillas
"The best part about these Keto Steak Tacos on Pork Rind Tortillas is they are extremely low carb. With so few ingredients, they are sure to become a fast favorite!" Recipe: HeyKetoMama.
Low Carb Cashew Chicken

"Our easy cashew chicken recipe has quickly grown into one of the most popular recipes on our blog. This is the dish we always turn to when we are in the mood for some Thai takeout!: Recipe: ketoconnect.net
One Pan Balsamic Chicken And Veggies
"The balsamic vinegar and honey creates a glaze that coats the chicken & veggies perfectly and the flavor is undeniable. This healthy one pan meal is definitely now a new favorite of mine!" Recipe: LifeInTheLoftHouse.
Keto Chicken Enchilada Bowl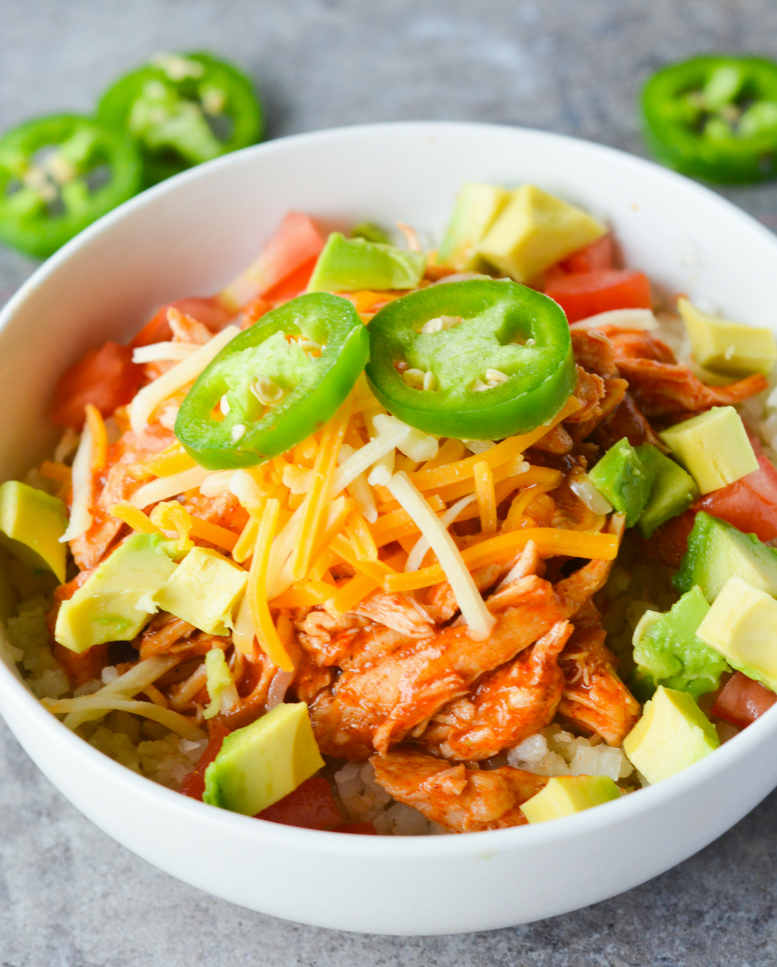 "This Keto Chicken Enchilada Bowl is a low carb twist on a Mexican favorite! It's SO easy to make, totally filling and ridiculously yummy!" Recipe: HeyKetoMama.
Baked Bacon Wrapped Chicken Tenders Recipe – 3 Ingredients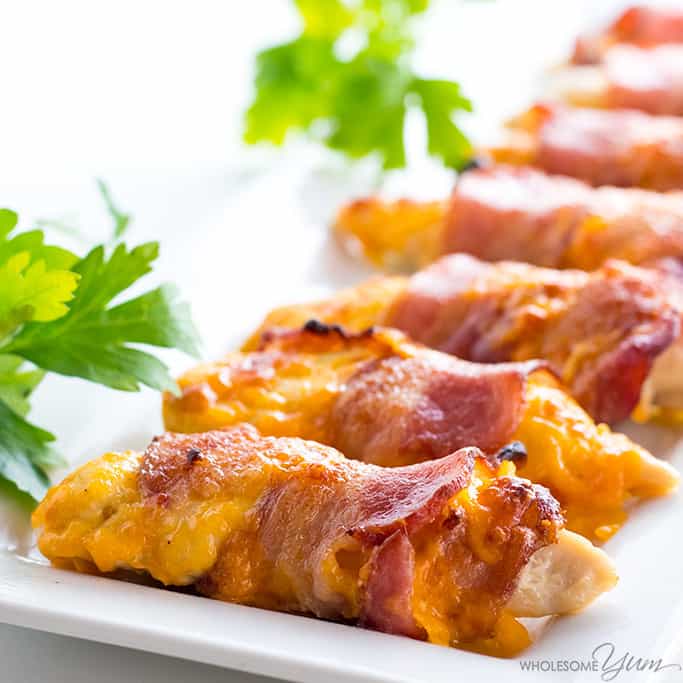 "This easy baked bacon wrapped chicken tenders recipe needs just 3 common ingredients – chicken, bacon, and cheese! Ready in under 30 minutes." Recipe: WholesomeYum.
Asian Salmon In Foil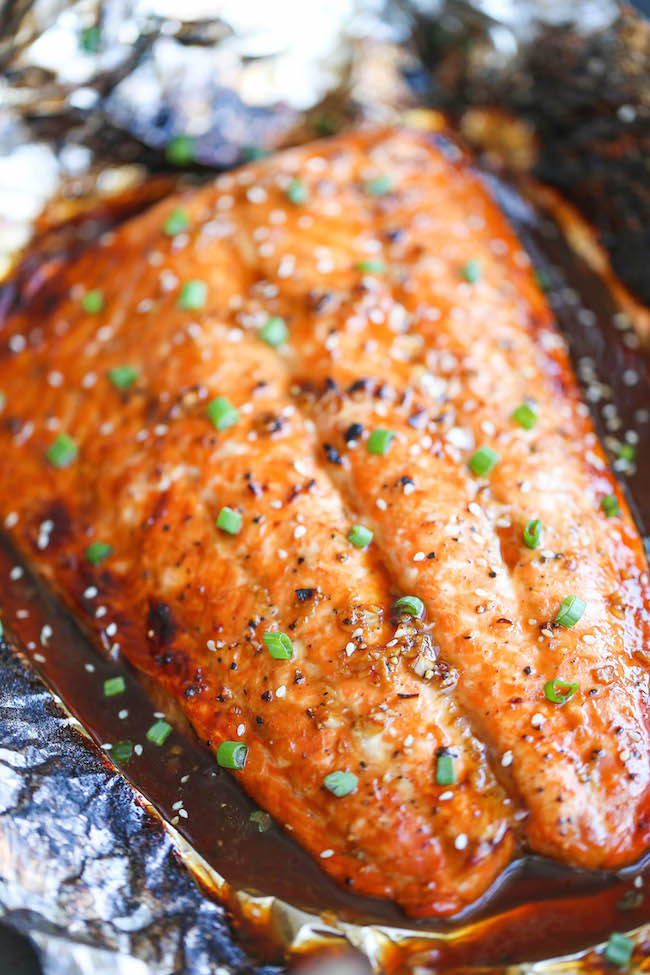 "The best and easiest way to make salmon in foil – and you won't believe how much flavor is packed right in!" Recipe: DamnDelicious. 434 Calories.
Lemon Chicken & Potatoes In Foil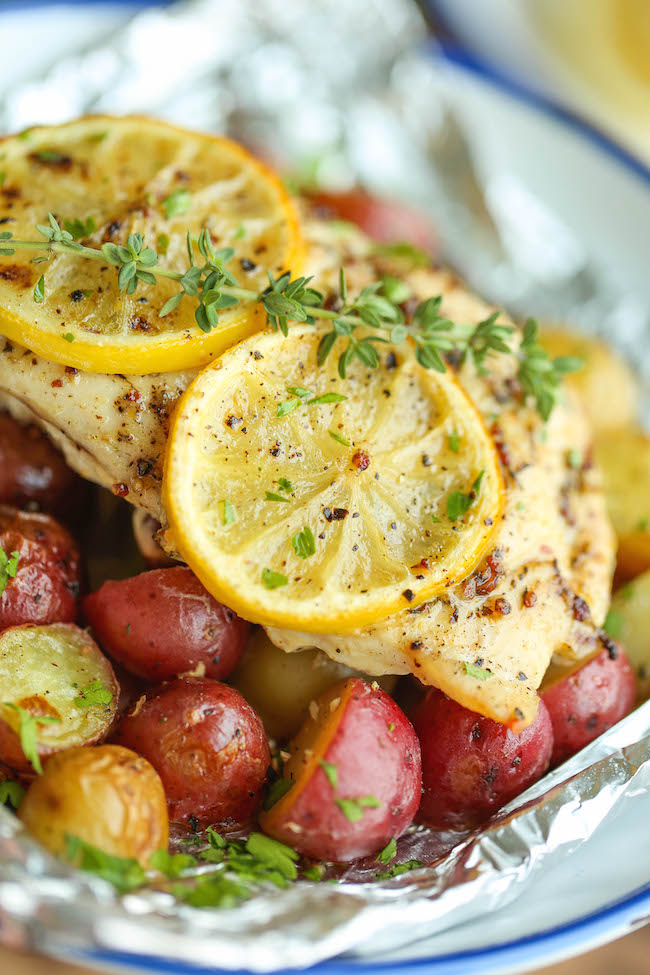 "The most amazingly moist and tender chicken breasts cooked in foil packets – so easy and packed with tons of flavor!" Recipe: DamnDelicious. 396 Calories.
Quick And Easy Broccoli Chicken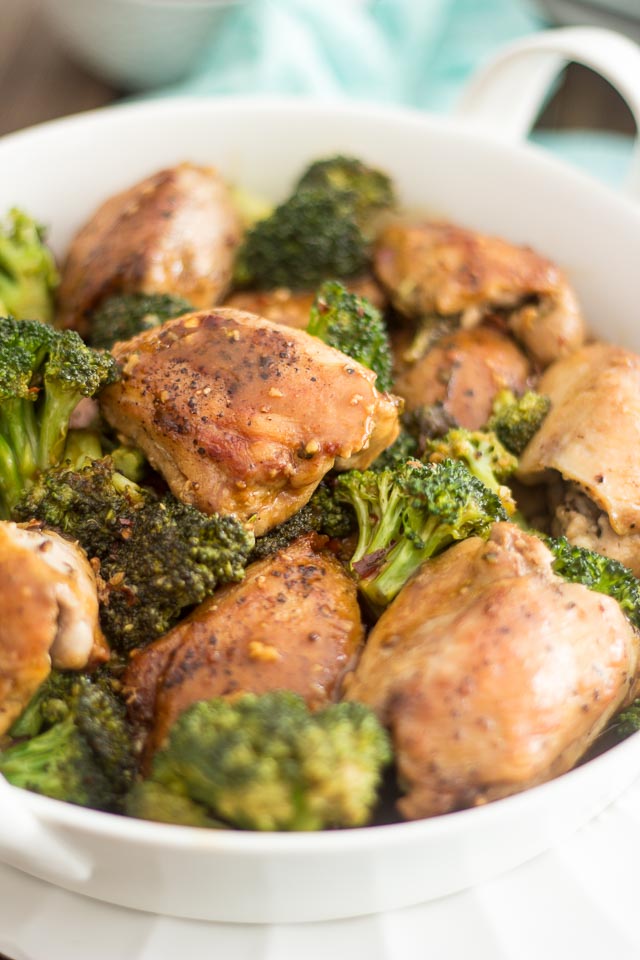 "This Quick and Easy Broccoli Chicken recipe, for instance, comes together in about 15 to 20 minutes. Trust me, though, the gustatory experience you'll get out of this dish is inversely proportional to the time you'll have spent working on it." Recipe: TheHealthyFoodie.
Easy Broccoli Cheese Soup Recipe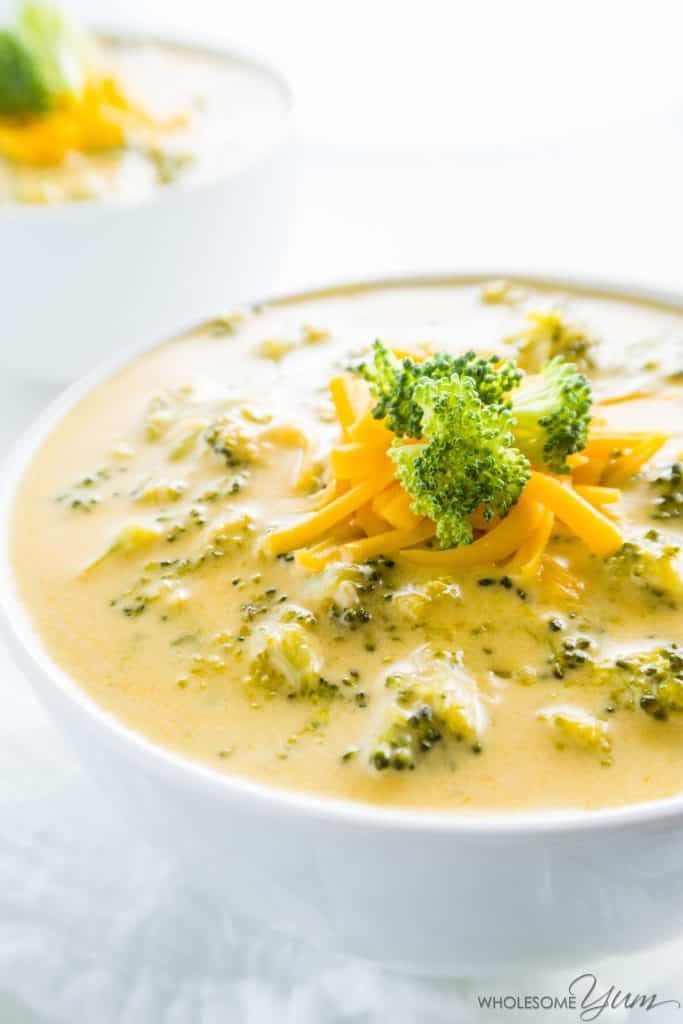 "This easy, low carb broccoli cheese soup is gluten-free, healthy, SUPER CHEESY and needs just 5 ingredients. Ready in only 20 minutes!" Recipe: WholesomeYum.
Steak Fajita Roll Up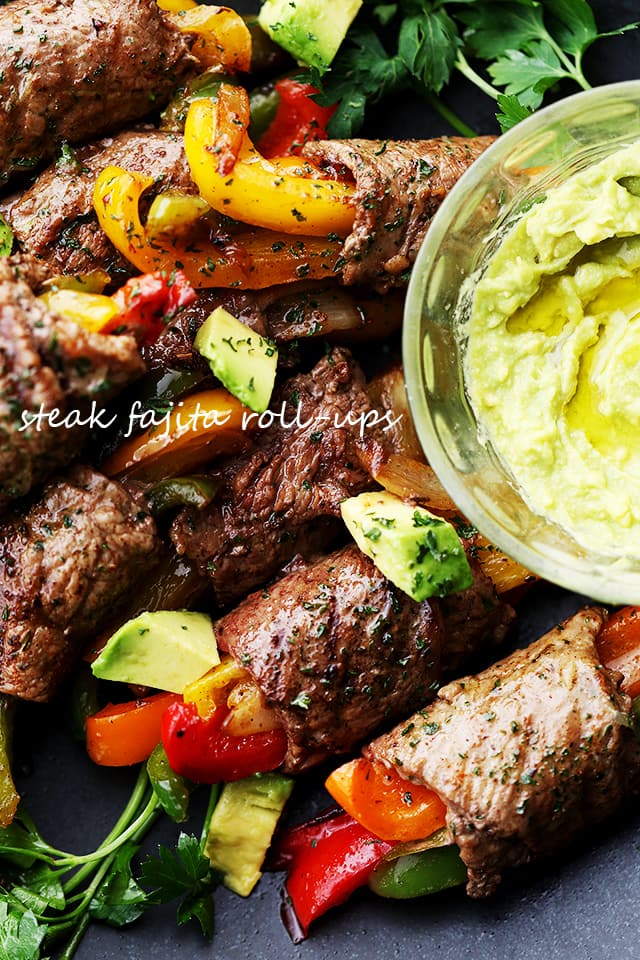 "Steak Fajita Roll-Ups – Ditch the flour tortillas and make this amazing low-carb version of your favorite steak fajitas!" Recipe: diethood.com
Sheet Pan Steak Fajitas – 300 Calories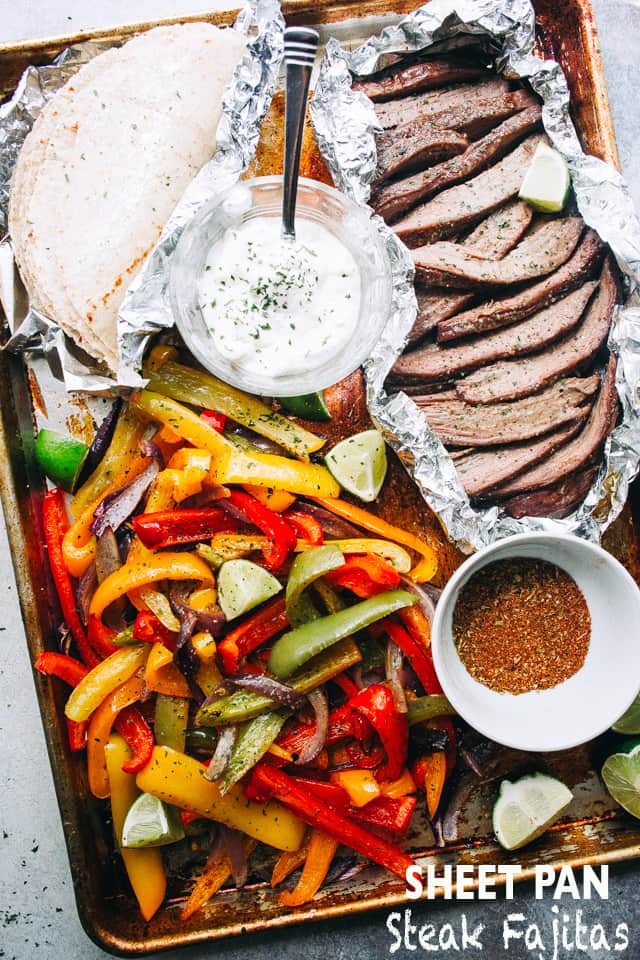 Sheet Pan Steak Fajitas Recipe – Fast, easy, one pan fajitas recipe with deliciously seasoned flank steak, colorful peppers, and onions. Recipe: DietHood. 300 Calories.
Weekend Pumpkin Chili – 318 Calories

"A weekend beef and pumpkin chili that's slow simmered so the flavors are extra delicious. This is the perfect way to use pumpkin in a hearty chili recipe." Recipe: LittleSpiceJar. 318 Calories.
Farro Soup With Mushrooms
"This soup may not look or sound like anything special but WOW. It's honestly one of my favorite soup recipes I've made by far! It's packed with so much bold flavor you don't even need to add any special garnishes. I mixed in some mushrooms, potatoes and farro, perfect for a hearty meal." Recipe: WishfulChef.
Cheesy Veggie Chickpea Burgers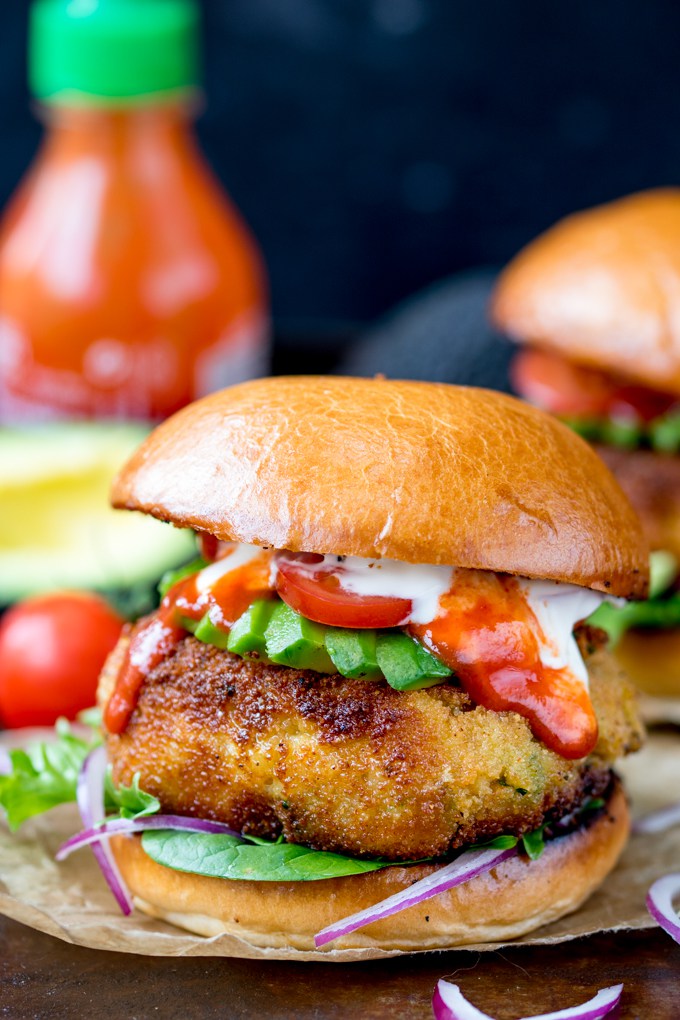 "I figured the addition of veggies, cheese and a lovely crispy coating would sell my chickpea burgers to the family. I ended up going full on with the toppings too – making it Mexican themed with avocado, red onion, tomatoes, chilli sauce and soured cream." Recipe from KitchenSanctuary.
Chicken and Rice Fajitas in Foil – 252 Calories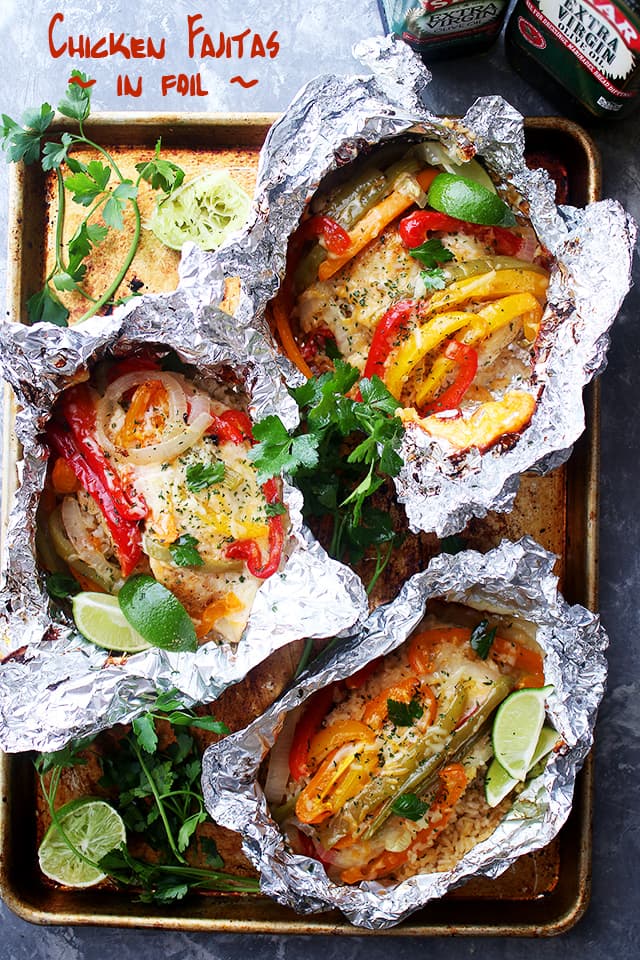 Chicken and Rice Fajitas in Foil – Incredibly delicious and easy to prepare fajitas with chicken, peppers, onions and rice all cooked in foil packets. Easy, quick and SO GOOD! Recipe: DietHood. 252 Calories.
Easy Keto Salmon Cakes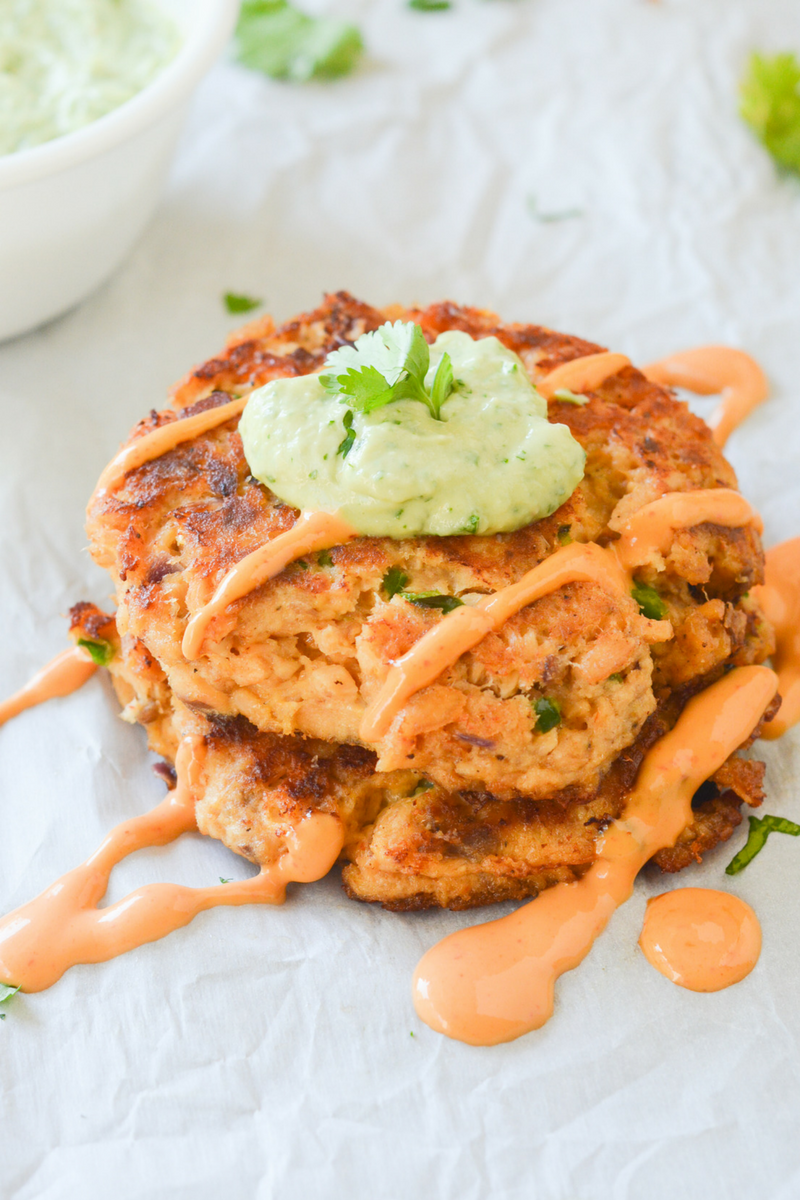 "These easy keto salmon cakes are a fun and flavorful low carb meal without any hassle. Great for quick lunches and easy meal prep!" Recipe: HeyKetoMama.
Garlic Butter Brazilian Steak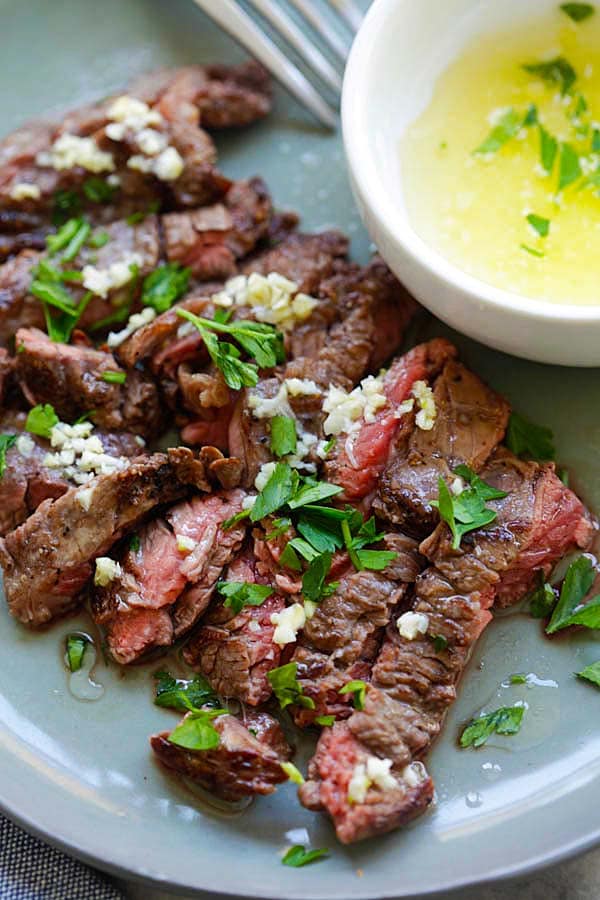 "Garlic Butter Brazilian Steak – the juiciest and most tender steak with a golden garlic butter sauce. Takes 15 minutes and dinner is ready!" Recipe: Rasamalaysia.
Big Mac Salad – Cheeseburger Salad (Low Carb, Gluten-Free)
"This easy low carb Big Mac salad recipe is ready in just 20 minutes! A gluten-free, keto cheeseburger salad like this makes a healthy lunch or dinner." Recipe: WholesomeYum.
Greek Lemon Chicken Kebabs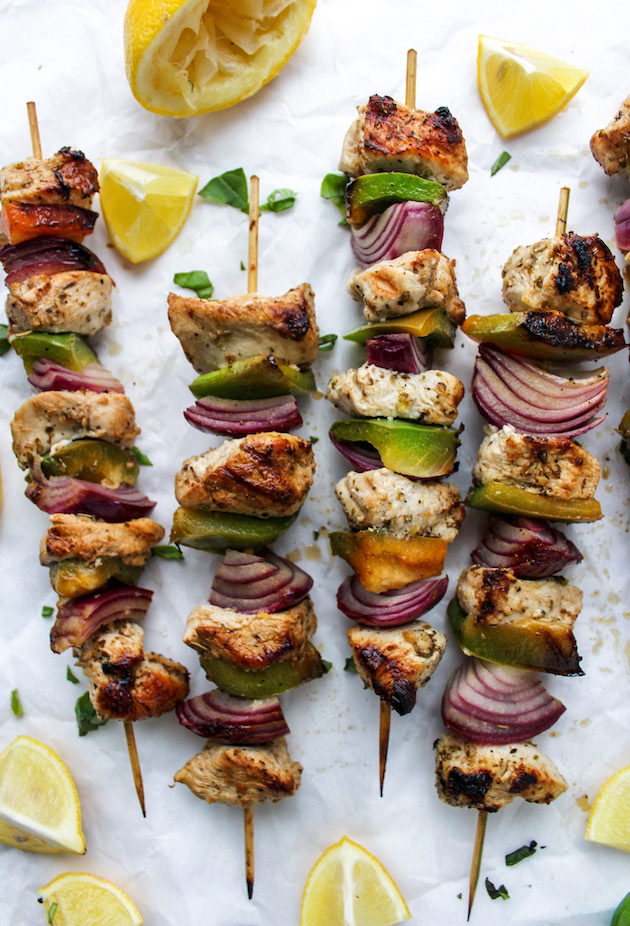 "These Greek Lemon Chicken Kebabs are unintentionally the second food-on-a-stick recipe that I'm bringing to you this week and I'm not mad about it. One bite of these and I doubt you'll be mad about it either." Recipe: ASaucyKitchen.com
Summer Chicken Noodle Soup – 307 Calories

"Everyone's favorite classic chicken noodle soup using summer vegetables! So hearty, comforting and cozy, even in the heat!" Recipe: DamnDelicious. 307 Calories.
Sheet Pan Supper: Skinny Chicken Taco Fries – 310 Calories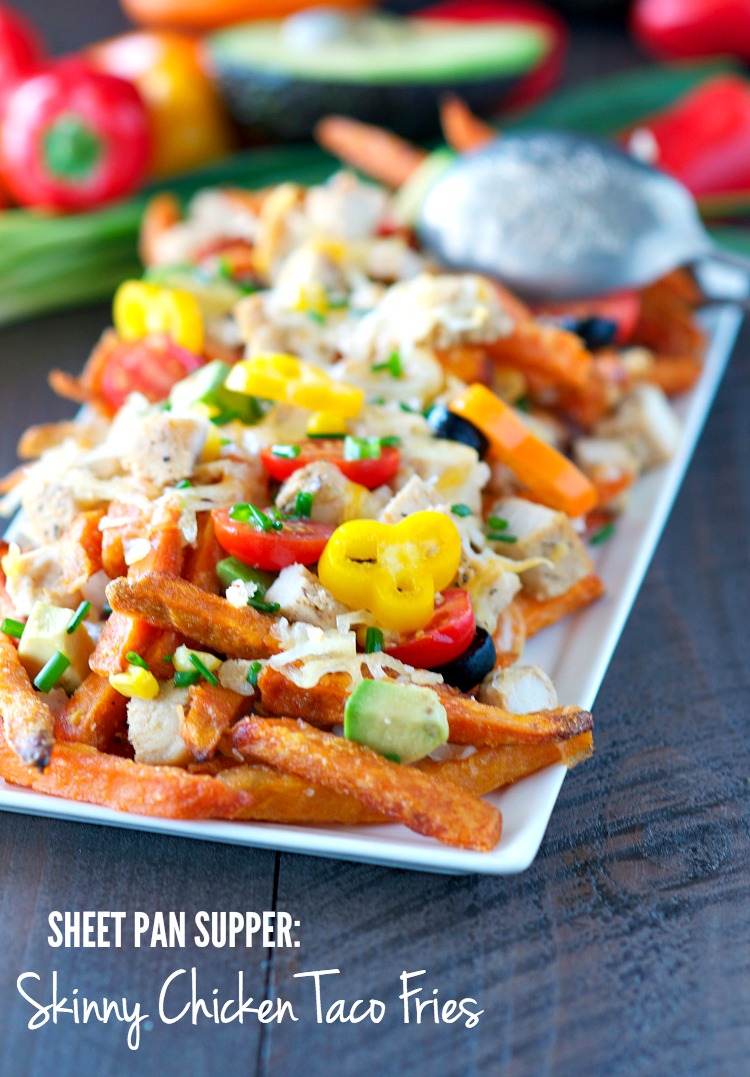 Make a quick and easy weeknight meal for your family with this Sheet Pan Supper: Skinny Chicken Taco Fries! It's a lighter dinner that only requires about 5 minutes of prep time, and the clean up for this one-dish meal is even faster! Recipe: TheSeasonedMom. 310 Calories.