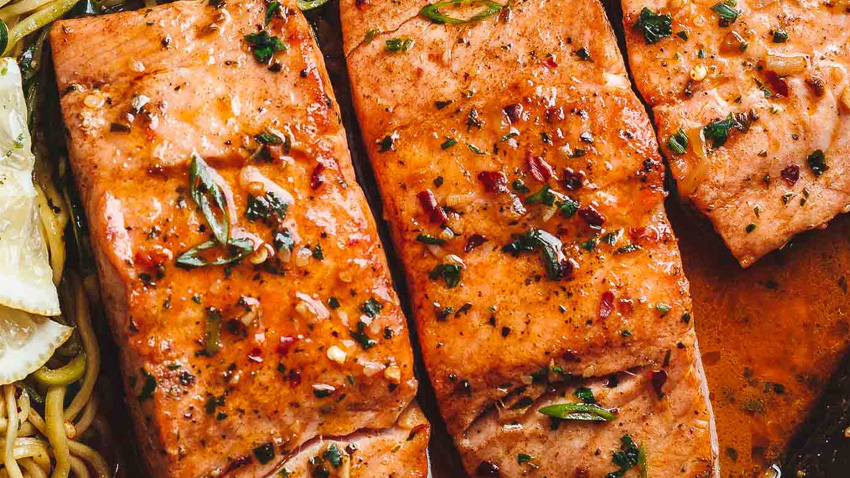 If you like fish and seafood, then you're in for a treat. Not only are they delicious but they're also full of protein, healthy fats and low in calories. What more could you want?
There are so many types from salmon, to shrimp, to tuna, to prawns, there is something for everybody. Different fish and seafood made in unique and interesting ways with different flavours and textures to keep your diet fun and keep you on track with your meals.
Here we have 22 of the best fish and seafood recipes that can fit into any weight loss diet. As always be sure to save and share your favourites on social media. Enjoy!

22 Fish & Seafood Recipes That Make An Easy Delicious Weight Loss Dinner!
Brown Sugar Glazed Salmon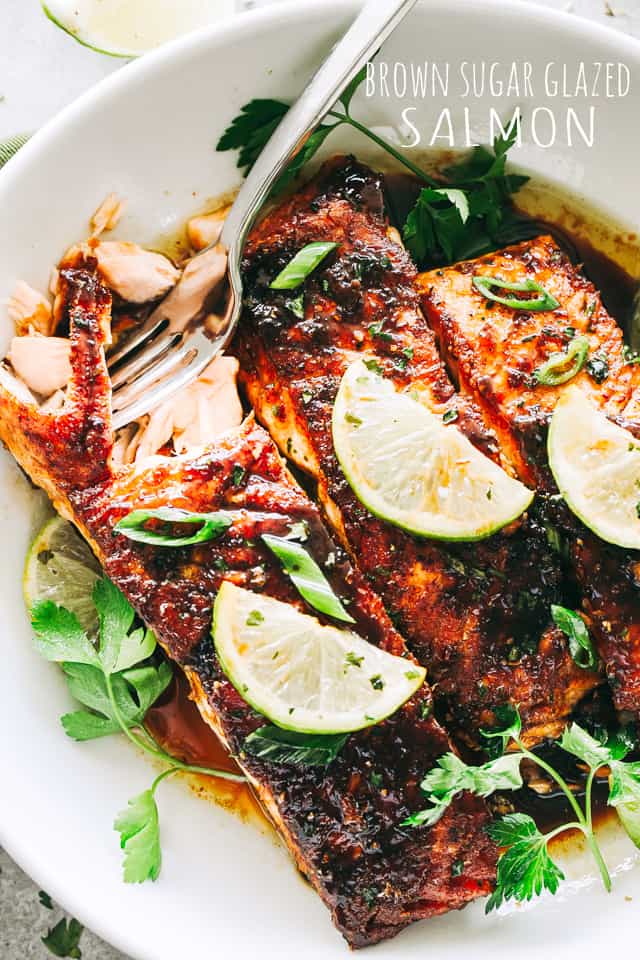 "Brown Sugar Glazed Salmon Recipe – Crispy on the outside, tender on the inside, this sweet and tangy salmon recipe is an easy weeknight meal that will quickly have everyone coming back for seconds." Recipe: DietHood.
15-Minute Lemon Garlic Butter Salmon With Zucchini Noodles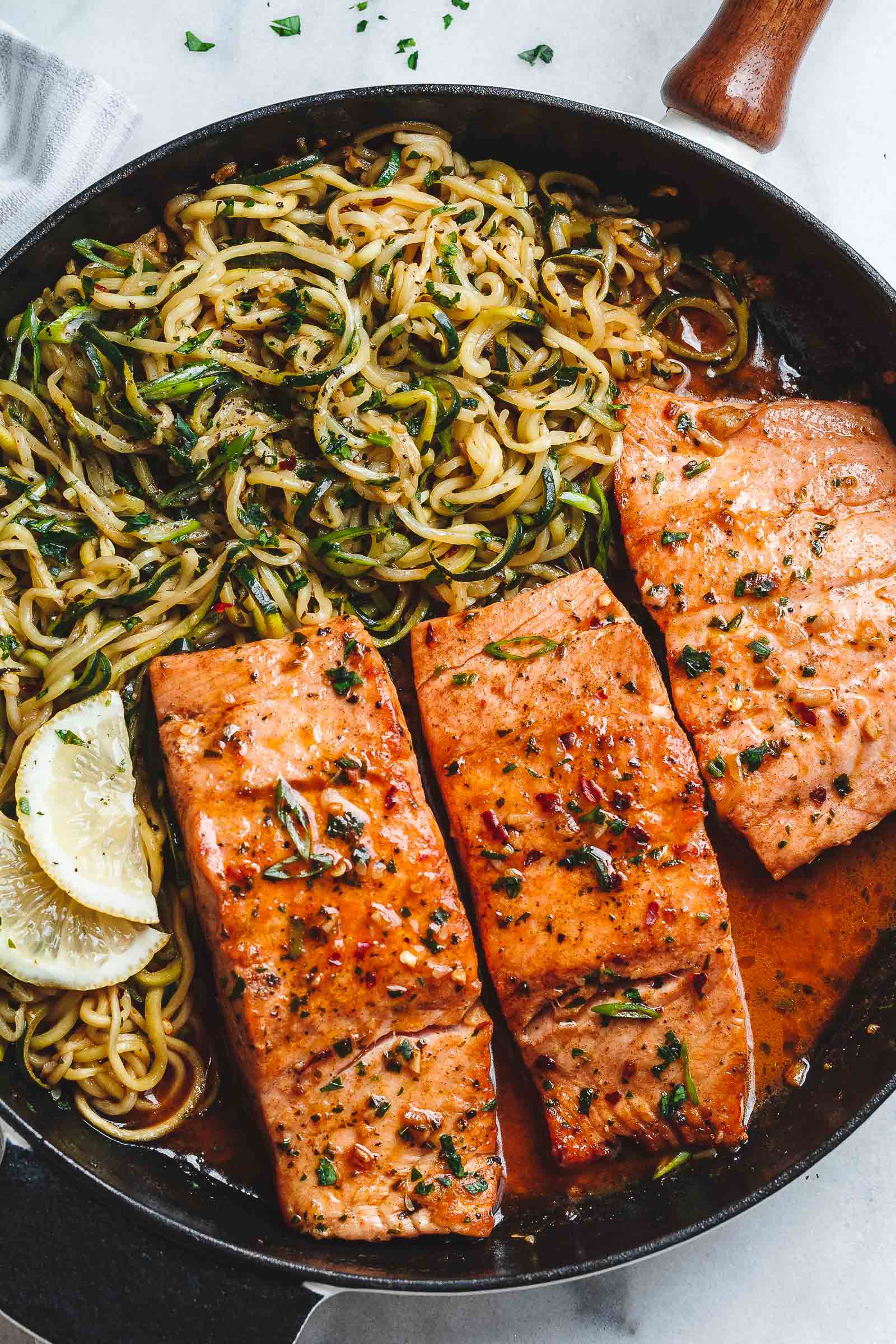 "15-Minute Lemon Garlic Butter Salmon with Zucchini Noodles – Light, low carb and ready in 15 minutes. Salmon fillets are pan-seared to flaky perfection and tossed in a delicious lemon garlic butter sauce with zucchini noodles. Dinner perfection for any weeknight!". Recipe: EatWell101.
Spicy Shrimp And Broccoli Mash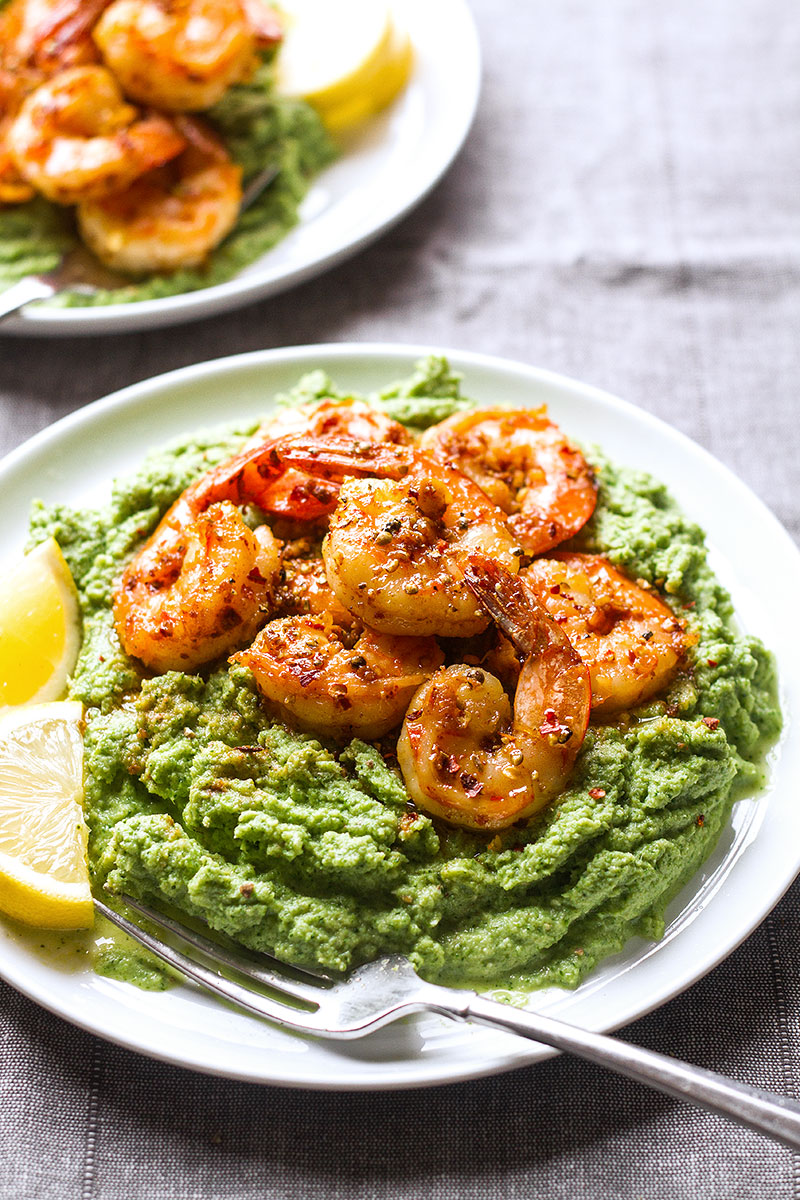 "Spicy Shrimp and Broccoli Mash — Packed full of flavor, this low carb, paleo dinner will blow you away. Spicy, savory shrimp are cooked just right, until they're perfectly tender, and served on top of a creamy broccoli mash specked with parmesan. Dinner's ready!". Recipe: EatWell101.
Keto Crab Cakes
"These Keto Crab Cakes are easy to make and taste just like traditional crab cakes, don't skip the sauce!" Recipe: CastIronKeto.
Keto Calamari
"This keto calamari is easy, delicious, and perfect as a fun appetizer or salad topper.". Recipe: CastIronKeto.
Keto Salmon Patties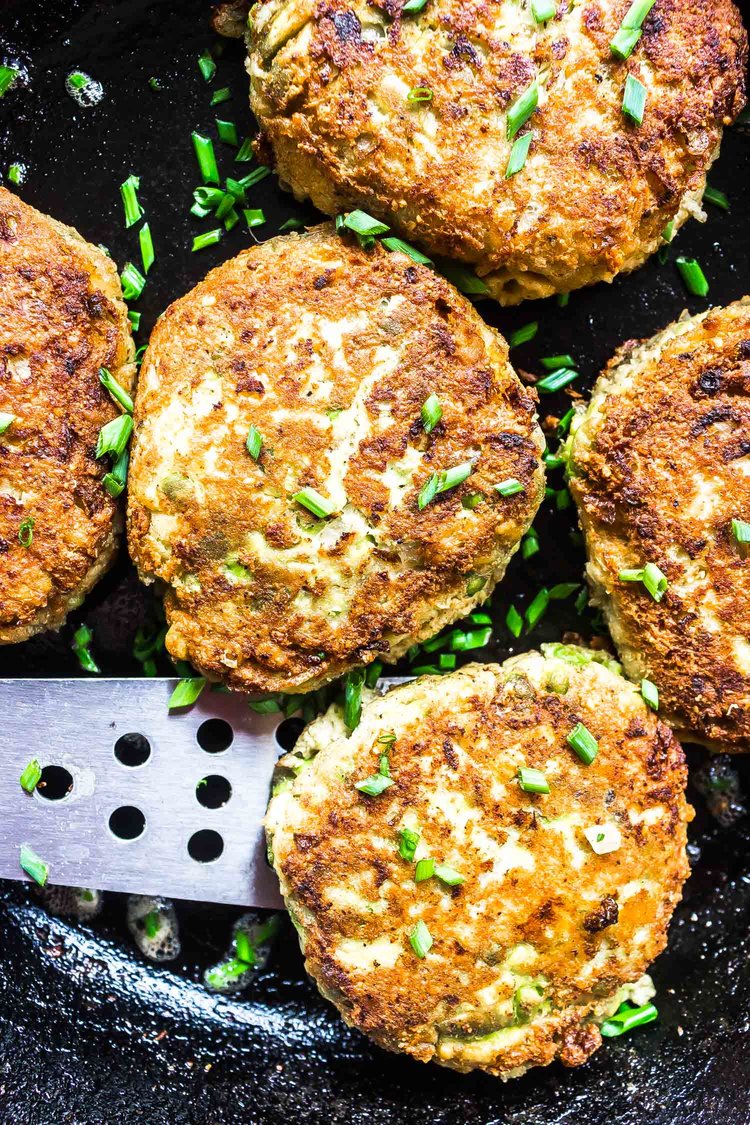 "These keto salmon patties are loaded with healthy fats from the salmon, almond flour, avocados & butter. The recipe comes together in only a few minutes & cleanup's a breeze too.". Recipe: CastIronKeto.
Lemon Garlic Butter Fish in Parchment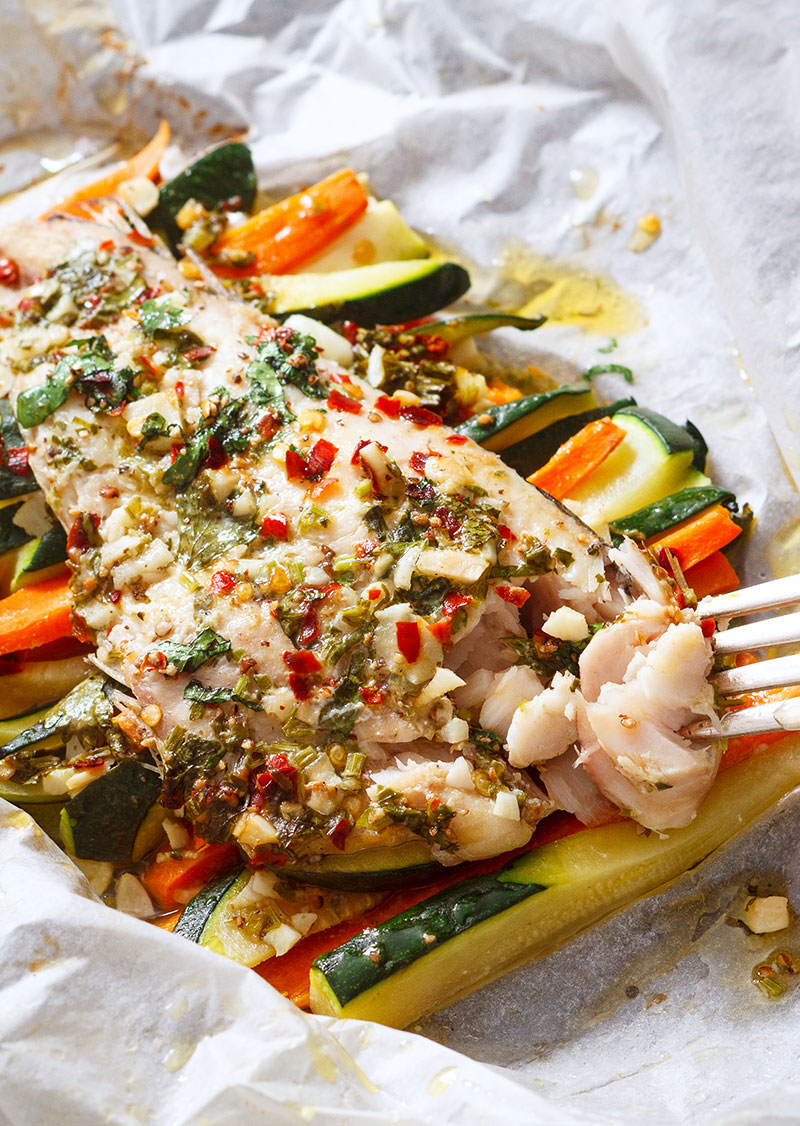 "For a healthy all-in-one dinner you can make any time in the week, this garlic butter fish in parchment takes a few minutes to prepare and requires minimal clean-up. Cooking in parchment paper pouches enhances the flavors of spices, crisp vegetables and the garlicky butter sauce." Recipe: EatWell101.
Macadamia Crusted Fish Fingers & Red Cabbage Tarragon Slaw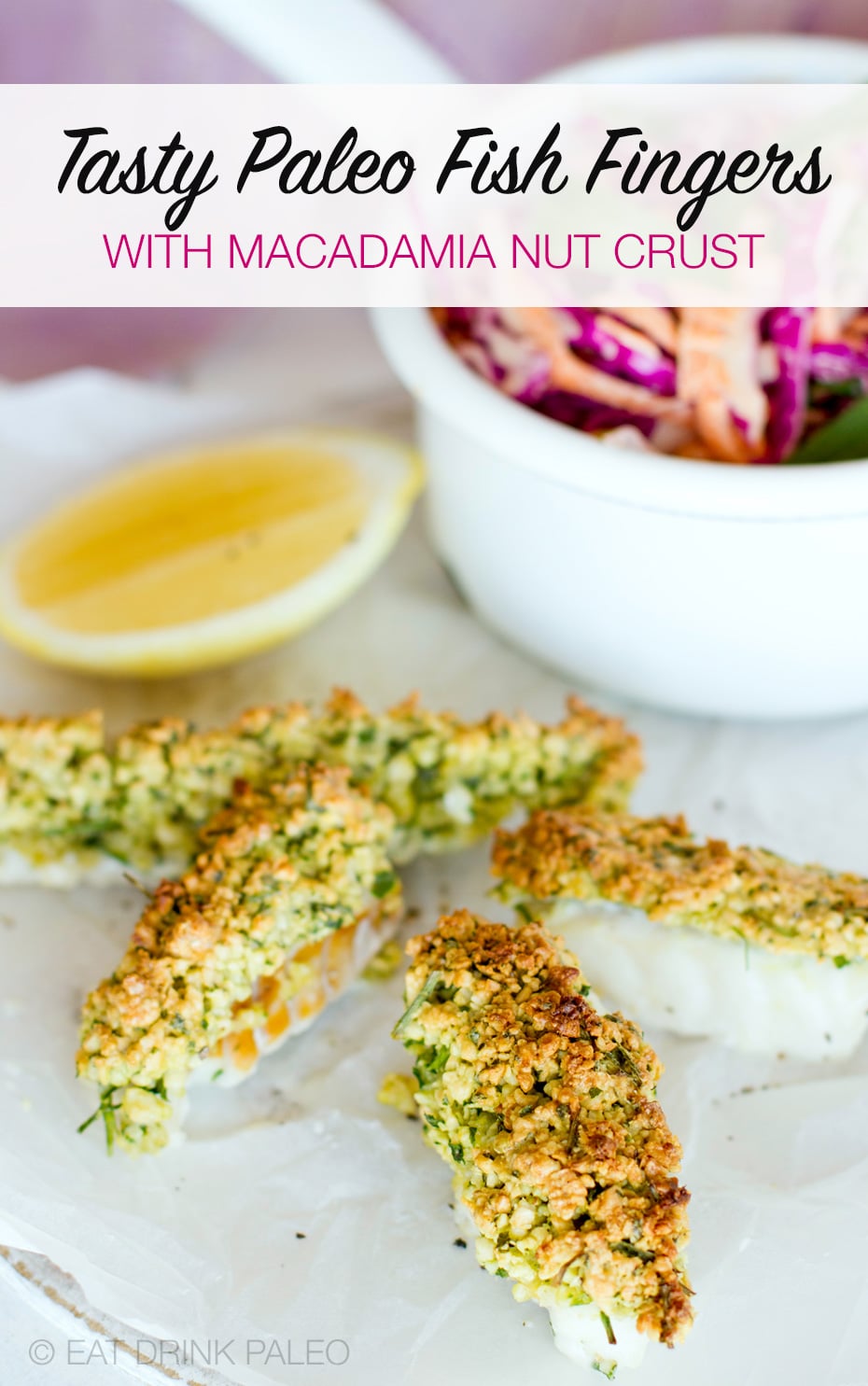 "These healthy paleo fish fingers are crusted with macadamia nut, garlic and parsley crumb paste and baked to perfection. Served with a nutritious rainbow tarragon slaw salad.". Recipe: EatDrinkPaleo.
Spicy Thai Shrimp Salad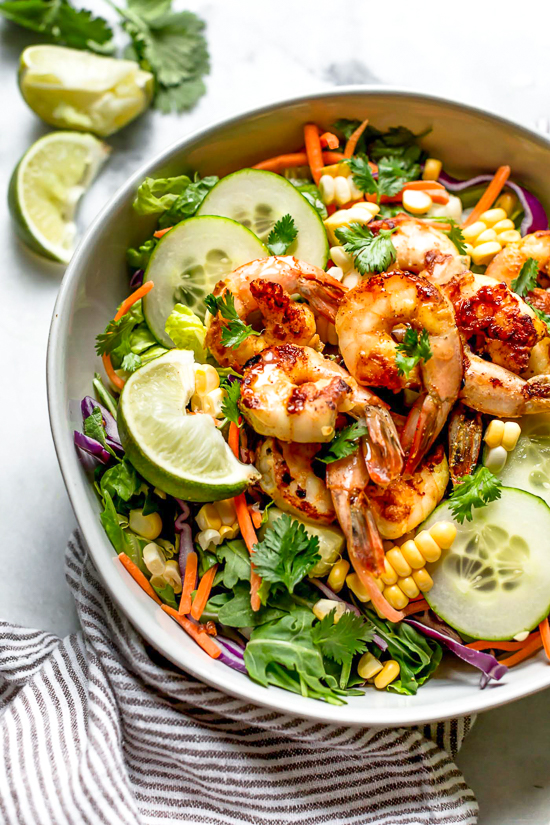 "This refreshing Thai-style salad with greens, herbs, veggies and shrimp, all tossed in a delicious cashew dressing, is the perfect one-dish summer dinner. Recipe: SkinnyTaste.
Baked Honey-Teriyaki Salmon And Asparagus With Cauliflower Rice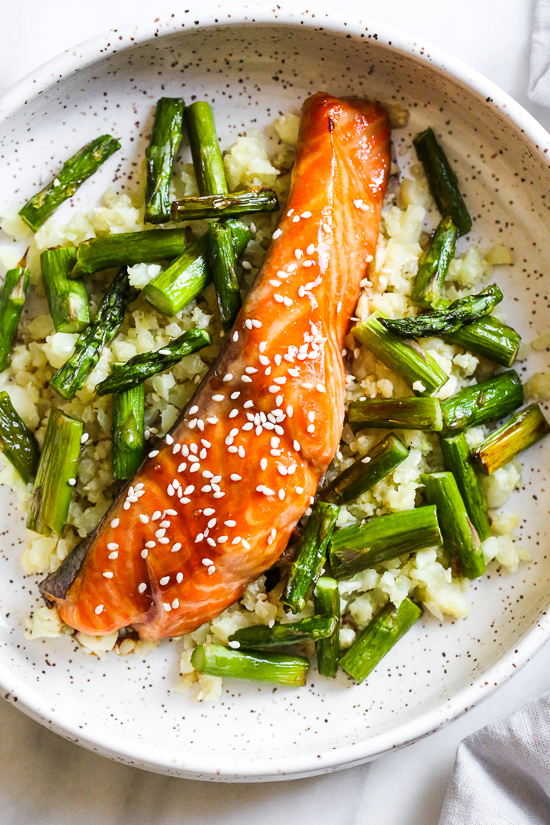 "Baked Honey-Teriyaki Salmon and Asparagus with Cauliflower Rice, this 15-minute dinner is not just tasty, it's also good for you!" Recipe: SkinnyTaste.
15-Minute Prawn & Broccoli Stir-Fry With Cashews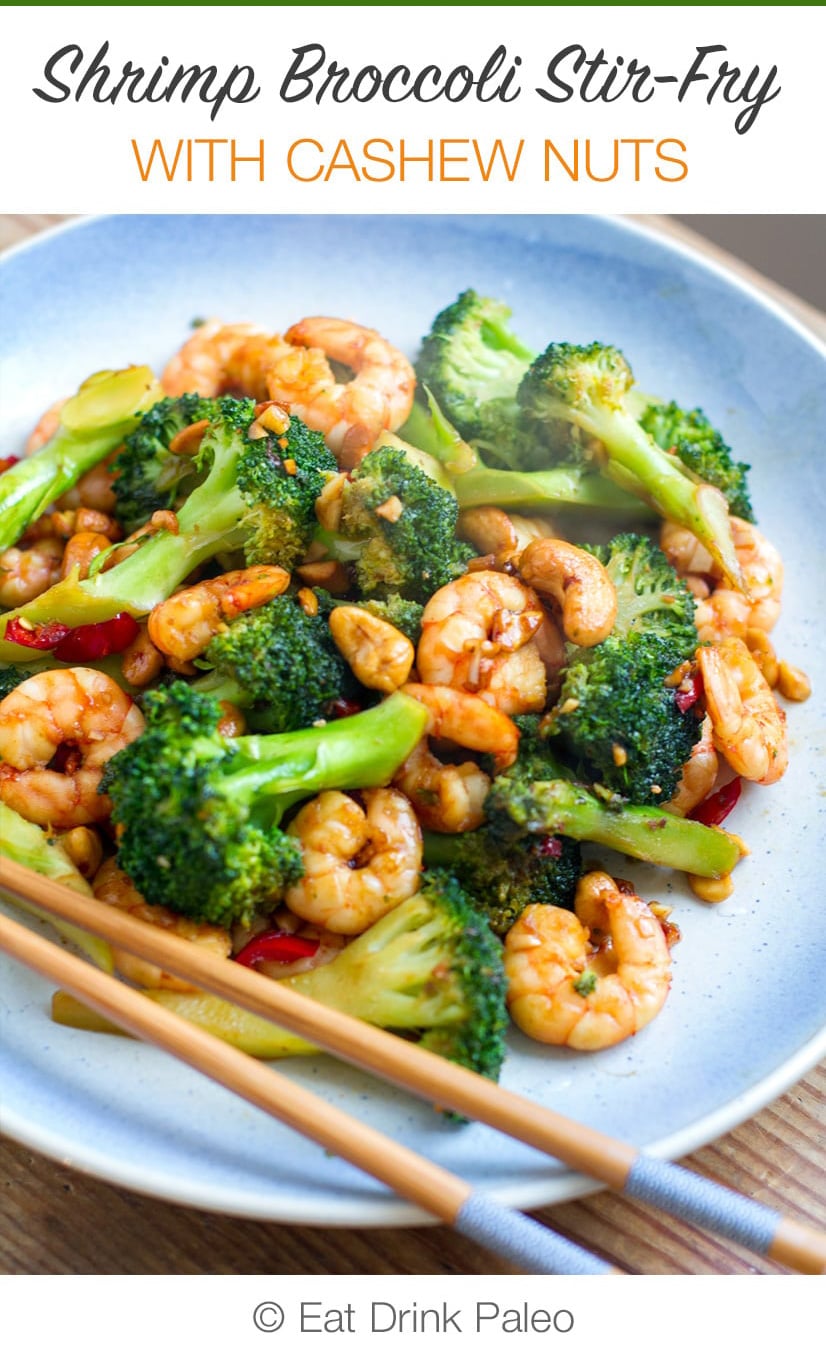 "This tasty, paleo shrimp and broccoli stir-fry is the easiest and quickest paleo dinner EVER! I have a sneaky method for whipping this meal up in less than 15 minutes, and I am going to tell you how.". Recipe: EatDrinkPaleo.
Pan Seared Salmon With Lemon Garlic Cream Sauce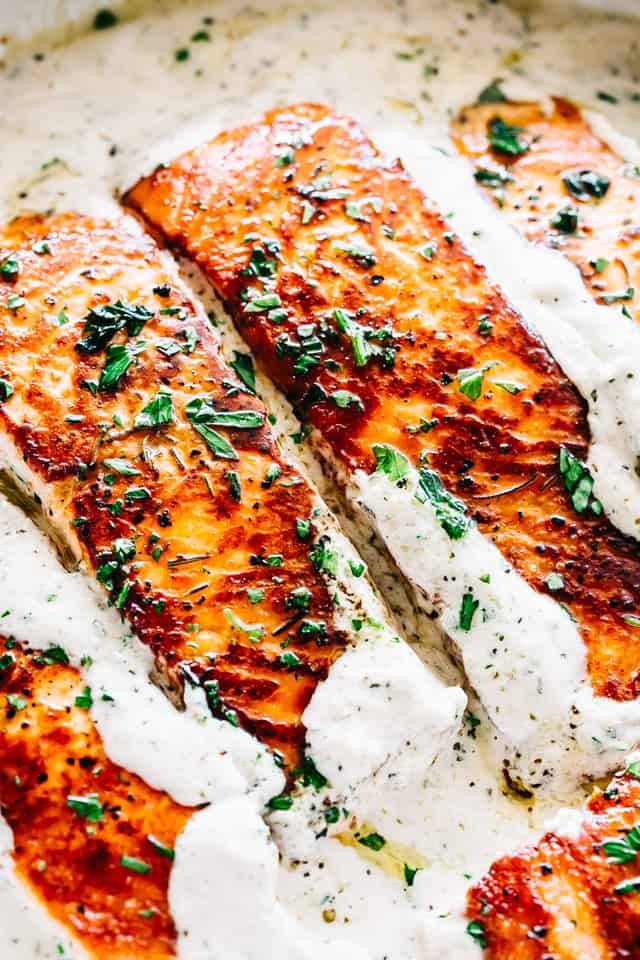 "Pan Seared Salmon with Lemon Garlic Cream Sauce – Quick, delicious, bright and creamy salmon dinner prepared in just one skillet and served with an incredible lemon garlic cream sauce! All you need is about 20 minutes and a handful of ingredients.". Recipe: Diethood.
Honey Ginger Cedar Plank Grilled Salmon With Avocado Salsa.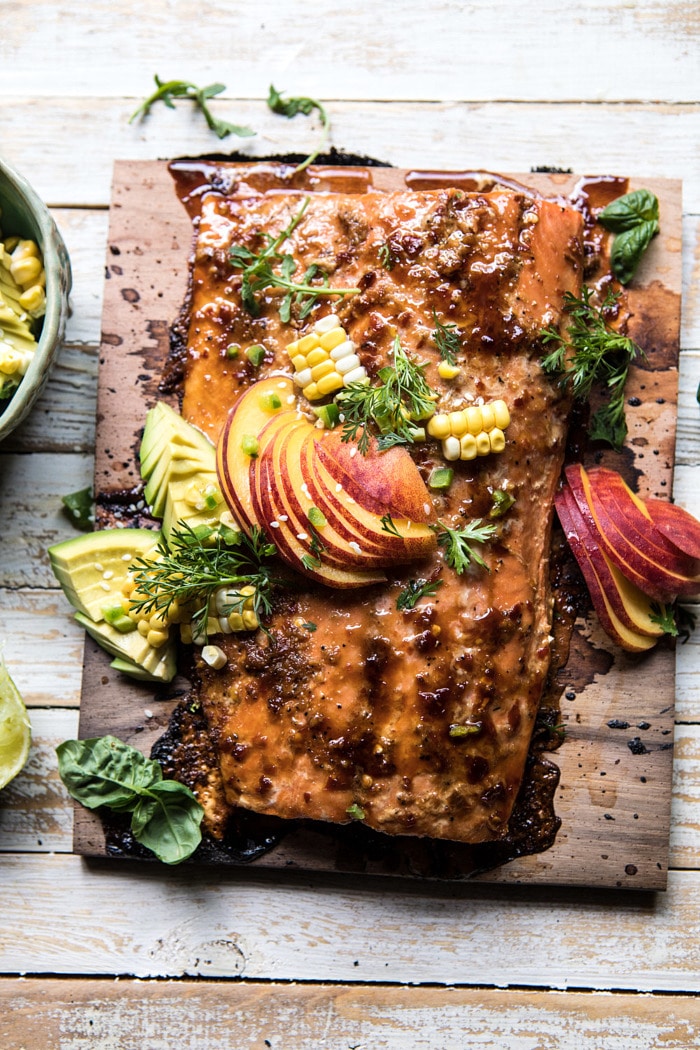 "Meet your new favorite super simple summertime dinner. This sweet, tangy, and spicy cedar plank grilled salmon is topped with a nectarine, corn, and avocado salsa and is bursting with fresh flavor and color. It comes together in under an hour, uses farmers market ingredients, and is all around delicious. You'll love this heathy recipe!". Recipe: HalfBakedHarvest.
Shrimp Fried Cauliflower Rice
"Shrimp Fried Cauliflower Rice – Skip the takeout and make this amazing, low carb "fried rice" meal right at home in just 20 minutes!". Recipe: Diethood.
Ahi Tuna Sushi Stacks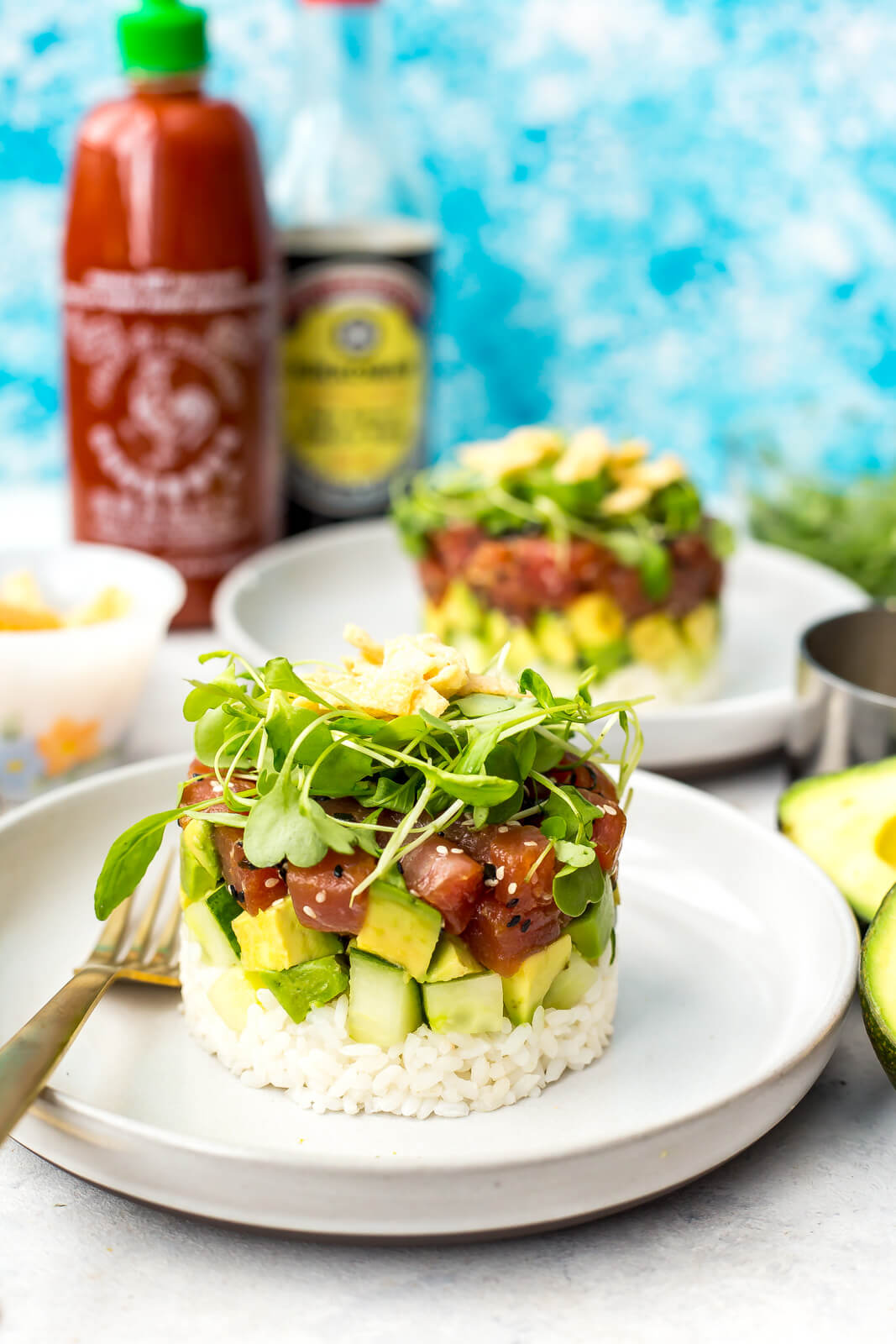 "These Ahi Tuna Sushi Stacks are a delicious copycat version of the ones on the menu at Canadian restaurant chain Cactus Club Cafe – with a sesame-soy marinade, avocado, cucumber & micro greens, it's a deliciously light dinner idea!". Recipe: TheGirlOnBloor.
Moroccan Salmon Foil Packets with Carrot Noodles & Chickpeas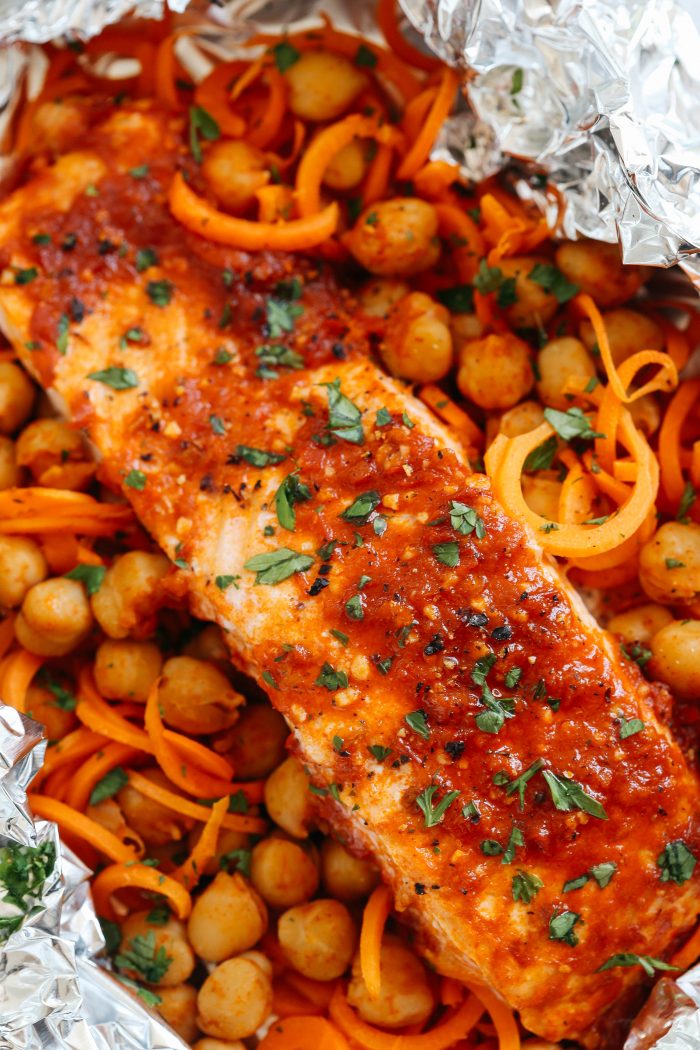 "These Moroccan Salmon Foil Packets with Carrot Noodles & Chickpeas are sweet and spicy with tons of flavor and are easily made in just 20 minutes with little to no clean-up!". Recipe: EatYourselfSkinny.
Spicy Tuna Avocado Wrap
"Tracking PixelLooking for a fun healthy lunch idea? Well I've partnered with Bumble Bee® to bring you these delicious Spicy Tuna Avocado Wraps that are light and fresh, full of flavor and only take about 5 minutes to make!". Recipe: EatYourselfSkinny.
Green & Lean Salmon Bake (Quick & Easy Sheet Pan Meal)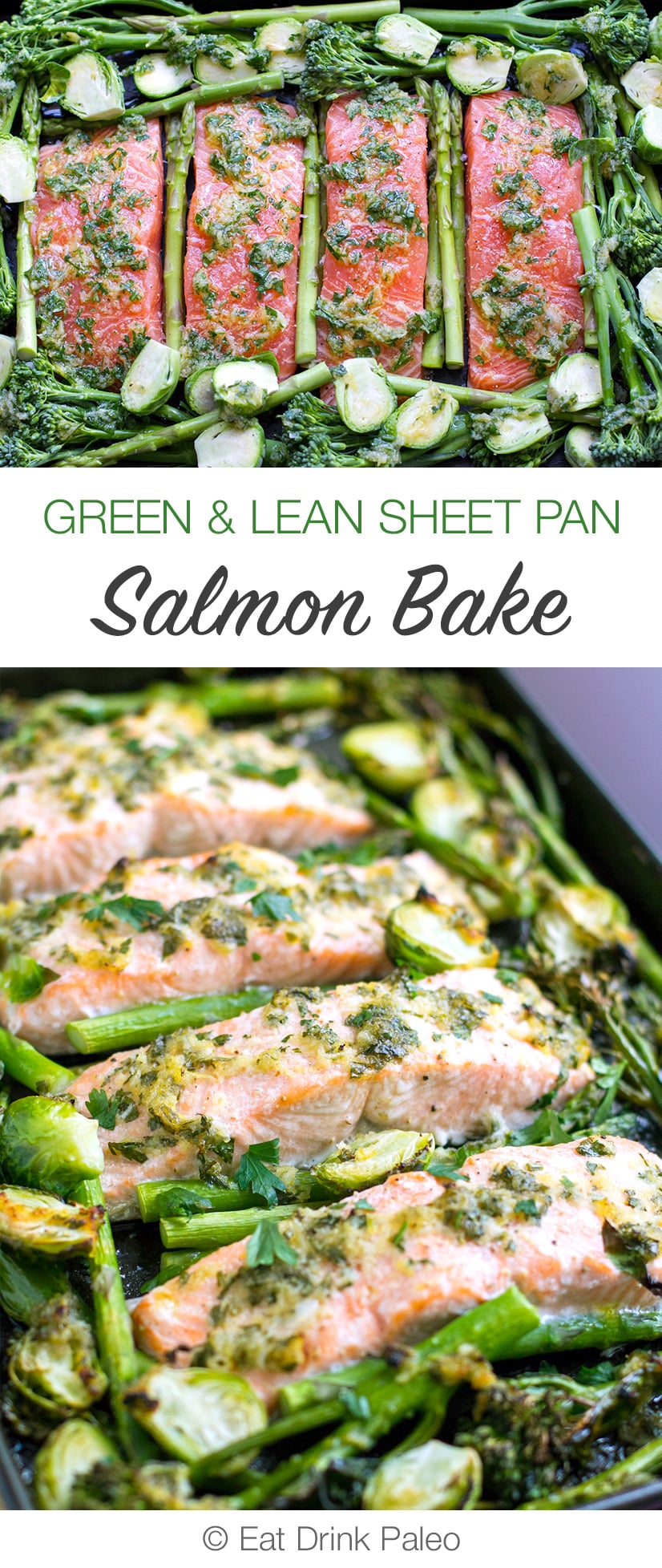 "This sheet pan meal ticks so many boxes: paleo, keto, AIP and Whole30 friendly, it's a perfect meal for anyone doing my paleo program, it has loads of green veggies, it has omega-3s rich fish, it's quick and easy, and most importantly, it's full of flavour.". Recipe: EatDrinkPaleo.
Mexican Tuna Steak, Sweet Red Peppers & Avocado Salsa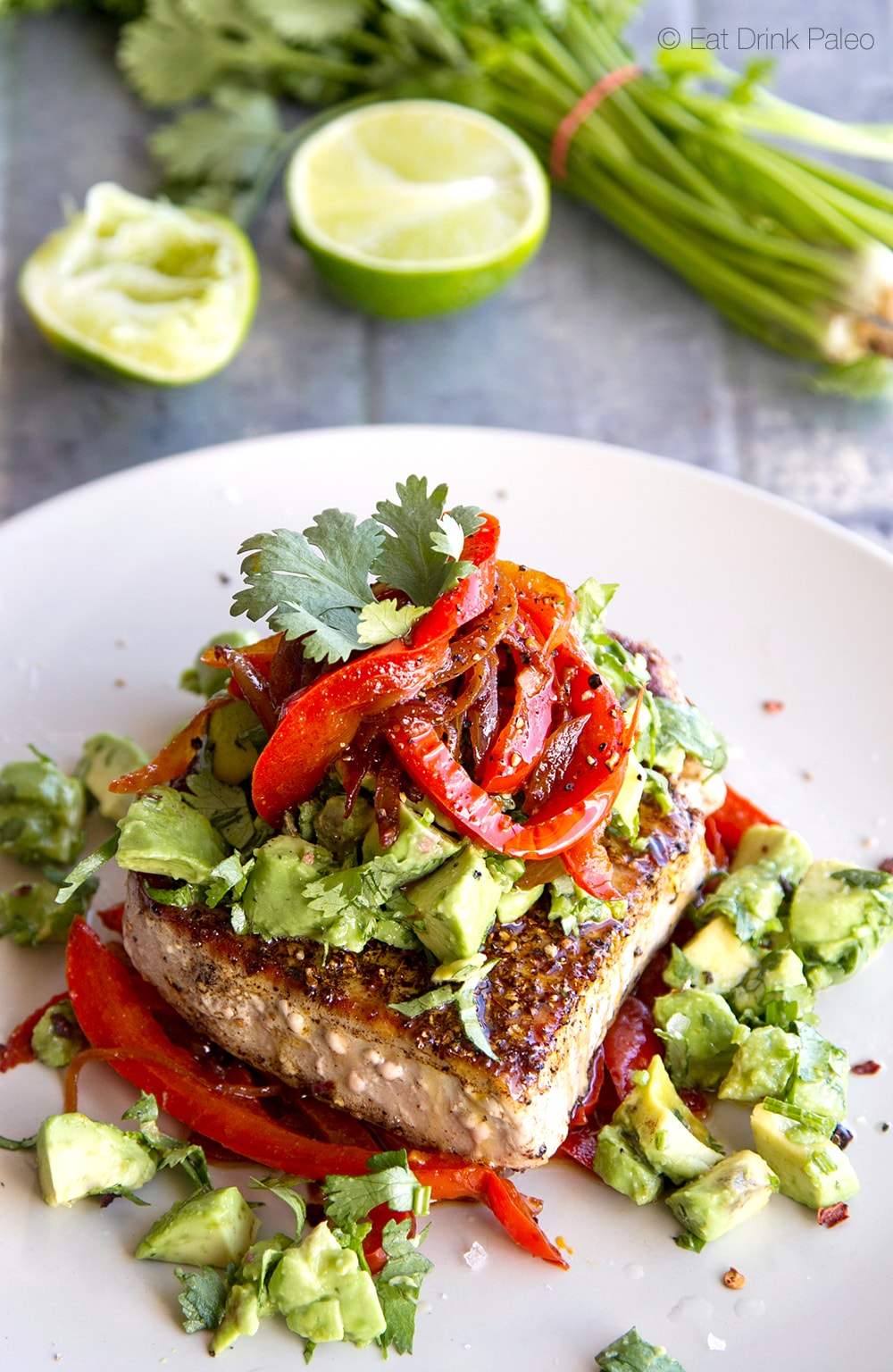 "In my quest to eat more fresh fish this year – and by that I mean to expand my repertoire of salmon – I decided to finally make something with tuna. This recipe features tuna steaks pan-fried in coriander seeds and lime zest brown butter, cumin and paprika sweet onion and red peppers, topped with zesty avocado salsa." Recipe: EatDrinkPaleo.
Bream With Lemon Butter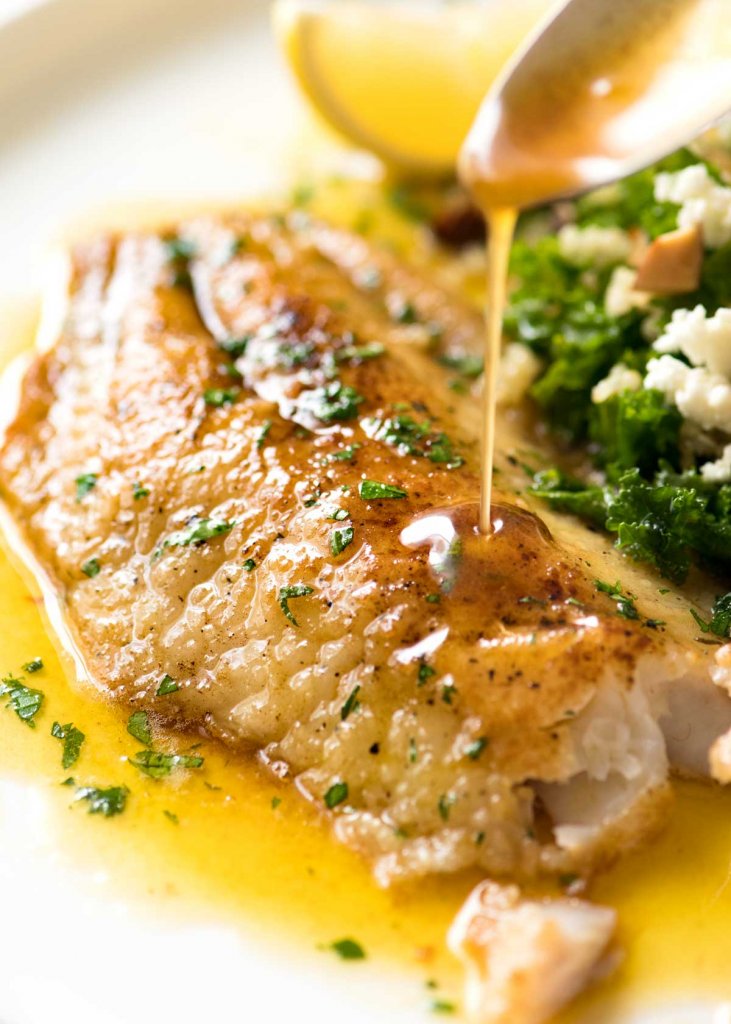 "This Lemon Butter Sauce for fish is outrageous – 3 minutes, 2 ingredients, totally restaurant worthy. The secret is browned butter – called Beurre noisette in French. Learn how to pronounce it so you can loftily tell your family and friends "we're having French tonight!". Recipe: RecipeTinEats.
Salmon Patties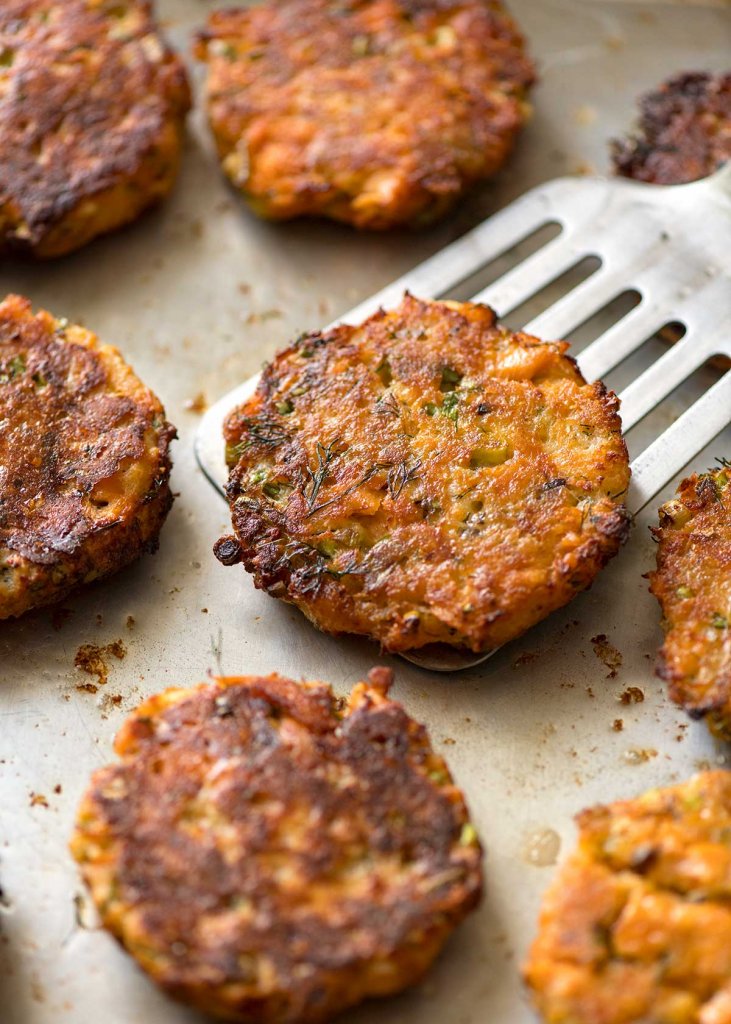 "What a way to transform canned salmon! Made with breadcrumbs rather than mashed potato so they're tender on the inside, and baked rather than fried which means healthier and less cleaning up, this is a very easy Salmon Patties recipe that you can make right now, for dinner tonight!". Recipe: RecipeTinEats.
Lemon Honey Glazed Salmon
"Simplicity at its best – a seasoned salmon fillet with the most incredible lip smackingly delicious honey lemon sauce. And it's super fast – if this Lemon Honey Glazed Salmon takes you more than 8 minutes to make, you've overcooked the salmon!". Recipe: RecipeTinEats.