Heidi Powell's Slim-Belly Diet Plan That Amazingly Has 250g Of Carbs!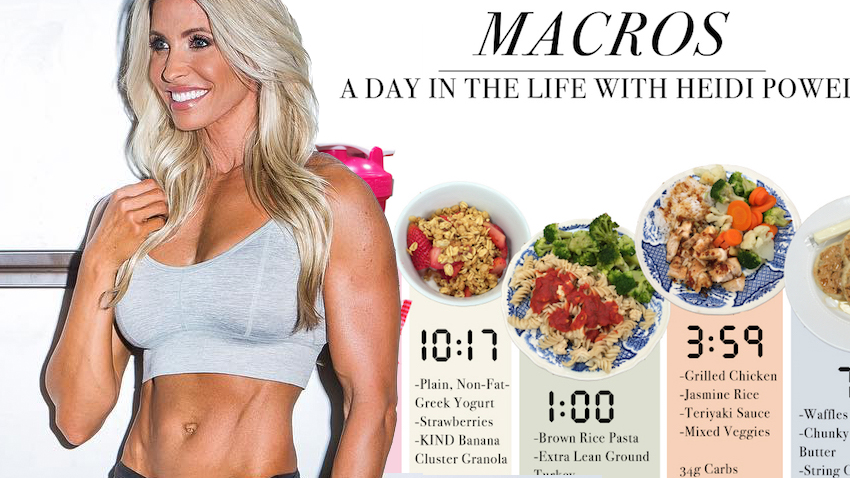 Heidi Powell, alongside her husband Chris, were long time hosts of the extremely popular TV Show, Extreme Weight Loss. She has been a personal trainer for over 10 years and knows exactly what it takes to lose weight and keep it off!
Although, Heidi's story started on a much different path. Far from needing to lose weight, she had developed an extreme eating disorder which led her to weigh only 89 pounds. She became obsessed with the numbers on her scale and this mindset forced her into living an unhealthy, dangerous lifestyle to achieve her 'perfect' body.
With her husband's support, Heidi transformed her relationship with food and her image and credits a daily diet of 2400 calories and an intense, weight lifting routine for helping her achieve a fit, healthy body.

"Because young girls need to know that STRONG is SEXY – NOT sickly skinny, contrary to what many ads try to make us believe."
Heidi currently focuses on a new dieting approach called IIFYM (If It Fits Your Macros) and carb cycling. The idea being that you focus on hitting your targets for Protein, Fat & Carbs and can enjoy what you eat, rather than be stuck on a traditional, "meat & two veg" style plan.
"The plain and simple of it is that it is NOT "clean eating," but it's not "unclean eating" either. Clean eating diets require you ONLY eat foods on the "healthy" list and deprivation is the name of the game. This is hard for most people to follow, myself included."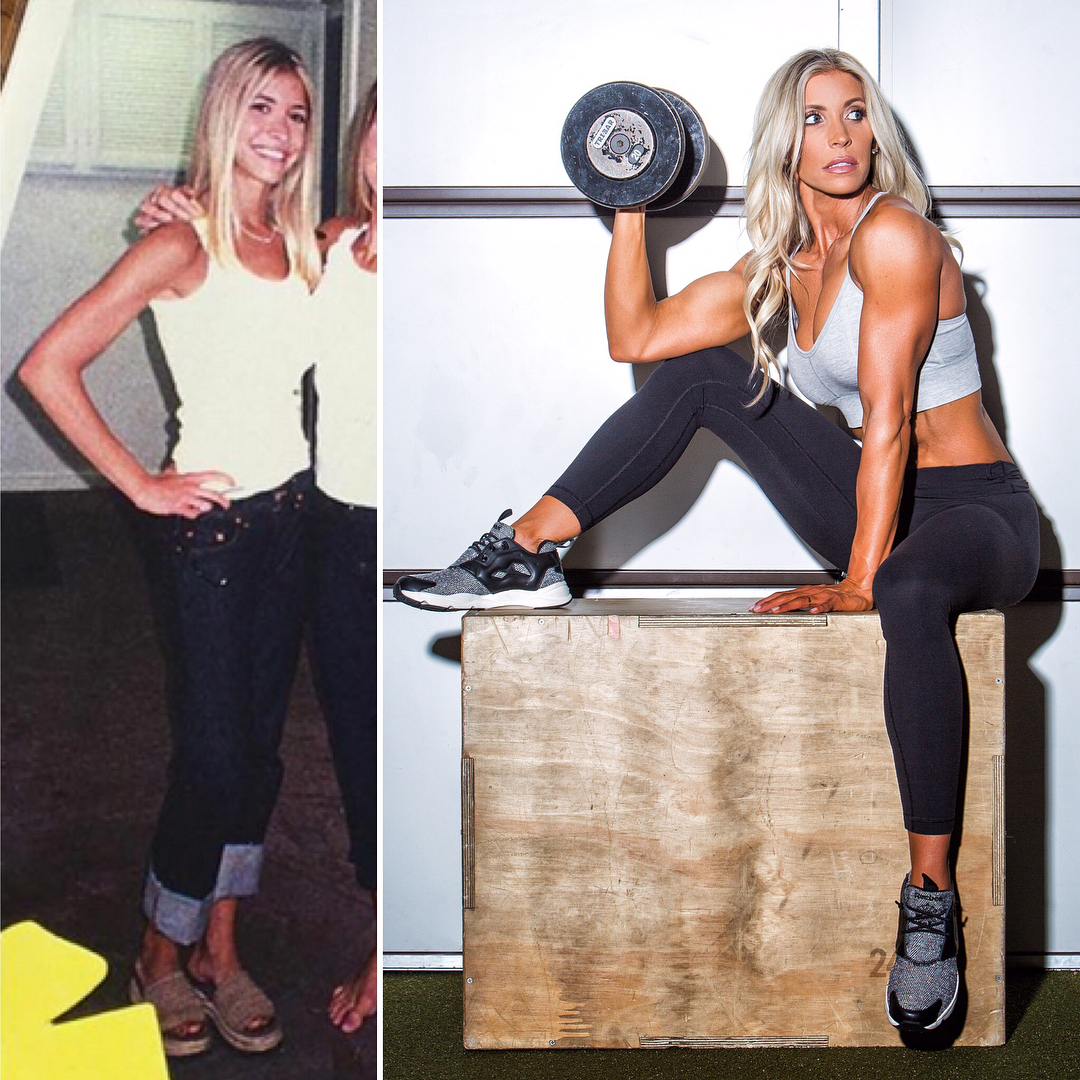 "The idea behind a macro-based plan, however, is that no foods are off-limits, but instead we track our proteins, carbs, and fats for each day until we reach our goal macronutrient numbers. So if I want a donut, I eat a donut. But I am aware (thanks to MyFitnessPal) of the exact macronutrient breakdown of that donut (high fat and carb content) and plan accordingly for the rest of my day."
On a sample day, Heidi will eat 120g of Protein, 250g of Carbs and 50g of Fat. When she carb cycles, she changes the ratio of carbs depending on how much she needs that day.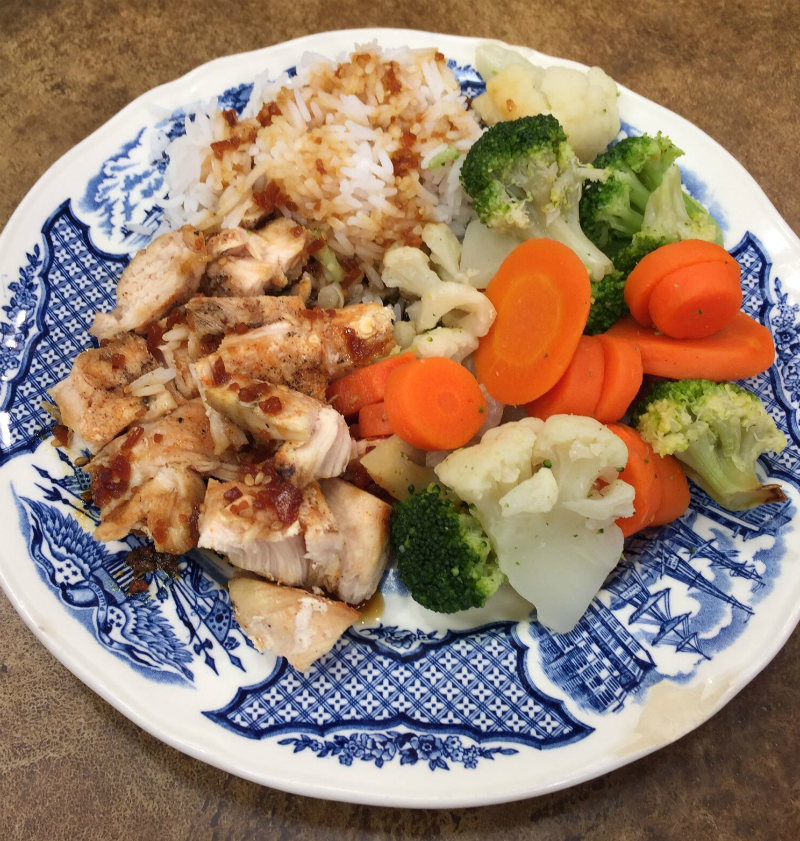 Heidi Powell's Slim-Belly Diet Plan:
Meal 1: Protein shake + Starbucks Marshmallow Dream Bar. 25g protein, 49g carb, 5g fat.
Meal 2: 5.3 ounces nonfat plain Greek yogurt, 1 cup of strawberries, topped with ¼ cup of low-fat granola. 18g protein, 37g carbs, 2g fat.
Meal 3: 1 cup of brown rice pasta with 3 ounces extra-lean ground turkey, ¼ cup marinara, 1½ cups of steamed broccoli. 26g protein, 52g carbs, 3g fat.
Meal 4: 3½ ounces grilled chicken, ½ cup jasmine rice, 1 ounce teriyaki sauce, mixed veggies. 25g protein, 34g carbs, and 3g fat.
Meal 5: 3 gluten-free Eggo waffles, 3 tablespoons all-natural chunky peanut butter, ⅛ cup pure maple syrup, 1 low-fat mozzarella string cheese. 26g protein, 78g carbs, and 37g fat.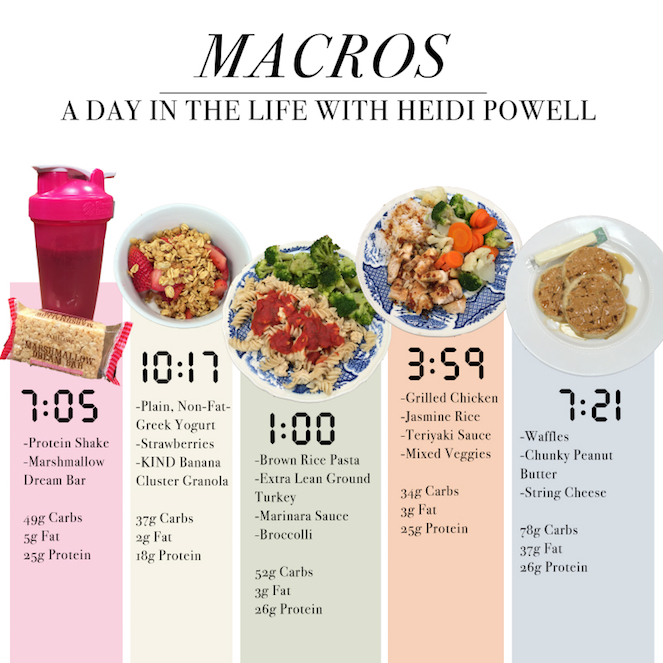 Far from needing to be perfect all the time, Heidi admits that it is okay to use these macros as a guideline and it's okay to be out sometimes. It's all about finding a balance and an approach that works for you.
"Now in full transparency, I rarely finish a day spot on. This happened to work out perfectly, but usually I am 1 gram over or under on each of the macros. Give it a try and be patient with yourself. I remember at the beginning I would literally be OVER my carb allowance by noon…. because I still hadn't figured out the balance and proper way to divvy up my macros. Over time, I feel like I've become a macro queen, and you can too!"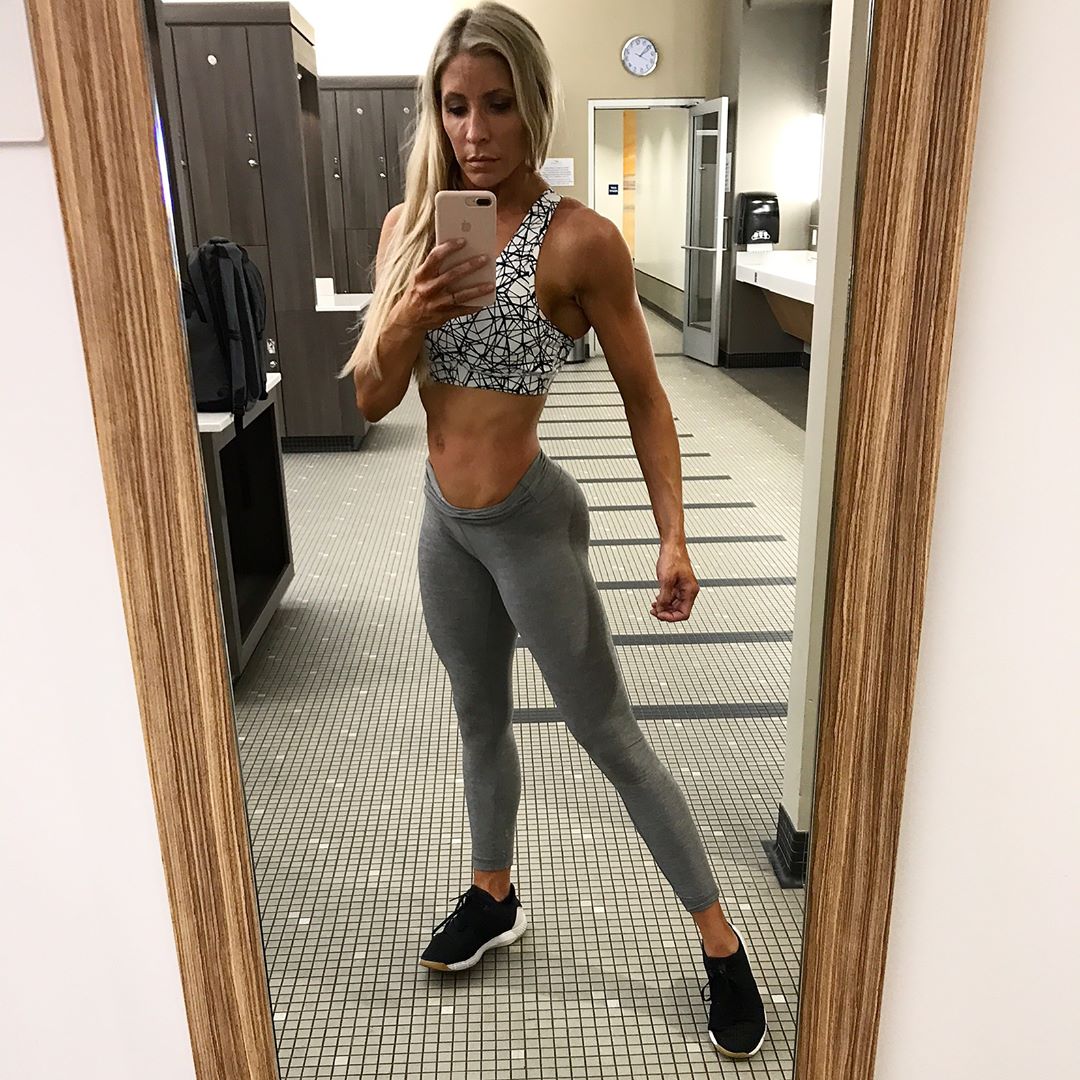 Heidi believes you should be eating enough to properly fuel your workouts. As a busy mom of four kids and running a successful business, she needs to get in workouts that are quick and effective.
"Choose five moves and do as many rounds as possible until your time runs out, whether it's 20 or 30 minutes."
For a lower body workout, Heidi says she'd go for these moves, resting 60-90 seconds between rounds, but still moving quickly.
She also recommends HIIT circuits such as the example below, resting for 60-90 seconds in between each exercise. It's important to keep the intensity up when you train for short periods.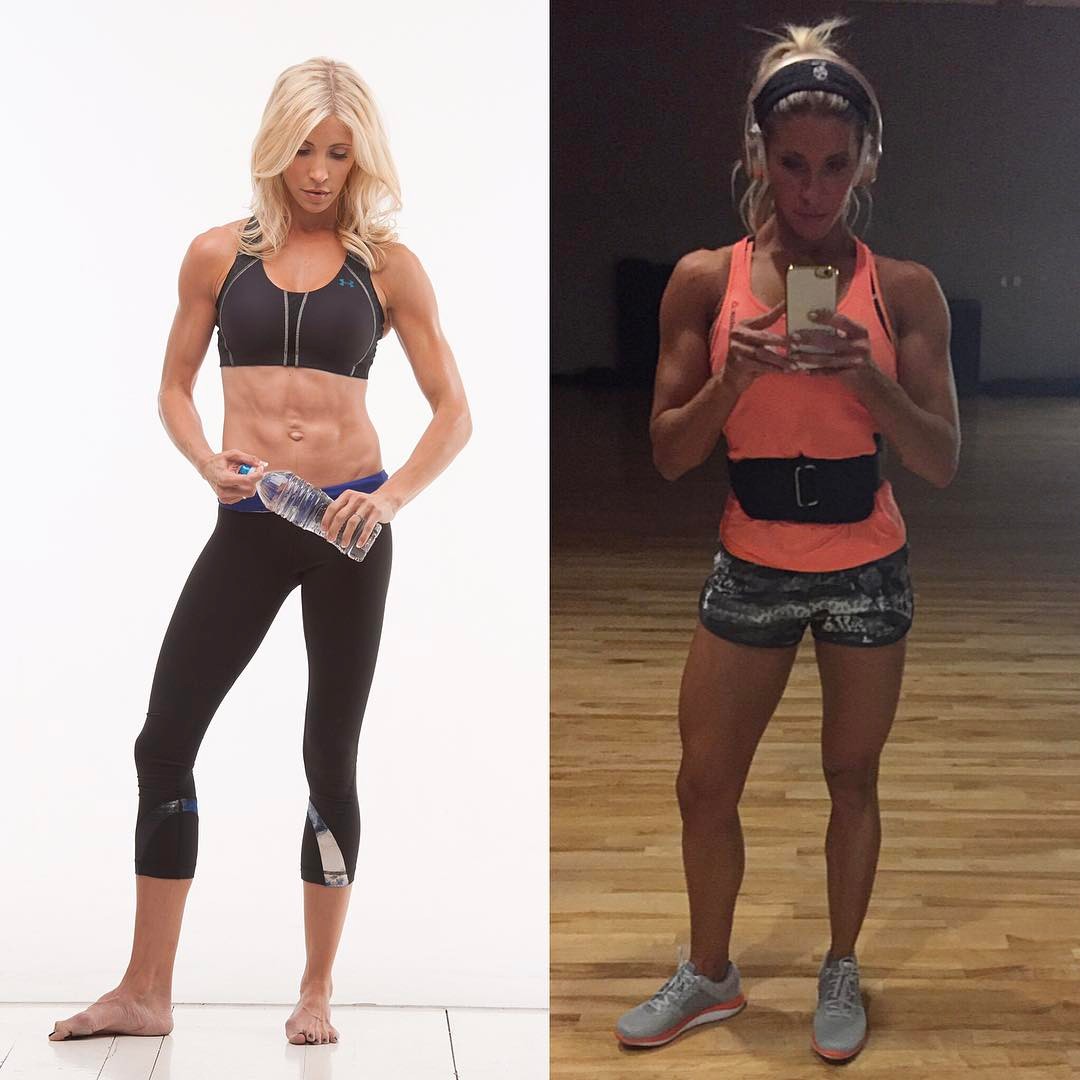 Heidi Powell Sample Lowr Body Circuit Workout:
Hip thrusts (15 reps)
Banded side squat walks (15 steps each direction)
Machine or back squat (10 reps)
Jumping lunges (12 each side)
Pop squats (10 reps)
"Go heavy without compromising form, and move quickly. You will get your heart rate up AND will tear down muscle fibers!"