37 Vegetarian Breakfasts For The Perfect Weight Loss Start To Your Day!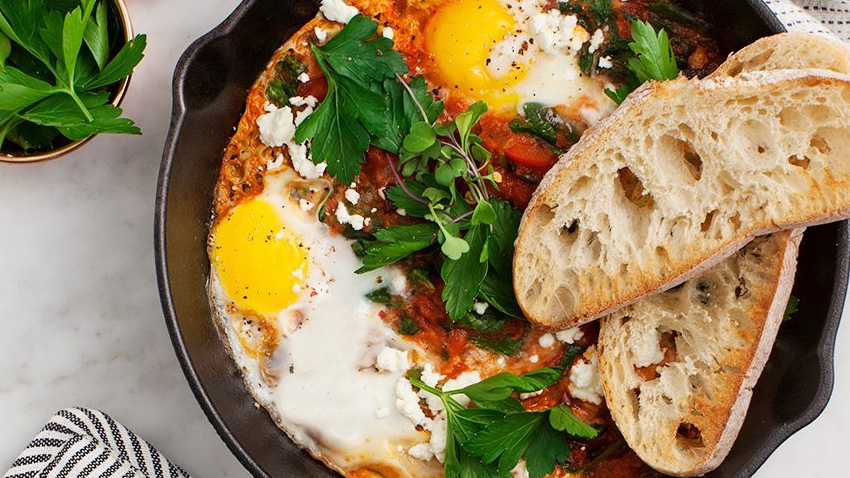 Want to change up your usual breakfast routine? Try something different, whilst staying on track with your weight loss goals? Then we're here to help!
Here are 37 unique, delicious and healthy, vegetarian weight loss breakfasts, that will help you slim down and feel amazing! Seriously, these are really good!
You don't need to be a vegetarian to enjoy some of these amazing recipes! As always, save and share your favourites to social media!

37 Vegetarian Breakfasts For The Perfect Weight Loss Start To Your Day!
Shakshuka With Spinach And Harissa
" My version has spinach mixed for extra veggie power and harissa mixed in for extra spice. See the recipe below for instructions to make this whole recipe in one skillet. Since I was dividing this into multiple skillets to serve 3, I made the sauce in a separate pan and stored the extra in the fridge for an impromptu-shakshuka lunch the next day." Recipe: LoveAndLemons.
Healthy Green Breakfast Tacos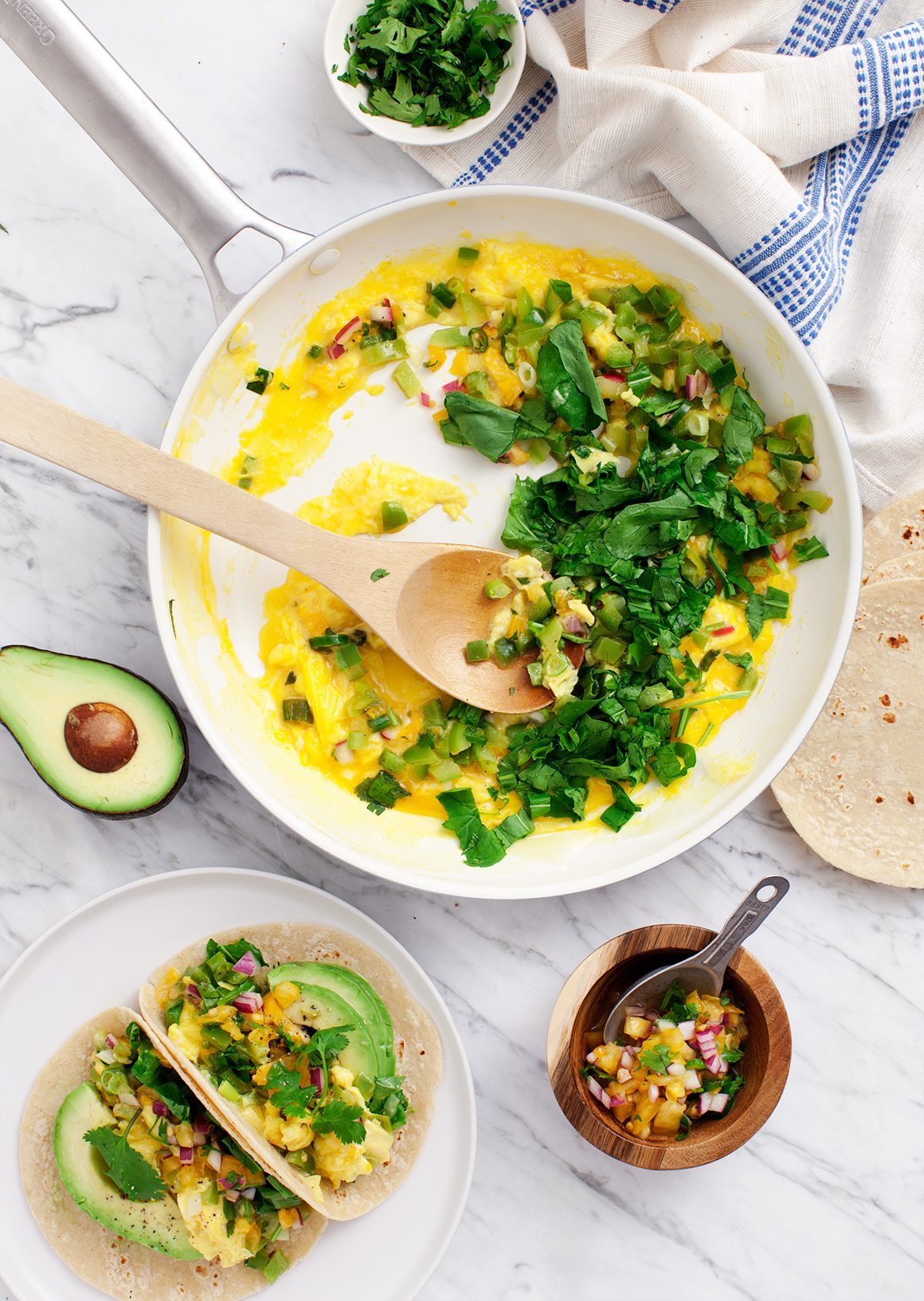 "The base of these tacos is a very green egg scramble that's filled with green peppers, scallions, arugula, and a scoop of fresh yellow tomato salsa. These tacos are fresh, healthy, and lighter than anything you'd find at a restaurant or truck." Recipe: LoveAndLemons.
3 Layer Cocoa Almond Banana Berry Smoothies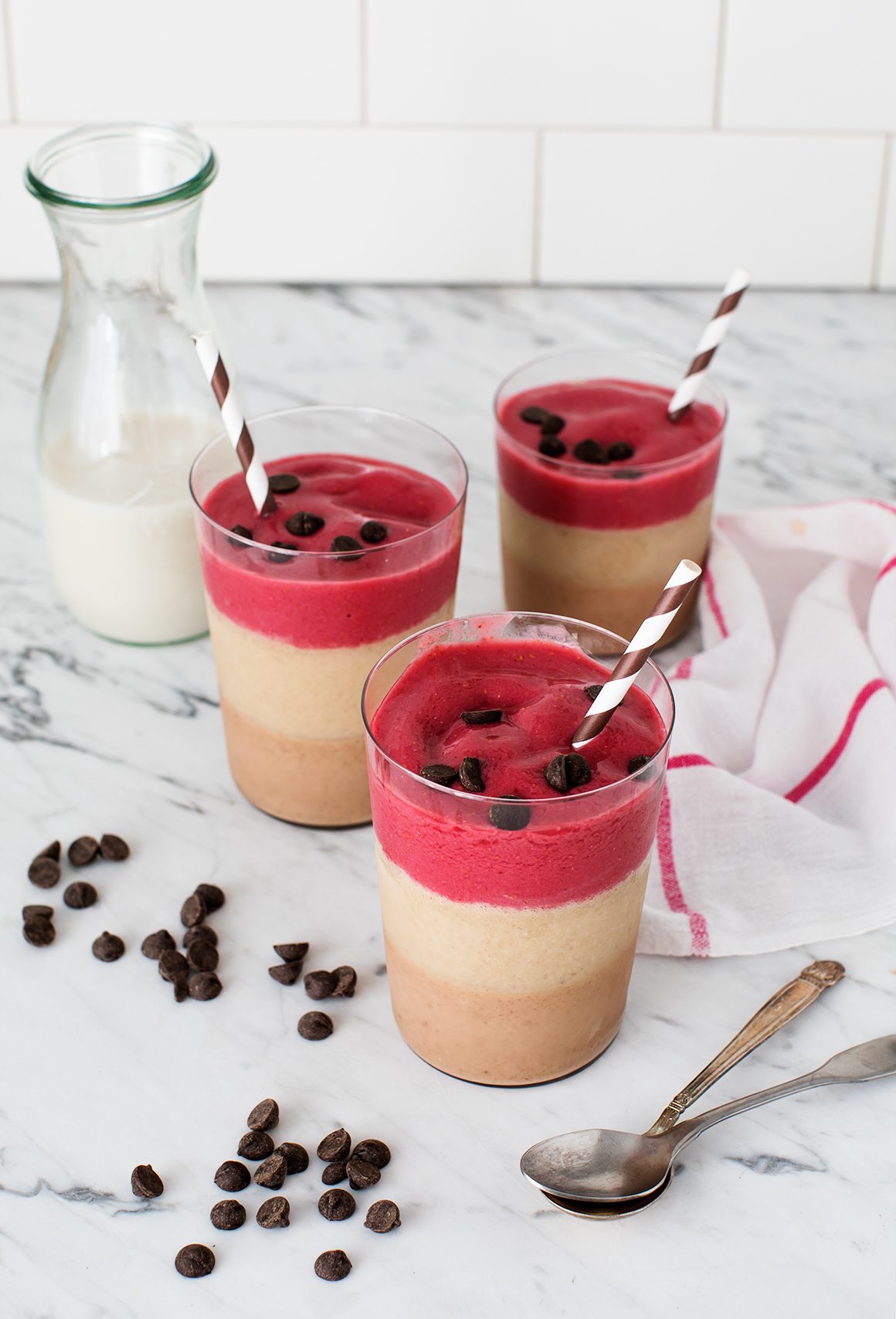 "The bottom layer is made with almond butter, cocoa powder, and dates. The middle layer is made with banana, vanilla and (more) dates. The top layer is a mix of frozen strawberries and raspberries. Each one is blended with generous amounts of Almond Breeze almondmilk, which is a staple ingredient in my fridge." Recipe: LoveAndLemons.
Fresh Huevos Rancheros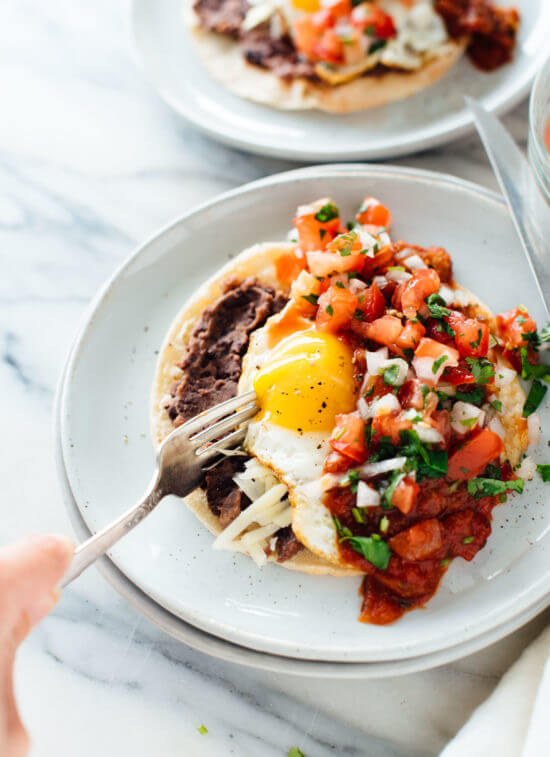 "Huevos rancheros are the most perfect vegetarian meal. There, I said it. Huevos rancheros (or rancher's eggs) are a typical breakfast served at Mexican farms, featuring corn tortillas and fried egg topped with plenty of warmed salsa. They're the answer any time I'm craving extra protein or a super hearty, quick meal. I can't resist them on a brunch menu, either." Recipe: CookieAndKate.
Vegetarian Breakfast Burritos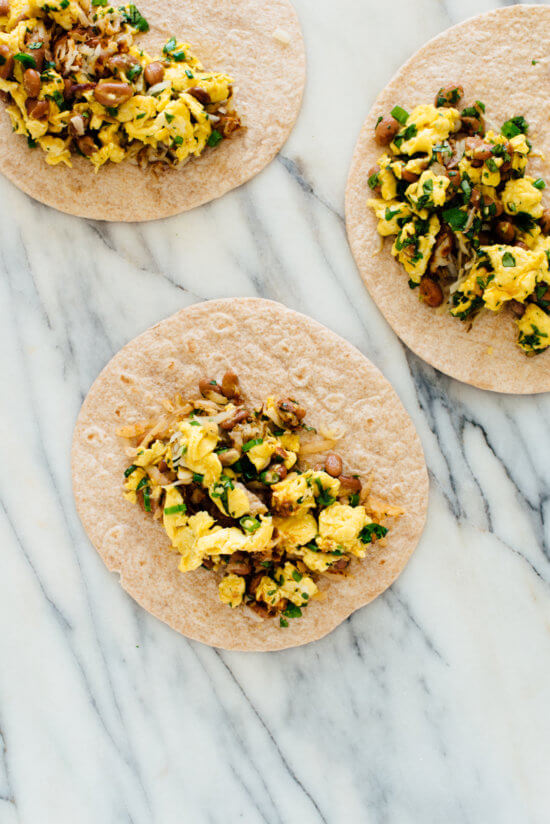 "These easy breakfast burritos are total lifesavers. You can make them for a nice weekend brunch, of course. Then you can freeze the extra burritos for later. Enjoy your leftover burritos for quick breakfasts, lunches or dinners!" Recipe: CookieAndKate.
Overnight Oats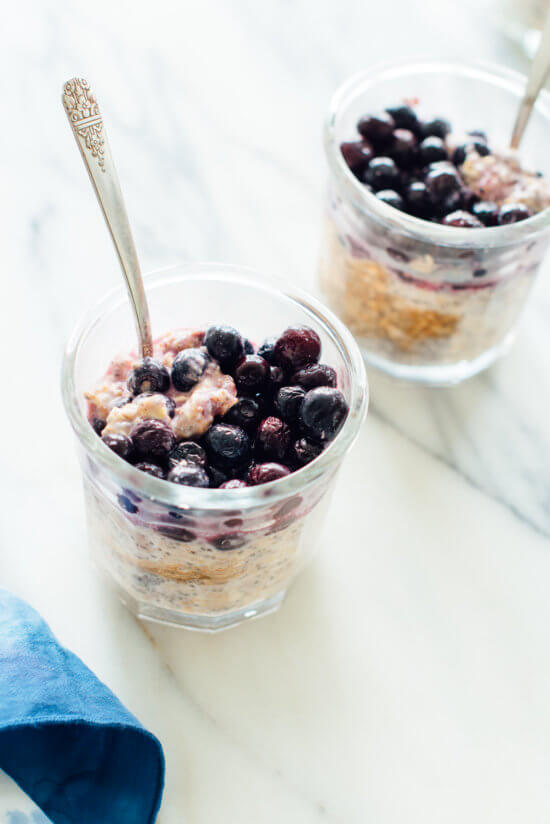 "Good morning! This summer, I've been making batch after batch of overnight oats, and taking notes. Overnight oats are a healthy, make-ahead breakfast option, but they're not always enticing enough to get me out of bed. Today, I'm going to share everything I've learned with you, along with my favorite overnight oats recipe." Recipe: CookieAndKate.
Cherry Pecan Muesli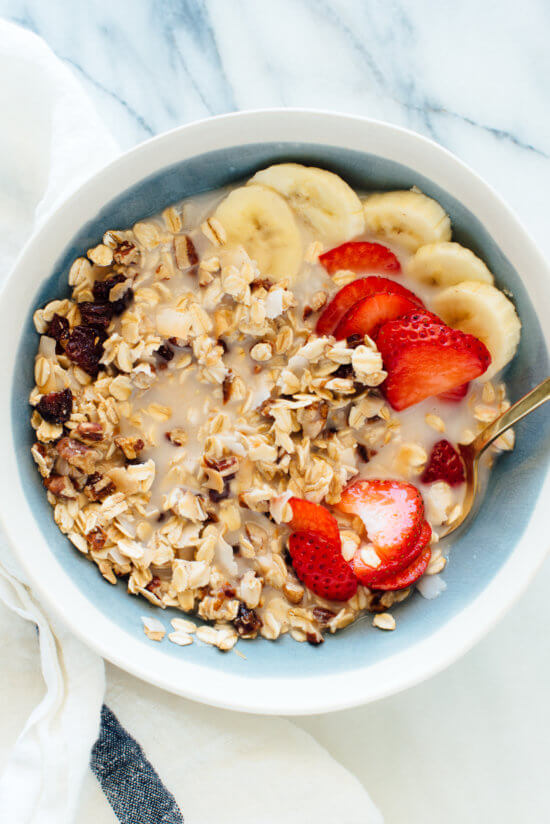 "This cherry pecan muesli recipe will make you look forward to breakfast! It's made with oats, coconut, pecans, dried cherries, and a touch of maple syrup. " Recipe: CookieAndKate.
Almond Coconut Granola Bars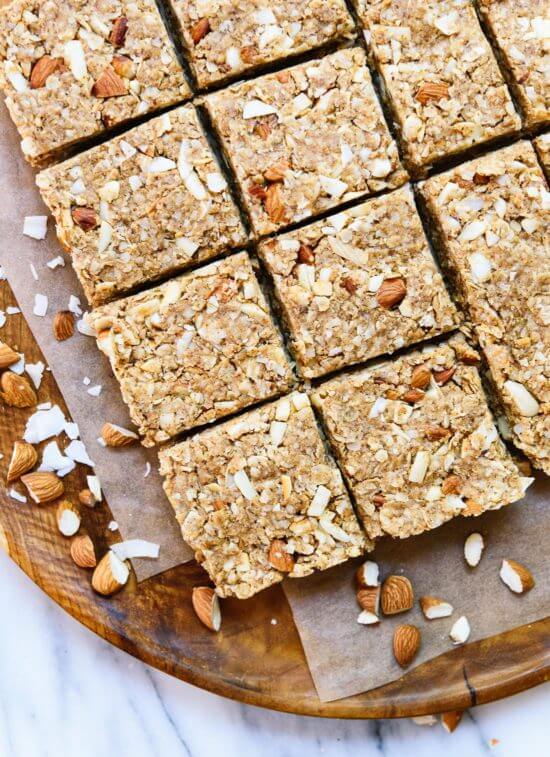 "These homemade granola bars are a healthy and delicious snack! Made simply with almonds, coconut, oats, almond or peanut butter, and honey or maple syrup. These bars require about 15 minutes of prep time, then an hour-long rest in the refrigerator to set. " Recipe: CookieAndKate.
Tex-Mex Breakfast Bowls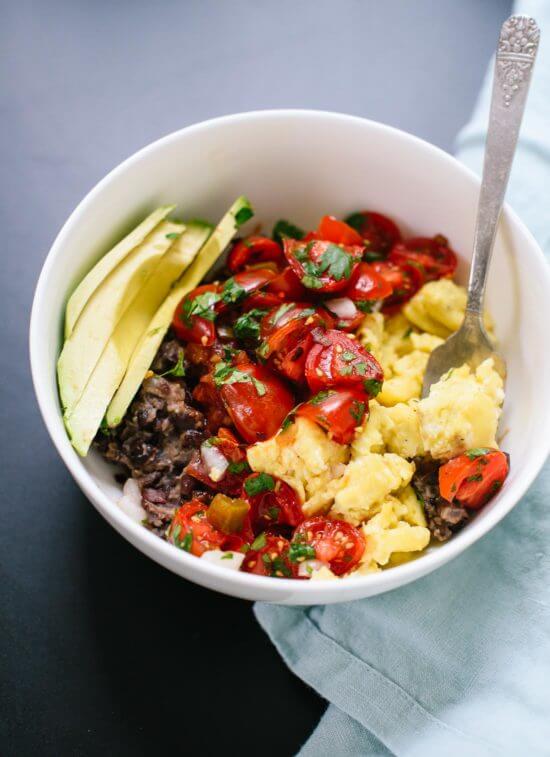 "Hearty breakfast bowls featuring your favorite Tex-Mex flavors, including fresh pico de gallo, black beans and avocado. This meal is great for dinner, too! " Recipe: CookieAndKate.
Freezer Breakfast Burritos With Sweet Potato Hash And Black Beans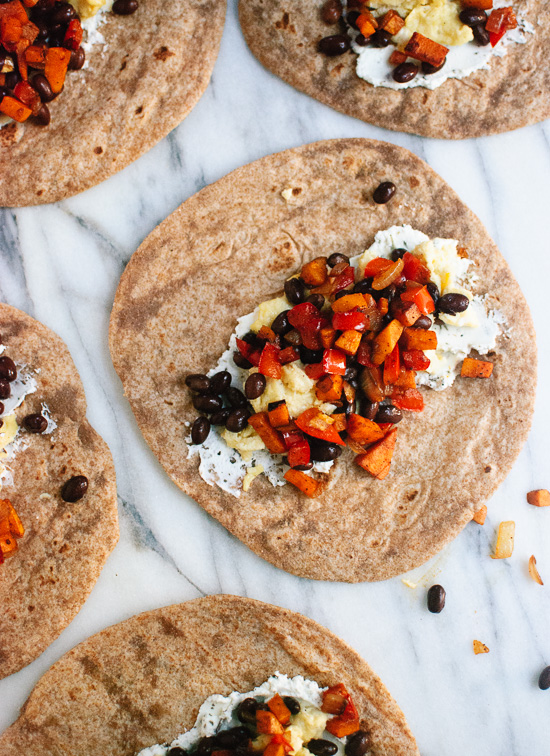 "Hearty, vegetarian freezer breakfast burritos with sweet potato hash, black beans and scrambled eggs! Freeze your extra burritos for busy mornings." Recipe: CookieAndKate.
Banana Protein Shake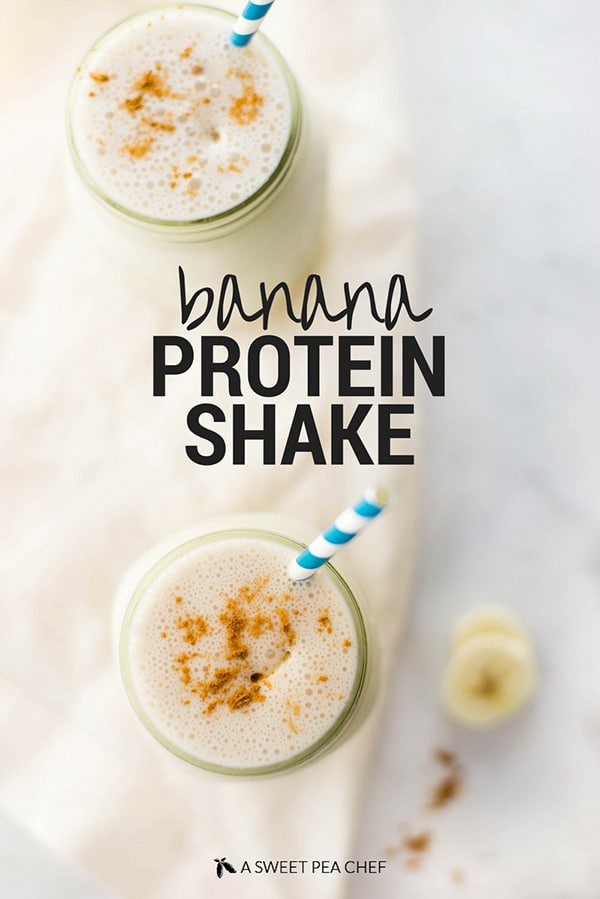 "Protein shakes are a great way to quickly get all sorts of protein as well as fill you up for a meal replacement. I like to have a protein shake every morning for breakfast. They take less than 5 minutes to make and are super delicious." Recipe: ASweetPeaChef.
Easy Gluten Free Oat Waffles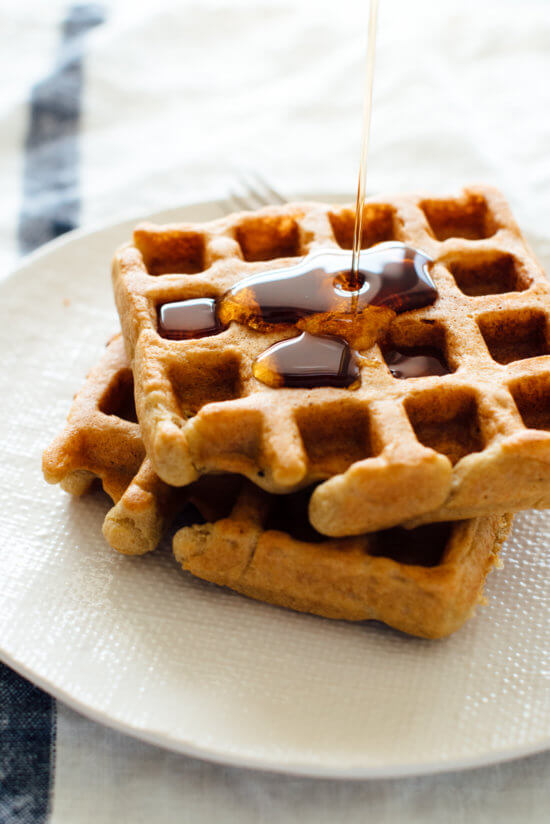 "I'm pretty particular about my waffles. I want light, whole grain, crisp-on-the-outside, fluffy-on-the-inside, Belgian-with-deep-pockets, quintessential WAFFLES. No soggy waffles allowed! Bonus points if they freeze well so I can pop them in the toaster like Eggo's." Recipe: CookieAndKate.
Banana Oat Pancakes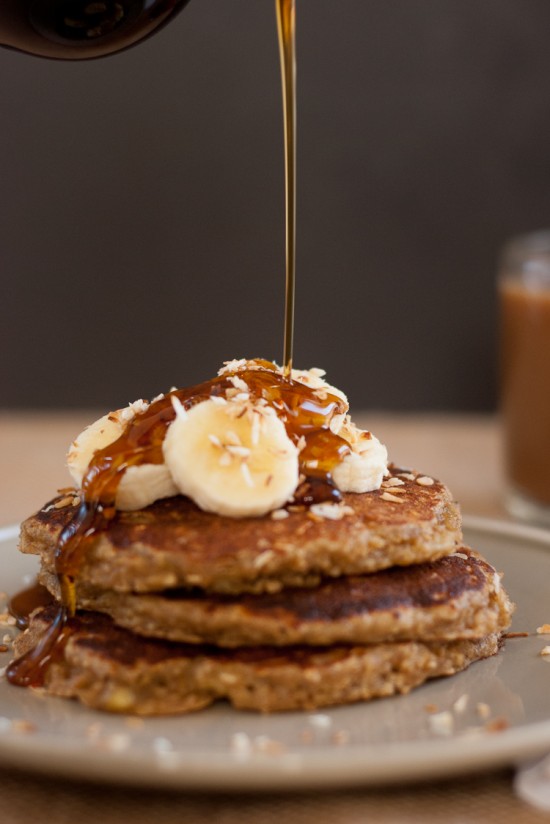 "These banana pancakes are a little more time consuming than the average from-scratch pancakes, but my oh my, was my work rewarded on my lazy Saturday morning. After making, photographing and fending the cakes from Cookie, I sat down and slid the side of my grandmother's old fork through three layers of the most creamy, fluffy, heavenly sweet pancakes I have ever tasted." Recipe: CookieAndKate.
Blueberry Muffin Overnight Oats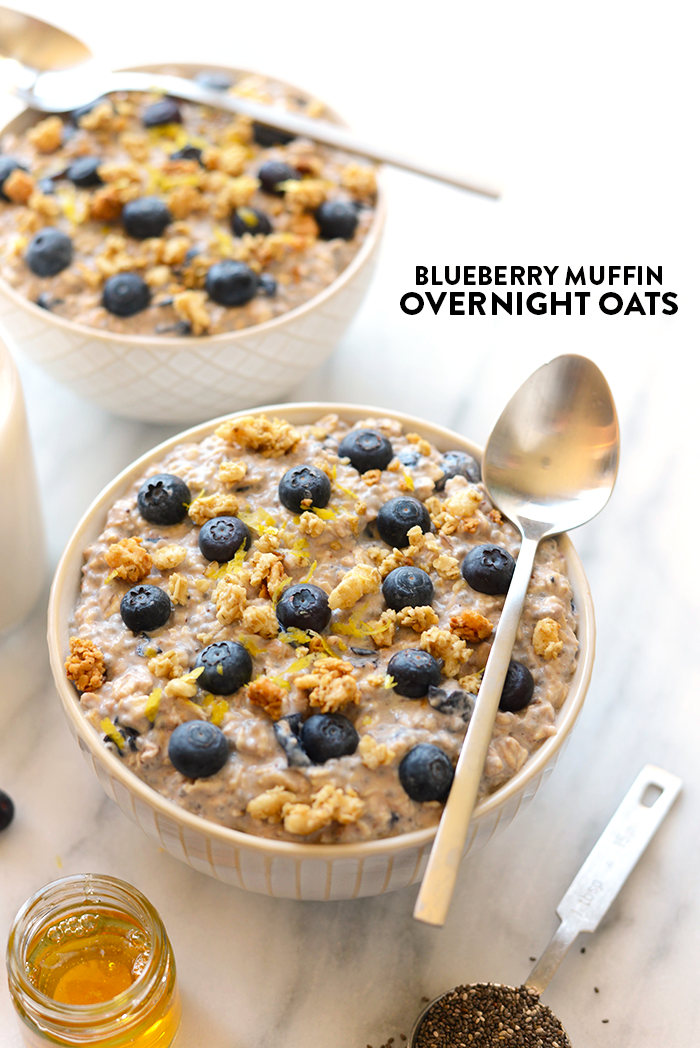 "All the same flavors of a blueberry muffin but 100% better for you! Make these Blueberry Muffin Overnight Oats tomorrow for a healthy breakfast." Recipe: FitFoodieFinds.
Superfood Summer Fruit Smoothie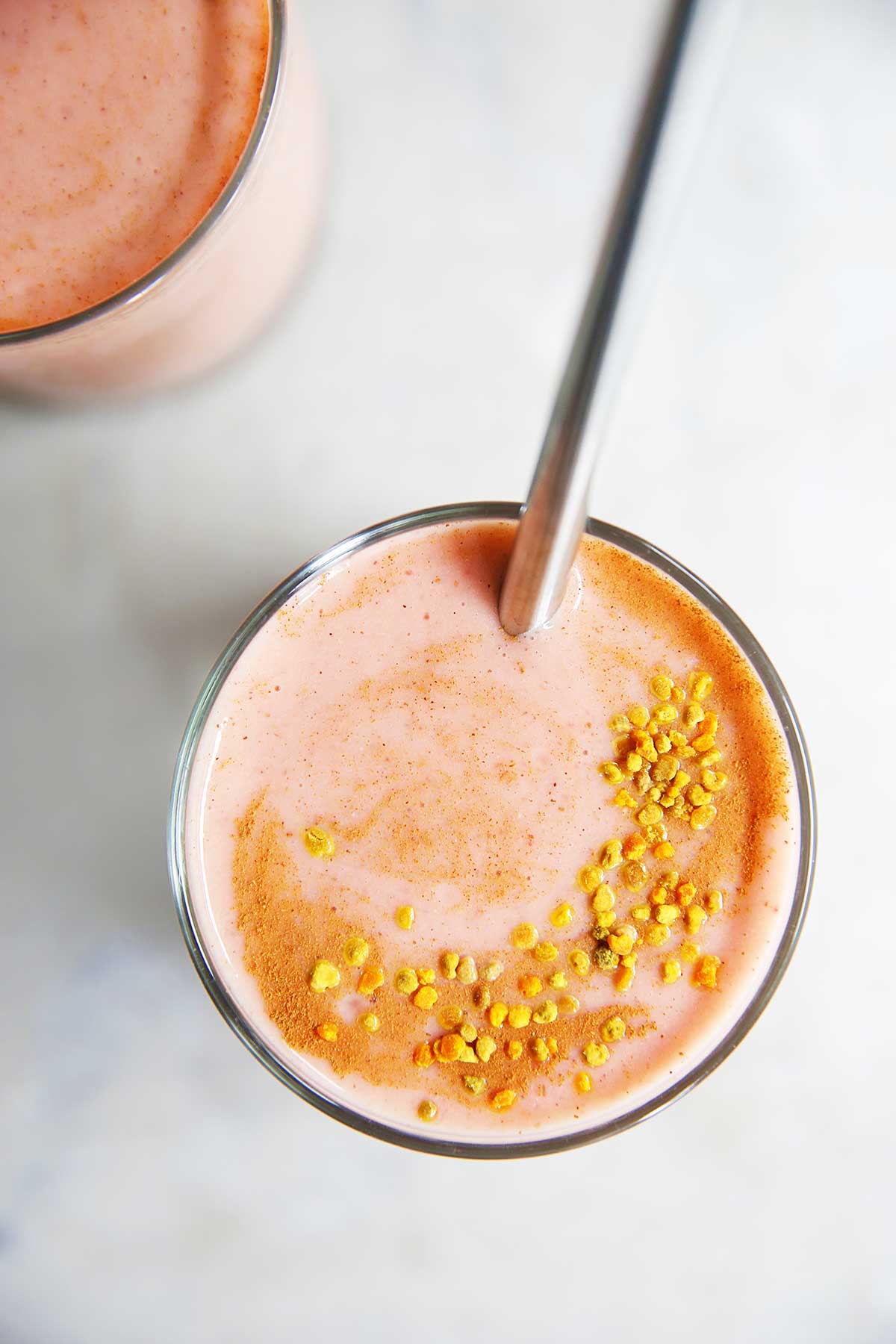 "This Superfood Summer Smoothie is loaded with Summer fruits and packed with tons of antioxidants! It is dairy-free, vegan, and the perfect start to any morning!" Recipe: LexisCleanKitchen.
Blueberry Avocado Smoothie

"This super creamy blueberry avocado smoothie is packed with protein, healthy fats, vitamins and antioxidants. Gluten-free and easily made vegan, it makes a healthy and delicious breakfast or snack." Recipe: RunningWithSpoons.
Flax & Blueberry Vanilla Overnight Oats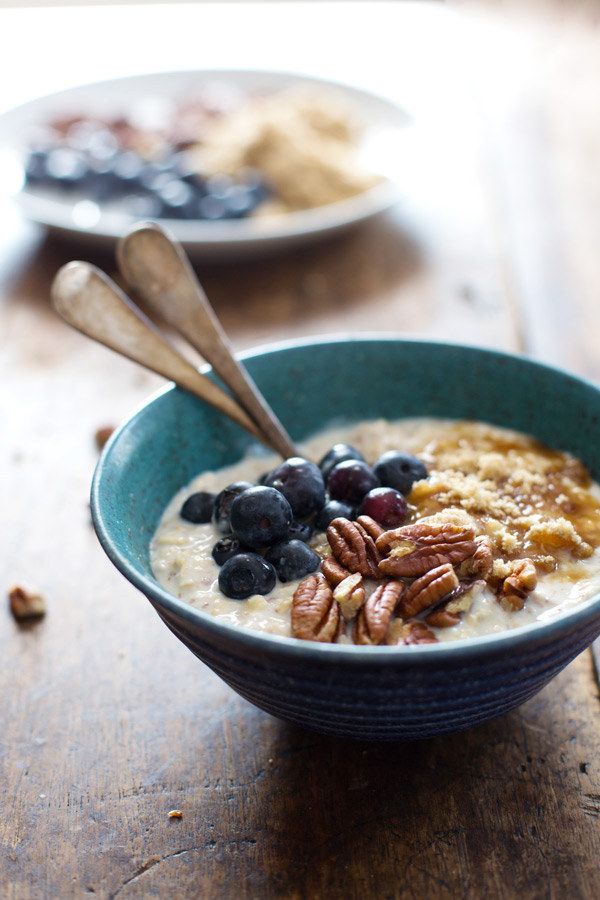 "Nothing sends me into the kitchen at neck-breaking 6am speeds like this creamy, vanilla-y, wholesome and filling cup of overnight oats with juicy plump blueberries and nutty flax". Recipe: PinchOfYum.
Simple Goat Cheese And Egg Toasts With Peas And Dill
"Goat cheese slathered on whole grain toast, topped with an egg (fried or scrambled) and a sprinkling of fresh peas and herbs. An easy breakfast or any-time-of-day meal." Recipe: CookieAndKate.
Avocado, Egg and English Muffin Sandwich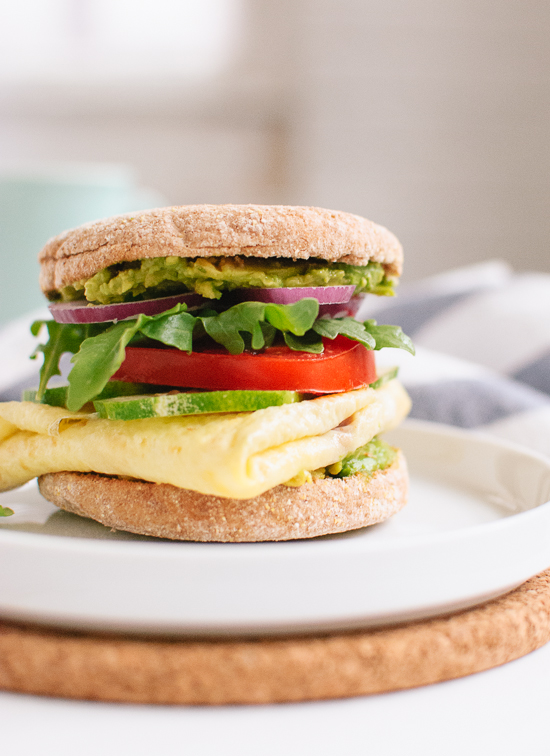 "The best veggie egg sandwich you'll ever have, seriously. These egg sandwiches are great for breakfast, lunch or dinner. Feel free to change up the toppings or just skip a few" Recipe: CookieAndKate.
Huevos Rancheros Scrambled Eggs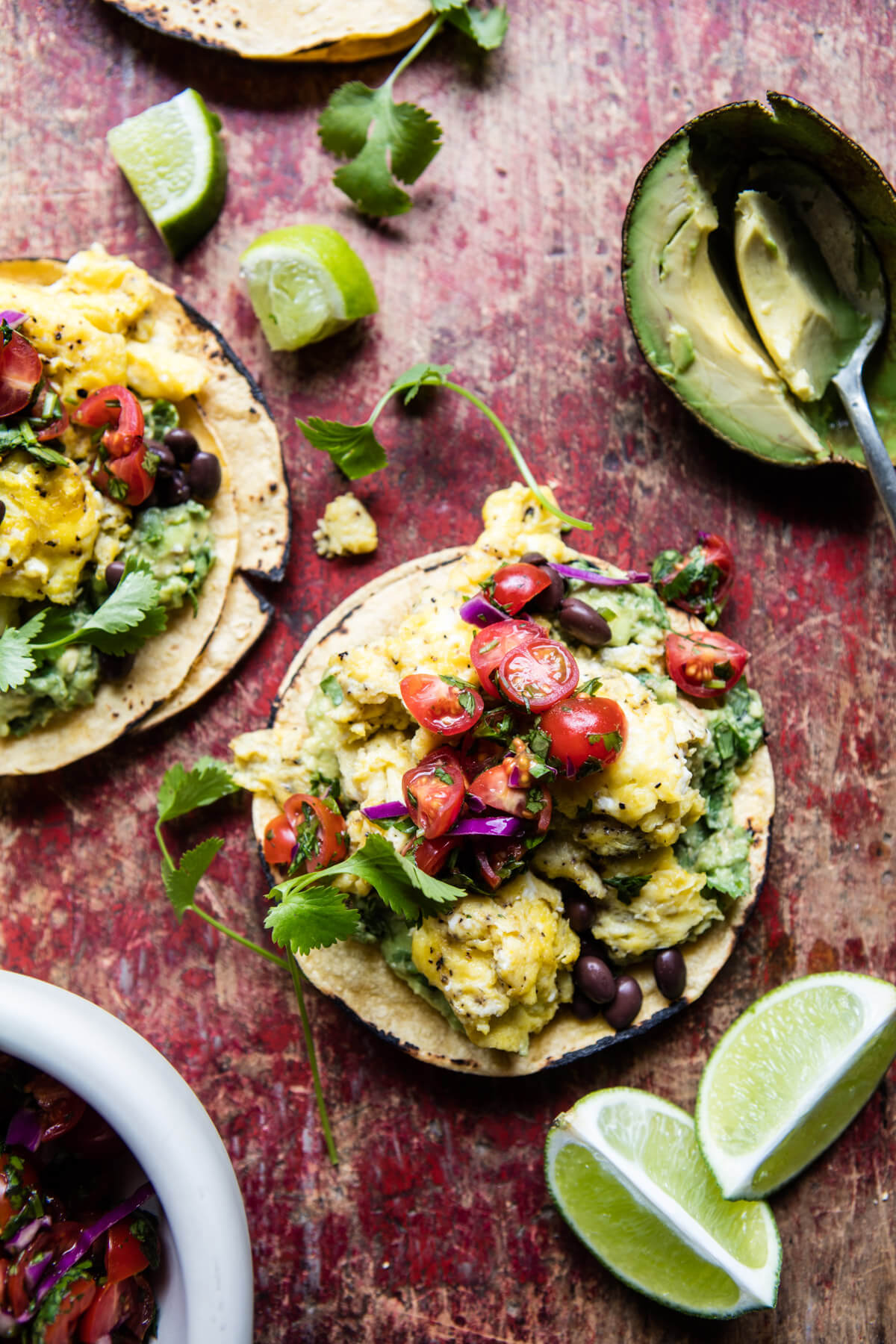 "The eggs are simply scrambled with a little salt and fresh pepper and served over a batch of homemade guacamole, corn tortillas and topped with a simple cherry tomato salsa." Recipe: HalfBakedHarvest.
Tex-Mex Omelet with Roasted Cherry Tomato Salsa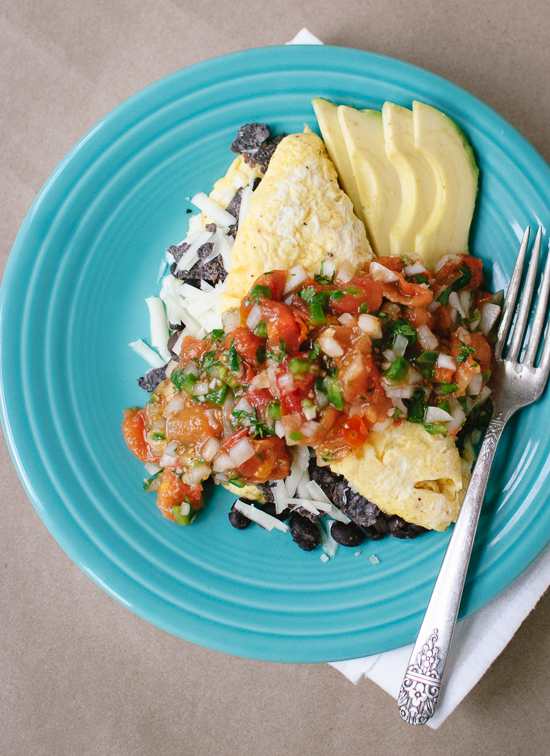 "Fresh Tex-Mex omelet stuffed with black beans, smashed tortilla chips and cheese, topped with homemade roasted cherry tomato salsa. Good for breakfast, brunch or dinner!" Recipe: CookieAndKate.
Espresso Overnight Oats With Salted Date Caramel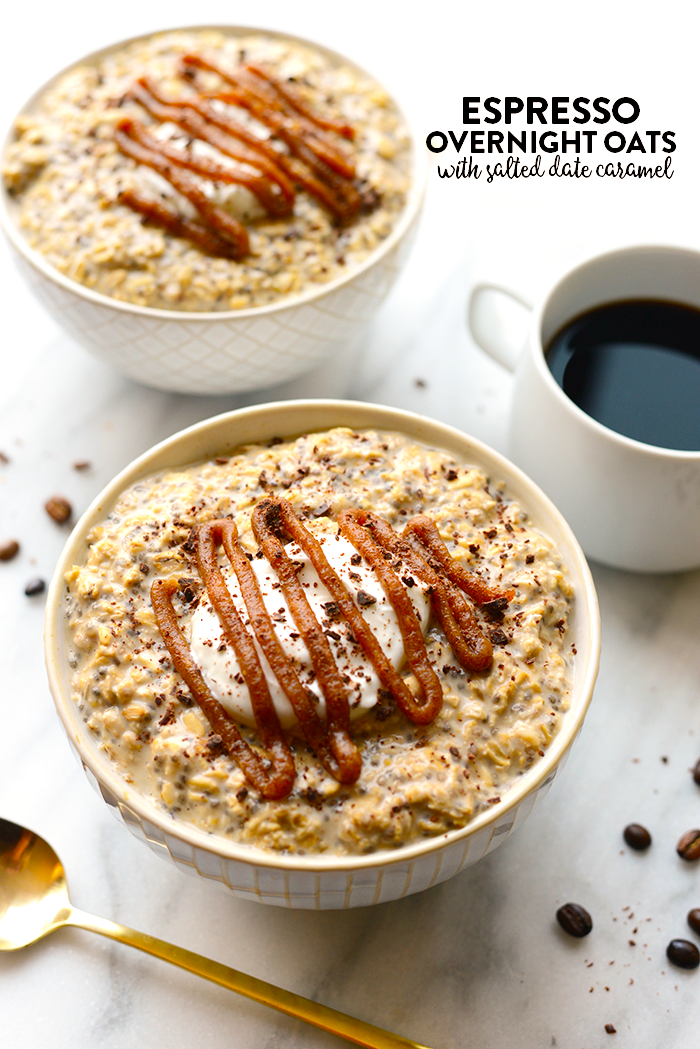 "Soak your oats in brewed coffee overnight and top them with salted date caramel for a yummy treat in the morning." Recipe: FitFoodieFinds.
Banana Oatmeal Breakfast Smoothie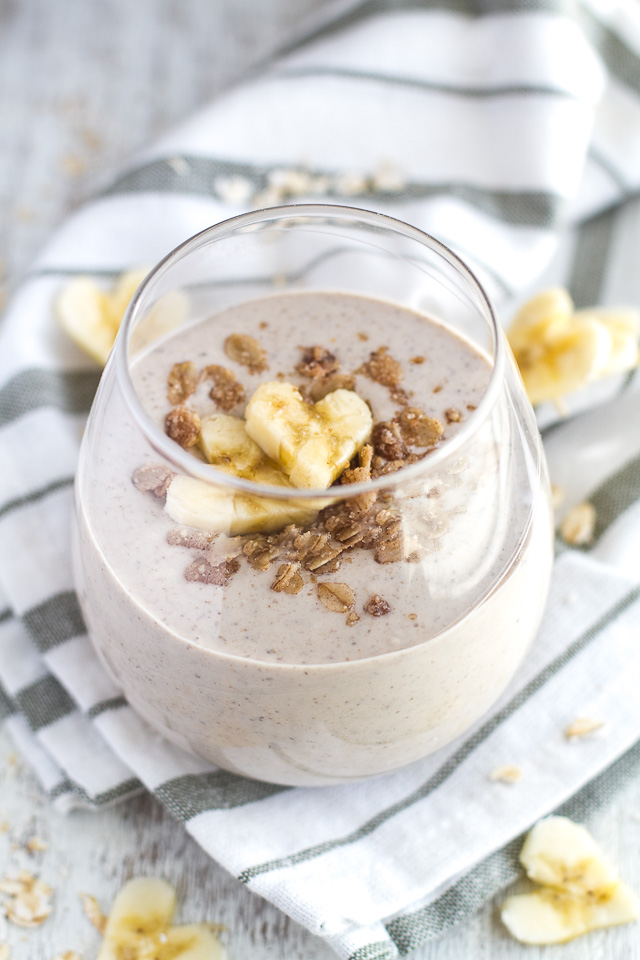 "This Banana Oat Breakfast Smoothie is guaranteed to keep you satisfied all morning with 20 grams of whole food protein and a good balance of healthy carbs and fats!" Recipe: RunningWithSpoons.
Salted Caramel Cookie Dough Recipe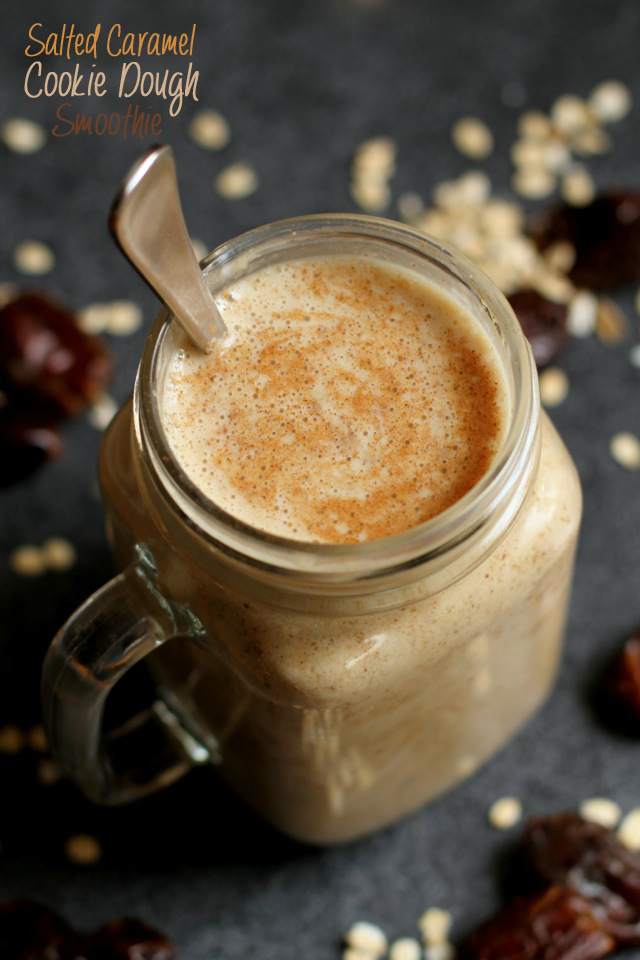 "Cool, creamy, and ridiculously comforting! This Salted Caramel Cookie Dough Smoothie tastes indulgent but is made with healthy ingredients like dates and oats!" Recipe: RunningWithSpoons.
Butternut Squash Frittata With Fried Sage
"Simple, savory frittata made with butternut squash, onion, Parmesan and fried sage. This delicious gluten-free, meatless recipe is perfect for brunch or dinner. Recipe yields one 10-inch frittata, which is enough for 8 modest or 6 large slices of frittata." Recipe: CookieAndKate.
Peanut Butter Cup Overnight Oats
"Chocolate and peanut butter flavored overnight oats. These peanut butter cup overnight oats are a fun twist on classic overnight oats." Recipe: Peanut Butter Cup Overnight Oats From ChelseasMessyApron
Banana Almond Smoothie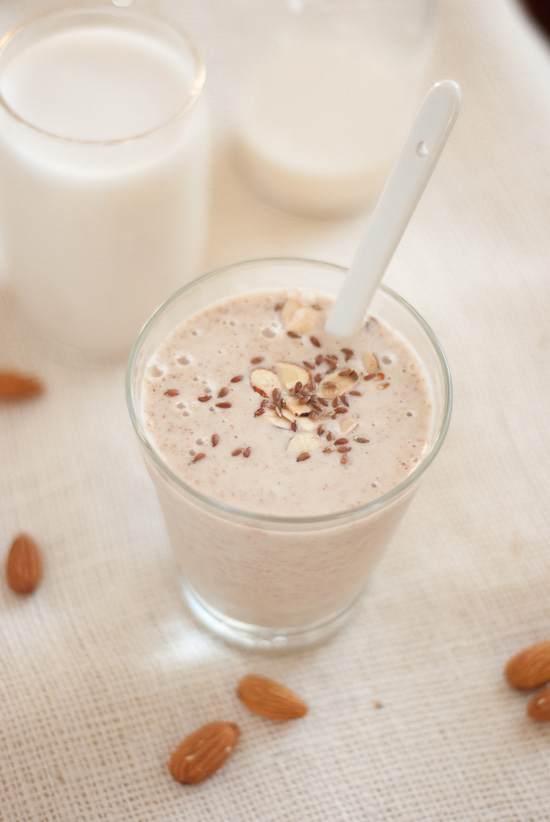 "This healthy banana almond smoothie recipe makes a delicious, creamy treat!" Recipe: CookieAndKate.
Pink Power Protein Smoothie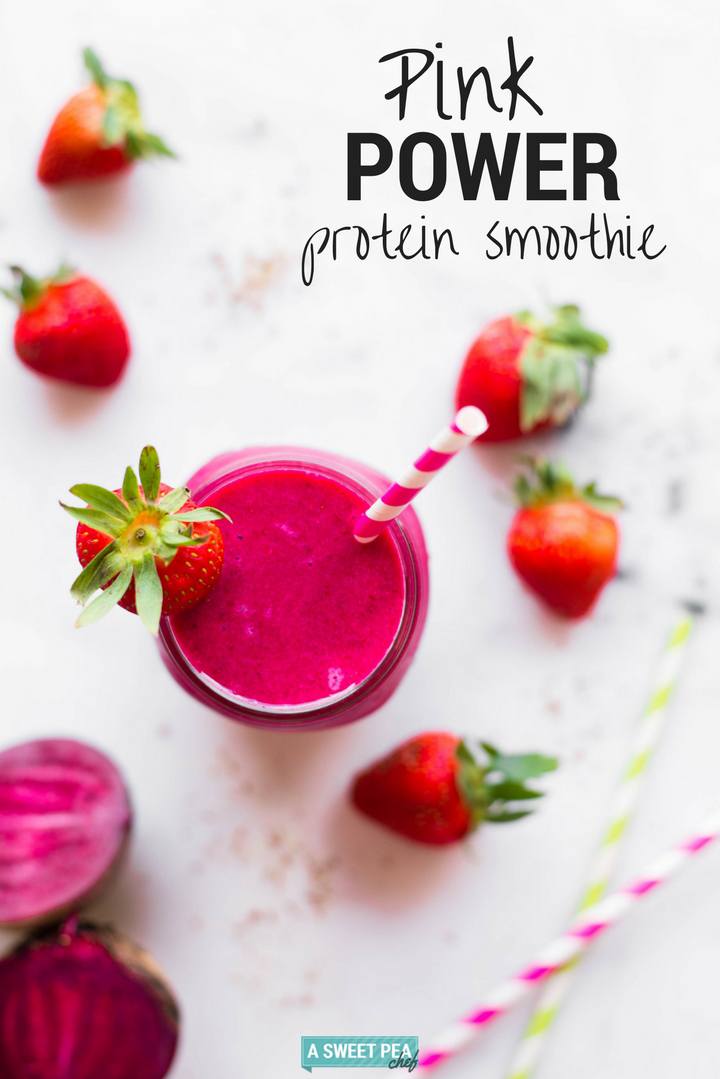 "There's nothing like drinking in this vibrant, sweet, filling, and satisfying protein smoothie in the morning to get your day started off right." Recipe: ASweetPeaChef.
Broccoli, Cheddar & Spinach Frittata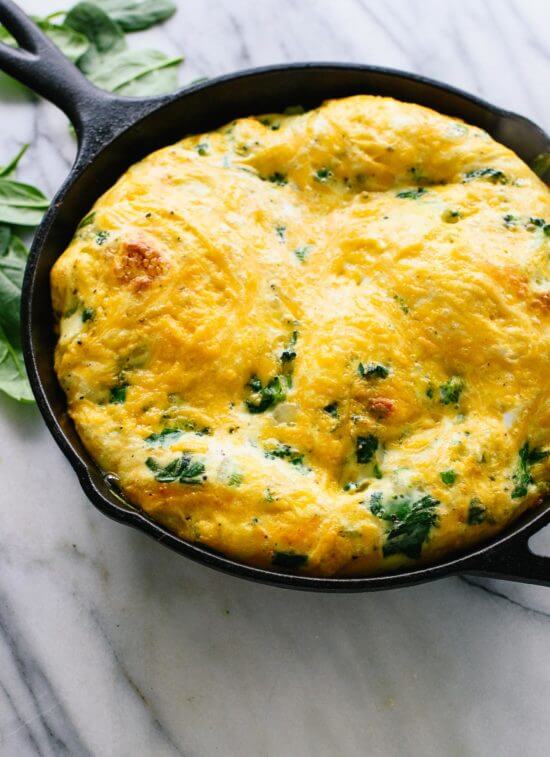 "This spinach, broccoli and cheddar frittata recipe is a simple breakfast, brunch or dinner! It's vegetarian and gluten free." Recipe: CookieAndKate.
Apple Steel-Cut Oatmeal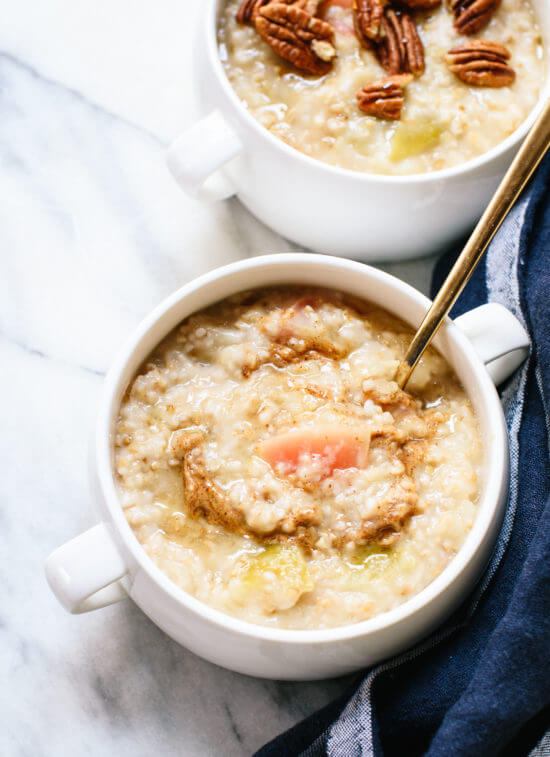 "Meet my favorite fall breakfast! Apples and steel-cut oats cook together in the same pot until they are creamy, delicious perfection. It's a hearty, healthy and delicious fall breakfast that reheats well for busy weekday mornings." Recipe: CookieAndKate.
3-Cheese Frittata Cups
"Mini frittata cups are customizable too! Add a tablespoon or so of finely chopped vegetables or cooked meat, making this a perfect one-handed meal for both kids and grown-ups alike. Ideal for an on-the-go breakfasts, these frittata cups are an easy addition to brunch buffets." Recipe: TheKitchn.
Blueberry Coconut Energy Smoothie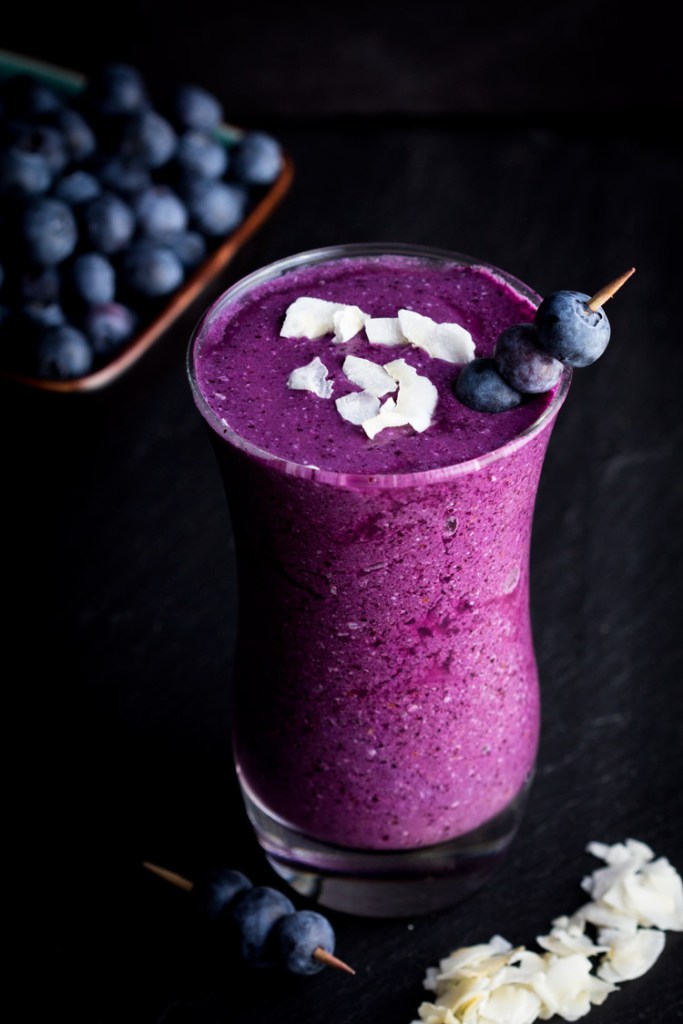 "Blueberry Coconut Energy Smoothie – Smooth, creamy blueberry smoothie made with coconut milk, flakes and antioxidants for a healthy fresh way to start your day." Recipe: GatherForBread.
h2>Pecan Pie Overnight Oats

"A lighter, HEALTHIER take during the holidays! You can prep everything ahead of time. Just serve into a bowl and top with pecans!" Recipe: DamnDelicious.
Single-Serve Microwave Shakshuka
"If you love breakfast for dinner, particularly when it involves eggs, this miracle meal needs to be in your rotation. This riff on shakshuka, the dish of eggs poached in a spicy tomato sauce, adds tender chickpeas to the mix for extra heartiness and comes together beautifully in the microwave. Allow yourself just five minutes — yes, really just five minutes! — and it can be yours when you need dinner for one, fast." Recipe: TheKitchn.
Raspberry Ginger Power Smoothies
"But good looks aren't the only thing it has going for it — each sip tastes just as delicious and refreshing. A nub of fresh ginger and a squeeze of tangy lime juice balance the sweetness with a pungent, tangy kick that's sure to to perk up your tastebuds, and a scoop of Greek yogurt ensures this not-too-sweet berry smoothie is filling." Recipe: TheKitchn.
Blueberry Pie Overnight Oats
"As someone who consumes far too much muesli with yogurt, it's not surprising that bircher muesli (or "overnight oats," as it has popularly become known) is also a favorite of mine. Overnight oats are incredibly easy to make ahead of time, and they're perfect for on-the-go breakfasts." Recipe: TheKitchn.
Overnight Cake Batter Protein Oatmeal
"If you are a lover of all things cake batter, this recipe is for you! This is overnight protein oatmeal is just as delicious as scraping the cake batter bowl clean!" Recipe: DashingDish.