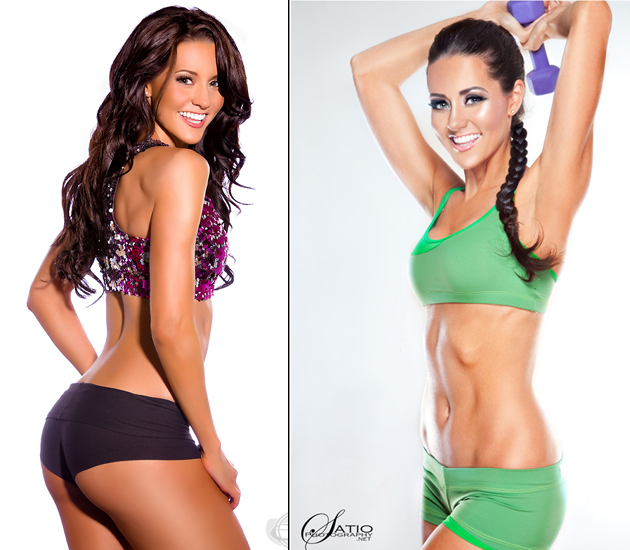 How Did You Get Started In Health And Fitness?
I gained 50 pounds in college and knew I needed to make a change. I started by going out to eat less and avoiding alcohol. I was able to shrink from a size 14 to a size 8. Then, I decided to hire a nutritionist in 2010. Eating a clean meal plan and lifting weights brought big changes and I decided to starting training for my first NPC bikini competition! I won 3rd place in my height class and the rest is history! I was then contacted by Labrada Nutrition (my favourite supplement company) to represent their brand! I love my Lean Body team! I then started working with talented photographers to create my fitness modelling portfolio.

What Is Your Best Accomplishment So Far? Proudest Moment?
Besides representing Labrada Nutrition, I would have to say being recognized in Oxygen Magazine's Success Story article in the September 2011 issue and the April 2012 bookazine! What an honor to be able to reach so many women!

What's It Like To Be A Sponsored Athlete?
I am very proud to represent Labrada Nutrition. We have a wonderfully supportive team. I feel proud when my other teammates are recognized for their hard work as well. Lee Labrada has created the best supplement line and I couldn't ask for a better mentor in this industry.
What Is It Like Competing?
There is no other motivation quite like competing! Just knowing that your physique will be compared to others on stage in a bikini is enough to make me forget the cheat meals and stay focused 100% on clean eating and working out. I have competed three times this year already. I'm trying to give my body a break, but I'm addicted to the energy on stage!

What Workout Routine Has Worked Best For You?
I workout 1-2 muscle groups per session. Here is my workout schedule. I do cardio first thing in the AM on an empty stomach or directly after weights in the evening.

Kelsey's Routine
Mon: Shoulders and abs
Tue: Legs & glutes
Wed: Rest
Thurs: Chest & triceps, calves
Fri: Back & biceps
Sat: Optional- Legs & glutes Day 2 (My weakest muscle group)
On lower body, I typically do 4 sets of 15-20. On upper body, 3 sets of 8-12.
This is the routine I follow year round. The only thing that changes during competition training is I do cardio 5-6 days a week. In the off season, I keep it at 3-4 days a week. It is important to have a balanced physique to prevent injury, so I split my days like this so that each muscle group gets the attention it deserves.


Top 3 Favourite Exercises And Why?
Cable Kick Backs – because I really feel the burn in my glutes.
Shoulder Lateral Raises – I see a difference in my shoulders immediately after doing them.
Crunches – along with a clean meal plan, these really bring out definition in my abs.

Favourite Form Of Cardio?
I prefer the stairmill or the elliptical.

What Is Your Diet Like?
I eat every 2.5 – 3 hours, 5-7 meals per day. Each meal consists of a lean protein and complex carb- I add veggies in where I can!
Breakfast: Scrambled egg whites with mushrooms & salsa, oatmeal and PB2 (Powdered peanut butter- yum)
Snack: Baked mahi-mahi, sweet potato, asparagus
Lunch: Baked chicken, brown rice and green beans
Snack: Extra lean ground turkey, grits, asparagus
Dinner: Scrambled egg whites with mushrooms & salsa, oatmeal and PB2
Snack: Scrambled egg whites and green beans

Any Staple/Classic Healthy Meals That You Always Eat?
I love PB2 (powdered peanut butter). It gets me through my peanut butter cravings. I also love salsa and can eat it just about on anything.

What Is Your Favourite Cheat Meal?
I love sushi & a glass of red wine. Peanut Butter is definitely my weakness- so a peanut butter/honey/rice cake party sounds wonderful to me!

What Supplements Do You Use?
I take a multi-vitamin and fish oil. I also like Labrada Nutrition's BCAA Power drink mix after my workout. I believe it helps me with muscle recovery. I also like to drink Lean Body for Her shakes when I'm on the road traveling.

What Are Your Tips For Success?
I would recommend hiring a nutritionist. Mine helped me learn preparation skills on how to be prepared. Food preparation is the biggest part of staying successful. If I'm hungry, I will eat ANYTHING, so it's important that I carry my cooler and have my snack to eat when it's meal time. It keeps me lean and energized. (or if this isn't an option, read and learn more about nutrition and meal preparation yourself)

What Is The Best Advice You Have Ever Been Given?
Jamie Eason referred me to my nutritionist. That is the BEST advice ever. Following my clean meal plan took my body from being normal to the body of an athlete!

Did You Make Any Mistakes When You First Started Out?
I would eat cheat meals here and there….but once I realized I was only cheating myself, I decided to really see what my body could do! My body continues to make progress now that I've been consistently eating clean for over two years.

What's Your Favourite Body Part?
Hmmm….I suppose it would be my abs and arms. They both get lean and respond well to clean eating. I see results fastest in those two areas.

Your Best Tips To Getting Into Contest Shape/Losing Those Last Few Pounds?
Eat clean meals and proper portions every three hours! Works like a charm! That, and AM cardio!

Video Of Kelsey Byers
What's Your Gym Playlist Like? Favourite Song To Play While Running?
I like hip-hop, rap, rock- you name it! Favorite song at the moment: Rise Above It – Lil' Wayne

Where Does Your Motivation Come From?
My motivation comes from the 50 pound weight gain I had in college. I hated who I saw in the mirror and made a promise to myself that I would never be "Chunky Kelsey" again! Every day I work hard to maintain a fit and healthy body.

Favourite Fitness Models? Inspirations?
Jamie Eason, of course. Her photos were my biggest motivation for picking up the weights. Amanda Latona has an amazing physique, she is my favorite PRO bikini competitor.

Favourite Quotes?
"1,000 miles begins with one step."
"You must begin to think of yourself as the person you want to become."

More About Kelsey
The toughest part about competing (in my opinion) is coming off from a show and wanting to eat everything in sight. To me, it's more important to decide where you want to maintain AFTER the show instead of just where you want to be when you get on stage. I finally have the "eat clean after competition" part down! I like to maintain anywhere from 12-15% body fat year round. That's where I feel my healthiest and confident.

For More Of Kelsey Please Visit:
Her Website: www.kelseybyersfitness.com
Her Facebook Fan Page: http://www.facebook.com/fitnessmodelkelseybyers
Her Twitter: https://twitter.com/#!/kelseybyersfit
Her: Blog: http://www.kelseybyersfitness.com/blog
Photography Credits: SatioPhotography