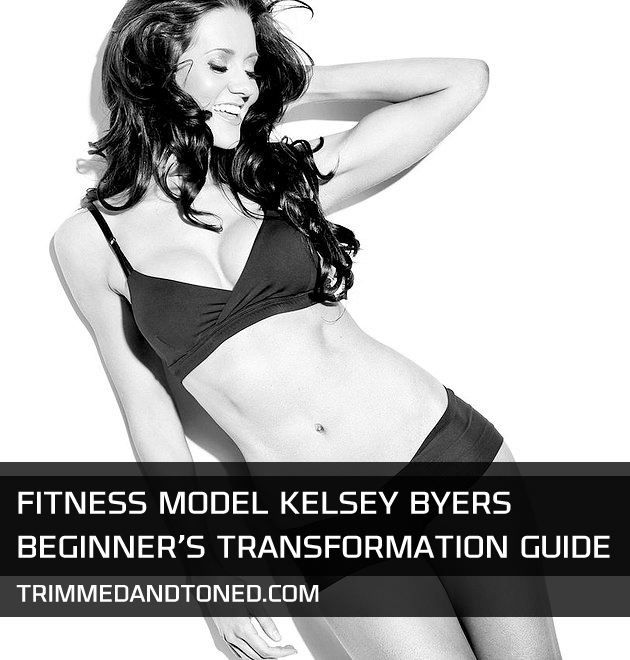 Ease into a healthy lifestyle with tips from Oxygen Magazine Cover Model, Kelsey Byers. Her 50 pound weight loss did not happen overnight. In this article with Trimmed & Toned, she has prepared important tips for fitness beginners, for starting out on your own fitness & weight loss journey.
My weight loss transformation of losing my college "50 pounds" did not happen overnight. I eased into a healthy lifestyle in order to drop the weight. When I first started out, I was determined to lose the weight, I just knew very little about HOW to get the results I wanted in the quickest way possible.
We are human and like instant gratification. However, there was no way for me to go to bed "chunky" and wake up in the body of my dreams. I wasn't into diets, so I started making small changes. A few years later and pounds, I started focusing on my nutrition. That is when the BIG results came in. I hired a nutritionist and started eating measured portions on lean protein and complex carbohydrates every meal, every three hours.
Now that I know exactly what steps brought the biggest changes to my body, I have formed a list for beginners that will help you start getting healthy results fast.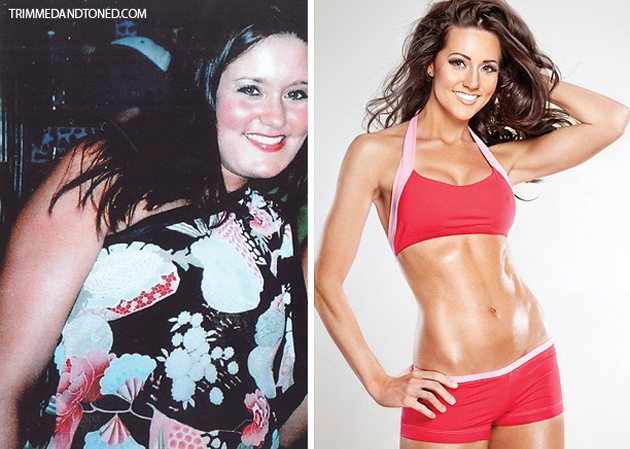 1. Start Eating Every Three Hours, 5-7 Meals A Day
I believe nutrition makes up 80% of what you look like, exercise being 20%. Even if you have no desire to compete in a fitness competition or become an athlete, I have seen amazing results from people who start eating this way. Some of my closest friends and family members have reshaped their bodies when they put this meal frequency into place. You should choose a lean protein and complex carbohydrate at each meal, adding in vegetables when possible. It may take your body a few weeks to get used to eating so frequently. If this is the case, start out just focusing on five meals a day. See my food list below for a list of suggested foods and portions. You will get the best results by hiring a nutritionist to make you a customized portion plan to meet your goals.

2. Avoid Alcohol And Fast Food
This was a big part of my weight loss. In college, I constantly surrounded myself with the party scene. I quickly became a social drinker. I was in a habit of going out with friends three nights a week. During one night, I could easily have over three or four alcoholic drinks. The sugar and calories added up. Plus, after a party, my friends and I would be hungry. I made a bad habit of going through drive-thru restaurants for a late night snack. It all caught up with me. Within three years, I had gained about 50 pounds.
Once I learned that one glass of wine has my sugar intake for the day (about 35 grams), I started avoiding alcohol. When I set out on my weight loss journey, I decided to cut out alcohol for a month, just to see what would happen. I lost about eight pounds. I was convinced that alcohol was keeping my weight on. With fast food, you do not know what quality of food you are eating. As a rule, I simply don't put that type of processed food in my body anymore. I pack my meals every day in my cooler and especially if I'm taking a road trip or flying out of state. On a plane, you can pack any whole foods in a carry-on cooler for traveling. I don't give myself any excuses to eat unhealthy anymore.

3. Stay Active
Don't expect to walk into the gym and see instant results. Realize that reshaping your body is a process and you should celebrate every improvement. I started by hiring a personal trainer for just five sessions. This helped me learn proper form and to figure out what exercises worked different muscle groups. I also relied on videos I found on http://www.bodybuilding.com/exercises/ to help me plan my workouts.
For those starting out, I would recommend trying a 3-day full body workout routine to get started. Once you consistently stick to three days a week, you can add days and work about two muscle groups per workout. Personally, I like to lift five days a week because I can focus more on the muscle group I'm working. For cardio, I usually do cardio first thing in the morning on an empty stomach OR immediately after weights later in the day. That is where I've seen maximum fat burning results.
**Ladies, don't be afraid to lift as heavy as you can. We are not designed to get bulky, so if you are eating the right portion sizes, you won't have extra fat layered on top of muscle. Keep your meal plan on point and you will get great results. Food = Fuel.


Kelsey Byers Oxygen Magazine's 'Off The Couch' Issue.

Kelsey Byer's Workout Plan:
Monday: Shoulders & Abs; (3 sets of 8-12)
45 min of steady state cardio on the elliptical, stairmill or walking uphill on a treadmill.

Tuesday: Legs, Calves & Glutes (4 or 5 sets of 15-20)

Wednesday: Rest

Thursday: Chest & Triceps; (3 sets of 8-12); Cardio 45 min

Friday: Back & Biceps; (3 sets of 8-12); Cardio 45 Min

Saturday: Cardio 45 min
4. Get Sleep And Drink Plenty Of Water
Remember, your muscles grow when you are resting. More muscle means more calories burned and lean results. A problem I had in college was giving my body enough rest to get results. Going through your day on just a few hours of sleep does not give your body the rest it deserves. For maximum results, give your body at least seven hours of sleep per night. Drinking water is key to flushing toxins and burning the extra fat. I have noticed a significant difference in my results when I don't drink enough water. My body fat percentage increases when I don't focus on my water intake. As a rule, I like to drink a gallon of water a day to keep me body hydrated and my hair and skin healthy.

5. Sugar
As far as your sugar intake, I would keep sugar to about 35 grams per day, NOT counting sugar found naturally in fruits or veggies. Try keeping a sugar log and just track your intake for a few days. Sugar can add up fast and this may be keeping you from meeting your goals.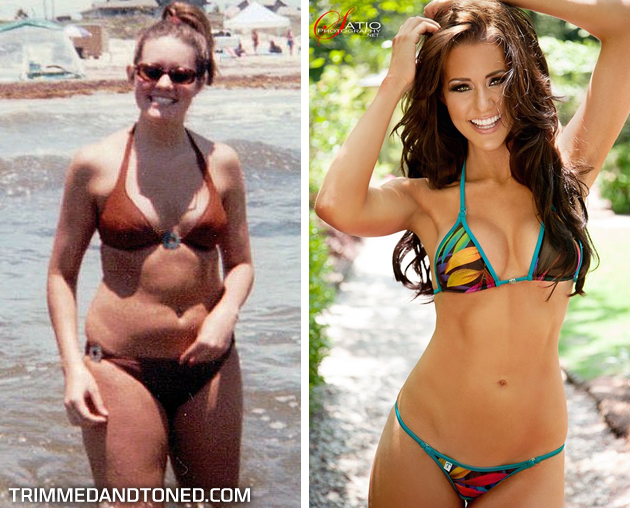 The Food (Most Important Part Of My Transformation)
My husband and I cook in bulk on Sunday and Wednesday and pack our meals in Tupperware. This frees up our time from cooking every night and we can focus on goals during the week.
Choose a lean protein, complex carb and veggie at each meal. If you are not going to hire a nutritionist, I would recommend the following portions.

PROTEIN = Handful size
COMPLEX CARB = Fist size
VEGGIE = Two handfuls
FATS = Small palm size
PROTEIN:
Extra Lean Ground Turkey – JennieO Brand
Chicken – I bake or grill it
Fish- Tilapia or Mahi – bake or grill
Egg Whites (my fave) – I like them scrambled or boiled
Extra Lean Beef – once a week
COMPLEX CARBS:
I usually eat a smaller portion of complex carbs at my last two meals since I am not as active.

Oatmeal
Grits
Brown Rice
Whole Wheat Bread of Ezekial bread
Beans
Corn or Wheat Tortillas
Edemame
Low Sodium Rice Cakes
Yams
Potato
VEGGIES:
Asparagus
Green Beans
Squash
Zucchini
Salad – with fat free dressing
Spinach
Cucumbers
Broccoli
Cauliflower
*Check out your grocery store's produce section for more options
HEALTHY FATS:
For healthy fats, I usually have one or two a day, eating them at my last two meals when my carb portion sizes are lower. It is VERY important that you don't over eat so you don't store the extra as fat. As a rule, I am tempted by peanut butter, so I don't buy it. Adjust this according to your lifestyle. For best results, hire a nutritionist to help you out with portions.

Avocado – 2 slices
Olive Oil – 1 tablespoon
Almonds, cashews or walnuts – A small palm size (8-10 nuts)
Natural Peanut Butter – 1 tablespoon
FRUIT:
I often get asked about my fruit intake. I am not a big fruit eater. If I do have some, I normally stick to berries or apples. If I were to eat fruit at a meal, I would pair it with a lean protein since fruit is a complex carb. I would limit to fruit to one or two handful size servings per day.

STAPLES:
I love to season my food with Mrs. Dash's salt free seasoning, salsa, spicy mustard, fat free spray butter, etc. You really just have to get creative with it! My husband and I cook with a small amount fat free cooking spray. We marinade our chicken in fat free Italian dressing.
If you would like to hire my nutritionist, she offers phone and Skype consultations. She can create a custom meal plan for you to meet your specific goals.

Kelsey's Nutritionist
Kim Porterfield: http://www.eatingmanagement.net/kim_porterfield_cn
Email: info@eatingmanagement.com
Phone: (713) 621-9339

This should help you get started! There is no quick fix to great results- You have to go through all the steps of your journey in order to appreciate the results. I believe that's what keeps you motivated and consistent! It's the fact that you never want to go back to an unhealthy body. That's what drives me every day.
Eat clean & follow your dreams!!

Kelsey Byers Info:
Website:www.kelseybyersfitness.com
Facebook: http://www.facebook.com/fitnessmodelkelseybyers
Twitter: https://twitter.com/kelseybyersfit
Instagram: @kelseybyersfitness